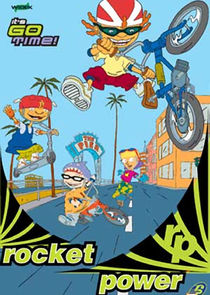 Rocket Power is about four friends who are addicted to action and extreme sports. Otto Rocket, his sister Reggie, and their pals Twister and Sam excel at just about every aggressive sport you can imagine. All that competition can get, well, pretty competitive sometimes. So it's a good thing folks like Otto and Reggie's dad Ray and his business partner Tito Makani are around to remind everyone that way cool friendships are more important than winning events.
Series Overview
Rating
imDb Rating: 6.8 (7,526 Votes)
Metascore: N/A
Plot
Four friends and their daily lives of playing extreme sports, surfing, and getting into some crazy situations.
Details
Rated: TV-G
Released: 16 Aug 1999
Runtime: 30 min
Genre: Animation, Short, Action, Adventure, Comedy, Family, Sport
Director: N/A
Writer: Andrew McElfresh, Gabor Csupo, Arlene Klasky, Michael Bloom, Eryk Casemiro, Victor Wilson
Actors: Joseph Ashton, Shayna Fox, John Kassir, Ray Bumatai
Language: English
Country: Canada, USA
Awards: 6 nominations.
Total Seasons: 3
Previous Episode
After Shocked
Episode 3x40; Jun 16, 2004
Previous Episodes 3x40: After Shocked 3x39: New Girl on the Block 3x38: Twist of Fate 3x37: Falsely Alarmed 3x36: Missile Crisis 3x35: Big Air 3x34: Merv Links to Otto 3x33: Sammy's Fortune 3x32: Summer Breezy

View All Episodes
Cast
John Kassir as Ray Rocket
Gilbert R. Leal as Twister Rodriguez
Dominic Armato as Sputz
Gregory Jbara as Lame-o the Clown
Gary LeRoi Gray as Sam Dullard
Jennifer Hale as Paula Dullard
View Full Cast
Recent News
The Morning After: Does the Mac Pro cost too much?
Hey, good morning! You look fabulous. Welcome to your weekend! On the Engadget Podcast we're discussing Apple's pricey new Mac Pro, while separately Porsche showed off its idea for a Star Wars ship. Story highlights from last week included Elon Musk's Cybertr…
via NewsAPI
View More Related News
Skip to:
Season 1
| Episode No. | No. Overall | Title | Airdate | Runtime | Summary |
| --- | --- | --- | --- | --- | --- |
| 1 | 1 | New Squid on the Block | 1999-08-16 | | |
| 2 | 2 | Down the Drain | 1999-08-16 | | |
| 3 | 3 | Secret Spot | 1999-08-18 | | |
| 4 | 4 | Ice Queens | 1999-08-18 | | |
| 5 | 5 | Otto 3000 | 1999-08-23 | | |
| 6 | 6 | Night Prowlers | 1999-08-23 | | |
| 7 | 7 | Happy Luau to You-Au | 1999-08-25 | | |
| 8 | 8 | Rocket Rescue | 1999-08-25 | | |
| 9 | 9 | Twister's Cuz | 1999-08-30 | | |
| 10 | 10 | Big Thursday | 1999-08-30 | | |
| 11 | 11 | Rocket Girls | 1999-09-01 | | |
| 12 | 12 | Father's Day Off | 1999-09-01 | | |
| 13 | 13 | PowerGirl Surfers | 1999-09-06 | | |
| 14 | 14 | Twisted Cinema | 1999-09-06 | | |
| 15 | 15 | Blader Bowl | 1999-09-08 | | |
| 16 | 16 | Total Luger | 1999-09-08 | | |
| 17 | 17 | D is for Dad | 1999-09-13 | | |
| 18 | 18 | Banned on the Run | 1999-09-13 | | |
| 19 | 19 | Super McVarial 900 | 1999-09-15 | | |
| 20 | 20 | Loss of Squid | 1999-09-15 | | |
| 21 | 21 | Rainy Days & Sundaes | 1999-09-22 | | |
| 22 | 22 | Zine Dreams | 1999-09-22 | | |
| 23 | 23 | Hawaii Blues | 1999-09-27 | | |
| 24 | 24 | Lost and Found | 1999-09-27 | | |
| 25 | 25 | The Night Before | 1999-10-20 | | |
| 26 | 26 | Violet's Violet | 1999-10-20 | | |
| 27 | 27 | Fall and Rise of Sam | 1999-10-25 | | |
| 28 | 28 | Typhoid Sam | 1999-10-25 | | |
| 29 | 29 | The Wrath of Don | 2000-03-07 | | |
| 30 | 30 | Safety Patrol Sam | 2000-03-07 | | |
| 31 | 31 | Reggie and a Net | 2000-03-07 | | |
| 32 | 32 | Great Sandcastle Race | 2000-03-07 | | |
| 33 | 33 | Escape from Lars Mountain | 2000-03-14 | | |
| 34 | 34 | It Was a Dark and Stormy Day | 2000-03-14 | | |
| 35 | 35 | Aloha Kid | 2000-03-14 | | |
| 36 | 36 | Ottomobile | 2000-03-14 | | |
| 37 | 37 | Big Air Dare | 2000-03-21 | | |
| 38 | 38 | Otto's Big Break | 2000-03-21 | | |
| 39 | 39 | Snow Day | 2000-03-21 | | |
| 40 | 40 | Welcome to the Club | 2000-03-21 | | |
| 41 | 41 | All About Sam | 2000-03-28 | | |
| 42 | 42 | Half Twister | 2000-03-28 | | |
| 43 | 43 | Twisting Away | 2000-03-28 | | |
| 44 | 44 | Spot Remover | 2000-03-28 | | |
Season 2
| Episode No. | No. Overall | Title | Airdate | Runtime | Summary |
| --- | --- | --- | --- | --- | --- |
| 1 | 45 | Rocket Repairs | 2000-10-23 | | |
| 2 | 46 | Say Hello to Cement Head | 2000-10-23 | | |
| 3 | 47 | Shark Bait | 2000-10-30 | | |
| 4 | 48 | A Shot in the Park | 2000-10-30 | | |
| 5 | 49 | Radical New Equipment | 2000-11-10 | | |
| 6 | 50 | Tito's Lucky Shell | 2000-11-10 | | |
| 7 | 51 | The Longest Day | 2000-11-24 | | |
| 8 | 52 | Ottoman and the Sea | 2000-11-24 | | |
| 9 | 53 | Mr. B is in the House | 2001-01-05 | | |
| 10 | 54 | Earnest Otto | 2001-01-05 | | |
| 11 | 55 | The Good Housekeeping Seal | 2001-01-19 | | |
| 12 | 56 | What's That Smell? | 2001-01-19 | | |
| 13 | 57 | Legends and Their Falls | 2001-02-23 | | |
| 14 | 58 | Welcome to Ottoworld | 2001-02-23 | | |
| 15 | 59 | Bruised Man's Curve | 2001-03-05 | | |
| 16 | 60 | Pool's Out Forever | 2001-03-05 | | |
| 17 | 61 | Back Bowl | 2001-03-06 | | |
| 18 | 62 | Game Day | 2001-03-06 | | |
| 19 | 63 | It Came from Planet Merv | 2001-03-07 | | |
| 20 | 64 | Netherworld Night | 2001-03-07 | | |
| 21 | 65 | Here's the Twist | 2001-03-08 | | |
| 22 | 66 | Sam: King of Kickball | 2001-03-08 | | |
| 23 | 67 | Tito Time | 2001-04-01 | | |
| 24 | 68 | The Return of Clio | 2001-04-01 | | |
| 25 | 69 | That Old Skateboard | 2001-04-02 | | |
| 26 | 70 | Follow the Leader | 2001-04-02 | | |
| 27 | 71 | Channel Surfing | 2001-04-03 | | |
| 28 | 72 | Outta My Pit! | 2001-04-03 | | |
| 29 | 73 | Capture the Flag | 2001-04-04 | | |
| 30 | 74 | The Jinx | 2001-04-04 | | |
| 31 | 75 | Hurricane Maurice | 2001-04-05 | | |
| 32 | 76 | Reggie's Choice | 2001-04-05 | | |
| 33 | 77 | Double-O Twistervision | 2001-04-07 | | |
| 34 | 78 | Womp Race 2000 | 2001-04-07 | | |
Season 3
| Episode No. | No. Overall | Title | Airdate | Runtime | Summary |
| --- | --- | --- | --- | --- | --- |
| 1 | 79 | Enter the Hawk-Trix | 2001-09-10 | | |
| 2 | 80 | Street vs. Vert | 2001-09-10 | | |
| 3 | 81 | Home Sweet Home | 2002-02-18 | | |
| 4 | 82 | What a Tangled Web We Ski | 2002-02-18 | | |
| 5 | 83 | Twister's Hat | 2002-02-18 | | |
| 6 | 84 | Tito Thon | 2002-02-18 | | |
| 7 | 85 | The Lingos | 2002-04-08 | | |
| 8 | 86 | Shack Attack | 2002-04-08 | | |
| 9 | 87 | To Be, Otto Not to Be | 2002-04-09 | | |
| 10 | 88 | Reggie / Regina | 2002-04-09 | | |
| 11 | 89 | Reggie's Pen is Mightier | 2002-04-10 | | |
| 12 | 90 | Kayaks Amok | 2002-04-10 | | |
| 13 | 91 | Tito Sitting | 2002-04-11 | | |
| 14 | 92 | There's Something About Breezy | 2002-04-11 | | |
| 15 | 93 | Twisting Places | 2002-04-12 | | |
| 16 | 94 | Power Play | 2002-04-12 | | |
| 17 | 95 | Sim Sammy | 2002-05-11 | | |
| 18 | 96 | Otto Hangs 11 | 2002-05-11 | | |
| 19 | 97 | Less Than Full Otto | 2002-06-01 | | |
| 20 | 98 | Card Sharked | 2002-06-01 | | |
| 21 | 99 | Major Scrummage | 2002-10-14 | | |
| 22 | 100 | Snow Bounders | 2002-10-14 | | |
| 23 | 101 | Beach Boyz and a Girl | 2002-11-30 | | |
| 24 | 102 | X-Treme Ideas | 2002-11-30 | | |
| 25 | 103 | Rad Rover Come Over | 2003-01-29 | | |
| 26 | 104 | Extreme Nerd | 2003-01-29 | | |
| 27 | 105 | Cinco de Twisto | 2003-05-03 | | |
| 28 | 106 | Saving Lt. Ryan | 2003-05-03 | | |
| 29 | 107 | A Rocket X-Mas | 2003-12-15 | | |
| 30 | 108 | Loser's Weepers | 2004-03-22 | | |
| 31 | 109 | Reggie: The Movie | 2004-03-22 | | |
| 32 | 110 | Summer Breezy | 2004-03-23 | | |
| 33 | 111 | Sammy's Fortune | 2004-03-23 | | |
| 34 | 112 | Merv Links to Otto | 2004-03-24 | | |
| 35 | 113 | Big Air | 2004-03-24 | | |
| 36 | 114 | Missile Crisis | 2004-03-25 | | |
| 37 | 115 | Falsely Alarmed | 2004-03-25 | | |
| 38 | 116 | Twist of Fate | 2004-03-26 | | |
| 39 | 117 | New Girl on the Block | 2004-06-16 | | |
| 40 | 118 | After Shocked | 2004-06-16 | | |
Series Cast
| | | | |
| --- | --- | --- | --- |
| | John Kassir | as Ray Rocket | |
| | Gilbert R. Leal | as Twister Rodriguez | |
| | Dominic Armato | as Sputz | |
| | Gregory Jbara | as Lame-o the Clown | |
| | Gary LeRoi Gray | as Sam Dullard | |
| | Jennifer Hale | as Paula Dullard | |
| | Jordan Warkol | as Eddie | |
Related News
TVMaze