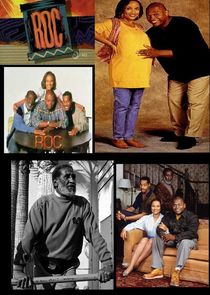 Roc chronicles the ups and downs of Baltimore garbage collector Charles "Roc" Emerson, a tightwad who constantly brought home "perks" (i.e. items thrown away by residents on his route); his wife Eleanor, a registered nurse; his womanizing younger brother Joey, a ne'er-do-well musician who had recently returned to the neighborhood; and his father Andrew, a retired Pullman porter.
Series Overview
Rating
imDb Rating: 7.4 (1,044 Votes)
Metascore: N/A
Plot
Roc Emerson, a city garbage collector, balances the pressures of work with the everyday crises of family life in an effort to do what he thinks is best for his wife and kids. Most of the ...
Details
Rated: TV-PG
Released: 24 Aug 1991
Runtime: 30 min
Genre: Comedy, Drama
Director: N/A
Writer: Stan Daniels
Actors: Charles S. Dutton, Ella Joyce, Rocky Carroll, Carl Gordon
Language: English
Country: USA
Awards: Nominated for 1 Primetime Emmy. Another 2 wins & 1 nomination.
Total Seasons: 3
Previous Episode
You Shouldn't Have to Lie
Episode 3x22; May 10, 1994
Roc gets Andre to help a young hood; Eleanor learns that a friend's daughter is HIV-positive.
Previous Episodes 3x22: You Shouldn't Have to Lie 3x21: Emerson vs. Emerson 3x20: Brothers 3x19: The Last Temptation of Roc 3x18: The Concert 3x17: No Place Like a Home 3x16: Citizen Roc (2) 3x15: Citizen Roc (1) 3x14: Terence Got His Gun

View All Episodes
Cast
Rocky Carroll as Joey Emerson
Charles S. Dutton as Roc Emerson
Carl Gordon as Andrew Emerson
Ella Joyce as Eleanor Emerson
View Full Cast
Skip to:
Season 1
| Episode No. | No. Overall | Title | Airdate | Runtime | Summary |
| --- | --- | --- | --- | --- | --- |
| 1 | 1 | Pilot | 1991-08-24 | 30 | In this pilot episode of the sole prime-time scripted U.S. series since the 1950s to present a full season live, the menfolk of the Emerson family of East Baltimore separately plan their birthday gifts for Roc's wife Eleanor, whom they all adore. The thrifty Roc is proud to have furnished their home with salvage from his job on a sanitation truck, so he has her gift at hand, but his boom or bust brother Joey is flat broke, staying over on their couch until his trumpet-playing lip heals up. Their father Andrew always honors Eleanor with the same present. Hard-working Eleanor would love a surprise for a change. Can the Emersons make this a birthday she'll never forget ? |
| 2 | 2 | Son of Another Gun | 1991-09-01 | 30 | Roc's brotherly blood boils when rambling, gambling Joey misuses Roc's loan, by playing the ponies. A loan shark and his huge enforcer show up, but Roc pays them off to save Joey a beating. Their father drives a further wedge between the brothers when he reveals that their late mother had an affair, so he always wondered if one of the men is not an Emer-son. Despite their differences Joey and Roc have always loved each other. Do they want blood tests ? |
| 3 | 3 | For He's Not a Jolly Good Fellow | 1991-09-14 | 30 | When Roc learns that Leon, a veteran garbage collector, is being forced to retire, Roc tries to comfort the old man. Thinking years of being alone and unappreciated have made Leon bitter, Roc decides to give Leon a retirement party to show how many friends he really has. Roc's father is hurt by the idea. He spent 35 years as a train porter, and no one ever have him a party |
| 4 | 4 | Let's Tryst Again | 1991-09-08 | 30 | Roc and Eleanor have no privacy in the house they share with Roc's father, Andrew, and his unemployed brother Joey. Joey's drinking and Andrew's constant coughing at night make it hard for Roc and Eleanor to concentrate on lovemaking. After an uneventful night of lovemaking, Rock and Elenor both agree that their nonsexual encounter was even more intimate than sex would have been. Just as they reach the door, however, they embrace and lead each other back toward the bed. Why not explore the physical side of their love while they have the chance? |
| 5 | 5 | Musician, Heal Thyself | 1991-09-22 | 30 | Trumpeter Joey's on the verge of being kicked out on the curb, due to his gambling losses and mooching off the other Emersons. The sympathy Joey's earned during his recuperation from a split embouchure is wearing thin. Roc goes through the Baltimore Sun want ads with him, but Joey judges the few jobs he's qualified for, as beneath him. Father Andrew recalls how when he was scuffling as a young buck, any kind of job afforded him some dignity. So, Roc offers to get his Joey a job with him, as a Charm City garbage man, but taunts Joey that he wouldn't last a week. Imaginative Joey's eyes light up like a slot machine - because he seldom loses a bet to his workaday older brother. |
| 6 | 6 | Hearts and Diamonds | 1991-10-06 | 30 | Roc's temper simmers when his wife Eleanor receives flowers from an older man, an ex-patient of hers, recovering from a major heart attack. Nurse Eleanor explains that such a response from a patient is a normal part of a healthy recovery, on leaving a hospital, to thank the staff who saved his life. But when the patient sends her a huge diamond, Roc boils with jealousy. Next the wealthy man shows up at the Emersons' front door, in an elegant suit, looking exactly like Samuel L. Jackson, and in Roc's eyes, way too healthy. |
| 7 | 7 | Can't Help Loving That Man | 1991-10-19 | 30 | Andrew's reunion with his younger brother Russell throws the Emerson household into chaos when Russell announces that he plans to marry his gay Caucasian lover. Andrew, Roc, and Joey are overwhelmed by the sudden change in the man they thought they knew; Eleanor complicates things further by offering to hold Russell's wedding at the Emerson house |
| 8 | 8 | How to Succeed at Garbage | 1991-10-13 | 30 | Roc is promoted to Crew Supervisor, a big step on his way toward an executive position. While Eleanor, looks forward to the extra money every week, Roc's brother and father look forward to spending it on risky investments. |
| 9 | 9 | He's Gotta Have It | 1991-10-27 | 30 | When nurse Eleanor invites co-worker Nadine Randall home for dinner, an immediate love-hate relationship develops between Nadine and Eleanor's unemployed brother-in-law, Joey. After only a few minutes of conversation, they agree that they hate each other's personalities, but can't resist the overpowering sexual attraction. |
| 10 | 10 | Requiem for a Garbage Man | 1991-11-17 | 30 | While Roc looks forward to a reunion with several of his old army buddies, Andrew aims to enjoy a Sixties party at the community center. As Andrew unpacks his clothes from the 1960's and reminisces about the civil rights movement, Roc recalls the good old days with his friends in the army. |
| 11 | 11 | A Home, a Loan | 1991-11-10 | 30 | Arguing the Emersons need a larger home, Joey suggests that they attend a bank auction that is selling homes with defaulted mortgages at bargain prices. |
| 12 | 12 | Rock-A-Bye Baby (1) | 1991-11-24 | 30 | After nurse Eleanor helps to deliver twin babies at the hospital, she once again wants to discuss the subject of children with her husband, Roc. Roc has insisted for years that they don't have the time or money to raise a child. Roc's father , Andrew, and brother, Joey, favor the idea of children. After four months of trying, Roc and Eleanor are afraid there may be a medical reason why they can't conceive a child. When Dr. Worthy reports that Eleanor has passed all the appropriate tests, the family looks silently to Roc. (Part 1 of 2) |
| 13 | 13 | Rock-A-Bye Baby (2) | 1991-12-01 | 30 | After suffering the embarrassment of submitting a sperm sample to Dr. Martin, Roc learns that while his sperm count is healthy, they aren't "swimming properly." Dr. Martin recommends medication and weekly tests to rejuvenate the sperm. Roc is angry at himself, feeling he is a disappointment to Eleanor. (Part 2 of 2) |
| 14 | 14 | Daddy's Girl | 1991-12-15 | 30 | Roc and Joey are shocked when their elderly father, Andrew, meets a beautiful young woman named Celia Miller at the neighborhood tavern. Not only does Andrew have sex with Celia at a nearby motel, he escorts her home and announces their engagement to her parents. |
| 15 | 15 | What's Up, Roc | 1992-01-05 | 30 | Roc and Eleanor prepare to go to Washington D.C. for the wedding of Eleanor's cousin. Before the wedding, Eleanor's mother, Margaret Carter, arrives at the Emerson'ts unexpectedly. Margaret is a social climber who criticizes Roc about his profession, and about his unambitious father, retired railroad porter Andrew, and his unemployed brother, Joey. Margaret also reveals that she has told the rest of the Carter family that Roc is a doctor. She insists that Roc pretend to be a doctor while he's at the wedding. |
| 16 | 16 | No Notes Is Good Notes | 1992-01-12 | 30 | Reverend Hill suggests that Joey Emerson, an unemployed musician, give trumpet lessons to some of the congregation's children. Roc immediately commits his lazy live-in brother to the job, hoping finally to see some money for rent. During the "lessons," Joey makes telephone calls, bets on horse races and gives his students no musical guidance at all. Roc and Eleanor, endure the horrible trumpet noises coming from the living room and hope that the children will improve in time. Then Roc promises Reverend Hill that Joey and his students will play in the churh's next musical recital. |
| 17 | 17 | The Stan Who Came to Dinner | 1992-01-18 | 30 | Roc's boss Stan had a brief sexual encounter with a woman at a sanitation convention. Now Stan's wife Connie has thrown him out of the house. Roc gives Stan some honest advice and invites him home for dinner. But over the next few weeks, Stan asks Roc for too much emotional support and imposes on the Emersons for a place to sleep. |
| 18 | 18 | Roc Strikes Out | 1992-02-16 | 30 | Roc hopes his union's decision to strike against the city will only last a few days. When the strike enters week three and Roc has spent his small allotment from the union's emergency fund, he takes a job as a hospital orderly, working under the supervision of his wife, Eleanor. |
| 19 | 19 | The Hand That Rocs the Cradle | 1992-02-09 | 30 | When Joey, Andrew and Roc offer a meal to a pregnant homeless woman, Linda, who suddenly goes into labor in the middle of their kitchen. Linda's husband, Donald, confides in Roc, worrying that as a homeless man he can't care for his family. But Donald's fears are groundless, the baby is stillborn. Donald comforts his wife and promises to find work and shelter. Roc is so moved my their courage that he vows to show more concern for people who are less fortunate. |
| 20 | 20 | A Piece of the Roc | 1992-02-23 | 30 | Roc is proud to be chosen by his boss, Mr. Samuels, to supervise a new sanitation trainee. But when he discovers that the new garbageman is a beautiful woman, Angela Kimbro, Roc worries that he'll be too distracted by her looks to work. Angela quickly proves that she's as strong as any male sanitation worker. She also tells the horrified Roc that she's extremely attracted to him. Roc insists he loves his adoring wife, Eleanor. Still, Angela refuses to leave him alone. |
| 21 | 21 | Nightmare on Emerson's Street | 1992-03-29 | 30 | When a gang of drug dealers move into a nearby house, Roc and Elenor try to organize their neighbors into a non-violent protest movement to scare them away. Roc suggests they picket and demonstrate loudly and continuously in front of the crack house, but the frightened neighbors fear retaliation from the gang. |
| 22 | 22 | The Lady Killer | 1991-03-15 | 30 | After an evening of satisfying sex, retired railroad porter Andrew Emerson discovers that the woman lying next to him is dead. He interprets this shock as an omen from his long-departed wife, warning him to stay away from other woman. Roc and Eleanor try to cheer Andrew up by arranging a date for him with Helen, an attractive middle-aged nurse. As the four of them share a polite but awkward dinner, Andrew resists a friendship with Helen. He's afraid she'll be the next "victim" of this wife's revenge. |
| 23 | 23 | Rock According to Roc | 1992-04-26 | 30 | When Joey Emerson wins a huge bet on a horse race, his bookmaker, Mickey, can't pay cash. Instead, Mickey offers Joey his contract for the ownership of an amateur singing quintet known as The Fly Guys. Joey's brother, Roc, thinks Joey should demand the money, but Joey convinces Roc to be The Fly Guys' new manager. However, instead of hiring a professional choreographer as Joey suggests, Roc decides to save money and teach the guys dance steps form his own vocal group way back in the 1960's. |
| 24 | 24 | All That Jazz | 1992-04-05 | 30 | When temperamental trumpet player Kenny Davis quits his job with the famous Les McCann Band, fellow band member Billy Miller offers an audition to his friend Joey Emerson. Joey plays a superb audition and gets the job. During his first performance with the band, Kenny comes to listen and compliments Joey on his talent. Flattered, Joey loans Kenny his trumpet so he can play a song with the band. However, Kenny enjoys playing with his former group that he stays onstage the whole night. |
Season 2
| Episode No. | No. Overall | Title | Airdate | Runtime | Summary |
| --- | --- | --- | --- | --- | --- |
| 1 | 25 | Roc Throws Joey Out | 1992-08-24 | 30 | Roc plans a day of surprises for Eleanor's birthday but the night is ruined when Roc's surprise gifts arrives: a large painted portrait of Eleanor, but the artist has mistakenly painted a white woman instead of Eleanor. Then Roc loses all patience with Joey's irresponsibility and evicts him because he has taken advantage of his rent-free stay at Roc's home. |
| 2 | 26 | Car Wars | 1992-08-31 | 30 | When Joey is given free use of his friend's luxury car, Eleanor insists that Roc withdraw some of their savings from the bank so they can buy a car of their own. |
| 3 | 27 | Roc's Secret Past | 1992-09-06 | 30 | Attempting to prove her confidence in their marriage, Eleanor invites Roc's former girlfriend Janet over for dinner. When Janet reveals that she rejected Roc's marriage proposal only three months before he married Eleanor, Roc realizes that he never told that secret to Eleanor. Eleanor is furious with Roc because she now feels he married her before he had time to forget about Janet. |
| 4 | 28 | Roc Works for Joey | 1992-09-13 | 30 | When Joey hires Roc to paint his friend's luxury condominium provided Roc allows him to act as "the Boss". Roc is mistaken for a burglar and arrested for what he sees as being a black man standing in a white neighborhood. Rather than try to change the prejudiced ways of the police, after being released, Roc pretends the incident never happened. |
| 5 | 29 | Andrew Dates Matty | 1992-09-20 | 30 | To help her win a promotion at the hospital, Eleanor asks Andrew to romance the head nurse, Matty. Andrew reports that his date with Matty was one of the worst evenings he's ever shared with a woman. Eleanor gets a conflicting report from Matty who said that Andrew was the best lover she's ever had and anxiously awaits their next date. Eleanor confronts Andrew with this report, learning that Matty reminds Andrew of his dead wife. No longer thinking of herself, Eleanor convinces Andrew to explain his true feelings to Matty. |
| 6 | 30 | Choosing Your Friends | 1992-09-27 | 30 | While Joey tricks two famous jazz musicians into playing with him. Eleanor worries that Roc is getting too friendly with neighborhood vigilante Ronnie Paxton who's forceful methods 'took care' of the thief that robbed Andrew. Roc defends his right to choose his own friends, but when Eleanor threatens to stop having sex, Roc reconsiders. |
| 7 | 31 | The Artificial Insemination Story | 1992-10-11 | 30 | When tests confirm his low sperm count, Roc asks Joey to donate his sperm . Roc does not want another man's sperm impregnating his wife, but Roc also realizes how passionately Eleanor wants to have a child. When they arrive at the hospital and begin the procedure, Roc suddenly changes his mind. He confesses that he wants to be genetically connected to his son and will continue more tests. |
| 8 | 32 | Joey Messes Up | 1992-10-18 | 30 | When Joey learns that his new girlfriend just ended her affair with Miles Taylor, the piano player in his jazz band, he tries to prevent the jealous pianist from learning the truth by convincing his brother, Roc, to pose as her new lover. Miles confronts Roc, suspecting that Joey is lying to him. When Roc confessess the truth, Miles vents his anger at Joey and quits the band along with Curtis, the bass player. |
| 9 | 33 | 1992 Presidential Election | 1992-11-01 | 30 | On the eve of the election, Eleanor, Andrew and Matty try to convince Roc and Joey to cast their ballots before the polls close. Andrew, Matty, and Eleanor each are pulling for a different candadiate and stage a mock debate to help Roc choose who to vote for. However, Eleanor tries not to antagonize Matty because she doesn't want to ruin her chances of getting the promotion at the hospital. Roc and Joey finally realize every vote is important and run out to the polls to vote just before closing time. |
| 10 | 34 | Roc and the Actor | 1992-11-08 | 30 | Ruben Stiles, a popular actor, uses Roc as the model for his role in a new movie. He quickly perfects an imitation of Roc's voice and movements, Roc becomes upset. Ruben apologizes for embarrassing Roc but Roc criticizes him for not caring about his character's inside feelings. Several months later, the Emersons watch the movie on television and admire Ruben's accurate characterization of Roc. But when the character talks about his low sperm count, Roc chases Joey out of the house for revelaing his most private secret to Ruben. |
| 11 | 35 | The Car Accident from Heaven | 1992-11-15 | 30 | When Joey escapes serious injury in a car accident, Andrew forsees his own death and buys cemetery plots for himself and Joey, but not for Roc. Roc gets jealous and accuses his father of always favoring his selfish brother. Andrew explains that Roc has Eleanor to love him and bury him and Joey will always be a roving playboy with no one to care for his needs. |
| 12 | 36 | The Poker Game | 1992-12-06 | 30 | When Roc loses seven hundred dollars in a poker game, he stubbornly refuses Joey's offer to pay the debt for him. Reluctantly, Roc takes Joey's money and Eleanor announces that instead of a loan, they'll accept it as a repayment for all the years that Joey lived with them without paying rent or expenses. |
| 13 | 37 | Joey's First Fan | 1992-12-13 | 30 | Joey proudly encourages his musical protege, Devon Brown, until he learns that the young man is involved with Andre Thompson, the local drug dealer. Joey learns that Devon is earning tuition money by delivering drugs for Andre. Pleading with his prized student to stay away from Andre, Joey learns that Devon is addicted to the drugs as well. |
| 14 | 38 | Dear Landlord | 1992-12-20 | 30 | When the Emerson's landlord wants to sell all of his rental properties, Roc and Eleanor invest their life savings to become the new landlords. Roc allows Joey to move back in with them if he'll work as Roc's new superintendent. Roc and Joey promise to forget their past disagreements. |
| 15 | 39 | The Second Time Around | 1993-01-17 | 30 | On the day that the Emersons are to renew their wedding vows, Eleanor gets upset when she learns that Roc is coaching her brother David on how to be more sexually aggressive. Meanwhile, Joey brings two dates to the wedding and attempts to let neither know that the other exists. |
| 16 | 40 | Up in the Attic | 1993-01-24 | 30 | When the Emerson brothers get a bit drunk, Joey confesses that years ago when young Roc was blamed for wrecking his father's car, it was he that accidentally released the brake causing the car to roll down the hill. For his entire life, Roc has felt guilty over this disastrous accident. He believes that Andrew never truly forgave him for it. Roc realizes that Joey's mischief damaged his relationship with his father, and Roc demands that Joey tell Andrew the truth. |
| 17 | 41 | Million Dollar Brother | 1993-02-07 | 30 | Roc is offered a deal by a rich, white businessman to become partners in a waste management company. Roc later learns, however, that he is about to go into business with a racist who only wants to use Roc for PR purposes. Roc is forced to choose between money and pride. |
| 18 | 42 | The Parent Thing | 1993-02-14 | 30 | As Roc is giving boxing lessons to his friend's son, the boy confesses that his father is forcing him to be a boxer when he actually wants to be a ventriloquist. Roc advises his friend that a good father shouldn't force his child to satisfy his own unfulfilled dreams. |
| 19 | 43 | Joey in Love | 1993-02-21 | 30 | Joey is in love with an attractive singer in a local musical group, but selfishly insists that she quit the group when they're contracted for a six-month European tour. Roc explains to Joey that if he and Kim truly love each other, a temporary separation will only make their commitment stronger. In a rare unselfish act, Joey insists that Kim not disappoint her friends and supporters by quitting the group. |
| 20 | 44 | Ebony and Ivory | 1993-03-07 | 30 | The Emerson family worries that Joey is being unfaithful to his girlfriend when they discover that he's dating a white woman and a black woman at the same time. His father thinks that Joey should respect his own race and only date black woman. Joey admits he's using the women's friendship to soothe his loneliness for his girlfriend Kim. |
| 21 | 45 | You Don't Send Me No Flowers | 1993-03-14 | 30 | After an evening with the girls, Eleanor realizes that her marriage doesn't have much romantic fun. After a failed attempt by Roc of a night of romance, Joey reminds Eleanor how Roc shows his affection with all of the helpful things he does for her around the house. The couple agree to be more aware of each other's feelings and stroll outside for their moonlit walk. |
| 22 | 46 | The Love Bug Bites Back | 1993-03-21 | 30 | Roc and Eleanor invite their homeless friend, Linda, to the house for dinner and she immediately develops a mutual attraction with their neighbor, "Crazy" George. Roc and Eleanor help George and Linda to overcome their shyness and arrange for them to meet again. They are pleased they could help two lonely people meet each other. |
| 23 | 47 | Time to Move On | 1993-04-04 | 30 | The Emerson family is shocked to learn that Andrew is dating a young woman who looks exactly like his deceased wife. The brothers accuse their father of risking his health by going to dance clubs and wild parties with the young woman. Andrew eventually realizes that he doesn't have any common interests with her nor the energy of her lifestyle. He goes back to his girlfriend Matty who forgives him. |
| 24 | 48 | To Love and Die on Emerson Street (1) | 1993-05-02 | 30 | When "The Downtown Divas" return from a European singing tour, one of the "Divas" asks Roc to help prevent a local drug dealer from murdering her brother. Moments after Roc confronts the drug dealer, an unseen gunman shoots the dealer. (Part 1 of 2) |
| 25 | 49 | To Love and Die on Emerson Street (2) | 1993-05-09 | 30 | After arresting him for the shooting of a local drug dealer named Andre, Detective Rush tries to force a confession out of Roc. Insisting his innocence until he is released, Roc learns that Andre's gang may be out for revenge. Roc goes to a local night club to warn his goddaughter of the danger. He learns that it was his garbage truck partner Calvin who shot Andre to save the neighborhood from his influence. Though he doesn't approve of Calvin's actions, Roc takes up a collection for Calvin's legal defense. (Part 2 of 2) |
Season 3
| Episode No. | No. Overall | Title | Airdate | Runtime | Summary |
| --- | --- | --- | --- | --- | --- |
| 1 | 50 | Sheila in the House | 1993-08-31 | 30 | After being sentenced to prison for the attempted murder of a local drug dealer, Calvin asks Roc to take care of his 11 year old daughter, Sheila. Roc agrees to assume custody of Sheila as a favor to Calvin, whom he admires for his courage and sacrifice in wounding a powerful drug dealer. Roc learns that Sheila is angry with her father for leaving her homeless. Roc explains to Sheila that Calvin believes he was protecting her and the other neighborhood children by committing the crime. |
| 2 | 51 | The Garbageman's Apprentice | 1993-09-07 | 30 | When Roc's crazy neighbor George is hired by the Sanitation Department, Roc is assigned to teach the annoying man how to be a garbage collector. Meanwhile, Joey persuades the Emersons' foster daughter Sheila to use the computer's mathematical probability program to determine the winning horses at the racetrack. |
| 3 | 52 | The Poker Hand That Rocks the Cradle | 1993-09-14 | 30 | When Eleanor's baby party interferes with Roc's weekly poker game, the expectant couple worry that the baby may interfere in their fun and romance. Then Roc loses the money for Eleanor's anniversary gift in a game. |
| 4 | 53 | Joey the Bartender | 1993-09-21 | 30 | Charlaine hires Joey to be a bartender at her restaurant, but he quickly demonstrates his irresponsibility by transforming it into a gambling casino. |
| 5 | 54 | Crime and Punishment | 1993-09-28 | 30 | When Sheila is out two hours past her curfew, the family worries; and when she shows up, saying she lost track of time at the movies, Roc and Joey have to punish her. |
| 6 | 55 | Labor Intensive | 1993-10-05 | 30 | When Roc finally realizes the importance of prenatal care for the health of their baby, he obsessively pampers Eleanor with food, exercise and music. Meanwhile, Joey and Andrew meet Al Fontaine, a dishonest acquaintance who enjoys gambling on silly stunts and party games. Joey tries to win back a large wager that he lost to Al in the past but is unsuccessful. |
| 7 | 56 | Unforgiven | 1993-10-12 | 30 | When Andrew's goddaughter Nina comes to town, Andrew warns Joey to stay away from her. Joey agrees. Nina takes a shine to Joey, and has him show her the sights of the city. Then Nina seduces Joey back at her hotel room, and Joey naturally gives in despite his better judgement. |
| 8 | 57 | R.E.S.P.E.C.T. | 1993-10-19 | 30 | Eleanor instructs Sheila on how to defend her dignity against sexist remarks made by a rude boy at school. Meanwhile, Andrew asks Joey to take his senior citizens group to the horse racing track. When Joey addresses the seniors about betting on horses, they criticize him for gambling instead of working at a job. |
| 9 | 58 | The Graduate | 1993-11-02 | 30 | Roc wants a management job with the Sanitation Department, but he's lacking one qualification, a high school diploma. When he learns that he can get his diploma by achieving a good grade on the GED Test, Roc prepares for the examination with the help of his family. |
| 10 | 59 | Final Analysis | 1993-11-09 | 30 | The therapist that Joey consults about his gambling addiction accuses Roc of being the problem. Meanwhile, Eleanor takes care of their crazy neighbor, George, when his guardian leaves town for a week. |
| 11 | 60 | He Ain't Heavy, He's My Father | 1993-11-16 | 30 | As Sheila is about to celebrate her twelfth birthday, Roc wonders why she refuses to visit her father, Calvin, in prison. Meanwhile, the Emerson's doctor offers to reveal the sex of their baby, which is due to be born at any time. Eleanor insists that she wants to be surprised during the birth, but Roc is impatient to know what kinds of baby clothes and toys he should scavenge from his garbage route. |
| 12 | 61 | God Bless the Child | 1993-11-23 | 30 | When Roc and Eleanor bring their new baby home from the hospital, Eleanor's mother, Margaret, immediately accuses Roc of raising the child incorrectly. Meanwhile, Joey arrives home wearing an expensive new suit. After confessing that he won a large amount of money by gambling, Roc accuses Joey of ignoring his promise not to gamble. |
| 13 | 62 | Shove It Up Your Asprin | 1993-12-07 | 30 | When Roc is burdened with an excessive hospital bill for the birth of his baby and Sheila's fractured arm, he leads an angry protest against the hospital's pricing policy. |
| 14 | 63 | Terence Got His Gun | 1994-01-04 | 30 | Roc and Eleanor are outraged when they learn that Sheila's new friend, Terence, carries a handgun to school to defend himself against the violent gang members. Meanwhile, Joey organizes his musician friends to fund their own music school to educate and occupy the neighborhood children. |
| 15 | 64 | Citizen Roc (1) | 1994-01-11 | 30 | Frustrated by the gang members and drug dealers in his neighborhood, Roc campaigns for political office to try and reduce the crime rate. (Part 1 of 2) |
| 16 | 65 | Citizen Roc (2) | 1994-01-18 | 30 | A contributor to Roc's opponent may be linked to Andrew, who gets a visit from Roc's varied group of supporters. (Part 2 of 2) |
| 17 | 66 | No Place Like a Home | 1994-02-01 | 30 | With the arrival of the new baby, Andrew feelis like a burden to the Emerson family and moves into the local senior citizens home. Joey volunteers to be the baby's guardian in Roc and Eleanor's will, and to prove that he isn't irresponsible, Joey cares for the baby in his apartment while Roc and Eleanor have a romantic evening together. |
| 18 | 67 | The Concert | 1994-02-08 | 30 | Joey convinces Roc that he's learning to be more responsible when he produces a benefit concert for his new music school. Joey's efforts are threatened by a last-minute emergency, so his family lends him money -- while worrying that the funds might really be going to a bookie. |
| 19 | 68 | The Last Temptation of Roc | 1994-02-15 | 30 | While attending a convention in Miami, Roc is romantically tempted by a former childhood friend, who is now a beautiful woman. After sharing an innocent day visiting local tourist attractions, Meanwhile, Carolita shows up on the Emerson's doorstep with nowhere to go on account of the bad weather. Diane returns with Roc to the hotel lounge and they exchange a passionate kiss. |
| 20 | 69 | Brothers | 1994-04-05 | 30 | Andrew's gay brother visits and announces he plans to move to Paris with his boyfriend. Joey and Roc have a run-in with a drug dealer. |
| 21 | 70 | Emerson vs. Emerson | 1994-05-03 | 30 | Eleanor tries to change Roc's bad habits; Joey seeks a date. |
| 22 | 71 | You Shouldn't Have to Lie | 1994-05-10 | 30 | Roc gets Andre to help a young hood; Eleanor learns that a friend's daughter is HIV-positive. |
Series Cast
| | | | |
| --- | --- | --- | --- |
| | Rocky Carroll | as Joey Emerson | |
| | Charles S. Dutton | as Roc Emerson | |
| | Carl Gordon | as Andrew Emerson | |
| | Ella Joyce | as Eleanor Emerson | |
Series Crew
| | Position | Name |
| --- | --- | --- |
| | Executive Producer | Charles S. Dutton |
| | Executive Producer | Joe Fisch |
| | Executive Producer | Brian Pollack |
| | Executive Producer | Mert Rich |
| | Executive Producer | Vic Kaplan |
| | Creator | Stan Daniels |
| | Re-Recording Mixer | Charlie McDaniel |
| | Re-Recording Mixer | Rick Himot |
Related News
TVMaze