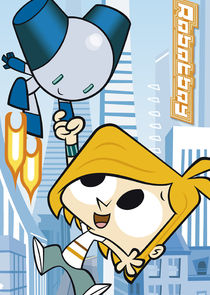 Robotboy is the latest creation of the world renowned scientist Professor Moshimo. Due to fears that Robotboy would be stolen by his arch-enemy Dr. Kamikazi and his main henchman Constantine to be used to take over the world, Professor Moshimo entrusts Robotboy to 10-year-old Tommy Turnbull, his biggest fan. While being protected by Tommy and his two friends Lola and Gus, or "G-man" as he calls himself, Robotboy learns how to behave and act as if he were a real boy.
Series Overview
Rating
imDb Rating: 5.7 (1,264 Votes)
Metascore: N/A
Plot
Robotboy is a cute, cutting-edge, butt-kicking battle-robot, who dreams of becoming a real boy. Created by world-renowned scientist Professor Moshimo, Robotboy has the ability to ...
Details
Rated: TV-G
Released: 03 Sep 2005
Runtime: 30 min
Genre: Animation, Action, Comedy
Director: N/A
Writer: Jan Van Rijsselberge
Actors: Laurence Bouvard, Rupert Degas, Togo Igawa, Eiji Kusuhara
Language: German, English
Country: France, USA
Awards: N/A
Total Seasons: 3
Previous Episode
The Return of Robotgirl / Momma's Boy
Episode 2x26; Sep 27, 2008
Previous Episodes 2x26: The Return of Robotgirl / Momma's Boy 2x25: The Revenge of Protoboy / Everybody Loves Grandma 2x24: Donnie Turnbull's Day Off / Robomonkey Shines 2x23: Bowling for Dummies / Tween for a Day 2x22: Udder Madness / Bad Nanny! 2x21: I Hero! / Rats! 2x20: Robotboy's Fifteen Minutes / The Old Switcharobot 2x19: Knockoffs / Gus's Mix 2x18: The Curse of Truckenstein / Robolympics

View All Episodes
Skip to:
Season 1
| Episode No. | No. Overall | Title | Airdate | Runtime | Summary |
| --- | --- | --- | --- | --- | --- |
| 1 | 1 | Dog Ra / War and Pieces | 2005-11-01 | 30 | |
| 2 | 2 | Brother / Roughing It | 2005-11-02 | 30 | |
| 3 | 3 | I Want That Toy! / Sweet Revenge! | 2005-11-03 | 30 | |
| 4 | 4 | Cleaning Day / Constabot | 2005-11-04 | 30 | |
| 5 | 5 | The Donnienator / Halloween! | 2005-11-05 | 30 | |
| 6 | 6 | Teasebots / Constantine Rising | 2005-11-06 | 30 | |
| 7 | 7 | Metal Monster / Time-Transmission | 2005-11-07 | 30 | |
| 8 | 8 | Robot Love / Brother Bjorn | 2005-11-08 | 30 | |
| 9 | 9 | The Boy Who Cried Kamikazi / Christmas Evil | 2005-11-09 | 30 | |
| 10 | 10 | Human Fist on Ice / Robot Rebels | 2005-11-10 | 30 | |
| 11 | 11 | Underwater / Kamikazi Nightmare | 2005-11-11 | 30 | |
| 12 | 12 | Don't Fight It! / Kurt's Father | 2005-11-12 | 30 | |
| 13 | 13 | Crying Time / Runaway Robot | 2005-11-13 | 30 | |
| 14 | 14 | Robotman / The Tale of Two Evil Geniuses | 2006-02-20 | 30 | |
| 15 | 15 | There's Something About Stevie / The Homecoming | 2006-02-21 | 30 | |
| 16 | 16 | Kintergarden Kaos / Robotgirl | 2006-02-22 | 30 | |
| 17 | 17 | Bambi-Bot / Double Tommy | 2006-02-23 | 30 | |
| 18 | 18 | Tether Tommy / The Tune Up | 2006-02-24 | 30 | |
| 19 | 19 | Shelf Life / The Babysitter | 2006-02-27 | 30 | |
| 20 | 20 | The Manchurian Robot / Door to Door | 2006-02-28 | 30 | |
| 21 | 21 | The Consultant / Feline Frenzy | 2006-03-01 | 30 | |
| 22 | 22 | Attack of the KIller G-Men / Party Out of Bounds | 2006-03-02 | 30 | |
| 23 | 23 | Tummy Trouble / Valentine's Day | 2006-03-03 | 30 | |
| 24 | 24 | Fight / Cast Iron Constantine | 2006-03-06 | 30 | |
| 25 | 25 | Kamispazi / Kami Kameleon | 2006-03-07 | 30 | |
| 26 | 26 | Wrestling with Gus / Soothsayer | 2006-03-08 | 30 | |
Season 2
| Episode No. | No. Overall | Title | Airdate | Runtime | Summary |
| --- | --- | --- | --- | --- | --- |
| 1 | 27 | Six Million Euro Man / RoboGus and the G-Machine | 2007-10-29 | 30 | |
| 2 | 28 | Foot Brawl / Remote Out of Control | 2007-10-30 | 30 | |
| 3 | 29 | Hair-A-Parent / Clammadon Rising | 2007-11-01 | 30 | |
| 4 | 30 | Bad Language / Up a Tree | 2007-11-02 | 30 | |
| 5 | 31 | Wunderpark / Zap! You're Old | 2007-11-05 | 30 | |
| 6 | 32 | Racer Zero / The Legend of Brainy Yak | 2007-11-06 | 30 | |
| 7 | 33 | Nursing a Grudge / Stuck on You | 2007-11-07 | 30 | |
| 8 | 34 | The Sleepover / Rowho? | 2007-11-08 | 30 | |
| 9 | 35 | C.H.O.P / Destroy All Robots | 2007-11-09 | 30 | |
| 10 | 36 | Science Fear / Automatommy | 2007-11-12 | 30 | |
| 11 | 37 | Mancation / Journey to the Center of the Gus | 2007-11-13 | 30 | |
| 12 | 38 | Traffic Slam / Tragic Magic | 2007-11-14 | 30 | |
| 13 | 39 | Ooh That Smell / Museum Madness | 2007-11-15 | 30 | |
| 14 | 40 | Gus's Big Mouth / Small Problems | 2008-07-05 | 30 | |
| 15 | 41 | Vitamin Sucker / Ogbot | 2008-07-07 | 30 | |
| 16 | 42 | Runaway Robot (again) / Grow-No-Mo! | 2008-07-19 | 30 | |
| 17 | 43 | Aunty Gravitee / Cheezy Fun for Everyone | 2008-07-26 | 30 | |
| 18 | 44 | The Curse of Truckenstein / Robolympics | 2008-08-02 | 30 | |
| 19 | 45 | Knockoffs / Gus's Mix | 2008-08-09 | 30 | |
| 20 | 46 | Robotboy's Fifteen Minutes / The Old Switcharobot | 2008-08-16 | 30 | |
| 21 | 47 | I Hero! / Rats! | 2008-08-23 | 30 | |
| 22 | 48 | Udder Madness / Bad Nanny! | 2008-08-30 | 30 | |
| 23 | 49 | Bowling for Dummies / Tween for a Day | 2008-09-13 | 30 | |
| 24 | 50 | Donnie Turnbull's Day Off / Robomonkey Shines | 2008-09-16 | 30 | |
| 25 | 51 | The Revenge of Protoboy / Everybody Loves Grandma | 2008-09-20 | 30 | |
| 26 | 52 | The Return of Robotgirl / Momma's Boy | 2008-09-27 | 30 | |
Season 3
| Episode No. | No. Overall | Title | Airdate | Runtime | Summary |
| --- | --- | --- | --- | --- | --- |
Series Crew
| | Position | Name |
| --- | --- | --- |
| | Creator | Jan Van Rijsselberge |
Related News
TVMaze