Drama series which gives a contemporary feel to the classic Robin Hood legend, focusing on Robin Hood's fight against the evil and corrupt Sheriff of Nottingham.
Series Overview
Rating
imDb Rating: 7.5 (15,150 Votes)
Metascore: N/A
Plot
After 5 years of fighting in the crusades, Robin returns to England and leads a band of outlaws to outwit the Sheriff of Nottingham.
Details
Rated: TV-PG
Released: 03 Mar 2007
Runtime: 60 min
Genre: Action, Adventure, Comedy, Drama, Romance
Director: N/A
Writer: Foz Allan, Dominic Minghella
Actors: Jonas Armstrong, Gordon Kennedy, Sam Troughton, Joe Armstrong
Language: English
Country: UK
Awards: 3 nominations.
Total Seasons: 3
Previous Episode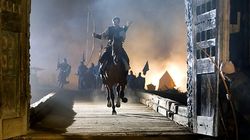 Something Worth Fighting For: Part II
Episode 3x13; Jun 27, 2009
War breaks out in Nottingham as the Sheriff attacks with everything he has. Robin and the gang fight to defend the castle, but are forced to retreat. Finally it comes down to the feared few: Robin, Gisborne, Isabella and the Sheriff. Who, if anyone, will survive the bloodiest of battles?
Previous Episodes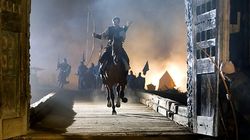 3x13: Something Worth Fighting For: Part II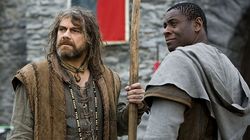 3x12: Something Worth Fighting For: Part I


3x11: The Enemy of My Enemy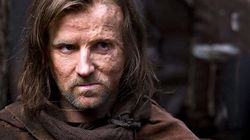 3x10: Bad Blood


3x9: A Dangerous Deal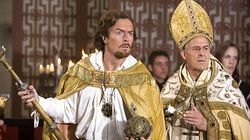 3x8: The King Is Dead, Long Live the King...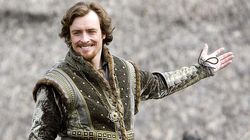 3x7: Too Hot to Handle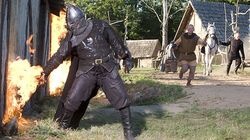 3x6: Do You Love Me?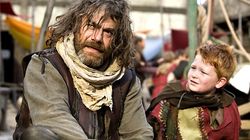 3x5: Let the Games Commence

View All Episodes
Cast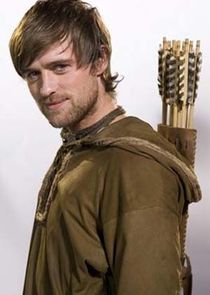 Jonas Armstrong as Robin Hood / Robin of Locksley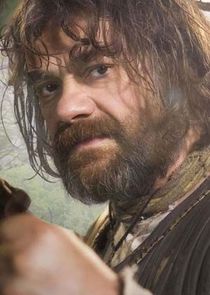 Gordon Kennedy as Little John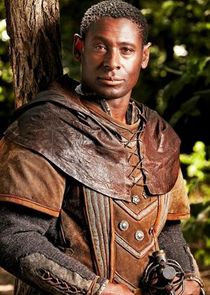 David Harewood as Tuck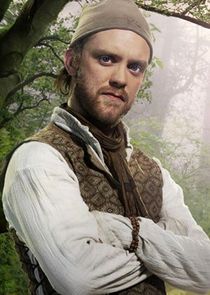 Sam Troughton as Much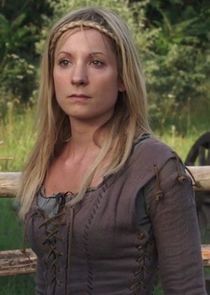 Joanne Froggatt as Kate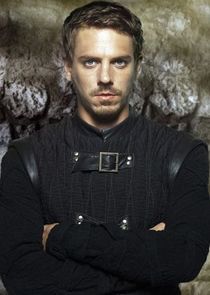 Joe Armstrong as Allan-a-Dale
View Full Cast
Skip to:
Season 1
| Episode No. | No. Overall | Title | Airdate | Runtime | Summary |
| --- | --- | --- | --- | --- | --- |
| 1 | 1 | Will You Tolerate This? | 2006-10-07 | 45 | Robin of Locksley heads home from the Crusades to find his people starving and brutalised. |
| 2 | 2 | Sheriff Got Your Tongue? | 2006-10-14 | 45 | The humiliated Sheriff storms into Locksley, threatening revenge until Robin surrenders. |
| 3 | 3 | Who Shot the Sheriff? | 2006-10-21 | 45 | Robin Hood is blamed when a sniper murders innocent people in Nottingham. Desperate to stop the killings, Robin must form an unholy alliance with the Sheriff. |
| 4 | 4 | Parent Hood | 2006-10-28 | 45 | Robin and his men discover an abandoned baby in Sherwood Forest just before the Sheriff kidnaps Roy. |
| 5 | 5 | Turk Flu | 2006-11-04 | 45 | The Nottingham Fair arrives, bringing with it the lure of the silver arrow competition. |
| 6 | 6 | The Taxman Cometh | 2006-11-11 | 45 | Robin and his gang come across a tax inspector and use him as cover for entry to Nottingham Castle. |
| 7 | 7 | Brothers in Arms | 2006-11-18 | 45 | A family reunion between Allan and his brother Tom turns sour when Tom and his crooked friends tag along. |
| 8 | 8 | Tattoo? What Tattoo? | 2006-11-25 | 45 | King Richard's birthday turns out to be a day of surprises for the gang. After raiding Gisborne's party Robin discovers a terrible secret. |
| 9 | 9 | A Thing or Two About Loyalty | 2006-12-02 | 45 | Lambert invents an explosive black powder, but in the wrong hands it could be lethal. |
| 10 | 10 | Peace? Off! | 2006-12-09 | 45 | Robin unleashes a series of events leading to the discovery of a Saracen visitor at Nottingham Castle. |
| 11 | 11 | Dead Man Walking | 2006-12-16 | 45 | At Locksley, Robin and Little John witness a brutal tax collection and the arrest of Little John's son. |
| 12 | 12 | The Return of the King | 2006-12-23 | 45 | King Richard returns to England. Marian faces marriage to Guy of Gisborne. |
| 13 | 13 | A Clue - No | 2006-12-30 | 45 | Robin can't come to terms with losing Marian. He refuses to help Edward in confronting the King. |
Season 2
Episode No.
No. Overall
Title
Airdate
Runtime
Summary
1
14
Sisterhood
2007-10-06
45

A return to Sherwood sees the outlaws constructing a new camp. But the sherriff has plans of his own as Knighton Hall is razed to the ground and Marian and Edward are arrested.

2
15
The Booby and the Beast
2007-10-13
45

A medieval grand casino arrives at Nottingham Castle which the Sheriff isn't planning to lose, so he's built a strongroomcontaining a labyrinth of deadly traps to guard the gambling silver. With the help of Marian and the wealthy and apparently feckless Bavarian count who's unwittingly about to be fleeced by the Sheriff, Robin is determined to beat the complex security system.

3
16
Childhood
2007-10-20
45

When a group of boys stumbles on Gisborne's weapons testing site, all but one is taken prisoner. Daniel raises the alarm and Robin hatches a plan, but with Gisborne protected by an indestructible suit of armour, a rescue attempt is more difficult than it might first appear. Robin must think fast if he's to save a boy's life and stop a vital part of the Sheriff's war machine.

4
17
Angel of Death
2007-10-27
45

The Sheriff and his sinister scientist Joseph are testing a chemical weapon on a street in Nottingham and blaming the ill-effects on the pestilence,but Will Scarlett's father Dan knows it's not the pestilence at all. When the Sheriff murders Dan for speaking out against a suspected poisoning, Robin must track down the source of poison in time. But what will he do when he realises that Will is intent on avenging his father's death?

5
18
Ducking and Diving
2007-11-03
45

A horrified Robin realises that his plan to capture the Sheriff's spy Henry of Lewes has failed because he has a traitor in his gang. Luckily,Henry has arrived at the castle unconscious and Robin can also depend on Marian's spying and loyal wise-woman Matilda to help him in his mission. Can Robin silence Henry and rescue Matilda before the Sheriff ducks her for witchcraft, and will he work out who the traitor is?

6
19
For England...!
2007-11-10
45

When Robin discovers that the Black Knights are descending on Nottingham to sign an insidious pact against the King, he turns to Lord Winchester as his only hope. With Winchester on-side and ready to stand upto the Sheriff, Robin thinks the job is done - until he realises, to his horror, that Winchester is corrupt. Robin must steel himself to make the ultimate sacrifice for England.

7
20
Show Me the Money
2007-11-17
45

Robin is determined to get hold of the Great Pact of Nottingham, but when a lovelorn Knight begs the outlaws to help him save his girl, Robin decides he'll use the Knight's silver to locate where the Sheriff'streasure, including the Pact, is hidden. But with Allan A Dale now firmly on the dark side and leaking the outlaws' secrets to Gisborne, Robin realises he must act quickly to save Marian. Worse still, Edward has his own agenda for the Pact, with tragic and life-changing consequences for Marian.

8
21
Get Carter!
2007-11-24
45

Marian's arrival in the gang distracts them from detecting the Sheriff's infiltrator in their midst. As Carter the assassin strikes his deadly blow, Robin discovers he's concealing another secret - revenge forhis dead brother. Rather than punishing the murderous assassin, Robin wins him over and persuades him to turn the tables on the Sheriff.

9
22
Lardner's Ring
2007-12-01
45

A mortally wounded messenger from King Richard flees Locksley Manor, pursued by Gisborne's men, and runs straight into the arms of Robin. In his dying breaths, the messenger utters the word 'Lardner', to Robin's confusion.

What is clear, though, is that Gisborne and the Sheriff are hunting the same Lardner. Trapped in the tree that houses the secret, Robin and Marian realise that unless they resort to desperate measures - and the help of a Fool - they face certain death.

10
23
Walkabout
2007-12-08
45

The Sheriff sleepwalks into Sherwood Forest as Prince John's messenger arrives to check all is well. Finding him absent, the messenger summons Prince John's army to raze Nottingham to the ground at sunset.Desperate times compel Gisborne to rely on Robin's tracking skills to find the Sheriff, but Robin realises the Sheriff has stumbled onto an opportunity to regain the Pact of Nottingham. Gisborne risks his life standing by Marian as they fight to save the people of Nottingham.

11
24
Treasure of the Nation
2007-12-15
45

The King's guard Legrand arrives with a vital mission for Robin. As Robin joins the quest to unravel the coded clues leading to the mysterious Thesaurus Patriae, Marian decides to act alone in helping Locksley villagers. The Sheriff is hunting the Thesaurus Patriae, too. Everyone's in for a surprise when King Richard's treasure turns out to be neither gold nor jewellery.

12
25
A Good Day to Die
2007-12-29
45

When Robin and the Outlaws arrive for Robin's birthday they are surrounded by the Sheriff's mercenaries, while traitor, Allan a Dale, realises that the Sheriff and Gisborne are heading to the Holy Land to kill the King. Fearless Marian takes it upon herself to stop the Sheriff in his tracks whilst Allan must choose his allegiance. Will Robin realise that the mercenaries are merely there to distract him from the Sheriff's new dastardly plan and will Allan come to his senses?

13
26
We Are Robin Hood!
2007-12-29
90

Robin and the Outlaws, The Sheriff, Gisborne and Marian are now in the Holy Land. Robin warns the King of the impending threat to his life, but the Sheriff's cunning has prevailed; instead of a heroes welcome, Robin and the Outlaws are treated as traitors...

Marian makes a final attempt to redeem Gisborne; if he kills the Sheriff, he will have everything he wants, including her... but will fear of the Sheriff and the smell of power win the battle for Gisborne's soul?

The battle for England is on. Will Robin be released in time to save the King's life? Will Marian escape from the clutches of the Sheriff?
Season 3
Episode No.
No. Overall
Title
Airdate
Runtime
Summary
1
27
Total Eclipse
2009-03-28
45

When Robin returns from the Holy Land to avenge Marian's murder an epic battle rages between him and Gisborne, with both determinedto fight to the death. Tuck arrives in Nottingham searching for Robin Hood, believing he's the only man who can unite the people of England and destroy the tyrannical reign of the Sheriff, Gisborne and Prince John.

2
28
Cause and Effect
2009-04-04
45

The Sheriff sells the local village men to Irish warriors who need new army recruits, but when Robin is captured himself, can he escape execution in time to save the conscripts?

Kate, a village girl from Locksley, tries to help the outlaws and rescue her brother, but her heroics have devastating consequences.

3
29
Lost in Translation
2009-04-11
45

The Sheriff turns the heat up on Robin and his gang by forcing the Abbot to accuse them of stealing from the church.

Tuck's attempt to clear Robin's name ends with him being captured and tied to the rack. Will the gang free Tuck in time, while escaping execution themselves?

4
30
Sins of the Father
2009-04-18
45

Ruthless Rufus is in town, intent on revenge. When he kidnaps Allan and Kate, Robin retaliates by snatching his son. Robin and the gang face a race against time as they try to find Rufus' hiding place. Will they succeed, or is this the end of the road for Allan and Kate?

5
31
Let the Games Commence
2009-04-25
45

Gisborne is back, and he is not alone; by his side are Prince John's Elite Guards and a mysterious weapon. This time, he is determined to catch Hood.

As the gang run for their lives, Little John gets separated and ends up in a Gladiator circus. And who is the damsel in distress Robin saves?

6
32
Do You Love Me?
2009-05-02
45

Prince John pays a long-awaited visit to Nottingham, and he is out to make mischief. With Gisborne and the Sheriff assigned a royal mission, it surely spells the end for one of them.

Meanwhile, Robin is up to mischief of his own, but who is the lucky woman?

7
33
Too Hot to Handle
2009-05-09
45

A heat wave hits Nottinghamshire and, when Prince John blocks all the local wells, the outlaws are forced to take desperate measures to save those at risk.

Prince John discovers Robin and Isabella's secret relationship, and orders Gisborne to dispose of them, telling him that if he completes the task he will be made the new Sheriff. Isabella proposes a life away from Nottinghamshire, and Robin has to make a difficult choice about his future.

8
34
The King Is Dead, Long Live the King...
2009-05-23
45

Isabella will go to any lengths to prove her loyalty to the Prince, and to win the Sheriff's job for herself.

Meanwhile, suspicious news arrives from the Holy Land that King Richard is dead, and Robin squares up against his former mentor, Lord Sheridan, in an attempt to stop Prince John's hasty coronation.

9
35
A Dangerous Deal
2009-05-30
45

Gisborne awaits his execution in a Nottingham dungeon, and meets a fellow prisoner who has a profound effect upon him.

Robin thinks he can strike a deal with Sheriff Isabella, but his plans are thwarted when an unexpected stranger from her past arrives, looking for revenge.

10
36
Bad Blood
2009-06-06
45

It's a step back in time as a mysterious figure forces Robin and Gisborne to hear the story of their past.

The truth about their parents is exposed and a huge revelation rocks them both to the core. As the strange figure shows his face, Robin and Gisborne know their lives will never be the same again.

11
37
The Enemy of My Enemy
2009-06-13
45

The gang are shocked when Robin announces that Gisbourne is joining their fight against Isabella, but can their uneasy truce survive?

Robin and Gisbourne then travel to York to save their half-brother Archer from execution, and find that he has made a formidable enemy in the Sheriff of York.

12
38
Something Worth Fighting For: Part I
2009-06-20
45

The battle begins as Isabella rounds up men to send to Prince John, and the gang do everything they can to stop her. Archer joins forces with his sister, and sends a trap to snare Robin and Gisborne. But who is really pulling the strings behind the evil that is coming to Nottingham?

13
39
Something Worth Fighting For: Part II
2009-06-27
45

War breaks out in Nottingham as the Sheriff attacks with everything he has. Robin and the gang fight to defend the castle, but are forced to retreat. Finally it comes down to the feared few: Robin, Gisborne, Isabella and the Sheriff. Who, if anyone, will survive the bloodiest of battles?
Series Cast
| | | | |
| --- | --- | --- | --- |
| | Jonas Armstrong | as Robin Hood / Robin of Locksley | |
| | Gordon Kennedy | as Little John | |
| | David Harewood | as Tuck | |
| | Sam Troughton | as Much | |
| | Joanne Froggatt | as Kate | |
| | Joe Armstrong | as Allan-a-Dale | |
| | Richard Armitage | as Sir Guy of Gisborne | |
| | Lara Pulver | as Isabella | |
| | Clive Standen | as Archer | |
| | Lucy Griffiths | as Marian | |
| | Harry Lloyd | as Will Scarlet | |
| | Keith Allen | as Vaysey, Sheriff of Nottingham | |
| | William Beck | as Royston "Roy" White | |
| | Anjali Jay | as Djaq | |
Series Crew
| | Position | Name |
| --- | --- | --- |
| | Executive Producer | Greg Brenman |
| | Creator | Dominic Minghella |
| | Creator | Foz Allan |
Related News
TVMaze