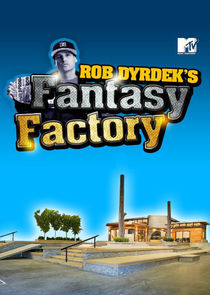 Rob Dyrdek has spent most of his life turning fantasy into reality. Even as a young skateboarder, Rob defied all odds by going pro at the age of 16. Since then, Rob has always believed that even the wildest fantasies are possible if you commit to making them real. Fans of MTV's Rob and Big know that he proves it by embracing, pursuing and achieving the products of his own imagination.
Series Overview
Rating
imDb Rating: 7.7 (2,362 Votes)
Metascore: N/A
Plot
A crew of people come up with new things to do every week. One day, they may work on a business franchise. Another day, they might go and make someone ride a bull, or shoot burritos at ...
Details
Rated: TV-PG
Released: 08 Jan 2009
Runtime: 21 min
Genre: Comedy, Reality-TV
Director: N/A
Writer: Shane Nickerson, Rob Dyrdek, Ruben Fleischer, Jeff Tremaine
Actors: Rob Dyrdek, Ralph Saenz, Chris Pfaff, Chanel West Coast
Language: English
Country: USA
Awards: 4 nominations.
Total Seasons: 7
Previous Episode
Final Final Finale
Episode 7x10; Mar 05, 2015
Previous Episodes 7x10: Final Final Finale 7x9: Best of, Bonus and Behind the Scenes 7x8: TTFL and the Old War Dog 7x7: Patty's Bucket List 7x6: Happy Meter 7x5: Big Black Forest Ham and the Foot Long Kid 7x4: The Clean Hole Alliance 7x3: Strike Slinger and the Bowl Bear 7x2: 600 Horsepower of American Muscle

View All Episodes
Cast
Scott Pfaff as Scott Pfaff
Rob Dyrdek as Rob Dyrdek
Chris "Drama" Pfaff as Chris "Drama" Pfaff
Christopher Boykin as Christopher Boykin
Chelsea "Chanel West Coast" Dudley as Chelsea "Chanel West Coast" Dudley
Gene Dyrdek as Gene Dyrdek
View Full Cast
Skip to:
Season 1
| Episode No. | No. Overall | Title | Airdate | Runtime | Summary |
| --- | --- | --- | --- | --- | --- |
| 1 | 1 | Super Blob | 2009-02-08 | 30 | |
| 2 | 2 | Get with Your Power Animal | 2009-02-15 | 30 | |
| 3 | 3 | Extreme Timmy | 2009-02-22 | 30 | |
| 4 | 4 | Motelier | 2009-03-01 | 30 | |
| 5 | 5 | Bangin' on Fools | 2009-03-08 | 30 | |
| 6 | 6 | This is Not Mom-Certified | 2009-03-15 | 30 | |
| 7 | 7 | Shark Sugar | 2009-03-22 | 30 | |
| 8 | 8 | Unseen Footage Show | 2009-03-29 | 30 | |
| 9 | 9 | No Mandals | 2009-04-05 | 30 | |
| 10 | 10 | Cole Hernandez | 2009-04-12 | 30 | |
| 11 | 11 | Best of, Bonus and Behind the Scenes | 2009-04-19 | 30 | |
| 12 | 12 | Dusty Monkey | 2009-04-26 | 30 | |
Season 2
| Episode No. | No. Overall | Title | Airdate | Runtime | Summary |
| --- | --- | --- | --- | --- | --- |
| 1 | 13 | Dirty Man-Horse | 2009-08-27 | 30 | |
| 2 | 14 | Natural Born Gymkhana-er | 2009-09-03 | 30 | |
| 3 | 15 | Trust Your Pilot, Respect Your Monkey | 2009-09-10 | 30 | |
| 4 | 16 | Local Celebrity Almost Dies! | 2009-09-17 | 30 | |
| 5 | 17 | Best of, Bonus and Behind the Scenes | 2009-09-24 | 30 | |
| 6 | 18 | Parents Vacation Episode | 2009-10-01 | 30 | |
| 7 | 19 | Lights Out | 2009-10-08 | 30 | |
| 8 | 20 | Fantasy Factory v. The Berrics | 2009-10-15 | 30 | |
| 9 | 21 | Making Moves | 2009-10-22 | 30 | |
Season 3
| Episode No. | No. Overall | Title | Airdate | Runtime | Summary |
| --- | --- | --- | --- | --- | --- |
| 1 | 22 | This is a Skateboard Car | 2010-07-12 | 30 | |
| 2 | 23 | Live Your Brand | 2010-07-19 | 30 | |
| 3 | 24 | Cheese Ballers | 2010-07-26 | 30 | Rob competes in the Grilled Cheese Invitational in Los Angeles, where he hopes to wow foodies with his take on the sandwich. Also: pro skater Torey Pudwill visits the factory. |
| 4 | 25 | It's Barry... Barry Bright | 2010-08-02 | 30 | |
| 5 | 26 | Fantasy Factory's Sketchiest Moments | 2010-08-09 | 30 | |
| 6 | 27 | Operation: Save Patty | 2010-08-16 | 30 | |
| 7 | 28 | He's Just a Little Mini-Pig | 2010-08-23 | 30 | |
| 8 | 29 | I'm an Awkward Enabler! | 2010-08-30 | 30 | |
| 9 | 30 | Best of, Bonus and Behind the Scenes | 2010-08-30 | 30 | |
| 10 | 31 | Hawaiian Manventure | 2010-09-20 | 30 | |
| 11 | 32 | WWII...1972 | 2010-09-27 | 30 | |
| 12 | 33 | Jingle Z | 2010-10-04 | 30 | |
Season 4
| Episode No. | No. Overall | Title | Airdate | Runtime | Summary |
| --- | --- | --- | --- | --- | --- |
| 1 | 34 | Welcome, Big Black | 2011-04-04 | 30 | Justin Bieber stops by the factory and Rob's best friend, Christopher "Big Black" Boykin ("Rob and Big") returns in this Season 4 opener. Also Rob gets chased by a 400-lb. tiger. |
| 2 | 35 | Project Man Dime | 2011-04-11 | 30 | |
| 3 | 36 | The Bleeding Frogs | 2011-04-18 | 30 | Rob forms a "death-metal-kill-pop" band with Drama, Chanel and Big Black. |
| 4 | 37 | Dodging Devil Donkeys | 2011-04-25 | 30 | Rob puts together a dodge-ball team and enters an extremely competative tournament in Los Angeles. |
| 5 | 38 | Best of, Bonus and Behind the Scenes | 2011-05-02 | 30 | Highlights from the first half of Season 4 are featured. |
| 6 | 39 | Ginger Lion | 2011-05-09 | 30 | Rob casts his mom, Patty, in a commercial and gives her the Hollywood star treatment. Later, he surprises her with a special guest at its red-carpet premiere. |
| 7 | 40 | Kid Lightning | 2011-05-16 | 30 | Rob participates in a Wrestlemania event. |
| 8 | 41 | Joe C. and the Magic Goatee | 2011-05-23 | 30 | Rob travels to Louisiana to renovate a rundown skate park. Later, the crew builds a Mardi Gras float using the giant skateboard, and they ride it in a parade. |
| 9 | 42 | Brother Bond | 2011-09-12 | 30 | Rob worries that Drama and Big Cat have lost their brotherly bond, and decides to run them through a series of bonding activities, including hug therapy. |
| 10 | 43 | Phoenix of Love | 2011-09-19 | 30 | Rob and Big Black try to cheer up Drama after he breaks up with his girlfriend. Rob also makes a bet and has to complete a challenge at a skateboard competion. |
Season 5
| Episode No. | No. Overall | Title | Airdate | Runtime | Summary |
| --- | --- | --- | --- | --- | --- |
| 1 | 44 | Super Sonic Rob | 2012-03-19 | 30 | In Season 5 opener, Rob sets out to become the first person to successfully kickflip a car 360 degrees in the air. |
| 2 | 45 | We're in the Burrito Game! | 2012-03-19 | 30 | Drama wants to start a business selling burritos. To give his marketing campaign a boost, Rob insists Drama fight a bull named Murder. |
| 3 | 46 | Chunky as Charged | 2012-03-26 | 30 | Big Black relaunches his line of T-shirts, keeping plus-size women in mind. Later, there's an appearance by Bobby Light, and overweight version of Rob's alter ego. |
| 4 | 47 | You Can Never Be Too Big | 2012-03-26 | 30 | |
| 5 | 48 | Eat My Cookie | 2012-04-02 | 30 | The guys help Chanel prepare for her performance at the Roxy. They decide the lyrics for her single are to provocative and write a G-rated version for her to sing. Gets Big Cat to ride a Rhino. |
| 6 | 49 | Full Scale, Full-Fledged, Certified Minister | 2012-04-02 | 30 | Rob becomes an ordained minister and officiates the wedding of his sister, Denise, at the Fantasy Factory. Before the nuptials, Rob bonds with his soon-to-be brother-in-law. |
| 7 | 50 | I'm Livin' It | 2012-04-09 | 30 | Rob writes a musical about Drama's life. Later, Rob and pro skater Steve Berra invent their own sport. |
| 8 | 51 | Best of, Bonus and Behind the Scenes | 2012-04-09 | 30 | |
| 9 | 52 | Thy Kingdom of Fantasy Factory | 2012-04-16 | 30 | The gang take part in a live-action role-playing (LARP) game by dressing up as supernatural warriors and defending the honor of the Fantasy Factory. |
| 10 | 53 | Dyrdek Day | 2012-04-16 | 30 | Rob hires two mediums and a ghost detector to help Chanel identify the unwanted ghost that she says has been haunting her since childhood. Also the city of Los Angeles declares Feb. 1, 2012, "Rob Dyrdek Day". |
| 11 | 54 | Big Black's Dump Truck | 2012-04-23 | 30 | |
| 12 | 55 | I'm an Alien! | 2012-04-23 | 30 | Rob is convinced he's an alien and meets with alleged alien abductee Riley Martin. Meanwhile, Drama and Chanel compete in the Cover Miss &* Cover Boy Pageant |
Season 6
| Episode No. | No. Overall | Title | Airdate | Runtime | Summary |
| --- | --- | --- | --- | --- | --- |
| 1 | 56 | Movie Stars | 2014-01-16 | 30 | Rob and Big Black try to become action-movie stars in the Season 6 premiere. Meanwhile, Drama gets in touch with his roots. |
| 2 | 57 | Heart of a Lion aka "Born a Lion" | 2014-01-23 | 30 | A basketball-trick-shot competition is held. Talks Big Cat into being "Born like a Lion" |
| 3 | 58 | Butt Brothers | 2014-01-30 | 30 | Chanel gets self-defense training; Big Black asks Rob to help for his physique |
| 4 | 59 | Shoe Trees | 2014-02-06 | 30 | Rob and Big make an infomercial |
| 5 | 60 | Ultimate Funcle | 2014-02-13 | 30 | Rob travels to Ohio to meet his newborn nephew |
| 6 | 61 | Big Black's BBW Round-Up | 2014-02-20 | 30 | |
| 7 | 62 | Snack Off | 2014-02-27 | 30 | Big Black competes in cooking challenge; Big Cat trains to be an MMA fighter |
| 8 | 63 | Fully Uploaded | 2014-03-06 | 30 | Rob stages a competition to find a driver for his new vehicle. |
| 9 | 64 | Bor Kedryd | 2014-03-13 | 30 | |
| 10 | 65 | Best of, Bonus and Behind the Scenes | 2014-03-20 | 30 | |
Season 7
| Episode No. | No. Overall | Title | Airdate | Runtime | Summary |
| --- | --- | --- | --- | --- | --- |
| 1 | 66 | Robert Lightfoot and Silky Black | 2015-01-01 | 30 | Bob and Big Black help Big Cat set up a date in a Season 7 premier |
| 2 | 67 | 600 Horsepower of American Muscle | 2015-01-08 | 30 | Pro skateboarder Jagger Eaton is presented with a unique opportunity |
| 3 | 68 | Strike Slinger and the Bowl Bear | 2015-01-15 | 30 | A Bowling competition is held |
| 4 | 69 | The Clean Hole Alliance | 2015-01-22 | 30 | Rob is inspired to produce a PSA. |
| 5 | 70 | Big Black Forest Ham and the Foot Long Kid | 2015-01-29 | 30 | |
| 6 | 71 | Happy Meter | 2015-02-05 | 30 | Rob challenges Drama and Big Cat to an ostrich race. |
| 7 | 72 | Patty's Bucket List | 2015-02-12 | 30 | Rob helps Patty cross items off her bucket list. |
| 8 | 73 | TTFL and the Old War Dog | 2015-02-19 | 30 | The Peretersen Automotive Museum in Los Angeles makes an offer to Rob. |
| 9 | 74 | Best of, Bonus and Behind the Scenes | 2015-02-26 | 30 | |
| 10 | 75 | Final Final Finale | 2015-03-05 | 30 | |
Series Cast
| | | | |
| --- | --- | --- | --- |
| | Scott Pfaff | as Scott Pfaff | |
| | Rob Dyrdek | as Rob Dyrdek | |
| | Chris "Drama" Pfaff | as Chris "Drama" Pfaff | |
| | Christopher Boykin | as Christopher Boykin | |
| | Chelsea "Chanel West Coast" Dudley | as Chelsea "Chanel West Coast" Dudley | |
| | Gene Dyrdek | as Gene Dyrdek | |
| | Jeremy Larner | as Jeremy Larner | |
| | Pat Dyrdek | as Pat Dyrdek | |
Related News
TVMaze