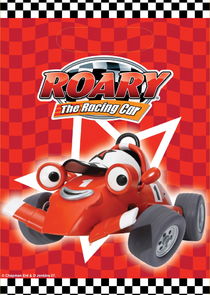 Roary the Racing Car is an animated children's television show. Produced by Chapman Entertainment, Roary the Racing Car follows the adventures of Roary; a bright, cheeky and energetic single-seater, and his amazing race car friends at Silver Hatch race track.
Series Overview
Rating
imDb Rating: 5.4 (179 Votes)
Metascore: N/A
Plot
A Show about a car and his mechanic, a fat dog that is rich and yells.
Details
Rated: N/A
Released: 13 Jul 2009
Runtime: N/A
Genre: Animation, Family
Director: N/A
Writer: Dave Jenkins, Keith Chapman
Actors: Peter Kay
Language: English
Country: UK
Awards: N/A
Total Seasons: 3
Previous Episode
Brassless Band
Episode 2x52; Sep 29, 2010
Previous Episodes 2x52: Brassless Band 2x51: Winter Breeze 2x50: PC Roary 2x49: Silver Hatch Heroes 2x48: Silver Hatch Fun Run 2x47: Big Chris Gets Lucky 2x46: Plugger's New Job 2x45: Crash Landing 2x44: Big Chris's Big Jump

View All Episodes
Skip to:
Season 1
| Episode No. | No. Overall | Title | Airdate | Runtime | Summary |
| --- | --- | --- | --- | --- | --- |
| 1 | 1 | Roary's First Day | 2010-07-01 | 13 | |
| 2 | 2 | Roary Slips Up | 2010-07-02 | 13 | |
| 3 | 3 | Big Chris Flags It Up | 2010-07-05 | 13 | |
| 4 | 4 | Express Delivery | 2010-07-06 | 13 | |
| 5 | 5 | Roary's Day at the Seaside | 2010-07-07 | 13 | |
| 6 | 6 | Roary Takes Off | 2010-07-08 | 13 | |
| 7 | 7 | Cici Takes the Blame | 2010-07-09 | 13 | |
| 8 | 8 | Big Chris's Big Workout | 2010-07-12 | 13 | |
| 9 | 9 | Flash Flips Out | 2010-07-13 | 13 | |
| 10 | 10 | Rusty Remembers | 2010-07-14 | 13 | |
| 11 | 11 | Easy on the Fuel | 2010-07-15 | 13 | |
| 12 | 12 | Communication Breakdown | 2010-07-16 | 13 | |
| 13 | 13 | Blue Light Job | 2010-04-04 | 13 | |
| 14 | 14 | Make Your Mind Up Roary | 2010-04-05 | 13 | |
| 15 | 15 | Workshop Roary | 2010-04-11 | 13 | |
| 16 | 16 | Tip Top Tin Top | 2010-04-12 | 13 | |
| 17 | 17 | Tunnel Vision | 2010-04-18 | 13 | |
| 18 | 18 | Molecom Makes Music | 2010-04-19 | 13 | |
| 19 | 19 | Roary Goes Missing | 2010-04-25 | 13 | |
| 20 | 20 | Mama Mia | 2010-04-26 | 13 | |
| 21 | 21 | Surround Sound | 2010-05-02 | 13 | |
| 22 | 22 | Plugger's on the Case | 2010-05-03 | 13 | |
| 23 | 23 | Big Chris Learns to Fly | 2010-05-09 | 13 | |
| 24 | 24 | Musical Mayhem | 2010-05-10 | 13 | |
| 25 | 25 | Braking Promises | 2010-05-16 | 13 | |
| 26 | 26 | Secret Treasures | 2010-03-31 | 13 | |
| 27 | 27 | Roary on Thin Ice | 2010-04-01 | 13 | |
| 28 | 28 | Drifter's Last Day | 2010-04-02 | 13 | |
| 29 | 29 | Out of Juice | 2010-04-05 | 13 | |
| 30 | 30 | Roary's Wake Up Call | 2010-04-06 | 13 | |
| 31 | 31 | Big Chris Says Sorry | 2010-04-07 | 13 | |
| 32 | 32 | Maxi's New Engine | 2010-04-08 | 13 | |
| 33 | 33 | Busy Day for Big Chris | 2010-04-09 | 13 | |
| 34 | 34 | Tin Top Gets Scared | 2010-04-12 | 13 | |
| 35 | 35 | Roary Loses a Friend | 2010-04-13 | 13 | |
| 36 | 36 | Spooky Forest | 2010-04-14 | 13 | |
| 37 | 37 | FB in the Fast Lane | 2010-04-15 | 13 | |
| 38 | 38 | Roary Goes Back to School | 2010-04-16 | 13 | |
| 39 | 39 | The Rabbit That Yelled Stop | 2010-04-19 | 13 | |
| 40 | 40 | Cici Gets Fired Up | 2010-04-20 | 13 | |
| 41 | 41 | Stars and Cars | 2010-04-21 | 13 | |
| 42 | 42 | Crash Test Roary | 2010-04-22 | 13 | |
| 43 | 43 | Roary Sees Red | 2010-04-23 | 13 | |
| 44 | 44 | Rusty Takes a Trip | 2010-04-26 | 13 | |
| 45 | 45 | Roary Cleans Up His Act | 2010-04-27 | 13 | |
| 46 | 46 | Green Eyed Roary | 2010-04-28 | 13 | |
| 47 | 47 | Big Chris Forgets | 2010-04-29 | 13 | |
| 48 | 48 | Big Chris Babysits | 2010-04-30 | 13 | |
| 49 | 49 | Roary and Nigel | 2010-05-03 | 13 | |
| 50 | 50 | Roary Gets It Wrong | 2010-05-04 | 13 | |
| 51 | 51 | Computer Calamity | 2010-05-05 | 13 | |
| 52 | 52 | Roary Digs Deep | 2010-05-06 | 13 | |
Season 2
| Episode No. | No. Overall | Title | Airdate | Runtime | Summary |
| --- | --- | --- | --- | --- | --- |
| 1 | 53 | Cici Spectacular | 2010-05-07 | 13 | |
| 2 | 54 | Dodgems | 2010-05-10 | 13 | |
| 3 | 55 | Flash the Marshal | 2010-05-11 | 13 | |
| 4 | 56 | Tall Story Roary | 2010-05-12 | 13 | |
| 5 | 57 | Hot Stuff | 2010-05-13 | 13 | |
| 6 | 58 | Car Boot Sale | 2010-05-14 | 13 | |
| 7 | 59 | Horse Power Drinkie | 2010-05-17 | 13 | |
| 8 | 60 | Law and Order | 2010-05-18 | 13 | |
| 9 | 61 | Flash's Tea Party | 2010-05-19 | 13 | |
| 10 | 62 | FB's Sleepover | 2010-05-20 | 13 | |
| 11 | 63 | Hellie's a Winner | 2010-05-21 | 13 | |
| 12 | 64 | Cry Cold | 2010-05-24 | 13 | |
| 13 | 65 | Marsha's Wonderful Life | 2010-05-25 | 13 | |
| 14 | 66 | Let's Hear It for Big Chris | 2010-05-26 | 13 | |
| 15 | 67 | Funny Business | 2010-05-27 | 13 | |
| 16 | 68 | Nick Solves the Case | 2010-05-28 | 13 | |
| 17 | 69 | Simply the Best | 2010-05-31 | 13 | |
| 18 | 70 | Cici Wins the Day | 2010-06-01 | 13 | |
| 19 | 71 | Heavy Loada | 2010-06-02 | 13 | |
| 20 | 72 | Testing Time for Maxi | 2010-06-03 | 13 | |
| 21 | 73 | Mum's the Word | 2010-06-04 | 13 | |
| 22 | 74 | How the Hatch Was Won | 2010-06-07 | 13 | |
| 23 | 75 | Go Gadget James and Maxi | 2010-06-08 | 13 | |
| 24 | 76 | Mr. Carburettor or Bust | 2010-06-09 | 13 | |
| 25 | 77 | Home Is Where the Hatch Is | 2010-06-10 | 13 | |
| 26 | 78 | Putting on a Show | 2010-06-11 | 13 | |
| 27 | 79 | Motor Mouth | 2010-06-14 | 13 | |
| 28 | 80 | Dancing Queen | 2010-06-15 | 13 | |
| 29 | 81 | Homesick Tin Top | 2010-06-16 | 13 | |
| 30 | 82 | Save Our Tree | 2010-06-17 | 13 | |
| 31 | 83 | New Juice | 2010-06-18 | 13 | |
| 32 | 84 | FB for Football | 2010-06-21 | 13 | |
| 33 | 85 | Mr. Carburettor's Birthday Suit | 2010-06-22 | 13 | |
| 34 | 86 | Big Bangs | 2010-06-23 | 13 | |
| 35 | 87 | Silver Hatch Pizza | 2010-06-24 | 13 | |
| 36 | 88 | The Silver Hatch Stars | 2010-06-25 | 13 | |
| 37 | 89 | High-Tech Overload | 2010-06-28 | 13 | |
| 38 | 90 | Workshop Chaos | 2010-06-29 | 13 | |
| 39 | 91 | Silver Hatch Shapes Up | 2010-06-30 | 13 | |
| 40 | 92 | It's Go, Go, Go at Silver Hatch | 2010-09-13 | 13 | |
| 41 | 93 | Pit Stop Perils | 2010-09-14 | 13 | |
| 42 | 94 | Demolition Derby | 2010-09-15 | 13 | |
| 43 | 95 | Manners Please | 2010-09-16 | 13 | |
| 44 | 96 | Big Chris's Big Jump | 2010-09-17 | 13 | |
| 45 | 97 | Crash Landing | 2010-09-20 | 13 | |
| 46 | 98 | Plugger's New Job | 2010-09-21 | 13 | |
| 47 | 99 | Big Chris Gets Lucky | 2010-09-22 | 13 | |
| 48 | 100 | Silver Hatch Fun Run | 2010-09-23 | 13 | |
| 49 | 101 | Silver Hatch Heroes | 2010-09-24 | 13 | |
| 50 | 102 | PC Roary | 2010-09-27 | 13 | |
| 51 | 103 | Winter Breeze | 2010-09-28 | 13 | |
| 52 | 104 | Brassless Band | 2010-09-29 | 13 | |
Season 3
| Episode No. | No. Overall | Title | Airdate | Runtime | Summary |
| --- | --- | --- | --- | --- | --- |
Related News
TVMaze