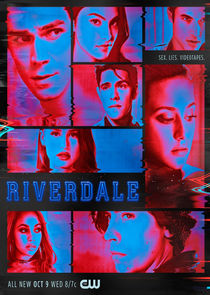 Riverdale is a bold, subversive take on Archie, Betty, Veronica and their friends from the comics, exploring the surreality of small-town life - the darkness and weirdness bubbling beneath Riverdale's wholesome facade.
Series Overview
Rating
imDb Rating: 7.2 (93,730 Votes)
Metascore: N/A
Plot
While navigating the troubled waters of romance, school and family, Archie and his gang become entangled in dark Riverdale mysteries.
Details
Rated: TV-14
Released: 26 Jan 2017
Runtime: 45 min
Genre: Crime, Drama, Mystery, Romance
Director: N/A
Writer: Roberto Aguirre-Sacasa
Actors: K.J. Apa, Lili Reinhart, Camila Mendes, Cole Sprouse
Language: English
Country: USA
Awards: 9 wins & 4 nominations.
Total Seasons: 3
Next Episode
Chapter Fifty-Eight: In Memoriam
Episode 4x1; Oct 09, 2019
Previous Episode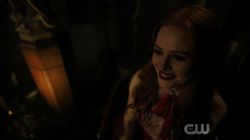 Chapter Fifty-Seven: Survive the Night
Episode 3x22; May 15, 2019
After receiving mysterious invitations, Archie, Betty, Veronica and Jughead band together to confront the evils of their past once and for all. Meanwhile, chaos ensues at The Farm after Edgar makes a chilling announcement.
Episodes 4x2: Chapter Fifty-Nine: Fast Times at Riverdale High 4x1: Chapter Fifty-Eight: In Memoriam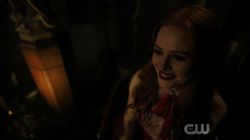 3x22: Chapter Fifty-Seven: Survive the Night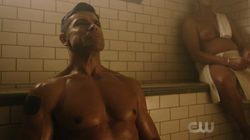 3x21: Chapter Fifty-Six: The Dark Secret of Harvest House


3x20: Chapter Fifty-Five: Prom Night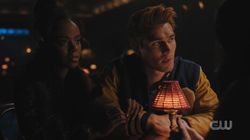 3x19: Chapter Fifty-Four: Fear the Reaper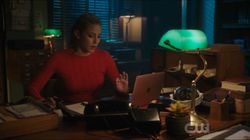 3x18: Chapter Fifty-Three: Jawbreaker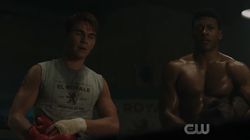 3x17: Chapter Fifty-Two: The Raid


3x16: Chapter Fifty-One: Big Fun

View All Episodes
Cast
Lili Reinhart as Elizabeth "Betty" Cooper
Cole Sprouse as Jughead Jones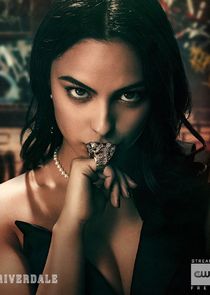 Camila Mendes as Veronica Lodge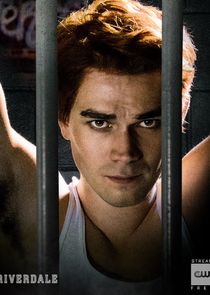 K.J. Apa as Archibald "Archie" Andrews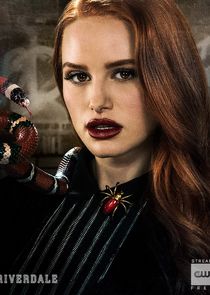 Madelaine Petsch as Cheryl Blossom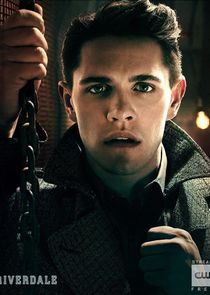 Casey Cott as Kevin Keller
View Full Cast
Skip to:
Season 1
| Episode No. | No. Overall | Title | Airdate | Runtime | Summary |
| --- | --- | --- | --- | --- | --- |
| 1 | 1 | Chapter One: The River's Edge | 2017-01-26 | 60 | At Riverdale High, Betty, Archie, Jughead and new girl Veronica wrestle with clashing desires while coping with a fellow student's tragic death. |
| 2 | 2 | Chapter Two: A Touch of Evil | 2017-02-02 | 60 | As police begin an investigation into Jason's death, Archie's guilt and Jughead's suspicions intensify. Betty struggles with her feelings for Archie. |
| 3 | 3 | Chapter Three: Body Double | 2017-02-09 | 60 | After new information surrounding Jason's death comes to light, Cheryl finds herself under a cloud of suspicion and forced to come clean about the last time she saw her brother. Meanwhile, Archie makes a tough decision that puts a major strain on his relationship with Miss Grundy. Elsewhere, Betty decides to revive the school newspaper and asks for Jughead's help in investigating Jason's death, while Veronica and Ethel work on exposing some of Riverdale High's football players after rumors of a "shame book" begin to circulate. Finally, after getting grounded by his dad Fred, Archie must figure out a way to make it to the Taste of Riverdale event where Josie and the Pussycats will be performing a song he helped write. |
| 4 | 4 | Chapter Four: The Last Picture Show | 2017-02-16 | 60 | When Jughead learns that an anonymous buyer has plans to tear down the local drive-in, he fights desperately to keep it open. Betty finds her friendship with Archie on the line after stumbling upon some startling information she's uncovered about Miss Grundy's past. Elsewhere, Veronica confronts her mother Hermoine about a suspicious meeting she witnessed between her mother and a shady Southside Serpent. Finally, after uncovering Betty's diary, Alice finds the perfect opportunity to destroy Archie's golden boy image. |
| 5 | 5 | Chapter Five: Heart of Darkness | 2017-02-23 | 60 | With Jason's funeral around the corner, the Blossom family moves forward with last minute preparations – and a secret agenda. Meanwhile, Archie's attempt to refocus his energy on football comes to a halt when an opportunity to work with a new music mentor presents itself. Betty dives deeper into her investigation of Jason's death and unearths some dark revelations about her family. Elsewhere, after uncovering secrets about her own family, Veronica forms an unlikely friendship with Cheryl, who is having a tougher time with Jason's impending funeral than she lets on. Finally, Hermoine turns to Fred for help after receiving a cryptic message from the Southside Serpents. |
| 6 | 6 | Chapter Six: Faster, Pussycats! Kill! Kill! | 2017-03-02 | 60 | With Riverdale High's annual variety show around the corner, Valerie's efforts to help Archie prepare for his big performance lead to some major fallout between her and Josie. Meanwhile, Betty and Jughead's investigation into Jason's death brings them to a home for troubled youth and face-to-face with Polly. Just as her relationship with her mother was on the upswing, an unexpected betrayal sends Veronica spiraling, while Josie deals with her own pressures at home after her overbearing father returns for her performance at the variety show. Finally, Hermoine's first day at Andrew's Construction finds her and Fred growing closer. |
| 7 | 7 | Chapter Seven: In a Lonely Place | 2017-03-09 | 60 | When a major piece of evidence is mysteriously destroyed, new rumors begin to swirl as to who was really behind Jason's murder. Tensions build when Jughead's father returns to the fray and it's revealed that he and Fred have some unresolved issues between them. Meanwhile, Veronica takes matters into her own hands after her fight with Hermione. Cheryl approaches Betty with an unexpected proposal that leaves Betty torn. |
| 8 | 8 | Chapter Eight: The Outsiders | 2017-03-30 | 60 | As Fred and his crew are about to start construction he loses his crew, which could put his livelihood in jeopardy. Wanting to help his dad, Archie and his friends pitch in to help but after one of them is attacked, the gang comes up with a plan that lands them in Southside Serpent territory. With Jughead's secret revealed, he is worried about how his friends will react. Meanwhile, Veronica and Betty suggest throwing Polly a baby shower to make her feel better, but Polly is hesitant knowing how everyone feels. |
| 9 | 9 | Chapter Nine: La Grande Illusion | 2017-04-06 | 60 | Archie reluctantly agrees to escort Cheryl to her family's official start of maple syrup tapping because he gets an offer that could help his future. Archie starts to become skeptical of the real reason the Blossoms are so eager to help him, however he gets some helpful information for Betty about her sister. Veronica is trying to be nice and unbeknownst to her, befriends a classmate that her father's illegal doings has hurt. Hermione is conflicted about telling Fred the truth. Meanwhile, Alice is ready to get revenge on the Blossoms once and for all with the help of her two daughters. |
| 10 | 10 | Chapter Ten: The Lost Weekend | 2017-04-13 | 60 | When Fred decides to finalize the divorce with Archie's mother Mary, Archie hides his true feelings. Archie tries to win Valerie back with a romantic evening, however, Betty hijacks his plans when she decides to throw Jughead a surprise birthday party. Once Cheryl learns of the party, she decides to make it interesting and things quickly get out of control. Meanwhile, Veronica contemplates whether she should participate in the deposition to help get her Dad released. |
| 11 | 11 | Chapter Eleven: To Riverdale and Back Again | 2017-04-27 | 60 | Betty is slammed overseeing Homecoming and Reunion weekend, but Alice wants her to help with the Jason Blossom investigation. Alice turns to Archie and Veronica for help, but when Betty discovers they are working with her mom, she is not happy. After seeing his father FP start to clean up his act, Jughead wonders if it's the right time to give him another chance. Cheryl and Polly have both decided to go to Homecoming in Jason's honor, until a revelation waylays their plans. Meanwhile, Fred and Mary attend the Homecoming dance, leaving Fred to possibly reconsider the divorce. |
| 12 | 12 | Chapter Twelve: Anatomy of a Murder | 2017-05-04 | 60 | Archie and Veronica are shocked to learn of the arrest but know they need to come clean to their parents about what they uncovered. Still hurt by the betrayal of his friends and torn over who to trust, Jughead reluctantly joins them in a quest for truth. Meanwhile, Cheryl confronts her mom about why she treats her so much worse than she ever did with Jason. |
| 13 | 13 | Chapter Thirteen: The Sweet Hereafter | 2017-05-11 | 60 | Archie and Veronica continue to grow closer. Betty is tired of her family acting as if nothing has happened and confronts her mother. Jughead finds himself in an unexpected situation, leaving Archie and the gang scrambling. Hermione makes Fred an offer that seems too good to be true. Meanwhile, the truth about Blossom's family business is revealed leaving Cheryl to take matters into her own hands. |
Season 2
| Episode No. | No. Overall | Title | Airdate | Runtime | Summary |
| --- | --- | --- | --- | --- | --- |
| 1 | 14 | Chapter Fourteen: A Kiss Before Dying | 2017-10-11 | 60 | As Fred's life hangs in the balance following the shooting at Pop's diner, Archie struggles with the emotional aftermath of what he witnessed. Meanwhile, as Veronica steps out of her comfort zone to support Archie, she learns that her father Hiram has arrived to Riverdale earlier than expected. Elsewhere, at Pop's diner, Pop Tate recounts the chilling details of the shooting, which leaves Jughead and Betty questioning the gunman's true motives. Lastly, after running into Cheryl at the hospital, Betty and Kevin are surprised to learn about the fire at Thornhill. |
| 2 | 15 | Chapter Fifteen: Nighthawks | 2017-10-18 | 60 | With the gunman still at large and the residents of Riverdale on edge, Betty leads the charge to save Pop's after learning that the diner may be forced to close its doors forever. Meanwhile, the gang becomes increasingly concerned for Archie's well being after noticing a string of unusual behavior from him. Elsewhere, Betty and Veronica approach Cheryl and Josie for their help saving Pop's, while Jughead's attempt to find FP a new lawyer may have some serious repercussions. Finally, when a past betrayal unexpectedly comes to light, Veronica finds herself at a crossroads with Hiram and Hermoine. |
| 3 | 16 | Chapter Sixteen: The Watcher in the Woods | 2017-10-25 | 60 | Frustrated by the lack of progress made in catching his father's shooter, Archie takes matters into his own hands in order to send the gunman a message. Meanwhile, Veronica is thrilled when Hiram's attempt to start fresh means she gets to introduce him to her friends, including Archie. Elsewhere, Jughead starts his first day at Southside High and is befriended by a Southside Serpent named Toni, while Kevin's attempt at having a little fun causes Betty to grow concerned for his safety. Finally, an unexpected turn of events leads the town to realize their darkest chapter may be far from over. |
| 4 | 17 | Chapter Seventeen: The Town That Dreaded Sundown | 2017-11-01 | 60 | When Archie's attempt to take matters into his own hands spirals out of control, Mayor McCoy calls an emergency town hall meeting to deal with the growing chaos in Riverdale. Meanwhile, when Betty finds herself at the center of a deepening mystery, her decision to keep some parts of it from Jughead causes further friction between the two. Elsewhere, Veronica grows concerned for Archie when she realizes the lengths he would go to seek revenge against the person terrorizing Riverdale. Finally, tensions between the North and Southside finally come to a head and leads to an unexpected showdown. |
| 5 | 18 | Chapter Eighteen: When a Stranger Calls | 2017-11-08 | 60 | When Alice publishes a fiery piece in the Riverdale Register blasting the Southside, Jughead is forced to take matters into his own hands to try and keep the peace. Betty turns to Archie for help after receiving an ultimatum that could potentially destroy some of her closest relationships. With their SoDale open house fast approaching, Hiram and Hermoine enlist the help of an unlikely ally to get some potential investors on board. Finally, Veronica welcomes her old friend Nick St. Clair to Riverdale, but his plans for a wild night with the gang quickly takes an unexpected turn. |
| 6 | 19 | Chapter Nineteen: Death Proof | 2017-11-15 | 60 | After a charge led by Mayor McCoy threatens to further escalate tensions between the North and Southside, Jughead, along with Archie, tries to put a stop to a dangerous alliance being considered between the Serpents and a long-time rival. Betty turns to Veronica for help when she's thrust into the center of a burgeoning mystery surrounding The Sugarman. Finally, Cheryl confronts her mother Penelope after a traumatic run-in forces her to make a stark realization. |
| 7 | 20 | Chapter Twenty: Tales from the Darkside | 2017-11-29 | 60 | Riverdale remains on edge after a chilling letter from the Black Hood challenges the town's residents to remain sinless for 48 hours - or he'll strike again. Meanwhile, Jughead and Archie's friendship gets tested after Penny Peabody unexpectedly calls in a favor that Jughead owes her. Elsewhere, Betty and Veronica team up to investigate someone who Betty thinks could be the Black Hood killer. Finally, things take an unexpected turn for Josie when a secret admirer takes things one step too far. |
| 8 | 21 | Chapter Twenty One: House of the Devil | 2017-12-06 | 60 | When Jughead learns that FP is getting released from prison, he and Betty organize a welcome home party with the Serpents to ease him back into his former life. Meanwhile, Archie and Veronica reach a crossroad in their relationship, but are forced to push their issues aside after Jughead and Betty ask them to take over the Black Hood investigation. |
| 9 | 22 | Chapter Twenty Two: Silent Night, Deadly Night | 2017-12-13 | 60 | After snooping around for Christmas gifts, Veronica uncovers a major secret Hiram has been keeping from her. Fallout from Jughead's encounter with Penny Peabody creates tension between him and FP Meanwhile, a defiant Cheryl takes matters into her own hands after Penelope tells her they cannot afford Christmas this year. Finally, Betty and Archie's vow to take down the Black Hood once and for all leads to a dangerous showdown. |
| 10 | 23 | Chapter Twenty Three: The Blackboard Jungle | 2018-01-17 | 60 | Tensions mount when the sudden shut down of Southside High forces Jughead and his fellow serpents to transfer to Riverdale High. Veronica ensures Hiram and Hermoine that she's still on board with their plans for SoDale. Archie is conflicted when he is asked to gather some information on Hiram's suspicious business dealings. Betty sets out on a quest to find her long-lost brother, Chic. |
| 11 | 24 | Chapter Twenty Four: The Wrestler | 2018-01-24 | 60 | Amidst preparations for the town's annual Picken's Day festivities, Jughead interviews Toni's grandfather and learns some shocking details about Riverdale's history. In an attempt to get closer to Hiram, Archie tries out for the Riverdale wrestling team after learning of Hiram's love of the sport. Meanwhile, Betty unearths some dark secrets about her brother Chic, and Veronica and Josie clash as they prepare for their Picken's Day performance. |
| 12 | 25 | Chapter Twenty Five: The Wicked and the Divine | 2018-01-31 | 60 | As preparations for her confirmation ceremony get underway, Veronica becomes concerned that Archie, who's agreed to be Hiram's "intern," may be learning too much about her family's secret business dealings. Jughead and FP lead the charge after an incident at Pickens Park leads to increased tensions among the Serpents. Meanwhile, Chic helps Betty deal with her inner darkness, while Archie finds himself in over his head after a high-stakes poker game with Hiram's shady inner-circle goes awry. |
| 13 | 26 | Chapter Twenty Six: The Tell-Tale Heart | 2018-02-07 | 60 | Betty turns to Jughead for help when the consequences of a hasty decision come back to haunt her. Veronica organizes a face to face meeting after tensions between Hiram, FP and Jughead spiral out of control. Elsewhere, Archie is forced to make a tough decision after Agent Adams takes things one step too far. |
| 14 | 27 | Chapter Twenty-Seven: The Hills Have Eyes | 2018-03-07 | 60 | When Hiram suggests that Veronica and Archie head up to their lake house for the weekend, Veronica decides to invite Betty and Jughead to join them. Determined to uncover Hiram's plans for Riverdale, Jughead uses his time at the lake house to press Veronica about what she may know. Back in Riverdale, Cheryl makes a surprising connection with an unlikely friend, while Josie lands in hot water after revealing a secret to Kevin. |
| 15 | 28 | Chapter Twenty-Eight: There Will Be Blood | 2018-03-14 | 60 | After learning that his dad is considering running for mayor of Riverdale, Archie begins to grow concerned that the Lodges may have found their newest pawn in Fred. Meanwhile, Betty becomes increasingly suspicious of Chic's strange behavior and enlists Kevin's help to figure out what Chic is hiding. Finally, Cheryl and Penelope are surprised when they learn that Clifford left a secret will, and Jughead makes a major discovery in his quest to take down Hiram. |
| 16 | 29 | Chapter Twenty-Nine: Primary Colors | 2018-03-21 | 60 | In the aftermath of Hiram's newly announced plans for Riverdale, Jughead resorts to drastic measures to voice his opposition. After making her own big announcement, Hermione's friend Andy Cohen comes to town to lend a hand. Meanwhile, Veronica goes against her parent's wishes to keep a low profile when she decides to run for student council president. Elsewhere, Mary arrives in Riverdale just as tensions between Fred and Archie reach a breaking point. Finally, following a series of mysterious events, Cheryl begins to fear that someone is out to get her. |
| 17 | 30 | Chapter Thirty: The Noose Tightens | 2018-03-28 | 60 | Just as the town's mayoral race gets underway, Riverdale High's own student council election heats up. Archie steps up to help after learning that Hiram's mobster associates have come to Riverdale to stir up some trouble. Meanwhile, things take a dangerous turn for Alice, Betty and Chic when an unexpected guest shows up at the Cooper residence. Finally, Toni, Veronica and Josie team up to solve a strange mystery involving Cheryl. |
| 18 | 31 | Chapter Thirty-One: A Night to Remember | 2018-04-18 | 60 | As Riverdale High begins rehearsals for its upcoming production of "Carrie the Musical," the arrival of an ominous letter forces director Kevin to make a difficult decision about the show. Jughead uses his cover as the musical's documentarian to solve the mystery behind the letter. Meanwhile, tensions between Betty and Veronica continue to escalate just as Alice announces she is joining the musical to spend more time with Betty. Elsewhere, Hiram enacts a devious plan to further drive a wedge between Fred and Archie, while Cheryl channels Carrie White during a showdown with her mother. |
| 19 | 32 | Chapter Thirty-Two: Prisoners | 2018-04-25 | 60 | After an incident at Riverdale High leaves the town on edge, Archie leads the charge to uncover the culprit. Meanwhile, the reveal of a devastating secret leads to a violent showdown between Chic, Jughead, Betty and Alice. Elsewhere, Veronica takes matters into her own hands when someone from her past comes to town seeking revenge. Finally, Hermoine and Cheryl conspire to take down Sheriff Keller. |
| 20 | 33 | Chapter Thirty-Three: Shadow of a Doubt | 2018-05-02 | 60 | As the town's mayoral race between Fred and Hermoine heats up, Hiram sets his sights on a new ally - Sheriff Minetta. Betty turns to Cheryl for help when she has a suspicion about the Black Hood. Meanwhile, the reveal of a dark secret forces Archie and Jughead to try and ease tensions between the Bulldogs and Serpents. Finally, on the eve of the mayoral debate, a mysterious message leaves everyone on edge. |
| 21 | 34 | Chapter Thirty-Four: Judgment Night | 2018-05-09 | 60 | When an incident at the Sheriff's station triggers an all-out war between the North and the Southside, Archie and Jughead find themselves in the fight of their lives. Meanwhile Veronica makes a devastating discovery about Hiram, just as someone from his past arrives in Riverdale looking for revenge. Finally, Betty comes face to face with the Black Hood. |
| 22 | 35 | Chapter Thirty-Five: Brave New World | 2018-05-16 | 60 | With Fred trailing in the polls, Archie steps in to lend a hand in his dad's mayoral campaign. Veronica stays one step ahead after uncovering Hiram's latest scheme. Elsewhere, Cheryl finalizes her emancipation from her mother, while FP makes a surprising announcement to Jughead and the Serpents. Finally, Betty confronts her darkest demons. |
Season 3
| Episode No. | No. Overall | Title | Airdate | Runtime | Summary |
| --- | --- | --- | --- | --- | --- |
| 1 | 36 | Chapter Thirty-Six: Labor Day | 2018-10-10 | 60 | As the jury begins deliberations in his murder trial, Archie makes a surprising request about how he wants to spend his final days of summer. Betty is forced to deal with her problems head-on after a heated confrontation with Alice and Polly brings up some dark secrets she's kept hidden. Veronica pleads with Hiram to step in and help Archie before a verdict is announced. Finally, Jughead leads the Serpents against the Ghoulies latest attack. |
| 2 | 37 | Chapter Thirty-Seven: Fortune and Men's Eyes | 2018-10-17 | 60 | After a gruesome discovery is made in the forest, Jughead and Betty team up to investigate Riverdale's latest mystery. As Archie navigates his new surroundings, Veronica devises a plan to bring a bit of home to him. Elsewhere, when Moose decides to join the RROTC, Kevin worries he may be pulling away from him. |
| 3 | 38 | Chapter Thirty-Eight: As Above, So Below | 2018-10-24 | 60 | When a series of suspicious roadblocks threaten to delay the opening of the speakeasy, Veronica enlists the help of Cheryl, Toni, Reggie, Kevin and Josie to ensure opening night goes off without a hitch. Elsewhere, Betty and Jughead follow different leads to learn more about the strange incidents going on in the town. Finally, some unwanted attention forces Archie to make a difficult decision about his future. |
| 4 | 39 | Chapter Thirty-Nine: The Midnight Club | 2018-11-07 | 60 | When Betty confronts Alice about Gryphons and Gargoyles, Alice has no choice but to come clean about how she, along with a young Fred, FP, Hermoine, Hiram, Sierra, Penelope and Tom, played the game in the early 90's - and how a shocking mystery has been plaguing them all ever since. |
| 5 | 40 | Chapter Forty: The Great Escape | 2018-11-14 | 60 | After weeks go by with no contact from Archie, Veronica devises a dangerous plan to break him out of juvie. Meanwhile, when Betty learns that Jughead has taken their investigation into Griffins & Gargoyles a step too far, she finds herself in a race against the clock to save him. (#305.) Original airdate 11/14/2018. |
| 6 | 41 | Chapter Forty-One: Manhunter | 2018-11-28 | 60 | After confronting the parents, who were part of "The Midnight Club" twenty-five years ago, Betty follows some strong leads in hopes of finding out who the true Gargoyle King is. Meanwhile, Veronica's attempt to prove Archie's innocence lands her in hot water. Finally, Archie turns to Kevin for help making things right. |
| 7 | 42 | Chapter Forty-Two: The Man in Black | 2018-12-05 | 60 | Fearful that he will be caught, Archie hits the road and ends up at a farm outside Riverdale, where he meets Laurie Lake. Meanwhile, after Alice takes extreme measures to ensure Betty's safety from the Gargoyle King, Betty finds herself up against a formidable foe from her past. Finally, after learning that La Bonne Nuit is in trouble, Veronica makes a risky business decision that could cost her everything. |
| 8 | 43 | Chapter Forty-Three: Outbreak | 2018-12-12 | 60 | On the road and running out of places to stay, Jughead and Archie head to Toledo to visit Jughead's mother Gladys and sister Jellybean. Back in Riverdale, Betty inches closer to uncovering the truth about Griffins & Gargoyles, while Veronica and Cheryl take on Hiram, Hermoine and Penelope after more students fall victim to seizures. |
| 9 | 44 | Chapter Forty-Four: No Exit | 2019-01-16 | 60 | With Riverdale in disarray following Hiram's takeover, Veronica leads the charge against her father after he takes aim at La Bonne Nuit. Meanwhile, as Betty reluctantly houses the group of patients who escaped the Sisters of Quiet Mercy, Jughead confronts a group of desperate Serpents, who have resorted to drastic measures to make ends meet. Finally, Archie is forced to face his demons. |
| 10 | 45 | Chapter Forty-Five: The Stranger | 2019-01-23 | 60 | With SAT's around the corner, Alice and FP urge Jughead and Betty to stop investigating G&G and start focusing on their SAT prep. However, when Alice takes things one step too far, Betty is forced to come face-to-face with someone from her past. Finally, Jughead makes a bold move against the Gargoyle Gang. |
| 11 | 46 | Chapter Forty-Six: The Red Dahlia | 2019-01-30 | 60 | After one of their own becomes the target of an unseen assailant, the gang works together to get to the bottom of Riverdale's latest mystery. Meanwhile, Betty works with a surprising ally to piece together clues about a series of deaths in the town. Elsewhere, a spiraling Archie sets out on a new path, while Jughead comes face to face with Ms. Mulwray, Hiram's alleged mistress. |
| 12 | 47 | Chapter Forty-Seven: Bizarrodale | 2019-02-06 | 60 | Amidst preparations for their upcoming wedding, Sierra and Tom receive an unsettling message, which forces "The Midnight Club" to reunite. Meanwhile, Veronica and Reggie take drastic measures to clean up a mess they created. Cheryl learns some unexpected news about the college she has set her sights on. Lastly, Kevin gives Moose an ultimatum. |
| 13 | 48 | Chapter Forty-Eight: Requiem for a Welterweight | 2019-02-27 | 60 | As Veronica attempts to steer Hiram away from the drug business, Gladys' return to Riverdale throws a wrench into her plan. Betty grows concerned when Alice decides to take her commitment with The Farm to the next level. Elsewhere, Archie's rush to get into the boxing ring lands him in hot water, while Cheryl's attempt to send the Serpents a message causes tension between her and Toni. |
| 14 | 49 | Chapter Forty-Nine: Fire Walk With Me | 2019-03-06 | 60 | Betty takes matters into her own hands when she learns that The Farm has set their sights on someone in her inner circle. Meanwhile, when Hiram and Gladys' control over Veronica becomes too much to handle, she sets a plan in motion to turn the tables on them. Elsewhere, Archie grows concerned about a young runaway he meets at the gym, while Jughead struggles to maintain control over the Serpents. |
| 15 | 50 | Chapter Fifty: American Dreams | 2019-03-13 | 60 | As Gladys prepares for FP's 50th birthday party, Jughead questions his mom's motives for returning to Riverdale. When an unexpected encounter brings Archie back into the world of G&G, Jughead and Betty devise a plan to help him face his past head-on. Finally, Cheryl and Toni find themselves at a crossroads, and Veronica reveals a damaging secret to Betty. |
| 16 | 51 | Chapter Fifty-One: Big Fun | 2019-03-20 | 60 | As rehearsals for this year's musical "Heathers: The Musical" get underway, Cheryl, as queen bee Heather Chandler, channels her own HBIC to deal with a recent fallout. Meanwhile, Betty grows increasingly annoyed by Evelyn's involvement with the musical - as well as the lives of her friends. Elsewhere, Veronica learns some devastating news about her family, and Archie and Josie make a decision about their future. Lastly, Jughead makes a surprising move against Gladys. |
| 17 | 52 | Chapter Fifty-Two: The Raid | 2019-03-27 | 60 | As Betty enlists Cheryl's help to infiltrate The Farm, Archie and Veronica help an ally from his past. Meanwhile, Jughead's attempt to put a stop to Riverdale's drug trade puts him on a collision course with Gladys. Finally, Hiram breaks some surprising news to Veronica. |
| 18 | 53 | Chapter Fifty-Three: Jawbreaker | 2019-04-17 | 60 | When a tainted batch of fizzle rocks makes its way through Riverdale, Jughead and FP set out to find who's responsible. After asking Veronica to help get him into an upcoming boxing tournament, Archie quickly learns he may be in over his head. Elsewhere, Betty makes one last attempt to rescue Alice from The Farm's grip, and Toni becomes unsettled by a sudden change in Cheryl's behavior. |
| 19 | 54 | Chapter Fifty-Four: Fear the Reaper | 2019-04-24 | 60 | When Jellybean goes missing, Jughead, Gladys and FP follow a series of cryptic clues to get her home. Elsewhere, Archie faces the fallout from his latest boxing match, while Betty makes a major discovery about Evelyn's past. Finally, Josie makes a big decision about her future. |
| 20 | 55 | Chapter Fifty-Five: Prom Night | 2019-05-01 | 60 | Betty takes matters into her own hands after learning some unsettling news about her father. Mary grows concerned by Archie's desire to take boxing to the next level. Elsewhere, Cheryl runs into a roadblock during her campaign for prom queen, while Jughead and Betty's plan to confront the Gargoyle King takes an unexpected turn. |
| 21 | 56 | Chapter Fifty-Six: The Dark Secret of Harvest House | 2019-05-08 | 60 | Veronica turns to Mary and Archie for help after uncovering a secret that Hiram had been keeping from her. Betty raises questions after witnessing some strange activities at The Farm. Jughead finds himself one step closer to uncovering the Gargoyle King's identity. |
| 22 | 57 | Chapter Fifty-Seven: Survive the Night | 2019-05-15 | 60 | After receiving mysterious invitations, Archie, Betty, Veronica and Jughead band together to confront the evils of their past once and for all. Meanwhile, chaos ensues at The Farm after Edgar makes a chilling announcement. |
Series Cast
| | | | |
| --- | --- | --- | --- |
| | Lili Reinhart | as Elizabeth "Betty" Cooper | |
| | Cole Sprouse | as Jughead Jones | |
| | Camila Mendes | as Veronica Lodge | |
| | K.J. Apa | as Archibald "Archie" Andrews | |
| | Madelaine Petsch | as Cheryl Blossom | |
| | Casey Cott | as Kevin Keller | |
| | Mädchen Amick | as Alice Cooper | |
| | Marisol Nichols | as Hermione Lodge | |
| | Luke Perry | as Fred Andrews | |
| | Skeet Ulrich | as Forsythe Pendleton "FP" Jones | |
| | Mark Consuelos | as Hiram Lodge | |
| | Ashleigh Murray | as Josephine "Josie" McCoy | |
| | Charles Melton | as Reggie Mantle | |
| | Vanessa Morgan | as Toni Topaz | |
Series Crew
| | Position | Name |
| --- | --- | --- |
| | Producer | Julia Cohen |
| | Executive Producer | Greg Berlanti |
| | Co-Producer | Jennifer Lence |
| | Co-Producer | Carl Ogawa |
| | Supervising Producer | Michael Grassi |
| | Executive Producer | Sarah Schechter |
| | Music Producer | Leonard Jay Jackson |
| | Producer | Aaron Allen |
| | Co-Executive Producer | Amanda Lasher |
| | Developer | Roberto Aguirre-Sacasa |
| | Executive Producer | Roberto Aguirre-Sacasa |
| | Producer | Ross Maxwell |
| | Re-Recording Mixer | Dan Hiland |
| | Re-Recording Mixer | Gary D. Rogers |
| | Music | Blake Neely |
| | Second Assistant Director | Joel Kennedy |
| | Supervising Sound Editor | Mike Marchain |
| | Casting | Lyndsey Baldasare |
| | Executive Story Editor | James DeWille |
| | Production Designer | Tyler Bishop Harron |
| | Production Designer | Tony Wohlgemuth |
| | Executive Producer | Jon Goldwater |
| | Supervising Producer | Shepard Boucher |
| | Casting | Sean Cossey |
| | Producer | Connie Dolphin |
| | Music Supervisor | Alexandra Patsavas |
| | Casting | JJ Ogilvy |
| | Editor | Harry Jierjian |
| | Music Editor | Emily Kwong |
| | Supervising Producer | Yolonda E. Lawrence |
| | Producer | JB Moranville |
| | Associate Producer | Amy Myrold |
| | Director Of Photography | David Lanzenberg |
| | Producer | Timothy B.L. Sereda |
| | Casting | David H. Rapaport |
| | Music | Sherri Chung |
| | Casting Associate | Haley Peveto |
| | Director Of Photography | Brendan Michael Uegama |
| | Editor | Elizabeth Czyzewski |
| | Production Manager | David Magee |
| | First Assistant Director | Sandra Mayo |
| | Music Producer | Ryan Petersen |
Related News
TVMaze