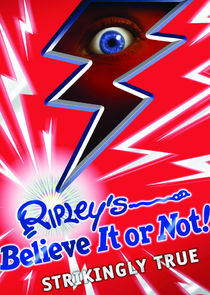 Ripley's Believe It or Not! was a series produced for TBS with actor Dean Cain and field correspondent Kelly Packard as hosts. Each new episode opens with an act involving the audience. The show also features such regular elements as "Spot the Not," a weekly trivia segment in which viewers are challenged to pick the claim that is not real and a special "Ripley's Record" commemoration for people who break a world record while appearing on the show.
Series Overview
Rating
imDb Rating: 6.7 (1,215 Votes)
Metascore: N/A
Plot
Ripley's Believe It or Not! is a curious format, sort of a 'Guiness Book of Records'-like magazine on TV. It has no permanent cast or storyline, just a presenting host in the castle-type LA...
Details
Rated: N/A
Released: 12 Jan 2000
Runtime: N/A
Genre: Reality-TV
Director: N/A
Writer: N/A
Actors: Dean Cain, Kelly Packard
Language: English
Country: USA
Awards: N/A
Total Seasons: 4
Previous Episode
Episode 422
Episode 4x22; Oct 15, 2003
Previous Episodes 4x22: Episode 422 4x21: Episode 421 4x20: Episode 420 4x19: Episode 419 4x18: Episode 418 4x17: Episode 417 4x16: Episode 416 4x15: Episode 415 4x14: Episode 414

View All Episodes
Cast
Kelly Packard as Kelly Packard
Dean Cain as Dean Cain
View Full Cast
Skip to:
Season 1
| Episode No. | No. Overall | Title | Airdate | Runtime | Summary |
| --- | --- | --- | --- | --- | --- |
| 1 | 1 | Episode 101 | 2000-01-12 | 60 | |
| 2 | 2 | Episode 102 | 2000-01-19 | 60 | |
| 3 | 3 | Episode 103 | 2000-01-26 | 60 | |
| 4 | 4 | Episode 104 | 2000-02-02 | 60 | |
| 5 | 5 | Episode 105 | 2000-02-09 | 60 | |
| 6 | 6 | Episode 106 | 2000-02-16 | 60 | |
| 7 | 7 | Episode 107 | 2000-02-23 | 60 | |
| 8 | 8 | Episode 108 | 2000-03-01 | 60 | |
| 9 | 9 | Episode 109 | 2000-03-08 | 60 | |
| 10 | 10 | Episode 110 | 2000-03-15 | 60 | |
| 11 | 11 | Episode 111 | 2000-03-22 | 60 | |
| 12 | 12 | Episode 112 | 2000-03-29 | 60 | |
| 13 | 13 | Episode 113 | 2000-04-05 | 60 | |
| 14 | 14 | Episode 114 | 2000-08-02 | 60 | |
| 15 | 15 | Episode 115 | 2000-08-09 | 60 | |
| 16 | 16 | Episode 116 | 2000-08-16 | 60 | |
| 17 | 17 | Episode 117 | 2000-08-23 | 60 | |
| 18 | 18 | Episode 118 | 2000-08-30 | 60 | |
| 19 | 19 | Episode 119 | 2000-09-06 | 60 | |
| 20 | 20 | Episode 120 | 2000-09-13 | 60 | |
| 21 | 21 | Episode 121 | 2000-09-20 | 60 | Two-legged dog; civilian builds and launches a rocket 12 miles into the sky; pill-sized camera. |
| 22 | 22 | Episode 122 | 2000-09-27 | 60 | A 6-year-old golfer who has shot four holes in one; a car that runs on grease instead of gasoline; naked shoppers in Vienna, Austria. |
Season 2
| Episode No. | No. Overall | Title | Airdate | Runtime | Summary |
| --- | --- | --- | --- | --- | --- |
| 1 | 23 | Episode 201 | 2001-01-10 | 60 | |
| 2 | 24 | Episode 202 | 2001-01-17 | 60 | |
| 3 | 25 | Episode 203 | 2001-01-24 | 60 | |
| 4 | 26 | Episode 204 | 2001-01-31 | 60 | |
| 5 | 27 | Episode 205 | 2001-02-07 | 60 | |
| 6 | 28 | Episode 206 | 2001-02-14 | 60 | |
| 7 | 29 | Episode 207 | 2001-02-28 | 60 | Bullet resides in man's skull for years; shark photographer; White House model; man walks on ferris wheel. |
| 8 | 30 | Episode 208 | 2001-04-04 | 60 | |
| 9 | 31 | Epsiode 209 | 2001-04-11 | 60 | |
| 10 | 32 | Episode 210 | 2001-04-18 | 60 | |
| 11 | 33 | Episode 211 | 2001-04-25 | 60 | |
| 12 | 34 | Epsiode 212 | 2001-07-11 | 60 | |
| 13 | 35 | Episode 213 | 2001-07-18 | 60 | |
| 14 | 36 | Episode 214 | 2001-07-25 | 60 | |
| 15 | 37 | Episode 215 | 2001-08-01 | 60 | Scorpion charmer; steel rod impales pizza deliverer's head; face threaders; bra collector. |
| 16 | 38 | Episode 216 | 2001-08-08 | 60 | |
| 17 | 39 | Episode 217 | 2001-08-15 | 60 | |
| 18 | 40 | Episode 218 | 2001-08-22 | 60 | |
| 19 | 41 | Episode 219 | 2001-08-29 | 60 | |
| 20 | 42 | Episode 220 | 2001-09-05 | 60 | |
| 21 | 43 | Episode 221 | 2001-09-12 | 60 | |
| 22 | 44 | Episode 222 | 2001-09-19 | 60 | |
Season 3
| Episode No. | No. Overall | Title | Airdate | Runtime | Summary |
| --- | --- | --- | --- | --- | --- |
| 1 | 45 | Episode 301 | 2002-01-09 | 60 | |
| 2 | 46 | Episode 302 | 2002-01-16 | 60 | |
| 3 | 47 | Episode 303 | 2002-01-23 | 60 | |
| 4 | 48 | Episode 304 | 2002-01-30 | 60 | |
| 5 | 49 | Episode 305 | 2002-02-06 | 60 | |
| 6 | 50 | Episode 306 | 2002-02-13 | 60 | |
| 7 | 51 | Episode 307 | 2002-02-20 | 60 | |
| 8 | 52 | Episode 308 | 2002-03-06 | 60 | |
| 9 | 53 | Episode 309 | 2002-03-13 | 60 | |
| 10 | 54 | Episode 310 | 2002-03-20 | 60 | |
| 11 | 55 | Episode 311 | 2002-03-27 | 60 | |
| 12 | 56 | Episode 312 | 2002-04-03 | 60 | |
| 13 | 57 | Episode 313 | 2002-07-10 | 60 | |
| 14 | 58 | Episode 314 | 2002-07-17 | 60 | |
| 15 | 59 | Episode 315 | 2002-07-24 | 60 | |
| 16 | 60 | Episode 316 | 2002-07-31 | 60 | |
| 17 | 61 | Episode 317 | 2002-08-07 | 60 | |
| 18 | 62 | Episode 318 | 2002-08-14 | 60 | |
| 19 | 63 | Episode 319 | 2002-08-21 | 60 | |
| 20 | 64 | Episode 320 | 2002-10-23 | 60 | |
| 21 | 65 | Episode 321 | 2002-10-23 | 60 | |
| 22 | 66 | Episode 322 | 2002-10-16 | 60 | |
Season 4
| Episode No. | No. Overall | Title | Airdate | Runtime | Summary |
| --- | --- | --- | --- | --- | --- |
| 1 | 67 | Episode 401 | 2003-01-08 | 60 | |
| 2 | 68 | Episode 402 | 2003-01-15 | 60 | |
| 3 | 69 | Episode 403 | 2003-01-22 | 60 | |
| 4 | 70 | Episode 404 | 2003-01-29 | 60 | |
| 5 | 71 | Episode 405 | 2003-02-05 | 60 | |
| 6 | 72 | Episode 406 | 2003-02-12 | 60 | |
| 7 | 73 | Episode 407 | 2003-02-19 | 60 | |
| 8 | 74 | Episode 408 | 2003-02-26 | 60 | |
| 9 | 75 | Episode 409 | 2003-03-05 | 60 | |
| 10 | 76 | Episode 410 | 2003-03-12 | 60 | |
| 11 | 77 | Episode 411 | 2003-03-19 | 60 | |
| 12 | 78 | Episode 412 | 2003-08-06 | 60 | |
| 13 | 79 | Episode 413 | 2003-08-13 | 60 | |
| 14 | 80 | Episode 414 | 2003-08-20 | 60 | |
| 15 | 81 | Episode 415 | 2003-08-27 | 60 | |
| 16 | 82 | Episode 416 | 2003-09-03 | 60 | |
| 17 | 83 | Episode 417 | 2003-09-10 | 60 | |
| 18 | 84 | Episode 418 | 2003-09-17 | 60 | |
| 19 | 85 | Episode 419 | 2003-09-24 | 60 | |
| 20 | 86 | Episode 420 | 2003-10-01 | 60 | |
| 21 | 87 | Episode 421 | 2003-10-08 | 60 | |
| 22 | 88 | Episode 422 | 2003-10-15 | 60 | |
Series Cast
| | | | |
| --- | --- | --- | --- |
| | Kelly Packard | as Kelly Packard | |
| | Dean Cain | as Dean Cain | |
Related News
TVMaze