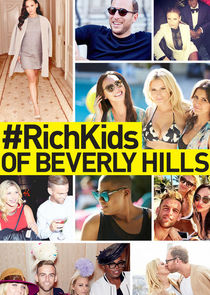 Welcome back to the 90210, which has acquired a new resident as EJ Johnson relocates to Los Angeles and joins his friends in the fabuluxe zip code over flowing with sunshine, designer fashions, and plenty of plastic by way of surgery and credit cards. The new season of #RichKids of Beverly Hills kicks off with a trip to China for the opening of an elite department store that just so happens to be owned by Dorothy's retail mogul father. Joining Dorothy on the trip are Morgan, Brendan, Jonny, and Roxy who is growing tired of Dorothy's reoccurring jabs about her career, style and being financially cut-off by her parents. However, Roxy isn't the only one carrying drama in her couture luggage as Dorothy's boyfriend Cooper is inexplicably absent from the crew's overseas adventures. Even with the galas, VIP treatments, amazing sightseeing and being surrounded by her #BFFs, Dorothy is still distracted by what appears to be a major bump in her relationship and an opportunity to show Cooper the Wang empire. Sounds like love is a battlefield, even when that battlefield is a multimillion dollar property in Beverly Hills and you're worth billions of dollars.
Series Overview
Rating
imDb Rating: 3.1 (739 Votes)
Metascore: N/A
Plot
A look into the privileged lives of several twenty-somethings.
Details
Rated: N/A
Released: 01 Jan 2014
Runtime: 30 min
Genre: Reality-TV
Director: N/A
Writer: N/A
Actors: Morgan Stewart, Dorothy Wang, Brendan Fitzpatrick, Jonny Drubel
Language: N/A
Country: N/A
Awards: N/A
Total Seasons: 4
Previous Episode
#RunawayBride
Episode 4x8; Jun 19, 2016
Previous Episodes 4x8: #RunawayBride 4x7: #BacheloretteBlowup 4x6: #BadNewsBianca 4x5: #SkeletonsintheCloset 4x4: #Wakingupinvegas 4x3: #GossipGirl 4x2: #MaidofDishonor 4x1: #Bridezilla 3x8: #PartyCrasher

View All Episodes
Skip to:
Season 1
| Episode No. | No. Overall | Title | Airdate | Runtime | Summary |
| --- | --- | --- | --- | --- | --- |
| 1 | 1 | #welcometoBH | 2014-01-19 | 30 | Dorothy and Morgan find out that blood is thicker than water when a controversial topic threatens to ruin a friendship. |
| 2 | 2 | #mansionhunting | 2014-01-20 | 30 | Dorothy decides that it's time to move out of her parents' house and get a place of her own. Plus, Roxy's parents cut her off. |
| 3 | 3 | #crazyincabo | 2014-01-26 | 30 | To celebrate their one year anniversary, Brendan plans a posh getaway but Morgan wants to bring friends along. Is more really merrier? |
| 4 | 4 | #yachtlife | 2014-02-09 | 30 | Morgan rents a huge yacht for a day of drinking and fun in the sun--but old drama explodes at that night's dinner. |
| 5 | 5 | #INTERIORmotives | 2014-02-16 | 30 | Financially cut-off Roxy angles to decorate Dorothy's new condo, while Morgan and Brendan talk marriage and family. |
| 6 | 6 | #funemployed | 2014-02-23 | 30 | Roxy lands a huge client for her interior design business which finally gives her some financial freedom--but weekly trips to New York are killing her social life. |
| 7 | 7 | #BHgoesNYC | 2014-03-09 | 30 | The girls have a sleepover then all head to NYC for Morgan's launch party for her website. |
| 8 | 8 | #selfiesinthecity | 2014-03-16 | 30 | The Trendabl pop-up shop event is looming and Morgan is stressing out. If she wants to make in-roads with the fashion community, she needs to make big strides with her blog, Boobs and Loubs--but a run-in with a fashion blogger completely shakes her confidence. Can she handle the pressure and knock out a killer post on a deadline? |
| 9 | 9 | #VegasVIP | 2014-03-23 | 30 | |
Season 2
| Episode No. | No. Overall | Title | Airdate | Runtime | Summary |
| --- | --- | --- | --- | --- | --- |
| 1 | 10 | #Richkidsreturn | 2014-08-03 | 30 | The Chinese adventure begins in Nanjing where all the #RichKids get the royal treatment courtesy of Dorothy's family. |
| 2 | 11 | #Chinabound | 2014-08-03 | 30 | |
| 3 | 12 | #ShanghaiShowdown | 2014-08-10 | 30 | The #RichKids continue their adventure across China! The group takes rickshaws through the streets of Shanghai and gets adventurous at a genuine Chinese night market. |
| 4 | 13 | #Instadrama | 2014-08-17 | 30 | One racy photo posted to Morgan's blog has her in hot water with her mom--but did she go overboard in telling Susan to buzz off? |
| 5 | 14 | #baldeagle | 2014-08-31 | 30 | Brendan, Morgan and Roxy throw a joint rooftop birthday party, but not everyone is having a great time. |
| 6 | 15 | #BabyWhisperer | 2014-09-01 | 30 | Babysitting Brendan's niece has Morgan wondering if she wants to be a mother someday. With Brendan dead-set on being a daddy, can the couple come to an understanding about their future? |
| 7 | 16 | #Pride & Prada | 2014-09-07 | 30 | |
| 8 | 17 | #TroopBeverlyHills | 2014-09-14 | 30 | Wyoming, here they come! Brendan invites the rest of the #RichKids to rough it with him at his family's cabin where he spent his summers. Can the rest of the gang get in touch with their wild sides and bond with Mother Nature? |
| 9 | 18 | #SurvivaloftheRichest | 2014-09-21 | 30 | Their Palmdale, Wyoming, adventure continues! Follow the #RichKids as they try horseback riding, line dancing, boot shopping and tons more! |
| 10 | 19 | #SurgerySelfie | 2014-09-28 | 30 | In the season finale, Morgan and Brendan take steps to move in together. Will they receive their parents' blessing? |
Season 3
| Episode No. | No. Overall | Title | Airdate | Runtime | Summary |
| --- | --- | --- | --- | --- | --- |
| 1 | 20 | #Textgate | 2015-05-24 | 30 | In the season premiere, EJ questions whether to invite Jonny to the Bahamas, sparking group wide digital drama. |
| 2 | 21 | #BahamaDrama | 2015-05-31 | 30 | EJ has an appearance in the Bahamas and brings his friends along for support. Taylor finds flirting with newcomer Bobby to be a welcome distraction from the building tension with Roxy. |
| 3 | 22 | #RingOnIt | 2015-06-07 | 30 | As Morgan's career takes off, Brendan surprises her with a proposal. Roxy hosts a charity event for her sister and hopes her new boyfriend will come to support her. |
| 4 | 23 | #NeverHaveIEver | 2015-06-14 | 30 | Bobby puts Taylor at odds with the rest of the group when he lashes out at game night. EJ & Dorothy are on the prowl for men, and bad business leads to bad blood for Roxy & Morgan when a deal goes south between Brendan & Roxy's boyfriend. |
| 5 | 24 | #BattleOfTheBods | 2015-06-21 | 30 | Morgan and Dorothy take a road trip to Vegas, where they judge a poolside hot body contest. Taylor questions her relationship with Bobby. |
| 6 | 25 | #Hatersgonnahate | 2015-06-28 | 30 | As Morgan searches for the perfect wedding dress, Brendan worries about how much money she spends. After online criticism, Dorothy tries to change her voice, but finds dealing with her imperfections is difficult. |
| 7 | 26 | #Looseinlondon | 2015-07-05 | 30 | Morgan and Brendan plan an engagement trip to London with their friends that ends up taking a dramatic turn. Taylor and Bobby are on the rocks after Jonny confronts him about his behavior, and Morgan makes a Snapchat discovery that lands Brendan in hot water. |
| 8 | 27 | #PartyCrasher | 2015-07-12 | 30 | In the season finale, Morgan wonders if her friendship with Roxy is too far gone to recover, and debates whether or not she wants Roxy at her engagement party. |
Season 4
| Episode No. | No. Overall | Title | Airdate | Runtime | Summary |
| --- | --- | --- | --- | --- | --- |
| 1 | 28 | #Bridezilla | 2016-05-01 | 30 | Morgan's bridezilla ways push Brendan past his limit. Dorothy leans on her friend Bianca for support. EJ gets his own place in LA. Jonny's world is rocked by a health scare. |
| 2 | 29 | #MaidofDishonor | 2016-05-08 | 30 | Morgan chooses her bridal party. Dorothy bails on wedding activities and goes to NYC with Bianca. EJ and Morgan take a tantra class. Meanwhile, Jonny takes the first steps of becoming a DJ. |
| 3 | 30 | #GossipGirl | 2016-05-15 | 30 | EJ and Dorothy "hunt" for eligible men on Rodeo Drive. Bianca tells Dorothy about a family fallout between her and Brendan, which leads to a showdown with Morgan at Jonny's first DJ event. |
| 4 | 31 | #Wakingupinvegas | 2016-05-22 | 30 | |
| 5 | 32 | #SkeletonsintheCloset | 2016-05-29 | 30 | |
| 6 | 33 | #BadNewsBianca | 2016-06-05 | 30 | |
| 7 | 34 | #BacheloretteBlowup | 2016-06-12 | 30 | |
| 8 | 35 | #RunawayBride | 2016-06-19 | 30 | |
Related News
TVMaze