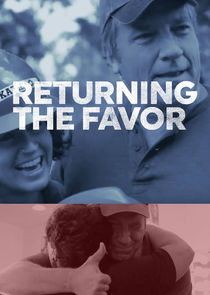 Follow host Mike Rowe as he travels the country in search of remarkable people making a difference in their communities. Returning the Favor gives back to those who pay it forward with humor, heart and surprise. Because one good turn deserves another.
Series Overview
Rating
imDb Rating: 9.6 (29 Votes)
Metascore: N/A
Plot
Mike Rowe finds people who are doing something decent in their community, and does something decent for them.
Details
Rated: N/A
Released: 28 Aug 2017
Runtime: N/A
Genre: Reality-TV
Director: N/A
Writer: N/A
Actors: Mike Rowe, Lucien Delabruere, Brent Lerash
Language: English
Country: USA
Awards: N/A
Total Seasons: 3
Previous Episode
One Soldier's Inspiration to Serve
Episode 3x23; Aug 26, 2019
The Returning the Favor Effect Page comes to life when Mike and the team find themselves in the Heart of Dixie to meet MSgt. Rob Dinsmore - a 30-year retired Air Force Veteran who was inspired to help local Alabama vets suffering from PTSD after watching the premiere episode of Returning the Favor: Operation Combat Bikesaver.
Previous Episodes 3x23: One Soldier's Inspiration to Serve 3x22: Pin-Ups for Vets


3x21: The NJ Woman Who Will Never Forget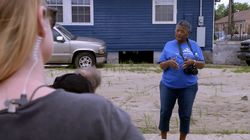 3x20: A Forgotten Neighborhood Fights Back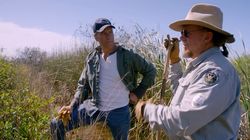 3x19: A Snake Hunter


3x18: The Kitchen Table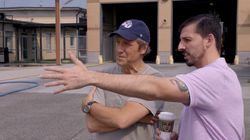 3x17: The Firefighters Fiercest Fight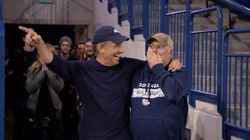 3x16: Giving Back: One Man's Fight Against Homeless


3x15: Gold Star Mom

View All Episodes
Skip to:
Season 1
| Episode No. | No. Overall | Title | Airdate | Runtime | Summary |
| --- | --- | --- | --- | --- | --- |
| 1 | 1 | Operation Combat Bikesaver | 2017-08-29 | 30 | Mike Rowe visits a garage in Indiana to surprise Jason, a former Army engineer who runs a therapeutic bike building program for veterans. |
| 2 | 2 | Donovan Discovers | 2017-08-29 | 30 | Mike swings by Albuquerque, New Mexico to see Donovan, a young man who used to be homeless, but now makes soaps for the homeless. |
| 3 | 3 | Girls Build | 2017-09-05 | 30 | Mike and the team pop into Portland Oregon to surprise Katie Hughes, a female carpenter who created and runs an incredible skills trade camp for young girls. |
| 4 | 4 | Raising the Roughriders | 2017-09-12 | 30 | Mike and the crew visit Long Island to honor Bryan Blomquist, a sled hockey coach who goes above and beyond for his adaptive athletes. |
| 5 | 5 | Loving you Through It | 2017-09-19 | 30 | Mike stops by a Chula Vista salon to visit Snooky, a hairdresser who restores beauty and confidence to female cancer patients. |
| 6 | 6 | A Hero's Retreat | 2017-09-26 | 30 | Mike and the RTF team head out to Rome, Maine to reward US Army Veteran Travis Mills, who has founded a retreat for wounded combat veterans and their families. |
| 7 | 7 | Feeding the First Responders | 2017-10-03 | 30 | Mike and his crew head west to Black Diamond, Washington to reward Mamma Ginger and the Soup Ladies; a volunteer organization feeding home cooked meals to first responders on the front lines. |
| 8 | 8 | The Music Man | 2017-10-10 | 30 | Mike and the crew are in Richmond, CA to learn more about music teacher Tim Wilson and the inspiring band program he created. |
| 9 | 9 | Pens and Pencils All in a Rowe | 2017-10-17 | 30 | This week on a very special Bring-Your-Parents-To-Work-Day episode of Returning the Favor...Mike picks up his parents; John and Peggy in his hometown of Baltimore, Md to surprise former teacher Melissa Badeker, founder of the Baltimore Teachers Supply Swap. |
| 10 | 10 | Wedding Dress Rescue | 2017-10-24 | 30 | Mike and the crew are in Glen Burnie, Maryland to meet an amazing seamstress, Denise Simmons, who came to the rescue of 80+ brides when a national bridal retail store suddenly closed its doors. |
Season 2
| Episode No. | No. Overall | Title | Airdate | Runtime | Summary |
| --- | --- | --- | --- | --- | --- |
| 1 | 11 | The Cop Who Saved Christmas | 2017-12-19 | 30 | On a very special holiday episode of Returning the Favor: Mike and his jolly crew of producers bring the North Pole to sunny Panama City, Florida in hopes of surprising the Salvage Santa (Mike Jones). A local hero, who spends all year refurbishing old bikes out of his tiny Santa workshop and distributes them to children during the holidays. |
| 2 | 12 | The Community Responds | 2017-12-26 | 10 | While hard at work on the road shooting season 2 of Returning the Favor, Mike takes a moment to check back in on Katie Hughes, an honoree from season one who is introducing young girls to the trades in hopes of narrowing the skills gap. |
| 3 | 13 | John's Dirty Job | 2018-01-02 | 10 | While on the road shooting season 2 of Returning the Favor, Mike takes a break to surprise John Middleswarth, a former truck driver from Zebulon, North Carolina who is doing his part to make sure that the streets and parks in his town stay clean. |
| 4 | 14 | Donovan Update | 2018-01-09 | 10 | While back on the road shooting season 2 of Returning the Favor Mike sends a team to Albuquerque, New Mexico to help an overwhelmed Donovan Smith (Season 1) finish his final 200 soap orders that poured in after Mike rallied the RTF community to support him several months back. |
| 5 | 15 | One Mom's Mission | 2018-01-16 | 10 | This week the RTF team heads over to Pleasant Grove, Utah to Return the Favor to a woman named Jazmine Edwards who runs a boutique called U.G.L.Y's closet: an incredible resource for single mothers. |
| 6 | 16 | Gratitude is on the Menu | 2018-01-23 | 10 | The RTF team heads South to Jackson, Tennessee to learn more about Amy Crenshaw and the ComeUnity Cafe; a local staple that feeds patrons regardless of if they can afford it or not. |
| 7 | 17 | Thank You For Your Service | 2018-01-30 | 10 | The Returning the Favor team heads down to Davidson, NC to thank Dan Berei, a U.S Army veteran who started Combat Flags, an operation inspired by America's combat soldiers and the struggle they continue to endure. |
| 8 | 18 | A Square To Spare | 2018-02-06 | 10 | This week the RTF team are in Lawrenceville Georgia to meet Kendall Robinson a young woman who has taken it upon herself to make sure that her community has access to toilet paper. |
| 9 | 19 | Sleep in Heavenly Peace | 2018-02-13 | 30 | Mike and the team are back honoring amazing Americans with full episodes of "Returning the Favor!" This week the team stops into Twin Falls, Idaho to meet Luke Mickelson who started Sleep in Heavenly Peace, an organization whose mission is to ensure that no child in their town ever has to sleep on the floor. |
| 10 | 20 | Against All Odds | 2018-02-20 | 30 | Mike and the crew head to the Big Apple to learn more about Goldin Martinez and his program Get Focused; a movement designed to empower young people to read through exercise. |
| 11 | 21 | The Garage of Blessings | 2018-02-27 | 30 | Mike and the crew head over to Oak Harbor, Washington to learn more about Kristina Miller and the Garage of Blessings; a local donation based garage that was started to help "serve those who have a need" in her Washington community. |
| 12 | 22 | Alton's Toy Story | 2018-03-06 | 30 | Mike and the team are in West Jordan Utah to return the favor to Alton Thacker a 82 year old man who started Tiny Tim's Foundation; a workshop that has produced over 800,000 toy cars for children all over the world. |
| 13 | 23 | Tough Love | 2018-03-13 | 30 | Mike and the crew are in Lancaster County PA to learn more about Carol Stark AKA the Crazy Lady, a woman who goes above and beyond to help local children who have fallen through the cracks. |
| 14 | 24 | Serving Up Second Chances | 2018-03-20 | 30 | Mike and the crew head south to San Antonio, Texas to meet up with Alice "Ma" Harper at Ma Harper's Creole Kitchen. For the last 25 years, Ma has been serving up award winning gumbo to the locals as well as second chances to the formerly incarcerated, who otherwise would have nowhere else to turn for employment and guidance. |
| 15 | 25 | Bully Rehab | 2018-03-27 | 30 | Mike and the crew are in Yuma Arizona to meet Carlos Flores, a remarkable man who started BRAG, a bully rehab awareness gym that is doing its part time to combat the bullying epidemic. |
| 16 | 26 | Soldier Dogs | 2018-04-03 | 30 | Mike and the team head to Woodbridge, Virginia to meet Chris and Amanda Baity who run Semper K9, an organization that is rescuing dogs and Veterans. |
| 17 | 27 | Rebuilding the Big Easy | 2018-04-10 | 30 | Mike and the team head south to Louisiana to learn more about Dwayne "Prince" Holmes and his organization Youth Rebuilding New Orleans, a youth-based non-profit that is rebuilding their community by purchasing and repairing blighted homes devastated by Hurricane Katrina. |
| 18 | 28 | Honoring the Brave | 2018-04-17 | 30 | This week the RTF team is in Prescott, Arizona to honor Deborah Pfingston & Roxanne Warneke and The Wildland Firefighter Guardian Institute. A group of women who are doing everything in their power to improve wild land firefighting practices, in hopes of avoiding tragedy. |
| 19 | 29 | Adah's Dirty Laundry | 2018-04-24 | 30 | Mike and the team drop into South Carolina in hopes of Returning the Favor to Adahlia Nix, a remarkable young woman who organizes a weekly laundry service for those in her Greenville community that are struggling to make ends meet. |
| 20 | 30 | All The Shingle Ladies | 2018-05-01 | 30 | Mike and the crew are in Forest City, North Carolina to learn more about the Women Roofers, a collective of tenacious women of a certain age, who are making an impact by fixing roofs for local residents in need. |
| 21 | 31 | The Girl Who Feeds The Hungry | 2018-06-19 | 30 | Mike and the team are back on the road! This week traveling to Mount Olive, North Carolina to surprise thirteen-year-old Mackenzie "Kenzie" Hinson who established the Make A Difference Food Pantry in an effort to fight hunger in her home town. |
| 22 | 32 | Grounds Of Love | 2018-06-26 | 30 | Mike and the crew head west to North Bend, Washington to surprise Kristin Zuray and her organization, the Trail Youth, a local non profit using coffee, donuts & love to positively impact the lives of local teens in Washington State. |
| 23 | 33 | Saving Kids On The Farm | 2018-07-03 | 30 | Mike and the gang swing into Springfield, Ohio to return the favor to Debbie McCullough and Cathy Tofstad; two best friends who run the On the Rise Farm, a local non profit organization serving at-risk youth in Clark County through hard work, compassion and work ethic. |
| 24 | 34 | Beauty And The Beets | 2018-07-10 | 30 | Mike and the Crew are in sunny Miami, Florida this week to meet Asha Loring, a remarkable young woman who's organization Health in the Hood is not only improving the lives of food dessert residents but also improving the physical landscape of the hometown. |
| 25 | 35 | The Can Lady | 2018-07-17 | 30 | Mike and the team speed into Indianapolis, Indiana to meet up with Mary Stumpp and The Can Lady Project: a recycling initiative that donates field trips and supplies to teachers in local Indianapolis schools... all funded by, you guessed it, cans! Since its inception the project has generated over $60K in donations. |
| 26 | 36 | To Serve And Protect | 2018-07-24 | 30 | Mike and the team swing into to Canton Ohio, home of the football hall of fame, to get to know Officer LaMar Sharpe and the "Be a Better Me Foundation" a movement that encourages and empowers inner city youth by providing access to positive role models. |
| 27 | 37 | Veterans Helping Veterans | 2018-07-31 | 30 | This week the RTF crew heads to Conesus, New York to meet up with Justin Cogswell; the founder of Operation Build Up: a Veteran run non-profit that assists local Veterans in need of transportation by giving them refurbished vehicles. |
| 28 | 38 | Food 4 Kids | 2018-08-07 | 30 | This week the Returning the Favor team heads into the Granite State, to meet Isidro Rodriguez, an incredible young man who is raising funds to clear student lunch debt in his Haverhill, New Hampshire, community. |
| 29 | 39 | In Memory of Ian | 2018-08-14 | 30 | Mike and the team head to Encinitas, California to meet John & Alison Barry who after the tragic passing of their son Ian, decided to start Rollin' From The Heart: A foundation that uses skateboarding as a vehicle to help empower and invigorate at risk youth in the community. |
| 30 | 40 | An American Second Chance | 2018-08-21 | 30 | This week we're back in Mike's hometown of Baltimore, Maryland to shine the spotlight on Project Jumpstart: A pre-apprenticeship training program that provides a fresh start to low-income city residents who want to enter the construction trade. |
| 31 | 41 | Standing with Coal Country | 2018-08-28 | 30 | We're pulling out all the stops for the season finale! Returning the Favor alumni Kenzie Hinson and the Women Roofers meet up with Mike and the crew in the heart of coal country - Welch, West Virginia to surprise Linda McKinney of Five Loaves and Two Fishes Food Bank: an organization that helps feed thousands of struggling residents each year. |
Season 3
| Episode No. | No. Overall | Title | Airdate | Runtime | Summary |
| --- | --- | --- | --- | --- | --- |
| 1 | 42 | Saving our Veterans | 2018-11-27 | 30 | Mike and the team kick off season three with a trip to Wyandotte, Michigan, to meet Ann Rudisill, a spitfire Vietnam War era Veteran who started Downriver for Veterans, an organization that provides a wide range of assistance to local Veterans in the Wyandotte community. |
| 2 | 43 | Coach Of The Year | 2018-12-04 | 30 | Batter up! This week Mike recruits the St. Louis Cardinals to help return the favor to a Missouri coach who provides free sporting equipment to kids. |
| 3 | 44 | A Leader with (Lawn) Care | 2018-12-11 | 30 | Mike and the team race to the Motor City to honor Eric Miller, a man who runs a youth leadership training program that provides free lawn care services to veterans. |
| 4 | 45 | The 89-Year-Old Golfer! | 2018-12-18 | 30 | Mike tees off with an 89-year-old golfer who's found a way to share his love of the sport by building a course where the community can play for free. |
| 5 | 46 | A Firefighter Christmas | 2018-12-25 | 30 | It's a hero's Christmas morning as Mike and the team head to Texas to honor a local volunteer fighter, Blake "PeeWee" Henson and his band of brothers, the Texas Firewalkers. |
| 6 | 47 | Fences for Fido | 2019-01-01 | 30 | The team heads to Oregon to meet an incredible group of volunteers who are helping turn dog chains into dog shelters. |
| 7 | 48 | The Weights Veterans Carry | 2019-01-08 | 30 | This week the team is in Texas to meet Justin "Boflex" Bohannon, an Army Veteran who is lifting up Veterans with PTSD through fitness. |
| 8 | 49 | Fighting for the Trades | 2019-01-15 | 30 | This week we are in Colorado to thank shop teacher Dave Franks and honor his efforts to bring shop class back to schools. |
| 9 | 50 | The Bra Fairy | 2019-01-22 | 30 | Snow falls on the Nation's Capitol as the team attempts to reward Dana Marlow; a woman who collects and distributes bras and hygiene products to women in need. |
| 10 | 51 | Every Kid Deserves A Birthday Party | 2019-01-29 | 30 | Mike is in Pittsburgh this week to surprise Megs Yunn, a woman who is making sure that every child in the city of Pittsburgh is celebrated on their birthday. |
| 11 | 52 | The Mother Saving the South Side | 2019-06-04 | 30 | Mike and the crew head to the Windy City to Return the Favor to LaTanya Johnson, an incredible woman who created a free after school program for children in her community in hopes of breaking the cycle of crime and violence that is currently plaguing the area. |
| 12 | 53 | An 82-Year-Old Small Town Hero | 2019-06-11 | 30 | Everything is bigger in the great state of Texas, including the do-gooders! This week, Mike and the team honor 82-year-old Barney C Jones, a man who has devoted his life to serving seniors in his small town of Royse City. |
| 13 | 54 | Shoes For Kids | 2019-06-17 | 30 | Mike and the team lace up their boots and ride into Houston to Return the Favor to Alisa Ward and her organization that provides new shoes to children who are living in poverty throughout their home state of Texas. |
| 14 | 55 | A Big Guy With A Big Heart | 2019-06-24 | 30 | It's tornado season in Oklahoma as Mike and the team storm into town to meet Adam Ely, a larger than life disabled veteran who is traveling around his community repairing vehicles for folks that are experiencing hard luck. |
| 15 | 56 | Gold Star Mom | 2019-07-01 | 30 | Mike, the crew and Mike's parents are sweating it out in sunny Florida this week and meet Kelly Kowall, an inspiring Gold Star Mother who created a military retreat that provides veterans and military families a tranquil place to heal upon returning home from the battlefield or losing a loved one in the service. |
| 16 | 57 | Giving Back: One Man's Fight Against Homeless | 2019-07-08 | 30 | In this episode of RTF, Mike and the crew head to Spokane, WA to spend time with Rick Clark: a formerly homeless do-gooder who hit the reset button and is now giving back by providing backpacks filled with resources to those in need. |
| 17 | 58 | The Firefighters Fiercest Fight | 2019-07-15 | 30 | Grab your beads and beignets! Mike and the team are in the Big Easy this week to meet "Chuckles", AKA T.J. Maury, a superhero firefighter with a heart of gold who laughs in the face of adversity as he battles the biggest villain of his life, stage three colon cancer. |
| 18 | 59 | The Kitchen Table | 2019-07-22 | 30 | Mike and the team are in Rochelle, Illinois to break bread with Carolyn Brown, owner of "The Kitchen Table" a pay-what-you-can restaurant that provides home-cooked meals to folks in her community that have fallen on hard times. |
| 19 | 60 | A Snake Hunter | 2019-07-29 | 30 | Things get a little swampy down in the Everglades as Mike and the crew return the favor to Tom Rahill of the Swamp Apes: An organization that not only helps veterans struggling with PTSD, but assists in the removal of invasive species from the area. |
| 20 | 61 | A Forgotten Neighborhood Fights Back | 2019-08-05 | 30 | It's hammer time! Mike and the crew head to Louisiana to meet the Hammer of Hollygrove-Dixon, Miss Brenda Lomax-Brown, a 73-year-old firecracker of a woman, who is doing everything in her power to improve the conditions of her forgotten New Orleans neighborhood. |
| 21 | 62 | The NJ Woman Who Will Never Forget | 2019-08-12 | 30 | Mike and the team find themselves a stone's throw from New York City, in the suburbs of New Jersey to surprise Megan McDowell: the founder of Heartworks: an organization of female Do-Gooder's helping local families to heal in times of grief, illness or injury. This incredible initiative was born out of the kindness shown to her family after losing a loved one in the attacks that took place on September 11, 2001. |
| 22 | 63 | Pin-Ups for Vets | 2019-08-19 | 30 | It's time to strike-a-pose! Mike and the team (bathing) suit up to meet Pin-Up for Vets founder Gina Elise, who created a non-profit organization that empowers female veterans through makeovers and photoshoots. The organization then uses those photos to create a calendar which helps Gina raise funds for VA hospitals nationwide. |
| 23 | 64 | One Soldier's Inspiration to Serve | 2019-08-26 | 30 | The Returning the Favor Effect Page comes to life when Mike and the team find themselves in the Heart of Dixie to meet MSgt. Rob Dinsmore - a 30-year retired Air Force Veteran who was inspired to help local Alabama vets suffering from PTSD after watching the premiere episode of Returning the Favor: Operation Combat Bikesaver. |
Related News
TVMaze