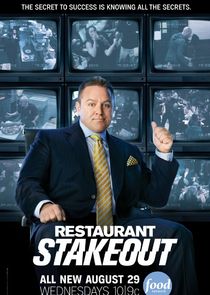 Just when employees think their restaurant owners or managers aren't watching, Willie Degel captures them all on hidden camera.
Series Overview
Rating
imDb Rating: 5.0 (362 Votes)
Metascore: N/A
Plot
Restaurant Stakeout is an American reality television series on the Food Network. The series debuted on March 12, 2012, with the second season premiering on August 29, 2012. It is one of ...
Details
Rated: N/A
Released: 07 Mar 2012
Runtime: 60 min
Genre: N/A
Director: N/A
Writer: N/A
Actors: Paul K. Bisson, Willie Degel
Language: English
Country: USA
Awards: N/A
Total Seasons: 5
Previous Episode
Million Dollar Stakeout
Episode 5x13; Sep 10, 2014
Previous Episodes 5x13: Million Dollar Stakeout 5x12: Grand Opening Stakeout 5x11: Standup Stakeout 5x10: Father Daughter Stakeout 5x9: Willie Shuts It Down 5x8: Fuggedabout Mario 5x7: Golf Course Stakeout 5x6: Cioa, Vegas 5x5: Hammered in Vegas

View All Episodes
Skip to:
Season 1
| Episode No. | No. Overall | Title | Airdate | Runtime | Summary |
| --- | --- | --- | --- | --- | --- |
| 1 | 1 | From the Top Down | 2012-03-11 | 60 | Willie heads to Firefly restaurant in Las Vegas to answer a plea for help. |
| 2 | 2 | Party All the Time | 2012-03-14 | 60 | Willie puts his skills & knowledge to the test at Lexington Grille and Pub. |
| 3 | 3 | Find the Leader to Follow | 2012-03-21 | 60 | Is it too late for the Mt. Ivy Cafe or will Wllie be able to help? |
| 4 | 4 | The Son and the Father | 2012-03-28 | 60 | Willie's at Agnello's Pizzeria to help make peace between family partners. |
| 5 | 5 | Paint by Numbers | 2012-04-04 | 60 | |
| 6 | 6 | Oh, Brother | 2012-04-11 | 60 | This restaurants biggest problems are its owners who are brothers. |
Season 2
| Episode No. | No. Overall | Title | Airdate | Runtime | Summary |
| --- | --- | --- | --- | --- | --- |
| 1 | 7 | Nobody's Runnin' the Store | 2012-08-29 | 60 | |
| 2 | 8 | When the Cat's Away | 2012-09-05 | 60 | |
| 3 | 9 | The Customer's Always Wrong | 2012-09-12 | 60 | |
| 4 | 10 | Damsel in Distress | 2012-09-19 | 60 | |
| 5 | 11 | Who Hires These People? | 2012-09-26 | 60 | |
| 6 | 12 | Act Like the Boss | 2012-10-10 | 60 | |
| 7 | 13 | That's Money Out the Door | 2012-10-17 | 60 | |
| 8 | 14 | This Place Is a Circus | 2012-10-24 | 60 | |
| 9 | 15 | You Can't Fire Family | 2012-11-14 | 60 | |
| 10 | 16 | On It's Last Leg | 2012-11-21 | 60 | |
| 11 | 17 | Little Place, Lotsa Drama | 2012-11-28 | 60 | |
| 12 | 18 | My Big Fat Greek Nightmare | 2012-12-05 | 60 | |
| 13 | 19 | A Bunch of Spolied Brats | 2012-12-12 | 60 | |
Season 3
| Episode No. | No. Overall | Title | Airdate | Runtime | Summary |
| --- | --- | --- | --- | --- | --- |
| 1 | 20 | Barbecue with Attitude | 2013-03-13 | 60 | |
| 2 | 21 | Momma's Boy | 2013-03-20 | 60 | |
| 3 | 22 | You Can't Be Everything to Everybody | 2013-03-27 | 60 | |
| 4 | 23 | Three Strikes and You're Out! | 2013-04-03 | 60 | |
| 5 | 24 | The Big ... NOT So Easy | 2013-04-17 | 60 | |
| 6 | 25 | To Catch a "Restaurant" Thief | 2013-04-24 | 60 | |
| 7 | 26 | Giving Away the House | 2013-05-01 | 60 | |
| 8 | 27 | Kitchen Mafia | 2013-05-08 | 60 | |
| 9 | 28 | Your Smokehouse Is a Joke-House | 2013-05-29 | 60 | |
| 10 | 29 | The Place Is a Ghost Town! | 2013-06-05 | 60 | |
| 11 | 30 | Tuscan Tumbleweeds | 2013-06-12 | 60 | |
| 12 | 31 | What Would Your Father Do? | 2013-06-19 | 60 | |
| 13 | 32 | What Are You Servin' Here? | 2013-06-26 | 60 | |
Season 4
| Episode No. | No. Overall | Title | Airdate | Runtime | Summary |
| --- | --- | --- | --- | --- | --- |
| 1 | 33 | Joe Broadway's or Bust | 2013-09-11 | 60 | |
| 2 | 34 | Your Mom's Gotta Go | 2013-09-18 | 60 | |
| 3 | 35 | Blonde Ambition | 2013-09-25 | 60 | |
| 4 | 36 | Complete Pushover | 2013-10-02 | 60 | |
| 5 | 37 | Kiss Beso Goodbye | 2013-10-09 | 60 | |
| 6 | 38 | Family Style Failure | 2013-10-16 | 60 | |
| 7 | 39 | Bad News Bistro | 2013-10-23 | 60 | |
| 8 | 40 | Clueless Cousins | 2013-10-30 | 60 | |
| 9 | 41 | Starving for Customers | 2013-11-27 | 60 | |
| 10 | 42 | Whine Bar | 2013-12-04 | 60 | |
| 11 | 43 | Somers Almost Over | 2013-12-11 | 60 | |
| 12 | 44 | Division Street Disaster | 2013-12-18 | 60 | |
| 13 | 45 | Dysfunction Junction | 2014-01-08 | 60 | |
Season 5
| Episode No. | No. Overall | Title | Airdate | Runtime | Summary |
| --- | --- | --- | --- | --- | --- |
| 1 | 46 | Las Vegas Stakeout | 2014-06-04 | 60 | |
| 2 | 47 | Sushi on the Strip | 2014-06-11 | 60 | |
| 3 | 48 | Hoover Dam'd Pizza | 2014-06-18 | 60 | |
| 4 | 49 | Unlucky in Vegas | 2014-06-25 | 60 | |
| 5 | 50 | Hammered in Vegas | 2014-07-02 | 60 | |
| 6 | 51 | Cioa, Vegas | 2014-07-16 | 60 | |
| 7 | 52 | Golf Course Stakeout | 2014-07-23 | 60 | |
| 8 | 53 | Fuggedabout Mario | 2014-07-30 | 60 | Willie helps "Mario's Tutto Bene", a struggling family restaurant in Union, New Jersey, that has managed to stay in business for 32 years, but has fallen upon hard times, since the original owners passed it along to their son. |
| 9 | 54 | Willie Shuts It Down | 2014-08-06 | 60 | A man's mother and her restaurant become the victims of a massive theft. |
| 10 | 55 | Father Daughter Stakeout | 2014-08-20 | 60 | |
| 11 | 56 | Standup Stakeout | 2014-08-27 | 60 | |
| 12 | 57 | Grand Opening Stakeout | 2014-09-03 | 60 | |
| 13 | 58 | Million Dollar Stakeout | 2014-09-10 | 60 | |
Related News
TVMaze