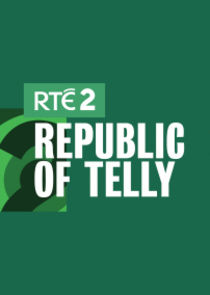 Republic of Telly is a TV review and magazine programme on Irish public broadcaster, RTÉ Two. Presented by comedian Kevin McGahern, the programme is intended as a satirical examination at television, mocking various Irish and British TV channels, including sketches and special guests making an appearance from the shows. An added feature of the show is its correspondents Jennifer Maguire and Bernard O'Shea. Maguire conducts vox pops and celebrity interviews, whereas O'Shea conducts "live on the spot reports".
Series Overview
Rating
imDb Rating: 7.5 (82 Votes)
Metascore: N/A
Plot
A topical comedy show which takes a comedic look back on the week's events.
Details
Rated: N/A
Released: 10 Jan 2009
Runtime: 29 min
Genre: Comedy
Director: N/A
Writer: James Cotter
Actors: Jennifer Maguire, Hilary Rose, Dermot Whelan
Language: English
Country: Ireland
Awards: N/A
Total Seasons: 12
Previous Episode
Episode 6
Episode 15x6; Nov 28, 2016
Previous Episodes 15x6: Episode 6 15x5: Episode 5 15x4: Episode 4 15x3: Episode 3 15x2: Episode 2 15x1: Episode 1 14x10: Episode 10 14x9: Episode 9 14x8: Episode 8

View All Episodes
Skip to:
Season 1
| Episode No. | No. Overall | Title | Airdate | Runtime | Summary |
| --- | --- | --- | --- | --- | --- |
| 1 | 1 | Episode 1 | 2009-10-26 | | |
| 2 | 2 | Episode 2 | 2009-11-02 | | |
| 3 | 3 | Episode 3 | 2009-11-09 | | |
| 4 | 4 | Episode 4 | 2009-11-16 | | |
| 5 | 5 | Episode 5 | 2009-11-23 | | |
| 6 | 6 | Episode 6 | 2009-12-14 | | |
| 7 | 7 | Episode 7 | 2009-12-21 | | |
Season 2
| Episode No. | No. Overall | Title | Airdate | Runtime | Summary |
| --- | --- | --- | --- | --- | --- |
| 1 | 8 | Episode 1 | 2010-02-22 | | |
| 2 | 9 | Episode 2 | 2010-03-01 | 30 | |
| 3 | 10 | Episode 3 | 2010-03-08 | 30 | |
| 4 | 11 | Episode 4 | 2010-03-15 | | |
| 5 | 12 | Episode 5 | 2010-03-22 | | |
| 6 | 13 | Episode 6 | 2010-03-29 | | |
| 7 | 14 | Episode 7 | 2010-04-05 | 30 | |
| 8 | 15 | Episode 8 | 2010-04-12 | 30 | |
| 9 | 16 | Episode 9 | 2010-04-19 | 30 | |
| 10 | 17 | Episode 10 | 2010-04-26 | 30 | |
Season 3
| Episode No. | No. Overall | Title | Airdate | Runtime | Summary |
| --- | --- | --- | --- | --- | --- |
| 1 | 18 | Episode 1 | 2010-10-20 | | |
| 2 | 19 | Episode 2 | 2010-10-27 | | |
| 3 | 20 | Episode 3 | 2010-11-03 | | |
| 4 | 21 | Episode 4 | 2010-11-10 | | |
| 5 | 22 | Episode 5 | 2010-11-17 | | |
| 6 | 23 | Episode 6 | 2010-11-24 | | |
| 7 | 24 | Episode 7 | 2010-12-01 | | |
| 8 | 25 | Episode 8 | 2010-12-08 | | |
| 9 | 26 | Episode 9 | 2010-12-15 | | |
| 10 | 27 | Episode 10 | 2010-12-22 | | |
Season 4
| Episode No. | No. Overall | Title | Airdate | Runtime | Summary |
| --- | --- | --- | --- | --- | --- |
| 1 | 28 | Episode 1 | 2011-03-07 | | |
| 2 | 29 | Episode 2 | 2011-03-14 | | |
| 3 | 30 | Episode 3 | 2011-03-21 | | |
| 4 | 31 | Episode 4 | 2011-03-28 | | |
| 5 | 32 | Episode 5 | 2011-04-04 | | |
| 6 | 33 | Episode 6 | 2011-04-11 | | |
| 7 | 34 | Episode 7 | 2011-04-18 | | |
| 8 | 35 | Episode 8 | 2011-04-25 | | |
| 9 | 36 | Episode 9 | 2011-05-02 | | |
| 10 | 37 | Episode 10 | 2011-05-09 | | |
Season 5
| Episode No. | No. Overall | Title | Airdate | Runtime | Summary |
| --- | --- | --- | --- | --- | --- |
| 1 | 38 | Episode 1 | 2011-10-17 | | |
| 2 | 39 | Episode 2 | 2011-10-24 | | |
| 3 | 40 | Episode 3 | 2011-10-31 | | |
| 4 | 41 | Episode 4 | 2011-11-07 | | |
| 5 | 42 | Episode 5 | 2011-11-14 | | |
| 6 | 43 | Episode 6 | 2011-11-21 | | |
| 7 | 44 | Episode 7 | 2011-11-28 | | |
| 8 | 45 | Episode 8 | 2011-12-05 | | |
| 9 | 46 | Episode 9 | 2011-12-12 | | |
| 10 | 47 | Episode 10 | 2011-12-19 | | |
Season 6
| Episode No. | No. Overall | Title | Airdate | Runtime | Summary |
| --- | --- | --- | --- | --- | --- |
| 1 | 48 | Episode 1 | 2012-02-20 | 30 | |
| 2 | 49 | Episode 2 | 2012-02-27 | 30 | |
| 3 | 50 | Episode 3 | 2012-03-05 | 30 | |
| 4 | 51 | Episode 4 | 2012-03-12 | 30 | |
| 5 | 52 | Episode 5 | 2012-03-19 | 30 | |
| 6 | 53 | Episode 6 | 2012-03-26 | 30 | |
| 7 | 54 | Episode 7 | 2012-04-02 | 30 | |
| 8 | 55 | Episode 8 | 2012-04-09 | | |
| 9 | 56 | Episode 9 | 2012-04-16 | | |
| 10 | 57 | Episode 10 | 2012-04-23 | | |
Season 7
| Episode No. | No. Overall | Title | Airdate | Runtime | Summary |
| --- | --- | --- | --- | --- | --- |
| 1 | 58 | Episode 1 | 2012-10-22 | | |
| 2 | 59 | Episode 2 | 2012-10-29 | | |
| 3 | 60 | Episode 3 | 2012-11-05 | | |
| 4 | 61 | Episode 4 | 2012-11-12 | | |
| 5 | 62 | Episode 5 | 2012-11-19 | | |
| 6 | 63 | Episode 6 | 2012-11-26 | | |
| 7 | 64 | Episode 7 | 2012-12-03 | | |
| 8 | 65 | Episode 8 | 2012-12-10 | | |
| 9 | 66 | Episode 9 | 2012-12-17 | | |
Season 8
| Episode No. | No. Overall | Title | Airdate | Runtime | Summary |
| --- | --- | --- | --- | --- | --- |
| 1 | 67 | Episode 1 | 2013-03-04 | | |
| 2 | 68 | Episode 2 | 2013-03-11 | | |
| 3 | 69 | Episode 3 | 2013-03-18 | | |
| 4 | 70 | Episode 4 | 2013-03-25 | | |
| 5 | 71 | Episode 5 | 2013-04-01 | | |
| 6 | 72 | Episode 6 | 2013-04-08 | | |
| 7 | 73 | Episode 7 | 2013-04-15 | | |
| 8 | 74 | Episode 8 | 2013-04-22 | | |
| 9 | 75 | Episode 9 | 2013-04-29 | | |
Season 9
| Episode No. | No. Overall | Title | Airdate | Runtime | Summary |
| --- | --- | --- | --- | --- | --- |
| 1 | 76 | Episode 1 | 2013-10-28 | | |
| 2 | 77 | Episode 2 | 2013-11-04 | | |
| 3 | 78 | Episode 3 | 2013-11-11 | | |
| 4 | 79 | Episode 4 | 2013-11-18 | | |
| 5 | 80 | Episode 5 | 2013-11-25 | | |
| 6 | 81 | Episode 6 | 2013-12-02 | | |
| 7 | 82 | Episode 7 | 2013-12-09 | | |
| 8 | 83 | Episode 8 | 2013-12-16 | | |
| 9 | 84 | Episode 9 | 2013-12-23 | | |
Season 10
| Episode No. | No. Overall | Title | Airdate | Runtime | Summary |
| --- | --- | --- | --- | --- | --- |
| 1 | 85 | Episode 1 | 2014-03-10 | | |
| 2 | 86 | Episode 2 | 2014-03-17 | | |
| 3 | 87 | Episode 3 | 2014-03-24 | | |
| 4 | 88 | Episode 4 | 2014-03-31 | | |
| 5 | 89 | Episode 5 | 2014-04-07 | | |
| 6 | 90 | Episode 6 | 2014-04-14 | | |
| 7 | 91 | Episode 7 | 2014-04-21 | | |
| 8 | 92 | Episode 8 | 2014-04-28 | | |
| 9 | 93 | Episode 9 | 2014-05-05 | | |
| 10 | 94 | Episode 10 | 2014-05-12 | | |
Season 11
| Episode No. | No. Overall | Title | Airdate | Runtime | Summary |
| --- | --- | --- | --- | --- | --- |
| 1 | 95 | Episode 1 | 2014-11-03 | | |
| 2 | 96 | Episode 2 | 2014-11-10 | | |
| 3 | 97 | Episode 3 | 2014-11-17 | | |
| 4 | 98 | Episode 4 | 2014-11-24 | | |
| 5 | 99 | Episode 5 | 2014-12-01 | | |
| 6 | 100 | Episode 6 | 2014-12-08 | | |
| 7 | 101 | Episode 7 | 2014-12-15 | | |
| 8 | 102 | Episode 8 | 2014-12-22 | | |
Season 12
| Episode No. | No. Overall | Title | Airdate | Runtime | Summary |
| --- | --- | --- | --- | --- | --- |
| 1 | 103 | Episode 1 | 2015-03-16 | | |
| 2 | 104 | Episode 2 | 2015-03-23 | | |
| 3 | 105 | Episode 3 | 2015-03-30 | | |
| 4 | 106 | Episode 4 | 2015-04-06 | | |
| 5 | 107 | Episode 5 | 2015-04-13 | | |
| 6 | 108 | Episode 6 | 2015-04-20 | | |
| 7 | 109 | Episode 7 | 2015-04-27 | | |
| 8 | 110 | Episode 8 | 2015-05-04 | | |
| 9 | 111 | Episode 9 | 2015-05-11 | | |
| 10 | 112 | Episode 10 | 2015-05-18 | | |
Series Cast
| | | | |
| --- | --- | --- | --- |
| | Kevin McGahern | as Presenter | |
Related News
TVMaze