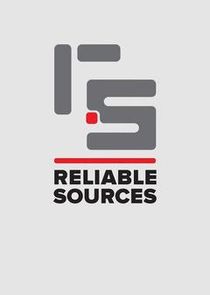 Reliable Sources is a weekly show on the cable/satellite news network CNN that focuses on analysis of the American news media. It was initially created to cover the media's coverage of the Persian Gulf War, but has since also covered the media's coverage of the Valerie Plame affair, the Iraq War, the outing of Mark Felt as Deep Throat, and many other events and internal media stories. The show debuted in 1992. Until 2009, it was broadcast as a stand-alone program, but on January 18, 2009,Reliable Sources became a segment during CNN's new Sunday morning political program State of the Union with John King, although it remained hosted by Kurtz and retained its timeslot. In January 2010, after John King left the show, Reliable Sources was re-spun off as its own show, moving back one hour in the process.
Reliable Sources reviews the coverage of the news stories of the past week by the media, in addition to news about the news media behind the scenes, all with a constantly changing group of online, print, and broadcast journalists. The segments also feature some one-on-one interviews with journalists taking part in a news event or covering a story, such as Bob Woodruff after his return to ABC News in February 2007 after his severe injuries in Iraq on January 29, 2006. Bernard Kalb was the founding host. Howard Kurtz had been host of the program for 15 years before leaving CNN to join Fox News Channel on July 1, 2013, where he became host of Media Buzz, which airs opposite Reliable Sources on Sunday mornings and serves as its direct competition. After Kurtz's departure, Reliable Sources used a rotating roster of guest hosts until December 8, 2013, when former New York Times reporter Brian Stelter became the program's permanent host. Since its debut, Reliable Sources has been based at CNN's bureau in Washington, D.C. The show is slated to move to the network's studios at Time Warner Center inNew York City on or around the week of September 21, 2014.
Series Overview
Rating
imDb Rating: 4.9 (40 Votes)
Metascore: N/A
Plot
"Reliable Sources" is CNN's weekly program that examines how journalists do their jobs and how the media affect the stories they cover.
Details
Rated: TV-PG
Released: N/A
Runtime: 60 min
Genre: News, Talk-Show
Director: N/A
Writer: N/A
Actors: Brian Stelter, Howard Kurtz
Language: English
Country: USA
Awards: N/A
Total Seasons: 26
Previous Episode
Episode 38
Episode 26x38; Sep 24, 2017
Examining media coverage and how it can shape the news.
Previous Episodes 26x38: Episode 38 26x37: Episode 37 26x36: Episode 36 26x35: Episode 35 26x34: Episode 34 26x33: Episode 33 26x32: Episode 32 26x31: Episode 31 26x30: Episode 30

View All Episodes
Recent News
What AI startups need to achieve before VCs will invest
For AI entrepreneurs, there are additional factors that must be addressed. Why? It is fairly clear that we're in the early stages of this burgeoning industry which stands to revolutionize sectors from healthcare to fintech, logistics to transportation and bey…
via NewsAPI
View More Related News
Skip to:
Season 1
| Episode No. | No. Overall | Title | Airdate | Runtime | Summary |
| --- | --- | --- | --- | --- | --- |
| 1 | 1 | Pilot | 1992-10-31 | 60 | |
Season 2
| Episode No. | No. Overall | Title | Airdate | Runtime | Summary |
| --- | --- | --- | --- | --- | --- |
Season 3
| Episode No. | No. Overall | Title | Airdate | Runtime | Summary |
| --- | --- | --- | --- | --- | --- |
Season 4
| Episode No. | No. Overall | Title | Airdate | Runtime | Summary |
| --- | --- | --- | --- | --- | --- |
Season 5
| Episode No. | No. Overall | Title | Airdate | Runtime | Summary |
| --- | --- | --- | --- | --- | --- |
Season 6
| Episode No. | No. Overall | Title | Airdate | Runtime | Summary |
| --- | --- | --- | --- | --- | --- |
Season 7
| Episode No. | No. Overall | Title | Airdate | Runtime | Summary |
| --- | --- | --- | --- | --- | --- |
Season 8
| Episode No. | No. Overall | Title | Airdate | Runtime | Summary |
| --- | --- | --- | --- | --- | --- |
Season 9
| Episode No. | No. Overall | Title | Airdate | Runtime | Summary |
| --- | --- | --- | --- | --- | --- |
Season 10
| Episode No. | No. Overall | Title | Airdate | Runtime | Summary |
| --- | --- | --- | --- | --- | --- |
Season 11
| Episode No. | No. Overall | Title | Airdate | Runtime | Summary |
| --- | --- | --- | --- | --- | --- |
Season 12
| Episode No. | No. Overall | Title | Airdate | Runtime | Summary |
| --- | --- | --- | --- | --- | --- |
Season 13
| Episode No. | No. Overall | Title | Airdate | Runtime | Summary |
| --- | --- | --- | --- | --- | --- |
Season 14
| Episode No. | No. Overall | Title | Airdate | Runtime | Summary |
| --- | --- | --- | --- | --- | --- |
Season 15
| Episode No. | No. Overall | Title | Airdate | Runtime | Summary |
| --- | --- | --- | --- | --- | --- |
Season 16
| Episode No. | No. Overall | Title | Airdate | Runtime | Summary |
| --- | --- | --- | --- | --- | --- |
Season 17
| Episode No. | No. Overall | Title | Airdate | Runtime | Summary |
| --- | --- | --- | --- | --- | --- |
Season 18
| Episode No. | No. Overall | Title | Airdate | Runtime | Summary |
| --- | --- | --- | --- | --- | --- |
Season 19
| Episode No. | No. Overall | Title | Airdate | Runtime | Summary |
| --- | --- | --- | --- | --- | --- |
Season 20
| Episode No. | No. Overall | Title | Airdate | Runtime | Summary |
| --- | --- | --- | --- | --- | --- |
Season 21
| Episode No. | No. Overall | Title | Airdate | Runtime | Summary |
| --- | --- | --- | --- | --- | --- |
Season 22
| Episode No. | No. Overall | Title | Airdate | Runtime | Summary |
| --- | --- | --- | --- | --- | --- |
Season 23
| Episode No. | No. Overall | Title | Airdate | Runtime | Summary |
| --- | --- | --- | --- | --- | --- |
Season 24
| Episode No. | No. Overall | Title | Airdate | Runtime | Summary |
| --- | --- | --- | --- | --- | --- |
| 1 | 2 | Season 24, Episode 1 | 2015-01-04 | 60 | |
| 52 | 3 | Season 24, Episode 52 | 2015-12-27 | 60 | |
Season 25
| Episode No. | No. Overall | Title | Airdate | Runtime | Summary |
| --- | --- | --- | --- | --- | --- |
| 1 | 4 | Season 25, Episode 1 | 2016-01-03 | 60 | |
| 2 | 5 | Season 25, Episode 2 | 2016-01-10 | 60 | |
| 3 | 6 | Season 25, Episode 3 | 2016-01-17 | 60 | |
| 4 | 7 | Season 25, Episode 4 | 2016-01-24 | 60 | |
| 5 | 8 | Season 25, Episode 5 | 2016-01-31 | 60 | |
| 6 | 9 | Episode 6 | 2016-02-07 | 60 | |
| 7 | 10 | Episode 7 | 2016-02-14 | 60 | |
| 8 | 11 | Episode 8 | 2016-02-21 | 60 | |
| 9 | 12 | Episode 9 | 2016-02-28 | 60 | |
| 10 | 13 | Episode 10 | 2016-03-06 | 60 | |
| 11 | 14 | Episode 11 | 2016-03-13 | 60 | |
| 12 | 15 | Episode 12 | 2016-03-20 | 60 | |
| 13 | 16 | Episode 13 | 2016-03-27 | 60 | |
| 14 | 17 | Episode 14 | 2016-04-03 | 60 | |
| 15 | 18 | Episode 15 | 2016-04-10 | 60 | |
| 16 | 19 | Episode 16 | 2016-04-17 | 60 | |
| 17 | 20 | Episode 17 | 2016-04-24 | 60 | |
| 18 | 21 | Episode 18 | 2016-05-01 | 60 | |
| 19 | 22 | Episode 19 | 2016-05-08 | 60 | |
| 20 | 23 | Episode 20 | 2016-05-15 | 60 | |
| 21 | 24 | Episode 21 | 2016-05-22 | 60 | |
| 22 | 25 | Episode 22 | 2016-05-29 | 60 | |
| 23 | 26 | Episode 23 | 2016-06-05 | 60 | |
| 24 | 27 | Episode 24 | 2016-06-12 | 60 | |
| 25 | 28 | Episode 25 | 2016-06-19 | 60 | |
| 26 | 29 | Episode 26 | 2016-06-26 | 60 | |
| 27 | 30 | Episode 27 | 2016-07-03 | 60 | |
| 28 | 31 | Episode 28 | 2016-07-10 | 60 | |
| 29 | 32 | Episode 29 | 2016-07-17 | 60 | |
| 30 | 33 | Episode 30 | 2016-07-24 | 60 | |
| 31 | 34 | Episode 31 | 2016-07-31 | 60 | |
| 32 | 35 | Episode 32 | 2016-08-07 | 60 | |
| 33 | 36 | Episode 33 | 2016-08-14 | 60 | |
| 34 | 37 | Episode 34 | 2016-08-21 | 60 | |
| 35 | 38 | Episode 35 | 2016-08-28 | 60 | |
| 36 | 39 | Episode 36 | 2016-09-04 | 60 | |
| 37 | 40 | Episode 37 | 2016-09-11 | 60 | |
| 38 | 41 | Episode 38 | 2016-09-18 | 60 | |
| 39 | 42 | Episode 39 | 2016-09-25 | 60 | |
| 40 | 43 | Episode 40 | 2016-10-02 | 60 | |
| 41 | 44 | Episode 41 | 2016-10-09 | 60 | |
| 42 | 45 | Episode 42 | 2016-10-16 | 60 | |
| 43 | 46 | Episode 43 | 2016-10-23 | 60 | |
| 44 | 47 | Episode 44 | 2016-10-30 | 60 | |
| 45 | 48 | Episode 45 | 2016-11-06 | 60 | |
| 46 | 49 | Episode 46 | 2016-11-13 | 60 | |
| 47 | 50 | Episode 47 | 2016-11-20 | 60 | |
| 48 | 51 | Episode 48 | 2016-11-27 | 60 | |
| 49 | 52 | Episode 49 | 2016-12-04 | 60 | |
| 50 | 53 | Episode 50 | 2016-12-11 | 60 | |
| 51 | 54 | Episode 51 | 2016-12-18 | 60 | |
Season 26
| Episode No. | No. Overall | Title | Airdate | Runtime | Summary |
| --- | --- | --- | --- | --- | --- |
| 1 | 55 | Episode 1 | 2017-01-08 | 60 | |
| 2 | 56 | Episode 2 | 2017-01-15 | 60 | |
| 3 | 57 | Episode 3 | 2017-01-22 | 60 | |
| 4 | 58 | Episode 4 | 2017-01-29 | 60 | |
| 5 | 59 | Episode 5 | 2017-02-05 | 60 | |
| 6 | 60 | Episode 6 | 2017-02-12 | 60 | |
| 7 | 61 | Episode 7 | 2017-02-19 | 60 | |
| 8 | 62 | Episode 8 | 2017-02-26 | 60 | |
| 9 | 63 | Episode 9 | 2017-03-05 | 60 | |
| 10 | 64 | Episode 10 | 2017-03-12 | 60 | |
| 11 | 65 | Episode 11 | 2017-03-19 | 60 | |
| 12 | 66 | Episode 12 | 2017-03-26 | 60 | |
| 13 | 67 | Episode 13 | 2017-04-02 | 60 | |
| 14 | 68 | Episode 14 | 2017-04-09 | 60 | |
| 15 | 69 | Episode 15 | 2017-04-16 | 60 | |
| 16 | 70 | Episode 16 | 2017-04-23 | 60 | |
| 17 | 71 | Episode 17 | 2017-04-30 | 60 | |
| 18 | 72 | Episode 18 | 2017-05-07 | 60 | |
| 19 | 73 | Episode 19 | 2017-05-14 | 60 | |
| 20 | 74 | Episode 20 | 2017-05-21 | 60 | |
| 21 | 75 | Episode 21 | 2017-05-28 | 60 | |
| 22 | 76 | Episode 22 | 2017-06-04 | 60 | "Reliable Sources'' examines media coverage as a whole and how those reporting on the news can shape the news. Discussions revolve around media fairness and objectivity, with a panel consisting of journalists of top television and print news organizations as well as internet bloggers. Regularly featured special one-on-one interviews with major media figures are also part of the Sunday morning show. |
| 23 | 77 | Episode 23 | 2017-06-11 | 60 | "Reliable Sources'' examines media coverage as a whole and how those reporting on the news can shape the news. Discussions revolve around media fairness and objectivity, with a panel consisting of journalists of top television and print news organizations as well as internet bloggers. Regularly featured special one-on-one interviews with major media figures are also part of the Sunday morning show. |
| 24 | 78 | Episode 24 | 2017-06-18 | 60 | "Reliable Sources'' examines media coverage as a whole and how those reporting on the news can shape the news. Discussions revolve around media fairness and objectivity, with a panel consisting of journalists of top television and print news organizations as well as internet bloggers. Regularly featured special one-on-one interviews with major media figures are also part of the Sunday morning show. |
| 25 | 79 | Episode 25 | 2017-06-25 | 60 | "Reliable Sources'' examines media coverage as a whole and how those reporting on the news can shape the news. Discussions revolve around media fairness and objectivity, with a panel consisting of journalists of top television and print news organizations as well as internet bloggers. Regularly featured special one-on-one interviews with major media figures are also part of the Sunday morning show. |
| 26 | 80 | Episode 26 | 2017-07-02 | 60 | "Reliable Sources'' examines media coverage as a whole and how those reporting on the news can shape the news. Discussions revolve around media fairness and objectivity, with a panel consisting of journalists of top television and print news organizations as well as internet bloggers. Regularly featured special one-on-one interviews with major media figures are also part of the Sunday morning show. |
| 27 | 81 | Episode 27 | 2017-07-09 | 60 | "Reliable Sources'' examines media coverage as a whole and how those reporting on the news can shape the news. Discussions revolve around media fairness and objectivity, with a panel consisting of journalists of top television and print news organizations as well as internet bloggers. Regularly featured special one-on-one interviews with major media figures are also part of the Sunday morning show. |
| 28 | 82 | Episode 28 | 2017-07-16 | 60 | Coverage of Donald Trump Jr. meeting and Jared Kushner's role; White House briefings and if they are becoming irrelevant; parallels between reporting during Watergate and today; Pro-Trump media's efforts to discredit Russia reporting. |
| 29 | 83 | Episode 29 | 2017-07-23 | 60 | Examining media coverage and how it can shape the news. |
| 30 | 84 | Episode 30 | 2017-07-30 | 60 | Examining media coverage and how it can shape the news. |
| 31 | 85 | Episode 31 | 2017-08-06 | 60 | Examining media coverage and how it can shape the news. |
| 32 | 86 | Episode 32 | 2017-08-13 | 60 | Examining media coverage and how it can shape the news. |
| 33 | 87 | Episode 33 | 2017-08-20 | 60 | Examining media coverage and how it can shape the news. |
| 34 | 88 | Episode 34 | 2017-08-27 | 60 | Examining media coverage and how it can shape the news. |
| 35 | 89 | Episode 35 | 2017-09-03 | 60 | Examining media coverage and how it can shape the news. |
| 36 | 90 | Episode 36 | 2017-09-10 | 60 | Examining media coverage and how it can shape the news. |
| 37 | 91 | Episode 37 | 2017-09-17 | 60 | Examining media coverage and how it can shape the news. |
| 38 | 92 | Episode 38 | 2017-09-24 | 60 | Examining media coverage and how it can shape the news. |
Series Cast
| | | | |
| --- | --- | --- | --- |
| | Brian Stelter | as Co-Host | |
| | Howard Kurtz | as Co-Host | |
Related News
TVMaze