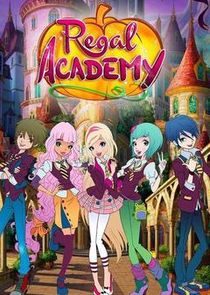 Despite her last name, Rose Cinderella is an average teenager who is as obsessed with shoes as she is with fairy tales. Things change when she discovers a magic key that unlocks a new world in which fairy tales come to life. After tumbling into Fairy Tale Land, Rose finds out that she has a magical family legacy -- Cinderella is her grandmother. Cinderella is the headmistress of Regal Academy, where five fairy-tale families teach the next generation of princes and princesses how to become heroes. Now, Rose is learning to use her magic and live up to her famous surname, along with new friends that include Astoria Rapunzel and Hawk Snowwhite.
Series Overview
Rating
imDb Rating: 5.3 (166 Votes)
Metascore: N/A
Plot
A girl finds a magic key and falls into Fairytale Land, and attends Regal Academy, a school for the children of fairytales.
Details
Rated: TV-PG
Released: 13 Aug 2016
Runtime: 23 min
Genre: Animation, Action, Adventure, Comedy, Family, Fantasy, Musical
Director: N/A
Writer: N/A
Actors: Tyler Bunch, Eden Gamliel, Lipica Shah, Rebecca Soler
Language: Italian, English
Country: Italy
Awards: N/A
Total Seasons: 2
Previous Episode
The Snow Kingdom
Episode 2x26; May 27, 2018
Previous Episodes 2x26: The Snow Kingdom 2x25: Rose in Wonderland 2x24: The Snow Queen's Trap 2x23: Rainbow Magic 2x22: Christmas in the Fairy Tale Land 2x21: The Midnight Effect 2x20: Wedding Time 2x19: Ruby Returns 2x18: The Shapeshifting Witch

View All Episodes
Skip to:
Season 1
| Episode No. | No. Overall | Title | Airdate | Runtime | Summary |
| --- | --- | --- | --- | --- | --- |
| 1 | 1 | A School for Fairy Tales | 2016-08-13 | 30 | Rose falls into Fairy Tale Land and begins her adventure at her new school, Regal Academy. |
| 2 | 2 | The Great Dragon Race | 2016-08-20 | 30 | Rose, Hawk, Travis, Astoria and Joy are very excited for dragon riding class where they will race to Dragon Land. |
| 3 | 3 | The Swan in Swamp Lake | 2016-08-27 | 30 | A boring day turns into chaos when Magister Rapunzel sends Rose's team to the swamp for a special assignment. |
| 4 | 4 | Astoria and the Beanstalk | 2016-09-03 | 30 | Rose and Hawk are excited for their first day of heroism class where they are tasked with retrieving a golden egg from the giant's castle. |
| 5 | 5 | Fairy Tale Wedding | 2016-09-10 | 30 | During Doctor LeFrog's potion class, a bridge troll is summoned and sets out to woo pretty princesses. |
| 6 | 6 | The Revenge | 2016-09-24 | 30 | The group is ambushed by a vengeful dog while working on a painting for art class in Fairy Tale Town. |
| 7 | 7 | The Pea Princess' Granddaughter | 2016-10-01 | 30 | Bea, the new decorum teacher and granddaughter of the Princess and the Pea, threatens to fail everyone. |
| 8 | 8 | Mystery at Cinderella Castle | 2016-10-08 | 30 | When the Gate to Earth is mysteriously closed, Rose, Joy and Astoria are invited to a sleepover at Cinderella Castle. |
| 9 | 9 | Rose's Fairy Tale Collection | 2016-10-15 | 30 | Rose is upset when Doctor LeFrog confiscates her fairy tale collection; Vicky and Shire Cat create a threatening evil potion. |
| 10 | 10 | Attack of the Shortbread Witch | 2016-10-22 | 30 | Rose's mother is mad at her; the Shortbread Witch ambushes Hawk, Astoria and the others in cooking class. |
| 11 | 11 | The Bad Wolf's Great Fall | 2016-10-29 | 30 | Humpty Dumpty is at Regal Academy for the annual treasure hunt; during their search, Rose's team is chased by the Bad Wolf. |
| 12 | 12 | Pumpkins and Dragons | 2016-11-05 | 30 | When Regal Academy turns back into a huge pumpkin patch, Rose and her team must find a rare, colossal pumpkin to recast the spell and save the school. |
| 13 | 13 | The Grand Ball | 2016-11-12 | 30 | At the Grand Ball, Joy and Rose plan to kiss Esquire Frog with special, curse-breaking lipstick; Vicky invites Candlewick to the ball. |
| 14 | 14 | The Legendary IronFan | 2017-01-14 | 30 | When Regal Academy is challenged by LingLing, a student from Shan Academy, Rose must find LingLing's weakness. |
| 15 | 15 | Rose and the Dragon King | 2017-01-21 | 30 | Rose gets excited for the first day of dragon taming class, where she meets Low Ong, the king of dragons. |
| 16 | 16 | Song of the Sea Witch | 2017-01-28 | 30 | When the Sea Witch steals Rose's voice before she is supposed to sing in front of the school, her team fights to get her voice back in time for her debut. |
| 17 | 17 | Hawk and the Poisoned Apples | 2017-02-04 | 30 | The Evil Queen becomes the new poisons teacher; Hawk and Rose must convince the teachers that the Evil Queen is up to no good before she can kidnap Granny SnowWhite. |
| 18 | 18 | Fairy Tales on Earth | 2017-02-11 | 30 | The teams are sent to Earth for class where they disappear one at a time as the Shortbread Witch lures them into her bakery; Rose's team spots the witch's cookie monsters and leaps into action. |
| 19 | 19 | Hair Curse | 2017-02-25 | 30 | When Astoria wakes up in the school library every day, her friends watch over her at night and find out her own ivy-hair takes her there in her sleep. |
| 20 | 20 | The Parents' Day | 2017-03-04 | 30 | When Rose invites her mother to return to Regal Academy on "Bring Your Parents to School Day,'' she catches the attention of Melvin, the evil grandson of Merlin the Wizard, who challenges her to a duel of magic. |
| 21 | 21 | Monkey Magic | 2017-03-18 | 30 | The gang sets out on a rescue mission when LingLing's grandmother, Princess Iron Fan, is kidnapped by the Monkey King. |
| 22 | 22 | Flowerpocalypse | 2017-03-25 | 30 | Thumbelina comes to Regal Academy with Mother Flower; Vicky grows the rebel roses, a team of evil flowers that brings chaos; Travis must save LingLing. |
| 23 | 23 | Swan Dancing with the Stars | 2017-04-08 | 30 | Headmistress Cinderella holds a dance competition at her castle, but Vicky brings trouble with the help of Rothbart, the evil wizard from Swan Lake. |
| 24 | 24 | The Dragon Duel | 2017-04-15 | 30 | When the new dragon-riding teacher and Coach Beast decide to hold a dragon race at Beast Castle, Rose must compete against Vicky in the final dragon obstacle course. |
| 25 | 25 | Fall of the Guardians | 2017-04-22 | 30 | The Guardian Dragons teach special classes at Regal Academy until they are interrupted by the Wicked Stepsisters. |
| 26 | 26 | Vicky the Villain | 2017-04-29 | 30 | Rose and her friends must use everything they have learned so far to fight the Wicked Stepsisters and the Guardian Dragons. |
Season 2
| Episode No. | No. Overall | Title | Airdate | Runtime | Summary |
| --- | --- | --- | --- | --- | --- |
| 1 | 27 | Pompoms | 2017-11-28 | 30 | |
| 2 | 28 | Beauty is the Beast | 2017-11-29 | 30 | |
| 3 | 29 | The Magic Fair | 2017-11-30 | 30 | |
| 4 | 30 | Mirror Madness | 2017-12-01 | 30 | |
| 5 | 31 | The Giant's Wife | 2017-12-02 | 30 | |
| 6 | 32 | Searching for Pinocchio | 2017-12-03 | 30 | |
| 7 | 33 | The Frog Villain | 2017-12-04 | 30 | |
| 8 | 34 | Into the Enchanted Forest | 2017-12-05 | 30 | |
| 9 | 35 | The Masquerade Ball | 2017-12-06 | 30 | |
| 10 | 36 | The Shadow Warrior | 2017-12-07 | 30 | |
| 11 | 37 | Princely Competition | 2017-12-08 | 30 | |
| 12 | 38 | The Dark Dragon | 2017-12-09 | 30 | |
| 13 | 39 | A Day at Merlin Academy | 2017-12-10 | 30 | |
| 14 | 40 | The Regal Parade | 2018-02-25 | 30 | |
| 15 | 41 | A Mermaid's Tale | 2018-03-04 | 30 | |
| 16 | 42 | The Sleepover | 2018-03-11 | 30 | |
| 17 | 43 | Test of the Tower | 2018-03-18 | 30 | |
| 18 | 44 | The Shapeshifting Witch | 2018-03-25 | 30 | |
| 19 | 45 | Ruby Returns | 2018-04-01 | 30 | |
| 20 | 46 | Wedding Time | 2018-04-15 | 30 | |
| 21 | 47 | The Midnight Effect | 2018-04-22 | 30 | |
| 22 | 48 | Christmas in the Fairy Tale Land | 2018-04-29 | 30 | |
| 23 | 49 | Rainbow Magic | 2018-05-06 | 30 | |
| 24 | 50 | The Snow Queen's Trap | 2018-05-13 | 30 | |
| 25 | 51 | Rose in Wonderland | 2018-05-20 | 30 | |
| 26 | 52 | The Snow Kingdom | 2018-05-27 | 30 | |
Related News
TVMaze