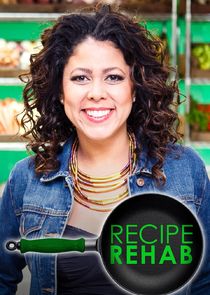 Recipe Rehab finds a fun way to participate in the effort to curb the rise of obesity in America with a competition that promotes the use of healthy, wholesome ingredients, and demonstrates the positive effects of healthy food choices. Each week two chefs face off in a competition to give one family's high-calorie recipe a new low-calorie twist. After the family members try out each recipe in their own kitchen, they decide their new favorite. Evette Rios hosts.
Series Overview
Rating
imDb Rating: 7.9 (16 Votes)
Metascore: N/A
Plot
Hosted by Evette Rios, chefs Richard Rosendale and Vikki Krinsky compete to help rehabilitate America's favorite recipes and inspire children and their families to make healthy lifestyle ...
Details
Rated: N/A
Released: 06 Oct 2012
Runtime: 30 min
Genre: Documentary
Director: N/A
Writer: N/A
Actors: Evette Rios, Vikki Krinsky, Richard Rosendale
Language: English
Country: USA
Awards: N/A
Total Seasons: 3
Previous Episode
Loaded Quesadillas
Episode 3x26; Jul 25, 2015
Previous Episodes 3x26: Loaded Quesadillas 3x25: Chocolate Peanut Pie 3x24: Deep Dish Peach Pie 3x23: Tater Tot Casserole 3x22: Loaded Potato Soup 3x21: Chocolate Chip Cookies 3x20: Eggs Benedict 3x19: Chicken and Waffles 3x18: Vikki's Q&A

View All Episodes
Skip to:
Season 1
Episode No.
No. Overall
Title
Airdate
Runtime
Summary
1
1
Spaghetti & Meatballs
2012-10-06

On this episode, the Lauros love nana's meatball recipe, which has been in their family for generations. But they're looking for a healthier meal with less sugar and carbs for dad, who is hypoglycemic. With more than 1500 calories per serving, this tradition needs a makeover.

Chefs Laura Vitale and Calvin Harris battle it out to see who can rehab their recipe and make it more nutritious without sacrificing any of the flavor.

2
2
Mac N Cheese
2012-10-13

On this episode, the Ford family is addicted to their mac and cheese, dowsed with four types of cheese plus sour cream. But diabetes and high blood pressure run in the family. The Fords know their diets have to change in order to maintain a healthy lifestyle. With over 850 calories, this meal needs a makeover.

Chefs Govind Armstrong and Candice Kumai battle it out to see who can rehab their recipe and make it more nutritious without sacrificing any of the flavor.

3
3
Fried Chicken
2012-10-20

On this episode, the Ford family is addicted to their mac and cheese, dowsed with four types of cheese plus sour cream. But diabetes and high blood pressure run in the family. The Fords know their diets have to change in order to maintain a healthy lifestyle. With over 850 calories, this meal needs a makeover.

Chefs Govind Armstrong and Candice Kumai battle it out to see who can rehab their recipe and make it more nutritious without sacrificing any of the flavor.

4
4
Pumpkin Bars
2012-10-27
5
5
Chinese Food
2012-11-03

On this episode, the Koch family loves their frozen chinese food dinners: general tso's chicken, beef with broccoli, and fried rice. But diabetes runs in their family, and they need a healthier recipe. With more than 2400 milligrams of sodium and 35 grams of sugar per serving, this tradition needs a makeover.

Chefs Calvin Harris and Spike Mendelsohn battle it out to see who can rehab their recipe and make it more nutritious without sacrificing any of the flavor.

6
6
Mexican Style Pancakes
2012-11-10

On this episode, the Nickells are famous for their Mexican-style pancakes. But with more than 600 calories and tons of fat, this tradition needs a makeover. Diabetes runs in the family, so the Nickells need a healthier option.

Chefs Candice Kumai and Tana Amen battle it out to see who can rehab their recipe and make it more nutritious without sacrificing any of the flavor.

7
7
Holiday Sides
2012-11-17

On this episode, the Daley family loves grandma's holiday sides: scalloped potatoes and green bean casserole. But with almost 800 calories per serving, this tradition needs a makeover. Heart disease and high cholesterol runs in their family, so the Daleys are looking for healthier versions of both dishes.

Chefs Laura Vitale and Calvin Harris battle it out to see who can rehab their recipes and make it more nutritious without sacrificing any of the flavor.

8
8
Apple Pie
2012-12-01

On this episode, the Jamieson family's favorite dessert is apple pie. The recipe they use was handed down to mom by her grandmother. But with almost 600 calories and over 60 grams of sugar per serving, this recipe needs a makeover.

9
9
Breakfast Burrito
2013-01-12
10
10
Tailgate Chili
2013-01-19
11
11
Nachos
2013-01-26
12
12
Carnitas Tacos
2013-02-02

This week, Chef Govind and Chef Scott go head to head in the kitchen to see who can come up with a healthy and delicious new version of the Mena family's favorite Carnitas Tacos.

13
13
Chocolate Cake
2013-02-09
14
14
Lasagna
2013-02-16
15
15
Cheese Enchiladas
2013-02-23
16
16
Calvin's Q&A
2013-04-06
17
17
Laura's Q&A
2013-04-13
18
18
Chicken Parmesan
2013-04-20
19
19
Peach Cobbler
2013-04-27
20
20
Grilled Stuffed Pork
2013-05-04
21
21
Brownies
2013-05-11

The Wolffs' favorite brownie recipe.

22
22
Bacon Burgers
2013-05-18
23
23
French Toast
2013-06-29
24
24
BBQ Chicken Pizza
2013-07-06
25
25
Chef Mareya Ibrahim Q&A
2013-07-13
26
26
Chef Govind Armstrong Q&A
2013-07-20
Season 2
| Episode No. | No. Overall | Title | Airdate | Runtime | Summary |
| --- | --- | --- | --- | --- | --- |
| 1 | 27 | Tamales | 2013-09-28 | | Chef Richard and Chef Vikki compete to see who can trim the most calories and fat out of the Ventura family's Mexican Tamale recipe. |
| 2 | 28 | Banana Pudding | 2013-10-05 | | Chef Richard and Chef Vikki go head to head in the kitchen to see who can transform the Newton's sugary Banana Pudding into a healthy but tasty alternative. |
| 3 | 29 | Fast Food | 2013-10-12 | | The McGarity family must change their lifestyle of eating convenient comfort food. |
| 4 | 30 | Shepherds Pie | 2013-10-19 | | Two chefs try to make a shepherd's pie recipe healthier without sacrificing flavor. |
| 5 | 31 | German Chocolate Cake | 2013-10-26 | | Turning a German chocolate cake recipe into a healthy, gluten-free dessert. |
| 6 | 32 | Meatloaf | 2013-11-02 | | Two chefs compete to trim the most fat from a family's meatloaf recipe |
| 7 | 33 | Pork Chops | 2013-11-09 | | Two chefs try to make a family's Spanish-style pork chop recipe more healthy |
| 8 | 34 | Chef Vikki's Q & A With Viewers | 2013-11-16 | | Chef Vikki answers viewer questions and shares kitchen tips and tricks. |
| 9 | 35 | Chef Richard's Q & A | 2013-11-23 | | Chef Richard answers viewer questions and prepares a healthy meal. |
| 10 | 36 | Papa's Quiche | 2014-01-11 | | Richard and Vikki compete to see who can make the most delicious and healthy version of a quiche recipe. |
| 11 | 37 | Biscuits & Gravy | 2014-01-18 | | Making a healthy version of biscuits and gravy |
| 12 | 38 | Soda Cake | 2014-01-25 | | Two chef's compete to make the best healthy version of a family's Southern Soda Cake recipe. |
| 13 | 39 | Baked Ziti | 2014-02-01 | | Transforming a baked ziti recipe into a healthier dish. |
| 14 | 40 | Lamb Tika Masala | 2014-02-08 | | Making lamb tikka masala healthier without reducing flavor. |
| 15 | 41 | Beef Stew | 2014-02-15 | | The Cortes family's favorite recipe is their Puerto Rican beef stew, but it has over 1000 calories and a mountain of salt. The two chefs will battle it out to see who can rehab the recipe to make it more nutritious and just as delicious. |
| 16 | 42 | Pecan Pie | 2014-02-22 | | Chefs try to reduce the sugar in a pecan pie recipe. |
| 17 | 43 | Bacon Fried Eggs | 2014-03-01 | | |
| 18 | 44 | Sloppy Joes | 2014-03-08 | | Creating a healthier sloppy joe. |
| 19 | 45 | Vikki's Q&A | 2014-03-15 | | Chef Vikki answers viewer questions. |
| 20 | 46 | Clam Chowder | 2014-04-05 | | Chefs compete to make a family's clam chowder recipe more healthy. |
| 21 | 47 | Cheesecake | 2014-04-12 | | Two chefs make a healthier version of a cheesecake recipe. |
| 22 | 48 | Richard's Q&A | 2014-04-19 | | |
| 23 | 49 | Deep Fried Taco | 2014-04-26 | | Creating a healthy and authentic version of deep fried tacos. |
| 24 | 50 | Burrito Bake | 2014-05-03 | | A family with a history of heart disease, high cholesterol and high blood pressure seeks healthy versions of their favorite recipes, including a burrito bake. |
| 25 | 51 | Carrot Cake | 2014-05-10 | | Chefs compete to make a healthier carrot cake recipe. |
| 26 | 52 | BBQ Beef & Cream Corn | 2014-05-17 | | |
Season 3
| Episode No. | No. Overall | Title | Airdate | Runtime | Summary |
| --- | --- | --- | --- | --- | --- |
| 1 | 53 | Loaded Brownie | 2014-09-27 | | |
| 2 | 54 | Fried Rice & Spring Rolls | 2014-10-04 | | |
| 3 | 55 | Fish & Chips | 2014-10-11 | | |
| 4 | 56 | Noodle Kugel | 2014-10-18 | | |
| 5 | 57 | Fettucine Alfredo & Garlic Bread | 2014-10-25 | | |
| 6 | 58 | Vikki's Q&A | 2014-11-01 | | |
| 7 | 59 | Breakfast Sausage & Eggs | 2014-11-08 | | |
| 8 | 60 | Richard's Q&A | 2014-11-15 | | |
| 9 | 61 | Chicken Pot Pie | 2014-11-22 | | |
| 10 | 62 | Country Fried Steak | 2015-01-17 | | |
| 11 | 63 | Cherry Cream Pie | 2015-01-24 | | |
| 12 | 64 | Loaded Meat Pizza | 2015-01-31 | | |
| 13 | 65 | Chile Relleno | 2015-02-07 | | |
| 14 | 66 | Spaghetti & Meatballs | 2015-02-14 | | Chef Richard and Chef Vikki go head to head to see who can make a healthier and tastier version of the Black Family's Spaghetti & Meatballs recipe. |
| 15 | 67 | Chicken and Dumplings | 2015-02-21 | | |
| 16 | 68 | Chinese Takeout | 2015-04-04 | | |
| 17 | 69 | Richard's Q&A | 2015-04-11 | | |
| 18 | 70 | Vikki's Q&A | 2015-04-18 | | |
| 19 | 71 | Chicken and Waffles | 2015-04-25 | | |
| 20 | 72 | Eggs Benedict | 2015-05-02 | | |
| 21 | 73 | Chocolate Chip Cookies | 2015-05-09 | | |
| 22 | 74 | Loaded Potato Soup | 2015-05-16 | | |
| 23 | 75 | Tater Tot Casserole | 2015-07-04 | | |
| 24 | 76 | Deep Dish Peach Pie | 2015-07-11 | | |
| 25 | 77 | Chocolate Peanut Pie | 2015-07-18 | | |
| 26 | 78 | Loaded Quesadillas | 2015-07-25 | | |
Related News
TVMaze