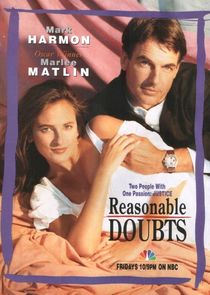 Reasonable Doubts follows the working relationship between Assistant District Attorney Tess Kaufman and Detective Dicky Cobb.
Series Overview
Rating
imDb Rating: 7.8 (331 Votes)
Metascore: N/A
Plot
A drama about the working relationship between Assistant DA Tess Kaufman, a prosecutor sensitive to the rights of the accused, and hard-charging, gruff Detective Dicky Cobb, an old-fashioned cop with a "bust-the-perps" attitude.
Details
Rated: TV-14
Released: 26 Sep 1991
Runtime: 60 min
Genre: Crime, Drama
Director: N/A
Writer: Robert Singer
Actors: Mark Harmon, Marlee Matlin, William Converse-Roberts, Tim Grimm
Language: English, American Sign Language
Country: USA
Awards: Nominated for 4 Golden Globes. Another 1 win & 10 nominations.
Total Seasons: 2
Previous Episode
Trust Me on This (2)
Episode 2x23; Apr 27, 1993
While Dicky investigates if a man may have been wrongfully executed, Tess goes up against a woman who's defending herself.
Previous Episodes 2x23: Trust Me on This (2) 2x22: Trust Me on This (1) 2x21: The Ties That Bind (2) 2x20: The Ties That Bind (1) 2x19: Wish You Were Here 2x18: Diminished Capacity 2x17: Crumbling Systems 2x16: Sister, Can You Spare a Dime? 2x15: Thank God, It's Friday

View All Episodes
Cast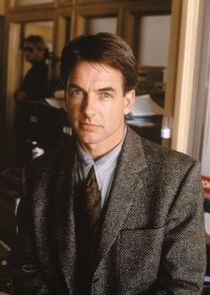 Mark Harmon as Det. Dicky Cobb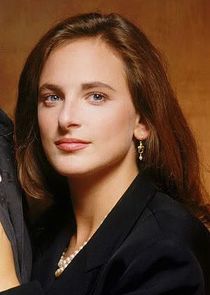 Marlee Matlin as Asst. Dist. Atty. Tess Kaufman
William Converse-Roberts as Dist. Atty. Arthur Gold
Tim Grimm as Bruce Kaufman
Kay Lenz as Maggie Zombro
Nancy Everhard as Kay Lockman
View Full Cast
Recent News
Can Pete Buttigieg win the presidency?
A poll released earlier this week showed Pete Buttigieg leading the Democratic presidential primary pack in Iowa for the first time. Can he really win the presidency?
Doubts persist for claimed Alzheimer's drug
Last week, with trading in the company's stock halted for the widely anticipated event, Biogen gave its first scientific presentation in defense of its startling claim to have developed the first drug that can change the devastating course of Alzheimer's dise…
via NewsAPI
View More Related News
Skip to:
Season 1
| Episode No. | No. Overall | Title | Airdate | Runtime | Summary |
| --- | --- | --- | --- | --- | --- |
| 1 | 1 | Pilot | 1991-09-26 | 60 | When police officer Dicky Cobb reveals he can read sign language, he's transferred from the street to the office of deputy district attorney Tess Kaufman. |
| 2 | 2 | Hard Bargains | 1991-09-27 | 60 | Tess and Dicky handle the case of a mentally ill man who attacked a neighbor. Kay gives Dicky an ultimatum while Tess is impressed with her ex's efforts to strengthen their relationship. |
| 3 | 3 | Making Dirt Stick | 1991-10-04 | 60 | Dicky and Tess search for new evidence to nail a murderer released on a technicality, but their sole lead is a witness who refuses to endanger his new straight life by revisiting his ugly past. |
| 4 | 4 | Daddy's Little Girl | 1991-10-18 | 60 | Dicky's stuck with an inadmissible confession when a woman confesses to murdering her father, a prominent citizen, and uncovers a scandal involving the mayor and the district attorney. Kay argues with her father over her drinking. |
| 5 | 5 | ... and Sleep Won't Come | 1991-10-25 | 60 | Grieving over the suicide of a friend, Tess investigates the case that drove him to despair. Dicky reconciles with Kay. |
| 6 | 6 | The Silent Treatment | 1991-11-01 | 60 | Tess is tough on a deaf man accused of attempted murder, and Dicky becomes involved with attorney Lila Simon. |
| 7 | 7 | Tangled Up in Blue | 1991-11-08 | 60 | Tess has a hard time with Bruce an Kay. And, a date rape promises to upset many. |
| 8 | 8 | Aftermath | 1991-11-15 | 60 | Kay has to deal with the rape, police taunts, and an upcoming trial. Bruce shocks Tess. |
| 9 | 9 | One Woman's Word | 1991-11-29 | 60 | As the trial begins, Kay needs Tess and Dicky's support as the defense team attempts to make the trial about her. |
| 10 | 10 | Graduation Day | 1991-12-05 | 60 | Tess is stressed when she faces her mentor in court with over a case she's only had days to prepare. Also, Dicky meets Lila's parents, Bruce plays for keeps with his ex-wife, and Kay struggles with the emotional trauma caused by her rape. |
| 11 | 11 | Pure Gold | 1991-12-13 | 60 | Gold is put between a rock and a hard place when a politician is involved in a hit and run, with Sean and Tess on opposite sides. Dicky and Lila come to some uncomfortable conclusions about their relationship, and Kay decides to give up her bar. |
| 12 | 12 | Dicky's Got the Blues | 1991-12-20 | 60 | A college journalist is murdered, and the number one suspect is a professor who was negatively featured in his articles. Also, Dicky is upset when Kay thinks about leaving, and Tess is furious with Bruce's games. |
| 13 | 13 | The Shadow of Death | 1992-01-17 | 60 | Tess faces down Gold's uncle over a capital case of a psychotic killer. Also, Tess's parents make a surprise visit, and Kay makes a move on Dicky. |
| 14 | 14 | The Discomfort Zone (1) | 1992-02-04 | 60 | Dicky is under scrutiny when he's accused of using excessive force when breaking up a fight, causing a headache for Gold, who's vying for a spot on the City Council. Also, Bruce makes life difficult for Tess. |
| 15 | 15 | Fish Out of Water (2) | 1992-02-11 | 60 | Dicky's fate is decided after the investigation into his alleged brutality. Tess is disappointed that her relationship with Sean has hit a rough patch, and Kay finds a kindred spirit in her professor. |
| 16 | 16 | Burning Desire (1) | 1992-03-03 | 60 | Judge Booth appears to be biased when Tess prosecutes a young neo-Nazi. Dicky comes to her aid by leaning on the defendant's friend to testify against his compatriot. |
| 17 | 17 | Love is Strange (2) | 1992-03-17 | 60 | Tess has trouble focusing on her job prosecuting a neo-Nazi when Judge Booth crosses the line from professional to personal interest in Tess. |
| 18 | 18 | Home is Where the Heart Is (3) | 1992-03-17 | 60 | Tess' problems with Judge Booth continue to haunt her prosecution of a neo-Nazi, but Dicky continues to use his influence to aid her. Also, Kay tries to help Weldon with his drinking problem. |
| 19 | 19 | Maggie Finds Her Soul | 1992-03-24 | 60 | Maggie takes advantage of Tess' conflicted feelings when she defends a woman accused of murdering the man who was abusing her. |
| 20 | 20 | Home to Roost | 1992-09-08 | 60 | Mexican immigrant parents who are accused of putting their child in danger are given an inadequate defense by their public defender. Also, Sean's current case is for the birds. |
| 21 | 21 | Change of Plans | 1992-09-15 | 60 | Dicky's vacation is cancelled because he has to go on a stakeout with a plastic surgeon, the only man who can identify the criminal he re-made. Also, Bruce's case becomes a personal mission for Maggie who wants to cause trouble for the prosecutor. |
Season 2
| Episode No. | No. Overall | Title | Airdate | Runtime | Summary |
| --- | --- | --- | --- | --- | --- |
| 1 | 22 | Lifelines (1) | 1992-09-29 | 60 | Kay is critically wounded by a murderous hood during a holdup at the bar; a burglary case takes some odd twists for Tess. |
| 2 | 23 | Lifelines (2) | 1992-09-29 | 60 | Kay remains critically wounded; Bruce's wealthy mother visits him in prison. |
| 3 | 24 | FAP | 1992-10-06 | 60 | Feminists seek a platform to voice their grievances against pornography by attacking a porno emporium. |
| 4 | 25 | Moment of Doubt | 1992-10-27 | 60 | A killer's been arrested by a zealous detective who planted evidence and used a psychic to cover his deed. |
| 5 | 26 | Mercury in Retrograde | 1992-11-10 | 60 | The trial of an accused child molester causes repressed memories to surface in a young man. Meanwhile, Dicky kills a young robber. |
| 6 | 27 | Try to Be Nice, What Does It Get You? | 1992-11-17 | 60 | A tough parole case, the death of her mother and compassion from Dicky turn Maggie's world topsy-turvy. |
| 7 | 28 | Brother's Keeper | 1992-12-01 | 60 | A man may be put away for murder because he won't turn on his brother. Meanwhile, Tess meets a new fellow. |
| 8 | 29 | Self-Defense | 1992-12-08 | 60 | Dicky's hit by a gunshot during a crossfire, but the incident might be a case of a good kid defending himself in a bad neighborhood. |
| 9 | 30 | A Rose is a Rose | 1992-12-15 | 60 | A prostitute's mysterious death is shelved in favor of the higher-profile prosecution of a VIP accused of killing his wife. |
| 10 | 31 | Silence | 1992-12-22 | 60 | A killer Tess and Dicky know they have dead to rights claims he'll go free because he's got "friends." |
| 11 | 32 | Legacy | 1993-01-05 | 60 | Tess must prosecute two Jewish students who abducted an unrepentant Nazi suspected of war crimes. |
| 12 | 33 | Two Women | 1993-01-12 | 60 | Tess prosecutes a man for killing his adopted son; while Maggie defends the adoption agency in a civil suit. |
| 13 | 34 | The Iceman | 1993-01-19 | 60 | A former hockey player is accused of a barroom-brawl killing. Meanwhile, Bruce has a custody case involving a gorilla that understands sign language. |
| 14 | 35 | Run Through the Jungle | 1993-01-26 | 60 | A store owner's trap fatally catches the wrong quarry, and the legal fallout from the case causes political and personal problems for Gold and Dicky. |
| 15 | 36 | Thank God, It's Friday | 1993-01-26 | 60 | Tess takes on an unusual case of Korean men involved in smuggling bear gallbladders; a real-estate mogol takes hostages. |
| 16 | 37 | Sister, Can You Spare a Dime? | 1993-03-13 | 60 | Maggie's brother visits Maggie, who deals with a sexual-harassment case; Tess is the victim of a carjacking. |
| 17 | 38 | Crumbling Systems | 1993-03-20 | 60 | Maggie wants to see a couples counselor with Dicky, who protects a mobster's mistress; a doctor stands trial after a DUI arrest. |
| 18 | 39 | Diminished Capacity | 1993-03-27 | 60 | Dicky's buddy, a cop, is despondent over his crumbling marriage; Tess becomes an advocate for a disturbed deaf woman. |
| 19 | 40 | Wish You Were Here | 1993-04-03 | 60 | Maggie refuses to testify before a grand jury against her client, a fraudulent businessman with whom she shares a past. |
| 20 | 41 | The Ties That Bind (1) | 1993-04-13 | 60 | While trying to work things out with Maggie, Dicky investigates the killing of a man who was engaged to a high-class woman. |
| 21 | 42 | The Ties That Bind (2) | 1993-04-13 | 60 | While Dicky tries to work things out with Maggie, Tess receives a proposal from a man from her past. |
| 22 | 43 | Trust Me on This (1) | 1993-04-27 | 60 | Tess demands that Dicky investigate when evidence comes to light indicating a man executed for murder may have been innocent. |
| 23 | 44 | Trust Me on This (2) | 1993-04-27 | 60 | While Dicky investigates if a man may have been wrongfully executed, Tess goes up against a woman who's defending herself. |
Series Cast
| | | | |
| --- | --- | --- | --- |
| | Mark Harmon | as Det. Dicky Cobb | |
| | Marlee Matlin | as Asst. Dist. Atty. Tess Kaufman | |
| | William Converse-Roberts | as Dist. Atty. Arthur Gold | |
| | Tim Grimm | as Bruce Kaufman | |
| | Kay Lenz | as Maggie Zombro | |
| | Nancy Everhard | as Kay Lockman | |
| | John Mese | as Sean Kelly | |
Series Crew
| | Position | Name |
| --- | --- | --- |
| | Creator | Robert Singer |
Related News
TVMaze