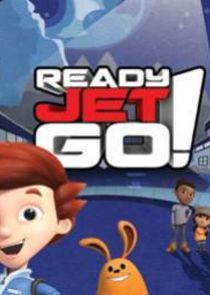 Ready Jet Go! takes viewers on a journey into outer space, building on children's curiosity about science, technology and astronomy. The series follows two neighborhood kids: Sean, who has an all-consuming drive for science facts, and Sydney, who has a passion for science fiction and imagination. They both befriend the new kid on their street, Jet Propulsion, whose family members happen to be aliens from the planet Bortron 7. Together, they explore the solar system and the effects it has on the science of our planet, while learning about friendship and teamwork along the way.
Series Overview
Rating
imDb Rating: 7.5 (55 Votes)
Metascore: N/A
Plot
"Tour of the Solar System"- Jet attempts to play the "Solar System" game with Sean, Sydney, and Mindy, but the kids don't quite understand which planets go where. Celery, Jet's mom, takes ...
Details
Rated: TV-Y
Released: 15 Feb 2016
Runtime: 26 min
Genre: Animation
Director: N/A
Writer: Craig Bartlett
Actors: Ashleigh Ball, Kyle Rideout, William Ainscough, Jaeda Lily Miller
Language: English
Country: USA
Awards: N/A
Total Seasons: 2
Previous Episode
Sean Has a Cold
Episode 2x48; May 03, 2019
Previous Episodes 2x48: Sean Has a Cold 2x47: Mars Rock for Mom 2x46: Our Sun is a Star! 2x45: Sunspot's Sunspot 2x44: Magnet, P.I. 2x43: My Three Suns 2x42: Every Day is Earth Day 2x41: Moon Circus 2x40: Fact or Fiction?

View All Episodes
Skip to:
Season 1
| Episode No. | No. Overall | Title | Airdate | Runtime | Summary |
| --- | --- | --- | --- | --- | --- |
| 1 | 1 | How Come The Moon Has Craters? | 2016-02-15 | 15 | The kids take a trip to the moon and learn about craters; Sydney and his friends build a moon base in Jet's backyard; the gang gets an up-close look at how the moon changes shape; Jet, Sydney and Sean have a sleepover in Jet's backyard. |
| 2 | 2 | Backyard Moon Base | 2016-02-15 | 15 | |
| 3 | 3 | How Come The Moon Changes Shape? | 2016-02-15 | 15 | |
| 4 | 4 | Night of a Bazillion Stars | 2016-02-15 | 15 | |
| 5 | 5 | A Kid's Guide to Mars | 2016-02-16 | 15 | |
| 6 | 6 | Jet 2 | 2016-02-16 | 15 | |
| 7 | 7 | Tour of the Solar System | 2016-02-17 | 15 | |
| 8 | 8 | Jet Cooks Dinner | 2016-02-17 | 15 | |
| 9 | 9 | Just the Right Distance From the Sun | 2016-02-18 | 15 | |
| 10 | 10 | Solar Power Rover | 2016-02-18 | 15 | |
| 11 | 11 | Round and Round | 2016-02-22 | 15 | |
| 12 | 12 | The Plant from Bortron 7 | 2016-02-22 | 15 | |
| 13 | 13 | Earth Mission to Moon | 2016-02-23 | 15 | |
| 14 | 14 | Mindy's Moon Bounce House | 2016-02-23 | 15 | |
| 15 | 15 | Beep Has the Blues | 2016-02-24 | 15 | |
| 16 | 16 | Chore Day | 2016-02-24 | 15 | |
| 17 | 17 | How We Found Your Sun | 2016-02-25 | 15 | |
| 18 | 18 | Treehouse Observatory | 2016-02-25 | 15 | |
| 19 | 19 | More Than One Moon | 2016-02-29 | 15 | |
| 20 | 20 | Visit to Mom's Office | 2016-02-29 | 15 | |
| 21 | 21 | Mission to Mars | 2016-03-01 | 15 | |
| 22 | 22 | Sounds Abound | 2016-03-01 | 15 | |
| 23 | 23 | What's Up with Saturn's Rings? | 2016-03-02 | 15 | |
| 24 | 24 | Sunspot's Night Out | 2016-03-02 | 15 | |
| 25 | 25 | The Grandest Canyon | 2016-03-03 | 15 | |
| 26 | 26 | A Visit to the Planetarium | 2016-03-03 | 15 | |
| 27 | 27 | Ice Moon Enceladus | 2016-03-21 | 15 | |
| 28 | 28 | What Goes Up.... | 2016-03-21 | 15 | |
| 29 | 29 | A Visit from Uncle Zucchini | 2016-04-11 | 15 | |
| 30 | 30 | Mindy's Weather Report | 2016-04-11 | 15 | |
| 31 | 31 | Solar System Bake-Off | 2016-04-12 | 15 | |
| 32 | 32 | Kid-Kart Derby | 2016-04-12 | 15 | |
| 33 | 33 | Asteroids, Meteors, and Meteorites | 2016-04-13 | 15 | |
| 34 | 34 | Mindy's Meteorite Stand | 2016-04-13 | 15 | |
| 35 | 35 | Mindy Pet-sits | 2016-04-14 | 15 | |
| 36 | 36 | Treehouse Space Station | 2016-04-14 | 15 | |
| 37 | 37 | Comet Fever | 2016-04-21 | 15 | |
| 38 | 38 | Asteroid Patrol | 2016-04-21 | 15 | |
| 39 | 39 | Date Night | 2016-08-15 | 15 | |
| 40 | 40 | Face on the Fritz | 2016-08-15 | 15 | |
| 41 | 41 | So Many Moons | 2016-08-16 | 15 | |
| 42 | 42 | Project Pluto | 2016-08-16 | 15 | |
| 43 | 43 | Sunspot and the Great Red Spot | 2016-08-17 | 15 | |
| 44 | 44 | Uncle Zucchini Babysits | 2016-08-17 | 15 | |
| 45 | 45 | Which Moon is Best | 2016-08-18 | 15 | |
| 46 | 46 | Detective Mindy | 2016-08-18 | 15 | |
| 47 | 47 | Tiny Blue Dot | 2016-08-19 | 15 | |
| 48 | 48 | Earth Camping | 2016-08-19 | 15 | |
| 49 | 49 | Jet's First Halloween (1) | 2016-10-14 | 60 | |
| 50 | 50 | Jet's First Halloween (2) | 2016-10-14 | 60 | |
| 51 | 51 | Sunday Drive (Part 1) | 2016-12-26 | 15 | |
| 52 | 52 | Sunday Drive (Part 2) | 2016-12-26 | 15 | |
| 53 | 53 | Diggin' Earth | 2016-12-27 | 15 | |
| 54 | 54 | Mindy's Mystery | 2016-12-27 | 15 | |
| 55 | 55 | What's a Satellite | 2016-12-28 | 15 | |
| 56 | 56 | Satellite Selfie | 2016-12-28 | 15 | |
| 57 | 57 | Space Junk | 2016-12-29 | 15 | |
| 58 | 58 | Scientific Sean | 2016-12-29 | 15 | |
| 59 | 59 | Beep and Boop's Game | 2017-06-05 | 15 | |
| 60 | 60 | Constellation Prize | 2017-06-05 | 15 | |
| 61 | 61 | Whole Lotta Shakin' | 2017-06-06 | 15 | |
| 62 | 62 | My Fair Jet | 2017-06-06 | 15 | |
| 63 | 63 | The Mindysphere | 2017-06-07 | 15 | |
| 64 | 64 | Lone Star | 2017-06-07 | 15 | |
| 65 | 65 | Space Race | 2017-06-08 | 15 | |
| 66 | 66 | Jet's Time Machine | 2017-06-08 | 15 | |
| 67 | 67 | Total Eclipse of the Sunspot | 2017-08-15 | 60 | |
| 68 | 68 | Sean's Year in Space | 2017-08-15 | 60 | |
| 69 | 69 | Sean's Neptune Tune | 2017-08-17 | 60 | |
| 70 | 70 | Earthday Birthday | 2017-08-17 | 60 | |
| 71 | 71 | Not a Sound | 2017-09-05 | 60 | |
| 72 | 72 | Mindy in Space | 2017-09-05 | 60 | |
| 73 | 73 | Castaway Carrot | 2017-10-09 | 60 | |
| 74 | 74 | Jet Can't Sleep | 2017-10-09 | 60 | |
| 75 | 75 | Holidays in Boxwood Terrace (1) | 2017-12-11 | 60 | |
| 76 | 76 | Holidays in Boxwood Terrace (2) | 2017-12-11 | 60 | |
| 77 | 77 | A Hammer and a Feather | 2018-02-06 | 60 | |
| 78 | 78 | Commander Mom | 2018-02-06 | 60 | |
Season 2
| Episode No. | No. Overall | Title | Airdate | Runtime | Summary |
| --- | --- | --- | --- | --- | --- |
| 1 | 79 | Mindy Turns Five - Part 1 | 2018-04-02 | 60 | |
| 2 | 80 | Mindy Turns Five - Part 2 | 2018-04-02 | 60 | |
| 3 | 81 | Endless Summer | 2018-04-03 | 60 | |
| 4 | 82 | Jet Shrinks the Kids | 2018-04-03 | 60 | |
| 5 | 83 | Mindy's Ice Rink | 2018-04-04 | 60 | |
| 6 | 84 | Measure for Measure | 2018-04-04 | 60 | |
| 7 | 85 | Mindy and Carrot Bake | 2018-04-05 | 60 | |
| 8 | 86 | Commander Cressida Begins | 2018-04-05 | 60 | |
| 9 | 87 | Mindy's Bedtime | 2018-04-06 | 60 | |
| 10 | 88 | Galileo, Galileo! | 2018-04-06 | 60 | |
| 11 | 89 | Eye in the Sky | 2018-06-06 | 60 | |
| 12 | 90 | Total Eclipse Block Party | 2018-06-06 | 60 | |
| 13 | 91 | Souped-Up Saucer | 2018-06-13 | 60 | |
| 14 | 92 | Pet Sounds | 2018-06-13 | 60 | |
| 15 | 93 | I Feel the Earth Move | 2018-06-20 | 60 | |
| 16 | 94 | Zerk Visits Earth | 2018-06-20 | 60 | |
| 17 | 95 | Asteroid Belt Space Race | 2018-06-27 | 60 | |
| 18 | 96 | Sydney 2 | 2018-06-27 | 60 | |
| 19 | 97 | Earth Wind & Flyer | 2018-07-04 | 60 | |
| 20 | 98 | Mini-Golf At The DSA | 2018-07-04 | 60 | |
| 21 | 99 | Water, Water Everywhere | 2018-04-04 | 60 | |
| 22 | 100 | Commander Cressida Story Contest | 2018-06-27 | 60 | |
| 23 | 101 | Try and Try Again | 2018-07-18 | 60 | |
| 24 | 102 | Racing on Sunshine | 2018-07-18 | 60 | |
| 25 | 103 | You Can Call Me Albedo | 2018-07-25 | 60 | |
| 26 | 104 | The Tide is High | 2018-07-25 | 60 | |
| 27 | 105 | That's One Gigantic Pumpkin, Jet Propulsion! - Part 1 | 2018-10-18 | 60 | |
| 28 | 106 | That's One Gigantic Pumpkin, Jet Propulsion! - Part 2 | 2018-10-18 | 60 | |
| 29 | 107 | Ain't No Mars Mountain High Enough | 2018-12-04 | 60 | |
| 30 | 108 | Treasure Hunt | 2018-12-04 | 60 | |
| 31 | 109 | Moon Face | 2018-12-05 | 60 | |
| 32 | 110 | Lone Star 2 - Rocket Kids! | 2018-12-05 | 60 | |
| 33 | 111 | Freebird | 2019-03-05 | 60 | |
| 34 | 112 | Sean's Robotic Arm | 2019-03-05 | 60 | |
| 35 | 113 | Astronaut Ellen Ochoa! - Part 1 | 2019-03-08 | 60 | |
| 36 | 114 | Astronaut Ellen Ochoa! - Part 2 | 2019-03-08 | 60 | |
| 37 | 115 | Potatoes on Mars | 2019-03-15 | 60 | |
| 38 | 116 | Bortron Leprechauns | 2019-03-15 | 60 | |
| 39 | 117 | Who Messed Up the Treehouse? | 2019-04-15 | 60 | |
| 40 | 118 | Fact or Fiction? | 2019-04-15 | 60 | |
| 41 | 119 | Moon Circus | 2019-04-16 | 60 | |
| 42 | 120 | Every Day is Earth Day | 2019-04-16 | 60 | |
| 43 | 121 | My Three Suns | 2019-04-17 | 60 | |
| 44 | 122 | Magnet, P.I. | 2019-04-17 | 60 | |
| 45 | 123 | Sunspot's Sunspot | 2019-04-18 | 60 | |
| 46 | 124 | Our Sun is a Star! | 2019-04-18 | 60 | |
| 47 | 125 | Mars Rock for Mom | 2019-05-03 | 60 | |
| 48 | 126 | Sean Has a Cold | 2019-05-03 | 60 | |
Related News
TVMaze