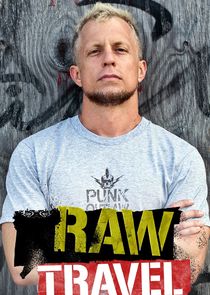 Raw Travel, a one of a kind, fast moving television series that showcases the growing wave of socially and environmentally aware travel. Raw Travel celebrates the self-discovery that authentic cultural experiences can bring. The show incorporates eco-tourism, adventure sports, volun-tourism (giving back), indie music, authentic culture and more.
Series Overview
Rating
imDb Rating: 8.3 (15 Votes)
Metascore: N/A
Plot
Raw Travel is an authentic adventure travel series that incorporates ecotourism, volountourism (giving back) and underground culture with off the beaten path travel.
Details
Rated: N/A
Released: 30 Sep 2013
Runtime: 21 min
Genre: Reality-TV
Director: N/A
Writer: N/A
Actors: David Krueger
Language: English
Country: USA
Awards: N/A
Total Seasons: 4
Previous Episode
Bienvenue to Guadeloupe
Episode 5x4; Oct 21, 2017
Previous Episodes 5x4: Bienvenue to Guadeloupe 5x3: La Belle Province (Quebec, Canada) 5x2: Peru's Southern Coast Part 2: Serendipitous Adventure 5x1: Peru's Southern Coast Part 1: Road Less Travelled 4x20: The Give Back Heroes 4x19: Hotel Schmotel 4x18: Hey, Gimme' Dat! 4x17: Amazing Animals 4x16: Lovable Lima

View All Episodes
Skip to:
Season 1
Episode No.
No. Overall
Title
Airdate
Runtime
Summary
1
1
Quito, Ecuador
30

Raw Travel goes to new heights by traveling to the high altitude, capital city of Quito, Ecuador. While there Raw Travel explores the city's old cobblestone streets and historical architecture. Then it's off to the outskirts of the city to visit the Foundation for the Honor of Life School, where we give out much needed school supplies to students from poor and troubled homes.

Then we visit the Mitad Del Mundo, or Middle of the World, to try and clear up some confusion just about where the actual middle of the earth is located. Plus we check out some real life, shrunken heads. Then we visit the famous Pancho Market in the nearby indigenous town of Otavalo. Rob gets a lesson on typical Andean music at the incredible ñanda mañachi, and later, reluctantly samples the indigenous staple of fried cuy (guinea pig).

2
2
Busing Through Ecuador
30

Raw Travel takes viewers on a fascinating cultural journey by bus through one of South America's smallest, but most eco-friendly and culturally colorful countries. The producers travel from Quito to the eco-friendly and adventurous retreat of Baños to bike through some of most beautiful scenery in Latin America and partake in some of the regions many adventure sports. The journey continues through the tiny indigenous town Alausí to catch the legendary train Nariz del Diablo or Devil's Nose to travel through some of the most dangerous, but beautiful, Andean mountain peaks and valleys in the world.

Then it's on to Ecuador's third largest city, Cuenca to visit the Homero Ortega hat factory to learn why a hat named after Panama is made in Ecuador. The crew then buses to the coastal city of Guayaquil to visit the famed Malecon and get a feel for life at the turn of the last century at the fascinating Parque Historico or Historical Park. The crew winds up the trip by spending time with some hippies at the surfers hang out and beach town of Montañita.

3
3
Port of Spain, Trinidad
30

Visiting the Caribbean while staying off the beaten path is not always easy, but the twin islands of Trinidad and Tobago (or T&T) are probably a Raw Traveler's best shot. Trinidad is famous for its carnival celebration and Raw Travel gets the lowdown with the National Carnival Band Association. Plus, the crew gets a lesson on how the island's music has influence on the rest of the world with the Steel Pan, Calypso and Soca music phenomena. Rob then suits up for the island's most popular sport, cricket at the world famous Queen's Park Oval. Then, he meets the guys from the only punk band on the on the island, Anti-Everything, who introduce his palette to some of the very unique and authentic Trini treats in the St. James and Queens Park Savannah areas of Port of Spain.

4
4
Rural Trinidad & Tobago
30

Rob gets a driving lesson on the "wrong" side of the road as the crew goes against the grain (and most guidebook recommendations) by renting a car to explore rural areas of the island of Trinidad. After a few scary moments, they are able to show viewers the unique melting pot of cultures and religions that make up the islands cultural identity. Raw Travel goes deep to learn how Trinidad & Tobago is protecting the environment and its ecology with visits to the southern tip of the island to explore the bird sanctuary, Point-A-Pierre Wildfowl Trust. The crew then doubles back to the remote northern coast to find the ancient species of endangered Leatherback Turtles, who, once a year make a deep sea pilgrimage from as far away as Africa to beach and lay their eggs.

Finally it's off by boat to the smaller, yet more tourist laden, island of Tobago for snorkeling, hiking, and partying at Buccoo Bay. Here, the crew gets to see and even participate in one the of the area's grandest attraction, the annual goat races!

5
5
Bogota, Medellin & Cartagena, Colombia
30

Raw Travel invites viewers to forget everything they think they know about Colombia and join the Raw Travel team as they take the audience on a rare and unique look at the new, the real, Colombia. The crew begins in the bustling, modern and sometimes chaotic capital city of Bogota. Then it's down to Paisa country and Medellin, one of Colombia's friendliest cities. We join the locals to sample the legendary nightlife, take in an underground music festival and find out why Medellin is considered one of Latin America's most progressive cities. We'll take a day trip to tranquil pueblo of Guatape and then it's off to the coast where we explore the cobblestone streets of the historic, colorful colonial tourist haven of Cartagena.

6
6
Rural Colombia
30

Traveling through rural Colombia was once unthinkable, but today, Colombia's exotic countryside is an undiscovered gem, just waiting to entice travelers with its siren song. We begin on Colombia's coast with an off the beaten path and rare look at the remote village of San Basilio de Palenque. This small Afro-Caribbean village first began as a protected refuge for runaway slaves and a town where residents still speak a unique African dialect today. Next, it's time to relax and get in touch with the abundant natural beauty of Colombia as the crew heads to Santa Marta and Tayrona National Park to find some of the most isolated and beautiful beaches around and we take part in a traditional, spiritual cleansing from the local native Indians.

Colombian coffee is some of the best in the world, so we head to the mountainous, green and picturesque Antioquia region where we visit a working coffee plantation and experience some eco-friendly pampering with naturally occurring thermal and mud baths at the spas of San Vicente. Finally, it's off to the amazing and wild Amazon. The crew heads up the massive river to the to the tiny, eco-friendly hamlet of Puerto Nariño to give viewers a taste of indigenous life in the Amazon and unveils why protecting this incredible natural environment and ancient way of life is so important.

7
7
Buenos Aires, Argentina
30

In Buenos Aires, Raw Travel digs deep to take viewers inside the rather large underground music and tattoo scene. Rob learns how to tango like a pro, well almost… then heads to a soccer match to get an inside look at how the sport takes on near religious fervor in these parts.

After touring one of the most famous cemeteries in the world, as well as the many diverse and historical neighborhoods, the crew takes time to give back with Voluntario Global, an organization dedicated to connecting traveling volunteers with some of the poorest, most vulnerable citizens of Buenos Aires. Then it's off on a day trip just outside the city to visit the delta river town of Tigre.

8
8
Road Trip to Salta, Argentina
30

Raw Travel explores outside the capital city of Buenos Aires to experience some authentic gaucho culture in the tranquil town of San Antonio de Areco and then it's on to Estancia El Cencerro, a working ranch that hosts travelers from all over the world. Next the crew takes a look at another side of Argentina as Raw Travel heads to the remote and incredibly picturesque northwest desert region Salta Province. The crew explores the many beautiful and historical churches of Salta and then road trips to the incredible, indigenous Quilmes Ruins. What trip to Argentina would be complete without a visit to what some consider the best wine vineyards in the world? Raw Travel visits the legendary El Esteco Vineyards in the charming town of Cafayete to show viewers why many Argentine wines from this region are not just delicious, but also natural and organic.

9
9
Uruguay
30

Raw Travel takes viewers south, way down south in South America, to experience a small country with a surprisingly big and diverse melting pot of culture, Uruguay. The Raw Travel crew begins the journey in the large, but tranquil capital city of Montevideo, Uruguay where they tour the famous old town and take in some authentic Uruguayan culture by sipping mate tea, eating more grilled meat than anyone ever should and then working it off with some authentic tango music. We learn about Uruguay's month long Carnival celebration and the surprising African influence in these parts and then the crew buses over to the peaceful and historic town of Colonia del Sacramento on the banks of the River Plate.

10
10
Mexico City
30

Raw Travel takes viewers on an insider's tour of one of the largest, most chaotic, misunderstood and intriguing cities in the world, Mexico City. From ancient Aztec culture to the wonders of the huge El Chopo Market and Mexico City's underground culture and Lucha Libre, get ready to see Mexico City, unmasked!

11
11
Nicaragua
30

Lack of infrastructure be damned, Nicaragua has put its civil war and troubled past behind and is welcoming travelers to experience it's countless and undiscovered natural wonders. Join the crew as we make our way from earthquake ravaged Managua to the beautiful outposts of León, Granada,Estelí & Lake Omotepe and see why Nicaragua is the hottest up and coming destination in Central America.

12
12
The Yucatan, Mexico
30

Mexico's Caribbean coast is a haven for raw travelers and traditional tourists alike. From swanky resorts with pulsating nightlife to bare bones eco-touristic getaways, isolated jungles and ancient ruins, the Yucatan is a natural wonder full of contrasts. See the Yucatan, Cancun & Playa del Carmen like you've never seen them before.

13
13
Costa Rica
30

For decades Costa Rica has been luring surfers and eco-travelers to experience its killer waves on the coasts and its unique bio-diversity in the rain forest. We find out why travelers, from first timers to hard core veterans, consistently rave about Costa Rica, Latin America's undisputed eco-tourism champion. There will be zip-lining (of course!), wild crocodile feeding, bat cave touring, snake handling and a whole lot more!

14
14
Guatemala
30

After a decades-long, brutal guerrilla war, Guatemala is waking up and rediscovering its roots as the centuries old cradle of the Mayan civilization. This small but populous country promises an authentic cultural experience unlike any other. We'll hit an underground punk & rock show in Guate (Guatemala City) then off to some incredible landscapes and authentic indigenous cultures. Come see why we LOVE Guatemala!

15
15
Panama
30

So much more than the famous canal and modern skyline, Panama's natural wonders shine for those willing to take the road less traveled. We explore beyond the obvious tourist sites and dig deep to uncover Panama City's siren song that has enticed travelers for decades. The crew visits Bocas del Toro, the lovely Portobelo and then an unforgettable journey to visit the indigenous nation of the Kuna Yala at San Blas.

16
16
Belize
30

No habla Espanol? No problem. A mecca for hard-core scuba divers and laid-back beach types for years, this tiny Central American country on the Caribbean coast has more to offer than at first glance, including ancient ruins, a melting pot of cultures and a wealth of natural splendor. And oh yeah, they speak English.

17
17
Honduras
30

There is a lot to love about the laid back destination of Honduras. Raw Travel explores the little known Garifuna culture and some of Central America's best beaches and coral reefs for one of the most incredible and economical scuba destinations around.

18
18
NYC: Big Apple for Beginners
30

"Part 1 – Big Apple for Beginners" Throw out the tourist map, Raw Travel is taking a fresh look at the Big Apple like never before. The crew takes viewers on a virtual trip to some of the best, hidden secrets NYC has to offer. Raw Travel delves deep into this amazing city's diverse "off the beaten path" neighborhoods & boroughs showcasing a virtual melting pot of cultures and influences from all over the world.

19
19
Raw Adrenaline
30

For some travelers, the rush of travel is enough but others need more. Raw Travel invites viewers to sample the growing eco & adventure travel movement with "Raw Adrenaline".

20
20
Voluntourism
30

Nothing can add more dimension and depth to traveling than giving back. Whether it's helping to preserve the environment, working with animals or those less fortunate, Raw Travel explores why "Voluntourism" is becoming so popular.

21
21
Raw Culture
30

The Raw Travel crew steps out of their comfort zones to experience, authentic & diverse cultures from all over Latin America & the Caribbean.
Season 2
| Episode No. | No. Overall | Title | Airdate | Runtime | Summary |
| --- | --- | --- | --- | --- | --- |
| 1 | 22 | Krakow, Poland | | 30 | Travel darling Krakow, Poland feels like a fairy tale with looming castles, mid-evil courtyards and even fire breathing dragons. But more modern history of the horrors of World War II and an occupation of communist rule did not leave Krakow unscathed. Today Krakow is a progressive and friendly city that invites travelers the world over to sample its layered history and many charms. |
| 2 | 23 | Prague, Czech Republic | | 30 | Prague, Czech Republic is simply awe-inspiring and firmly planted on the tourists' trail. The Raw Travel crew digs deep to uncover underground charms by visiting with a variety of locals from diverse backgrounds as they showcase Prague's culture and history like never before. |
| 3 | 24 | Bucharest, Romania | | 30 | Romania's capital city often gets short shrift as travelers passing through aren't aware of its hidden, if sometimes gritty, charms. The Raw Travel crew, with the help of some savvy locals, shows them just what they've been missing. |
| 4 | 25 | NYC Underground (Brooklyn & East Village) | | 30 | The top of the heap for creative, eclectic arts is New York City. It's time to take an alternative look at one of the most amazing cities in the world as Raw Travel stops in counter culture East Village, red-hot Williamsburg and iconic Coney Island, Brooklyn. |
| 5 | 26 | Transylvania, Romania | | 30 | Transylvania is the fabled home of Dracula and the setting for all sorts of frightening, and mostly, fictional tales. Rob & crew uncover the real Transylvania on a road trip through striking landscapes dotted with old farmhouses and rural villages full of friendly folks, many who live as they did centuries ago. |
| 6 | 27 | Serbia | | 30 | Serbia, along with much of the former Yugoslavia was war torn and chaotic in the 1990s. Today Serbia is safe, calm and full of hospitable locals who are some of the friendliest in all of Europe. Raw Travel visits the serene town of Novi Sad and the more chaotic capital of Belgrade to see that Serbia has already put its painful past behind and is embracing a brighter future. |
| 7 | 28 | Bratislava, Slovakia & Vienna, Austria | | 30 | Separated by less than an hour or so by boat via the famous Danube you'll find two major cities that, though proximate to each other, could not be more different. Not long ago, Bratislava and Vienna were at the edge, but opposite ends of the fabled Iron Curtain, which divided much more than just ideology. The crew explores the resulting and fascinating contrasts recent history has imposed, but mostly, shows travelers how they can have a good time appreciating the very different charms of each city. |
| 8 | 29 | Budapest, Hungary | | 30 | One of Eastern Europe's crown jewels and much traveled destinations, Budapest gets the Raw Travel treatment. The crew enlists the help of savvy locals and expats to uncover some of the more hidden and decidedly less touristic charms of Budapest. |
| 9 | 30 | Bulgaria & the Black Sea | | 30 | Rob and the Raw Travel crew road trip through Bulgaria to the Black Sea Coast where ancient history, contemporary adventure and some very good times await. But few adventures worth their salt come without tribulation. The crew's resolve and resilience is tested as they overcome a major obstacle to continue their escapades through mystical and enchanted Bulgaria. |
| 10 | 31 | Nashville & Middle Tennessee | | 30 | Sometimes coming home is the best trip of all. Raw Travel host and Tennessee native, Robert Rose, returns from his world travels to revisit his roots and help viewers discover an alternative side of Nashville and other hidden treasures of Middle Tennessee. |
| 11 | 32 | New Orleans Rising | | 30 | New Orleans has much more to offer travelers than Mardi Gras and Bourbon Street. Rob returns for his first time post Hurricane Katrina to visit with long time locals and new transplants alike while discovering a surprising side of the Crescent City. |
| 12 | 33 | Louisiana Road Trip (Cajun Culture) | | 30 | The Raw Travel team crosses over the Mississippi river to see how locals on the West Bank and well outside the tourist zones of New Orleans really live. Then Rob and crew embark upon a road trip to head deeper into rural Louisiana among the bayous and swamps to experience the unique language, delicious food, sights and sounds of French inspired Cajun culture. |
| 13 | 34 | Vietnam | | 30 | Raw Travel host, Robert Rose, was a young child during the U.S. and Vietnamese War, but the disturbing images never left his mind. Decades later, Rob visits Vietnam for the first time and discovers a culturally rich, diverse land that is on the move and welcoming travelers from all over the world, including the United States. Join the crew as they taste the unique gastronomy (snakes, frogs, etc.) and get a feel for centuries old traditions and culture. |
| 14 | 35 | Magical Manila | | 30 | Manila, the bustling capital city of the Philippines, is a perfect backdrop for Raw Travelers wishing to experience an alternative look at authentic Filipino culture. Rob and crew sample the delicious food and music while exploring the unique diversity of this exceptional Pacific Island nation. The crew meets a plethora of locals to get a real taste of the welcoming nature of Filipinos and learn why the Philippines is famous the world over for its unrivaled hospitality. |
| 15 | 36 | Laos | | 30 | Laos is a small, landlocked and sparsely populated country in Southeast Asia and therein lies the charm. Surrounded by larger, more populous nations like Vietnam, Thailand & China, Laos is a haven without the swarming throngs of tourists. The relaxed, laid back but friendly nature of the Lao people is infectious and as more and more savvy travelers are finding, is helping Laos become one the loveliest hidden gems in all of Asia. |
| 16 | 37 | Bangkok, Thailand | | 30 | Join the Raw Travel crew as they head to mystical Thailand where, thanks to a small army of generous ex patriots and friendly locals, the crew gets a unique look at one of the largest, most fascinating cities on the face of the earth, the legendary Bangkok. |
| 17 | 38 | Shopping With a Purpose | | 30 | The Raw Travel crew shows how travelers can make a difference just by doing what they do every day…shopping. Includes stops in New York City, Eastern Europe & more. |
| 18 | 39 | Expatriates Abroad | | 30 | Ever wanted to chuck it all in and live abroad? Millions of U.S. citizens have done just that. The Raw Travel crew showcases a few of their stories for a fascinating look at Americans and other expatriates that are living abroad. |
| 19 | 40 | Green Travel | | 30 | Traveling Green is easy once you get the hang of it. The Raw Travel crew visits some of the most amazing natural wonders on earth and examines ways ecotourism has impacted travel and the planet for the better. |
| 20 | 41 | Travel Is Strange | | 30 | Sometimes travel is just plain weird. Whether in exotic locations or closer to home, the Raw Travel crew showcases a variety of funny, perplexing and downright bizarre ways that travel can be not only strange but a whole lot of fun. |
Season 3
| Episode No. | No. Overall | Title | Airdate | Runtime | Summary |
| --- | --- | --- | --- | --- | --- |
| 1 | 42 | Foodtastic Philippines | 2015-11-28 | 30 | Delightful, diverse and absolutely mouthwatering Filipino cuisine is one more reason people are flocking to the Philippines. Loosen your belt. It's time to get to know the "Foodtastic" Philippines! |
| 2 | 43 | Enchanting New Mexico | 2015-12-05 | 30 | Surreal landscapes combined with a unique blend of Native American, Hispanic and European cultures promise to enchant the Raw Travel crew as they visit Albuquerque, New Mexico. |
| 3 | 44 | Southeast Asia Road Trip | 2015-12-12 | 30 | Rob and the crew road trip through Thailand, Laos, and Vietnam to showcase Southeast Asia and how it has become a travel darling for visitors from around the world. |
| 4 | 45 | Crazy for Colorado | 2015-12-19 | 30 | The Rockies set a majestic backdrop for the crew as they sample mountain life through unique food, melodic music, charming locals and a host of outdoor adventure. No wonder travelers go crazy for Colorado. |
| 5 | 46 | Artistic Santa Fe & Taos | 2015-12-26 | 30 | Santa Fe and Taos attract creative types from all over the world, and for good reason. Rob and crew visit with a handful of laid-back locals to sample New Mexico's fabled artistic flavor. |
| 6 | 47 | Why Wyoming? | 2016-01-02 | 30 | Rob and crew head off the tourist trail to lesser-known, yet equally breathtaking alternative spots in this largely rural state. Maybe this is why Wyoming is becoming North America's go-to travel destination for those looking to get away from it all. |
| 7 | 48 | Unearthly Utah | 2016-01-09 | 30 | From the surreal, high desert scenery of Moab to the adventure sports nirvana of places like Salt Lake City and Park City, Utah, the Beehive State is quickly becoming a must visit for adventurous travelers. |
| 8 | 49 | Tribal Tourism in Pine Ridge, South Dakota | 2016-01-16 | 30 | The Oglala Lakota Sioux Indian reservation in Pine Ridge, South Dakota is one of the poorest, areas in the entire United States. But thanks to a distinctive culture that incorporates ancient traditions and language, it's an emerging destination for travelers interested in Tribal Tourism. Raw Travel uncovers a blend of locals and travelers who are working hard to ensure tourism improves conditions and celebrates the rich Native American heritage. |
| 9 | 50 | The Wild, Wild West (North America) | 2016-02-06 | 30 | The Raw Travel crew hits North America's legendary Wild West for a wild time as they travel through Colorado, Utah and South Dakota. |
| 10 | 51 | Road Trip! Western Frontier | 2016-02-13 | 30 | The Western Frontier of the United States is the perfect draw for road trippers from all over the world. Rob and crew vibe with the locals and fellow road trippers to get insight into the iconic tradition that is The Great North American Road Trip! |
| 11 | 52 | Norway? Yes Way! | 2016-02-20 | 30 | Bergen, Norway has been welcoming travelers for centuries. This spectacular city is the first port of call for our trip through to a magical land where the trolls, fairies and Vikings once roamed. You say Norway? We say Yes Way! |
| 12 | 53 | Fjord-tastic Norway | 2016-02-26 | 30 | The Raw Travel crew visits one of the world's most spectacular sites – The Norwegian Fjords, which provide a perfect backdrop for a unique Raw Travel adventure. |
| 13 | 54 | We Heart Johannesburg, South Africa | 2016-04-30 | 30 | Johannesburg has loads of culture, nearby exotic wildlife and a burgeoning cosmopolitan beauty but it's "Joburgers" themselves who win our hearts and steal the show. |
| 14 | 55 | Incredible Cape Town | 2016-05-07 | 30 | Cape Town's natural splendor is obvious, but Raw Travel digs deeper to uncover why locals, artists, transplants and travelers from around the world rave about incredible Cape Town. |
| 15 | 56 | Going to Ghana, Accra & Central Coast | 2016-05-14 | 30 | Raw Travel explores the capital and Central Coastal Region of Ghana to find out why this Western African country is beloved by travelers from around the world. |
| 16 | 57 | The Surprising South | 2016-05-21 | 30 | Charming but action packed Chattanooga, Tennessee provides the backdrop for a surprising Southern adventure. Plus a stop at Historic Banning Mills in West Georgia. |
Season 4
| Episode No. | No. Overall | Title | Airdate | Runtime | Summary |
| --- | --- | --- | --- | --- | --- |
| 1 | 58 | The Beat of Ghana's Eastern Region | 2016-10-01 | 30 | |
| 2 | 59 | Hidden Gems: North America | 2016-10-08 | 30 | |
| 3 | 60 | Gateway to Africa, South Africa | 2016-10-15 | 30 | |
| 4 | 61 | Santo Domingo, Dominican Republic | 2016-10-22 | 30 | |
| 5 | 62 | Cuba Undercover | 2016-10-29 | 30 | |
| 6 | 63 | Port Au Prince, Haiti | 2016-11-05 | 30 | |
| 7 | 64 | Road Trip: Dominican Republic | 2016-11-12 | 30 | |
| 8 | 65 | Montreal Magnifique | 2016-11-19 | 30 | |
| 9 | 66 | Travel Hacks for the Raw Traveler | 2017-02-04 | 30 | |
| 10 | 67 | Raw Travel Philly | 2017-02-11 | 30 | |
| 11 | 68 | Exploring Rural Haiti | 2017-02-18 | 30 | |
| 12 | 69 | Return to Managua | 2017-02-25 | 30 | |
| 13 | 70 | Road Trip: Northern Nicaragua | 2017-04-29 | 30 | |
| 14 | 71 | Quebec City, Quebec | 2017-05-06 | 30 | |
| 15 | 72 | Howdy Houston | 2017-05-13 | 30 | |
| 16 | 73 | Lovable Lima | 2017-05-20 | 30 | |
| 17 | 74 | Amazing Animals | 2017-07-01 | 30 | |
| 18 | 75 | Hey, Gimme' Dat! | 2017-07-08 | 30 | |
| 19 | 76 | Hotel Schmotel | 2017-07-15 | 30 | |
| 20 | 77 | The Give Back Heroes | 2017-07-22 | 30 | |
Related News
TVMaze