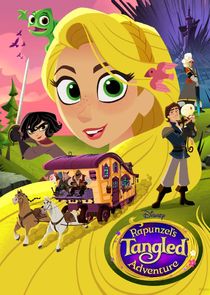 Rapunzel's Tangled Adventure is about the adventures of Rapunzel, Flynn Rider and their friends in the time between the film, 'Tangled' and the short film, 'Tangled Ever After'.
Series Overview
Rating
imDb Rating: 7.6 (1,411 Votes)
Metascore: N/A
Plot
Set between Walt Disney Animation Studios' "Tangled" and its short film "Tangled Ever After," this animated adventure/comedy series unfolds as Rapunzel acquaints herself with her parents, her kingdom and the people of Corona.
Details
Rated: TV-Y7
Released: 24 Mar 2017
Runtime: 21 min
Genre: Animation, Action, Adventure, Comedy, Family, Fantasy, Musical
Director: N/A
Writer: Shane Prigmore, Chris Sonnenburg
Actors: Mandy Moore, Zachary Levi, Eden Espinosa, Paul F. Tompkins
Language: English, Czech
Country: USA
Awards: 5 wins & 9 nominations.
Total Seasons: 3
Next Episode
Cassandra's Revenge
Episode 3x12; Jan 26, 2020
When Rapunzel feels ready to settle down and begin living a normal life, Cassandra returns to Corona with a score to settle.
Previous Episode
Islands Apart
Episode 3x11; Jan 19, 2020
After receiving a message from Owl, Rapunzel and Eugene travel back to the island of the Lorbs, where they reconnect with the Captain of the Guard.
Episodes 3x17: Plus Est En Vous 3x16: Once a Handmaiden... 3x15: Flynnpostor 3x14: A Tale of Two Sisters 3x13: Race to the Spire 3x12: Cassandra's Revenge 3x11: Islands Apart 3x10: Pascal's Dragon 3x9: Be Very Afraid

View All Episodes
Cast
Mandy Moore as Rapunzel
Zachary Levi as Eugene Fitzherbert
Eden Espinosa as Cassandra
James Monroe Iglehart as Lance Strongbow
Paul F. Tompkins as Shorty
Clancy Brown as King Frederic
View Full Cast
Skip to:
Season 1
| Episode No. | No. Overall | Title | Airdate | Runtime | Summary |
| --- | --- | --- | --- | --- | --- |
| 1 | 1 | What the Hair?! | 2017-03-24 | 30 | Rapunzel and Cassandra go to a wizard's cottage to learn what has happened to Rapunzel's hair. |
| 2 | 2 | Rapunzel's Enemy | 2017-03-31 | 30 | After Rapunzel gets booed, she becomes determined to win over her naysayer, a little old man who is loved by everyone in the kingdom. |
| 3 | 3 | Fitzherbert P.I. | 2017-04-07 | 30 | Eugene sets out to find a role for himself in the castle and decides to be a royal guard. |
| 4 | 4 | Challenge of the Brave | 2017-04-14 | 30 | Cassandra and Rapunzel enter the Challenge of the Brave, a gathering of warriors from across the kingdom, to test their courage. |
| 5 | 5 | Cassandra v. Eugene | 2017-04-21 | 25 | Rapunzel is tired of the constant bickering between Cassandra and Eugene and decides to send them off on a scavenger hunt in hopes it will be a bonding experience. |
| 6 | 6 | The Return of Strongbow | 2017-04-28 | 30 | When Eugene's old friend Lance Strongbow sweeps back into town, he tries to drag Eugene back into his thieving ways. |
| 7 | 7 | In Like Flynn | 2017-07-23 | 25 | In order to prank a rival monarch, King Frederic recruits Eugene to help pull off a scheme. |
| 8 | 8 | Great Expotations | 2017-07-30 | 30 | Cassandra receives the chance to be a guard, but only if she can complete her handmaiden duties in time. |
| 9 | 9 | Under Raps | 2017-08-06 | 30 | Rapunzel discovers that Cassandra has a crush on a mysterious visitor from out of town. |
| 10 | 10 | One Angry Princess | 2017-08-13 | 30 | When Attila is accused of destroying Monty's Sweet Shoppe, Rapunzel puts her detective hat on to prove that he didn't do it. |
| 11 | 11 | Pascal's Story | 2017-08-20 | 30 | When Pascal begins to feel like he doesn't fit into Rapunzel's new life in the castle, he runs away. |
| 12 | 12 | Big Brothers of Corona | 2017-10-01 | 30 | |
| 13 | 13 | The Wrath of Ruthless Ruth | 2017-10-08 | 30 | When The Snuggly Duckling suddenly becomes haunted by its original owner, Ruthless Ruth, Rapunzel helps the Pub Thugs figure out the reason behind the ghost's return. |
| 14 | 14 | Max's Enemy | 2017-10-15 | 30 | When a new crime-fighting horse arrives in Corona, it doesn't take long for Maximus to realize his new stablemate didn't come to town to make nice. |
| 15 | 15 | The Way of the Willow | 2017-10-22 | 30 | When Rapunzel discovers that Queen Arianna has an estranged sister, she invites her newly discovered Aunt Willow to Corona. |
| 16 | 16 | Queen for a Day | 2017-11-19 | 60 | When the King and Queen leave town, Rapunzel is set to lead. However, when a blizzard threatens to destroy Corona, the Princess is faced with some tough decisions. |
| 17 | 17 | Painter's Block | 2017-11-25 | 30 | In the aftermath of the blizzard, Rapunzel's confidence is shaken. In an effort to get her mojo back, she rededicates herself to painting and enrolls in an art class. |
| 18 | 18 | Not in the Mood | 2017-12-02 | 30 | Fed up with the constant bickering, Max and Pascal give Rapunzel, Cass and Eugene an attitude reversing potion. |
| 19 | 19 | The Quest for Varian | 2017-12-09 | 30 | When Rapunzel investigates a cryptic message from Varian, she finds herself on the run from a group of masked men. |
| 20 | 20 | The Alchemist Returns | 2017-12-16 | 30 | Rapunzel agrees to help Varian recover the sundrop flower, but the princess learns the young alchemist has shadier intentions than he had first suggested. |
| 21 | 21 | The Secret of the Sun Drop | 2018-01-13 | 55 | Rapunzel and the King must put aside their differences to work together and rescue the Queen. |
Season 2
| Episode No. | No. Overall | Title | Airdate | Runtime | Summary |
| --- | --- | --- | --- | --- | --- |
| 1 | 22 | Beyond the Corona Walls | 2018-06-24 | 30 | Finally outside the kingdom's walls, Rapunzel begins her long journey following the path of the black rocks. |
| 2 | 23 | The Return of Quaid | 2018-07-01 | 30 | To bail Eugene out of jail, Rapunzel must team up with Stalyan, Eugene's ex-fiancee, to find a diamond the two thieves had stolen years ago. |
| 3 | 24 | Goodbye and Goodwill | 2018-07-08 | 30 | Rapunzel plans to bring the Goodwill Festival to Vardaros, but when the locals respond more favorably to Cassandra's ideas, Rapunzel becomes competitive |
| 4 | 25 | Forest of No Return | 2018-07-15 | 30 | When the gang gets lost in the Forest of No Return, they must rely on the mysterious Adira as their guide. |
| 5 | 26 | Freebird | 2018-07-22 | 30 | Rapunzel's adventurous spirit leads the gang to a hidden corner of the woods where everyone is magically transformed into birds. |
| 6 | 27 | Vigor the Visionary | 2018-07-29 | 30 | Rapunzel and Eugene encounter a monkey with psychic abilities. His visions lead them to the family of their young friend and former thief Angry. |
| 7 | 28 | Keeper of the Spire | 2018-08-05 | 30 | To acquire a piece of the scroll, Rapunzel travels to an ancient museum at the top of an impossibly tall spire with the museum's incredibly arrogant curator. |
| 8 | 29 | King Pascal | 2018-08-12 | 30 | Tiny islanders the Lorbs mistake Pascal for their mystical ruler; the chameleon loves the adulation, until he's expected to protect his people from a vicious monster. |
| 9 | 30 | There's Something About Hook Foot | 2018-08-19 | 30 | Hook Foot falls in love with a mermaid with ulterior motives. |
| 10 | 31 | Happiness Is... | 2018-08-26 | 30 | A homesick Rapunzel discovers a mysterious idol with the power to bring instant happiness to whomever holds it, but its power threatens to tear the group apart. |
| 11 | 32 | Max and Eugene in "Peril on the High Seas" | 2019-03-03 | 30 | When Max and Eugene are stranded at sea they are saved by a passing ship only to discover that it is not what they expected. |
| 12 | 33 | Curses! | 2019-03-10 | 30 | Rapunzel again encounters Madame Zabrina and Vigor the Visionary; Vigor puts a curse on Rapunzel just before she and her friends cross a perilous mountain pass. |
| 13 | 34 | The Eye of Pincosta | 2019-03-10 | 30 | To bail Eugene out of jail, Rapunzel must team up with Stalyan, Eugene's ex-fiancee, to find a diamond the two thieves had stolen years ago. |
| 14 | 35 | Rapunzel and the Great Tree | 2019-03-17 | 30 | The Black Rock trail leads Rapunzel and gang to The Great Tree, an ancient, mountain-sized tree. They run into the mighty Hector and discover the Moon Incantation. |
| 15 | 36 | The Brothers Hook | 2019-03-24 | 30 | Rapunzel tries to lift everyone's spirits by taking them to see Hook Hand in concert, but the reunion of the Hook Brothers brings up bad memories for Hook Foot. |
| 16 | 37 | Rapunzel: Day One | 2019-03-24 | 30 | Rapunzel is accidentally zapped by a memory spell, and forgets everything that has happened to her since leaving the tower. |
| 17 | 38 | Mirror, Mirror | 2019-03-31 | 30 | The gang comes across a hospitable old mansion, but they find strange happenings when they gaze in a mirror. |
| 18 | 39 | You're Kidding Me | 2019-03-31 | 30 | Looking for a way out of the Mystery House, the gang except Rapunzel and Eugene are turned into little kids. |
| 19 | 40 | Rapunzeltopia | 2019-04-07 | 30 | Rapunzel finds herself back in Corona as if all the events of the black rocks and Varian never happened. |
| 20 | 41 | Lost and Found | 2019-04-07 | 30 | Rapunzel and Eugene must traverse a deadly maze, and their guide through the labyrinth is Vigor the Visionary. |
| 21 | 42 | Destinies Collide | 2019-04-14 | 60 | Rapunzel follows the black rocks to the Dark Kingdom to uncover the truth behind her destiny. |
Season 3
| Episode No. | No. Overall | Title | Airdate | Runtime | Summary |
| --- | --- | --- | --- | --- | --- |
| 1 | 43 | Rapunzel's Return | 2019-10-07 | 60 | Rapunzel returns to the kingdom of Corona only to find that it has been taken over by an old enemy. Still reeling from Cassandra's betrayal, Rapunzel must use her inner strength to save Corona and its people, including her parents, King Frederic and Queen Arianna. Sticking by her side is her partner in life, Eugene; her loyal chameleon sidekick, Pascal; no-nonsense and dutiful horse, Maximus; and Eugene's best friend, Lance. |
| 2 | 44 | Return of the King | 2019-10-08 | 30 | Eugene unwilling joins his long-lost father on a journey to find a stolen family heirloom. But their father-and-son trip is cut shot with the sudden arrival of Eugene's former partners-in-cime: the Stabbington Brothers! |
| 3 | 45 | Who's Afraid of the Big, Bad Wolf? | 2019-10-09 | 30 | The former orphaned thieves Angry and Red return to Corona permanently. However, their return quickly becomes a nightmare when the kingdom s stalked by a werewolf. |
| 4 | 46 | The Lost Treasure of Herz Der Sonne | 2019-10-10 | 30 | After discovering a map to a mythical ancient treasure, Princess Rapunzel believes that holding a race to claim it will be just the pick-me-up the people of Corona need. |
| 5 | 47 | No Time Like the Past | 2019-10-11 | 30 | An ancient hourglass sends Rapunzel and Pascal back in time, and their only hope of returning to the present is in the hands of a teenage Lance and Eugene. |
| 6 | 48 | Beginnings | 2019-10-15 | 30 | As Rapunzel struggles with Cassandra's betrayal, the princess recounts the story of how she and Cassandra first became friends. |
| 7 | 49 | The King and Queen of Hearts | 2019-10-16 | 30 | Rapunzel finds that her parents' memory loss has made them forget how they fell in love; things get complicated when King Trevor tries to steal the Queen's heart. |
| 8 | 50 | Day of the Animals | 2019-10-17 | 30 | Max, Pascal and the animals must rescue Rapunzel and the gang from being trapped forever in a magical prison. |
| 9 | 51 | Be Very Afraid | 2019-10-18 | 30 | |
| 10 | 52 | Pascal's Dragon | 2020-01-12 | 23 | When Pascal befriends a baby dragon, he must decide between his new friend and the safety of Corona. |
| 11 | 53 | Islands Apart | 2020-01-19 | 23 | After receiving a message from Owl, Rapunzel and Eugene travel back to the island of the Lorbs, where they reconnect with the Captain of the Guard. |
| 12 | 54 | Cassandra's Revenge | 2020-01-26 | 45 | When Rapunzel feels ready to settle down and begin living a normal life, Cassandra returns to Corona with a score to settle. |
| 13 | 55 | Race to the Spire | 2020-02-02 | 23 | |
| 14 | 56 | A Tale of Two Sisters | 2020-02-09 | 23 | |
| 15 | 57 | Flynnpostor | 2020-02-16 | 23 | |
| 16 | 58 | Once a Handmaiden... | 2020-02-23 | 23 | |
| 17 | 59 | Plus Est En Vous | 2020-03-01 | 90 | |
Series Cast
| | | | |
| --- | --- | --- | --- |
| | Mandy Moore | as Rapunzel | |
| | Zachary Levi | as Eugene Fitzherbert | |
| | Eden Espinosa | as Cassandra | |
| | James Monroe Iglehart | as Lance Strongbow | |
| | Paul F. Tompkins | as Shorty | |
| | Clancy Brown | as King Frederic | |
| | Jeff Ross | as Hook Foot | |
| | M.C. Gainey | as Captain of the Guards | |
| | Sean Hayes | as Pete the Guard | |
| | Diedrich Bader | as Stan the Guard | |
| | Julie Bowen | as Queen Arianna | |
| | Jeremy Jordan | as Varian | |
| | Jeffrey Tambor | as Big Nose | |
| | Steven Jay Blum | as Pub Thug Attila Buckethead | |
| | Peter MacNicol | as Nigel the Advisor | |
| | Richard Kind | as Uncle Monty | |
| | Adewale Akinnuoye-Agbaje | as Xavier the Blacksmith | |
| | Jonathan Banks | as Quirin, Varian's father | |
| | Charles Halford | as Pub Thug Vladimir | |
Series Crew
| | Position | Name |
| --- | --- | --- |
| | Creator | Shane Prigmore |
| | Creator | Chris Sonnenburg |
Related News
The 10 Highest-Grossing Disney Princess Movies Of All Time (According To Box Office Mojo)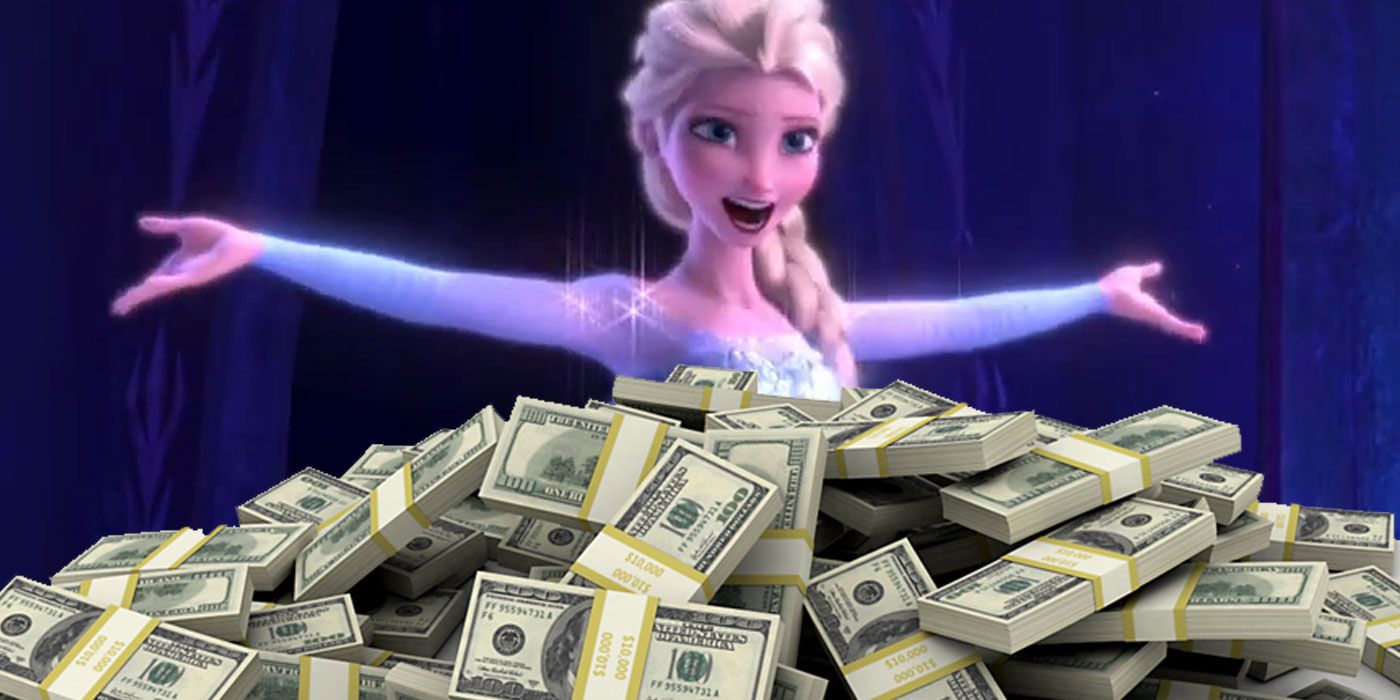 Brooke Bajgrowicz (Screenrant.com)
Disney has made untold billions through its princess-centric movies, so now we find out just who's the richest princess of them all
Article preview:
Once upon a time, Walt Disney Pictures decided to release a full-length film based on the German fairytale of Snow White, and the world hasnt been the same since. Disney became associated with princess films right away, and to this day, it remains the biggest… [+6580 chars]
TVMaze