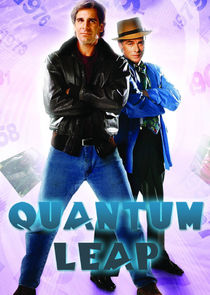 Get ready to join Dr. Sam Beckett on the adventure of many lifetimes! Who will he be this time? Mafia hit man. Air Force test pilot. Professional boxer. Sam Beckett is a time traveler who never knows whose body he is going to "leap" into next and at what moment in history he may find himself. Sam is joined by a helpful but easily distracted holographic guide Al, who assists him on his missions and aids Sam in his ultimate goal of returning to his own life in the present.
Series Overview
Rating
imDb Rating: 8.1 (24,302 Votes)
Metascore: N/A
Plot
Scientist Sam Beckett finds himself trapped in the past, "leaping" into the bodies of different people on a regular basis.
Details
Rated: TV-PG
Released: 26 Mar 1989
Runtime: 60 min
Genre: Action, Adventure, Drama, Mystery, Sci-Fi
Director: N/A
Writer: Donald P. Bellisario
Actors: Scott Bakula, Dean Stockwell, Deborah Pratt
Language: English
Country: USA
Awards: Won 2 Golden Globes. Another 16 wins & 43 nominations.
Total Seasons: 5
Previous Episode
Mirror Image - August 8, 1953
Episode 5x22; May 05, 1993
Previous Episodes 5x22: Mirror Image - August 8, 1953 5x21: Memphis Melody - July 3, 1954 5x20: The Leap Between the States - September 20, 1862 5x19: The Beast Within - November 6, 1972 5x18: Goodbye Norma Jean - April 4, 1960 5x17: Revenge of the Evil Leaper - September 16, 1987 5x16: Return of the Evil Leaper - October 8, 1956 5x15: Blood Moon - March 10, 1975 5x14: Dr. Ruth - April 25, 1985

View All Episodes
Cast
Scott Bakula as Dr. Samuel "Sam" Beckett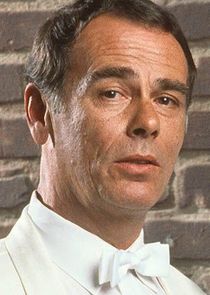 Dean Stockwell as Rear Admiral Albert "Al" Calavicci
View Full Cast
Skip to:
Season 1
Episode No.
No. Overall
Title
Airdate
Runtime
Summary
1
1
Genesis Part I - September 13, 1956
1989-03-26
60
2
2
Genesis Part II - September 13, 1956
1989-03-26
60
3
3
Star-Crossed - June 15, 1972
1989-03-31
60

As Dr, Gerald Bryant, a literature professor at the Ohio College attended by his one-time fiancée, Sam has to prevent an amorous coed from attaching to him and ruining her life.
Despite threats to the job, Al gives Sam the information he needs to reunite his Starr-Crossed lover with her father and, maybe, give himself a second shot at marriage.

4
4
The Right Hand of God - October 24, 1974
1989-04-07
60

Having leapt into Kid Cody, a boxer on the take, Sam has to win the championship to fund a new church for his trainers, a group of nuns.
Sam must face the bookie who counts on him to take a dive in the final bout, and, with the help of several trainers, streaking, and Al's appearance in the ring to guide his punches, Sam wins the bout and finacnes the chapel.

5
5
How the Tess Was Won - August 5, 1956
1989-04-14
60

As a veterinarian in rural Texas, Sam's mission appears to be winning the love of an heiress to a large ranch.
Sabotaged by another suitor, Sam fails and finds that his true goal was to save the life of a sick piglet, and to help an unnamed cohort with a task he's performing.

6
6
Double Identity - November 9, 1965
1989-04-21
60
7
7
The Color of Truth - August 8, 1955
1989-05-03
60
8
8
Camikazi Kid - June 6, 1961
1989-05-10
60
9
9
Play It Again, Seymour - April 14, 1953
1989-05-17
60
Season 2
| Episode No. | No. Overall | Title | Airdate | Runtime | Summary |
| --- | --- | --- | --- | --- | --- |
| 1 | 10 | Honeymoon Express - April 26, 1960 | 1989-09-20 | 60 | |
| 2 | 11 | Disco Inferno - April 1, 1976 | 1989-09-27 | 60 | |
| 3 | 12 | The Americanization of Machiko - August 4, 1953 | 1989-10-11 | 60 | |
| 4 | 13 | What Price Gloria? - October 16, 1961 | 1989-10-25 | 60 | |
| 5 | 14 | Blind Faith - February 6, 1964 | 1989-11-01 | 60 | |
| 6 | 15 | Good Morning, Peoria - September 9, 1959 | 1989-11-08 | 60 | |
| 7 | 16 | Thou Shalt Not... - February 2, 1974 | 1989-11-15 | 60 | |
| 8 | 17 | Jimmy - October 14, 1964 | 1989-11-22 | 60 | |
| 9 | 18 | So Help Me God - July 29, 1957 | 1989-11-29 | 60 | |
| 10 | 19 | Catch a Falling Star - May 21, 1979 | 1989-12-06 | 60 | |
| 11 | 20 | A Portrait for Troian - February 7, 1971 | 1989-12-13 | 60 | |
| 12 | 21 | Animal Frat - October 19, 1967 | 1990-01-03 | 60 | |
| 13 | 22 | Another Mother - September 30, 1981 | 1990-01-10 | 60 | |
| 14 | 23 | All Americans - November 6, 1962 | 1990-01-17 | 60 | |
| 15 | 24 | Her Charm - September 26, 1973 | 1990-02-07 | 60 | |
| 16 | 25 | Freedom - November 22, 1970 | 1990-02-14 | 60 | |
| 17 | 26 | Good Night, Dear Heart - November 9, 1957 | 1990-03-07 | 60 | |
| 18 | 27 | Pool Hall Blues - September 4, 1954 | 1990-03-14 | 60 | |
| 19 | 28 | Leaping in Without a Net - November 18, 1958 | 1990-03-28 | 60 | |
| 20 | 29 | Maybe Baby - March 11, 1963 | 1990-04-04 | 60 | |
| 21 | 30 | Sea Bride - June 3, 1954 | 1990-05-02 | 60 | |
| 22 | 31 | M.I.A. - April 1, 1969 | 1990-05-09 | 60 | |
Season 3
| Episode No. | No. Overall | Title | Airdate | Runtime | Summary |
| --- | --- | --- | --- | --- | --- |
| 1 | 32 | The Leap Home Part I - November 25, 1969 | 1990-09-28 | 60 | |
| 2 | 33 | The Leap Home Part II (Vietnam) - April 7, 1970 | 1990-10-05 | 60 | |
| 3 | 34 | Leap of Faith - August 19, 1963 | 1990-10-12 | 60 | |
| 4 | 35 | One Strobe Over the Line - June 15, 1965 | 1990-10-19 | 60 | |
| 5 | 36 | The Boogieman - October 31, 1964 | 1990-10-26 | 60 | |
| 6 | 37 | Miss Deep South - June 7, 1958 | 1990-11-02 | 60 | |
| 7 | 38 | Black on White on Fire - August 11, 1965 | 1990-11-09 | 60 | |
| 8 | 39 | The Great Spontini - May 9, 1974 | 1990-11-16 | 60 | |
| 9 | 40 | Rebel Without a Clue - September 1, 1958 | 1990-11-30 | 60 | |
| 10 | 41 | A Little Miracle - December 24, 1962 | 1990-12-21 | 60 | |
| 11 | 42 | Runaway - July 4, 1964 | 1991-01-04 | 60 | |
| 12 | 43 | 8 1/2 Months - November 15, 1955 | 1991-03-06 | 60 | |
| 13 | 44 | Future Boy - October 6, 1957 | 1991-03-13 | 60 | |
| 14 | 45 | Private Dancer - October 6, 1979 | 1991-03-20 | 60 | |
| 15 | 46 | Piano Man - November 10, 1985 | 1991-03-27 | 60 | |
| 16 | 47 | Southern Comforts - August 4, 1961 | 1991-04-03 | 60 | |
| 17 | 48 | Glitter Rock - April 12, 1974 | 1991-04-10 | 60 | |
| 18 | 49 | A Hunting Will We Go - June 18, 1976 | 1991-04-18 | 60 | |
| 19 | 50 | Last Dance Before an Execution - May 12, 1971 | 1991-05-01 | 60 | |
| 20 | 51 | Heart of a Champion - July 23, 1955 | 1991-05-08 | 60 | |
| 21 | 52 | Nuclear Family - October 26, 1962 | 1991-05-15 | 60 | |
| 22 | 53 | Shock Theater - October 3, 1954 | 1991-05-22 | 60 | |
Season 4
| Episode No. | No. Overall | Title | Airdate | Runtime | Summary |
| --- | --- | --- | --- | --- | --- |
| 1 | 54 | The Leap Back - June 15, 1945 | 1991-09-18 | 60 | |
| 2 | 55 | Play Ball - August 6, 1961 | 1991-09-25 | 60 | |
| 3 | 56 | Hurricane - August 17, 1969 | 1991-10-02 | 60 | |
| 4 | 57 | Justice - May 11, 1965 | 1991-10-09 | 60 | |
| 5 | 58 | Permanent Wave - June 2, 1983 | 1991-10-16 | 60 | |
| 6 | 59 | Raped - June 20, 1980 | 1991-10-30 | 60 | |
| 7 | 60 | The Wrong Stuff - January 24, 1961 | 1991-11-06 | 60 | |
| 8 | 61 | Dreams - February 28, 1979 | 1991-11-13 | 60 | |
| 9 | 62 | A Single Drop of Rain - September 7, 1953 | 1991-11-20 | 60 | |
| 10 | 63 | Unchained - November 2, 1956 | 1991-11-27 | 60 | |
| 11 | 64 | The Play's the Thing - September 9, 1969 | 1992-01-08 | 60 | |
| 12 | 65 | Running for Honor - June 11, 1964 | 1992-01-15 | 60 | |
| 13 | 66 | Temptation Eyes - February 1, 1985 | 1992-01-22 | 60 | |
| 14 | 67 | The Last Gunfighter - November 28, 1957 | 1992-01-29 | 60 | |
| 15 | 68 | A Song for the Soul - April 7, 1963 | 1992-02-26 | 60 | |
| 16 | 69 | Ghost Ship - August 13, 1956 | 1992-03-04 | 60 | |
| 17 | 70 | Roberto! - January 27, 1982 | 1992-03-11 | 60 | |
| 18 | 71 | It's a Wonderful Leap - May 10, 1958 | 1992-04-01 | 60 | |
| 19 | 72 | Moments to Live - May 4, 1985 | 1992-04-08 | 60 | |
| 20 | 73 | The Curse of Ptah-Hotep - March 2, 1957 | 1992-04-22 | 60 | |
| 21 | 74 | Stand Up - April 30, 1959 | 1992-05-13 | 60 | |
| 22 | 75 | A Leap for Lisa - June 25, 1957 | 1992-05-20 | 60 | |
Season 5
| Episode No. | No. Overall | Title | Airdate | Runtime | Summary |
| --- | --- | --- | --- | --- | --- |
| 1 | 76 | Lee Harvey Oswald Part I - October 5, 1957-November 22, 1963 | 1992-09-22 | 60 | |
| 2 | 77 | Lee Harvey Oswald Part II - October 5, 1957-November 22, 1963 | 1992-09-22 | 60 | |
| 3 | 78 | Leaping of the Shrew - September 27, 1956 | 1992-09-29 | 60 | |
| 4 | 79 | Nowhere to Run - August 10, 1968 | 1992-10-06 | 60 | |
| 5 | 80 | Killin' Time - June 18, 1958 | 1992-10-20 | 60 | |
| 6 | 81 | Star Light, Star Bright - May 21, 1966 | 1992-10-27 | 60 | |
| 7 | 82 | Deliver Us from Evil - March 19, 1966 | 1992-11-10 | 60 | |
| 8 | 83 | Trilogy Part I (One Little Heart) - August 8, 1955 | 1992-11-17 | 60 | |
| 9 | 84 | Trilogy Part II (For Your Love) - June 14, 1966 | 1992-11-24 | 60 | |
| 10 | 85 | Trilogy Part III (The Last Door) - July 28, 1978 | 1992-11-24 | 60 | |
| 11 | 86 | Promised Land - December 22, 1971 | 1992-12-15 | 60 | |
| 12 | 87 | A Tale of Two Sweeties - February 25, 1958 | 1993-01-05 | 60 | |
| 13 | 88 | Liberation - October 16, 1968 | 1993-01-12 | 60 | |
| 14 | 89 | Dr. Ruth - April 25, 1985 | 1993-01-19 | 60 | |
| 15 | 90 | Blood Moon - March 10, 1975 | 1993-02-09 | 60 | |
| 16 | 91 | Return of the Evil Leaper - October 8, 1956 | 1993-02-23 | 60 | |
| 17 | 92 | Revenge of the Evil Leaper - September 16, 1987 | 1993-02-23 | 60 | |
| 18 | 93 | Goodbye Norma Jean - April 4, 1960 | 1993-03-02 | 60 | |
| 19 | 94 | The Beast Within - November 6, 1972 | 1993-03-16 | 60 | |
| 20 | 95 | The Leap Between the States - September 20, 1862 | 1993-03-30 | 60 | |
| 21 | 96 | Memphis Melody - July 3, 1954 | 1993-04-20 | 60 | |
| 22 | 97 | Mirror Image - August 8, 1953 | 1993-05-05 | 60 | |
Series Cast
| | | | |
| --- | --- | --- | --- |
| | Scott Bakula | as Dr. Samuel "Sam" Beckett | |
| | Dean Stockwell | as Rear Admiral Albert "Al" Calavicci | |
Series Crew
| | Position | Name |
| --- | --- | --- |
| | Co-Executive Producer | Michael Zinberg |
| | Creator | Donald P. Bellisario |
| | Executive Producer | Donald P. Bellisario |
| | Co-Executive Producer | Chas Floyd Johnson |
| | Supervising Producer | Scott Shepherd |
| | Co-Producer | Chris Ruppenthal |
| | Co-Producer | Paul Brown |
| | Associate Producer | David Bellisario |
| | Co-Executive Producer | Deborah Pratt |
| | Co-Producer | Deborah Pratt |
| | Supervising Producer | Deborah Pratt |
| | Supervising Producer | Paul M. Belous |
| | Supervising Producer | Robert Wolterstorff |
| | Supervising Producer | Richard C. Okie |
| | Supervising Producer | Harker Wade |
| | Associate Producer | Jeff Gourson |
| | Co-Producer | Jeff Gourson |
| | Associate Producer | James S. Giritlian |
| | Associate Producer | Scott Ejercito |
| | Associate Producer | Julie Bellisario |
Related News
TVMaze