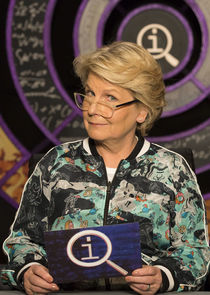 Comedy quiz show in which contestants are rewarded if their answers are quite interesting.
Series Overview
Rating
imDb Rating: 8.6 (27,970 Votes)
Metascore: N/A
Plot
A comedy panel game in which being Quite Interesting is more important than being right. Sandi Toksvig is joined each week by four comedians to share anecdotes and trivia, and maybe answer some questions as well.
Details
Rated: TV-PG
Released: 11 Sep 2003
Runtime: 30 min
Genre: Comedy, Game-Show
Director: N/A
Writer: N/A
Actors: Alan Davies, Stephen Fry
Language: English
Country: UK
Awards: 3 wins & 11 nominations.
Total Seasons: 16
Next Episode
Quizmas
Episode 17x9; Dec 24, 2019
Sandi Toksvig hosts the seasonal quizmas quiz, with Alan Davies, Sara Pascoe, Johnny Vegas and Josh Widdicombe.
Previous Episode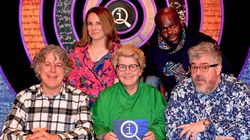 Qanimals
Episode 17x8; Oct 25, 2019
Sandi Toksvig looks at animals which start with q, with Alan Davies, Daliso Chaponda, Phill Jupitus and Cariad Lloyd.
Episodes 17x10: Quiet 17x9: Quizmas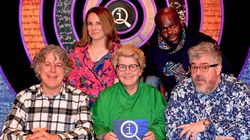 17x8: Qanimals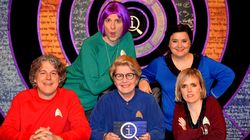 17x7: Quests: Part Two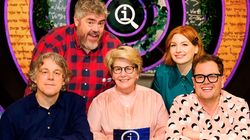 17x6: Quests: Part One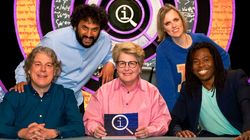 17x5: Questions and Qualifications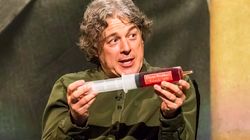 17x4: Queasy Quacks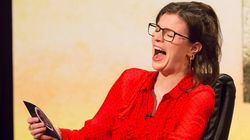 17x3: Quarrels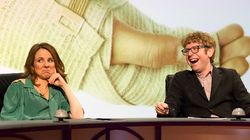 17x2: Quintessential

View All Episodes
Cast
Alan Davies as Alan Davies
Stephen Fry as Host
Sandi Toksvig as Host
View Full Cast
Skip to:
Season 1
| Episode No. | No. Overall | Title | Airdate | Runtime | Summary |
| --- | --- | --- | --- | --- | --- |
| 1 | 1 | Adam | 2003-09-11 | 30 | Stephen Fry hosts the unusual but fun quiz show in which contestants are rewarded more if their answers are 'quite interesting'. Subjects here include anteaters, artichokes, Ancient Greece and Adam and Eve. Trying to keep up are Alan Davies, John Sessions, Hugh Laurie and Danny Baker. |
| 2 | 2 | Astronomy | 2003-09-11 | 30 | Stephen Fry chairs the almost impossible quiz. Panellists are Alan Davies, Rich Hall, Jeremy Hardy and Bill Bailey. Subjects include alligators, astronomy and aisles. |
| 3 | 3 | Aquatic Animals | 2003-09-18 | 30 | Stephen Fry chairs the almost impossible quiz with panellists Alan Davies, Bill Bailey, Meera Syal and Clive Anderson answering questions on topics beginning with the letter A. |
| 4 | 4 | Atoms | 2003-09-25 | 30 | Stephen Fry chairs the almost impossible quiz, with guests Alan Davies, Jo Brand, Howard Goodall and Jeremy Hardy. Topics covered include air, Argentina, atomic physics and Anne of Cleves. |
| 5 | 5 | Advertising | 2003-10-02 | 30 | Stephen Fry chairs the almost impossible quiz. Alan Davies, Rob Brydon, Gyles Brandreth and Rich Hall face questions on advertising, Africa, Aristotle and alcoholics. |
| 6 | 6 | Antidotes | 2003-10-09 | 30 | Stephen Fry chairs the almost impossible quiz. His guests are Alan Davies, Jo Brand, Howard Goodall and Danny Baker. Topics covered include angels, acres, Arcturus, antidotes, amphibians, Alsatians and armies. |
| 7 | 7 | Arthropods | 2003-10-16 | 30 | Stephen Fry chairs the almost impossible quiz. Panellists are Alan Davies, Jo Brand, Jackie Clune and Jimmy Carr, with topics Australia, anthropology and arthropods. |
| 8 | 8 | Albania | 2003-10-23 | 30 | Stephen Fry chairs the almost impossible quiz. Panellists are Alan Davies, Sean Lock, Linda Smith and Clive Anderson. |
| 9 | 9 | Antelopes | 2003-10-30 | 30 | Stephen Fry chairs the almost impossible quiz. Panellists are Alan Davies, Jo Brand, Dave Gorman and Jeremy Hardy, and topics include antelopes and Alfred the Great. |
| 10 | 10 | Aviation | 2003-11-06 | 30 | Stephen Fry chairs the almost impossible quiz. The panellists are Alan Davies, Julia Morris, Peter Serafinowicz and Rich Hall. Topics include air rage and Alans. |
| 11 | 11 | Arts | 2003-11-13 | 30 | Apples, Afghanistan, ants and Alexander Graham Bell with panellists Alan Davies, Bill Bailey, Richard E. Grant and Linda Smith. |
| 12 | 12 | Advent | 2003-12-23 | 30 | Stephen Fry chairs a festive version of the almost impossible quiz. The guests are Alan Davies, Sean Lock, John Sessions and Phill Jupitus, who tackle questions on subjects including armagnac, ancient Sweden and air conditioning. |
Season 2
| Episode No. | No. Overall | Title | Airdate | Runtime | Summary |
| --- | --- | --- | --- | --- | --- |
| 1 | 13 | Blues, Beetles, Baguettes | 2004-10-08 | 30 | Stephen Fry hosts the quiz show in which contestants are rewarded more if their answers are 'quite interesting'. The subjects include blues, beetles and baguettes. With Alan Davies, Jo Brand, Bill Bailey and Sean Lock. |
| 2 | 14 | Birds, Bills, Brothers | 2004-10-08 | 30 | Stephen Fry hosts the quiz show in which contestants are rewarded more if their answers are 'quite interesting'. Subjects include birds, bills and brothers. With Alan Davies, Jo Brand, Phil Kay and Rich Hall. |
| 3 | 15 | Bombs, Bats, Bagpipes | 2004-10-15 | 30 | Stephen Fry hosts the quiz show in which contestants are rewarded more if their answers are `quite interesting'. Today's subjects include bombs, bats and bagpipes. With Alan Davies, Clive Anderson, Phill Jupitus and Rich Hall. |
| 4 | 16 | Birmingham, Bhutan, Baldness | 2004-10-22 | 30 | Stephen Fry hosts the quiz show in which contestants are rewarded more if their answers are 'quite interesting'. Alan Davies, Jeremy Hardy, Barry Cryer and Jeremy Clarkson participate in this clash of wits over such topics as Birmingham, Bhutan and baldness. |
| 5 | 17 | Bears, Bulbs, Bamboo | 2004-10-29 | 30 | Stephen Fry hosts the quiz show in which contestants are rewarded more if their answers are `quite interesting'. Topics up for discussion include bears, bulbs and bamboo. Jimmy Carr, Bill Bailey, Jo Brand and Alan Davies play the game. |
| 6 | 18 | Beavers, Bulges, Bacteria | 2004-11-05 | 30 | Stephen Fry hosts the quiz show in which contestants are rewarded more if their answers are 'quite interesting'. With Alan Davies, Anneka Rice, Sean Lock and Bill Bailey. Subjects covered include Beavers, Bulges and Bacteria. |
| 7 | 19 | Biscuits, Ballet, Baboons | 2004-11-12 | 30 | Stephen Fry hosts the quiz show in which contestants are rewarded more if their answers are `quite interesting'. With Alan Davies, Arthur Smith, Dara O'Briain and Rich Hall. Biscuits, ballet and baboons are subjects on the agenda. |
| 8 | 20 | Bees, Barnacles, Basketball | 2004-11-19 | 30 | Stephen Fry hosts the quiz show in which contestants are rewarded more if their answers are `quite interesting'. With Alan Davies, Jo Brand, Fred MacAulay and Rich Hall. Bees, barnacles and basketball are subjects on the agenda. |
| 9 | 21 | Butterflies, Blackberries, Bernards | 2004-11-26 | 30 | Stephen Fry hosts the quiz show in which contestants are rewarded more if their answers are `quite interesting'. With Alan Davies, Josie Lawrence, John Sessions and Rich Hall. Butterflies, blackberries and Bernards are subjects on the agenda. |
| 10 | 22 | Bills, Bens, Buildings | 2004-12-03 | 30 | Stephen Fry hosts the quiz show in which contestants are rewarded more if their answers are 'quite interesting'. Clive Anderson, Phil Kay, John Sessions and Alan Davies on the subjects of Bills, Bens and buildings. |
| 11 | 23 | B Major, B Minor, B Flat | 2004-12-10 | 30 | Stephen Fry hosts the quiz show in which contestants are rewarded if their answers are 'quite interesting'. With Mark Gatiss, Sean Lock, Linda Smith and Alan Davies. |
| 12 | 24 | Birth | 2004-12-17 | 30 | Stephen Fry chairs a festive version of the almost impossible quiz with guests Alan Davies, Mark Steel, Phill Jupitus and Rich Hall. |
Season 3
| Episode No. | No. Overall | Title | Airdate | Runtime | Summary |
| --- | --- | --- | --- | --- | --- |
| 1 | 25 | Campanology | 2005-09-30 | 30 | Stephen Fry hosts the quiz show in which contestants are rewarded more if their answers are 'quite interesting'. With Alan Davies, Bill Bailey, Rob Brydon and Rich Hall. |
| 2 | 26 | Cummingtonite | 2005-09-30 | 30 | Stephen Fry hosts the quiz show in which contestants are rewarded more if their answers are 'quite interesting', with subjects including crime, cuisine and the contents of the Queen's handbag. With Doon Mackichan, Arthur Smith, Andy Hamilton and Alan Davies. |
| 3 | 27 | Common Knowledge | 2005-10-07 | 30 | Stephen Fry hosts the quiz show in which contestants are rewarded more if their answers are 'quite interesting'. Today's subjects include chickens, cormorants and cardigans. With Jimmy Carr, Rory McGrath, Sean Lock and Alan Davies. |
| 4 | 28 | Cheating | 2005-10-14 | 30 | Stephen Fry hosts the quiz show in which contestants are rewarded more if their answers are 'quite interesting'. Subjects include cheating, caravans and cuckoo clocks. With Jeremy Clarkson, Alexander Armstrong, John Sessions and Alan Davies. |
| 5 | 29 | Cat's Eyes | 2005-10-21 | 30 | Stephen Fry hosts the quiz show in which contestants are rewarded more if their answers are 'quite interesting'. Subjects include cat's eyes, camels and centurions. With Rich Hall, Sean Lock, Jo Brand and Alan Davies. |
| 6 | 30 | Cockneys | 2005-10-28 | 30 | Stephen Fry hosts the quiz show in which contestants are rewarded more if their answers are 'quite interesting'. Subjects include cockneys, catfish and coal. With Bill Bailey, Rory McGrath, Phill Jupitus and Alan Davies. |
| 7 | 31 | Constellations | 2005-11-04 | 30 | Stephen Fry hosts the quiz show in which contestants are rewarded more if their answers are 'quite interesting'. Subjects include chihuahuas, cheese and constellations. With Jeremy Clarkson, Rich Hall, Sean Lock and Alan Davies. |
| 8 | 32 | Corby | 2005-11-11 | 30 | Actor, author and national treasure Stephen Fry hosts the quiz show in which contestants are rewarded more if their answers are 'quite interesting'. This time, china, Corby and coffee are the topics under discussion. |
| 9 | 33 | Creatures | 2005-11-18 | 30 | Stephen Fry hosts the quiz show in which contestants are rewarded more if their answers are 'quite interesting'. This edition's subjects include chimpanzees, chromosomes and cuttlefish. Panellists are Helen Atkinson-Wood, Bill Bailey, Andy Hamilton and Alan Davies. |
| 10 | 34 | Cleve Crudgington | 2005-11-25 | 30 | Stephen Fry hosts the quiz show in which contestants are rewarded more if their answers are 'quite interesting'. Subjects include corks, cats and carbon dioxide. Panellists are Clive Anderson, Mark Steel, John Sessions and Alan Davies. |
| 11 | 35 | Carnival | 2005-12-02 | 30 | Stephen Fry hosts the quiz show in which contestants are rewarded more if their answers are 'quite interesting'. Fry probes clowns, cuckoos and Cinderella with panellists Clive Anderson, Jo Brand, Phill Jupitus and Alan Davies. |
| 12 | 36 | Combustion | 2005-12-09 | 30 | Stephen Fry hosts the quiz show in which contestants are rewarded more if their answers are 'quite interesting'. Subjects include catastrophes, cosmonauts and coconuts, with Bill Bailey, Dara O'Briain, Phill Jupitus and Alan Davies. |
Season 4
| Episode No. | No. Overall | Title | Airdate | Runtime | Summary |
| --- | --- | --- | --- | --- | --- |
| 1 | 37 | Danger | 2006-09-29 | 30 | Stephen Fry hosts the quiz show in which contestants are rewarded more if their answers are 'quite interesting'. This edition features Sean Lock, Jimmy Carr, Jo Brand and Alan Davies tackling the subject of danger. |
| 2 | 38 | Discoveries | 2006-09-29 | 30 | Stephen Fry hosts the quiz show in which contestants are rewarded more if their answers are 'quite interesting'. This edition features Arthur Smith, Clive Anderson, Vic Reeves and Alan Davies tackling the subject of discoveries. |
| 3 | 39 | Dogs | 2006-10-06 | 30 | Stephen Fry hosts the quiz show in which contestants are rewarded more if their answers are 'quite interesting'. This edition features Alan Davies, Liza Tarbuck, Jeremy Clarkson and Neil Mullarkey tackling the subject of dogs. |
| 4 | 40 | Dictionaries | 2006-10-13 | 30 | Stephen Fry hosts the quiz show in which contestants are rewarded more if their answers are 'quite interesting'. This edition features Alan Davies, Phill Jupitus, Ronni Ancona and Rory Bremner tackling the subject of dictionaries. |
| 5 | 41 | Death | 2006-10-20 | 30 | Stephen Fry hosts the quiz show in which contestants are rewarded more if their answers are 'quite interesting'. This edition features Alan Davies, Sean Lock, Andy Parsons and Clive Anderson tackling the subject of death. |
| 6 | 42 | Drinks | 2006-10-27 | 30 | Stephen Fry hosts the quiz show in which contestants are rewarded more if their answers are 'quite interesting'. This edition features Alan Davies, John Sessions, Phill Jupitus and Jimmy Carr tackling subjects including drinking. |
| 7 | 43 | Differences | 2006-11-03 | 30 | Stephen Fry hosts the quiz show in which contestants are rewarded more if their answers are 'quite interesting'. This edition features Alan Davies, Julian Clary, Jo Brand and Dara O'Briain tackling subjects including differences. |
| 8 | 44 | Descendants | 2006-11-10 | 30 | Stephen Fry hosts the quiz show in which contestants are rewarded more if their answers are 'quite interesting'. In a Children in Need special, Jonathan Ross, Rich Hall, Phill Jupitus and Alan Davies tackle the subject of descendants. |
| 9 | 45 | Doves | 2006-11-17 | 30 | Stephen Fry hosts the quiz show in which contestants are rewarded more if their answers are 'quite interesting'. David Mitchell, Andy Hamilton, John Sessions and Alan Davies get to grips with doves. |
| 10 | 46 | Divination | 2006-11-24 | 30 | Stephen Fry hosts the quiz show in which contestants are rewarded more if their answers are 'quite interesting'. Graeme Garden, Johnny Vaughan, Phill Jupitus and Alan Davies get to grips with divination. |
| 11 | 47 | Deprivation | 2006-12-01 | 30 | Stephen Fry hosts the quiz show and is joined by panellists Vic Reeves, Roger McGough, Alan Davies and Mark Steel. |
| 12 | 48 | Domesticity | 2006-12-08 | 30 | Stephen Fry hosts the quiz show which rewards contestants for 'quite interesting' answers. With Jo Brand, Jessica Stevenson, Alan Davies and Phill Jupitus. |
| 13 | 49 | December | 2006-12-15 | 30 | Stephen Fry hosts the quiz show in which contestants are rewarded more if their answers are 'quite interesting'. Christmas special with Jo Brand, Rich Hall, Alan Davies and Dara O Briain. |
Season 5
| Episode No. | No. Overall | Title | Airdate | Runtime | Summary |
| --- | --- | --- | --- | --- | --- |
| 1 | 50 | Engineering | 2007-09-21 | 30 | Stephen Fry hosts the quiz show in which contestants are rewarded more if their answers are 'quite interesting'. This edition features Alan Davies, Jimmy Carr, Rob Brydon and Bill Bailey tackling the subject of engineering. |
| 2 | 51 | Electricity | 2007-09-28 | 30 | Stephen Fry hosts the quiz show in which contestants are rewarded more if their answers are 'quite interesting'. Alan Davies, Jo Brand, Sean Lock and Rich Hall tackle the subject of electricity. |
| 3 | 52 | Eating | 2007-10-05 | 30 | Stephen Fry hosts the quiz show in which contestants are rewarded more if their answers are 'quite interesting'. Alan Davies, Jimmy Carr, Phill Jupitus and Johnny Vegas tackle the subject of eating. |
| 4 | 53 | Exploration | 2007-10-12 | 30 | Stephen Fry hosts a quiz show in which contestants are rewarded for being quite interesting. The guests are Bill Bailey, Rich Hall, Sean Lock and Alan Davies. |
| 5 | 54 | Europe | 2007-10-19 | 30 | Stephen Fry hosts a quiz show in which contestants are rewarded for being 'quite interesting'. Phill Jupitus, Dara O'Briain, David Mitchell and Alan Davies discuss Europe. |
| 6 | 55 | Everything Etc | 2007-10-26 | 30 | Stephen Fry hosts the quiz show in which contestants are rewarded more if their answers are 'quite interesting'. Alan Davies, Clive Anderson, Jeremy Clarkson and Vic Reeves discuss absolutely everything. |
| 7 | 56 | Espionage | 2007-11-02 | 30 | Quiz show in which contestants are rewarded more if their answers are 'quite interesting'. Host Stephen Fry edgily exposes Espionage with Jo Brand, Vic Reeves, Clive Anderson and Alan Davies. |
| 8 | 57 | Eyes and Ears | 2007-11-09 | 30 | Quiz show in which contestants are rewarded more if their answers are 'quite interesting'. Host Stephen Fry is all Eyes and Ears with guests Phill Jupitus, Jimmy Carr, David Mitchell and Alan Davies. |
| 9 | 58 | Entertainment | 2007-11-16 | 30 | Quiz show in which contestants are rewarded more if their answers are 'quite interesting'. Host Stephen Fry is joined by Bill Bailey, Pudsey Bear, Jo Brand, Jeremy Clarkson and Alan Davies to discuss Entertainment in a special Children in Need edition. |
| 10 | 59 | England | 2007-11-23 | 30 | Quiz show in which contestants are rewarded more if their answers are 'quite interesting'. Host Stephen Fry is joined by Sean Lock, Phill Jupitus, Charlie Higson and Alan Davies to get to grips with the subject of England. |
| 11 | 60 | Endings | 2007-11-30 | 30 | Quiz show in which contestants are rewarded more if their answers are quite interesting. Host Stephen Fry endlessly elongates endings with panellists Jimmy Carr, Doon Mackichan, Dara O¨Briain and Alan Davies. |
| 12 | 61 | Empire | 2007-12-07 | 30 | Quiz show in which contestants are rewarded more if their answers are 'quite interesting'. Host Stephen Fry endearingly embodies 'Empire' with Bill Bailey, Jo Brand, Sean Lock and Alan Davies. |
| 13 | 62 | Elephants | 2007-12-14 | 30 | Host Stephen Fry extracts elephants - the best bits that couldn't be squeezed into the past series. With Clive Anderson, Bill Bailey, Jo Brand, Rob Brydon, Jimmy Carr, Jeremy Clarkson, Rich Hall, Charlie Higson, Phill Jupitus, Sean Lock, David Mitchell, Dara O'Briain, Vic Reeves, Johnny Vegas and Alan Davies. |
Season 6
| Episode No. | No. Overall | Title | Airdate | Runtime | Summary |
| --- | --- | --- | --- | --- | --- |
| 1 | 63 | Family | 2008-11-14 | 30 | Quiz show in which contestants are rewarded more if their answers are 'quite interesting'. Host Stephen Fry quizzes Terry Wogan, David Mitchell, Ronni Ancona and Alan Davies. |
| 2 | 64 | Fire and Freezing | 2008-12-22 | 30 | Rob Brydon, Clive Anderson and Dom Joly join regulars Stephen Fry and Alan Davies to let it snow, let it snow, and let us know what they know in the QI Christmas Special. |
| 3 | 65 | Flotsam and Jetsam | 2009-01-09 | 30 | Quiz show in which contestants earn more points if their answers are 'quite interesting'. Stephen Fry faces the facts about flotsam and jetsam with Charlie Higson, Andy Hamilton, Rob Brydon and Alan Davies. |
| 4 | 66 | Fight or Flight | 2009-01-16 | 30 | Quiz show in which interesting answers are rewarded more than correct ones. Stephen Fry frankly falls for fight and flight with Pam Ayres, Sean Lock, Johnny Vegas and Alan Davies. |
| 5 | 67 | France | 2009-01-23 | 30 | Stephen Fry quizzes Phill Jupitus, Jo Brand, Hugh Dennis and Alan Davies on all things French, and their answers must be interesting if they are to score points. |
| 6 | 68 | Fakes and Frauds | 2009-01-30 | 30 | Panel-based general knowledge quiz. Stephen Fry falls foul of fakes and frauds with Sean Lock, Jimmy Carr, Marcus Brigstocke and Alan Davies. |
| 7 | 69 | Fingers and Fumbs | 2009-02-06 | 30 | Panel-based quiz where contestants aim to be interesting. Stephen Fry is all fingers and fumbs with Jo Brand, Phill Jupitus, Dara Ó Briain and Alan Davies. |
| 8 | 70 | Fashion | 2009-02-13 | 30 | Panel-based quiz where the aim is to be interesting. Stephen Fry follows the flock for a look at fashion with Clive Anderson, Rich Hall, Reginald D. Hunter and Alan Davies. |
| 9 | 71 | The Future | 2009-02-20 | 30 | Panel-based quiz where the aim is to be interesting. Stephen Fry forges forward into the future with Sean Lock, Rob Brydon, Ben Miller and Alan Davies. |
| 10 | 72 | Flora and Fauna | 2009-02-27 | 30 | Panel-based quiz where the aim is to be interesting. Stephen Fry finds the fun in flora and fauna with John Sergeant, Jimmy Carr, Jo Brand and Alan Davies. |
| 11 | 73 | Film | 2009-03-06 | 30 | Panel-based quiz where the aim is to be interesting. Stephen Fry focuses on films and fame with Emma Thompson, David Mitchell, John Sessions and Alan Davies. |
| 12 | 74 | Food | 2009-03-20 | 30 | Panel-based quiz where the aim is to be interesting. Stephen Fry takes a fresh look at food with David Mitchell, Rich Hall, Jimmy Carr and Alan Davies. |
Season 7
| Episode No. | No. Overall | Title | Airdate | Runtime | Summary |
| --- | --- | --- | --- | --- | --- |
| 1 | 75 | Gardens | 2009-11-26 | 30 | Stephen Fry glances gleefully at gardens and other subjects starting with the letter G and presides over panelists David Mitchell, Rob Brydon, Dara Ó Briain and Alan Davies. |
| 2 | 76 | G Animals | 2009-12-03 | 30 | Stephen Fry genially generalises about animals starting with G, with Sandi Toksvig, Bill Bailey, Sean Lock, John Hodgman and Alan Davies. |
| 3 | 77 | Games | 2009-12-10 | 30 | Stephen Fry gently guides guests Liza Tarbuck, Phill Jupitus, Sean Lock and Alan Davies through the world of games. |
| 4 | 78 | Geography | 2009-12-17 | 30 | Comedy quiz show where the guests get more points for being interesting. Stephen Fry gets the gist of geography with Jo Brand, Rob Brydon, Jimmy Carr and Alan Davies. |
| 5 | 79 | Groovy | 2009-12-24 | 30 | Comedy quiz show where the guests get points for being interesting. Stephen Fry guarantees you a groovy Christmas, with David Tennant, Bill Bailey, Lee Mack and Alan Davies. |
| 6 | 80 | Genius | 2010-01-01 | 30 | Comedy quiz show where the guests get points for being interesting. Stephen Fry glances gingerly at genius, with Graham Norton, David Mitchell, Dara Ó Briain and Alan Davies. |
| 7 | 81 | Girls and Boys | 2010-01-08 | 30 | Comedy quiz show where the guests get more points for being interesting. Stephen Fry gallantly grapples with Girls and Boys. He is joined by Sandi Toksvig, Ronni Ancona, Jack Dee and Alan Davies. |
| 8 | 82 | Germany | 2010-01-15 | 30 | Comedy quiz show where the guests get more points for being interesting. Stephen Fry gladly gravitates towards Germany. He is joined by Jo Brand, Rob Brydon, Sean Lock and Alan Davies. |
| 9 | 83 | Gallimaufrey | 2010-01-22 | 30 | Stephen Fry gathers up a gallimaufrey of gingambobs, with Phill Jupitus, Hugh Dennis, Andy Hamilton and Alan Davies. |
| 10 | 84 | Greats | 2010-01-29 | 30 | Quiz show where guests get more points for being interesting. Stephen Fry gets to grips with the greats, with Jo Brand, David Mitchell, Sean Lock and Alan Davies. |
| 11 | 85 | Gifts | 2010-02-05 | 30 | Quiz show where guests get more points for being interesting. Stephen Fry gives gifts, with help from Jan Ravens, Jimmy Carr, Clive Anderson and Alan Davies. |
| 12 | 86 | Gravity | 2010-02-12 | 30 | Quiz show where guests get more points for being interesting. Stephen Fry gets to grips with gravity, with help from Barry Humphries, Bill Bailey, Rich Hall and Alan Davies. |
| 13 | 87 | Gothic | 2010-02-19 | 30 | Quiz show where guests get more points for being interesting. Stephen Fry goes Gothic with help from Sue Perkins, Jimmy Carr, Jack Dee and Alan Davies. |
| 14 | 88 | Greeks | 2010-03-05 | 30 | Comedy quiz show where the guests get more points for being interesting. Stephen Fry gets to grips with Greeks, with Clive Anderson, Phill Jupitus, Rich Hall and Alan Davies. |
| 15 | 89 | Green | 2010-03-26 | 30 | Comedy quiz show where the guests get more points for being interesting. Stephen Fry goes all green with Jeremy Clarkson, Bill Bailey, Danny Baker and Alan Davies. |
| 16 | 90 | Geometry | 2010-04-02 | 30 | Comedy quiz where the guests get more points for being interesting. Stephen Fry tackles geometry with the help of Johnny Vegas, David Mitchell, Rob Brydon and Alan Davies. |
| 17 | 91 | VG: Part One | 2010-04-05 | 30 | Comedy quiz where the guests get more points for being interesting. A hotch-potch of moments from the G series with Stephen Fry, Alan Davies and their guests. |
| 18 | 92 | VG: Part Two | 2010-04-16 | 30 | Comedy quiz where the guests get more points for being interesting. Another hotch-potch of moments from the G Series with Stephen Fry, Alan Davies and their guests. |
Season 8
| Episode No. | No. Overall | Title | Airdate | Runtime | Summary |
| --- | --- | --- | --- | --- | --- |
| 1 | 93 | Hodge Podge | 2010-09-17 | 30 | Stephen Fry asks unanswerable questions about a hodge-podge of topics beginning with the letter H, with Ross Noble, Jack Dee, Phill Jupitus and Alan Davies. |
| 2 | 94 | H Anatomy | 2010-09-24 | 30 | Stephen Fry asks unanswerable questions about parts of the body beginning with the letter H, with Sue Perkins, Bill Bailey, Gyles Brandreth and Alan Davies. |
| 3 | 95 | Hoaxes | 2010-10-01 | 30 | Stephen Fry asks unanswerable questions about hoaxes, with Sean Lock, David Mitchell, Danny Baker and Alan Davies. |
| 4 | 96 | Humans | 2010-10-08 | 30 | Stephen Fry asks unanswerable questions about humans, with Jo Brand, Jack Dee, Jimmy Carr and Alan Davies. |
| 5 | 97 | H Animals | 2010-10-15 | 30 | Stephen Fry asks unanswerable questions about animals which begin with the letter H. With Ruby Wax, Ross Noble, Sean Lock and Alan Davies. |
| 6 | 98 | Happiness | 2010-10-22 | 30 | Stephen Fry asks unanswerable questions about happiness, with Andy Hamilton, Rich Hall, Phill Jupitus and Alan Davies. |
| 7 | 99 | Horrible | 2010-10-29 | 30 | Stephen Fry asks unanswerable questions about all things horrible, with Dara Ó Briain, Chris Addison, Sean Lock and Alan Davies. |
| 8 | 100 | Hypothetical | 2010-11-05 | 30 | Stephen Fry considers some hypothetical questions with panellists Sandi Toksvig, John Lloyd, Johnny Vegas and Alan Davies. |
| 9 | 101 | House and Home | 2010-11-12 | 30 | Stephen Fry asks unanswerable questions about house and home, with Bill Bailey, Eddie Izzard, Danny Baker and Alan Davies. |
| 10 | 102 | Health and Safety | 2010-11-26 | 30 | Stephen Fry asks unanswerable questions about health and safety, with Ross Noble, David Mitchell, Jeremy Clarkson and Alan Davies. |
| 11 | 103 | Highs and Lows | 2010-12-03 | 30 | Stephen Fry asks unanswerable questions about highs and lows, with Sandi Toksvig, Fred MacAulay, Rob Brydon and Alan Davies. |
| 12 | 104 | Horses and Hunting | 2010-12-10 | 30 | Stephen Fry asks unanswerable questions about horses and hunting, with Clare Balding, Dara Ó Briain, Jimmy Carr and Alan Davies. |
| 13 | 105 | Holidays | 2010-12-17 | 30 | Stephen Fry asks unanswerable questions about Holidays, with Bill Bailey, Rich Hall, Rob Brydon and Alan Davies. |
| 14 | 106 | Hocus-Pocus | 2010-12-24 | 30 | Stephen Fry conjures up some hocus-pocus in a special Christmas edition of the quiz, with Daniel Radcliffe, Lee Mack, Graham Norton and Alan Davies. |
| 15 | 107 | Hypnosis, Hallucinations & Hysteria | 2011-01-07 | 30 | Stephen Fry asks questions about hypnosis, hallucinations and hysteria. With Ronni Ancona, Phill Jupitus, Robert Webb and Alan Davies. |
| 16 | 108 | History | 2011-01-14 | 30 | Stephen Fry asks unanswerable questions about history. With Sandi Toksvig, David Mitchell, Rob Brydon and Alan Davies. |
| 17 | 109 | VG: Part One | 2011-04-25 | 30 | A compilation of some of the best bits from the H series of QI, with Stephen Fry, Alan Davies, and a host of special guests. |
| 18 | 110 | VG: Part Two | 2011-05-02 | 30 | More of the best bits from the H series of QI, with Stephen Fry, Alan Davies, and a host of special guests. |
Season 9
| Episode No. | No. Overall | Title | Airdate | Runtime | Summary |
| --- | --- | --- | --- | --- | --- |
| 1 | 111 | I-Spy | 2011-09-09 | 30 | Stephen Fry hosts the mind-expanding quiz in which the aim is to be interesting. Stephen plays I-Spy with Sandi Toksvig, Lee Mack, Jimmy Carr and Alan Davies. |
| 2 | 112 | International | 2011-09-16 | 30 | Stephen Fry hosts the mind-expanding quiz in which the aim is to be interesting. Stephen asks unanswerable questions with an international flavour. With Jack Dee, David Mitchell, Bill Bailey and Alan Davies. |
| 3 | 113 | Imbroglio | 2011-09-23 | 30 | Stephen Fry investigates an imbroglio of issues with John Bishop, Frank Skinner, Sean Lock and Alan Davies. |
| 4 | 114 | Indecision | 2011-09-30 | 30 | Stephen Fry comes over all indecisive. With Phill Jupitus, Rich Hall, Jimmy Carr and Alan Davies. |
| 5 | 115 | Invertebrates | 2011-10-07 | 30 | Stephen Fry looks at insects and other invertebrates. With Sarah Millican, Jimmy Carr, Johnny Vegas and Alan Davies. |
| 6 | 116 | Inventive | 2011-10-14 | 30 | Stephen Fry waxes inventive with Nina Conti, Sean Lock, Bill Bailey and Alan Davies. |
| 7 | 117 | Incomprehensible | 2011-10-21 | 30 | Stephen Fry considers some incomprehensible questions with Sue Perkins, Ross Noble, Professor Brian Cox and Alan Davies. |
| 8 | 118 | Inequality | 2011-10-28 | 30 | Stephen Fry addresses inequality and injustice with Sandi Toksvig, Clive Anderson, Henning Wehn and Alan Davies. |
| 9 | 119 | Illness | 2011-11-04 | 30 | Stephen Fry investigates illness with Jo Brand, Ben Goldacre, Andy Hamilton and Alan Davies. |
| 10 | 120 | Inland Revenue | 2011-11-11 | 30 | Stephen Fry asks some taxing questions about things that start with I, with Sandi Toksvig, Al Murray, Dara Ó Briain and Alan Davies. |
| 12 | 121 | Illumination | 2011-11-25 | 30 | Stephen Fry casts light on the subject of illumination. With Jack Dee, Chris Addison, Rich Hall and Alan Davies. |
| 13 | 122 | Intelligence | 2011-12-02 | 30 | Stephen Fry asks some intelligent questions. With Jo Brand, David Mitchell, Phill Jupitus and Alan Davies. |
| 14 | 123 | VG: Part One | 2011-12-16 | 30 | A compilation of some of the best bits from the ninth series of QI - a quiz show in which contestants are rewarded more if their answers are 'quite interesting'. |
| 15 | 124 | VG: Part Two | 2011-12-23 | 30 | More of the best bits from the I series of QI. |
| 16 | 125 | Ice | 2011-12-29 | 30 | In a special Christmas edition of the quiz where points are awarded for quite interesting answers, Stephen Fry is joined by Ross Noble, Sean Lock, Brian Blessed and Alan Davies. |
| 17 | 126 | Infantile | 2011-12-29 | 30 | Stephen Fry comes over all infantile with Ronni Ancona, Dave Gorman, Lee Mack and Alan Davies. |
| 18 | 127 | Immortal Bard | 2012-04-27 | 30 | In a special edition of the quiz for the Cultural Olympiad, Stephen Fry investigates the Immortal Bard with Sue Perkins, Bill Bailey, David Mitchell and Alan Davies. |
| 19 | 128 | Idleness | 2012-05-04 | 30 | Stephen Fry takes a lazy look at idleness with Ross Noble, Dara Ó Briain, Jeremy Clarkson and Alan Davies. |
Season 10
| Episode No. | No. Overall | Title | Airdate | Runtime | Summary |
| --- | --- | --- | --- | --- | --- |
| 1 | 129 | Jargon | 2012-09-14 | 30 | Quiz show. Stephen Fry investigates the letter J with Victoria Coren, Bill Bailey, Jimmy Carr and Alan Davies. |
| 2 | 130 | Jam, Jelly and Juice | 2012-09-21 | 30 | Stephen Fry looks at jam, jelly and juice. With Jo Brand, Liza Tarbuck, Sue Perkins and Alan Davies. |
| 3 | 131 | Journeys | 2012-09-28 | 30 | Stephen Fry looks at journeys with Cal Wilson, Rob Brydon, Phill Jupitus and Alan Davies. |
| 4 | 132 | Jack and Jill | 2012-10-05 | 30 | Stephen Fry looks at quite interesting people whose names begin with the letter J. With Katy Brand, Sue Perkins, David Mitchell and Alan Davies. |
| 5 | 133 | J-Places | 2012-10-12 | 30 | Stephen Fry asks for 'quite interesting' facts about places which start with the letter J. With Susan Calman, Sandi Toksvig, Bill Bailey and Alan Davies. |
| 6 | 134 | Joints | 2012-10-19 | 30 | Quiz show in which Stephen Fry asks for 'quite interesting' answers, this time about joints. With Cal Wilson, Jack Whitehall, Jimmy Carr and Alan Davies. |
| 7 | 135 | Journalism | 2012-10-26 | 30 | Quiz show in which Stephen Fry asks for 'quite interesting' answers, this time about journalism. With Shappi Khorsandi, Ross Noble, Johnny Vegas and Alan Davies. |
| 8 | 136 | Jumble | 2012-11-02 | 30 | Stephen Fry looks into a jumble of things that start with the letter 'J'. With Jo Brand, John Sessions, Dara Ó Briain and Alan Davies. |
| 9 | 137 | Jeopardy | 2012-11-09 | 30 | Stephen Fry looks at jeopardy. With Julia Zemiro, Sue Perkins, Ross Noble and Alan Davies. |
| 10 | 138 | Jungles | 2012-11-23 | 30 | Stephen Fry looks at jungles, with Greg Proops, David O'Doherty, Reginald D. Hunter and Alan Davies. |
| 11 | 139 | Jumpers | 2012-11-30 | 30 | Stephen Fry looks at jumpers, with Julian Clary, Ross Noble, Bill Bailey and Alan Davies. |
| 12 | 140 | Justice | 2012-12-07 | 30 | Stephen Fry looks at Justice, with Professor Brian Cox, Rhys Darby, Jason Manford and Alan Davies. |
| 13 | 141 | Jobs | 2012-12-14 | 30 | Stephen Fry looks at the quite interesting side of jobs. Clocking on are Sarah Millican, David Mitchell, Rev Richard Coles and Alan Davies. |
| 14 | 142 | Jingle Bells | 2012-12-21 | 30 | In a special Christmas edition, Stephen Fry jingles a few bells with Sarah Millican, Phill Jupitus, Danny Baker and Alan Davies. |
| 15 | 143 | VG: Part One | 2012-12-28 | 30 | A compilation of some of the best bits from the series, with Stephen Fry and Alan Davies. |
| 16 | 144 | VG: Part Two | 2013-01-04 | 30 | More of the best bits from the series, with Stephen Fry, Alan Davies and guests. |
| 17 | 145 | Jolly | 2013-01-11 | 30 | Stephen Fry has a jolly good time in the company of Julia Zemiro, Tim Vine, Rob Brydon and Alan Davies. |
| 18 | 146 | Just the Job | 2013-08-25 | 30 | Stephen Fry looks at all manner of inventions, and some that proved to be 'Just the Job'. With Sandi Toksvig, Jason Manford, Jeremy Clarkson and Alan Davies. |
Season 11
| Episode No. | No. Overall | Title | Airdate | Runtime | Summary |
| --- | --- | --- | --- | --- | --- |
| 1 | 147 | Knees & Knockers | 2013-09-06 | 30 | Stephen Fry looks at knees, knockers and other things starting with 'K'. With Sara Pascoe, Jack Whitehall, David Mitchell and Alan Davies. |
| 2 | 148 | Kit and Kaboodle | 2013-09-13 | 30 | Stephen Fry looks at a whole kit and kaboodle of K topics. With Noel Fielding, Ross Noble, Colin Lane and Alan Davies. |
| 3 | 149 | K-Folk | 2013-09-20 | 30 | Stephen Fry looks into the quite interesting world of K-folk with Katherine Ryan, Josh Widdicombe, Phill Jupitus and Alan Davies. |
| 4 | 150 | Knits & Knots | 2013-09-27 | 30 | Stephen Fry looks into knits, knots and other things starting with K, with Sue Perkins, Ross Noble, David Mitchell and Alan Davies. |
| 5 | 151 | Kings | 2013-10-04 | 30 | Stephen Fry asks for quite interesting facts about kings, with his loyal subjects Jeremy Clarkson, Jimmy Carr, Bill Bailey and Alan Davies. |
| 6 | 152 | Killers | 2013-10-11 | 30 | Stephen Fry presents a killer edition of the quiz about quite interesting facts. With Sandi Toksvig, Trevor Noah, Jason Manford and Alan Davies. |
| 7 | 153 | Knowledge | 2013-10-18 | 30 | Stephen Fry ponders the topic of knowledge and explains how many previous QI facts are no longer thought to be true. With Graham Linehan, Jimmy Carr, Jo Brand and Alan Davies. |
| 8 | 154 | Keys | 2013-10-25 | 30 | Stephen Fry looks for his keys, with Isy Suttie, Tim Minchin, Bill Bailey and Alan Davies. |
| 9 | 155 | Kinetic | 2013-11-01 | 30 | Stephen Fry gets things moving with a look into all things kinetic, with Jo Brand, Marcus Brigstocke, Danny Baker and Alan Davies. |
| 10 | 156 | Keeps | 2013-11-08 | 30 | Stephen Fry plays for keeps with Sarah Millican, Jason Manford, Bill Bailey and Alan Davies. |
| 11 | 157 | Kinky | 2013-11-29 | 30 | Stephen Fry comes over all kinky with Janet Street-Porter, Sandi Toksvig, Johnny Vegas and Alan Davies. |
| 12 | 158 | Knights and Knaves | 2013-12-06 | 30 | Stephen Fry discusses knights and knaves. Victoria Coren, Sue Perkins, Rev Richard Coles and Alan Davies are his guests at the round table. |
| 13 | 159 | Kitchen Sink | 2013-12-13 | 30 | Stephen Fry looks at everything in the kitchen but the sink, with Victoria Wood, Richard Osman, Jason Manford and Alan Davies. |
| 14 | 160 | Kris Kringle | 2013-12-27 | 30 | Stephen Fry gets into the Christmas spirit with Jo Brand, Brendan O'Carroll, Phill Jupitus and Alan Davies. |
| 15 | 161 | Kitsch | 2014-01-10 | 30 | Stephen Fry goes decidedly kitsch with Sue Perkins, Reginald D. Hunter, Jimmy Carr and Alan Davies. |
| 16 | 162 | Kaleidoscope | 2014-01-17 | 30 | Stephen Fry looks at a complete kaleidoscope of K-topics with Liza Tarbuck, Susan Calman, Sandi Toksvig and Alan Davies. |
| 17 | 163 | VG: Part One | 2014-01-24 | 30 | A compilation of favourite moments from the K series of the quiz about 'quite interesting' facts, with Stephen Fry and Alan Davies. |
| 18 | 164 | VG: Part Two | 2014-01-31 | 30 | Stephen Fry and Alan Davies are joined by a selection of guests for another compilation of favourite moments from the K series of the quiz. |
Season 12
| Episode No. | No. Overall | Title | Airdate | Runtime | Summary |
| --- | --- | --- | --- | --- | --- |
| 1 | 165 | L Animals | 2014-10-03 | 30 | From lonely whales to larval locomotives, Stephen Fry takes a look at the animal kingdom themed around the letter L. With Sarah Millican, Ross Noble, Colin Lane and Alan Davies. |
| 2 | 166 | Location, Location, Location | 2014-10-10 | 30 | Stephen Fry goes on location in the company of Jason Manford, Aisling Bea, Johnny Vegas and Alan Davies. |
| 3 | 167 | Literature | 2014-10-17 | 30 | Stephen Fry looks into literature and language with the learned and lettered Lloyd Langford, Victoria Coren Mitchell, Jack Whitehall and Alan Davies. |
| 4 | 168 | Levity | 2014-10-24 | 30 | Stephen Fry takes a light-hearted look at levity, levitation and lights with Josh Widdicombe, Sue Perkins, Frank Skinner and Alan Davies. |
| 5 | 169 | Lenses | 2014-10-31 | 30 | Stephen Fry considers lenses, lungs, legs and other parts of the body beginning with L, with Jo Brand, Josh Widdicombe, Phill Jupitus and Alan Davies. |
| 6 | 170 | Liblabble | 2014-11-07 | 30 | Stephen Fry looks through a list of L-themed larks - a 'liblabble', as he calls it. The Reverend Richard Coles, Sara Pascoe, Bill Bailey and Alan Davies are on the panel, covering subjects from 'the birds and the bees' to tie racks in vicarages. |
| 7 | 171 | Lethal | 2014-11-21 | 30 | Stephen Fry looks at the quite interesting side of all things lethal, with a deadly and dangerous panel of Bill Bailey, Sandi Toksvig, Jason Manford and Alan Davies. Topics covered include the hazards of everything from laptop batteries to sugar-free sweets. |
| 8 | 172 | Lovely | 2014-11-28 | 30 | Stephen Fry looks into love with the rather lovely Josh Widdicombe, Aisling Bea, Tony Hawks and Alan Davies. The panel learn about the the mating habits of the tent cobweb spider, the Puritan courtship tradtion of 'bundling' and how nanny goats get their name. |
| 9 | 173 | Ladies and Gents | 2014-12-05 | 30 | Stephen Fry hosts the quiz show in which the aim is to be interesting. The ladies and gents on the panel are Ross Noble, Kathy Lette, Sue Perkins and Alan Davies. |
| 10 | 174 | Lying | 2014-12-12 | 30 | Stephen Fry seeks out the truth about liars and lying with Sara Pascoe, Jack Whitehall, Adam Hills and Alan Davies. |
| 11 | 175 | Lumped Together | 2014-12-19 | 30 | Stephen Fry lumps together a whole lot of L-themed larks, from lava lamps to love handles. With David Mitchell, Ronni Ancona, Jimmy Carr and Alan Davies. |
| 12 | 176 | No L | 2014-12-25 | 30 | Stephen Fry introduces the QI Christmas special - and a very special guest. With Carrie Fisher, Bill Bailey, Jimmy Carr and Alan Davies. |
| 13 | 177 | Lucky Losers | 2015-01-02 | 30 | Stephen Fry takes a quite interesting look at luck and loss. Jeremy Clarkson, Sandi Toksvig, Danny Baker and Alan Davies are the panel hoping to be fortunate enough to avoid failure. |
| 14 | 178 | Little and Large | 2015-01-09 | 30 | Stephen Fry looks at the multi-sized world of the little and the large. With Richard Osman, Lucy Porter, Phill Jupitus and Alan Davies. |
| 15 | 179 | Long Lost | 2015-01-16 | 30 | At long last, it is Stephen Fry and the QI Long Lost show. With Suggs, Claudia O'Doherty, Jimmy Carr and Alan Davies. |
| 16 | 180 | Landmarks | 2015-01-23 | 30 | Quiz show in which the aim is to be interesting. Stephen Fry looks at some landmarks. With Jo Brand, Colin Lane, David Mitchell and Alan Davies. |
| 17 | 181 | VG: Part One | 2015-01-30 | 30 | Quiz show in which the aim is to be interesting. Stephen Fry and Alan Davies are joined by a selection of guests for some favourite moments from the L series. |
| 18 | 182 | VG: Part Two | 2015-01-31 | 30 | Stephen Fry and Alan Davies are joined by another selection of guests for a compilation of favourite moments from the L Series of QI. |
Season 13
| Episode No. | No. Overall | Title | Airdate | Runtime | Summary |
| --- | --- | --- | --- | --- | --- |
| 1 | 183 | Medley of Maladies | 2015-10-16 | 30 | Quiz show in which the aim is to be interesting. Stephen Fry mulls over some medical matters with Lucy Porter, Ross Noble, Matt Lucas and Alan Davies. |
| 2 | 184 | Military Matters | 2015-10-23 | 30 | Stephen Fry marshals miscellaneous military matters with Sheila Hancock, Jimmy Carr, Jeremy Clarkson and Alan Davies. |
| 3 | 185 | M-Places | 2015-10-30 | 30 | Stephen Fry meanders about some places which start with an 'm' with Sue Perkins, Sami Shah, David Mitchell and Alan Davies. |
| 4 | 186 | Miscellany | 2015-11-06 | 30 | Stephen Fry mulls over miscellaneous M-themed matters with Cariad Lloyd, Rhod Gilbert, Noel Fielding and Alan Davies. |
| 5 | 187 | Maths | 2015-11-20 | 30 | Quiz show in which the aim is to be interesting. Stephen Fry masters the maths with Sandi Toksvig, Aisling Bea, Susan Calman and Alan Davies. |
| 6 | 188 | Marriage and Mating | 2015-11-27 | 30 | Quiz show in which the aim is to be interesting. Stephen Fry makes merry with marriage and mating with Jo Brand, Greg Davies, Bill Bailey and Alan Davies. |
| 7 | 189 | Middle Muddle | 2015-12-11 | 30 | Quiz show in which the aim is to be interesting. Stephen Fry muddles through the middle show of the middle series of QI with Aisling Bea, Danny Bhoy, Jimmy Carr and Alan Davies. |
| 8 | 190 | Merriment | 2015-12-25 | 30 | Quiz show in which the aim is to be interesting. Stephen Fry conjures up some seasonal merriment with Jenny Eclair, Johnny Vegas, Bill Bailey and Alan Davies. |
| 9 | 191 | Messing with Your Mind | 2015-12-29 | 30 | Quiz show in which the aim is to be interesting. Stephen Fry messes with your mind with Sarah Millican, Tommy Tiernan, Josh Widdicombe and Alan Davies. |
| 10 | 192 | Making a Meal of It | 2016-01-08 | 30 | Quiz show in which the aim is to be interesting. Stephen Fry makes a meal of some M-themed food topics with Cariad Lloyd, Dermot O'Leary, Phill Jupitus and Alan Davies. |
| 11 | 193 | Menagerie | 2016-01-15 | 30 | Stephen Fry visits the menagerie for a look at some animals which start with the letter M, with Sue Perkins, Romesh Ranganathan, Bill Bailey and Alan Davies. |
| 12 | 194 | Medieval and Macabre | 2016-01-22 | 30 | Quiz show in which the aim is to be interesting. Stephen Fry meditates on matters medieval and macabre with Julia Zemiro, Matt Lucas and David Mitchell. |
| 13 | 195 | Monster Mash | 2016-01-29 | 30 | Quiz show in which the aim is to be interesting. Stephen Fry goes looking for monsters with Sara Pascoe, Josh Widdicombe, Phill Jupitus and Alan Davies. |
| 14 | 196 | Messy | 2016-02-05 | 30 | Quiz show in which the aim is to be interesting. Stephen Fry mucks about with a messy mixture of matters with Sarah Millican, Eddie Kadi, Noel Fielding and Alan Davies. |
| 15 | 197 | Mix and Match | 2016-02-12 | 30 | Stephen Fry mixes and matches a melange of M-themed subjects with Jo Brand, James Acaster, Bill Bailey and Alan Davies. |
| 16 | 198 | Misconceptions | 2016-02-19 | 30 | Quiz show in which the aim is to be interesting. Stephen Fry corrects some misconceptions with Sue Perkins, Sara Cox, Chris Addison and Alan Davies. |
| 17 | 199 | VG: Part One | 2016-03-04 | 30 | Stephen Fry and Alan Davies are joined by a selection of guests for a compilation of favourite moments from the M series. |
| 18 | 200 | VG: Part Two | 2016-03-25 | 30 | Stephen Fry and Alan Davies are joined by a selection of guests for a compilation of favourite moments from the M series. |
Season 14
| Episode No. | No. Overall | Title | Airdate | Runtime | Summary |
| --- | --- | --- | --- | --- | --- |
| 1 | 201 | Naming Names | 2016-10-21 | 30 | New QI host Sandi Toksvig kicks off the N Series by naming names with Cariad Lloyd, Romesh Ranganathan, Phill Jupitus and Alan Davies. |
| 2 | 202 | North Norse | 2016-10-28 | 30 | Quiz show in which the aim is to be interesting. Sandi Toksvig looks at the north and the Norse with Lucy Beaumont, Jason Manford, Rhod Gilbert and Alan Davies. |
| 3 | 203 | Nosey Noisy | 2016-11-04 | 30 | Quiz show in which the aim is to be interesting. Sandi Toksvig hosts a nosey, noisy episode of QI with Aisling Bea, Corey Taylor, Ross Noble and Alan Davies. |
| 4 | 204 | Noble Rot | 2016-11-11 | 30 | Quiz show in which the aim is to be interesting. Sandi Toksvig considers some noteworthy noble rot with Jeremy Clarkson, Sara Pascoe, Jason Manford and Alan Davies. |
| 5 | 205 | Not Nearly | 2016-11-25 | 30 | Sandi Toksvig hosts the Not Nearly episode of QI with Gyles Brandreth, Victoria Coren Mitchell, Jimmy Carr and Alan Davies. |
| 6 | 206 | Night | 2016-12-02 | 30 | Sandi Toksvig has a night to remember with Noel Fielding, Holly Walsh, David Mitchell and Alan Davies. |
| 7 | 207 | Naked Truth | 2016-12-09 | 30 | Sandi Toksvig looks at the naked truth with Richard Osman, Lolly Adefope, Lee Mack and Alan Davies. |
| 8 | 208 | Non Sequiturs | 2016-12-16 | 30 | Sandi Toksvig looks at some non sequiturs with Miles Jupp, Deirdre O'Kane, Phill Jupitus and Alan Davies. |
| 9 | 209 | Noël | 2016-12-22 | 30 | Sandi Toksvig hosts the QI Christmas special with guests Josh Widdicombe, Susan Calman, Matt Lucas and Alan Davies. |
| 10 | 210 | Nature/Nurture | 2016-12-30 | 30 | Sandi Toksvig looks at nature and nurture with Ross Noble, Cariad Lloyd, David Baddiel and Alan Davies. |
| 11 | 211 | Nonsense | 2017-01-06 | 30 | Sandi Toksvig looks at nonsense with Holly Walsh, Nish Kumar, Phill Jupitus and Alan Davies. |
| 12 | 212 | Noodles | 2017-01-13 | 30 | Sandi Toksvig natters about noodles with Matt Lucas, Jerry Springer, Cariad Lloyd and Alan Davies. |
| 13 | 213 | Naval Navigation | 2017-01-20 | 30 | Sandi Toksvig considers some naval navigation matters with Johnny Vegas, Ronni Ancona, Jimmy Carr and Alan Davies. |
| 14 | 214 | Numbers | 2017-01-27 | 30 | Sandi Toksvig runs the numbers with Colin Lane, Sarah Millican, Noel Fielding and Alan Davies. |
| 15 | 215 | Next | 2017-02-03 | 30 | Sandi Toksvig hosts the 'Next' episode of QI with Lucy Porter, Frankie Boyle, Ross Noble and Alan Davies. |
| 16 | 216 | New | 2017-02-10 | 30 | Sandi Toksvig finds out what's new with Jo Brand, Clive Anderson, Jimmy Carr and Alan Davies. Contains some strong language. |
| 17 | 217 | VG: Part One | 2017-02-17 | 30 | A selection of the best moments from the N series of QI, hosted by Sandi Toksvig, with Alan Davies and their guests. |
| 18 | 218 | VG: Part Two | 2017-02-24 | 30 | Another selection of the best moments from the N series of QI, hosted by Sandi Toksvig, with Alan Davies and their guests. |
Season 15
| Episode No. | No. Overall | Title | Airdate | Runtime | Summary |
| --- | --- | --- | --- | --- | --- |
| 1 | 219 | Ologies | 2017-10-20 | 30 | In the first of the series, Sandi Toksvig sets out in search of Ologies and Odoxies and finds out how an amusement arcade helped to win the Cold War, meets a lizard with three eyes and much more besides. |
| 2 | 220 | Organisms | 2017-10-27 | 30 | Sandi Toksvig looks at multiple organisms. Where else are you going to meet the world's deadliest hunter, a photographer hidden inside an ox and a juggling otter, all in the same room? |
| 3 | 221 | Oceans | 2017-11-03 | 30 | Sandi Toksvig looks at the oceans. Tune in to hear one publisher's suggestion for a radical improvement to Moby Dick. |
| 4 | 222 | Over and Ova | 2017-11-10 | 30 | Sandi Toksvig looks at over and ova. Learn some tricks you can do with eggs, meet a flying pig and join in as the studio audience sings along with western film themes. With Bill Bailey, Jan Ravens, Grayson Perry and Alan Davies. |
| 5 | 223 | Odorous and Odious | 2017-11-24 | 30 | Sandi Toksvig considers all things odorous and odious. Why is the world's second-smelliest man so frustrated? Sandi has the answer. With Sally Phillips, Ross Noble, Nish Kumar and Alan Davies. |
| 6 | 224 | Odds and Ends | 2017-12-01 | 30 | Sandi Toksvig considers various odds and ends. With Romesh Ranganathan, Matt Lucas, Liza Tarbuck and Alan Davies. |
| 7 | 225 | Opposites | 2017-12-08 | 30 | Sandi Toksvig looks at opposites. Find out how to sort the sheep from the goats, discover the opposite of Tarzan, as well as meet the telescope that points straight through the Earth. With Sara Pascoe, Colin Lane, Jimmy Carr and Alan Davies. |
| 8 | 226 | Operations | 2017-12-15 | 30 | Sandi Toksvig looks at operations. If you've ever wondered how to turn a muffin into an offensive weapon, this is the show for you. With Bill Bailey, Katherine Ryan, Rhod Gilbert and Alan Davies. |
| 9 | 227 | O Christmas | 2017-12-26 | 30 | Sandi Toksvig hosts the QI Christmas special, with Jason Manford, Romesh Ranganathan, Holly Walsh and Alan Davies. Learn the best way to wrap an awkwardly shaped present and how to get wine stains out of the carpet. |
| 10 | 228 | Origins and Openings | 2018-01-05 | 30 | Sandi Toksvig looks into some origins and openings, with Josh Widdicombe, Susan Calman, Rich Hall and Alan Davies. Tune in to hear what Mr First thought of Mr Second, and much more. |
| 11 | 229 | Objects and Ornaments | 2018-01-12 | 30 | Sandi Toksvig looks at some objects and ornaments. Along the way, discover where you can find an actual UFO and meet the world's best-dressed crab. With Sarah Millican, Cariad Lloyd, Alice Levine and Alan Davies. |
| 12 | 230 | The Occult | 2018-01-19 | 30 | Sandi Toksvig looks into the occult. Ever wondered how a Hand of Glory can make you rich? Sandi has all the answers. With Aisling Bea, Russell Brand, Noel Fielding and Alan Davies. |
| 13 | 231 | Omnishambles | 2018-01-26 | 30 | Sandi Toksvig organises an omnishambles. Learn how to throw the two-handed javelin, meet the woman who never knew that she had won an Olympic gold medal, and much more besides. With Josh Widdicombe, Stephen K Amos, Cally Beaton and Alan Davies. |
| 14 | 232 | Oddballs | 2018-02-02 | 30 | Sandi Toksvig looks at some oddballs. Tune in for the odd ball games, but be sure to stay for the vegetarian goatsuckers - you won't regret it. With Jason Manford, Jimmy Carr, Victoria Coren Mitchell and Alan Davies. |
| 15 | 233 | Occupations and Offices | 2018-02-09 | 30 | Sandi Toksvig looks into occupations and offices with Deirdre O'Kane, Richard Osman, David Mitchell and Alan Davies. |
| 16 | 234 | Overseas | 2018-02-16 | 30 | Sandi Toksvig ventures overseas to find out about Allotment Annies, who keeps their brothers in a cage, and much else besides. With Bill Bailey, Colin Lane, Desiree Burch and Alan Davies. |
| 17 | 235 | VG: Part One | 2018-02-23 | 30 | A selection of the best moments from the O Series of QI, hosted by Sandi Toksvig with Alan Davies and their guests. |
| 18 | 236 | VG: Part Two | 2018-03-02 | 30 | Part 2 of 2. A selection of the best moments from the O series, in which host Sandi Toksvig posed regular panellist Alan Davies and numerous guest players a range of fiendishly difficult questions requiring innovative answers if they were to deliver points. Last in the series. |
Season 16
| Episode No. | No. Overall | Title | Airdate | Runtime | Summary |
| --- | --- | --- | --- | --- | --- |
| 1 | 237 | Panimals | 2018-09-10 | 30 | Sandi Toksvig looks at animals which start with a P with Alan Davies, Phill Jupitus, Danny Baker and Teri Hatcher. |
| 2 | 238 | Peril | 2018-09-17 | 30 | Sandi Toksvig looks at peril with Aisling Bea, Lee Mack, Jason Manford and Alan Davies. |
| 3 | 239 | Piecemeal | 2018-09-24 | 30 | Sandi Toksvig looks at some piecemeal topics with Alan Davies, Jimmy Carr, Gyles Brandreth and Sally Phillips. |
| 4 | 240 | Parts | 2018-10-01 | 30 | Sandi Toksvig looks at various parts with Sara Pascoe, Ed Balls, Johnny Vegas and regular panellist Alan Davies. |
| 5 | 241 | Public & Private | 2018-10-08 | 30 | Sandi Toksvig delves into the public and the private with Alan Davies, Victoria Coren Mitchell, Phill Jupitus and Bridget Christie. |
| 6 | 242 | Pictures | 2018-10-15 | 30 | Sandi Toksvig looks at pictures with Alan Davies, Hannah Gadsby, Noel Fielding and Joe Lycett. |
| 7 | 243 | Picnics | 2018-10-22 | 30 | Sandi has a picnic with Alan Davies, Romesh Ranganathan, Rachel Parris and Richard Osman. |
| 8 | 244 | Plants | 2018-10-29 | 30 | Sandi looks at plants with Alan Davies, Sara Pascoe, Stephen K. Amos and Jason Manford. |
| 9 | 245 | Pubs | 2018-12-18 | 30 | Sandi Toksvig has a Christmas knees-up in the pub with Alan Davies, Cariad Lloyd, Josh Widdicombe and Noel Fielding. |
| 10 | 246 | Pain & Punishment | 2019-01-11 | 30 | Sandi Toksvig considers pain and punishment with Jimmy Carr, Lee Mack, Alice Levine and Alan Davies. |
| 11 | 247 | Potpourri | 2019-01-18 | 30 | Sandi Toksvig looks at a pot pourri of topics with Phill Jupitus, Cally Beaton, Rhod Gilbert and Alan Davies. |
| 12 | 248 | Procrastination | 2019-01-25 | 30 | Sandi Toksvig finally gets round to a bit of procrastination with Aisling Bea, Holly Walsh, Nikki Bedi and Alan Davies. |
| 13 | 249 | Phenomenal | 2019-02-01 | 30 | Sandi Toksvig considers various phenomena with Alan Davies, Josh Widdicombe, Cariad Lloyd and Paul Sinha. |
| 14 | 250 | Pathology | 2019-02-08 | 30 | Sandi Toksvig looks at pathology with Sindhu Vee, Rhod Gilbert, Ed Byrne and Alan Davies. |
| 15 | 251 | Past Times | 2019-02-15 | 30 | Sandi Toksvig looks at the pastimes of past times with Alan Davies, Joe Lycett, Phil Wang and Ellie Taylor. |
| 16 | 252 | Post | 2019-02-22 | 30 | Sandi Toksvig opens the post with Alan Davies, Matt Lucas, Holly Walsh and Susan Calman. |
| 17 | 253 | VG: Part One | 2019-03-01 | 30 | A selection of the best moments from the 'P' series of QI, hosted by Sandi Toksvig with Alan Davies and their guests. |
| 18 | 254 | VG: Part Two | 2019-03-08 | 30 | Another selection of the best moments from Series P of QI, hosted by Sandi Toksvig with Alan Davies and their guests. |
Series Cast
| | | | |
| --- | --- | --- | --- |
| | Alan Davies | as Alan Davies | |
| | Stephen Fry | as Host | |
| | Sandi Toksvig | as Host | |
Series Crew
| | Position | Name |
| --- | --- | --- |
| | Executive Producer | Sally Debonnaire |
| | Creator | John Lloyd |
| | Executive Producer | Phil Clarke |
| | Executive Producer | Lorraine Heggessy |
Related News
TVMaze