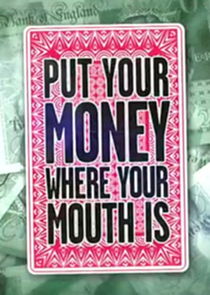 Two well-known experts from the world of antiques go head to head over a week of challenges, buying and selling collectibles to raise money for a charity of their choice.
Series Overview
Rating
imDb Rating: 7.2 (49 Votes)
Metascore: N/A
Plot
British antique experts compete by visiting car boot sales, auctions, foreign antiques markets to see who can resell and make most profit.
Details
Rated: N/A
Released: 10 Mar 2008
Runtime: N/A
Genre: Game-Show
Director: N/A
Writer: N/A
Actors: Stephen Taylor Woodrow
Language: English
Country: UK
Awards: N/A
Total Seasons: 12
Previous Episode
Eric Knowles v Ochuko Ojiri: Showdown
Episode 14x20; May 19, 2017
Antiques experts Eric Knowles and Ochuko Ojiri gallop towards the finish line at the showdown auction. With a ú1000 budget and four buying locations to spend it in, who will come out on top? Will Ochuko's wooden beetle fly at the auction? Will a job lot of broken crockery spell disaster for Eric? And who will take the Put Your Money crown when the hammer falls at the mighty Showdown auction?
Previous Episodes 14x20: Eric Knowles v Ochuko Ojiri: Showdown 14x19: Eric Knowles v Ochuko Ojiri: Car Boot Sale 14x18: Eric Knowles v Ochuko Ojiri: Auction 14x17: Eric Knowles v Ochuko Ojiri: French Antiques 14x16: Eric Knowles v Ochuko Ojiri: Antiques Fair 14x15: Kate Bliss v Caroline Hawley: Showdown 14x14: Kate Bliss v Caroline Hawley - UK Antiques Fair 14x13: Kate Bliss v Caroline Hawley - Foreign Antiques Market 14x12: Kate Bliss v Caroline Hawley: Auction

View All Episodes
Skip to:
Season 1
| Episode No. | No. Overall | Title | Airdate | Runtime | Summary |
| --- | --- | --- | --- | --- | --- |
| 1 | 1 | Tim Wonnacott v Jonty Hearnden | 2008-03-10 | 45 | |
| 2 | 2 | Eric Knowles v James Rylands | 2008-03-11 | 45 | |
| 3 | 3 | Lorne Spicer v Mark Franks | 2008-03-12 | 45 | |
| 4 | 4 | Paul Hayes v Kate Bliss | 2008-03-13 | 45 | |
| 5 | 5 | Dom Littlewood v David Harper | 2008-03-14 | 45 | |
| 6 | 6 | Martin Roberts | 2008-03-17 | 45 | |
| 7 | 7 | Kristian Digby | 2008-03-18 | 45 | |
| 8 | 8 | Lucy Alexander | 2008-03-19 | 45 | |
| 9 | 9 | Melissa Porter | 2008-03-20 | 45 | |
Season 2
| Episode No. | No. Overall | Title | Airdate | Runtime | Summary |
| --- | --- | --- | --- | --- | --- |
| 1 | 10 | Eric Knowles v Jonty Hearnden: Auction | 2008-10-06 | 45 | |
| 2 | 11 | Eric Knowles v Jonty Hearnden: Car Boot Sale | 2008-10-07 | 45 | |
| 3 | 12 | Eric Knowles v Jonty Hearnden: French Antiques Market | 2008-10-08 | 45 | |
| 4 | 13 | Eric Knowles v Jonty Hearnden: UK Antiques Market | 2008-10-09 | 45 | |
| 5 | 14 | Eric Knowles v Jonty Hearnden: Free for All | 2008-10-10 | 45 | |
| 6 | 15 | Mark Franks v Lorne Spicer: French Antiques Market | 2008-10-13 | 45 | |
| 7 | 16 | Mark Franks v Lorne Spicer: Car Boot Sale | 2008-10-14 | 45 | |
| 8 | 17 | Mark Franks v Lorne Spicer: Auction | 2008-10-15 | 45 | |
| 9 | 18 | Mark Franks v Lorne Spicer: UK Antiques Market | 2008-10-16 | 45 | |
| 10 | 19 | Mark Franks v Lorne Spicer: Free for All | 2008-10-17 | 45 | |
| 11 | 20 | Paul Hayes v Kate Bliss: Auction | 2008-10-20 | 45 | |
| 12 | 21 | Paul Hayes v Kate Bliss: Car Boot Sale | 2008-10-21 | 45 | |
| 13 | 22 | Paul Hayes v Kate Bliss: UK Antiques Market | 2008-10-22 | 45 | |
| 14 | 23 | Paul Hayes v Kate Bliss: Belgian Antiques Market | 2008-10-23 | 45 | |
| 15 | 24 | Paul Hayes v Kate Bliss: Free for All | 2008-10-24 | 45 | |
| 16 | 25 | Tim Wonnacott v David Harper: UK Antiques Market | 2008-10-27 | 45 | |
| 17 | 26 | Tim Wonnacott v David Harper: Car Boot Sale | 2008-10-28 | 45 | |
| 18 | 27 | Tim Wonnacott v David Harper: French Antiques Market | 2008-10-29 | 45 | |
| 19 | 28 | Tim Wonnacott v David Harper: Auction | 2008-10-30 | 45 | |
| 20 | 29 | Tim Wonnacott v David Harper: Free for All | 2008-10-31 | 45 | |
Season 3
| Episode No. | No. Overall | Title | Airdate | Runtime | Summary |
| --- | --- | --- | --- | --- | --- |
| 1 | 30 | Eric Knowles v Charlie Ross: Auction | 2010-05-10 | 45 | |
| 2 | 31 | Eric Knowles v Charlie Ross: Antiques | 2010-05-11 | 45 | |
| 3 | 32 | Eric Knowles v Charlie Ross: Car Boot Sale | 2010-05-12 | 45 | |
| 4 | 33 | Eric Knowles v Charlie Ross: Foreign Market | 2010-05-13 | 45 | |
| 5 | 34 | Eric Knowles v Charlie Ross: Showdown | 2010-05-14 | 45 | |
| 6 | 35 | Katherine Higgins v John Cameron: Auction | 2010-05-17 | 45 | |
| 7 | 36 | Katherine Higgins v John Cameron: Foreign Market | 2010-05-18 | 45 | |
| 8 | 37 | Katherine Higgins v John Cameron: UK Antiques Market | 2010-05-19 | 45 | |
| 9 | 38 | Katherine Higgins v John Cameron: Car Boot Sale | 2010-05-20 | 45 | |
| 10 | 39 | Katherine Higgins v John Cameron: Showdown | 2010-05-21 | 45 | |
| 11 | 40 | Curtis Dowling v James Lewis: Antiques Market | 2010-05-24 | 45 | |
| 12 | 41 | Curtis Dowling v James Lewis: Foreign Market | 2010-05-26 | 45 | |
| 13 | 42 | Curtis Dowling v James Lewis: Auction | 2010-05-27 | 45 | |
| 14 | 43 | Curtis Dowling v James Lewis: Car Boot | 2010-05-28 | 45 | |
| 15 | 44 | Curtis Dowling v James Lewis: Showdown | 2010-05-30 | 45 | |
| 16 | 45 | Kate Bliss v Jonty Hearnden: Auction | 2010-05-31 | 45 | |
| 17 | 46 | Kate Bliss v Jonty Hearnden: Foreign Market | 2010-06-01 | 45 | |
| 18 | 47 | Kate Bliss v Jonty Hearnden: UK Antiques Market | 2010-06-02 | 45 | |
| 19 | 48 | Kate Bliss v Jonty Hearnden: Car Boot | 2010-06-03 | 45 | |
| 20 | 49 | Kate Bliss v Jonty Hearnden: Showdown | 2010-06-04 | 45 | |
| 21 | 50 | Mark Franks vs Paul Hayes: Auction | 2010-06-07 | 45 | |
| 22 | 51 | Mark Franks vs Paul Hayes: Antiques Market | 2010-06-08 | 45 | |
| 23 | 52 | Mark Franks vs Paul Hayes: Foreign Market | 2010-06-09 | 45 | |
| 24 | 53 | Mark Franks v Paul Hayes: Car Boot | 2010-06-10 | 45 | |
| 25 | 54 | Mark Franks v Paul Hayes: Showdown | 2010-06-11 | 45 | |
| 26 | 55 | Philip Serrell v David Harper: UK Antiques Market | 2010-06-14 | 45 | |
| 27 | 56 | Philip Serrell v David Harper: Foreign Market | 2010-06-15 | 45 | |
| 28 | 57 | Philip Serrell v David Harper: Auction | 2010-06-16 | 45 | |
| 29 | 58 | Philip Serrell v David Harper: Car Boot | 2010-06-17 | 45 | |
| 30 | 59 | Philip Serrell v David Harper: Showdown | 2010-06-18 | 45 | |
Season 4
| Episode No. | No. Overall | Title | Airdate | Runtime | Summary |
| --- | --- | --- | --- | --- | --- |
| 1 | 60 | Eric Knowles v Philip Serrell: Foreign Market | 2011-02-14 | 45 | |
| 2 | 61 | Eric Knowles v Philip Serrell: Car Boot | 2011-02-15 | 45 | |
| 3 | 62 | Eric Knowles v Philip Serrell: Auction | 2011-02-16 | 45 | |
| 4 | 63 | Eric Knowles v Philip Serrell: UK Antiques | 2011-02-17 | 45 | |
| 5 | 64 | Eric Knowles v Philip Serrell: Showdown | 2011-02-18 | 45 | |
| 6 | 65 | Charlie Ross vs Paul Hayes: Auction | 2011-02-21 | 45 | |
| 7 | 66 | Charlie Ross vs Paul Hayes: Car Boot | 2011-02-22 | 45 | |
| 8 | 67 | Charlie Ross vs Paul Hayes: Foreign Market | 2011-02-23 | 45 | |
| 9 | 68 | Charlie Ross vs Paul Hayes: UK Antiques | 2011-02-24 | 45 | |
| 10 | 69 | Charlie Ross vs Paul Hayes: Showdown | 2011-02-25 | 45 | |
| 11 | 70 | Mark Franks vs David Harper: Foreign Market | 2011-02-28 | 45 | |
| 12 | 71 | Mark Franks vs David Harper: UK Antiques | 2011-03-01 | 45 | |
| 13 | 72 | Mark Franks vs David Harper: Auction | 2011-03-02 | 45 | |
| 14 | 73 | Mark Franks vs David Harper: Car Boot | 2011-03-03 | 45 | |
| 15 | 74 | Mark Franks vs David Harper: Showdown | 2011-03-04 | 45 | |
| 16 | 75 | Jonty Hearnden vs Mark Stacey: Auction | 2011-03-07 | 45 | |
| 17 | 76 | Jonty Hearnden vs Mark Stacey: UK Antiques | 2011-03-08 | 45 | |
| 18 | 77 | Jonty Hearnden vs Mark Stacey: Foreign Market | 2011-03-09 | 45 | |
| 19 | 78 | Jonty Hearnden vs Mark Stacey: Car Boot | 2011-03-10 | 45 | |
| 20 | 79 | Jonty Hearnden vs Mark Stacey: Showdown | 2011-03-11 | 45 | |
| 21 | 80 | James Lewis v John Cameron - Foreign Market | 2011-03-14 | 45 | |
| 22 | 81 | James Lewis v John Cameron - Car Boot | 2011-03-15 | 45 | |
| 23 | 82 | James Lewis v John Cameron - UK Antiques | 2011-03-16 | 45 | |
| 24 | 83 | James Lewis v John Cameron - Auction | 2011-03-17 | 45 | |
| 25 | 84 | James Lewis v John Cameron - Showdown | 2011-03-18 | 45 | |
| 26 | 85 | Kate Bliss v Curtis Dowling - Foreign Market | 2011-03-21 | 45 | |
| 27 | 86 | Kate Bliss v Curtis Dowling - Car Boot Sale | 2011-03-22 | 45 | |
| 28 | 87 | Kate Bliss v Curtis Dowling - UK Antiques | 2011-03-23 | 45 | |
| 29 | 88 | Kate Bliss v Curtis Dowling - Auction | 2011-03-24 | 45 | |
| 30 | 89 | Kate Bliss v Curtis Dowling - Showdown | 2011-03-25 | 45 | |
Season 5
| Episode No. | No. Overall | Title | Airdate | Runtime | Summary |
| --- | --- | --- | --- | --- | --- |
| 1 | 90 | Eric Knowles v Paul Hayes - Car Boot | 2012-01-02 | 45 | |
| 2 | 91 | Eric Knowles v Paul Hayes - Foreign Market | 2012-01-03 | 45 | |
| 3 | 92 | Eric Knowles v Paul Hayes - UK Antiques Fair | 2012-01-04 | 45 | |
| 4 | 93 | Eric Knowles v Paul Hayes - Auction | 2012-01-05 | 45 | |
| 5 | 94 | Eric Knowles v Paul Hayes - Showdown | 2012-01-06 | 45 | |
| 6 | 95 | James Lewis v Jonty Hearnden - Car Boot | 2012-01-09 | 45 | |
| 7 | 96 | James Lewis v Jonty Hearnden - UK Antiques Fair | 2012-01-10 | 45 | |
| 8 | 97 | James Lewis v Jonty Hearnden - Auction | 2012-01-11 | 45 | |
| 9 | 98 | James Lewis v Jonty Hearnden - Foreign Market | 2012-01-12 | 45 | |
| 10 | 99 | James Lewis v Jonty Hearnden - Showdown | 2012-01-13 | 45 | |
| 11 | 100 | Charlie Ross v Catherine Southon - Car boot | 2012-01-16 | 45 | |
| 12 | 101 | Charlie Ross v Catherine Southon - Auction | 2012-01-17 | 45 | |
| 13 | 102 | Charlie Ross v Catherine Southon - UK antiques fair | 2012-01-18 | 45 | |
| 14 | 103 | Charlie Ross v Catherine Southon - Foreign market | 2012-01-19 | 45 | |
| 15 | 104 | Charlie Ross v Catherine Southon - Showdown | 2012-01-20 | 45 | |
| 16 | 105 | John Cameron v Philip Serrell - Car Boot | 2012-01-23 | 45 | |
| 17 | 106 | John Cameron v Philip Serrell - Auction | 2012-01-24 | 45 | |
| 18 | 107 | John Cameron v Philip Serrell - Antiques Fair | 2012-01-25 | 45 | |
| 19 | 108 | John Cameron v Philip Serrell - Foreign Market | 2012-01-26 | 45 | |
| 20 | 109 | John Cameron v Philip Serrell - Showdown | 2012-01-27 | 45 | |
| 21 | 110 | Kate Bateman v Mark Stacey - Auction | 2012-01-30 | 45 | |
| 22 | 111 | Kate Bateman v Mark Stacey - UK Antiques Fair | 2012-01-31 | 45 | |
| 23 | 112 | Kate Bateman v Mark Stacey - Car Boot | 2012-02-01 | 45 | |
| 24 | 113 | Kate Bateman v Mark Stacey - Foreign Market | 2012-02-02 | 45 | |
| 25 | 114 | Kate Bateman v Mark Stacey - Showdown | 2012-02-03 | 45 | |
| 26 | 115 | James Braxton v David Harper - Car Boot | 2012-02-06 | 45 | |
| 27 | 116 | James Braxton v David Harper - Auction | 2012-02-07 | 45 | |
| 28 | 117 | James Braxton v David Harper - UK Antiques Fair | 2012-02-08 | 45 | |
| 29 | 118 | James Braxton v David Harper - Foreign Market | 2012-02-09 | 45 | |
| 30 | 119 | James Braxton v David Harper - Showdown | 2012-02-10 | 45 | |
Season 6
| Episode No. | No. Overall | Title | Airdate | Runtime | Summary |
| --- | --- | --- | --- | --- | --- |
| 1 | 120 | Paul Hayes v Philip Serrell - Car Boot | 2012-03-26 | 45 | |
| 2 | 121 | Paul Hayes v Philip Serrell - Foreign Market | 2012-03-27 | 45 | |
| 3 | 122 | Paul Hayes v Philip Serrell - Auction | 2012-03-28 | 45 | |
| 4 | 123 | Paul Hayes v Philip Serrell - UK Antiques Fair | 2012-03-29 | 45 | |
| 5 | 124 | Paul Hayes v Philip Serrell - Showdown | 2012-03-30 | 45 | |
| 6 | 125 | Mark Stacey v Mark Franks - Car Boot Sale | 2012-04-02 | 45 | |
| 7 | 126 | Mark Stacey v Mark Franks - Antiques Fair | 2012-04-03 | 45 | |
| 8 | 127 | Mark Stacey v Mark Franks - Auction | 2012-04-04 | 45 | |
| 9 | 128 | Mark Stacey v Mark Franks - Foreign Antiques Market | 2012-04-05 | 45 | |
| 10 | 129 | Mark Stacey v Mark Franks - Showdown | 2012-04-06 | 45 | |
| 11 | 130 | Charlie Ross v Katherine Higgins - Auction | 2012-04-09 | 45 | |
| 12 | 131 | Charlie Ross v Katherine Higgins - Antiques Fair | 2012-04-10 | 45 | |
| 13 | 132 | Charlie Ross v Katherine Higgins - Foreign Market | 2012-04-11 | 45 | |
| 14 | 133 | Charlie Ross v Katherine Higgins - Car Boot | 2012-04-12 | 45 | |
| 15 | 134 | Charlie Ross v Katherine Higgins - Showdown | 2012-04-13 | 45 | |
| 16 | 135 | Eric Knowles v John Cameron - Auction | 2012-04-16 | 45 | |
| 17 | 136 | Eric Knowles v John Cameron - Car Boot | 2012-04-17 | 45 | |
| 18 | 137 | Eric Knowles v John Cameron - Foreign Market | 2012-04-18 | 45 | |
| 19 | 138 | Eric Knowles v John Cameron - Antiques Fair | 2012-04-19 | 45 | |
| 20 | 139 | Eric Knowles v John Cameron - Showdown | 2012-04-20 | 45 | |
| 21 | 140 | Catherine Southon v Jonty Hearnden - Foreign Market | 2012-04-23 | 45 | |
| 22 | 141 | Catherine Southon v Jonty Hearnden - Car Boot | 2012-04-24 | 45 | |
| 23 | 142 | Catherine Southon v Jonty Hearnden - Antiques Fair | 2012-04-25 | 45 | |
| 24 | 143 | Catherine Southon v Jonty Hearnden - Auction | 2012-04-26 | 45 | |
| 25 | 144 | Catherine Southon v Jonty Hearnden - Showdown | 2012-04-27 | 45 | |
| 26 | 145 | James Lewis v David Harper - Antiques Fair | 2012-05-08 | 45 | |
| 27 | 146 | James Lewis v David Harper - Auction | 2012-05-09 | 45 | |
| 28 | 147 | James Lewis v David Harper - Car Boot | 2012-05-10 | 45 | |
| 29 | 148 | James Lewis v David Harper - Foreign Market | 2012-05-11 | 45 | |
| 30 | 149 | James Lewis v David Harper - Showdown | 2012-05-13 | 45 | |
Season 7
| Episode No. | No. Overall | Title | Airdate | Runtime | Summary |
| --- | --- | --- | --- | --- | --- |
| 1 | 150 | David Harper v Paul Hayes - Foreign Antiques Market | 2013-02-18 | 45 | |
| 2 | 151 | David Harper v Paul Hayes - UK Antiques Fair | 2013-02-19 | 45 | |
| 3 | 152 | David Harper v Paul Hayes - Auction | 2013-02-20 | 45 | |
| 4 | 153 | David Harper v Paul Hayes - Car Boot | 2013-02-21 | 45 | |
| 5 | 154 | David Harper v Paul Hayes - Showdown | 2013-02-22 | 45 | |
| 6 | 155 | Eric Knowles v James Braxton - UK Antiques Fair | 2013-02-25 | 45 | |
| 7 | 156 | Eric Knowles v James Braxton - Foreign Antiques Market | 2013-02-26 | 45 | |
| 8 | 157 | Eric Knowles v James Braxton - Car Boot | 2013-02-27 | 45 | |
| 9 | 158 | Eric Knowles v James Braxton - Auction | 2013-02-28 | 45 | |
| 10 | 159 | Eric Knowles v James Braxton - Showdown | 2013-03-01 | 45 | |
| 11 | 160 | Catherine Southon v Mark Stacey - UK Antiques Fair | 2013-03-04 | 45 | |
| 12 | 161 | Catherine Southon v Mark Stacey - Foreign Antiques Market | 2013-03-05 | 45 | |
| 13 | 162 | Catherine Southon v Mark Stacey - Auction | 2013-03-06 | 45 | |
| 14 | 163 | Catherine Southon v Mark Stacey - Car Boot | 2013-03-07 | 45 | |
| 15 | 164 | Catherine Southon v Mark Stacey - Showdown | 2013-03-08 | 45 | |
| 16 | 165 | James Lewis v Mark Franks - Foreign Antiques Market | 2013-05-20 | 45 | |
| 17 | 166 | James Lewis v Mark Franks - Antiques Fair | 2013-05-21 | 45 | |
| 18 | 167 | James Lewis v Mark Franks - Auction | 2013-05-22 | 45 | |
| 19 | 168 | James Lewis v Mark Franks - Car Boot | 2013-05-23 | 45 | |
| 20 | 169 | James Lewis v Mark Franks - Showdown | 2013-05-24 | 45 | |
| 21 | 170 | Jonty Hearnden v John Cameron - Auction | 2013-05-27 | 45 | |
| 22 | 171 | Jonty Hearnden v John Cameron - Car Boot | 2013-05-28 | 45 | |
| 23 | 172 | Jonty Hearnden v John Cameron - Foreign Antiques Market | 2013-05-29 | 45 | |
| 24 | 173 | Jonty Hearnden v John Cameron - UK Antiques Fair | 2013-05-30 | 45 | |
| 25 | 174 | Jonty Hearnden v John Cameron - Showdown | 2013-05-31 | 45 | |
| 26 | 175 | Christina Trevanion v Philip Serrell - UK Antiques Fair | 2013-06-03 | 45 | |
| 27 | 176 | Christina Trevanion v Philip Serrell - Car Boot | 2013-06-04 | 45 | |
| 28 | 177 | Christina Trevanion v Philip Serrell - Foreign Antiques Market | 2013-06-05 | 45 | |
| 29 | 178 | Christina Trevanion v Philip Serrell - Auction | 2013-06-06 | 45 | |
| 30 | 179 | Christina Trevanion v Philip Serrell - Showdown | 2013-06-07 | 45 | |
Season 8
| Episode No. | No. Overall | Title | Airdate | Runtime | Summary |
| --- | --- | --- | --- | --- | --- |
| 1 | 180 | Mark Franks v John Cameron - UK Antiques Fair | 2013-10-07 | 45 | |
| 2 | 181 | Mark Franks v John Cameron - Auction | 2013-10-08 | 45 | |
| 3 | 182 | Mark Franks v John Cameron - Car Boot | 2013-10-09 | 45 | |
| 4 | 183 | Mark Franks v John Cameron | 2013-10-10 | 45 | |
| 5 | 184 | Mark Franks v John Cameron - Showdown | 2013-10-11 | 45 | |
| 6 | 185 | Eric Knowles v Kate Bliss - Foreign Market | 2013-10-14 | 45 | |
| 7 | 186 | Eric Knowles v Kate Bliss - Car Boot | 2013-10-15 | 45 | |
| 8 | 187 | Eric Knowles v Kate Bliss - Auction | 2013-10-16 | 45 | |
| 9 | 188 | Eric Knowles v Kate Bliss - UK Antiques Fair | 2013-10-17 | 45 | |
| 10 | 189 | Eric Knowles v Kate Bliss - Showdown | 2013-10-18 | 45 | |
| 11 | 190 | James Lewis v James Braxton - Car Boot | 2013-10-21 | 45 | |
| 12 | 191 | James Lewis v James Braxton - UK Antiques Fair | 2013-10-22 | 45 | |
| 13 | 192 | James Lewis v James Braxton - Auction | 2013-10-23 | 45 | |
| 14 | 193 | James Lewis v James Braxton - Foreign Antiques Market | 2013-10-24 | 45 | |
| 15 | 194 | James Lewis v James Braxton - Showdown | 2013-10-25 | 45 | |
| 16 | 195 | Jonty Hearnden v Paul Hayes - Car Boot | 2013-10-28 | 45 | |
| 17 | 196 | Jonty Hearnden v Paul Hayes - Auction | 2013-10-29 | 45 | |
| 18 | 197 | Jonty Hearnden v Paul Hayes - UK Antiques Fair | 2013-10-30 | 45 | |
| 19 | 198 | Jonty Hearnden v Paul Hayes - Foreign Antiques Market | 2013-10-31 | 45 | |
| 20 | 199 | Jonty Hearnden v Paul Hayes - Showdown | 2013-11-01 | 45 | |
Season 9
| Episode No. | No. Overall | Title | Airdate | Runtime | Summary |
| --- | --- | --- | --- | --- | --- |
| 1 | 200 | Mark Franks v Philip Serrell - UK Antiques Fair | 2014-01-27 | 45 | |
| 2 | 201 | Mark Franks v Philip Serrell - Car Boot | 2014-01-28 | 45 | |
| 3 | 202 | Mark Franks v Philip Serrell - Auction | 2014-01-29 | 45 | |
| 4 | 203 | Mark Franks v Philip Serrell - Foreign Antiques Market | 2014-01-30 | 45 | |
| 5 | 204 | Mark Franks v Philip Serrell - Showdown | 2014-01-31 | 45 | |
| 6 | 205 | Eric Knowles v Catherine Southon - UK Antiques Fair | 2014-02-03 | 45 | |
| 7 | 206 | Eric Knowles v Catherine Southon - Car Boot | 2014-02-04 | 45 | |
| 8 | 207 | Eric Knowles v Catherine Southon - Auction | 2014-02-05 | 45 | |
| 9 | 208 | Eric Knowles v Catherine Southon - Foreign Antiques Market | 2014-02-06 | 45 | |
| 10 | 209 | Eric Knowles v Catherine Southon - Showdown | 2014-02-07 | 45 | |
| 11 | 210 | David Harper v Mark Stacey - UK Antiques Fair | 2014-02-10 | 45 | |
| 12 | 211 | David Harper v Mark Stacey - Foreign Antiques Market | 2014-02-11 | 45 | |
| 13 | 212 | David Harper v Mark Stacey - Car Boot | 2014-02-12 | 45 | |
| 14 | 213 | David Harper v Mark Stacey - Auction | 2014-02-13 | 45 | |
| 15 | 214 | David Harper v Mark Stacey - Showdown | 2014-02-14 | 45 | |
| 16 | 215 | Jonty Hearnden v Christina Trevanion - Auction | 2014-02-17 | 45 | |
| 17 | 216 | Jonty Hearnden v Christina Trevanion - UK Antiques Fair | 2014-02-18 | 45 | |
| 18 | 217 | Jonty Hearnden v Christina Trevanion - Foreign Antiques Market | 2014-02-19 | 45 | |
| 19 | 218 | Jonty Hearnden v Christina Trevanion - Car Boot | 2014-02-20 | 45 | |
| 20 | 219 | Jonty Hearnden v Christina Trevanion - Showdown | 2014-02-21 | 45 | |
Season 10
| Episode No. | No. Overall | Title | Airdate | Runtime | Summary |
| --- | --- | --- | --- | --- | --- |
| 1 | 220 | David Harper v Christina Trevanion - UK Antiques Fair | 2014-10-20 | 45 | |
| 2 | 221 | David Harper v Christina Trevanion - Auction | 2014-10-21 | 45 | |
| 3 | 222 | David Harper v Christina Trevanion - Foreign Antiques Market | 2014-10-22 | 45 | |
| 4 | 223 | David Harper v Christina Trevanion - Car Boot | 2014-10-23 | 45 | |
| 5 | 224 | David Harper v Christina Trevanion - Showdown | 2014-10-24 | 45 | |
| 6 | 225 | Eric Knowles v Will Axon - Car Boot | 2014-10-27 | 45 | |
| 7 | 226 | Eric Knowles v Will Axon - UK Antiques Fair | 2014-10-28 | 45 | |
| 8 | 227 | Eric Knowles v Will Axon - Foreign Antiques Market | 2014-10-29 | 45 | |
| 9 | 228 | Eric Knowles v Will Axon - Auction | 2014-10-30 | 45 | |
| 10 | 229 | Eric Knowles v Will Axon - Showdown | 2014-10-31 | 45 | |
| 11 | 230 | Jonty Hearnden v James Braxton - Foreign Antiques Market | 2014-11-03 | 45 | |
| 12 | 231 | Jonty Hearnden v James Braxton - Auction | 2014-11-04 | 45 | |
| 13 | 232 | Jonty Hearnden v James Braxton - UK Antiques Fair | 2014-11-05 | 45 | |
| 14 | 233 | Jonty Hearnden v James Braxton - Car Boot | 2014-11-06 | 45 | |
| 15 | 234 | Jonty Hearnden v James Braxton - Showdown | 2014-11-07 | 45 | |
| 16 | 235 | Kate Bliss v John Cameron - Foreign Antiques Market | 2014-11-10 | 45 | |
| 17 | 236 | Kate Bliss v John Cameron - Auction | 2014-11-11 | 45 | |
| 18 | 237 | Kate Bliss v John Cameron - Car Boot | 2014-11-12 | 45 | |
| 19 | 238 | Kate Bliss v John Cameron - UK Antiques Fair | 2014-11-13 | 45 | |
| 20 | 239 | Kate Bliss v John Cameron - Showdown | 2014-11-14 | 45 | |
Season 11
| Episode No. | No. Overall | Title | Airdate | Runtime | Summary |
| --- | --- | --- | --- | --- | --- |
| 1 | 240 | Phil Serrell v Kate Bliss - Auction | 2015-02-16 | 45 | |
| 2 | 241 | Phil Serrell v Kate Bliss - Car Boot | 2015-02-17 | 45 | |
| 3 | 242 | Phil Serrell v Kate Bliss - Foreign Market | 2015-02-18 | 45 | |
| 4 | 243 | Phil Serrell v Kate Bliss - UK Antiques Fair | 2015-02-19 | 45 | |
| 5 | 244 | Phil Serrell v Kate Bliss - Showdown | 2015-02-20 | 45 | |
| 6 | 245 | Will Axon v Paul Hayes - Auction | 2015-02-23 | 45 | |
| 7 | 246 | Will Axon v Paul Hayes - Car Boot | 2015-02-24 | 45 | |
| 8 | 247 | Will Axon v Paul Hayes - Foreign Market | 2015-02-25 | 45 | |
| 9 | 248 | Will Axon v Paul Hayes - UK Antiques Fair | 2015-02-26 | 45 | |
| 10 | 249 | Will Axon v Paul Hayes - Showdown | 2015-02-27 | 45 | |
| 11 | 250 | James Braxton v Catherine Southon - Foreign Market | 2015-03-02 | 45 | |
| 12 | 251 | James Braxton v Catherine Southon - Car Boot | 2015-03-03 | 45 | |
| 13 | 252 | James Braxton v Catherine Southon - Auction | 2015-03-04 | 45 | |
| 14 | 253 | James Braxton v Catherine Southon - UK Antiques Fair | 2015-03-05 | 45 | |
| 15 | 254 | James Braxton v Catherine Southon - Showdown | 2015-03-06 | 45 | |
| 16 | 255 | Caroline Hawley v David Harper - Car Boot | 2015-03-09 | 45 | |
| 17 | 256 | Caroline Hawley v David Harper - Auction | 2015-03-10 | 45 | |
| 18 | 257 | Caroline Hawley v David Harper - Foreign Market | 2015-03-11 | 45 | |
| 19 | 258 | Caroline Hawley v David Harper - UK Antiques Fair | 2015-03-12 | 45 | |
| 20 | 259 | Caroline Hawley v David Harper - Showdown | 2015-03-13 | 45 | |
Season 12
| Episode No. | No. Overall | Title | Airdate | Runtime | Summary |
| --- | --- | --- | --- | --- | --- |
| 1 | 260 | Katherine Higgins v Phil Serrell - Foreign Antiques Market | 2015-07-20 | 45 | |
| 2 | 261 | Katherine Higgins v Phil Serrell - Auction | 2015-07-21 | 45 | |
| 3 | 262 | Katherine Higgins v Phil Serrell - UK Antiques Fair | 2015-07-22 | 45 | |
| 4 | 263 | Katherine Higgins v Phil Serrell - Car Boot | 2015-07-23 | 45 | |
| 5 | 264 | Katherine Higgins v Phil Serrell - Showdown | 2015-07-24 | 45 | |
| 6 | 265 | Danny Sebastian v James Braxton - Foreign Antiques Market | 2015-07-27 | 45 | |
| 7 | 266 | Danny Sebastian v James Braxton - UK Antiques Fair | 2015-07-28 | 45 | |
| 8 | 267 | Danny Sebastian v James Braxton - Auction | 2015-07-29 | 45 | |
| 9 | 268 | Danny Sebastian v James Braxton - Car Boot | 2015-07-30 | 45 | |
| 10 | 269 | Danny Sebastian v James Braxton - Showdown | 2015-07-31 | 45 | |
Series Cast
| | | | |
| --- | --- | --- | --- |
| | Stephen Taylor Woodrow | as Narrator | |
Related News
TVMaze