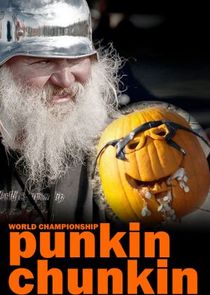 Engineers, back-yard tinkerers and various other catapult aficionados meet once a year in Delaware for the World Championship Punkin Chunkin catapulting competition.
Previous Episode
Punkin Chunkin 2016
Episode 1x8; Nov 26, 2016
Projectile pumpkins take over the sky as PUNKIN CHUNKIN returns to Science Channel with a three hour simulcast with Discovery Channel – that's more primetime gourd-chunkin hours than ever before! Punkin Chunkin is the epic gathering of unconventional engineering teams and builders who compete using a variety of technologies - air cannons, catapults, trebuchets and other homemade contraptions - to see who can propel a pumpkin the farthest. This signature Science Channel television event celebrates the science and engineering skills of all those who compete, as well as their creativity, ingenuity, teamwork, and passion. PUNKIN CHUNKINreturns in all its glory after a two-year absence as a simulcast on Science Channel and Discovery Channel Saturday, Nov. 26 at 8PM.
Previous Episodes 1x8: Punkin Chunkin 2016 1x7: Punkin Chunkin All-Stars 2015 1x6: Punkin Chunkin: Superchunk! 2014 1x5: Punkin Chunkin 2013 1x4: Punkin Chunkin 2012 1x3: Punkin Chunkin 2011 1x2: Punkin Chunkin 2010 1x1: Punkin Chunkin 2009

View All Episodes
Related News
The top 10 most ridiculous names of sporting events and tournaments
USA TODAY, Scott Gleeson, USA TODAY (USA Today)
With tradition and sponsorship dollars aplenty in the sports world, events and tournaments have taken on some weird and funny names over the years.
Article preview:
With tradition and sponsorship dollars aplenty in the sports world, events and tournaments have taken on some weird and funny names over the years. USA TODAY Sports ranks 10 of the best ones currently:  1. Tropical Smoothie Cafe Frisco Bowl. The smoothie co… [+2081 chars]
TVMaze