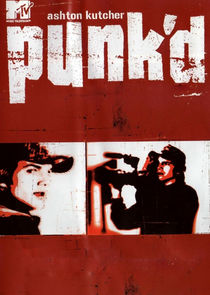 What happens when the biggest stars in the world get too high on the Hollywood hog? When their bank accounts start swelling bigger than their heads? Master prankster Ashton Kutcher is there to PUNK 'em down to earth. It's a reality show with a twist as Asthon makes superstars suffer for your viewing pleasure. To misquote the acclaimed thespian Steven Seagal: "You guys think you're above the law…but you ain't above ours."
Series Overview
Rating
imDb Rating: 5.9 (7,518 Votes)
Metascore: N/A
Plot
A Hidden Camera Show similar to Candid Camera but famous celebrities are the victims. Each week Ashton and his crew of pranksters play a joke on celebrities such as Justin Timberlake and Frankie Muniz.
Details
Rated: N/A
Released: 17 Mar 2003
Runtime: 30 min
Genre: Comedy, Reality-TV
Director: N/A
Writer: Jason Goldberg, Ashton Kutcher
Actors: Ashton Kutcher
Language: English
Country: USA
Awards: 9 wins & 5 nominations.
Total Seasons: 10
Previous Episode
Mac Miller (Wiz Khalifa, Darrelle Revis, Neil Patrick Harris)
Episode 9x12; Jun 07, 2012
Previous Episodes 9x12: Mac Miller (Wiz Khalifa, Darrelle Revis, Neil Patrick Harris) 9x11: Ashton Kutcher (Kim Kardashian, Drake) 9x10: Kellan Lutz (Julianne Hough, Ashley Rickards, Aimee Teegarden) 9x9: Heather Morris (Joe Jonas, Cody Simpson, Emma Roberts) 9x8: Miley Cyrus (Liam Hemsworth, Kelly Osbourne, Khloé Kardashian Odom) 9x7: Dax Shepard (Chloë Grace Moretz, Metta World Peace, Lauren Conrad) 9x6: Nick Cannon (Ashley Tisdale, Demi Lovato, New Boyz) 9x5: Lucy Hale (Ian Harding, Vanessa Hudgens, Josh Hutcherson) 9x4: Tyler The Creator (Shenae Grimes, Scott Disick, The Wanted)

View All Episodes
Cast
Jon Huck as Field Agent
Vince Green as Field Agent
R. Brandon Johnson as Field Agent
Dax Shepard as Field Agent
Ahmed Ahmed as Field Agent
Joe Hursley as Field Agent
View Full Cast
Skip to:
Season 1
| Episode No. | No. Overall | Title | Airdate | Runtime | Summary |
| --- | --- | --- | --- | --- | --- |
| 1 | 1 | Frankie Muniz, Justin Timberlake | 2003-03-17 | 30 | |
| 2 | 2 | Eliza Dushku, Mandy Moore | 2003-03-24 | 30 | |
| 3 | 3 | Jessica Alba, Wilmer Valderrama | 2003-03-31 | 30 | |
| 4 | 4 | More of the Red Carpet, Kelly Osbourne | 2003-04-07 | 30 | |
| 5 | 5 | Kevin Richardson and Trishelle, Seth Green | 2003-04-14 | 30 | |
| 6 | 6 | Jessica Biel, Nick Lachey | 2003-04-21 | 30 | |
| 7 | 7 | Jack Osbourne, Wee Man, Pink, Stephen Dorff | 2003-04-28 | 30 | |
| 8 | 8 | Rosario Dawson, Britney Spears | 2003-05-05 | 30 | |
Season 2
| Episode No. | No. Overall | Title | Airdate | Runtime | Summary |
| --- | --- | --- | --- | --- | --- |
| 1 | 9 | Missy Elliott, Hilary Duff, Usher | 2003-10-26 | 30 | |
| 2 | 10 | Nick Carter, Tommy Lee, Li'l Bow Wow | 2003-11-02 | 30 | |
| 3 | 11 | Mya, Katie Holmes, Tracy Morgan | 2003-11-09 | 30 | |
| 4 | 12 | Lara Flynn Boyle, Ashanti, Omarion | 2003-11-16 | 30 | |
| 5 | 13 | Taye Diggs, Rachel Leigh Cook, Halle Berry | 2003-11-23 | 30 | |
| 6 | 14 | Travis Barker, Jaime Pressly, Red Carpet Interviews | 2003-11-30 | 30 | |
| 7 | 15 | Dave Mirra, OutKast, Amber Tamblyn | 2003-12-07 | 30 | |
| 8 | 16 | Lindsay Lohan, Beyoncé, Goldberg | 2003-12-14 | 30 | |
Season 3
| Episode No. | No. Overall | Title | Airdate | Runtime | Summary |
| --- | --- | --- | --- | --- | --- |
| 1 | 17 | Eve, Matthew Perry, Adam Brody | 2004-04-25 | 30 | |
| 2 | 18 | Vivica Fox and Tisha Campbell, Chris Klein, Jeremy Sisto | 2004-05-02 | 30 | |
| 3 | 19 | Julia Stiles, The Rock, Kaley Cuoco | 2004-05-09 | 30 | |
| 4 | 20 | Jennifer Love Hewitt, Evan Rachel Wood, Warren Sapp | 2004-05-16 | 30 | |
| 5 | 21 | Ashton Kutcher, Carmen and Dave, Tara Reid | 2004-05-23 | 30 | |
| 6 | 22 | COPS: Mike Shinoda, Brandy, Mekhi Phifer | 2004-05-30 | 30 | |
| 7 | 23 | Jena Malone, Shannon Elizabeth, Carmelo Anthony | 2004-06-06 | 30 | |
| 8 | 24 | Tyra Banks, Kanye West, Good Charlotte | 2004-06-13 | 30 | |
Season 4
| Episode No. | No. Overall | Title | Airdate | Runtime | Summary |
| --- | --- | --- | --- | --- | --- |
| 1 | 25 | Salma Hayek, Eva Longoria, Mario | 2005-03-06 | 30 | |
| 2 | 26 | Jesse Metcalfe, Kirsten Dunst, Michelle Rodriguez | 2005-03-13 | 30 | |
| 3 | 27 | Zoe Saldana, Serena Williams, Zach Braff | 2005-03-20 | 30 | |
| 4 | 28 | Jadakiss, Rachel Bilson, Dirk Nowitzki | 2005-03-27 | 30 | |
| 5 | 29 | Marques Houston, Andy Roddick, Jamie-Lynn DiScala | 2005-04-03 | 30 | |
| 6 | 30 | Chingy, Jon Heder, Joss Stone | 2005-04-10 | 30 | |
| 7 | 31 | Ciara, Vanessa Carlton, Nicole Richie | 2005-04-17 | 30 | |
| 8 | 32 | Bizarre, Ashlee Simpson, Stone Cold Steve Austin | 2005-04-24 | 30 | |
Season 5
| Episode No. | No. Overall | Title | Airdate | Runtime | Summary |
| --- | --- | --- | --- | --- | --- |
| 1 | 33 | The Game, Simon Cowell, Raven | 2005-06-26 | 30 | |
| 2 | 34 | Allen Iverson, Jermaine O'Neal, George Lopez, Tyrese | 2005-07-03 | 30 | |
| 3 | 35 | Tony Hawk, Jesse McCartney, Brittany Snow | 2005-07-10 | 30 | |
| 4 | 36 | Thora Birch, T.I., Sofia Vergara | 2005-07-17 | 30 | |
| 5 | 37 | Benjamin Mckenzie, Jason Bateman, Akon | 2005-07-24 | 30 | |
| 6 | 38 | Adrien Brody, Mila Kunis, Lisa Leslie | 2005-07-31 | 30 | |
| 7 | 39 | Ja Rule, Ryan Cabrera, Laura Prepon | 2005-08-07 | 30 | |
| 8 | 40 | Shaquille O' Neal, Avril Lavigne, Triple H | 2005-08-14 | 30 | |
Season 6
| Episode No. | No. Overall | Title | Airdate | Runtime | Summary |
| --- | --- | --- | --- | --- | --- |
| 1 | 41 | Bernie Mac, Ying Yang Twins, Mischa Barton | 2005-10-30 | 30 | |
| 2 | 42 | Daddy Yankee, Kelly Monaco, Sophia Bush | 2005-11-06 | 30 | |
| 3 | 43 | David Boreanaz, Kristin Cavalleri, Terrell Owens | 2005-11-13 | 30 | |
| 4 | 44 | Kristin Bell, Bam Margera, Amber Valletta | 2005-11-20 | 30 | |
| 5 | 45 | Neve Campbell, Mike Jones, Danny Masterson | 2005-11-27 | 30 | |
| 6 | 46 | Ellen Pompeo, Shaun White, Venus Williams | 2005-12-04 | 30 | |
| 7 | 47 | Justin Long, Macy Gray, D. J. Qualls | 2005-12-11 | 30 | |
| 8 | 48 | Sean Paul, Pete Wentz, Baby Blue | 2005-12-18 | 30 | |
Season 7
| Episode No. | No. Overall | Title | Airdate | Runtime | Summary |
| --- | --- | --- | --- | --- | --- |
| 1 | 49 | Rob Thomas, Ashley Parker Angel, Kate Beckinsale | 2006-04-03 | 30 | |
| 2 | 50 | Doug Robb, Ne-Yo, Stephen Colletti | 2006-04-10 | 30 | |
| 3 | 51 | Three 6 Mofia, Stacy Keibler, Elisha Cuthbert | 2006-04-17 | 30 | |
| 4 | 52 | Chris Brown, Sonny Sandoval, E-40 | 2006-04-24 | 30 | |
| 5 | 53 | Matt Leinhart, Elijah Wood, Olivia Wilde | 2006-05-01 | 30 | |
| 6 | 54 | Nicollette Sheridan, Michelle Trachtenberg | 2006-05-08 | 30 | |
| 7 | 55 | Emma Roberts, Sugar Ray Leonard, Hannah Teter | 2006-05-15 | 30 | |
| 8 | 56 | Eric Dill, Rihanna, Hugh Jackman | 2006-05-22 | 30 | |
Season 8
| Episode No. | No. Overall | Title | Airdate | Runtime | Summary |
| --- | --- | --- | --- | --- | --- |
| 1 | 57 | Bucky Lasik, Nelly Furtado, Hayden Panettiere | 2007-04-07 | 30 | |
| 2 | 58 | Hilary Swank, Ashley Tisdale, Chamillionaire | 2007-04-07 | 30 | |
| 3 | 59 | Evangeline Lilly, Chuck Liddell, Zac Efron | 2007-04-07 | 30 | |
| 4 | 60 | Freddy Rodríguez, Molly Sims, Magic Johnson | 2007-04-07 | 30 | |
| 5 | 61 | Meagan Good, Jewel, Frankie J | 2007-04-07 | 30 | |
| 6 | 62 | Jojo, Kelly Rowland, Jason Ritter | 2007-04-07 | 30 | |
| 7 | 63 | Pitbull, Too $hort, Kelis | 2007-04-07 | 30 | |
| 8 | 64 | Aly & AJ, John Cena, Kerr Smith | 2007-04-07 | 30 | |
Season 9
| Episode No. | No. Overall | Title | Airdate | Runtime | Summary |
| --- | --- | --- | --- | --- | --- |
| 1 | 65 | Justin Bieber (Taylor Swift, Rob Dyrdek, Sean Kingston, Miley Cyrus) | 2012-03-29 | 30 | |
| 2 | 66 | Bam Margera (Tyler The Creator, Ronnie Ortiz-Magro, Tyler Posey) | 2012-04-05 | 30 | |
| 3 | 67 | Hayden Panettiere (Dianna Agron, Zac Efron, Nicole "Snooki" Polizzi) | 2012-04-12 | 30 | |
| 4 | 68 | Tyler The Creator (Shenae Grimes, Scott Disick, The Wanted) | 2012-04-19 | 30 | |
| 5 | 69 | Lucy Hale (Ian Harding, Vanessa Hudgens, Josh Hutcherson) | 2012-04-26 | 30 | |
| 6 | 70 | Nick Cannon (Ashley Tisdale, Demi Lovato, New Boyz) | 2012-05-03 | 30 | |
| 7 | 71 | Dax Shepard (Chloë Grace Moretz, Metta World Peace, Lauren Conrad) | 2012-05-10 | 30 | |
| 8 | 72 | Miley Cyrus (Liam Hemsworth, Kelly Osbourne, Khloé Kardashian Odom) | 2012-05-17 | 30 | |
| 9 | 73 | Heather Morris (Joe Jonas, Cody Simpson, Emma Roberts) | 2012-05-24 | 30 | |
| 10 | 74 | Kellan Lutz (Julianne Hough, Ashley Rickards, Aimee Teegarden) | 2012-05-31 | 30 | |
| 11 | 75 | Ashton Kutcher (Kim Kardashian, Drake) | 2012-06-03 | 30 | |
| 12 | 76 | Mac Miller (Wiz Khalifa, Darrelle Revis, Neil Patrick Harris) | 2012-06-07 | 30 | |
Season 10
| Episode No. | No. Overall | Title | Airdate | Runtime | Summary |
| --- | --- | --- | --- | --- | --- |
Series Cast
| | | | |
| --- | --- | --- | --- |
| | Jon Huck | as Field Agent | |
| | Vince Green | as Field Agent | |
| | R. Brandon Johnson | as Field Agent | |
| | Dax Shepard | as Field Agent | |
| | Ahmed Ahmed | as Field Agent | |
| | Joe Hursley | as Field Agent | |
| | Matt Wheeler | as Field Agent | |
| | Whitney Cummings | as Field Agent | |
| | Jordan Black | as Field Agent | |
| | Ashton Kutcher | as Host | |
| | Ashton Kutcher | as Prankster | |
| | Johanna Black | as Field Agent | |
| | Ryan Pinkston | as Field Agent | |
| | B.J. Novak | as Field Agent | |
| | Jill Wagner | as Field Agent | |
| | Will Matthews | as Field Agent | |
Series Crew
| | Position | Name |
| --- | --- | --- |
| | Creator | Ashton Kutcher |
| | Executive Producer | Ashton Kutcher |
| | Creator | Jason Goldberg |
| | Executive Producer | Jason Goldberg |
| | Executive Producer | Billy Rainey |
| | Executive Producer | Rod Aissa |
| | Executive Producer | David Franzke |
| | Executive Producer | Lois Curren |
| | Executive Producer | Gary Auerbach |
| | Supervising Producer | Selene Hinojosa |
| | Associate Producer | Kim Loughery |
| | Co-Executive Producer | Patrick Byrnes |
Related News
TVMaze