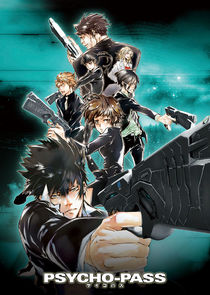 Welcome to a world where just thinking about a crime is enough to enough to make you guilty. Bad intentions can no longer be hidden, and the police know exactly which tainted minds are about to cross over to the wrong side of the law. The great equalizer in the war on thugs is the Dominator, a futuristic weapon that can read minds and assess the risk that a citizen will turn criminal. Cops work in teams made up of Enforcers and Inspectors. Enforcers take out the bad guys, Inspectors stop their partners from going rogue, and the all-powerful Sibyl System keeps a watchful eye on us all. Society is paralyzed by its deepest, darkest desires, and trial by jury has been replaced by the wrath of the Dominator. Welcome to the future. How guilty are you?
Series Overview
Rating
imDb Rating: 8.2 (12,931 Votes)
Metascore: N/A
Plot
Believing in humanity and order, policewoman Akane Tsunemori obeys the ruling, computerized, precognitive Sibyl System. But when she faces a criminal mastermind who can elude this "perfect" system, she questions both Sibyl and herself.
Details
Rated: TV-MA
Released: 01 Oct 2012
Runtime: 25 min
Genre: Animation, Action, Crime, Mystery, Sci-Fi, Thriller
Director: N/A
Writer: Tow Ubukata
Actors: Kana Hanazawa, Robert McCollum, Kate Oxley, Tomokazu Seki
Language: English, Japanese
Country: Japan
Awards: 1 win & 3 nominations.
Total Seasons: 2
Previous Episode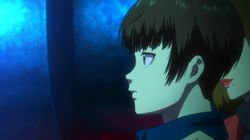 What Color?
Episode 2x11; Dec 18, 2014
Akane subdues Togane before Kamui can shoot him, stating that even though she has lost many people close to her, she is still determined to protect the law. She leads Kamui to Sibyl, where they are confronted by Kasei. Asking Sibyl to reveal its true color, Kamui manages to expose Kasei/Misako Togane's Crime Coefficient and executes her. Akane leads Kamui to Sibyl's true form, where Sibyl acknowledges Kamui's existence and authorizes a collective Psycho-Pass, destroying some of its own brains to lower its own Crime Coefficient, before Akane arrests Kamui. Meanwhile, Shisui, pushed into a corner, attempts to set off the bombs but is stopped just in time by a long range paralyzer shot. Akane is instructed by Sybil to execute Kamui, and is once again confronted by Togane, who taunts her with Aoi's death to raise her Crime Coefficient. Kamui calms Akane down before sacrificing himself in order to shoot Togane. Togane flees, but dies from his injuries after being found by Mika, who couldn't bring herself to execute him and keeps the secret of her betrayal to herself.
Previous Episodes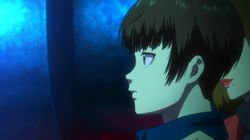 2x11: What Color?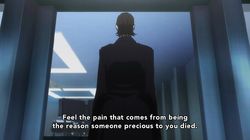 2x10: Gauging the Soul


2x9: Omnipotence Paradox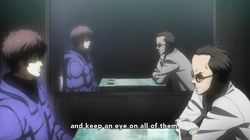 2x8: Conception of the Oracle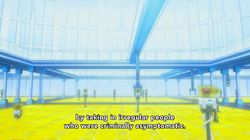 2x7: Untraceable Children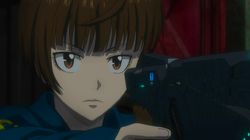 2x6: Those Who Cast Stones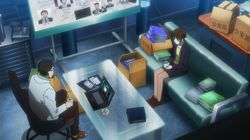 2x5: Unforbidden Games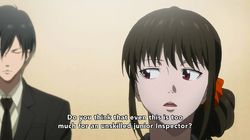 2x4: The Salvation of Job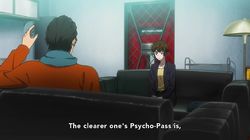 2x3: The Devil`s Proof

View All Episodes
Cast
Kana Hanazawa as Akane Tsunemori
Tomokazu Seki as Shinya Kōgami
Miyuki Sawashiro as Shion Karanomori
Katsumi Chou as Toyohisa Senguji
Kenji Nojima as Nobuchika Ginoza
Kinryu Arimoto as Tomomi Masaoka
View Full Cast
Recent News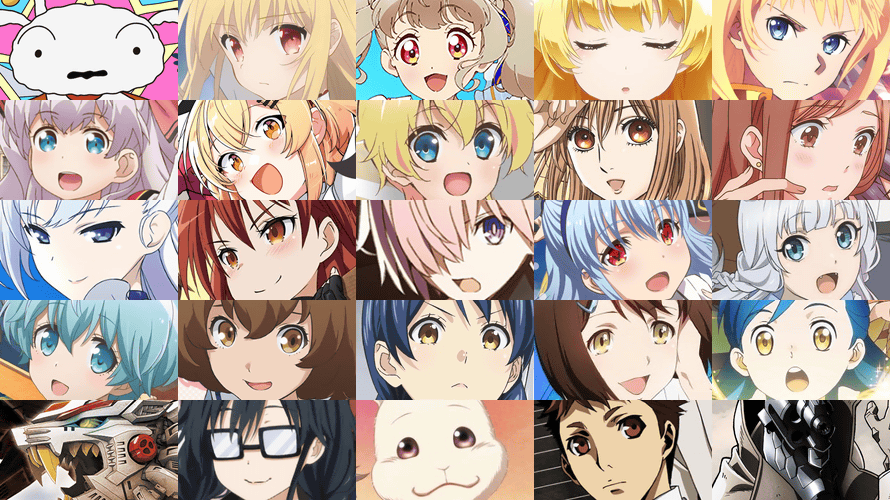 2019年秋開始の新作アニメ一覧
2019年秋の番組改編期が近づいてきました。前年同期の2018年秋が60本、前期・2019年夏が40本強ときて、今回も50本強と、なかなかの本数です。地上波放送と同時の配信や、放送に先駆けて配信される作品も出てきてはいますが、一方で1つのサービスでの独占配信作品や、そもそもネット配信が予定されていないという作品もあり、時間的制約とともに、環境的制約で見られない作品も少なからず出てきます。好みの作品を見逃さないように、以下のリストをうまく活用してもらえれば幸いです。 続きを読む...
via NewsAPI
View More Related News
Skip to:
Season 1
| Episode No. | No. Overall | Title | Airdate | Runtime | Summary |
| --- | --- | --- | --- | --- | --- |
| 1 | 1 | Criminal Coefficient | 2012-10-12 | 25 | On her first day as the new Inspector of Unit One, Inspector Akane Tsunemori has been assigned to handle a hostage situation: a man named Nobuo Okura whose Crime Coefficient has determined he is likely to commit a crime and is confirmed when he kidnaps an innocent woman. While looking for him, Akane learns about the nature of the Dominator, and the relationship between Enforcers and Inspectors. Enforcer Shuusei Kagari finds Okura, but a weapons malfunction gives him away. Okura flees, and Unit One pursues him. After Enforcer Shinya Kogami disposes of Okura, the unit learns that the hostage's Crime Coefficient has risen to a high level. Before Kogami can execute her, Akane stops him with the Dominator's paralyzer. In the end, Akane manages to calm the woman down, letting her Crime Coefficient reduce to the point where she can be paralyzed and taken away; while Akane must explain her actions in a report to her superiors. |
| 2 | 2 | Those Capable | 2012-10-19 | 25 | Kogami remains hospitalized as he recovers from the Dominator-enforced paralysis; Akane begins a normal work day after meeting with friends and checks on his condition. Enforcer Tomomi Masaoka teams up with Akane to take out a threat in the mall, and after they return, Akane shares a meal and some revealing conversation with Kagari. Later, she greets Kogami, who reinforces her belief she made the right call during the hostage situation; she turns in her report with no regrets. |
| 3 | 3 | Raising Manners | 2012-10-26 | 25 | Unit One is called to a drone plant to investigate another dismembering incident. Inspector Nobuchika Ginoza and Masaoka have a heated disagreement; when Akane questions Ginoza, he tells her she is a fool to treat the Enforcers as a colleague rather than a handler. The manager of the plant swears the dismembering is an accident, but Unit One thinks otherwise; they notice a plant worker being bullied by the others. Without the Sibyl System, they have no way of identifying the killer, but the Enforcers cook up a wild plan that terrifies Akane - and nevertheless succeeds. |
| 4 | 4 | Nobody Knows Your Mask | 2012-11-02 | 25 | Unit One attempts to find the culprit behind the murder of a man known online as the popular avatar "Talisman", now controlled by his killer. Akane, with the help of the avatar "Spooky Boogie", infiltrates a CommuField gathering to expose the murderer, but the ploy goes awry. Afterward, the murderer, who happens to be working with Shogo Makishima, kills the owner of "Spooky Boogie" and takes over her avatar as well. |
| 5 | 5 | Nobody Knows Your Face | 2012-11-09 | 25 | Ginoza and his team nearly got ambushed when they track the murderer to a bomb-rigged hideout. Kogami, who had analyzed Akane's chats with Spooky Boogie and the guest data on the idols' communities, determines the identity of the murderer, who goes by the name of Masatake Midou. Meanwhile, Midou receives a warning not to disappoint Makishima. Masaoka, Akane, and Kogami close in on the suspect and manage to severely wound him before he flees to the safety of his avatars - who turn on him under Makishima's command. The group apprehends the suspect, and later Ginoza reveals to Akane his reasons about his attitude to Enforcers. It turns out that his former partner is Kogami who used to be an Inspector before his Crime Coefficient went high due to a cold case. |
| 6 | 6 | Return of the Lunatic Prince | 2012-11-16 | 25 | Ginoza and his team theorize that a mastermind might have influenced the murderous actions of two recent suspects by essentially providing them with the ability and motivation to carry out their deadly desires. Kogami sees eerie similarities between these cases and the earlier unsolved case that got him demoted to Enforcer which also resulted the grotesque death of his Enforcer, Sasayama. Meanwhile, Akane seeks out more information on Kogami from Kagari and Shion Karanomori and learns about Sasayama and the cold case known as the Specimen Case. At a girls' school, Rikako Oryo, the enigmatic president of the art club, ensnares an unsuspecting victim and mutilates her corpse into a work of "art" under the tutelage of the evident mastermind, Makishima. |
| 7 | 7 | Symbolism of Bletilla Striata | 2012-11-23 | 25 | After realizing that the recent murders and the Specimen Case are indeed connected, Ginoza takes Kogami off the case and requests Akane to watch over him. Akane discusses Sasayama's murder with Kogami, and he shows her his one piece of evidence: a blurry image of Makishima. Meanwhile, Makishima, in a study with Toyohisa Senguji, reveals the circumstances of Rikako Oryo's father's death and discusses the nature of the shortening life expectancy. Later, Rikako continues her crimes with the help of Makishima's colleague, Choe Gu-Sung, and abducts another fellow student who is worried about her friend's disappearance. |
| 8 | 8 | The Rest, is Silence | 2012-11-30 | 25 | With his profiling skills, Kogami determines that the girls' school killer isn't the same murderer from the unsolved case years ago; he explains that the recent murders lack "originality" and pointed social commentary of the previous killings. When he and Akane realize the culprit is one of the students, they locate Rikako - who escapes when one of teachers stops Kogami from executing her. As the Enforcers try to locate her secret routes and hiding places, Rikako flees - but not before everyone discovers her latest creation. Makishima calls Rikako to tell her that she's a disappointment and has Senguji dispose her. In the meantime, Kogami picks up a damaged audio file which was deliberately left by Makishima. Due to Rikako's failure, Makishima develops an interest in Kogami. |
| 9 | 9 | The Fruit of Paradise | 2012-12-07 | 25 | Kogami, attempting to track down Makishima, takes Akane to visit his former teacher, Jouji Saiga, who agrees to give her a crash course on criminal profiling; however, Ginoza reprimands her harshly which results into an argument. Afterwards, Masaoka explains to her Ginoza's attitude by revealing his past. In the meantime, Makishima discusses humanity and philosophy with Senguji, who in an earlier interview reveals himself to be nearly a full cyborg. He gives him his next target: Shinya Kogami. |
| 10 | 10 | Methuselah's Game | 2012-12-14 | 25 | Makishima and Senguji set up a hunt by using Akane's friend, Yuki, as bait to lure Kogami into an abandoned subway station. Upon entering the station, Kogami discovers Yuki in a train car and loses contact with Akane; the two must evade Senguji and his canine drones as a curious Makishima observes from above. Ginoza scolds Akane for letting Kogami go on his own but Masaoka chastises him over his treatment of her. Meanwhile, Makishima rigs the hunt to give Kogami a chance to create a working transponder and, as a result, Kogami makes contact with the group outside and they go in after him. |
| 11 | 11 | The Saint's Supper | 2012-12-21 | 25 | With a drone delivering him a Dominator, Kogami manages to outwit Senguji and kill him, although he also takes some shots in the process. Just then, Yuki is captured by Makishima, with Kogami too weak to follow. As Masaoka tends to Kogami's injuries, Akane goes alone to pursue Makishima. To her shock, she discovers her Dominator is useless against him as his Crime Coefficient levels are too low, with Makishima attributing his murderous intent to his own free will. He gives Akane the opportunity to try killing him with Senguji's shotgun, but she finds herself unable to do it and is forced to helplessly watch Makishima kill Yuki right before her eyes. In the end, Akane tells everyone that Makishima is immune to the Dominator. |
| 12 | 12 | Devil's Crossroad | 2013-01-11 | 25 | Three years ago, Yayoi, a former guitarist, was institutionalized after she's detected as a latent criminal. As she anxiously waits for release so she can play the guitar again, she is approached by Kogami, who was still an Inspector, and Ginoza about a series of crimes occurring in the area she was once familiar with. She initially rejects their offer until Kogami gives her some guitar strings which reminded her of a guitarist she admired, Rina Takizaki. When the club they are investigating gets set on fire after Kogami's Enfocer partner Mitsuru Sasayama jumps the gun in approaching culprits dealing with Molotov Cocktails. Yayoi decides to search for Rina, only to discover she is part of a resistance group selling the Molotov cocktails in the hopes of overthrowing the Sybil System. Yayoi tries to stop Rina but finds she is unable to use the Dominator that Kogami gave her, as she was not actually an Enforcer yet, and Rina escapes. Afterwards, Yayoi resolves to become an Enforcer and leaves the rehabilitation center. |
| 13 | 13 | Invitation from the Abyss | 2013-01-18 | 25 | Ginoza meets up with the head of the Public Security Bureau, Joushuu Kasei, about Makishima, who confidentially reveals to him about the real culprit of the Specimen Case, Touma Kouzoburou, three years ago who happens to be "criminally asymptomatic" just like Makishima. She urges him to keep any doubts away from the public eye and orders him to capture Makishima. Following Yuki's funeral, Akane agrees to undergo a 'Memory Scoop' to provide a photofit of Makishima based on her memories of the incident, despite warnings from others that it may damage her Psycho-Pass. Despite reliving the traumatizing memory, the Memory Scoop is successfully completed without her Psycho-Pass reaching into dangerous levels, providing a photofit image of Makishima to aid in the investigation. Later, Ginoza discusses with Masaoka, who is actually his father, about how Akane manages to keep her Psycho-Pass from becoming clouded. |
| 14 | 14 | Sweet Poison | 2013-01-25 | 25 | A man in a helmet breaks into a pharmacy, kills the staff, and departs with drugs. When the MWSPB arrives on the scene, they find his Crime Coefficient was not high enough to set off the alarm. The same man attacks a woman in public, brutally beating her to death with a hammer in front of a crowd and a Psycho-Pass scanner. Later, the team learn that more culprits, wearing the same helmets, rob an armored car. Kogami deduces that the second crime would have a motive, leading their investigation to a man named Jyunmei Itoh who had a grudge against the victim. As Itoh attempts to escape, Kogami deduces that the helmets copy the low Crime Coefficients of innocent bystanders, thus help criminals avoid apprehension. With Akane and Masaoka's help, he apprehends the murderer. |
| 15 | 15 | The Town Where Sulfur Falls | 2013-02-01 | 25 | As footage of the helmet killings appear on the internet, the helmets are distributed to more criminals who begin committing more horrendous crimes out in the open, prompting bloodthirsty revenge from the public in the name of self-defense. As the MWPSB suppress the riots, Kogami deduces that the riots are intended to draw the police away from the Health and Welfare Ministry's Nona Tower facility, where the Sibyl System is located. As Makishima and his gang break in, Kogami, Akane and Shuusei head to the scene. |
| 16 | 16 | The Gates of Judgment | 2013-02-08 | 25 | As Akane, Kogami, and Shuusei enter the Nona Tower, Makishima intends to act as a diversion at the top of the tower while Guseong reaches the core of the Sibyl System in the hidden basement. Kogami and Akane decide to chase after Makishima to the top of the tower as Shuusei descends to the basement. After descending to the hidden basement, Shuusei has lost connection with the network and discovers the truth behind the Sibyl System. Meanwhile, Kogami engages in a battle with Makishima. Makishima beats Kogami but is knocked out by Akane. Kogami instructs Akane to kill Makishima but Akane was able to control her emotions. Meanwhile, Shuusei defeats the guards and confronts Guseong at the heart of the Sibyl System, who is suddenly killed by Kasei, who is revealed to be a cyborg and proceeds to override her Dominator to fire at Shuusei. |
| 17 | 17 | Iron Heart | 2013-02-15 | 25 | After Makishima is taken in and the riots are brought under control, Kogami remains curious about how Makishima will be judged, as well as the whereabouts of Shuusei. Later that day, Kasei tells Ginoza that Makishima's case has been taken out of the MWPSB's hands and orders him to investigate Shuusei's whereabouts, much to the ire of both Ginoza and Kogami. Later, Makishima is confronted by Kasei who reveals herself as Kouzoborou and shares a cybernetic body with Kasei. He explains to Makishima about the true nature of the Sybil System, which is revealed to be a supercomputer network composed of human brains of criminally asymptomatic individuals like him. Kouzoborou offers Makishima to become a part of the System. But he refuses and instead kills Kouzaborou and escapes from the transit which is supposed to take him to the Ministry of Welfare before briefly contacting Kogami about his escape |
| 18 | 18 | Promises Written in Water | 2013-02-22 | 25 | As Ginoza discovers that he is unauthorized to investigate the crash site of Makishima's carrier, Kasei reassigns him on recapturing Makishima and requests that Kogami should be taken off the case. Kogami suspects that something is amiss behind the whole order, believing there is something Kasei is hiding from them. Agreeing with him, Ginoza arranges for Kogami to be transferred to Division 2 who are in charge of investigating Shuusei's whereabouts. However, they are confronted by Kasei, who tries to get Ginoza to kill Kogami, but luckily Akane knocks him out with Paralyzer mode before anything can happen. Upon awakening, Kogami borrows one of the helmets from Shion and retrieves keys to a safehouse from Masaoka before leaving the MWPSB, explaining in a letter to Akane that the only way where he can stop Makishima is to step outside of the law. |
| 19 | 19 | Transparent Shadows | 2013-03-01 | 25 | Ginoza, whose Hue is now problematic, eschews intensive therapy in order to work on retrieving Kogami and Makishima. He argues with Masaoka over his "softness," and declares his intention to see his "obsession" through to the end. Kogami, meanwhile, goes to visit Saiga in order to figure out Makishima's next move; the two surmise that Makishima might attempt to meddle with Japan's food supply in order to force open borders for the country. Shion does her best to comfort Akane and Kasei connects with Sibyl to determine their new "pawn." Later, Akane is contacted by the Sybil System itself, declaring that it will tell her the truth about everything. |
| 20 | 20 | Where Justice is Found | 2013-03-08 | 25 | The Sibyl System reveals itself to Akane, claiming that she understands the necessity of the system, if not its justifiability, asking her for cooperation to apprehend Makishima alive. Makishima finds the professor who is responsible for the hyper-oats and murders him after finding the information he seeks, taking along the man's fingers and eyeballs as a measure against biometric security. Kogami arrives on the scene not long after and leaves a clue for the MWSPB in the man's airpipe. Meanwhile, Akane contacts Sibyl and convinces it to withdraw the execution order for Kogami, should she accomplishes its request to capture Makishima alive. Thanks to her detective work, they quickly find Kogami's clue and learns about the situation, as Makishima finally reaches his destination, with Kogami right on his trail. |
| 21 | 21 | Blood-Stained Reward | 2013-03-15 | 25 | As Makishima works on reprogramming the virus, both Kogami and the MWPSB arrive at the factory, with Kogami instructing Akane that they need to shut down power to the facility to bypass the security. Prior to arriving, Akane manages to convince the Sibyl System to keep her Dominator on Paralyzer mode with the safety unlocked regardless of Crime Coefficient to use as a trump card against Makishima and Kogami. After the power is shut down, Kogami sneaks into the facility whilst Akane and Yayoi head to the control room in case Makishima attempts to activate the emergency power. Finding the control room empty, Akane comes to realise that Ginoza and Masaoka are in danger. As Ginoza becomes trapped under a container after tripping up a trap, Masaoka comes face to face with Makishima. Although Masaoka appears to get the upper hand, Makishima threatens to blow Ginoza up with a stick of dynamite, with Masaoka ultimately sacrificing himself to save his son. As Ginoza remains horrified by his father's death, Kogami pursues Makishima and prepares to engage in a knife fight with him. |
| 22 | 22 | Perfect World | 2013-03-22 | 25 | Kogami manages to stab Makishima during their fight, but Akane interrupts their fight. Makishima escapes in a truck and Akane shoots out the wheels; Makishima crashes in a field. Kogami sets Akane aside and then pursues the heavily-bleeding Makishima. Resigned to his fate, Makishima kneels and waits for Kogami to execute him. Afterwards, the Sibyl System tells Akane that they intend to reveal themselves in the future where the public will come to accept it, though Akane responds that someone will pull their plug in the future. The system responds asking her to fight for a better future. In the succeeding two months, Ginoza becomes an Enforcer and visits his father's grave. Shion and Yayoi reflect on the changes in the MWSPB and a young new Inspector arrives on the scene. At the end of the episode, Kogami departs a small cabin room from an unspecified ship. |
Season 2
| Episode No. | No. Overall | Title | Airdate | Runtime | Summary |
| --- | --- | --- | --- | --- | --- |
| 1 | 23 | The Scales of Justice | 2014-10-09 | 25 | An explosion occurs in broad daylight and despite having no casualties, it brings the attention of the MWPSB. The police's investigation tracks the culprit as Akira Kitazawa, a demolitions expert whose career was staggered after it was confirmed that his Crime Coefficient tends to increase under pressure. Upon locating Kitazawa's hideout, Inspector Akane Tsunemori realizes that he is setting a trap for them and disobeys her orders to advance and confront him. Her assumptions are proven correct, and Kitazawa escapes, apparently taking a female hostage with him, which he soon after releases. Certain that the hostage is actually a hologram with another trap, Akane's unit keeps pursuing Kitazawa and upon cornering him, Akane notices that his Crime Coefficient is just a little over the minimum required for the Dominator to enter into execution mode and decides to calm him down instead of killing him. Her plan works and she knocks him out with the paralyzing mode when his Crime Coefficient drops to the non-lethal levels. Elsewhere, Inspector Mizue Shisui and her partner Enforcer Yamatoya are sent to follow the hologram, who is revealed to actually be a man. This man does not register on her Dominator, and he injects Inspector Shisui with some kind of drug that paralyzes her. He kisses her, then takes her hand and makes her use her Dominator to kill Yamatoya, leaving behind the message "WC?", written in blood. |
| 2 | 24 | The Creeping Unknown | 2014-10-16 | 25 | While trying to determine the meaning of the "WC?" message, Akane goes with Enforcer Sakuya Togane to interrogate Kitazawa, who claims that someone else helped keep his crime coefficient down and was responsible for the fake hostage, though another inspector, Aoyanagi, does not believe this to be true. Later, as Shion and Enforcer Sho Hinakawa learn that the fake hostage was an elaborately detailed hologram modeled after someone who died years ago, Kitazawa's crime-coefficient suddenly drops below that of a latent criminal, resulting in him being transferred to a general medical facility. Shortly afterwards, Akane discovers another "WC?" message scrawled in her apartment, before being alerted that Kitazawa had attacked Aoyanagi and escaped, believing that his claimed assistant was the one who set up his escape route. Kitazawa is cornered by Akane's group, uttering the name "Kamui" before he is eliminated by Aoyanagi, his last words leading Akane to realize that "WC?" actually stands for "What Color?". |
| 3 | 25 | The Devil`s Proof | 2014-10-23 | 25 | Somewhere, Shisui finds herself strapped to a chair with her Dominator pointed towards her, her eye taken by her kidnapper, Kirito Kamui. As her fear causes her Crime Coefficient to rise, Kamui uses a peculiar method to suddenly bring it back down. Meanwhile, Akane and the others investigate the message that had appeared in her apartment, with no evidence that someone had broken in, leading some to believe Akane may have done it herself. On their way back, Akane visits Jouji Saiga, who had turned himself in after helping out Kogami during a previous incident, for his thoughts on the case. Later, Akane speaks with Bureau Chief Joshu Kasei, who gives Division 1 authority to look into the case and tells her to be cautious of Togane. As Akane begins her investigation, her partner Mika Shimotsuki becomes distrusting of Akane's actions, arresting a man named Kotoku Masuda who claims to know Kamui. Meanwhile, Aoyanagi, who had been contacted by Shisui and told to go to a mental care facility, finds herself lured into a trap by someone who violently attacks her whilst still maintaining a low Crime Coefficient, also mentioning Kamui's name. |
| 4 | 26 | The Salvation of Job | 2014-10-30 | 25 | Akane attempts to interrogate Masuda about Kamui, but he claims not to know him. Meanwhile, in the medical facility, the man has his hostages stripped and starts killing them one by one to raise their stress levels, claiming to be a savior in the name of Kamui. Aoyanagi manages to retrieve her Dominator, but discovers the culprit is still below enforcement level while the hostages are above, claiming to have had "eustress deficiency", believed to be an urban legend. After having Saiga look at the equipment Masuda used prior to his arrest, Akane theorizes that Kamui is somewhere within the medical facility, believing that he is somehow able to use Dominators. When Division 3 is sent to take over from Mika's group, Aoyanagi manages to take the culprit by surprise and undo the locks. However, she and all the other hostages are killed by Division 3 as a result of their high Crime Coefficients, while the culprit is also executed after bidding farewell to Kamui, who had learned that inspectors can also be judged by Dominators. Arriving on the scene to find a bloodbath, Akane discovers what is left of Aoyanagi and yet another "WC?" message. |
| 5 | 27 | Unforbidden Games | 2014-11-06 | 25 | It is revealed that Kamui, who now has Shisui under his will, is using her eye in order to wield a Dominator. Meanwhile, as the MSWPB investigate the crime scene, Mika spots Togane checking up on Akane's Crime Coefficient. The next day, as new enforcers are brought in, both Division 1 and 3 are sent to investigate a drone warehouse, where Akane and Togane discover a hidden area behind a holographic wall, finding masks of people's faces and another WC? message. Just then, the drones in the factory start activating and shooting down innocent, unknowingly being controlled by people playing a "Hungry Chicken" mobile game. Meanwhile, as Jouji is tasked with interrogating Masuda, deducing from footage of his speeches that he is in fact a different person entirely, Mika investigates Togane's quarters and discovers an obsessive amount of files and photos of Akane. |
| 6 | 28 | Those Who Cast Stones | 2014-11-13 | 25 | Shion manages to determine the drones are being remotely controlled by unaware citizens playing the "Hungry Chicken" mobile game, which Akane believes to be connected to Kamui's messages. While Shion works to prevent the game from being spread any further, Akane realizes there is someone with a Dominator targeting enforcers that stray from their inspectors, learning that Kamui's true mission is to retrieve Dominators. Akane decides to pursue whoever is wielding the Dominators, managing to take out most of the drones by exploiting their weakness. When the game hacks into police drones instead, Shion and the other uses a program to hack into the game's cloud server and show all the players what they were really doing, despite Mika's objections that it would raise everyone's Crime Coefficient. Akane soon confronts Kamui, who escapes with Shisui when Akane prevents Togane from using a traditional gun against him. |
| 7 | 29 | Untraceable Children | 2014-11-20 | 25 | As Mika's group handles the aftermath of the incident, apprehending those that were still playing the game regardless, Akane tries to determine Kamui's motives behind obtaining Dominators, finding Togane to be a lot like her old partner, Shinya Kogami. After checking up on her grandmother, Akane confronts Kasei on why she hasn't deactivated Shisui's Dominator privileges, deducing that Kamui is someone that Sibyl has decided cannot be integrated into their network of brains. Meanwhile, Mika looks up Togane's background from files obtained from his computer, learning all of the inspectors he had previously worked with became latent criminals and were executed, unaware that Togane has found out she raided his room. As the group get together to examine evidence found in Kamui's hideout, Hinakawa discovers Kamui had used a hologram during the clinical incident which, along with the earlier hologram from the first incident, was also taken from a child who died in a plane accident 15 years ago, which the group discover Kamui was the only survivor of. Akane apprehends Yohei Masuzaki, a surgeon who previously operated on Kamui and is in cahoots with him, and has Saiga interrogate him, while Mika decides to investigate on her own after discovering the link to Masuzaki's medical files may be linked to Togane's corporation. After Hinakawa creates Holograms of all 185 victims of the plane crash, the group discover Kamui has dozens of followers right underneath their noses. |
| 8 | 30 | Conception of the Oracle | 2014-11-27 | 25 | Masuzaki explains to Saiga how Kamui received parts from the other 184 bodies in his surgery, including seven brains, resulting in him becoming someone who cannot be measured by the Psycho-Pass, going on to explain that Kamui's goal is to overturn the entire Sibyl System. Meanwhile, Mika, who had been investigating Togane Foundation's patent on the surgery, learns that Kamui had last accessed the file before her. Looking over Masuzaki's testimony, including how he killed people of influence and replaced them with imposters, Akane and the others deduce that all of the 184 holo victims are Kamui's personas, while the imposters that were used as replacements were illegal immigrants. Mika discovers the patents owned by the Togane Foundation were filed by Togane's mother, Misako, who died five years ago, believing Kamui's goal may be to get revenge against the Togane Foundation. Mika tries filing a report to Kasei have Akane dismissed from the MSWPB, feeling she is a danger to the operation. However, this turns out to be a trap laid out by Kasei, who is revealed to be Misako Togane herself, who decides to use her as a test subject and show her the truth behind Sibyl. |
| 9 | 31 | Omnipotence Paradox | 2014-12-04 | 25 | Having revealed the truth of the Sibyl System to Mika, with her hue remaining clear, Kasei and Togane, who was an artificially created human, decide to use her for the purpose of turning Akane's hue black. After eliminating Masuzaki, who knew too much about Kasei's identity, Togane tasks Mika with locating Akane's grandmother, Aoi. Meanwhile, Akane and the others learn of an official named Koichi Kuwashima, one of Kamui's friends who had escaped the plane accident, who at that time helps Kamui exact his revenge on a company who benefited from turning a blind eye to the incident. When Akane and the others arrive at the scene, which had already been set on fire, Kuwashima gives Akane a box containing Aoi's ear, angering her. As Saiga interrogate Kuwashima, Kamui starts making his next move by hijacking a subway train while Togane does something terrible to Aoi. |
| 10 | 32 | Gauging the Soul | 2014-12-11 | 25 | Kamui floods the subway in order to take 500 train passengers hostage, freely using the Dominators to try and spark an overload in the Sibyl System and access its bypass system. Meanwhile, Kasei orders Akane to assassinate Kamui by setting off a detonation that would kill all the hostages, using the news that Aoi has been found dead to drive her towards that goal. While hesitating over what she should do, Kogami appears in Akane's conscience, encouraging her to find another option that doesn't necessarily involve killing. Akane gets into contact with Kamui and then confronts Kasei, stating her desire to overcome her plans. While Kamui manages to stop the detonation and releases the hostages, Akane confronts Togane, having deduced his true nature and goal, before Kamui appears before them, preparing to fire his Dominator at Togane. |
| 11 | 33 | What Color? | 2014-12-18 | 25 | Akane subdues Togane before Kamui can shoot him, stating that even though she has lost many people close to her, she is still determined to protect the law. She leads Kamui to Sibyl, where they are confronted by Kasei. Asking Sibyl to reveal its true color, Kamui manages to expose Kasei/Misako Togane's Crime Coefficient and executes her. Akane leads Kamui to Sibyl's true form, where Sibyl acknowledges Kamui's existence and authorizes a collective Psycho-Pass, destroying some of its own brains to lower its own Crime Coefficient, before Akane arrests Kamui. Meanwhile, Shisui, pushed into a corner, attempts to set off the bombs but is stopped just in time by a long range paralyzer shot. Akane is instructed by Sybil to execute Kamui, and is once again confronted by Togane, who taunts her with Aoi's death to raise her Crime Coefficient. Kamui calms Akane down before sacrificing himself in order to shoot Togane. Togane flees, but dies from his injuries after being found by Mika, who couldn't bring herself to execute him and keeps the secret of her betrayal to herself. |
Series Cast
| | | | |
| --- | --- | --- | --- |
| | Kana Hanazawa | as Akane Tsunemori | |
| | Tomokazu Seki | as Shinya Kōgami | |
| | Miyuki Sawashiro | as Shion Karanomori | |
| | Katsumi Chou | as Toyohisa Senguji | |
| | Kenji Nojima | as Nobuchika Ginoza | |
| | Kinryu Arimoto | as Tomomi Masaoka | |
| | Akira Ishida | as Shuusei Kagari | |
Series Crew
| | Position | Name |
| --- | --- | --- |
| | Creator | Gen Urobuchi |
Related News
TVMaze