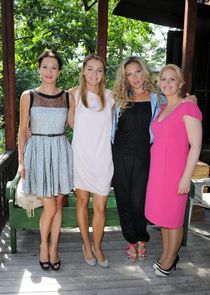 "Friends", also known under the original title Przyjaciółki, is a Polish drama which premiered on 6 September 2012 on Polsat. The series follow the story of four friends who met in high school. Their paths then diverged. They meet again years later at a class meeting and realise that they need each other like they never did before. The action happens in Warsaw.
Series Overview
Rating
imDb Rating: 6.6 (38 Votes)
Metascore: N/A
Plot
The trials and tribulations of four women who were friends in high school and have since renewed their friendships after a class reunion.
Details
Rated: N/A
Released: 06 Sep 2012
Runtime: N/A
Genre: N/A
Director: N/A
Writer: N/A
Actors: Joanna Liszowska, Malgorzata Socha, Anita Sokolowska, Magdalena Stuzynska
Language: Polish
Country: Poland
Awards: N/A
Total Seasons: 12
Previous Episode
Episode 170
Episode 14x12; Sep 05, 2019
Previous Episodes 14x12: Episode 170 14x11: Episode 169 14x10: Episode 168 14x9: Episode 167 14x8: Episode 166 14x7: Episode 165 14x6: Episode 164 14x5: Episode 163 14x4: Episode 162

View All Episodes
Cast
Dorota Kolak as Stefania Markiewicz "Stefa"
Elżbieta Jarosik as Elżbieta Zalewska
Wiktoria Gąsiewska as Sonia
Lesław Żurek as Wojtek Niemczyk
Agnieszka Sienkiewicz as Dorota
Modest Ruciński as "Sebo"
View Full Cast
Skip to:
Season 1
| Episode No. | No. Overall | Title | Airdate | Runtime | Summary |
| --- | --- | --- | --- | --- | --- |
| 1 | 1 | Odcinek 1 | 2012-09-06 | 60 | |
| 2 | 2 | Odcinek 2 | 2012-09-13 | 60 | |
| 3 | 3 | Odcinek 3 | 2012-09-20 | 60 | |
| 4 | 4 | Odcinek 4 | 2012-09-27 | 60 | |
| 5 | 5 | Odcinek 5 | 2012-10-04 | 60 | |
| 6 | 6 | Odcinek 6 | 2012-10-11 | 60 | |
| 7 | 7 | Odcinek 7 | 2012-10-18 | 60 | |
| 8 | 8 | Odcinek 8 | 2012-10-25 | 60 | |
| 9 | 9 | Odcinek 9 | 2012-11-01 | 60 | |
| 10 | 10 | Odcinek 10 | 2012-11-08 | 60 | |
| 11 | 11 | Odcinek 11 | 2012-11-15 | 60 | |
| 12 | 12 | Odcinek 12 | 2012-11-22 | 60 | |
| 13 | 13 | Odcinek 13 | 2012-11-29 | 60 | |
Season 2
| Episode No. | No. Overall | Title | Airdate | Runtime | Summary |
| --- | --- | --- | --- | --- | --- |
| 1 | 14 | Odcinek 1 | 2013-02-28 | 60 | |
| 2 | 15 | Odcinek 2 | 2013-03-07 | 60 | |
| 3 | 16 | Odcinek 3 | 2013-03-14 | 60 | |
| 4 | 17 | Odcinek 4 | 2013-03-21 | 60 | |
| 5 | 18 | Odcinek 5 | 2013-03-28 | 60 | |
| 6 | 19 | Odcinek 6 | 2013-04-04 | 60 | |
| 7 | 20 | Odcinek 7 | 2013-04-11 | 60 | |
| 8 | 21 | Odcinek 8 | 2013-04-18 | 60 | |
| 9 | 22 | Odcinek 9 | 2013-04-25 | 60 | |
| 10 | 23 | Odcinek 10 | 2013-05-02 | 60 | |
| 11 | 24 | Odcinek 11 | 2013-05-09 | 60 | |
| 12 | 25 | Odcinek 12 | 2013-05-16 | 60 | |
| 13 | 26 | Odcinek 13 | 2013-05-23 | 60 | |
Season 3
| Episode No. | No. Overall | Title | Airdate | Runtime | Summary |
| --- | --- | --- | --- | --- | --- |
| 1 | 27 | Episode 1 | 2014-03-06 | 60 | |
| 2 | 28 | Odcinek 2 | 2014-03-13 | 60 | |
| 3 | 29 | Odcinek 3 | 2014-03-20 | 60 | |
| 4 | 30 | Odcinek 4 | 2014-03-27 | 60 | |
| 5 | 31 | Odcinek 5 | 2014-04-03 | 60 | |
| 6 | 32 | Odcinek 6 | 2014-04-10 | 60 | |
| 7 | 33 | Odcinek 7 | 2014-04-17 | 60 | |
| 8 | 34 | Odcinek 8 | 2014-04-24 | 60 | |
| 9 | 35 | Odcinek 9 | 2014-05-01 | 60 | |
| 10 | 36 | Odcinek 10 | 2014-05-08 | 60 | |
| 11 | 37 | Odcinek 11 | 2014-05-15 | 60 | |
| 12 | 38 | Odcinek 12 | 2014-05-22 | 60 | |
| 13 | 39 | Odcinek 13 | 2014-05-29 | 60 | |
Season 4
| Episode No. | No. Overall | Title | Airdate | Runtime | Summary |
| --- | --- | --- | --- | --- | --- |
| 1 | 40 | Odcinek 1 | 2014-09-11 | 60 | |
| 2 | 41 | Odcinek 41 | 2014-09-18 | 60 | |
| 3 | 42 | Odcinek 42 | 2014-09-25 | 60 | |
| 4 | 43 | Odcinek 43 | 2014-10-02 | 60 | |
| 5 | 44 | Odcinek 44 | 2014-10-09 | 60 | |
| 6 | 45 | Odcinek 45 | 2014-10-16 | 60 | |
| 7 | 46 | Odcinek 46 | 2014-10-23 | 60 | |
| 8 | 47 | Odcinek 47 | 2014-10-30 | 60 | |
| 9 | 48 | Odcinek 9 | 2014-11-06 | 60 | |
| 10 | 49 | Odcinek 10 | 2014-11-13 | 60 | |
| 11 | 50 | Odcinek 11 | 2014-11-20 | 60 | |
Season 5
| Episode No. | No. Overall | Title | Airdate | Runtime | Summary |
| --- | --- | --- | --- | --- | --- |
| 1 | 51 | odc. 51 | 2015-03-05 | 60 | |
| 2 | 52 | odc.52 | 2015-03-12 | 60 | |
| 3 | 53 | odc. 53 | 2015-03-19 | 60 | |
| 4 | 54 | odc. 54 | 2015-03-26 | 60 | |
| 5 | 55 | odc. 55 | 2015-04-02 | 60 | |
| 6 | 56 | odc. 56 | 2015-04-09 | 60 | |
| 7 | 57 | Odcinek 7 | 2015-04-16 | 60 | |
| 8 | 58 | Odcinek 8 | 2015-04-23 | 60 | |
| 9 | 59 | Odcinek 9 | 2015-04-30 | 60 | |
| 10 | 60 | Odcinek 10 | 2015-05-07 | 60 | |
| 11 | 61 | Odcinek 11 | 2015-05-14 | 60 | |
| 12 | 62 | Odcinek 12 | 2015-05-21 | 60 | |
Season 6
| Episode No. | No. Overall | Title | Airdate | Runtime | Summary |
| --- | --- | --- | --- | --- | --- |
| 1 | 63 | Odcinek 1 | 2015-09-03 | 60 | |
| 2 | 64 | Odcinek 2 | 2015-09-10 | 60 | |
| 3 | 65 | Odcinek 3 | 2015-09-17 | 60 | |
| 4 | 66 | Odcinek 4 | 2015-09-24 | 60 | |
| 5 | 67 | Odcinek 5 | 2015-10-01 | 60 | |
| 6 | 68 | Odcinek 6 | 2015-10-15 | 60 | |
| 7 | 69 | Odcinek 7 | 2015-10-22 | 60 | |
| 8 | 70 | Odcinek 8 | 2015-10-29 | 60 | |
| 9 | 71 | Odcinek 9 | 2015-11-05 | 60 | |
| 10 | 72 | Odcinek 10 | 2015-11-12 | 60 | |
| 11 | 73 | Odcinek 11 | 2015-11-19 | 60 | |
| 12 | 74 | Odcinek 12 | 2015-11-26 | 60 | |
Season 7
| Episode No. | No. Overall | Title | Airdate | Runtime | Summary |
| --- | --- | --- | --- | --- | --- |
| 1 | 75 | Odcinek 1 | 2016-03-03 | 60 | |
| 2 | 76 | Odcinek 2 | 2016-03-10 | 60 | |
| 3 | 77 | Odcinek 3 | 2016-03-17 | 60 | |
| 4 | 78 | Odcinek 4 | 2016-03-24 | 60 | |
| 5 | 79 | Odcinek 5 | 2016-03-31 | 60 | |
| 6 | 80 | Odcinek 6 | 2016-04-07 | 60 | |
| 7 | 81 | Odcinek 7 | 2016-04-14 | 60 | |
| 8 | 82 | Odcinek 8 | 2016-04-21 | 60 | |
| 9 | 83 | Odcinek 9 | 2016-04-28 | 60 | |
| 10 | 84 | Odcinek 10 | 2016-05-05 | 60 | |
| 11 | 85 | Odcinek 11 | 2016-05-12 | 60 | |
| 12 | 86 | Odcinek 12 | 2016-05-19 | 60 | |
Season 8
| Episode No. | No. Overall | Title | Airdate | Runtime | Summary |
| --- | --- | --- | --- | --- | --- |
| 1 | 87 | Odcinek 1 | 2016-09-01 | 60 | |
| 2 | 88 | Odcinek 2 | 2016-09-08 | 60 | |
| 3 | 89 | Odcinek 3 | 2016-09-15 | 60 | |
| 4 | 90 | Odcinek 4 | 2016-09-22 | 60 | |
| 5 | 91 | Odcinek 5 | 2016-09-29 | 60 | |
| 6 | 92 | Odcinek 6 | 2016-10-06 | 60 | |
| 7 | 93 | Odcinek 7 | 2016-10-13 | 60 | |
| 8 | 94 | Odcinek 8 | 2016-10-20 | 60 | |
| 9 | 95 | Odcinek 9 | 2016-10-27 | 60 | |
| 10 | 96 | Odcinek 10 | 2016-11-03 | 60 | |
| 11 | 97 | Odcinek 11 | 2016-11-10 | 60 | |
| 12 | 98 | Odcinek 12 | 2016-11-17 | 60 | |
Season 9
| Episode No. | No. Overall | Title | Airdate | Runtime | Summary |
| --- | --- | --- | --- | --- | --- |
| 1 | 99 | Odcinek 1 | 2017-03-02 | 60 | |
| 2 | 100 | Odcinek 2 | 2017-03-09 | 60 | |
| 3 | 101 | Odcinek 3 | 2017-03-16 | 60 | |
| 4 | 102 | Odcinek 4 | 2017-03-23 | 60 | |
| 5 | 103 | Odcinek 5 | 2017-03-30 | 60 | |
| 6 | 104 | Odcinek 6 | 2017-04-06 | 60 | |
| 7 | 105 | Odcinek 7 | 2017-04-13 | 60 | |
| 8 | 106 | Odcinek 8 | 2017-04-20 | 60 | |
| 9 | 107 | Odcinek 9 | 2017-04-27 | 60 | |
| 10 | 108 | Odcinek 10 | 2017-05-04 | 60 | |
| 11 | 109 | Odcinek 11 | 2017-05-11 | 60 | |
| 12 | 110 | Odcinek 12 | 2017-05-18 | 60 | |
Season 10
| Episode No. | No. Overall | Title | Airdate | Runtime | Summary |
| --- | --- | --- | --- | --- | --- |
| 1 | 111 | Odcinek 1 | 2017-09-07 | 60 | |
| 2 | 112 | Odcinek 2 | 2017-09-14 | 60 | |
| 3 | 113 | Odcinek 3 | 2017-09-21 | 60 | |
| 4 | 114 | Odcinek 4 | 2017-09-28 | 60 | |
| 5 | 115 | Odcinek 5 | 2017-10-05 | 60 | |
| 6 | 116 | Odcinek 6 | 2017-10-12 | 60 | |
| 7 | 117 | Odcinek 7 | 2017-10-19 | 60 | |
| 8 | 118 | Odcinek 8 | 2017-10-26 | 60 | |
| 9 | 119 | Odcinek 9 | 2017-11-02 | 60 | |
| 10 | 120 | Odcinek 10 | 2017-11-09 | 60 | |
| 11 | 121 | Odcinek 11 | 2017-11-16 | 60 | |
| 12 | 122 | Odcinek 12 | 2017-11-23 | 60 | |
Season 11
| Episode No. | No. Overall | Title | Airdate | Runtime | Summary |
| --- | --- | --- | --- | --- | --- |
| 1 | 123 | Episode 1 | 2018-03-01 | 60 | |
| 2 | 124 | Episode 2 | 2018-03-08 | 60 | |
| 3 | 125 | Episode 3 | 2018-03-15 | 60 | |
| 4 | 126 | Episode 4 | 2018-03-22 | 60 | |
| 5 | 127 | Episode 5 | 2018-03-29 | 60 | |
| 6 | 128 | Episode 6 | 2018-04-05 | 60 | |
| 7 | 129 | Episode 7 | 2018-04-12 | 60 | |
| 8 | 130 | Episode 8 | 2018-04-19 | 60 | |
| 9 | 131 | Episode 9 | 2018-04-26 | 60 | |
| 10 | 132 | Episode 10 | 2018-05-03 | 60 | |
| 11 | 133 | Episode 11 | 2018-05-10 | 60 | |
| 12 | 134 | Episode 12 | 2018-05-17 | 60 | |
Season 12
| Episode No. | No. Overall | Title | Airdate | Runtime | Summary |
| --- | --- | --- | --- | --- | --- |
| 1 | 135 | Episode 135 | 2018-09-06 | 60 | |
| 2 | 136 | Episode 136 | 2018-09-13 | 60 | |
| 3 | 137 | Episode 137 | 2018-09-20 | 60 | |
| 4 | 138 | Episode 138 | 2018-09-27 | 60 | |
| 5 | 139 | Episode 139 | 2018-10-04 | 60 | |
| 6 | 140 | Episode 140 | 2018-10-11 | 60 | |
| 7 | 141 | Episode 141 | 2018-10-18 | 60 | |
| 8 | 142 | Episode 142 | 2018-10-25 | 60 | |
| 9 | 143 | Episode 143 | 2018-11-01 | 60 | |
| 10 | 144 | Episode 144 | 2018-11-08 | 60 | |
| 11 | 145 | Odcinek 145 | 2018-11-15 | 60 | |
| 12 | 146 | Episode 146 | 2018-11-22 | 60 | |
Series Cast
| | | | |
| --- | --- | --- | --- |
| | Dorota Kolak | as Stefania Markiewicz "Stefa" | |
| | Elżbieta Jarosik | as Elżbieta Zalewska | |
| | Wiktoria Gąsiewska | as Sonia | |
| | Lesław Żurek | as Wojtek Niemczyk | |
| | Agnieszka Sienkiewicz | as Dorota | |
| | Modest Ruciński | as "Sebo" | |
| | Marcin Rogacewicz | as Michał Zalewski | |
| | Mariusz Bonaszewski | as Jerzy Ginter | |
| | Antoni Królikowski | as "Jerry" | |
| | Magdalena Stużyńska-Brauer | as Anka Strzelecka | |
| | Bartłomiej Kasprzykowski | as Paweł Strzelecki | |
| | Anita Sokołowska | as Zuza Markiewicz | |
| | Małgorzata Socha | as Inga Gruszewska | |
| | Marcin Korcz | as Dagmar Balicki | |
| | Grzegorz Wons | as Zbigniew Zalewski | |
| | Krzysztof Wieszczek | as Robert | |
| | Przemysław Sadowski | as Leszek | |
| | Filip Bobek | as Szymon | |
| | Mikołaj Krawczyk | as Łukasz Grabowski | |
| | Joanna Liszowska | as Patrycja Kochan | |
Related News
TVMaze