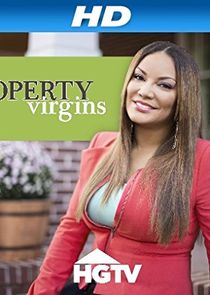 Property Virgins takes viewers inside the intense world of house hunting through the eyes of first-time buyers. The series focuses on the roller-coaster journey of property virgins' first foray into real estate, offering tell-it-like-it-is entertainment and practical take-home advice.
Series Overview
Rating
imDb Rating: 7.1 (284 Votes)
Metascore: N/A
Plot
Property Virgins follows first-time homebuyers as they prepare to dive into the real estate market, and gives these newbies targeted home-tours...
Details
Rated: TV-G
Released: 01 Sep 2007
Runtime: 22 min
Genre: Reality-TV
Director: N/A
Writer: N/A
Actors: Egypt Sherrod
Language: English
Country: Canada
Awards: N/A
Total Seasons: 13
Previous Episode
Fly the Coop
Episode 13x6; Jul 17, 2016
Previous Episodes 13x6: Fly the Coop 13x5: Queen Of The Castle 13x4: Homeschooling 13x3: There's No Place Like Home 13x2: Duty Calls 13x1: DIY Shy 12x13: Close to the Coast 12x12: Creative Differences 12x11: Southern Charm

View All Episodes
Skip to:
Season 1
| Episode No. | No. Overall | Title | Airdate | Runtime | Summary |
| --- | --- | --- | --- | --- | --- |
| 1 | 1 | Glen & Sarah | 2006-10-04 | 30 | |
| 2 | 2 | Mat & Betty | 2006-10-11 | 30 | |
| 3 | 3 | Yousef Saddiqui | 2006-10-18 | 30 | |
| 4 | 4 | Damion & Irene | 2006-10-25 | 30 | |
| 5 | 5 | Josh & Tracy | 2006-11-01 | 30 | |
| 6 | 6 | Cheryl Lou-Hing | 2006-11-08 | 30 | |
| 7 | 7 | Ryan & Katie | 2006-11-15 | 30 | |
| 8 | 8 | Andre & Kerry | 2006-11-22 | 30 | |
| 9 | 9 | Jacquie & Blair | 2006-12-13 | 30 | |
| 10 | 10 | Scott & Lauren | 2006-12-20 | 30 | |
| 11 | 11 | Lynette & Rob | 2006-12-27 | 30 | |
| 12 | 12 | Steve & Sonja | 2007-03-03 | 30 | |
| 13 | 13 | Rob & Marsha | 2007-03-03 | 30 | |
Season 2
| Episode No. | No. Overall | Title | Airdate | Runtime | Summary |
| --- | --- | --- | --- | --- | --- |
| 1 | 14 | Domestic Diva | 2007-07-04 | 30 | |
| 2 | 15 | Eagle Has Landed | 2007-07-11 | 30 | |
| 3 | 16 | Needle in a Haystack | 2007-07-18 | 30 | |
| 4 | 17 | Location, Location | 2007-07-25 | 30 | |
| 5 | 18 | Property Princess | 2007-08-01 | 30 | |
| 6 | 19 | No Small Miracle | 2007-08-08 | 30 | |
| 7 | 20 | First Time For Everything | 2007-08-15 | 30 | |
| 8 | 21 | Dream On | 2007-08-22 | 30 | |
| 9 | 22 | Scott & Scott/A Tale of Two Scotts | 2007-08-29 | 30 | |
| 10 | 23 | Seeing is Believing | 2007-09-05 | 30 | |
| 11 | 24 | What a Woman Wants | 2007-09-12 | 30 | |
| 12 | 25 | The Three Amigos | 2007-09-19 | 30 | |
| 13 | 26 | Cold Feet | 2007-09-26 | 30 | |
| 14 | 27 | Foot in the Door | 2007-10-01 | 30 | |
| 15 | 28 | To Buy or Not to Buy | 2007-10-08 | 30 | |
| 16 | 29 | Decisions, Decisions/Taking the Plunge | 2007-10-15 | 30 | |
| 17 | 30 | Nouveaux Beginnings | 2007-10-22 | 30 | |
| 18 | 31 | Over the Threshold | 2007-10-29 | 30 | |
| 19 | 32 | He Said, She Said | 2007-11-05 | 30 | |
| 20 | 33 | Legal-Ease | 2007-11-12 | 30 | |
| 21 | 34 | Womb Mates | 2007-11-19 | 30 | |
| 22 | 35 | Great Expectations | 2007-11-26 | 30 | |
| 23 | 36 | Arrested Development | 2007-12-03 | 30 | |
| 24 | 37 | Basement Blues | 2007-12-08 | 30 | |
| 25 | 38 | Moving On Up | 2007-12-08 | 30 | |
| 26 | 39 | Tears for Fears | 2007-12-08 | 30 | |
Season 3
| Episode No. | No. Overall | Title | Airdate | Runtime | Summary |
| --- | --- | --- | --- | --- | --- |
| 1 | 40 | Jenny | 2008-07-02 | 30 | |
| 2 | 41 | Common Ground | 2008-07-07 | 30 | |
| 3 | 42 | Stan & Merrily | 2008-07-14 | 30 | |
| 4 | 43 | Marcie & Frankie | 2008-07-21 | 30 | |
| 5 | 44 | Jen & Jason | 2008-07-28 | 30 | |
| 6 | 45 | Erin & Jeff | 2008-08-04 | 30 | |
| 7 | 46 | Rick & Patricia | 2008-08-11 | 30 | |
| 8 | 47 | Finicky Fiances | 2008-08-18 | 30 | |
| 9 | 48 | Emily & Chris | 2008-08-25 | 30 | |
| 10 | 49 | Lucky Strike | 2008-09-01 | 30 | |
| 11 | 50 | Big Wedding, Bigger House | 2008-09-08 | 30 | |
| 12 | 51 | Janice & Keefe | 2008-09-15 | 30 | |
| 13 | 52 | Amy & Dave | 2008-09-22 | 30 | |
| 14 | 53 | Close to Home | 2008-09-29 | 30 | |
| 15 | 54 | Leaving the Nest | 2008-10-06 | 30 | |
| 16 | 55 | Nav & Kush | 2008-10-13 | 30 | |
| 17 | 56 | Josh | 2008-10-20 | 30 | |
| 18 | 57 | Lindsay & David | 2008-10-27 | 30 | |
| 19 | 58 | Kathy & Ryan | 2008-10-27 | 30 | |
| 20 | 59 | Ryan & Eve | 2008-11-03 | 30 | |
| 21 | 60 | Nicole | 2008-11-17 | 30 | |
| 22 | 61 | Dan & Leigh | 2008-11-24 | 30 | |
| 23 | 62 | Robert & Dawn | 2008-12-01 | 30 | |
| 24 | 63 | Brenda | 2008-12-08 | 30 | |
| 25 | 64 | Andy & Jannette | 2008-12-15 | 30 | |
| 26 | 65 | Lindsay, Jason & Wes | 2008-12-22 | 30 | |
Season 4
| Episode No. | No. Overall | Title | Airdate | Runtime | Summary |
| --- | --- | --- | --- | --- | --- |
| 1 | 66 | Crystal & J.P. | 2009-09-30 | 30 | |
| 2 | 67 | Natalie & Kareem | 2009-10-07 | 30 | |
| 3 | 68 | Julie & Phil | 2009-10-14 | 30 | |
| 4 | 69 | Jason | 2009-10-21 | 30 | |
| 5 | 70 | Amy & Shelley | 2009-10-28 | 30 | |
| 6 | 71 | Heather & Steve | 2009-11-04 | 30 | |
| 7 | 72 | Courtney & Ed | 2009-11-11 | 30 | |
| 8 | 73 | Justin & Kar | 2009-12-05 | 30 | |
| 9 | 74 | Alison & Jeff | 2009-12-09 | 30 | |
| 10 | 75 | Maggie | 2009-12-09 | 30 | |
| 11 | 76 | Britney & Guthrie | 2009-12-16 | 30 | |
| 12 | 77 | Peggy & Kevin | 2009-12-23 | 30 | |
| 13 | 78 | Runi & Thomas | 2009-12-30 | 30 | |
| 14 | 79 | Mary | 2009-12-30 | 30 | |
| 15 | 80 | Heather & Kristian | 2009-12-30 | 30 | |
| 16 | 81 | Robyn & Jim | 2010-01-06 | 30 | |
| 17 | 82 | Karen & Cliff | 2010-01-13 | 30 | |
| 18 | 83 | Chris & Daniella | 2010-01-20 | 30 | |
| 19 | 84 | Kelly | 2010-02-17 | 30 | |
| 20 | 85 | Adam & Yimara | 2010-05-31 | 30 | |
| 21 | 86 | Ashley & Brad | 2010-06-14 | 30 | |
| 22 | 87 | Ginger & Scott | 2010-06-21 | 30 | |
| 23 | 88 | Christina & Clarence | 2010-06-28 | 30 | |
| 24 | 89 | Mark | 2010-07-12 | 30 | |
| 25 | 90 | Danielle | 2010-07-26 | 30 | |
| 26 | 91 | Tom & Christina | 2010-08-23 | 30 | |
Season 5
| Episode No. | No. Overall | Title | Airdate | Runtime | Summary |
| --- | --- | --- | --- | --- | --- |
| 1 | 92 | Gabe | 2010-09-13 | 30 | |
| 2 | 93 | Amy & Jason | 2010-09-20 | 30 | |
| 3 | 94 | Kenny & Angela | 2010-09-27 | 30 | |
| 4 | 95 | Erika & Rodrigo | 2010-10-04 | 30 | |
| 5 | 96 | Robin & Joe | 2010-10-11 | 30 | |
| 6 | 97 | Crystal | 2010-10-18 | 30 | |
| 7 | 98 | Frances & William | 2010-10-25 | 30 | |
| 8 | 99 | Lindsey & Ian | 2010-11-01 | 30 | |
| 9 | 100 | Laura & Justin | 2010-11-08 | 30 | |
| 10 | 101 | Sean | 2010-11-15 | 30 | |
| 11 | 102 | Ashli & Pete | 2010-11-22 | 30 | |
| 12 | 103 | Barbara & Erik | 2010-11-29 | 30 | |
| 13 | 104 | Rodney & Brenda | 2010-12-01 | 30 | |
Season 6
| Episode No. | No. Overall | Title | Airdate | Runtime | Summary |
| --- | --- | --- | --- | --- | --- |
| 1 | 105 | Holly & Dan | 2011-04-04 | 30 | |
| 2 | 106 | Billy & Yenna | 2011-04-04 | 30 | |
| 3 | 107 | Tracy & Paul | 2011-04-11 | 30 | |
| 4 | 108 | Melanie, Phil and Diane | 2011-04-11 | 30 | |
| 5 | 109 | Claudia & Raphael | 2011-04-18 | 30 | |
| 6 | 110 | Vera & Milton | 2011-04-18 | 30 | |
| 7 | 111 | Erin | 2011-04-25 | 30 | |
| 8 | 112 | Susan & Jason | 2011-04-25 | 30 | |
| 9 | 113 | Melanie | 2011-05-02 | 30 | |
| 10 | 114 | Kathleen | 2011-05-02 | 30 | |
| 11 | 115 | Chad & Jeff | 2011-05-09 | 30 | |
| 12 | 116 | Maurie & Matthew | 2011-05-09 | 30 | |
| 13 | 117 | Tara | 2011-05-16 | 30 | |
Season 7
| Episode No. | No. Overall | Title | Airdate | Runtime | Summary |
| --- | --- | --- | --- | --- | --- |
| 1 | 118 | Jonothon & Lindsay | 2011-08-29 | 30 | |
| 2 | 119 | Mike & Linda | 2011-09-12 | 30 | |
| 3 | 120 | Alex & Aimee | 2011-09-12 | 30 | |
| 4 | 121 | Rebecca | 2011-09-14 | 30 | |
| 5 | 122 | Sherri | 2011-09-19 | 30 | |
| 6 | 123 | Rachel & Todd | 2011-09-19 | 30 | |
| 7 | 124 | Amanda & Vishnu | 2011-09-26 | 30 | |
| 8 | 125 | Neil | 2011-09-26 | 30 | |
| 9 | 126 | Noel | 2011-10-03 | 30 | |
| 10 | 127 | Robin & Curtis | 2011-10-03 | 30 | |
| 11 | 128 | John & Vicky | 2011-10-17 | 30 | |
| 12 | 129 | Kathy & Adam | 2011-10-17 | 30 | |
| 13 | 130 | Stephanie & Ed | 2011-10-24 | 30 | |
Season 8
| Episode No. | No. Overall | Title | Airdate | Runtime | Summary |
| --- | --- | --- | --- | --- | --- |
| 1 | 131 | Dave & Andrea | 2012-04-04 | 30 | |
| 2 | 132 | Mary & Efi | 2012-04-04 | 30 | |
| 3 | 133 | Antonio & Ileana | 2012-04-11 | 30 | |
| 4 | 134 | Greg & Erin | 2012-04-11 | 30 | |
| 5 | 135 | Karen | 2012-04-18 | 30 | |
| 6 | 136 | Jasmine & José | 2012-04-18 | 30 | |
| 7 | 137 | Brian & Danielle | 2012-04-25 | 30 | |
| 8 | 138 | James & Monica | 2012-04-25 | 30 | |
| 9 | 139 | Adrienne & Kobir | 2012-05-02 | 30 | |
| 10 | 140 | Ariana | 2012-05-02 | 30 | |
| 11 | 141 | José & Prisca | 2012-05-09 | 30 | |
| 12 | 142 | Steve & Melissa | 2012-05-09 | 30 | |
| 13 | 143 | Mitch | 2012-05-16 | 30 | |
Season 9
| Episode No. | No. Overall | Title | Airdate | Runtime | Summary |
| --- | --- | --- | --- | --- | --- |
Season 10
| Episode No. | No. Overall | Title | Airdate | Runtime | Summary |
| --- | --- | --- | --- | --- | --- |
Season 11
| Episode No. | No. Overall | Title | Airdate | Runtime | Summary |
| --- | --- | --- | --- | --- | --- |
Season 12
| Episode No. | No. Overall | Title | Airdate | Runtime | Summary |
| --- | --- | --- | --- | --- | --- |
| 1 | 144 | Third Round Knock Out | 2015-08-17 | 30 | |
| 2 | 145 | Overcoming Obstacles | 2015-08-24 | 30 | |
| 3 | 146 | Commitmentphobia | 2015-08-24 | 30 | |
| 4 | 147 | Snap Decision? | 2015-08-31 | 30 | |
| 5 | 148 | An Unusual Dilemma | 2015-08-31 | 30 | |
| 6 | 149 | Wingmom | 2015-09-14 | 30 | |
| 7 | 150 | Budget Skirmish | 2015-09-14 | 30 | |
| 8 | 151 | Anything But Ordinary | 2015-09-21 | 30 | |
| 9 | 152 | F.R.O.G. Hunting | 2015-09-21 | 30 | |
| 10 | 153 | Who Let the Dogs Out | 2015-09-28 | 30 | |
| 11 | 154 | Southern Charm | 2015-09-28 | 30 | |
| 12 | 155 | Creative Differences | 2015-10-05 | 30 | |
| 13 | 156 | Close to the Coast | 2015-10-12 | 30 | |
Season 13
| Episode No. | No. Overall | Title | Airdate | Runtime | Summary |
| --- | --- | --- | --- | --- | --- |
| 1 | 157 | DIY Shy | 2016-07-03 | 30 | |
| 2 | 158 | Duty Calls | 2016-07-03 | 30 | |
| 3 | 159 | There's No Place Like Home | 2016-07-10 | 30 | |
| 4 | 160 | Homeschooling | 2016-07-10 | 30 | |
| 5 | 161 | Queen Of The Castle | 2016-07-17 | 30 | |
| 6 | 162 | Fly the Coop | 2016-07-17 | 30 | |
Series Cast
| | | | |
| --- | --- | --- | --- |
| | Egypt Sherrod | as Host | |
| | Sandra Rinomato | as Host | |
Related News
TVMaze