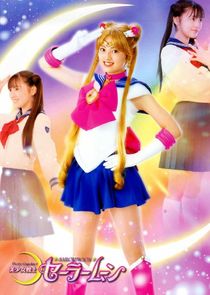 Stealing people's energy and trying to take over the world, the evil organization known as the "Dark Kingdom" is running rampant across the globe. Caught in the middle of all this is 2nd year Juuban Middle School student Tsukino Usagi, who meets a stuffed cat doll, who turns into a senshi, named Luna. Who in turn gives her the magical ability to transform into "Sailor Moon" It turns out that this clumsy, crybaby has no choice but to stand up and fight against the Dark Kingdom. Sailor Moon will meet with her fellow Senshi, The smartest girl in Usagi's school: Mizuno Ami "Sailor Mercury"; a temple pristis: Hino Rei "Sailor Mars": the strongest girl at Usagi's school and best cook: Kino Makoto "Sailor Jupiter" & #1 Idol: Aino Minako "Sailor Venus". Together they will all fight with the guidance of fellow plus-cat Artemis and help from Chiba Mamoru, the mysterious "Tuxedo Mask".
Series Overview
Rating
imDb Rating: 7.3 (486 Votes)
Metascore: N/A
Plot
Live-action series which is an original re-telling of the original Bishoujo Senshi Sailormoon manga and anime series.
Details
Rated: N/A
Released: 04 Oct 2003
Runtime: 30 min
Genre: Action, Adventure, Fantasy, Sci-Fi
Director: N/A
Writer: Naoko Takeuchi
Actors: Jun Masuo, Miyû Sawai, Rika Izumi, Aya Sugimoto
Language: Japanese
Country: Japan
Awards: N/A
Total Seasons: 1
Previous Episode
The Five Sailor Senshi Surpassed Their Previous Lives
Episode 1x49; Sep 25, 2004
Previous Episodes 1x49: The Five Sailor Senshi Surpassed Their Previous Lives 1x48: Mamoru is Captured by Metalia! 1x47: Goodbye, Minako 1x46: Sailor Venus Awakens Her Senshi Powers 1x45: Youma Metalia's Violent Attack 1x44: Zoisite Turned Back Into a Stone 1x43: Usagi and Mamoru's Promise 1x42: I Won't Use the Power of the Illusion Silver Crystal! 1x41: Actually, I'm a Senshi!

View All Episodes
Cast
Keiko Kitagawa as Hino Rei
Sawai Miyuu as Tsukino Usagi
Komatsu Ayaka as Aino Minako
Izumi Rika as Mizuno Ami
Shibue Joji as Chiba Mamoru
Azama Myu as Kino Makoto
View Full Cast
Skip to:
Season 1
| Episode No. | No. Overall | Title | Airdate | Runtime | Summary |
| --- | --- | --- | --- | --- | --- |
| 1 | 1 | I am Sailor Moon! | 2003-10-04 | 30 | |
| 2 | 2 | Ami Became a Friend | 2003-10-11 | 30 | |
| 3 | 3 | The Third Senshi is Miko Rei | 2003-10-18 | 30 | |
| 4 | 4 | Sneaking Into the Party! | 2003-10-25 | 30 | |
| 5 | 5 | Is Usagi a True Friend? | 2003-11-01 | 30 | |
| 6 | 6 | The Transfer Student is Sailor Jupiter | 2003-11-08 | 30 | |
| 7 | 7 | He Saw Me Transforming! | 2003-11-15 | 30 | |
| 8 | 8 | Rei and Her Father | 2003-11-22 | 30 | |
| 9 | 9 | I'll Protect the Illusion Silver Crystal | 2003-11-29 | 30 | |
| 10 | 10 | I Am Queen Beryl, Queen of Darkness | 2003-12-06 | 30 | |
| 11 | 11 | We Got to Meet the Real Minako! | 2003-12-13 | 30 | |
| 12 | 12 | Sailor V's True Identity Was the Princess! | 2003-12-20 | 30 | |
| 13 | 13 | The Last of the Shitennou, Kunzite, Appears | 2003-12-27 | 30 | |
| 14 | 14 | Usagi is Turning Into a Youma? | 2004-01-10 | 30 | |
| 15 | 15 | I'll Punish the Thief! | 2004-01-17 | 30 | |
| 16 | 16 | I Must Save Osaka! | 2004-01-24 | 30 | |
| 17 | 17 | Minako Transforms in Front of Rei's Eyes! | 2004-01-31 | 30 | |
| 18 | 18 | At Last, All Five Sailor Senshi Are Together | 2004-02-07 | 30 | |
| 19 | 19 | Usagi's Nervous Valentine | 2004-02-14 | 30 | |
| 20 | 20 | Hina Was Mamoru's Fiancée... | 2004-02-21 | 30 | |
| 21 | 21 | What Did You Do to Ami!? | 2004-02-28 | 30 | |
| 22 | 22 | Ami Becomes an Enemy... | 2004-03-06 | 30 | |
| 23 | 23 | In Order to Awaken Her Senshi Powers, Rei Sings | 2004-03-13 | 30 | |
| 24 | 24 | I Can't Forget About Chiba Mamoru After All | 2004-03-20 | 30 | |
| 25 | 25 | So Tuxedo Mask's True Identity Was Chiba Mamoru... | 2004-03-27 | 30 | |
| 26 | 26 | Usagi is the Real Princess! | 2004-04-03 | 30 | |
| 27 | 27 | Luna Became a Sailor Senshi! | 2004-04-17 | 30 | |
| 28 | 28 | Welcome Back, Ami! | 2004-04-24 | 30 | |
| 29 | 29 | Minako's Rival, Kuroki Mio, is a Transfer Student? | 2004-05-01 | 30 | |
| 30 | 30 | Mio Deceives Usagi | 2004-05-08 | 30 | |
| 31 | 31 | Jupiter Awakens Her Senshi Powers! | 2004-05-15 | 30 | |
| 32 | 32 | Mamoru Came Back | 2004-05-22 | 30 | |
| 33 | 33 | Ami is Changing Schools? | 2004-05-29 | 30 | |
| 34 | 34 | A Mother-and-Daughter Talk | 2004-06-05 | 30 | |
| 35 | 35 | Sailor Venus and Zoisite Are Working Together? | 2004-06-12 | 30 | |
| 36 | 36 | Princess Sailor Moon Appears! | 2004-06-19 | 30 | |
| 37 | 37 | The Princess Will Cause a Catastrophe!? | 2004-06-26 | 30 | |
| 38 | 38 | Believe Me! I Definitely Won't Destroy the Planet! | 2004-07-03 | 30 | |
| 39 | 39 | Usagi's Mother's Challenge as a Reporter!! | 2004-07-10 | 30 | |
| 40 | 40 | Minako vs Rei, Where's the Battle? | 2004-07-17 | 30 | |
| 41 | 41 | Actually, I'm a Senshi! | 2004-07-24 | 30 | |
| 42 | 42 | I Won't Use the Power of the Illusion Silver Crystal! | 2004-07-31 | 30 | |
| 43 | 43 | Usagi and Mamoru's Promise | 2004-08-07 | 30 | |
| 44 | 44 | Zoisite Turned Back Into a Stone | 2004-08-14 | 30 | |
| 45 | 45 | Youma Metalia's Violent Attack | 2004-08-21 | 30 | |
| 46 | 46 | Sailor Venus Awakens Her Senshi Powers | 2004-08-28 | 30 | |
| 47 | 47 | Goodbye, Minako | 2004-09-04 | 30 | |
| 48 | 48 | Mamoru is Captured by Metalia! | 2004-09-18 | 30 | |
| 49 | 49 | The Five Sailor Senshi Surpassed Their Previous Lives | 2004-09-25 | 30 | |
Series Cast
| | | | |
| --- | --- | --- | --- |
| | Keiko Kitagawa | as Hino Rei | |
| | Sawai Miyuu | as Tsukino Usagi | |
| | Komatsu Ayaka | as Aino Minako | |
| | Izumi Rika | as Mizuno Ami | |
| | Shibue Joji | as Chiba Mamoru | |
| | Azama Myu | as Kino Makoto | |
Related News
TVMaze