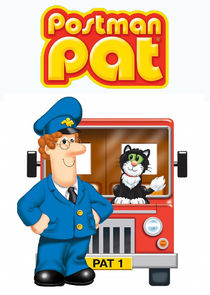 Postman Pat was based on a series of books by John Cunliffe, the program is about a rural postman who helps his friends in the village of Greendale, based supposedly in Cumbria, England. The first series of thirteen 15-minute episodes was produced by Woodland Animations and broadcast by the BBC in 1981. Ivor Wood, a vetaran of animations like The Magic Roundabout, was at the helm as producer. Ken Barrie sang the well known theme tune and provided the narration. The stories were very successful and have seen endless repeats over the years. To celebrate the 10th anniversary of the show in 1991, the old production crew was reunited for two one-off 25 minute specials, again shown by the BBC. Two more came in 1995, and these were followed by a second full series of 13 adventures. Then, after almost 10 years of absence from our screens, Postman Pat returned in 2004 for his third series.
Series Overview
Rating
imDb Rating: 6.5 (1,628 Votes)
Metascore: N/A
Plot
This classic children's series follows the adventures of everyone's favourite postman as he carries out his mail rounds in the village of Greendale.
Details
Rated: G
Released: N/A
Runtime: N/A
Genre: Animation, Family
Director: N/A
Writer: N/A
Actors: Ken Barrie, Carole Boyd, Archie Panjabi, Melissa Sinden
Language: English
Country: UK
Awards: N/A
Total Seasons: 9
Previous Episode
Postman Pat and the Space Suit
Episode 8x26; Mar 29, 2017
Pat has to bring an astronaut's suit to the Space Day at Ted's Mill.
Previous Episodes 8x26: Postman Pat and the Space Suit 8x25: Postman Pat and the Very Important Person 8x24: Postman Pat's Pop Star Rescue 8x23: Postman Pat and the Bucking Bronco 8x22: Postman Pat and the Winter Games 8x21: Postman Pat and the Stormy Birthday 8x20: Postman Pat and the Sorting Machine 8x19: Postman Pat and the Clippy Claws 8x18: Postman Pat and the Loch Ness Monster

View All Episodes
Skip to:
Season 1
Episode No.
No. Overall
Title
Airdate
Runtime
Summary
1
1
Pat's Finding Day
1981-09-16
15

Pat calls to the Post Office and today most of the post is for Katy and Tom because it their birthday. Pat goes to deliver the post to them. Poor Katy is not having a happy birthday because she has lost Sarah-Ann, her doll that she takes everywhere. Pat's round then becomes a search for the missing doll. He comes across a load of other things but not the doll. Will he find Katy's missing doll in order to save the day?

2
2
Pat and the Magpie Hen
1981-09-23
15

During his lunch break, Pat falls asleep on a hill above Thompson Ground, leaving his lunch box open and his keys just beside it. When he wakes up, he sees Dorothy Thompson's hens running off with his sandwiches and one with his keys. Pat follows the hen up a tree, but then the hen drops the keys and flies away. After falling out of the tree, Pat tells Mrs. Thompson about the hen and she comes to the conclusion that it must think its a magpie. Pat and Dorothy then go to get a ladder and Pat finds more than just his keys up in the tree. He also finds Mrs. Thompson's wedding ring which went missing the previous Easter and which she thought she lost down the sink. Having lost his sandwiches, Pat later has some of Mrs. Thompson's dinner. Later on when Pat carries on with the post, he tells everyone else about the magpie hen and they wonder themselves if anything they lost was taken by the bird in question. On the way home, Pat sees some real magpies and wonders if they had taught Mrs. Thompson's hens how to take shining objects like them.

3
3
Pat's Birthday
1981-09-30
15

Pat always thought he had managed to keep the date of his birthday to himself. He tells Jess not to give his secret away.

But when he arrives at the Post Office, almost all of the post is for Pat. As he goes on his round, everyone he meets knows it's his birthday! How did all those people know?

4
4
Pat's Rainy Day
1981-10-07
15

It is a heavy rainy day in Greendale. Even the letters are wet when Pat goes to the Post Office to collect them. The rain has stopped. Pat goes to deliver his wet letters. Some people still have their lights on in their homes as the weather has been so dismal. Pat stops to see what has happened to Peter Fogg. Peter's old tractor is bogged down and he has fallen over in the mud. He then prepares to go home to change and then get his new tractor to pull the old one out of the mud. Pat bids him farewell and sets off again. At the village school, the children are looking to see if the rain has stopped. Charlie Pringle collects the letters, as Bill Thompson is off school at Thompson Ground, helping his father with the sheep. Pat watches the children have fun in the rain and then drives over to Greendale Farm where Peter Fogg shows him his new tractor with the bulldozer plough. Pat gives him his post and sets off again.

The church roof is leaking, and the Reverend Timms is having trouble catching drops of water in the buckets. Pat promises to ask Ted Glen to have a look. Pat buys some bananas from Sam Waldron. Pat is heading up into the hills when he is stopped by Mrs Thompson. The road has to be cleared, due to a blockage of mud. Alf tries to get through with his tractor, but gets stuck. Bill brings his model plane and Pat ties an SOS message to it and flies it over to Peter, giving him the message to clear the blockage with his tractor and bulldozer plough.

It seems ages since the plane has gone. Just when Pat is thinking it has crashed, he hears an engine coming along the road and sees Peter on his tractor. He clears the mud away and there is just enough room for Sam to get through and then Pat. Pat sees Ted mending a wall. He asks Ted to have a look at the church roof. Ted says he'll go along when he's finished. Miss Hubbards stops for a chat. Pat suggests she turn back otherwise she'll have to swim home. However, it'll take more than a drop of rain to stop Miss Hubbard and she heads on her way. Pat heads on his way too. It looks like there'll be rain again, but Pat will be able to sit by a warm fireside once he's delivered all the letters.

5
5
The Sheep in the Clover Field
1981-10-14
15

It is a cloudy morning, but the sun brightens up, and Pat is having a late day after his van gets stuck in the mud, when he is forced to stop because of Sam Waldron's van. Peter Fogg soon comes along in his red tractor to pull Pat out. When he arrives at the Post Office, Mrs Goggins shows him a newspaper article about Major Forbes' bull.

Later Ted stops Pat and they have to get some sheep out of a field filled with clovers. Pat and Ted get chased by a bull and Ted thinks he's broken his ankle so Pat goes to fetch Dr Gilbertson from the village, then Dr Gilbertson bandages Ted's ankle, then Pat takes Dr Gilbertson and Ted home.

6
6
Pat's Tractor Express
1981-10-21
15

Pat calls at the post office to collect a registered letter to the camp site, and a parcel for Granny Dryden. Pat has to help Peter Fogg get some wandering sheep out of Mr. Jackson's Garden, then he delivers Granny Dryden's parcel and asks her to get a new digital watch, then he deliver some eggs and a registered letter to some campers.

The letter is too valuable to leave and the campers are at the waterfall. Pat's van can't travel the bumpy road so Miss Hubbard borrows a tractor and takes him on a rather bumpy ride to the waterfall. When Pat returns to his van, he sees that a hen has got in and laid an egg.

7
7
Pat's Thirsty Day
1981-10-28
15

Greendale has not had any rain for weeks, and its a very hot day today, and the water supply has had to be turned off. When Pat arrives at the Post Office, Mrs. Goggins gives him some lemonade to quench his thirst.

Later Granny Dryden shows Pat an old water pump in the village. Can Ted fix it in order to get a water supply working?

8
8
Pat's Windy Day
1981-11-04
15

It is a windy day in Greendale and Pat is finding it difficult to steer his van. Alf Thompson is nearly blown off his feet. Suddenly, Pat sees a fallen tree blocking the road; he stops and gets out to look at it. Peter Fogg is on the other side; he walks off to get a chainsaw to cut the tree up. Pat takes the branches away so Peter can lift the tree out of the way.

After the road is unblocked, Pat goes back to his van, but it has gone. He soon finds it safe and sound next to Sam's Mobile Shop. Sam had moved the van to protect it from branches that may be a threat to its paint work. Suddenly as Pat drives on his way, the van's engine starts to splutter and clank. Pat stops and gets out to check the engine and the wind blows his hat off. Pat chases after the hat but he cannot catch it and the wind blows it into a stream. So Pat gives up on it and goes back to the van. He soon spots the trouble with the engine; a cable has snapped, but it is no trouble to fix. Pat puts the problem right and is soon on his way again.

When Pat calls at the school, his letters get blown away. The children help to catch them and Bill Thompson takes them to the Headmaster. Towards the end of his windy round, Pat sees a flying towel belonging to Granny Dryden. He helps her catch her washing and she shows him a scarecrow which is wearing Pat's hat. Pat puts his hat back on his head, thanks the scarecrow for looking after it for him and heads off for home in his van.

9
9
Pat's Foggy Day
1981-11-11
15

It is foggy in Greendale and Pat is driving carefully along the road. He soon arrives at the post office late, but there is no sign of the letters yet, so Mrs. Goggins invites him into her sitting room for some tea and biscuits. Then before Pat can eat his favourite biscuit, the postman from Pencaster arrives with the mail. Pat helps Mrs. Goggins to sort the letters and is soon on his way again.

On the way, the lights on Pat's van are not much help in the fog, so he stops to check a sign post, only to discover that it is a crossroads sign. Pat does not know which way to go, so he walks along the road, trying to see through the fog without losing sight of his van. Suddenly, he sees someone standing in a field. Pat thinks it is Ted Glen out after rabbits, so he goes over with a letter for him. Pat touches Ted on the shoulder, but he does not move. Pat puts the letter in Ted's pocket. Still, he does not move. Finally, Pat gives him a nudge. The figure spins round and it turns out to be a scarecrow. Pat feels very silly, but luckily no one has seen him, so he says goodbye to the scarecrow and makes his way back to the road. Alf Thompson passes by on his tractor and shows Pat the correct way to go. Pat is on his way again and he soon sees Sam Waldron at the side of the road. Pat stops to buy some cough sweets from him.

The next stop is at the church and Pat gives some letters to the Reverend Timms. The Reverend remarks that not even fog will stop Miss Hubbard coming to choir practice. When Pat returns to his van, he discovers that Jess is gone. Pat goes out into the fog to search for him. He soon finds Jess, but now they are both lost in the fog and cannot find the road again, let alone his van. Meanwhile Miss Hubbard finds Pat's van on her way to the church, but there is nobody inside. She and the Reverend ring the church bells and Pat is able to find his way back. Back at the church, Pat has had a cup of tea prepared for him and there is also some milk for Jess. Suddenly Miss Hubbard spots the sunshine coming in through the stained glass window. A breeze has blown the fog away, so now Pat and Jess can deliver the post without any trouble at all. As they drive along in the van, they spot the scarecrow again. Pat reckons that he is still waiting for a letter.

10
10
Pat's Difficult Day
1981-11-18
15

One morning, Miss Hubbard is surprised when she sees that Pat's van is still outside his house. She rings her bicycle bell to wake Pat up. Pat's alarm-clock has failed to wake him up, She tells him he has to get to work. Pat rushes out to his van without any breakfast but almost forgets his hat. He runs back inside to get his hat and trips over Jess. Pat puts his hat on his head, picks Jess up and drives off to work in a big hurry.

It is past 9.00 at the Post Office. Mrs. Goggins is fixing a messy parcel. Pat soon arrives and as he gets out, his hat falls off and as he bends down to pick it up, his van's door slams on his bottom. Pat tells Mrs. Goggins his alarm-clock did not wake him up and she shows him the messy parcel she is fixing. His hat gets caught in the sticky tape! Pat pulls it off and the tape sticks all over his fingers. Mrs. Goggins pulls it off and finally puts the rest of the parcel together.

Pat stops his van near a spot where Ted Glen is fixing a fence. As Pat gives Ted his parcel, it just falls to bits and lots of nuts and bolts roll into the grass. They look for them but with no luck. Bill Thompson comes over and lets them borrow his magnet. Pat uses the magnet to pick up all the bits of metal.

Soon, Pat is on his way again, and when he arrives at Thompson Ground, Alf tells him to leave the letters on the table and Pat accidentally bumps into Alf's ladder. He wobbles wildly about as he tries to hold the ladder and Alf drops his bucket on Pat's hand. Pat hurts his wrist and now he will not be able to drive his van. Mrs. Thompson binds up the hand for him just as Sam Waldron drives in and they tell him about Pat's accident. Sam decides to help Pat get the post through by taking him and Jess in his mobile shop around the village on his own rounds. Pat is delighted, so they take all the post out of Pat's van and put it into Sam's mobile shop.

Sam takes Pat to see Dr. Gilbertson to look at his injured hand. The Doctor tells Pat his wrist is not broken and that he will soon be alright in a few days, but she gives him some cream to soothe it. Pat and Sam then set off on their rounds; Sam sorts out the people's shopping and Pat gives them their post. At the end of the day Sam takes Pat and Jess home. Pat hopes that tomorrow will be a normal day.

11
11
Pat Goes Sledging
1981-11-25
15

Heavy snow has fallen in Greendale and Peter Fogg is clearing the roads with his tractor and bulldozer blade. When Pat calls at the Post Office, Mrs Goggins warns him about the ten foot drifts up at Intake Farm and gives him a parcel to take to George Lancaster at Hill Top Farm. Pat calls at Greendale Farm, where Katy and Tom throw a snowball at him. He throws one back, but it hits Alf by mistake. But Alf doesn't mind at all, as he knows it's only a bit of fun. The road is blocked and the tractor's bulldozer blade is stuck in a snowdrift. Pat offers to help Ted and Alf dig it out. After giving Mrs Pottage her letters, he sets off.

Peter is already digging when the men arrive. They help him dig the snow away. Peter tests the tractor. At first, the snowdrift doesn't move. He reverses the tractor and tries again. This time, he gets through. With the road now clear, Pat says goodbye to the twins and sets off again. He calls at the vicarage with a letter for the Reverend. But Dr Gilbertson is also there, as the Reverend has fallen on the ice and broken his leg. Pat gives him the letter and offers to deliver the Parish Magazines for the Reverend. Pat then goes up the hill to Thompson Ground.

When Pat arrives, he is told by Mrs Thompson that Peter had to go back down the hill because the snow was so bad. Pat plans to walk to Hill Top but Alf offers to take him on the farm sledge as he has to take some food for the sheep. Pat and Alf load up the sledge. Mrs Thompson gives them some groceries to take to George. They set off. The sheep are glad to see them. Pat and Alf notice that George's house is nearly buried! Since George is not in, Pat leaves the parcel and the groceries on the table.

Pat and Alf go back to Thompson Ground. At first, they fall off the sledge and tumble down a hill in the snow, but they get back on it and ride it all the way back. It crashes into the farm shed. Pat and Alf go inside for a cup of tea. Pat thanks Alf for the ride and sets off in his van. The rest of his round is in the valley. The roads have been cleared and gritted. Pat jokes to his cat: "No more digging or sledging today. It takes more than snow to stop us, Jess."

12
12
Letters on Ice
1981-12-02
15

Greendale is having a very hard winter and it has snowed again in the night. The weather is icy as well. Postman Pat is out on his rounds as usual, but he must go very carefully. Pat sees Sam Waldron out with his mobile shop. He offers to deliver Granny Dryden's shopping to her, as well as her letter from her daughter. Pat heads along the steep road to her cottage. He reads out her daughter's letter. Granny Dryden is so impressed, she gives Pat a cup of tea. Pat sets off again in his van. He stops at Ted Glen's workshop. Pat gives Ted a letter from his brother Bert in Australia. Ted gives Pat Bert's old skates and suggests he try them on the tarn. Pat heads off in his van again.

While Pat is on his way in his van, the wind blows the snow into deeper drifts. Soon, Pat has to stop because the road is blocked, this makes Pat think he will never get through with his letters now. So he decides to skate over the frozen Tarn to deliver the post. He finds it difficult to skate on the ice though. Pat gives a letter to Charlie Pringle. On the way back across the ice, Pat meets Mrs. Thompson. Jess is on the ice too. Pat picks his cat up and takes him back to the van.

Pat stops at the village school. No one is there, except for the snowman. Pat gives him a letter. He sees Ted and Miss Hubbard. The snow has buried her bicycle. Pat and Ted help her search for it. She soons find it. Pat opens the gate for her and sets off, bidding farewell to Pat and Ted. Pat sets off too, for home. Pat tells Jess the snow won't last forever

13
13
Pat Takes a Message
1981-12-09
15

It has been wild and windy in Greendale. Pat calls to collect an Australian stamp from the Reverend Timms, who will be visiting London to meet his sister Elsie from Australia.

When Pat arrives at the Post Office, Elsie phones Mrs Goggins to say she will come straight to Greendale because of her flight being diverted to Manchester, and Pat has to catch up with Reverend with the help of Miss Hubbard's bicycle and Ted's roller skates. Will Pat be able to stop the Reverend from catching the train to London?
Season 2
| Episode No. | No. Overall | Title | Airdate | Runtime | Summary |
| --- | --- | --- | --- | --- | --- |
| 1 | 14 | Postman Pat and the Hole in the Road | 1996-04-03 | 15 | Mr Pringle has been teaching the children about volcanoes and earthquakes. The next day this makes Pat think about the holes in the road. While on his rounds, he gets diverted round in a big circle. P.C. Selby lets all traffic pass through Thompson Ground and Ted gets ready to mend the hole with tar. |
| 2 | 15 | Postman Pat and the Suit of Armour | 1996-04-10 | 15 | Garner Hall is opening to the public, but Miss Hubbard is having trouble organising the story of the house when the diary of Granny Dryden's grandfather is lacking excitement. Ted is restoring the suit of armour and then decides try it on. But he then gets stuck inside and he can't see where he's going. He crashes about the hall, with Pat chasing after him. The chase soon brings up a big surprise for Miss Hubbard. |
| 3 | 16 | Postman Pat in a Muddle | 1996-04-17 | 15 | A huge parcel arrives at the Post Office and it squashes Pat's glasses after he puts them down on the counter. Mrs Goggins lends Pat one of her old pairs of glasses. Pat still can't see properly, meaning he can't read or drive, so Ted offers to take him in his lorry. |
| 4 | 17 | Postman Pat Misses the Show | 1996-04-24 | 15 | The villagers prepare for a Greendale arts show. Ted lends Pat some clay but it makes a mess. Pat makes a clay sculpture model of Jess. When he is traveling to the art show, his van runs out of petrol. Sam lends him some more petrol but it soon runs out again. |
| 5 | 18 | Postman Pat Follows a Trail | 1996-05-01 | 15 | Pat finds a long string across the road and follows it to see where it leads. It leads to a tree where Katy and Tom's kite is stuck. Pat needs to find someone with a ladder, so he can rescue the kite. |
| 6 | 19 | Postman Pat Has the Best Village | 1996-05-08 | 15 | The villagers prepare to enter a best village competition. Will Greendale win first prize - and where has Ted's lorry got to? |
| 7 | 20 | Postman Pat Paints the Ceiling | 1996-05-15 | 15 | Pat offers to paint the ceiling for Granny Dryden, but some paint spills down his trousers. Pat goes home to change and gets an odd pair of trousers and Sarah can't help laughing. During his rounds, everyone wonders why on Earth Pat is out doing his rounds in shorts. |
| 8 | 21 | Postman Pat Has Too Many Parcels | 1996-05-22 | 15 | Madness over Sam's new catalogue has taken over Greendale, meaning Pat has a lot more parcels than usual. Ted devises a motorised scooter to make Pat's job easier but it proves to be more trouble than it's worth. |
| 9 | 22 | Postman Pat and the Big Surprise | 1996-05-29 | 15 | Pat does some gardening before work. When he tries to remove a weed, he sprains his back and Sara calls Dr. Gilbertson in. Pat needs a day in bed so Sara offers to take the post instead. Everyone is surprised to see Sara delivering the post instead of Pat. Sara has also forgotten something. |
| 10 | 23 | Postman Pat and the Robot | 1996-06-05 | 15 | Ted invents a new robot postman to help give Pat a rest. When it goes out for its test run and arrives at the Post Office, it scares Mrs Goggins. When it gets loaded with post, it causes havoc over Greendale. Pat and Ted follow after the robot in Pat's Post Bus. |
| 11 | 24 | Postman Pat Takes Flight | 1996-06-12 | 15 | The Major Forbes prepares for a film show about his balloon flights across the world. When Pat arrives at Garner Hall, the Major asks Pat to climb onto the roof, untangle the string and cast him off into the sky. Unfortunately it sets off with Pat still clinging to the basket up and up and away! |
| 12 | 25 | Postman Pat and the Beast of Greendale | 1996-06-19 | 15 | A strange creature is on the loose all over Greendale. First it chewed up Pat's sandwiches, then Dorothy's carrots, then Granny Dryden's washing line, knocked over Miss Hubbard of her bike, then brakes Major Forbes flower pots and it makes a racket in the Village Church! Who can it be? |
| 13 | 26 | Postman Pat and the Mystery Tour | 1996-06-26 | 15 | Pat is taking Mr. Pringle and the school children on the mystery tour in the post bus. |
Season 3
Episode No.
No. Overall
Title
Airdate
Runtime
Summary
1
27
Postman Pat and the Runaway Kite
2004-09-07
15

Julian is making a kite for the kite festival. Jess accidently ruins his first kite but there is still enough time for Julian to make another one, so he goes out to find Charlie for his help.

Meanwhile, Ted is also working on a kite and his parcel is its tail. Suddenly, the wind blows Pat's hat away and while he and and Ted try to catch it, Jess decides to have a nose aound inside the kite which suddenly takes off with him in it. Pat and Ted give chase in the van.

At the school, Julian and Charlie make new kites. Julian thinks that Charlie's aerodynamic kite looks rather boring and Charlie thinks that Julian's Pencaster United coloured kite does not fly so well. So they decided to combine to the two kites together by adding the colourful material of Julian's kite to Charlie's.

Later Ajay opens the kite festival and everyone is showing off their own hand crafted. Julian and Charlie are also with their aerodynamic Pencaster United kite. The judges, Mrs. Goggins and the Reverend Timms are very impressed. Suddenly Pat and Ted arrive on the scene just as Jess flies into the crowd of other kites. Luckily because Julian had made his kite so that it can do loop-the-loops, it fastened to the runaway kite and Pat and his friends are able to pull Jess down to safety.

Then the judges hand out the trophies: Meera wins the bronze trophie for the prettiest and most musical kite, the silver trophie for the kite with the best flying skills is given to Julian and Charlie and the gold one is awarded to Jess for being the bravest kite flyer. However this title is a bit of an under statement; as soon as Jess sees the trophie which looks a lot like Ted's kite, he runs away for miles in fright. It is safe to say that Jess will be keeping his feet firmly on the ground from now on.

2
28
Postman Pat and the Hungry Goat
2004-09-08
15

Alf's goat Rosie escapes so Pat tries to help him get her back into her pen, but not be before she does a lot damage like eating the labels off Pat's parcels.

3
29
Postman Pat and the Ice Cream Machine
2004-09-09
15

It is hot sunny day in Greendale and Ted Glen is making an ice cream machine for his picnic party at the workshop. Despite his best efforts to get it working, it keeps getting in a muddle. Meanwhile Julian, Meera and Bill are collecting more flavours for the ice cream and are also working on a brand new flavour for Jess.

4
30
Postman Pat and the Great Greendale Race
2004-09-10
15

Pat, Alf, Ted, Ajay and P.C. Selby take part in a race around the village to see which of their vehicles is the best. During the race, the contestents have to take tests along the way to find out who knows the rules of the road. P.C. Selby on his bicycle falls behind the others straight away, but when Ted gets himself into a prickly situation and Alf gets delayed with his sheep, the policeman starts to catch up. Towards the end, Pat makes it into second place when suddenly Ajay's motorbike which has been holding the lead for most the race, runs out of petrol. Pat stops to help Ajay by letting him have the petrol from his spare can. Then P.C. Selby passes by and wins the race, but Pat does not go away empty handed for coming last. For stopping to help Ajay and losing the chance of winning the race, the Reverend Timms awards Pat with one of Mrs. Pottage's homemade apple pies as well as a trophy for P.C. Selby.

5
31
Postman Pat and the Jumble Sale
2004-09-14
15

It's Recycling Week and Nisha is organizing a Jumble Sale.

6
32
Postman Pat the Magician
2004-09-15
15

Pat is putting on a magic show for Meera's birthday party.

7
33
Postman Pat and the Spotty Situation
2003-09-16
15

When a nasty bout of chicken pox comes to Greendale, Pat has a busy day delivering calamine lotion to everyone who needs it.

8
34
Postman Pat and the Greendale Movie
2004-09-17
15

Pat has a video camera delivered to him and decides to make a video diary of Greendale while on his rounds. However he has little idea how to use it and lots of things get accidentally filmed. when it is later shown to the village a the Primary school everyone finds it hilarious, although slightly embarrassing.

9
35
Postman Pat Goes Football Crazy
2004-09-21
15

Today the village's five aside football match is being held on the Green and having to do his mail rounds on his bicycle proves to be the perfect form of training for Pat.

10
36
Postman Pat's Pigeon Post
2004-09-22
15

Pat's van runs out of petrol in the Mazy Way between Greendale and Pencaster, so he has to send Alf's pigeon, Cedric to get help.

11
37
Postman Pat and a Job Well Done
2004-09-23
15

Whilst Ted Glen is re-varnishing the classroom floor for the morning, Pat takes Julian with him on his rounds to learn about people's jobs.

12
38
Postman Pat and the Green Rabbit
2004-09-24
15

Sara and Nisha are taking Julian and Meera to see the new "Captain Zzapp" movie, but Nikhil's babysitter has cancelled out, so Pat offers to look after him for the day. However Pat soon discovers that working around Nikhil is a very difficult task, especially where his Green Rabbit is involved.

13
39
Postman Pat and the Big Butterflies
2004-09-27
15

Two big butterflies have escaped from Pencaster Zoo.

14
40
Postman Pat and the Troublesome Train
2004-09-28
15

Pat has the day off so he offers to help Ted and Ajay drive the Greendale Rocket. Meanwhile Julian discovers that staying at school is much more fun.

15
41
Postman Pat and the Flying Saucers
2004-09-29
15

Charlie, Julian and Meera are searching UFOs.

16
42
Postman Pat at the Seaside
2004-09-30
15

The children of Greendale are all feeling bored. Meanwhile Pat, Ted and P.C. Selby are trying to move a large pile of sand from the road.

17
43
Postman Pat and the Job Swap Day
2004-10-01
15

Various working people in Greendale are swapping jobs for the day to raise money to fix the school roof.

18
44
Postman Pat's Disappearing Dotty
2004-10-04
15

Julian is looking after the school guinea pig, Dotty, but on her first night at the Clifton residence she escapes. The next morning, everyone is looking for Dotty. When Pat leaves for work, it turns out she is following him on his rounds.

19
45
Postman Pat's Popstars
2004-10-05
15

Everyone in Greendale is auditioning for Charlie and Julian's new band. It seems no one is right, but will Lucy Selby have the confidence to audition?

20
46
Postman Pat's Great Dinosaur Hunt
2004-10-06
15

The local grown-ups of Greendale are working hard to make a playground for the children.

21
47
Postman Pat and the Spooky Sleepover
2004-10-07
15

Katy and Tom are having a sleepover with Julian in his bedroom.

22
48
Postman Pat and the Midsummer Market
2004-10-08
15

Cedric is preventing the Reverend from ringing the church bell to open the Midsummer Market.

23
49
Postman Pat and the Train Inspector
2004-10-11
15

Ajay's friends all help him to pass the Train Inspector's tests.

24
50
Postman Pat and the Ice Ladder
2004-10-12
15

The children are having fun sledging in the snow. Then disaster strikes when Katy and Tom get stuck on a frozen pond and Pat has to use Alf's new ladder to rescue the twins.

25
51
Postman Pat and the Rocket Rescue
2004-10-13
15

The children's giant snowball for their snowman rolls onto the railway line and blocks the Greendale Rocket's way.

26
52
Postman Pat's Perfect Painting
2004-10-14
15

The children are making a piece of artwork about the most exciting thing that has happened to them that year.
Season 4
Episode No.
No. Overall
Title
Airdate
Runtime
Summary
1
53
Postman Pat and the Big Balloon Ride
2005-02-27
15

P.C. Selby is searching for a stray dog and Pat and Ted are giving Mrs. Goggins a surprise balloon ride.

2
54
Postman Pat and the Surprise Present
2005-02-28
15

Lots of big birthday surprises are being organised for Doctor Gilbertson.

3
55
Postman Pat and the Perfect Pizza
2005-03-01
15

Ajay and Pat make pizzas for the kids.

4
56
Postman Pat and the Spring Dance
2005-03-02
15

The Spring Dance is being held in the village, except Pat cannot dance. Everyone else is practicing and Sara is really disappointed that she won't be able to dance if Pat can't.

Eventually Ted teaches Pat to dance and Pat surprises Sara. The Spring Dance goes well and everyone has a fantastic evening.

5
57
Postman Pat and the Thunderstorm
2005-03-03
15

A thunderstorm in Greendale frightens Bonnie and she runs away. Pat goes to find Bonnie and Julian comes too to show how brave he is.

6
58
Postman Pat and the Fancy Dress Party
2005-03-04
15

The Annual School Party is being held and everyone is getting ready.

P.C. Selby is going to the dance with Doctor Gilbertson, however he needs to help Alf Thompson with his sheep and his car breaks down on the way to her house. He eventually makes it to the party and the Doctor forgives him.

Lucy Selby is trying to find a costume but is unable to find anything suitable. However, Pat and Sara help her to make one and Pat gives her a chauffeur ride in Doctor Gilbertson's car.

7
59
Postman Pat and the Playful Pets
2005-03-06
15

Jess and Bonnie are in a very playful mood today, but their mischief ends up causing trouble all over Greendale. Meanwhile, Pat helps Ted build a treehouse for the Pottage twins.

8
60
Postman Pat and the Pink Slippers
2005-03-07
15

Pat's shoes and socks get wet when he steps in a puddle at Ted's Workshop. Ted has invented a sock drying machine. However it, unfortunately, destroys Pats socks.

As a result Pat has to borrow a pair of pink fluffy rabbit slippers, which he wears for the rest of the day.

The children are on a field trip to find five different types of fruit and vegetable.

Ted follows Pat with his improved machine until he gets to the Primary School. When he arrives Jess knocks the fruit into the sock-drying machine, which turns out to be a perfect juice-maker.

9
61
Postman Pat and the Runaway Train
2005-03-08
15

One day at Greendale station, the Reverend Timms accidentally started the Greendale Rocket's cab without Ajay on board.

P.C. Selby and Postman Pat chased after the train in the police car and relay the instructions on how to stop the train. Meanwhile, Jeff Pringle and Ajay Bains chased after the train on the pump trolley.

Due to miscommunication, the Reverend Timms made the steam train speed up, and then reversed backwards. Postman Pat eventually jumped on board, and the train was safely brought back to the station again.

10
62
Postman Pat and the Pet Show
2005-03-09
15

Greendale is holding a pet show for all the children. Everyone except Sarah Gilbertson has a pet to bring, until Julian "lends" her Jess. However, he goes missing and Sarah and the others try and find him. Jess is eventually found and wins a special prize for helping many people that day.

11
63
Postman Pat's Wild West Rescue
2005-03-10
15

Juilan Meera and Bill decide to be cowboys and round up sheep they go to Ted Glen's Workshop and he invents a rocking horse for the cowboys and cowgirl to ride but it makes Ted fall off then a sheep gets loose but thanks to Cowboy Pat and the gang the sheep is rounded up safely

12
64
Postman Pat's Pied Piper
2005-03-13
15

A group of lost field mice are causing lots of trouble in the Greendale, eating away at Pat's letters, Sara's muffins, Ajay's whistle rope and Nikhil's blanket. Luckily with the help of Pat's penny whistle and Julian and Meera's recorders, the mice are able to be led home safely.

13
65
Postman Pat and the Tricky Transport Day
2005-03-14
15

It is another snowy day in Greendale. Julian asks Pat if he could help him to build a snowman. Pat says he will deliver the post first and he will help him build one when he gets home.

Later Pat's van starts to break down. Pat manages to get it to Ted Glen who says he can fix it, but it will take him most of the day So he lets Pat borrow his lorry. Then when Pat reaches Thompson Ground, the lorry breaks down too. Alf lets Pat borrow his tractor, which then starts to fail when he and Jess arrive at the Station. Ajay gives Pat his motorbike, but then the side car gets a puncture. Pat and Jess then get a train ride up to the hault near Greendale Farm and toboggan down the other side of the hill on Bill's sledge. To get the last letter delivered to Ted in good time, Tom gives Pat his roller blades. With great difficulty, Pat manages to skate quite a good distance before being stopped by P.C. Selby. Pat should not be roller blading on a public road, but he must still get to Ted and then Julian on time, so Arthur gives him a lift in his panda car.

The van is fixed just as Pat and P.C. Selby arrive at the mill and Pat gets back home just in time to help add the finishing touches to his Julian's snow train.

14
66
Postman Pat's Radio Greendale
2005-03-15
15

Pat is taking his last parcel to the school. Charlie Pringle is waiting eagerly for the parcel and as soon as he gets it inside the school, he opens it to reveal a microphone for the new radio station. He plugs the microphone into the control panel, gives it to Julian and he and Meera go outside to see if they can hear him. Julian talks into the microphone and Charlie and Meera can hear his voice coming through on the portable radio. They decide to all set up Radio Greendale by next Saturday.

When Saturday arrives, Charlie runs round to Pat's house and invites him to the school for an interview on Radio Greendale.

At the school, all the other children so eager and busy with getting the radio station ready that they end up leaving Charlie with nothing to do even though the whole idea of the project was his. So he wonders sadly off to go and do something else.

As soon as Pat finishes his rounds, he quickly goes to the school for his interview. By now Pat has started to become a little bit nervous about what he has to do and as Bill introduces him, he accidentally leans on the controls and makes his voice sound funny on every radio all over Greendale. The children try to put it right flicking buttons at random, but only end up making it worse. They then realise that only Charlie will be able to help them as it was he who set up the radio station in the first place. Pat goes looking for Charlie in the van and finds him sitting sadly by the river. Pat tells Charlie that they need him and when they arrive back at the school, this statement turns out to be true. Quickly Charlie takes charge of the situation and makes sure everyone is doing their right jobs.

Once everything is back on track, Bill gives a special interview with Charlie about making the radio station. Charlie tells all the listeners that the most important thing about running a successful radio station is working together as a team.

15
67
Postman Pat The Secret SuperHero
2005-03-16
15

Charlie and Bill are looking for a real superhero in Greendale.

16
68
Postman Pat Goes Undercover
2005-03-17
15

Pat and Jeff take the children camping. Tom is a bit nervious about the trip, but soon ends up both enjoying himself and being helpful, particularly when the tents are blown away in the storm.

17
69
Postman Pat and the Bowling Buddies
2005-03-20
15

Pat and PC Selby plan a bowling night on the village green, Ajay and Ted both want Pat to be their bowling partner, and Sarah is upset when Lucy gets an imaginary friend.

18
70
Postman Pat and the Magic Lamp
2005-03-22
15

The children make a wish that they regret.

19
71
Postman Pat and the Sneaky Sheep
2005-03-23
15

The Village Green is covered in Dandelions. Charlie and Julian are bored and all the adults are busy doing their Saturday chores. They decide to help with the chores and get the other children involved to form 'The Saturday Club'. The children split into groups to do various jobs. However, something keeps destroying all their efforts.

In each place they find sheep's wool and Pat and the Children go to Thompson farm to investigate. Meanwhile, P.C. Selby and Ajay hold a stakeout at the Primary school as it has not yet been attacked.

The sheep have been escaping and Alf Thompson and the others then round up them up. They are then put to work on the Village green to remove all the Dandelions.

20
72
Postman Pat's Island Shipwreck
2005-03-24
15

The Clifton family and Meera hire a boat to spend the day on the island. Ted Glenn has also gone to the island to fish.

Pat forgets to bring the picnic lunch and the boat gets stuck in the mud. The family decide to make a campfire and toast the marshmallows that Pat brought, and the apples the children found.

Meanwhile Ted catches a large fish. However, when he leaves it to go put the rest of his stuff in the boat, Pat and the others find it and take the fish.

When Ted returns, he follows the footprints and eventually finds the others. Together Ted and Pat are able to get the boat free while Sara cooks the fish.

21
73
Postman Pat and the Grand Custard Race
2005-03-27
15

At the annual sports day, Bill realises that taking part is more important than winning, and is rewarded with a Best Team Player rosette. Then, the adults have a mucky custard race, which ends with Pat covered in custard.

22
74
Postman Pat and the Lucky Escape
2005-03-28
15

Pat and the Reverend are accidentally locked in the vestry. While PC Selby and the others chase after Dr Gilbertson to retrieve the vestry key, Pat and Reverend Timms find a way to escape through an underground passage.

23
75
Postman Pat and the Potluck Picnic
2005-03-29
15

It's the Greendale Rocket's 100th birthday and everyone prepares a dish to bring to a potluck picnic. Pat and Ted organise a surprise firework display to celebrate the great occasion.

24
76
Postman Pat and the Record Breaking Day
2005-03-30
15

The Post has finally arrived after a week. Ajay bets Pat that he can't deliver all the post by teatime. The loser has to run around Greendale in their pyjamas.

Meanwhile the Children are attempting to break their own records when Mr. Pringle holds a maths lesson which involves breaking records for skipping, hopping on one leg, and catching a ball etc. Bill has been teasing Julian all day about his ability to do "keepsy-uppies". However Julian breaks the record and Bill apologises.

Pat manages to deliver the mail in time and wins the bet and Ajay has to run around the village..

25
77
Postman Pat's Missing Things
2005-03-31
15

P.C. Selby is overloaded with cases of things going missing.

26
78
Postman Pat and the Flying Post
2005-04-01
15

Today is Nikhil's birthday and Ted is organising the balloons for the party. Pat has to deliver a parcel for Lucy and when his post bag take off with Ted's balloons, the two events are brought together.
Season 5
Episode No.
No. Overall
Title
Airdate
Runtime
Summary
1
79
Postman Pat and the Bollywood Dance
2006-02-09
15

Meera and Sarah are going to do a Bollywood dance for the school assembly.

2
80
Postman Pat and the Stolen Strawberries
2006-02-10
15

There is a strawberry thief at Thompson Ground.

3
81
Postman Pat and the Pot of Gold
2006-02-13
15

The grown-ups are going to brighten up the children's playground at the school.

4
82
Postman Pat and the Greendale Knights
2006-02-14
15

Sara is going out for the day and Pat is planning to surprise her by renovating the garden. Both Ted and Alf are helping him to get it done in time.

Meanwhile the children are pretending to be knights and debating as to whether girls can be knights. Pat makes a costume for them out of the old soil bags.

5
83
Postman Pat and the Fantastic Feast
2006-02-15
15

Chef Olivier is coming to Greendale and everyone is extremely excited. Many people have brought ingredients to the cookery demonstration.

When Chef Olivier does not turn up, the villagers decide to hold their own cooking demonstration and they all have a Fantastic Feast.

6
84
Postman Pat Gets Stuck
2006-02-16
15

Pat finds himself in awkward situation when he gets himself stuck inside a hole in a hollow tree, so he has to rely on his furry friends to bring him some help to pull him out .

7
85
Postman Pat and the Incredible Inventions
2006-02-17
15

The roof in Pat's kitchen is leaking, so Ted invites the Clifton family to come and stay with him until it is fixed. However Ted soon discovers how difficult sharing his home can be and Pat and Sara find living in with wild inventions is no picnic. Luckily with a little help from his friends, Ted manages to make sure everyone gets what they want just in time.

8
86
Postman Pat and the Go-Kart Race
2006-02-20
15

Greendale is holding a go-kart race. Mrs. Goggins warns everybody that anyone wishing to compete in the race must not use engines in their go-karts. At first the racers start out as a "father and child" team, but because Pat is not too good at building Julian's go-kart and the other fathers are barely letting their children help them make theirs, the children decide to form their own team. They modify Pat's go-kart and Julian is chosen to be the team's driver with Jess as his mascot.

Meanwhile, Alf, P.C. Selby and Ajay secretively decide to cheat and borrow quiet electric engines for their go-karts from Ted. Ted tries to warn them that they won't stop, but Alf, Ajay and Arthur take no notice and on the day of the race, their go-karts just race on past the finishing line without stopping after both laps. They try flicking the switches on the engines, but it does not help and they drive out of control towards the edge of Greendale Crag. Pat has to set sail in Julian's go-kart in order to save them.

Ajay and Alf are saved before reaching the crag thanks to a bush and a pile of hay, but Arthur is still heading straight for the edge. Pat has to bump Julian's go-kart into Arthur's in order to drive him away from the edge of the crag. Arthur then finally stops when he falls into a pile of manure.

When Ajay, Alf and Arthur return to the Green after being saved, Mr. Pringle disqualifies them for using engines in their go-karts and he gives the winner's cup to the children's team. They are all very happy indeed and Julian is very glad that he stuck to the rules of the race after all.

9
87
Postman Pat's Pet Rescue
2006-02-21
15

Julian has decided to pretend to be too ill to go to school, so Pat has to stay at home to look after him. Meanwhile Jess gets bored and decides to go outside to play. Then he falls down a well and hurts his leg. Bonnie needs to fetch Amy Wrigglesworth the vet to help rescue Jess.

10
88
Postman Pat's Pony Post
2006-02-22
15

Pat has overcome his fear of horses in order to deliver the post on horse back.

11
89
Postman Pat's Clifftop Adventure
2006-02-23
15

Pat has overcome his fear of heights in order to rescue Bessie from the edge of Greendale Crag.

12
90
Postman Pat and the Lost Property
2006-02-24
15

Meera and Julian decide to set up a lost property office and find all sorts of 'lost property' outside other people's houses.

13
91
Postman Pat and the Talking Cat
2006-02-27
15

Julian and Charlie attach a walkie-talkie to Jess' collar, to fool people into thinking that he can talk.

14
92
Postman Pat and the Hedgehog Hideaway
2006-02-28
15

Sara goes away overnight to visit her sister Vicky and Pat and Julian have to cope on their own. Pat forgets his keys to the house, picks up the wrong sandwiches for lunch and creates chaos trying to make pancakes for supper.

Mrs Goggins discovers that a hedgehog is stealing Bonnie's food. Pat and Amy take the hedgehog out into the countryside and set it free. The next morning Pat and Julian stop in at the Post Office and Julian discovers that the hedgehog has returned overnight with her babies.

All by themselves together, Pat and Julian build a special little house for the hedgehogs to live in, just before Sara returns home.

15
93
Postman Pat Never Gives Up
2006-03-01
15

Pat has a parcel for Amy which is too big to be stored inside his van. Ted builds a roof rack for Pat's van so that he can carry the parcel on the roof, but it is too heavy for that. Using the wood for the roof rack and the wheels from two old wheel barrows, Ted then makes a trailer for Pat to tow the parcel. When Pat manages to get on his way with the parcel, he meets some obstacles like sheep on the road and difficult short cuts, but he is determined to get the parcel to Amy no matter what.

Meanwhile Bill is trying to ride his bike properly, which he is finding very difficult. Then Lucy arrives on the farm to tell Bill that Pat is stuck in the mud and they need Alf's tractor to pull him out. Alf is in the village and Lucy cannot go to find him as the wheel on her bike is started to come off, so despite his previous difficulties, Bill goes himself on his own bike, seeing as how Pat had been the one who had encouraged him to not give up on his practise. On his way to get help, Bill suddenly discovers how well he can ride his bike after all and once Pat is out of the ditch, he is soon teaching Sarah Gilbertson how to ride her own bike without stabilizers and without giving up.

Now that the parcel has reached its destination, they can now find out what it was. When it is opened and they discover that it is trailer for carrying sick animals, Pat, Arthur and Ted feel very silly; if they had known, they could have towed it to Amy without its box and saved a whole lot of trouble. Amy is still grateful though at how everyone managed to get the trailer to her no matter what. It just goes to show that you should never ever give up on anything.

16
94
Postman Pat and the Double Disguise
2006-03-02
15

Tom and Katy Pottage are trying to be grown up.

17
95
Postman Pat's Cat Calamity
2006-03-03
15

The children are playing at being space explorers, but fall out with Sara because she's being bossy again. Meanwhile, Jess has gotten himself stuck up a tree. How can Ted's new invention, a litter blower help?

18
96
Postman Pat and the Popular Policeman
2006-03-06
15

P.C. Selby feels he is no longer needed in Greendale and applies for a transfer to Pencaster Police Station. When Pat and Julian find out, they decided to throw P.C. Selby a huge party to show him that he is still wanted.

Pat invites everyone to the party on his rounds, while the school students write a song to stop P.C. Selby from leaving.

P.C. Selby is called on to do a variety of tasks that day, and this along with the giant party convinces him that he must stay.

19
97
Postman Pats Noisy Day
2006-03-07
15

While Pat is on his rounds he hears various interesting sounds which come from ordinary objects such as a coffee tin, a ball, boxes, and sanding blocks.

The children are bored and have little to do that does not make a mess or get them in trouble. Pat then encourages them to make music out of the objects he found. That evening, they put on a concert in the school hall.

20
98
Postman Pat and the Disappearing Bear
2006-03-08
15

Pat finds his old childhood bear, Billy, in the attic. He then allows Julian to take Billy to school where he swaps it with Charlie's magnifying glass.

Charlie then loses Billy, but Katy and Tom find him again and swap him with Sarah Gilbertson for a rope. Sarah then loses the bear, but it is then found by Alf Thompson. The Bear then gets moved again and is found by Ted Glen.

Pat and Julian travel to each of the places Billy had been to get him back. He is eventually found in the Station cafe, where Ted has given him to Nikhil.

21
99
Postman Pat and the Cranky Cows
2006-03-09
15

Pat has to deliver a parcel to Ted Glen, but it is making very strange noises.

Meanwhile, The Pottage's Scottish Highland cows are very miserable. Katy and Tom attempt to cheer them up by putting on a puppet show and performing skateboard tricks but it does not work.

When Pat arrives at Ted's mill, he finds out the parcel contains bagpipes to be used as a device to scare the sheep away from the Thompsons' vegetables. But the device does not work with the bagpipes and attracts the animals instead.

Pat then uses the bagpipes to cheer the cows up as they are hearing the sounds of their homeland.

22
100
Postman Pat and the Big Boat Adventure
2006-03-10
15

Ted Glen is attempting to fix the boat. Pat comes to deliver mail and the Reverend pays a visit. Reverend Timms gets tangled in some rope and the boat gets cast adrift with the engine still not working. They attempt to find a solution such as using sails, and making a paddle out of a flattened tin can but they do not work.

Meanwhile, the children are arguing as they prepare to ride Pumpkin. While on their ride, they see Pat and the others out on the river. Amy, the children, and Pumpkin eventually save the others by having Pumpkin tow them back to shore

23
101
Postman Pat's Holiday Hobbies
2006-03-13
15

The post has not arrived from Pencaster, so Pat is given the day off.

Pat does not know what to do and goes in search of hobbies. As he travels round the village, everyone suggests hobbies which Pat tries out including pigeon keeping, working on trains, football, cycling, dancing, and cooking.

Pat is downhearted in finding no hobbies he likes. Then the mail suddenly arrives by train. Pat delivers the mail and is soon much happier. Pat then decides that a hobby is not necessary when he has got "the best job in the world".

24
102
Postman Pat and the Grumpy Pony
2006-03-14
15

Pat and Ted are planning on going fishing. However, beforehand Ted must fix Amy's Horsebox.

Meanwhile Amy takes Meera for a ride on Pumpkin. Pumpkin is behaving badly because he is meant to be on a diet. As a result he eats Reverend Timms roses and apples from the tree. While walking past the river, Pumpkin refuses to go past for a dislike of water. Pat then arrives and agrees to fetch Ted and the Horsebox

When he arrives at The Mill, Pat can't find Ted and he is wearing earmuffs so cannot hear Pat's calls. Pat then decides to take the Horsebox to Amy without Ted. In doing so he traps Ted in the Horsebox and it is still not fixed. The Horsebox then becomes loose of the Lorry, and rolls away in the opposite direction.

It eventually arrives where Pumpkin and the others are and Ted is not hurt. Ted is able to fix the toolbox, however Pumpkin won't get onboard. Eventually Hay entices Pumpkin to get in the Horebox.

25
103
Postman Pat's Fun Run
2006-03-15
15

Bill Thompson takes his mother's clock to Ted Glen to be mended. When he accidentally brakes it to a degree that is beyond repair, Bill decides to cheat in the fun run, in the hope that the mystery prize at the end is money that he can use to buy Dorothy a new clock.

26
104
Postman Pat's Spy Mission
2006-03-16
15

Ted Glen is about to do his 'chores' using his hovercraft, however it breaks and he sprains his ankle. Pat agrees to help complete the tasks by having radios so that Ted can give Pat instructions.Pat helps Reverend Timms at the church, Ajay at the station, and Alf Thompson to fix his tractor.

Meanwhile Charlie has made a radio, which he and Julian are playing with. Charlie and Julian go in search of a spy, mistaking Bill's radio show, Amy, and P.C Selby for spies. However, they become convinced there is one after hearing Pat and Ted's radio conversations.

They call on P.C. Selby to help catch the spy and track the spy to Thompson Ground. It is finally revealed that Pat was the spy and that there was no threat to Greendale.

27
105
Postman Pat's Ice Capade
2006-03-17
15

It's a cold and snowy day in Greendale. The Greendale Rocket is broken and Ajay has been unable to collect the mail from Pencaster. As he fixes the water pipe, it spills all over the car park and freezes. The children then use it as their own ice rink.

Meanwhile Pat tries to find ways of melting the ice from people on his rounds. Ted Glen has created an 'automatic ice melting machine' and is able to get the ice off the rocket. The children then protest not to have the ice taken off the car park. The adults agree.

Meera desperately wants a skating partner but no one will agree to do it with her. Eventually, Pat agrees (after some encouragement from Ted) and the two skate together

28
106
Postman Pat's Christmas Eve
2006-03-20
15

It is Christmas Eve and the school are doing a pantomime of Cinderella. With the lead role on her shoulders, Meera wants everyone to take the show as seriously as she does. However when Pat has to borrow pumpkin to rescue Ajay and the Christmas tree, she must try to make do with what shes got for the show to go on as planned.
Season 6
Episode No.
No. Overall
Title
Airdate
Runtime
Summary
1
107
A Runaway Cow
2008-09-29
15

Pat has to deliver a highland cow to Alf Thompson.

2
108
A Teepee
2008-09-30
15

Pat has to take part in the children's treasure hunt in order to deliver his special delivery on time.

3
109
A Wind Machine
2008-10-01
15

Pat has to deliver a wind machine to Ted.

4
110
Crazy Robots
2008-10-02
15

When the sorting machine breaks at the mail centre, Pat is asked to deliver two of Ted's robots to help Ben fix the problem.

5
111
Big Balloons
2008-10-03
15

Pat is asked to deliver helium balloons to celebrate the reopening of Pencaster Town Hall. When the balloons are accidentally released and P.C. Selby floats away, Pat has to make a daring rescue attempt in his helicopter.

6
112
A Bouncy Castle
2008-10-06
15

Pat has to deliver a bouncy castle to the school for its end of term party.

7
113
Charlie's Telescope
2008-10-07
15

A comet is going to fly over Greendale Peak and Pat has to deliver a telescope to Charlie so that he can see it close up.

8
114
Fruit Bats
2008-10-08
15

Pat has to deliver some fruit bats to Amy for her animal talk, but he must make sure they are transferred quietly.

9
115
Precious Eggs
2008-10-09
15

Pat has to deliver some duck eggs to Amy.

10
116
Naughty Pumpkin
2008-10-10
15

Lauren, Lizzy and Amy are going to give Ben a big surprise.

11
117
A Movie Feast
2008-10-13
15

Michael is holding an open air movie night on the square in Pencaster. Pat has to deliver the film and pick up the projection screen and projector for Michael. Meanwhile in Greendale, Bill, Julian and Meera are trying to make a movie of their own.

12
118
A Speedy Car
2008-10-14
15

Today is Bill Thompson's birthday and a fancy dress party is being held at the Railway Station Cafe. Pat's special delivery is Bill's birthday present, a remote controlled car. He also has to delivery Mrs. Goggins' TV remote to Ted's garage, so that Ted can fix it, but Julian gets the parcels for the two remotes mixed up and a car chase and telly trouble ensues.

13
119
A Wobbly Piano
2008-10-15
15

Pat needs to deliver a piano for Lizzy's first ever concert. However, the van gets a puncture. While transferring it to Ted's lorry, it rolls away. They then decide to move it by trolley along the train line. It gets taken on the final leg of the journey by Amy's pony Pumpkin.

Lizzy is very nervous about playing, especially since she has not had enough time to practice. But this is eventually overcome by Pat being on stage with her to turn the music sheets.

14
120
A Slippery Ice Cube
2008-10-16
15

A Chinese festival is being organised by Michael Lam in the village. Postman Pat has to deliver an enormous ice cube for him as the central display. However, Pat leaves the door of the van open and the ice cube falls out. With the help of Alf and P.C. Selby the cube is eventually put back in the van.

Pat is then given a police escort so the ice cube can arrive before 12 'o'clock.

However they discover that there was a mix up as Michael actually ordered an ice sculpture of a Chinese dragon. Pat, Alf and Lauren save the day by creating a sculpture of Jess.

15
121
A Magical Jewel
2008-10-17
15

Postman Pat has to deliver a golden elephant with a jewel on its forehead to Meera for the schools 'Show and Tell'. However the courier box on the SDS Motorbike needs repairing and the jewel gets taken out at Ted's Garage. Bonnie then steals the elephant and runs away with it. While playing, the jewel falls off and a magpie steals it. Pat and Amy must then follow the magpie in an attempt to find the jewel.

The Jewel is eventually found and Jess climbs the tree to get it down, along with Charlie's Grandad's Medal. The Jewel is placed back on the elephant. Meera claims the jewel as magical because it was so lucky that it was found.

16
122
A Teddy
2008-11-03
15

Pat has to deliver a new teddy to Nikhil, but when the label falls off, he gets the parcel mixed up with Alf's homing device for Rosie.

17
123
A Super Magnet
2008-11-04
15

Pat has to deliver a magnet to lift a water tower off the railway line before the Pencaster Flyer comes through.

18
124
A Treehouse
2008-11-05
15

Pat has to deliver a hibernation house to lift for Amy's dormouse, Dora.

19
125
A Green Rabbit
2008-11-06
15

Pat has to deliver a new Green Rabbit to Nikhil Bains.

20
126
A Surprise
2008-11-07
15

A surprise award ceremony is being organised for Pat at the sorting office.

21
127
Bernie the Parrot
2008-11-10
15

Pat has to deliver Bernie the Parrot to Amy.

22
128
The Red Rocket
2008-11-11
15

Ted is entering his rocket in the Pencaster Flying Machine Challenge.

23
129
A Disco Machine
2008-11-12
15

Pat has to deliver a disco machine in time for the disco at the school. Meanwhile Charlie is in a bad mood cause he thinks he cannot dance.

24
130
A Giant Cake
2008-11-13
15

Pat has to deliver P.C. Selby in a giant cake as a surprise for Lucy.

25
131
Ice Skates
2008-11-14
15

Pat has to deliver a pair of ice skates to Meera, who saved up for herself.

However, Pat gets snowed in at the sorting office and he and Ben must find a way out. Eventually they find a way up to the SDS Helicopter.

Meanwhile, Meera is disappointed that she does not have her ice skates to use, however the children are still having fun finding alternative things to do in the snow. The ice skates are then delivered to Meera, and she and Pat skate together.

26
132
The Flying Christmas Stocking
2008-12-19
15

It is Christmas Eve and the children of Greendale are holding a Secret Santa for the grown-ups in Pencaster. Pat's special delivery is the stocking for the children's presents.
Season 7
Episode No.
No. Overall
Title
Airdate
Runtime
Summary
1
133
Postman Pat and Cowboy Colin
2013-02-11
15

A new Cowboy Colin story book has been published and Pat has to deliver a copy of it to the school.

2
134
Postman Pat and the Big Bob Bell
2013-02-12
15

Pat has to deliver the newly restored Big Bob Bell back to the church in Greendale.

3
135
Postman Pat and the Cheeky Sheep
2013-02-13
15

Pat has to deliver a sheep to Amy but it escapes and gets mixed up with other sheep.

4
136
Postman Pat and the Metal Detector
2013-02-14
15

Pat has to deliver a metal detector to Ted so that he can find his Grandad's medal.

5
137
Postman Pat and the Crazy Crockery
2013-02-15
15

It is Restaurant Night at the school and Pat has to deliver the crockery. The children make vegetable curry from India, chilli con carne from Mexico, stir-fry noodles from China and Yorkshire pudding from Yorkshire.

6
138
Postman Pat and the Runaway Bees
2013-02-18
15

Pat has to deliver a bee hive to Thompson Ground.

7
139
Postman Pat and the Identical Cats
2013-02-19
15

Postman Pat has to deliver Dr. Gilbertson's sister's cat, Bess, as part of the Special Delivery Service. Bess looks exactly the same as Jess, so when she escapes everyone in Pencaster and Greendale thinks that she is Jess. This is not good for Jess as the two have very different personalities.

Bess is unwilling to come down from a lamp post, which she has climbed up to escape Bonnie and has to be rescued by Pat in the SDS Helicopter.

In delivering Bess, there is a mix up in communication with Dr. Gilbertson, but she is eventually delivered in time.

8
140
Postman Pat and the Station Window
2013-02-20
15

Pat has to deliver a new window for the railway station in Pencaster.

9
141
Postman Pat and the Sculpture Trail
2013-02-21
15

There is a sculpture trail in Greendale and Pat has to collect all the entries and take them to the field where event is taking place. However naughty Rosie escapes and starts eating the sculptures. Pat must do his best to try and solve the problem and make sure that the event is a big success.

10
142
Postman Pat and Meera's Gecko
2013-02-22
15

Pat has to deliver George the Gecko to Meera Bains.

11
143
Postman Pat and the Booming Bagpipes
2013-03-11
15

Pat has to deliver a set of Bagpipes to Mrs. Goggins from her sister in Scotland. Along the way he finds he is able to help various members of the community using his own delivery.

The loud noise made is able to help Ted Glen find his keys, shoo birds in the Market Square, and open the door on the train.

Meanwhile the children are unable to find a game to play until Mrs. Goggins suggests 'Noisy Hide and Seek'.

12
144
Postman Pat and the Scarecrow
2013-03-12
15

Postman Pat has to deliver a scarecrow to Thompson Ground in order to help Alf protect his crop of raspberries. The scarecrow looks exactly like P.C. Selby which creates some confusion in the village.

Alf and Arthur also attempt to trick Pat by having Arthur pretend to be a talking scarecrow.

13
145
Postman Pat and the Seaside Special
2013-03-13
15

Postman Pat and his family are planning on catching the train for the Seaside Special. However, Pat gets a phone call to do a special delivery of Mrs. Goggin's handbag.

A wild goose chase then ensues as both Mrs. Goggins and Pat chase after one another. Along the way Mrs. Goggins looses more things, including her suitcase and Bonnie. Pat is eventually able to return her stuff.

Pat then takes Mrs. Goggins and Bonnie to Pencaster by helicopter so that they can be all board the Greendale Rocket for the Seaside Special.

14
146
Postman Pat and the Chinese Dragon
2013-03-14
15

It's Chinese Day at school and the children are really looking forward to a day of special Chinese-themed celebration, helped by Michael. As a special surprise, he's ordered a real Chinese dragon costume which Pat picks up at the sorting office to deliver to the school. On the way though, naughty horse Pumpkin gets the dragon's head stuck on his own and as he canters off into the fields the locals are terrified that there's a real dragon on the loose!

15
147
Postman Pat and the Karaoke Night
2013-03-15
15

The children of Greendale have been practising for Karaoke Night and cannot wait for it to be time to sing. Everyone has a musical number prepared and they are ready to shake their stuff on the special stage that's been put up. The karaoke machine is pretty special too - it's solar powered! But it turns itself on in Pat's van and all its charge is used up, so it turns itself off halfway through the night!

16
148
Postman Pat and the Didgeridoo
2013-09-09
15

Today, Pat's special delivery is an Australian didgeridoo for the school's music lesson. Meanwhile Dottie the school hampster goes missing, but Pat's special delivery soon helps her come out of hiding.

17
149
Postman Pat and the Amazing Weather Machine
2013-09-10
15

Ajay is organising a Summer Special day on the green, but the weather is too hot for everyone to enjoy themselves. Hopefully, Ted's new invention and Pat's special delivery may save the day if all goes according to plan.

18
150
Postman Pat and the Super Skateboard Sizzle
2013-09-11
15

Ajay is holding a skateboard sizzle competition at the station in Greendale and he is looking forward to taking part himself. That is if Pat can deliver his new skateboard and safety gear in good time.

19
151
Postman Pat and the Rubber Duck Race
2013-09-12
15

It is the day of the annual Greendale to Pencaster Duck Race on the River Penn and Pat is delivering the ducks.

20
152
Postman Pat and the Sticky Situation
2013-09-13
15

It is Alf Thompson's birthday and Dorothy has bought him a new quad bike. After picking up his special delivery from Ben and the quad bike from the station, Pat must deliver them to Thompson Ground before Alf gets home.

21
153
Postman Pat and the Tricky Tracker
2013-09-16
15

Alf Thompson's homing pigeon Cedric is taking part in another race and Pat has to deliver a tracking device to attach to the pigeon's leg. It must be delivered by noon, but when a magpie steals the special delivery, Pat is nearly late. He has to use Julian, Charlie and Meera's flying camera to get it to Thompson Ground on time.

22
154
Postman Pat and the Greendale Ukulele Big Band
2013-09-17
15

Pat has to deliver a box of ukuleles for the Reverend Timms' big band. Everyone who is getting one is having a problem with their ukuleles, but Pat is able to help them.

23
155
Postman Pat and the Tremendous Tree
2013-09-18
15

Pat has to deliver a big tree to Thompson Ground, but can he get it there without harming an unforeseen bird's nest full of baby wagtails in its branches.

24
156
Postman Pat and the Great Greendale Website
2013-09-19
15

Pat is collecting donations for the school's new website of Greendale.

25
157
Postman Pat and the Twinkly Lights
2013-11-01
15

It is Diwali and Nisha is going to decorate the station with fairy lights which Pat has to deliver.

26
158
Postman Pat and the Christmas Panto Horse
2013-12-20
15

Lucy has a special song to sing at the pantomime, but when Pumpkin gets scared by the snow, Pat is in a race to get her back in time. Pumpkin is sheltering from the snow in the old post office and only Pat's special delivery can make him leave.
Season 8
| Episode No. | No. Overall | Title | Airdate | Runtime | Summary |
| --- | --- | --- | --- | --- | --- |
| 1 | 159 | Postman Pat and the Cornish Caper | 2016-11-21 | 15 | Postman Pat has to deliver a steam engine called Old Betty to Ted all the way from Cornwall. |
| 2 | 160 | Postman Pat and the Giant Pumpkin | 2016-11-22 | 15 | Pat has to deliver pumpkins for the party at the school. |
| 3 | 161 | Postman Pat and the Flying Shark | 2016-11-23 | 15 | Pat has to deliver an inflatable shark for Sealife Awareness Day. |
| 4 | 162 | Postman Pat and the Blue Flash | 2016-11-24 | 15 | Pat has to deliver the superhero Blue Flash to the school. |
| 5 | 163 | Postman Pat's Pancake Party | 2016-11-25 | 15 | It is the day of Greendale's Annual Pancake Race and Pat has to deliver the ingredients for pancake mix to the Green. |
| 6 | 164 | Postman Pat and the Runaway Remote | 2016-11-28 | 15 | Pat has to deliver the remote for Charlie Pringle's new invention, but his special delivery seems to be causing problems for all the other mechanical items around. |
| 7 | 165 | Postman Pat and the Zooming Zipwire | 2016-11-29 | 15 | Pat has to deliver a zipwire to Greendale Crag for the children's hiking trip. |
| 8 | 166 | Postman Pat and the Super Jet Boots | 2016-11-30 | 15 | Pat has to deliver jet boots to the school, but Ajay takes them instead, mistaking them for his bird watching boots. |
| 9 | 167 | Postman Pat and the Eco Igloo | 2016-12-01 | 15 | Pat has to deliver blocks of ice to the school, so that the children can build an igloo for Greener Greendale Week. |
| 10 | 168 | Postman Pat and the Painted Sheep | 2016-12-02 | 15 | Pat has to deliver cans of sheep dye to Alf Thompson. Meanwhile Julian, Meera and Bill are having a tour round the sorting office and soon have to help Pat with his special delivery. |
| 11 | 169 | Postman Pat and the Spring Lamb | 2016-12-05 | 15 | Pat has to deliver a yeti costume to the school and ends up delivering something even more special to the spring play. |
| 12 | 170 | Postman Pat and the Reckless Rollers | 2016-12-06 | 15 | Pat has to deliver new rollers to the garage. |
| 13 | 171 | Postman Pat's Camping Chaos | 2016-12-07 | 15 | Lauren and the school children go on a camping trip to Scotland, but they forget their tent and cooking equipment. |
| 14 | 172 | Postman Pat and the King's Armour | 2016-12-08 | 15 | Pat and Jess go to Wales to collect Jackie Gilbertson and her collection of ancestral items. |
| 15 | 173 | Postman Pat and the Bouncing Bulb | 2016-12-09 | 15 | Pat has to deliver a new light bulb to the lighthouse. |
| 16 | 174 | Postman Pat And The Lost Pigeon | 2017-01-23 | 15 | Cedric the homing pigeon is in Northern Ireland. Pat and Jess have to fly out in the SDS plane, rescue Cerdic and bring him home. |
| 17 | 175 | Postman Pat And The Runaway Bath | 2017-01-24 | 15 | Pat has to deliver a parrot paradise bath tub for Micawber. |
| 18 | 176 | Postman Pat and the Loch Ness Monster | 2017-01-25 | 15 | Pat has to deliver the Ted Glen Super Underwater Scope to Loch Ness in Scotland. Meanwhile P.C. Selby is looking after Bonnie back in Greendale |
| 19 | 177 | Postman Pat and the Clippy Claws | 2017-01-26 | 15 | Micawber's claws need clipping, so Amy needs to come with Pat as he makes his special delivery and ends up having to help other pets along the way. |
| 20 | 178 | Postman Pat and the Sorting Machine | 2017-01-27 | 15 | Pat has to go to Cardiff to get a new sorting machine. |
| 21 | 179 | Postman Pat and the Stormy Birthday | 2017-01-30 | 15 | It is Chris Beacon's Birthday, but he cannot leave his post in the Lighthouse during a storm. So Pat must bring the birthday celebrations to him. |
| 22 | 180 | Postman Pat and the Winter Games | 2017-01-31 | 15 | Pat has to deliver rubber rings for the children's Winter Snowdown Day at Greendale Fell. |
| 23 | 181 | Postman Pat and the Bucking Bronco | 2017-02-01 | 15 | It's Wild West Day in Greendale and Pat has to deliver a bronco ride. |
| 24 | 182 | Postman Pat's Pop Star Rescue | 2017-02-02 | 15 | Pat has to bring the famous pop star, Brad Lee to his concert. |
| 25 | 183 | Postman Pat and the Very Important Person | 2017-02-03 | 15 | Pat has to collect the Duchess of Pencaster to present P.C. Selby with his award for Best Local Policeman of the Year. |
| 26 | 184 | Postman Pat and the Space Suit | 2017-03-29 | 15 | Pat has to bring an astronaut's suit to the Space Day at Ted's Mill. |
Season 9
| Episode No. | No. Overall | Title | Airdate | Runtime | Summary |
| --- | --- | --- | --- | --- | --- |
Related News
TVMaze