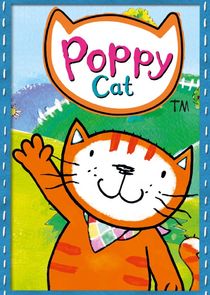 The series aims to celebrate and reinforce the incredible impact imaginative play and problem-solving have on a child's emotional and intellectual growth. The shows three primary educational goals are: to celebrate the fun and power of inventing and sharing stories, to encourage children's fantasy play, make believe and imagination as ways to solve problems and pursue their goals, and to demonstrate the rewards and challenges of making and keeping friends.
Series Overview
Rating
imDb Rating: 5.0 (63 Votes)
Metascore: N/A
Plot
Poppy Cat goes on adventures with her friends.
Details
Rated: TV-Y
Released: 02 May 2011
Runtime: 30 min
Genre: Animation
Director: N/A
Writer: N/A
Actors: Katie Leigh, Alicyn Packard
Language: English
Country: UK
Awards: N/A
Total Seasons: 2
Previous Episode
Wooly Woods
Episode 2x26; Nov 19, 2014
Previous Episodes 2x26: Wooly Woods 2x25: Fantastic Gardens 2x24: Olive Branch 2x23: Tiger Bike 2x22: Giant Toothbrush 2x21: Acorn Time 2x20: Chocolate Falls 2x19: Gloopy Ponds 2x18: Choppy Hedges

View All Episodes
Cast
Alicyn Packard as Alma
Charlie Cameron as Mo
Joanna Page as Poppy Cat
Katie Leigh as Zuzu
Teresa Gallagher as Egbert
View Full Cast
Recent News
Existence
[Revised entry by Michael Nelson on May 5, 2020. Changes to: Main text, Bibliography] Existence raises deep and important problems in metaphysics, philosophy of language, and philosophical logic. Many of the issues can be organized around the following two …
via NewsAPI
View More Related News
Skip to:
Season 1
| Episode No. | No. Overall | Title | Airdate | Runtime | Summary |
| --- | --- | --- | --- | --- | --- |
| 1 | 1 | Tricky Cricket | 2011-05-02 | 12 | |
| 2 | 2 | Space Monsters | 2011-05-03 | 12 | |
| 3 | 3 | Yodel Mountain | 2011-05-04 | 12 | |
| 4 | 4 | Lost Balloon | 2011-05-05 | 12 | |
| 5 | 5 | Cloud Song | 2011-05-06 | 12 | |
| 6 | 6 | Runaway Turtle | 2011-05-09 | 12 | |
| 7 | 7 | Dear Rocket Cat | 2011-05-10 | 12 | |
| 8 | 8 | Buried Treasure | 2011-05-11 | 12 | |
| 9 | 9 | Moon Museum | 2011-05-12 | 12 | |
| 10 | 10 | Golden Guitar | 2011-05-13 | 12 | |
| 11 | 11 | Pearl Hunt | 2011-05-16 | 12 | |
| 12 | 12 | Going Coconuts | 2011-05-16 | 12 | |
| 13 | 13 | Cheese Mountain | 2011-05-16 | 12 | |
| 14 | 14 | Pickle Springs | 2011-05-17 | 12 | |
| 15 | 15 | Marshmallow Mines | 2011-05-18 | 12 | |
| 16 | 16 | Big Bubbles | 2011-05-19 | 12 | |
| 17 | 17 | Jungle Butterfly | 2011-05-20 | 12 | |
| 18 | 18 | Missing Keys | 2011-05-23 | 12 | |
| 19 | 19 | Flower Power | 2011-05-24 | 12 | |
| 20 | 20 | Forgotten Circus | 2011-05-25 | 12 | |
| 21 | 21 | Royal Toad | 2011-05-26 | 12 | |
| 22 | 22 | Special Delivery | 2011-05-27 | 12 | |
| 23 | 23 | Chilly Hills | 2011-05-30 | 12 | |
| 24 | 24 | Space Race | 2011-05-31 | 12 | |
| 25 | 25 | Mt. Zuzu | 2011-06-01 | 12 | |
| 26 | 26 | Snowman Rescue | 2011-06-02 | 12 | |
| 27 | 27 | Skateboard Star | 2011-06-03 | 12 | |
| 28 | 28 | Sunken Ship | 2011-06-06 | 12 | |
| 29 | 29 | Bad Robot | 2011-06-06 | 12 | |
| 30 | 30 | Birthday Treasure | 2011-06-09 | 12 | |
| 31 | 31 | Mystery Gift | 2011-06-10 | 12 | |
| 32 | 32 | Umbrella Dance | 2011-06-13 | 12 | |
| 33 | 33 | Rare Bird | 2011-06-14 | 12 | |
| 34 | 34 | Magic Beetle | 2011-06-15 | 12 | |
| 35 | 35 | Shooting Star | 2011-06-16 | 12 | |
| 36 | 36 | Lost Stuff | 2011-06-17 | 12 | |
| 37 | 37 | Rose Cave | 2011-06-20 | 12 | |
| 38 | 38 | Wise Toad | 2011-06-21 | 12 | |
| 39 | 39 | Magic Show | 2011-06-22 | 12 | |
| 40 | 40 | World Record | 2011-06-23 | 12 | |
| 41 | 41 | Rocket Cat Radio | 2011-06-24 | 12 | |
| 42 | 42 | Case Closed | 2011-06-27 | 12 | |
| 43 | 43 | Castle Queen | 2011-06-28 | 12 | |
| 44 | 44 | Waterfall Lane | 2011-06-29 | 12 | |
| 45 | 45 | Bumble Fumble | 2011-06-30 | 12 | |
| 46 | 46 | Welcome Walrus | 2011-07-01 | 12 | |
| 47 | 47 | Dolphin Dreams | 2011-07-04 | 12 | |
| 48 | 48 | Drippy Forest | 2011-07-05 | 12 | |
| 49 | 49 | Ball Games | 2011-07-06 | 12 | |
| 50 | 50 | Starry Night | 2011-07-07 | 12 | |
| 51 | 51 | Cousin Alma | 2011-07-08 | 12 | |
| 52 | 52 | Trumpet Trees | 2011-07-11 | 12 | |
Season 2
| Episode No. | No. Overall | Title | Airdate | Runtime | Summary |
| --- | --- | --- | --- | --- | --- |
| 1 | 53 | Polka Plains | 2014-10-25 | 12 | |
| 2 | 54 | Pillow Valley | 2014-10-26 | 12 | |
| 3 | 55 | Jigsaw Puzzled | 2014-10-27 | 12 | |
| 4 | 56 | Dressing Up | 2014-10-28 | 12 | |
| 5 | 57 | Underwater Picnic | 2014-10-29 | 12 | |
| 6 | 58 | Slippery Planet | 2014-10-30 | 12 | |
| 7 | 59 | Halloween Woods | 2014-10-31 | 12 | |
| 8 | 60 | Frog Clock | 2014-11-01 | 12 | |
| 9 | 61 | Planet Kite | 2014-11-02 | 12 | |
| 10 | 62 | Sunnyside Island | 2014-11-03 | 12 | |
| 11 | 63 | Jungle Paint | 2014-11-04 | 12 | |
| 12 | 64 | Misty Hollow | 2014-11-05 | 12 | |
| 13 | 65 | Petal Parade | 2014-11-06 | 12 | |
| 14 | 66 | Laughing Squirrels | 2014-11-07 | 12 | |
| 15 | 67 | Cloud Chicks | 2014-11-08 | 12 | |
| 16 | 68 | Puppet Mountain | 2014-11-09 | 12 | |
| 17 | 69 | Fireworks Volcano | 2014-11-10 | 12 | |
| 18 | 70 | Choppy Hedges | 2014-11-11 | 12 | |
| 19 | 71 | Gloopy Ponds | 2014-11-12 | 12 | |
| 20 | 72 | Chocolate Falls | 2014-11-13 | 12 | |
| 21 | 73 | Acorn Time | 2014-11-14 | 12 | |
| 22 | 74 | Giant Toothbrush | 2014-11-15 | 12 | |
| 23 | 75 | Tiger Bike | 2014-11-16 | 12 | |
| 24 | 76 | Olive Branch | 2014-11-17 | 12 | |
| 25 | 77 | Fantastic Gardens | 2014-11-18 | 12 | |
| 26 | 78 | Wooly Woods | 2014-11-19 | 12 | |
Series Cast
| | | | |
| --- | --- | --- | --- |
| | Alicyn Packard | as Alma | |
| | Charlie Cameron | as Mo | |
| | Joanna Page | as Poppy Cat | |
| | Katie Leigh | as Zuzu | |
| | Teresa Gallagher | as Egbert | |
Related News
TVMaze