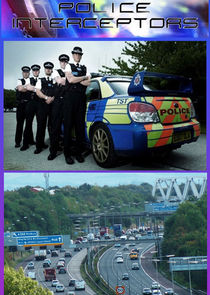 Follow the action-packed lives of the high-speed police interception unit. Led by specially trained officers and equipped with the fastest vehicles in the force, the team tackles the most difficult-to-catch criminals on a daily basis.
Series Overview
Rating
imDb Rating: 7.0 (120 Votes)
Metascore: N/A
Plot
Documentary series following the vehicle intercept teams of Essex Police.
Details
Rated: N/A
Released: 09 May 2008
Runtime: N/A
Genre: Documentary
Director: N/A
Writer: N/A
Actors: John Thomson
Language: English
Country: UK
Awards: N/A
Total Seasons: 13
Previous Episode
Episode 7
Episode 17x7; Nov 27, 2019
Previous Episodes 17x7: Episode 7 17x6: Episode 6 17x5: Episode 5 17x4: Episode 4 17x3: Episode 3 17x2: Episode 2 17x1: Episode 1 16x15: Episode 15 16x14: Episode 14

View All Episodes
Cast
Christopher Fox as Narrator
John Thomson as Narrator
View Full Cast
Skip to:
Season 1
| Episode No. | No. Overall | Title | Airdate | Runtime | Summary |
| --- | --- | --- | --- | --- | --- |
| 1 | 1 | Episode 1 | 2008-05-09 | 60 | |
| 2 | 2 | Episode 2 | 2008-05-16 | 60 | |
| 3 | 3 | Episode 3 | 2008-05-23 | 60 | |
| 4 | 4 | Episode 4 | 2008-05-30 | 60 | |
| 5 | 5 | Episode 5 | 2008-06-06 | 60 | |
| 6 | 6 | Episode 6 | 2008-06-13 | 60 | |
| 7 | 7 | Episode 7 | 2008-06-20 | 60 | |
Season 2
| Episode No. | No. Overall | Title | Airdate | Runtime | Summary |
| --- | --- | --- | --- | --- | --- |
| 1 | 8 | Episode 1 | 2008-10-10 | 60 | |
| 2 | 9 | Episode 2 | 2008-10-17 | 60 | |
| 3 | 10 | Episode 3 | 2008-10-24 | 60 | |
| 4 | 11 | Episode 4 | 2008-10-31 | 60 | |
| 5 | 12 | Episode 5 | 2008-11-07 | 60 | |
| 6 | 13 | Episode 6 | 2008-11-14 | 60 | |
| 7 | 14 | Episode 7 | 2008-11-21 | 60 | |
| 8 | 15 | Episode 8 | 2009-02-13 | 60 | |
| 9 | 16 | Episode 9 | 2009-02-20 | 60 | |
| 10 | 17 | Episode 10 | 2009-02-27 | 60 | |
| 11 | 18 | Episode 11 | 2009-03-02 | 60 | |
| 12 | 19 | Episode 12 | 2009-03-06 | 60 | |
| 13 | 20 | Episode 13 | 2009-03-13 | 60 | |
| 14 | 21 | Episode 14 | 2009-03-20 | 60 | |
Season 3
| Episode No. | No. Overall | Title | Airdate | Runtime | Summary |
| --- | --- | --- | --- | --- | --- |
| 1 | 22 | Episode 1 | 2010-06-07 | 60 | |
| 2 | 23 | Episode 2 | 2010-06-14 | 60 | |
| 3 | 24 | Episode 3 | 2010-06-21 | 60 | |
| 4 | 25 | Episode 4 | 2010-06-28 | 60 | |
| 5 | 26 | Episode 5 | 2010-07-05 | 60 | |
| 6 | 27 | Episode 6 | 2010-07-12 | 60 | |
| 7 | 28 | Episode 7 | 2010-07-19 | 60 | |
| 8 | 29 | Episode 8 | 2010-07-28 | 60 | |
| 9 | 30 | Episode 9 | 2010-08-06 | 60 | |
| 10 | 31 | Episode 10 | 2010-08-13 | 60 | |
| 11 | 32 | Episode 11 | 2010-08-20 | 60 | |
| 12 | 33 | Episode 12 | 2010-08-27 | 60 | |
| 13 | 34 | Episode 13 | 2010-09-03 | 60 | |
| 14 | 35 | Episode 14 | 2010-09-10 | 60 | |
| 15 | 36 | Episode 15 | 2010-09-17 | 60 | |
Season 4
| Episode No. | No. Overall | Title | Airdate | Runtime | Summary |
| --- | --- | --- | --- | --- | --- |
| 1 | 37 | Episode 1 | 2011-06-13 | 60 | |
| 2 | 38 | Episode 2 | 2011-06-20 | 60 | |
| 3 | 39 | Episode 3 | 2011-06-27 | 60 | |
| 4 | 40 | Episode 4 | 2011-07-04 | 60 | |
| 5 | 41 | Episode 5 | 2011-07-11 | 60 | |
| 6 | 42 | Episode 6 | 2011-07-18 | 60 | |
| 7 | 43 | Episode 7 | 2011-07-25 | 60 | |
| 8 | 44 | Episode 8 | 2011-08-01 | 60 | |
| 9 | 45 | Episode 9 | 2012-01-16 | 60 | |
| 10 | 46 | Episode 10 | 2012-01-23 | 60 | |
| 11 | 47 | Episode 11 | 2012-01-30 | 60 | |
| 12 | 48 | Episode 12 | 2012-02-06 | 60 | |
| 13 | 49 | Episode 13 | 2012-02-13 | 60 | |
| 14 | 50 | Episode 14 | 2012-02-20 | 60 | |
| 15 | 51 | Episode 15 | 2012-02-27 | 60 | |
| 16 | 52 | Episode 16 | 2012-05-02 | 60 | |
| 17 | 53 | Episode 17 | 2012-07-02 | 60 | |
| 18 | 54 | Episode 18 | 2012-07-09 | 60 | |
Season 5
| Episode No. | No. Overall | Title | Airdate | Runtime | Summary |
| --- | --- | --- | --- | --- | --- |
| 1 | 55 | Episode 1 | 2013-01-28 | 60 | |
| 2 | 56 | Episode 2 | 2013-02-04 | 60 | |
| 3 | 57 | Episode 3 | 2013-02-11 | 60 | |
| 4 | 58 | Episode 4 | 2013-02-18 | 60 | |
| 5 | 59 | Episode 5 | 2013-02-25 | 60 | |
| 6 | 60 | Episode 6 | 2013-03-04 | 60 | |
| 7 | 61 | Episode 7 | 2013-03-11 | 60 | |
| 8 | 62 | Episode 8 | 2013-09-16 | 60 | |
| 9 | 63 | Episode 9 | 2013-09-23 | 60 | |
| 10 | 64 | Episode 10 | 2013-09-30 | 60 | |
Season 6
| Episode No. | No. Overall | Title | Airdate | Runtime | Summary |
| --- | --- | --- | --- | --- | --- |
| 1 | 65 | Episode 1 | 2014-01-27 | 60 | |
| 2 | 66 | Episode 2 | 2014-02-03 | 60 | |
| 3 | 67 | Episode 3 | 2014-02-10 | 60 | |
| 4 | 68 | Episode 4 | 2014-02-17 | 60 | |
| 5 | 69 | Episode 5 | 2014-02-24 | 60 | |
| 6 | 70 | Episode 6 | 2014-03-03 | 60 | |
| 7 | 71 | Episode 7 | 2014-03-10 | 60 | |
| 8 | 72 | Episode 8 | 2014-03-17 | 60 | |
| 9 | 73 | Episode 9 | 2014-03-24 | 60 | |
| 10 | 74 | Episode 10 | 2014-03-31 | 60 | |
Season 7
| Episode No. | No. Overall | Title | Airdate | Runtime | Summary |
| --- | --- | --- | --- | --- | --- |
| 1 | 75 | Episode 1 | 2014-07-07 | 60 | |
| 2 | 76 | Episode 2 | 2014-07-14 | 60 | |
| 3 | 77 | Episode 3 | 2014-07-21 | 60 | |
| 4 | 78 | Episode 4 | 2014-07-28 | 60 | |
| 5 | 79 | Episode 5 | 2014-08-04 | 60 | |
| 6 | 80 | Episode 6 | 2014-08-11 | 60 | |
| 7 | 81 | Episode 7 | 2014-08-18 | 60 | |
| 8 | 82 | Episode 8 | 2014-08-25 | 60 | |
| 9 | 83 | Episode 9 | 2014-09-01 | 60 | |
| 10 | 84 | Episode 10 | 2014-09-11 | 60 | |
Season 8
| Episode No. | No. Overall | Title | Airdate | Runtime | Summary |
| --- | --- | --- | --- | --- | --- |
| 1 | 85 | Episode 1 | 2015-02-09 | 60 | |
| 2 | 86 | Episode 2 | 2015-02-23 | 60 | |
| 3 | 87 | Episode 3 | 2015-03-02 | 60 | |
| 4 | 88 | Episode 4 | 2015-03-16 | 60 | |
| 5 | 89 | Episode 5 | 2015-03-23 | 60 | |
| 6 | 90 | Episode 6 | 2015-03-30 | 60 | |
| 7 | 91 | Episode 7 | 2015-04-06 | 60 | |
| 8 | 92 | Episode 8 | 2015-04-13 | 60 | |
| 9 | 93 | Episode 9 | 2015-04-15 | 60 | |
| 10 | 94 | Episode 10 | 2015-04-20 | 60 | |
Season 9
| Episode No. | No. Overall | Title | Airdate | Runtime | Summary |
| --- | --- | --- | --- | --- | --- |
| 1 | 95 | Episode 1 | 2015-09-14 | 60 | |
| 2 | 96 | Episode 2 | 2015-09-21 | 60 | |
| 3 | 97 | Episode 3 | 2015-09-28 | 60 | |
| 4 | 98 | Episode 4 | 2015-10-05 | 60 | |
| 5 | 99 | Episode 5 | 2015-10-19 | 60 | |
| 6 | 100 | Episode 6 | 2015-10-26 | 60 | |
| 7 | 101 | Episode 7 | 2015-11-02 | 60 | |
| 8 | 102 | Episode 8 | 2015-11-09 | 60 | |
| 9 | 103 | Episode 9 | 2015-11-16 | 60 | |
| 10 | 104 | Under Attack | 2015-11-23 | 60 | |
| 11 | 105 | Dog Squad Special | 2015-11-28 | 60 | |
Season 10
| Episode No. | No. Overall | Title | Airdate | Runtime | Summary |
| --- | --- | --- | --- | --- | --- |
| 1 | 106 | Episode 1 | 2016-03-14 | 60 | Andy has a high-speed chase through a housing estate. |
| 2 | 107 | Roads, Pavements and Back Allies | 2016-03-21 | 60 | Damo and the firearms team tackle a supermarket gunman, while Gareth faces a death-defying pursuit along roads, pavements and back allies. An offender thinks he has got away from Kev and Mark, but they have other ideas, plus Jimmy Grieves faces down five angry men on a Hartlepool estate. |
| 3 | 108 | Rookies & Raids | 2016-04-01 | 60 | |
| 4 | 109 | Deadly Pursuits | 2016-04-04 | 60 | Action-packed observational documentary series. A collection of some of the most extreme chases the Interceptors have been involved in, including a hot pursuit through a housing estate and a face-off with a 20-ton farm truck. |
| 5 | 110 | The Fatal Four | 2016-04-11 | 60 | Action-packed observational documentary series. Intrerceptor Kev reveals how to spot a drunk driver, before he gets behind a bolshy bandit with no regard for the speed limit, while Jacko follows an all-terrain tearaway. |
| 6 | 111 | Episode 6 | 2016-04-18 | 60 | Action-packed observational documentary series. Kev pepper-sprays a suspect resisting arrest, while Richie and his colleagues TPAC a stolen car in the snow, Spike raids a cannabis farm, and Paul rushes to rescue two people whose car is crushed by a falling tree. |
| 7 | 112 | Episode 7 | 2016-04-25 | 60 | Liam and police dog Vader bring down a fleeing suspect, Kev and Spike rescue a man trapped in an overturned car, Pete is forced to pull his taser, and Spike disguises himself as a pizza delivery boy to carry out an unconventional raid. |
| 8 | 113 | Late & Lethal | 2016-05-02 | 60 | A shocking insight into the world of night-time policing, packed with alcohol fuelled violent crime, burglaries and drink driving. Damien and Mark are forced to take drastic action against a violent suspect on New Years Eve, officers race to stop a drunk driver who is heading the wrong way up the M6 motorway, and a burglar takes the Interceptors on a late night pursuit. |
| 9 | 114 | Episode 9 | 2016-05-09 | 60 | Kev and Pete pursue a runaway car into a pitch-black farmer's field, Jacko takes part in a major heroin bust, and rookie police dog Elsa chases a runaway burglar through the streets of Middlesbrough. |
| 10 | 115 | Episode 10 | 2016-05-16 | 60 | |
| 11 | 116 | Episode 11 | 2016-05-23 | 60 | Chris and Andy pursue a drug dealer through the back streets of Shotton, Kev tracks down a man who threatened drinkers with an axe, and Spike engages in a high-speed chase in the countryside. |
| 12 | 117 | Fast & Furious | 2016-05-30 | 60 | Action-packed observational documentary series following police response teams in Durham and Cleveland. A pursuit ends in a flaming fireball for Damo and Nyci, Kev and Mark chase a gang of motorbike thieves, Jacko pursues a runaway car through a park, and Liam and police dog Vader go after a suspected thief. |
| 13 | 118 | Episode 13 | 2016-06-06 | 60 | Action-packed observational documentary series following the police interceptors of Durham and Cleveland. Dog handler Jimmy Grieves collars a thief in the act, the interceptors use the big red key to open the door of a drugs farm, and Darren Cawthorne deals with a driver who is literally kicking off. Meanwhile, at Durham Tees Valley Airport, the interceptors are called to assist with an emergency landing. |
Season 11
| Episode No. | No. Overall | Title | Airdate | Runtime | Summary |
| --- | --- | --- | --- | --- | --- |
| 1 | 119 | Episode 1 | 2016-09-05 | 60 | Action-packed observational documentary series. Interceptor Stu Chaney deals with an alleged assault and a missing crossbow, Amanda stokes discovers crack on the A19, Paul Faulkner nicks a bloodied drunk driver hiding on a rooftop, and a brand new patrol car takes a battering when Neil Armstrong helps TPAC a runaway MG. |
| 2 | 120 | Episode 2 | 2016-09-12 | 60 | Action-packed observational documentary series. Jacko leads the firearms squad against a man believed to own numerous weapons, a runaway rains roof tiles onto interceptors from the top of a building and a suspected car thief gives Dicko the slip before running straight into Paul. |
| 3 | 121 | Episode 3 | 2016-09-19 | 60 | Action-packed observational documentary series. Kev and Pete are in a high-speed pursuit involving our fine feathered friends, Jimmy and his dog Boas have their hands full when a dangerous weapon is found early in the morning, armed response teams are called out to deal with a drunken gunman, and Andy deals with an aggressive foul-mouthed drink driver intent on dodging the breath test. |
| 4 | 122 | Episode 4 | 2016-09-26 | 60 | Action-packed observational documentary series. Paul Jackson has his work cut out stopping a runaway van driver who is causing havoc, and a street disturbance leads Paul Faulker and Lee Wilson to stare down the barrels of a shotgun. Kev Salter and the team raid a cannabis farm and make a shocking discovery. |
| 5 | 123 | Out of Control | 2016-10-03 | 60 | |
| 6 | 124 | Lethal Weapons | 2016-10-10 | 60 | |
| 7 | 125 | Episode 7 | 2016-10-17 | 60 | Ian pursues a trail of sparks left by a car thief. |
| 8 | 126 | Episode 8 | 2016-10-24 | 60 | A training exercise primes the interceptors for the real thing, leading to a bumper drug haul. A quad biker evades Jacko, before having a change of heart. |
| 9 | 127 | Drugs Bust | 2016-10-31 | 60 | Kev Salter takes drastic action to stop a vehicle the cops suspect has class A drugs on board, and a nasty street fight leads to a taser being drawn. |
| 10 | 128 | Episode 10 | 2016-11-07 | 60 | Hoopsy chases a disqualified motorist, who hurdles two fences in his attempt to get away, while Damo deploys a stinger to stop a drink-driver. |
| 11 | 129 | Deadly Pursuits 2 | 2017-01-23 | 60 | Action-packed special highlighting some serious cases, including a dangerous car thief intent on causing carnage, the pursuit of an unlicensed driver through a housing estate, a stolen JCB on the rampage and a chase after a suspected heroin user that takes a turn for the worse. |
| 12 | 130 | Smash & Grab | 2017-02-06 | 60 | |
Season 12
| Episode No. | No. Overall | Title | Airdate | Runtime | Summary |
| --- | --- | --- | --- | --- | --- |
| 1 | 131 | Episode 1 | 2017-03-20 | 60 | Tom tries to pull over a suspected petrol thief who is unwilling to stop, Mike corners a criminal in a text-book manoeuvre and Jim deals with someone who can't control his tongue or his bladder. |
| 2 | 132 | Episode 2 | 2017-03-27 | 60 | Gordo and Dan unleash their tasers to help arrest a knife-wielding teenager, Jim leads five units to box in a car suspected of carrying drugs, and Tim and Tom tackle a mouthy drunk who has crashed his van. |
| 3 | 133 | Episode 3 | 2017-04-03 | 60 | Cases include a raid on a suspected drug user whose door won't budge, a chase after a souped-up hot hatch and a late-night reveller in Nantwich town centre. |
| 4 | 134 | Episode 4 | 2017-04-10 | 60 | The Interceptors come under attack from a gang of violent, armed robbers, and the boys in the 'Big Blue Van' respond to reports of bottles raining down on the streets. |
| 5 | 135 | Episode 5 | 2017-04-24 | 60 | Jim heads up a raid for a suspected drug dealer, Dan and Gordy respond to reports of an alleyway attack, and Jon goes on the hunt for a serial drug driver. Elsewhere, the interceptors combine forces when they fear that a gun-toting brawler may be on the loose. |
| 6 | 136 | Episode 6 | 2017-05-01 | 60 | Tim and Tom team up with Merseyside police to raid a house, and a van-load of taser-packing interceptors respond to an alleged assault with a meat cleaver. |
| 7 | 137 | Episode 7 | 2017-05-08 | 60 | Dog handler Bob hunts down a suspected knifeman, John wrestles with a drunken reveller, and a tattoo provides a clue to a major drugs bust. |
| 8 | 138 | Episode 8 | 2017-05-15 | 60 | Jenno joins a TPAC-takedown of a man suspected to be armed, Dan and Gordy hit the door of a suspected drug den, Ian nicks a driver who is so drunk that he cannot even put his shoes on the right feet, and Steve rushes to help a pregnant lady caught up in a three-car smash. |
| 9 | 139 | Episode 9 | 2017-05-22 | 60 | Jim and the team take to the road to spring a trap on suspected drug dealers, while Dan and Gordy track down a man seen roaming the streets armed with two knives. John picks up the pieces of an unbelievable multi-car pile-up, plus an early morning raid sees the Interceptors bust through doors in search of class-A drugs. |
| 10 | 140 | Episode 10 | 2017-06-05 | 60 | Observational documentary series. Jenno and Bucko race to assist when Jim is rammed by a runaway driver, and a have-a-go hero helps to tackle a runaway drug driver. |
| 11 | 141 | Episode 11 | 2017-06-12 | 60 | |
| 12 | 142 | Episode 12 | 2017-06-19 | 60 | Sean uses the big red key to give a drug dealer a door knock he won't forget, Jim chases down a speeding driver which leads to some drug-related discoveries, Jenno gets a faceful of pepper spray, Jim handles a gobby drink driver and Tom hunts down a violent armed robber. |
Season 13
| Episode No. | No. Overall | Title | Airdate | Runtime | Summary |
| --- | --- | --- | --- | --- | --- |
| 1 | 143 | Family Matters | 2017-09-11 | 60 | Jacko tries to stop a suspect who throws a package out of the window during the chase, Liam and sniffer dog Louis are called in to help discover why a man was in such a hurry to flea from the cops, and a young driver claims he has been coerced into breaking the law by a family member. |
| 2 | 144 | Pursuit and Youths | 2017-09-18 | 60 | The skills of the interceptors are put to the test as they go in hot pursuit of reckless youths. Jacko is on the hunt for a wanted teenager, and the interceptors are hot on the heels of a stolen silver Micra. |
| 3 | 145 | Hide and Seek | 2017-09-25 | 60 | After a high speed pursuit, interceptor Liam Sewell hunts down a wanted teenager. Meanwhile, Jacko plays a game of cat-and-mouse with a youth who flees on foot. |
| 4 | 146 | Cops and Conflict | 2017-10-02 | 60 | Dog handler Mark Sheenan tracks down a suspect believed to be cultivating drugs, who won't come quietly. Interceptor Jules Bennett rushes to assist a fellow officer, and Jacko chases a runaway in a high speed pursuit. |
| 5 | 147 | Future Crime | 2017-10-09 | 60 | As criminals use ever more hi-tech means to break the law, the police must employ their own array of gadgets, from thermal imaging cameras to drones. |
| 6 | 148 | After Dark | 2017-10-16 | 60 | Presenters Rick Edwards and Ortis Delay are out with the police interceptors as they tackle the difficult night shift. Ortis is with Spike as they pursue a fleeing car that drives into a dead end, while Rick is with dog handler Ian as they're called to back up the firearms squad. |
| 7 | 149 | Young and Reckless | 2017-12-11 | 60 | The interceptors take on youngsters who cause carnage on our roads and put themselves and others in danger. Spike and dog handler Ian pursue a 20 year old drunk driver into a traveller's site. Ben goes head to head with a speeding boy racer. |
| 8 | 150 | Episode 8 | 2018-01-15 | 60 | A door knock arrest snowballs into a fire-arms stand-off for Damo, Spike uncovers a stash of cannabis stored with lethal shotguns, police dog Ronnie lands right on top of a wanted man, and Ben legs it after a runaway driver. |
| 9 | 151 | Episode 9 | 2018-01-22 | 60 | Dog handler Darren has to call on all his powers of persuasion to try to end a rooftop stand-off, while Steve is forced to use his pepper spray when a suspect refuses to come quietly, and Tasers are drawn in a tense situation with a man who is armed with a knife. |
| 10 | 152 | Episode 10 | 2018-01-29 | 60 | The pursuit of a white van tearing up the turf in Willington proves to be a family affair, a two-year-old German shepherd cross named Titan earns his spurs, and Paul is sent on a roundabout hunt for a drunk driver. And Sam discusses police policy with a disqualified driver who won't accept he's in the wrong. |
| 11 | 153 | Episode 11 | 2018-02-05 | 60 | Paul takes the lead in a dangerous high-speed pursuit through the streets of Stockton-on-Tees, while Justin is put in severe danger by a man who has allegedly been threatening the public with a dirty hypodermic needle. Damo leads the firearms team on a raid of a house where a man has been seen with a gun, and Spike hunts down a car, the owner of which is wanted for burglary and fuel theft. |
| 12 | 154 | Episode 12 | 2018-02-12 | 60 | Liam and police dog Titan are tracking suspects in a full-scale manhunt. Paul takes two drug dealers by surprise, and a man needs to be rescued from the River Wear. In Darlington, Damo finds a man unconscious after a punch-up and a suspicious driver tries to outfox the interceptors. |
| 13 | 155 | Episode 13 | 2018-02-22 | 60 | Jacko and the firearms unit flush out a suspect after finding a homemade gun, while a 999 call leads to a drugs bust for Liam, and dog handler Justin sniffs out the truth when a mum and son tell some porkies over who a crashed a car. |
| 14 | 156 | Episode 14 | 2018-04-02 | 60 | Jacko and the firearms team are called to house where a suspect is reported to posses a shotgun. Richie and Pete hunt down a drugged-up driver who escaped on foot after crashing his car, and dog handler Liam and his canine colleague Louie are part of a 20-strong team raiding two houses linked to a suspected drug dealer. |
Series Cast
| | | | |
| --- | --- | --- | --- |
| | Christopher Fox | as Narrator | |
| | John Thomson | as Narrator | |
Related News
TVMaze