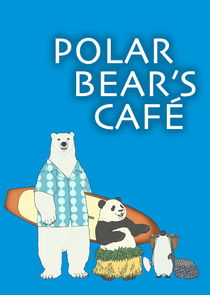 Situated near the local zoo and owned by the charismatic polar bear Shirokuma, Shirokuma Cafe is a popular spot for animals and humans alike, allowing them to sit back and relax after a hard day of work. Whether it's a cold beverage or the latest item on his menu, Shirokuma finds joy in being able to serve his customers, often striking up conversations about various subjects.
Together with the sarcastic Penguin and the clumsy Panda, they form an odd trio who get themselves caught up in all sorts of misadventures with their other friends such as Grizzly, a bar owner, and Sasako, a human who works at the cafe. From dealing with unrequited love, outdoor camping trips, karaoke sessions, and even the secret to brewing delicious coffee, there's always something bound to be happening in Shirokuma Cafe!
Series Overview
Rating
imDb Rating: 8.0 (182 Votes)
Metascore: N/A
Plot
Many animals work at a local zoo. When they aren't working, they relax at a polar bear's cafe.
Details
Rated: N/A
Released: 04 Apr 2012
Runtime: N/A
Genre: Animation, Comedy
Director: N/A
Writer: N/A
Actors: Takahiro Sakurai, Jun Fukuyama, Hiroshi Kamiya, Aya Endô
Language: Japanese
Country: Japan
Awards: N/A
Total Seasons: 1
Previous Episode
Mr. Peguin's Secret / Cherry Blossom Viewing in Spring
Episode 1x50; Mar 28, 2013
Previous Episodes 1x50: Mr. Peguin's Secret / Cherry Blossom Viewing in Spring 1x49: Mr. Grizzly's Reunion / Mr. Llama's Time Capsule 1x48: Sloth's Trip / I Became a Doll / White Day 1x47: South Pole Squad Penguinger / Even More, What is Roasting? 1x46: Doll Festival / The Animal Doctor 1x45: Rin Rin and Mei Mei's Super Exciting Plan / Smelt Fishing 1x44: The Everyday Zoo / The Zoo in the Rain 1x43: Pun Café / The Secret to Delicious Coffee / Mr. Full-Time Panda, Mr. Llama and Rin Rin 1x42: Polar Bear's Insomnia / Mr Grizzly

View All Episodes
Cast
Hiroshi Kamiya as Penguin
Jun Fukuyama as Panda
Kana Hanazawa as Mei Mei
Yuichi Nakamura as Grizzly-san
Takahiro Sakurai as Polar Bear
Aya Endo as Sasako-san
View Full Cast
Skip to:
Season 1
| Episode No. | No. Overall | Title | Airdate | Runtime | Summary |
| --- | --- | --- | --- | --- | --- |
| 1 | 1 | Welcome to Polar Bear's Café / Panda-kun's Employment | 2012-04-05 | 24 | |
| 2 | 2 | Everyone's Café / The Café's Flower Viewing Party | 2012-04-12 | 24 | |
| 3 | 3 | Polar Bear at the Zoo / Panda's Anguish | 2012-04-19 | 24 | |
| 4 | 4 | Obsessed with Smartphones / Super Fun Driving Lesson | 2012-04-26 | 24 | |
| 5 | 5 | Panda gets Enthusiastic / Everyone's Parfait | 2012-05-03 | 24 | |
| 6 | 6 | Panda's Diet / Strive for it! Wild Panda | 2012-05-10 | 24 | |
| 7 | 7 | Mr. Handa's Remodeling Plan / The Great Love Love Driving Operation | 2012-05-17 | 24 | |
| 8 | 8 | A Magazine Interview Comes By / Salmon Hunter: Mr. Grizzly | 2012-05-24 | 24 | |
| 9 | 9 | Rin Rin Deeply Moved! Panda's House! / Mr. Penguin's Proposal | 2012-05-31 | 24 | |
| 10 | 10 | Mr. Handa's Group Blind Date? / Mr. Handa's Group Blind Date! | 2012-06-07 | 24 | |
| 11 | 11 | Mr. Penguin's Broken Heart / Panda's Night Out | 2012-06-14 | 24 | |
| 12 | 12 | Panda, Tired of Boredom / Panda's Advice Room for Troubles | 2012-06-21 | 24 | |
| 13 | 13 | Tanabata Decorations / Panda's Wish | 2012-06-28 | 24 | |
| 14 | 14 | Enthusiastic Polar Bear / Let's Go to the Beach! | 2012-07-05 | 24 | |
| 15 | 15 | Weeding in the Summer / Mr. Penguin's Romance | 2012-07-12 | 24 | |
| 16 | 16 | Mr. Grizzly Goes On an Adventure / A Strange Shop | 2012-07-19 | 24 | |
| 17 | 17 | Let's Go Camping! / Rin Rin and the High School Girl | 2012-07-26 | 24 | |
| 18 | 18 | The Café's Ghost Stories / Panda Runs Away from Home | 2012-08-02 | 24 | |
| 19 | 19 | There Are Many Kinds of Penguins / What Is Baisen!? | 2012-08-09 | 24 | |
| 20 | 20 | The Ideal Single Life / Summer Festival | 2012-08-16 | 24 | |
| 21 | 21 | Panda is no longer a Panda / Meimei's Prince | 2012-08-23 | 24 | |
| 22 | 22 | Sales Penguin / Mr. Penguin's Picnic | 2012-08-30 | 24 | |
| 23 | 23 | Mr. Handa's Discussion! / Panda Mama's Daily Life | 2012-09-06 | 24 | |
| 24 | 24 | Panda's Apprenticeship / A Sports Day Filled With Animals Panda | 2012-09-13 | 24 | |
| 25 | 25 | Mr. Penguin's Hobbies / Their Childhood Days | 2012-09-20 | 24 | |
| 26 | 26 | The New Panda / Reunion at the Grizzly Bar | 2012-09-27 | 24 | |
| 27 | 27 | Animal Field Baseball | 2012-10-04 | 24 | |
| 28 | 28 | Panda's Apology! / Rin Rin Welcomed | 2012-10-11 | 24 | |
| 29 | 29 | Panda's New Part-time Job! / Mr. Penguin Goes Flying! | 2012-10-18 | 24 | |
| 30 | 30 | Halloween! / Llama Day! | 2012-10-25 | 24 | |
| 31 | 31 | Mr. Penguin's Dilemma! / Idol: Yama Arashi! | 2012-11-01 | 24 | |
| 32 | 32 | The Café Garden / Sales Penguin's Sales | 2012-11-08 | 24 | |
| 33 | 33 | Panda Corner Contest / Coffee Roaster Masaki / Panda Corner Project | 2012-11-15 | 24 | |
| 34 | 34 | Wolf's Occupation Change / Mr Penguin's New Love | 2012-11-22 | 24 | |
| 35 | 35 | Sloth Wants to Work / Mr. Handa's Present | 2012-11-29 | 24 | |
| 36 | 36 | Grizzly's Hibernation Preparations! / Grizzly's Hibernation! | 2012-12-06 | 24 | |
| 37 | 37 | Christmas Planning / Christmas Trouble | 2012-12-13 | 24 | |
| 38 | 38 | Big Cleaning at the Café / For Whom Does the Bell Toll? | 2012-12-20 | 24 | |
| 39 | 39 | The Animals' Hidden Talent Competition / New Year's Guest | 2013-01-10 | 24 | |
| 40 | 40 | The Hammock Sea / Panda Mama's Gardening | 2013-01-17 | 24 | |
| 41 | 41 | Scattering Beans with Everyone / The Café in the Afternoon | 2013-01-24 | 24 | |
| 42 | 42 | Polar Bear's Insomnia / Mr Grizzly | 2013-01-31 | 24 | |
| 43 | 43 | Pun Café / The Secret to Delicious Coffee / Mr. Full-Time Panda, Mr. Llama and Rin Rin | 2013-02-07 | 24 | |
| 44 | 44 | The Everyday Zoo / The Zoo in the Rain | 2013-02-14 | 24 | |
| 45 | 45 | Rin Rin and Mei Mei's Super Exciting Plan / Smelt Fishing | 2013-02-21 | 24 | |
| 46 | 46 | Doll Festival / The Animal Doctor | 2013-02-28 | 24 | |
| 47 | 47 | South Pole Squad Penguinger / Even More, What is Roasting? | 2013-03-07 | 24 | |
| 48 | 48 | Sloth's Trip / I Became a Doll / White Day | 2013-03-14 | 24 | |
| 49 | 49 | Mr. Grizzly's Reunion / Mr. Llama's Time Capsule | 2013-03-21 | 24 | |
| 50 | 50 | Mr. Peguin's Secret / Cherry Blossom Viewing in Spring | 2013-03-28 | 24 | |
Series Cast
| | | | |
| --- | --- | --- | --- |
| | Hiroshi Kamiya | as Penguin | |
| | Jun Fukuyama | as Panda | |
| | Kana Hanazawa | as Mei Mei | |
| | Yuichi Nakamura | as Grizzly-san | |
| | Takahiro Sakurai | as Polar Bear | |
| | Aya Endo | as Sasako-san | |
| | Tokuyoshi Kawashima | as Rintarō "Rin Rin" Hayashi | |
| | Wataru Hatano | as Handa-kun | |
| | Katsuyuki Konishi | as Full-time Panda | |
| | Toshiyuki Morikawa | as Panda Mama | |
| | Kishō Taniyama | as Sloth | |
| | Daisuke Ono | as Llama | |
Related News
TVMaze