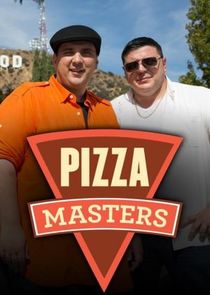 Sal Basille and Francis Garcia are first cousins and best friends. Together they own some of the most successful pizza shops in New York City. The cousins are always on the search for the best food in town -- and not just pizza. Join in the fun as the cousins set off on a culinary adventure to find the greatest spots across the country. From mom and pop joints to legendary establishments, these "Pizza Masters" know good pizza and good food when they find it, and are always up for having a good time along the way.
Series Overview
Rating
imDb Rating: 7.0 (20 Votes)
Metascore: N/A
Plot
Two Italian cousins who created a pizza empire in New York City travel to different cities around the country in search of the best food and pizzas around.
Details
Rated: N/A
Released: 07 Dec 2014
Runtime: 30 min
Genre: Family
Director: N/A
Writer: N/A
Actors: Sal Basille, Francis Garcia
Language: English
Country: USA
Awards: N/A
Total Seasons: 2
Previous Episode
Leave Me in St. Louis
Episode 2x10; Nov 25, 2015
On their way to Las Vegas for a convention, Fran discovers that his cousin Sal has booked them on a connecting flight through St. Louis, with an eight-hour layover. But, there is a method to Sal's madness. He has mapped out iconic eateries in St. Louis to try out, starting with Tiffany's Diner on Rt. 66, where they've been serving up "Slingers", traditional St. Louis breakfast, since 1960. Then, the guys head over to Russell's on Macklind to try a unique spin on gooey butter cake. No layover is complete without discovering the local pizza scene, so Sal and Fran head to Frank & Helen's for a slice or two of their famous St. Louis-style pizza and Toasted Ravioli.
Previous Episodes 2x10: Leave Me in St. Louis 2x9: We Left Our Artichoke in San Francisco 2x8: Hats Off to Franny 2x7: Urban Cowboys 2x6: Chillin' in Alaska 2x5: Sal's Book of Poker 2x4: Grandpa's Postcard 2x3: Miss Rhode Island Italia 2x2: Black Magic Pizza

View All Episodes
Cast
Sal Basille as Sal Basille
Francis Garcia as Francis Garcia
View Full Cast
Skip to:
Season 1
| Episode No. | No. Overall | Title | Airdate | Runtime | Summary |
| --- | --- | --- | --- | --- | --- |
| 1 | 1 | Franny Goes to Hollywood - Los Angeles, CA (Pilot) | 2014-12-16 | 60 | Fran Garcia may be a pizza man, but he has always been an actor at heart. So, he heads to L.A. to see if he has what it takes to hang amongst the Brads and Leonardos. Of course, he takes his cousin, best friend, and "agent" Sal Basille along, and no trip with these two would be complete without finding the best food stops the city has to offer. First up, Fran and Sal hit up Guisados in East Los Angeles for tacos filled with homemade braises wrapped in fresh corn tortillas. Next, they visit their friend, film exec, and now bakery owner Lisa at Cake Monkey to thank her for arranging the audition for Fran, and to taste her sinfully sweet treats. Finally, to celebrate a successful trip, the boys head to the famous food trucks of Abbot Kinney to grab a slice at the Urban Oven. Just two New York pizza guys in the glitz and glamour of L.A. looking for fame, fortune, and, of course, great food. |
| 2 | 2 | Close Encounters of the Hungry Kind - New Mexico | 2014-12-23 | 60 | Vegas, baby! But not the one you're thinking of. No, this Vegas is slap dab in the heart of New Mexico, a quaint little town with deep roots in Old Western lore, and being just two hours north of Roswell, it's at the tip of "Alien Alley," a place with more UFO sightings than anywhere else in the world. Why are Fran and Sal, two Staten Island pizza guys, in this remote location in the middle of the desert looking for ETs? Sal has been obsessed with UFOs and all things extraterrestrial since he was a kid, and he desperately wants to make "contact." Fran, on the other hand, would rather be making contact with hundred dollar bills on the "real" Vegas strip. But, on this trip, one thing they can agree on is that there are some good eats in New Mexico. First, the boys grab breakfast at a place called Charlie's Spic & Span Bakery & Cafe where they learn the secret of New Mexican cooking, red and green chiles. Next, they set up camp in the desert and look for UFOs while they make a Grilled Pizza and their version of Pork and Beans under the stars. Finally, they reach Roswell, N.M., and discover Chef Toddzilla and his out of this world Zilla Burger and Cheescake Bombs. |
| 3 | 3 | City of Cousinly Love - Philadelphia, PA | 2014-12-30 | 60 | Fran and Sal are in Philadelphia to look for spots to open a new Artichoke Pizza. To ensure their success, they hit up successful multi-generational family restaurants who know how to succeed for the long haul in the City of Brotherly Love. First up, they visit the famous Italian Market and meet with brothers Jimmy and Eddie Rubino who own Ralph's Restaurant, the oldest family-owned Italian restaurant in the country, where they whip up a delicious Veal Capricciosa. Then, it's off to Varallo Bros. Bakery, where they've been making homemade Cannoli in the same spot for over 30 years. And no day in Philly would be complete without a pizza or two, so the guys head to Tacconelli's Pizzeria where the same family has been making pies for over 80 years. The pizza is so good you have to reserve the dough days in advance. |
| 4 | 4 | Deep Dish Pizza? - Chicago, IL | 2015-01-06 | 60 | New York pizza guys Fran Garcia and Sal Basille are in The Windy City armed with fork, knife and napkins and on a mission to discover the secrets of Chicago-style deep dish pizza. Their goal is to settle the age old debate: Is Chicago deep dish even pizza at all? First, they head to Lou Malnati's Pizzeria, the arguable birthplace of deep dish, to make the Chicago classic stuffed with sausage on a butter crust. Next, they stop by Roots Handmade Pizza to try a new take on Chicago-style with their Taco Pizza. Finally, they head to Hoosier Mama's for a deep dish pie on the sweeter side. Pizza or not, the verdict on this trip to Chicago is sure to be delicious. |
| 5 | 5 | Cleveland Rocks | 2015-01-13 | 60 | New York pizza cousins Fran Garcia and Sal Basille are in Cleveland. Fran is on the prowl for a new Cadillac, and during the test drive they find the best food and the most amazing music in the Home of Rock and Roll! They're heading to the West Side Market to make pizza bagels at Frickaccio's Pizza Market, perfect any time of day. Then it's over to Sokolowski's University Inn, one of the oldest restaurants in Cleveland, to learn how they make their famous stuffed cabbage and Salisbury steak. Finally, they head over to the Velvet Tango Room for cocktails, the best bananas foster and to make a sweet deal on a new Caddy. |
| 6 | 6 | Sal's Big Fat Italian Birthday | 2015-01-20 | 60 | It's Sal's birthday, and his cousin Fran has a surprise party planned for him. He's invited the whole family to come celebrate, dozens of fun, happy, loud Italians of all ages partying in Fran's big house in Staten Island. Before the shindig, Fran has to keep Sal occupied all day so he doesn't catch wind of the party. So he has set up a special birthday lunch for Sal at his favorite Asian restaurant in the city, Xi'an Famous Foods, where owner and chef Jason Wang will give Sal a private lesson on the secrets of hand pulled noodles and dumplings. Fran has also arranged a custom batch of lemon meringue birthday doughnuts from Fany Gerson at Dough for the party, but they are not ready in time so Fran stalls as he tells Sal they have to head to Artichoke Pizza to handle a "big order." Finally, Fran and Sal head to the house in Staten Island and, when they arrive, Sal's completely surprised! The whole family is there, some of whom he hasn't seen in a long time. They celebrate his BIG, FAT ITALIAN BIRTHDAY the only way they know how ... family, fun and lots of great food! |
Season 2
| Episode No. | No. Overall | Title | Airdate | Runtime | Summary |
| --- | --- | --- | --- | --- | --- |
| 1 | 7 | Miami Slice | 2015-09-23 | 60 | Francis Garcia and Sal Basille are in Miami for a charity golf tournament. While they don't know the first thing about golf, they do know how to find the best eats that Miami has to offer. First up, Thea's Pizzeria, to see how Thea's artichoke pizza compares to their own. Fran and Sal find the best Cuban Sandwich in Miami at David's Cafe Cafecito, and finally, they head to Michael's Genuine for a mouthwatering grouper and a refreshing lychee cocktail to help them unwind after a long day on the links. |
| 2 | 8 | Black Magic Pizza | 2015-09-30 | 60 | The mojo's rising as Francis Garcia and Sal Basille find themselves in New Orleans, where food comes first. The guys make a stop at Slice Pizzeria for New Orleans-style pizza. Fran settles down with an elaborate Bloody Mary at Apolline while Sal has an encounter with his own Bloody Mary. Then they head to Domilise's for a taste of their famous po' boy. The guys step out to the historic Little Gem Saloon where legends of jazz have graced the stage; but, the star of the show is always their famous Louisiana crawfish cheesecake. |
| 3 | 9 | Miss Rhode Island Italia | 2015-10-07 | 60 | Francis Garcia and Sal Basille have been asked to help judge the Miss Rhode Island Italia pageant, held annually in Providence. And the guys can't wait to check out the city's well-known food scene. First stop is Caserta's Pizza in historic Federal Hill, then they're off to Al Forno to meet the creator of grilled pizza. After the pageant, Fran and Sal celebrate at Iggy's on the coast for some seafood classics and a fried, sugary treat called a doughboy. |
| 4 | 10 | Grandpa's Postcard | 2015-10-14 | 60 | Francis Garcia and Sal Basille set off to Key West, Fla., on a search for buried riches at the bottom of the sea, and food treasures on land. At Roostica, they discover wood-fired pizza with an incomparable island flair, before heading to Firefly for a unique spin on Key Lime pie. After hitting the high seas in search of booty, Fran and Sal head to the Half Shell Raw Bar where they dive into some fresh Lionfish and conch fritters while sipping on some shipwreck rum. |
| 5 | 11 | Sal's Book of Poker | 2015-10-21 | 60 | Francis Garcia and Sal Basille hit up Atlantic City, where Fran wants to try his luck at the blackjack table and Sal plans on winning big with the city's food. After a visit to a childhood friend using local ingredients to make unique pizzas at Tony Boloney's, they head to White House Sub Shop for a loaded Italian sub. Later, they trade the blackjack table for a dinner table at Chef Vola's, where they dine on veal pizzaiola and a ricotta cheesecake so light, it practically levitates. |
| 6 | 12 | Chillin' in Alaska | 2015-10-28 | 30 | Francis Garcia and Sal Basille take a break from the thick New York heat, and rent a lakeside cabin in Juneau, Alaska, to relax in the cool weather and check out the local food scene. They head to Tracy's King Crab Shack for the freshest Alaskan king crab and sea scallops in the country, and then discover some sweet treats at the Alaskan Fudge Company. Last, but not least, they experience a smoked salmon pizza at The Island Pub and cross their fingers that they'll be able to go on an airplane delivery! |
| 7 | 13 | Urban Cowboys | 2015-11-04 | 30 | Francis Garcia and Sal Basille are headed to Bozeman, Mont., for a city slicker adventure on a working ranch. Their excursion starts with a home-cooked meal of sourdough bread, baked beans and beef tenderloin at the G Bar M Ranch. The next morning, they head into town for a hearty cowboy breakfast that's washed down with a huckleberry milkshake. They mosey over to Red Tractor Pizza to get a taste of their "farm to pizza" pies, and then end their trip with homemade strawberry rhubarb pie. |
| 8 | 14 | Hats Off to Franny | 2015-11-11 | 30 | It's opening day of a new Artichoke in Brooklyn but Fran cannot find his lucky hat, and he won't open without it. The day before he and Sal went on one of their famous food tours of favorite restaurants in and around New York, so they retrace their day looking for the hat. The day started in the old neighborhood on Staten Island and the famous Clam Pizza at Lee's Tavern. Then, they headed to Zeppieri's & Sons in the Bronx to satisfy their sweet tooth with world famous Italian sfogliatelles. Finally, they capped off their mouthwatering trip with dinner at Fornos of Spain in Newark, N.J., where they feasted on authentic Seafood Paella and Codfish Croquettes. |
| 9 | 15 | We Left Our Artichoke in San Francisco | 2015-11-18 | 30 | Fran and Sal are in the Bay Area to celebrate the second anniversary of the Berkeley, Calif., location of Artichoke Basille's. To reward the staff for all of their hard work, they are surprising them with an anniversary party on a beautiful vineyard in Napa. While in San Francisco, the guys check out Goat Hill Pizza, a favorite in town for 40 years. On their way out to Napa, the guys come across The Choke Coach, a food truck that serves nothing but artichoke-based dishes. The guys finally make it to Charter Oak Winery in Napa and meet their hosts Robert and Layla Fanucci. In the end, everyone arrives, the guys make a toast to Artichoke Berkeley, and food and drink flow as the sun sets in Napa. |
| 10 | 16 | Leave Me in St. Louis | 2015-11-25 | 30 | On their way to Las Vegas for a convention, Fran discovers that his cousin Sal has booked them on a connecting flight through St. Louis, with an eight-hour layover. But, there is a method to Sal's madness. He has mapped out iconic eateries in St. Louis to try out, starting with Tiffany's Diner on Rt. 66, where they've been serving up "Slingers", traditional St. Louis breakfast, since 1960. Then, the guys head over to Russell's on Macklind to try a unique spin on gooey butter cake. No layover is complete without discovering the local pizza scene, so Sal and Fran head to Frank & Helen's for a slice or two of their famous St. Louis-style pizza and Toasted Ravioli. |
Series Cast
| | | | |
| --- | --- | --- | --- |
| | Sal Basille | as Sal Basille | |
| | Francis Garcia | as Francis Garcia | |
Related News
TVMaze