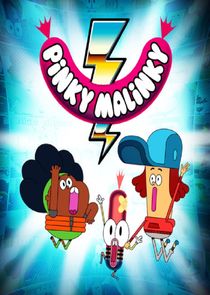 Pinky Malinky sees the bright side of everything, including being born a hot dog. With his BFFs in tow, this little wiener takes a bite out of life.
Series Overview
Rating
imDb Rating: 5.5 (212 Votes)
Metascore: N/A
Plot
This fly-on-the wall reality show follows the life of Pinky, an infectiously positive hot dog living in the human world.
Details
Rated: TV-Y7
Released: 17 Nov 2018
Runtime: 12 min
Genre: Animation, Comedy
Director: N/A
Writer: Rikke Asbjoern, Chris Garbutt
Actors: Franciska Friede, Danny Jacobs
Language: English
Country: USA
Awards: N/A
Total Seasons: 1
Previous Episode
Wiener
Episode 3x15; Jul 17, 2019
Previous Episodes 3x15: Wiener 3x14: Spark 3x13: Dreams 3x12: Eraser 3x11: Wrestling 3x10: Man 3x9: Fundraiser 3x8: Clique 3x7: Dinner

View All Episodes
Skip to:
Season 1
| Episode No. | No. Overall | Title | Airdate | Runtime | Summary |
| --- | --- | --- | --- | --- | --- |
| 1 | 1 | Snack | 2019-01-01 | 13 | When the town's favorite treat gets discontinued, Pinky attempts to reverse-engineer the recipe to avert a Snackpocalypse. |
| 2 | 2 | Pet | 2019-01-01 | 13 | While volunteering at the animal shelter, Pinky takes a shine to a ferocious feline and decides they're going to be meow-velous together. |
| 3 | 3 | Tech | 2019-01-01 | 13 | Worried that his mom isn't using the latest technology, Pinky shows her how to get RIPPED: really, insanely, pretty prepared to engage with digital. |
| 4 | 4 | Spirit | 2019-01-01 | 13 | No one relishes school spirit week more than Pinky. But in his zeal to boost the mood of head cheerleader Tina, he doesn't see she has a crush on him. |
| 5 | 5 | Hater | 2019-01-01 | 13 | Pinky loves Sackenhack, so he's shocked when someone gives his online posts about the town a thumbs down. Can he change the mind of this Sacken-hater? |
| 6 | 6 | Video | 2019-01-01 | 13 | Pinky, Babs and JJ make a hilarious video that's "almost perfect," a so-so assessment that doesn't cut the mustard for perfectionist Pinky. |
| 7 | 7 | Duck | 2019-01-01 | 13 | When the town's largest duck dies, Pinky makes it his mission to convince everyone that King Sackenquack is still alive. |
| 8 | 8 | Mannequin | 2019-01-01 | 13 | JJ's dream of being featured on a fashion blog goes awry when the outfit he adores doesn't fit. Enter the sausage stylist with an idea … |
| 9 | 9 | Secret | 2019-01-01 | 13 | When JJ and Babs mock a TV show Pinky loves, he starts lying -- and breaking school rules -- to binge-watch the episodes in secret. |
| 10 | 10 | Scary | 2019-01-01 | 13 | Pinky and Babs discover JJ doesn't like scary movies, so they concoct a plan to get him over his fears by scaring "the scared" out of him. Eeeeeeek! |
| 11 | 11 | Book | 2019-01-01 | 13 | Pinky tries to sneak a book on extreme chimney sweeping back into the library after he forgets to check it out. To be frank, it doesn't go well. |
| 12 | 12 | Team | 2019-01-01 | 13 | Armed with some doggedly creative plays, Pinky joins the school football team with one goal in mind: to get them their first win. |
| 13 | 13 | Game | 2019-01-01 | 13 | JJ buys a new leather jacket and makes plans to do more "extreme" stuff, causing Pinky to fret about the future of their weekly role-playing game. |
| 14 | 14 | Undercover | 2019-01-01 | 13 | Pinky cooks up an undercover scheme to save Bob's security guard job after he screws up a safety demonstration at school. |
| 15 | 15 | Fun | 2019-01-01 | 13 | After misbehaving in class, Pinky uses his trip to Principal Pfunne's office to help her come out of her very rigid shell. |
| 16 | 16 | Brother | 2019-01-01 | 13 | When JJ accidentally calls Pinky's mother "Mom," the little wiener has an amazing idea: They should go from friends ... to brothers. |
| 17 | 17 | Sensei | 2019-01-01 | 13 | To reawaken Coach Freebird's love of teaching (or maybe just awaken it, period), Pinky joins his tae kwon do club and vows to be the perfect student. |
| 18 | 18 | Hangout | 2019-01-01 | 13 | A termite infestation forces Pinky, Babs and JJ to hunt for a new hangout spot. But nothing's good enough for the hard-to-please hot dog. |
| 19 | 19 | Sock | 2019-01-01 | 13 | A misplaced sock ignites an avalanche of worry for Pinky, who strongly believes all pairs should stay together for life. |
| 20 | 20 | Count | 2019-01-01 | 13 | An app that counts steps prompts Pinky, Babs and JJ to add up every single thing they do. Competition's good for friendship, right? |
| 21 | 21 | Voice | 2019-01-01 | 13 | After discovering that his life's purpose is to inspire people, Pinky sets out to perfect a new voice for his oral report. |
| 22 | 22 | Phone | 2019-01-01 | 13 | Pinky suspects his phone is out to get him when his texts to Babs autocorrect into insults. His solution? Be his own phone to find her and apologize. |
| 23 | 23 | Friend | 2019-01-01 | 13 | Pinky deals with jealous feelings when he finds out about Babs's onetime pal, Jules. Learning your best friend had a BFF before you is the wurst! |
| 24 | 24 | Gym | 2019-01-01 | 13 | Things get out of hand when Pinky wrongly assumes his mom is training him to take over her successful half-gym, half-bakery business. |
| 25 | 25 | List | 2019-01-01 | 13 | Pinky and JJ hear that Babs is moving, so they try to make their last night together special. Good thing they've got Pinky's beefy Babs bucket list. |
| 26 | 26 | Double | 2019-01-01 | 13 | When Pinky's report card shows an absence, he attempts to erase it -- and save his permanent record -- by living two days simultaneously. |
| 27 | 27 | Sight | 2019-01-01 | 13 | Babs temporarily loses her sight after a trip to the eye doctor, inspiring Pinky to become her guide hot dog. |
| 28 | 28 | Grounded | 2019-01-01 | 13 | In his excitement over family movie night, Pinky accidentally breaks his mom's trophy, then feels guilty and decides to ground himself. |
Series Crew
| | Position | Name |
| --- | --- | --- |
| | Creator | Rikke Asbjoern |
| | Creator | Chris Garbutt |
Related News
TVMaze