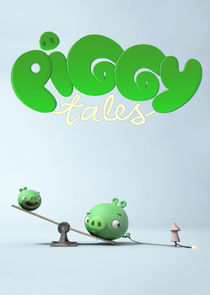 Piggy Tales is a Finnish computer-animated television series based on Bad Piggies, a spin-off of Angry Birds. Animated in a style resembling clay animation, the series focus on the life of the minion pigs, and it has no dialogue.
Series Overview
Rating
imDb Rating: 7.4 (53 Votes)
Metascore: N/A
Plot
A cartoon series of green cartoon piggies.
Details
Rated: TV-Y
Released: 11 Apr 2014
Runtime: N/A
Genre: Animation, Adventure, Comedy
Director: N/A
Writer: Eric Guaglione, Ville Lepistö
Actors: Antti Pääkkönen, Antti Pääkkönen
Language: English
Country: Finland
Awards: N/A
Total Seasons: 4
Previous Episode
Pigs Can Fly
Episode 4x24; May 30, 2019
It's the end of the show and a happy pig sings us off in style.
Previous Episodes 4x24: Pigs Can Fly 4x23: Snout Invasion 4x22: Post No Pigs 4x21: Light Riders 4x20: Getaway Graffiti 4x19: Doorbell Symphony 4x18: Slam Punk 4x17: Ghost Hog 4x16: Ramp Champ

View All Episodes
Recent News
Disney Plus: 13 Of The Best '90s Movies To Watch On Day One
After months of build-up, Disney+ is nearly here. Disney's streaming platform is landing with hundreds of movies and TV shows available to stream, spanning the many decades of live-action and animated storytelling from the studio. In fact there's so much avai…
via NewsAPI
View More Related News
Skip to:
Season 1
| Episode No. | No. Overall | Title | Airdate | Runtime | Summary |
| --- | --- | --- | --- | --- | --- |
| 1 | 1 | Trampoline | 2014-04-11 | 1 | |
| 2 | 2 | Roughnecks | 2014-04-18 | 1 | |
| 3 | 3 | Abduction | 2014-04-25 | 1 | |
| 4 | 4 | Teeter Trotter | 2014-05-02 | 1 | |
| 5 | 5 | The Hole | 2014-05-09 | 1 | |
| 6 | 6 | Push-button | 2014-05-16 | 1 | |
| 7 | 7 | The Mirror | 2014-05-23 | 1 | |
| 8 | 8 | Super Glue | 2014-05-30 | 1 | |
| 9 | 9 | Piggy in the Middle | 2014-06-06 | 1 | |
| 10 | 10 | Epic Sir Bucket | 2014-06-13 | 1 | |
| 11 | 11 | Push-Button Trouble | 2014-06-20 | 1 | |
| 12 | 12 | Shazam | 2014-06-27 | 1 | |
| 13 | 13 | All Puffed Up! | 2014-07-04 | 1 | |
| 14 | 14 | Peekaboo! | 2014-07-11 | 1 | |
| 15 | 15 | Up or Down? | 2014-07-18 | 1 | |
| 16 | 16 | Gloves | 2014-07-25 | 1 | |
| 17 | 17 | Snooze | 2014-08-01 | 1 | |
| 18 | 18 | Superpork | 2014-08-08 | 1 | |
| 19 | 19 | Cake Duel | 2014-08-15 | 1 | |
| 20 | 20 | Dr. Pork, M.D. | 2014-08-22 | 1 | |
| 21 | 21 | Hog Hoops | 2014-08-29 | 1 | |
| 22 | 22 | The Cure | 2014-09-05 | 1 | |
| 23 | 23 | Up the Tempo | 2014-09-12 | 1 | |
| 24 | 24 | Jammed | 2014-09-19 | 1 | |
| 25 | 25 | Fly Piggy, Fly! | 2014-09-26 | 1 | |
| 26 | 26 | The Game | 2014-10-03 | 1 | |
| 27 | 27 | The Catch | 2014-10-10 | 1 | |
| 28 | 28 | Snowed Up | 2014-12-16 | 1 | |
| 29 | 29 | The Wishing Well | 2015-03-18 | 1 | |
| 30 | 30 | Stuck in ? | 2015-03-25 | 1 | |
| 31 | 31 | It's a Wrap ! | 2015-04-01 | 1 | |
Season 2
| Episode No. | No. Overall | Title | Airdate | Runtime | Summary |
| --- | --- | --- | --- | --- | --- |
| 1 | 32 | Nailed It | 2015-04-17 | 1 | |
| 2 | 33 | Lunch Break | 2015-04-24 | 1 | |
| 3 | 34 | Screw Up | 2015-05-01 | 1 | |
| 4 | 35 | Pile Up | 2015-05-08 | 1 | |
| 5 | 36 | Step 1 | 2015-05-15 | 1 | |
| 6 | 37 | Jackhammered | 2015-05-22 | 1 | |
| 7 | 38 | Race Nut | 2015-05-29 | 1 | |
| 8 | 39 | Predicament in Paint | 2015-06-05 | 1 | |
| 9 | 40 | Get the Hammer | 2015-06-12 | 1 | |
| 10 | 41 | Fabulous Fluke | 2015-06-19 | 1 | |
| 11 | 42 | Magnetic Appeal | 2015-06-26 | 1 | |
| 12 | 43 | Porkatron | 2015-07-03 | 1 | |
| 13 | 44 | Grand Opening | 2015-07-10 | 1 | |
| 14 | 45 | Lights Out | 2015-07-17 | 1 | |
| 15 | 46 | Tipping Point | 2015-07-24 | 1 | |
| 16 | 47 | All Geared Up | 2015-07-31 | 1 | |
| 17 | 48 | Dream House | 2015-08-07 | 1 | |
| 18 | 49 | Home Sweet Home | 2015-08-14 | 1 | |
| 19 | 50 | Mind the Gap | 2015-08-21 | 1 | |
| 20 | 51 | Unhinged | 2015-08-28 | 1 | |
| 21 | 52 | Sticky Situation | 2015-09-04 | 1 | |
| 22 | 53 | Final Exam | 2015-09-11 | 1 | |
| 23 | 54 | Three Little Piggies | 2015-09-18 | 1 | |
| 24 | 55 | Board to Pieces | 2015-09-25 | 1 | |
| 25 | 56 | DemoHogs | 2017-02-10 | 1 | A solution – although, a temporary one. |
| 26 | 57 | Swine Symphony | 2017-02-17 | 1 | Music to the working pig's ears. |
Season 3
| Episode No. | No. Overall | Title | Airdate | Runtime | Summary |
| --- | --- | --- | --- | --- | --- |
| 1 | 58 | Bouncing Buffoon | 2016-06-12 | 1 | |
| 2 | 59 | Up the Ladder | 2016-06-19 | 1 | |
| 3 | 60 | Sharpest Shooter | 2016-06-24 | 1 | |
| 4 | 61 | Snack Time | 2016-07-03 | 1 | |
| 5 | 62 | Batter Up | 2016-07-10 | 1 | |
| 6 | 63 | Magic Matchup | 2016-07-24 | 1 | |
| 7 | 64 | The Bubble Trick | 2016-07-31 | 1 | |
| 8 | 65 | Piggy Dive | 2016-08-07 | 1 | |
| 9 | 66 | One Big Hurdle | 2016-08-14 | 1 | |
| 10 | 67 | Piggy Vaulting | 2016-08-21 | 1 | |
| 11 | 68 | Art School | 2016-08-28 | 1 | |
| 12 | 69 | Chalk It Up | 2016-09-04 | 1 | |
| 13 | 70 | School's Up | 2016-09-11 | 1 | |
| 14 | 71 | Broken Chair | 2016-09-18 | 1 | |
| 15 | 72 | Hidden Talent | 2016-09-25 | 1 | |
| 16 | 73 | Hiccups | 2016-10-02 | 1 | |
| 17 | 74 | Let's Tango | 2016-10-09 | 1 | |
| 18 | 75 | Scared Sick | 2016-10-16 | 1 | |
| 19 | 76 | Shadow Pig | 2016-10-23 | 1 | |
| 20 | 77 | Pumpkin Head | 2016-10-30 | 1 | |
| 21 | 78 | For Pig's Sake | 2016-11-06 | 1 | |
| 22 | 79 | Remote Pig | 2016-11-13 | 1 | |
| 23 | 80 | Pig Interrupted | 2016-11-20 | 1 | |
| 24 | 81 | Light Dance | 2016-11-27 | 1 | |
| 25 | 82 | Pig Expectations | 2016-12-04 | 1 | |
| 26 | 83 | Gift Wrapped | 2016-12-11 | 1 | |
| 27 | 84 | Holiday Song | 2016-12-16 | 1 | |
| 28 | 85 | Lost Piggy | 2016-12-23 | 1 | |
| 29 | 86 | The Mime | 2017-01-01 | 1 | |
| 30 | 87 | Snout on the Wall | 2017-01-08 | 1 | |
| 31 | 88 | Re-abduction | 2017-01-15 | 1 | |
| 32 | 89 | Ball Games | 2017-01-22 | 1 | |
| 33 | 90 | Slip Up | 2017-01-29 | 1 | |
| 34 | 91 | Final Curtain | 2017-02-05 | 1 | |
Season 4
| Episode No. | No. Overall | Title | Airdate | Runtime | Summary |
| --- | --- | --- | --- | --- | --- |
| 1 | 92 | Road Hog | 2018-02-24 | 1 | Two street racing pigs put their pedals to the metal. |
| 2 | 93 | Slingshot Delivery | 2018-03-10 | 1 | No package is too big for Delivery Pig. |
| 3 | 94 | Bad Signal | 2018-03-17 | 1 | The wrong pig, in the wrong place, at the right time |
| 4 | 95 | Hoop and Loop | 2018-03-31 | 1 | A talented pig has an eye for the net. |
| 5 | 96 | Cops n' Robbers | 2018-04-07 | 1 | In the murky underworld of Pig City, it's hard to tell the good guys from the bad. |
| 6 | 97 | Hard Days Light | 2018-04-11 | 1 | In Pig City, a pig's work is never done. |
| 7 | 98 | Branched Out | 2018-04-14 | 1 | A scared pig needs a hero with head for heights. |
| 8 | 99 | Piggin' String | 2018-04-21 | 1 | A determined pig comes to the rescue with his rope wrangling skills. |
| 9 | 100 | Pork Brigade | 2018-04-25 | 1 | Fire Chief fights a mighty blaze but struggles to save himself. |
| 10 | 101 | Getaway Loot | 2018-04-28 | 1 | A cocky thief becomes too smart for his own good. |
| 11 | 102 | Muffin Master | 2018-05-12 | 1 | A plucky pig tries to distract an old timer on his lunch break. |
| 12 | 103 | Well Done | 2018-05-19 | 1 | Some pigs will stop at nothing to get a good sun tan. |
| 13 | 104 | Green and Furious | 2018-07-21 | 1 | A petrolhead goes to great lengths for a sweet ride. |
| 14 | 105 | Dream Dog | 2018-07-25 | 1 | A hungry pig places a huge order for a dream dog. |
| 15 | 106 | Dodge and Deliver | 2018-09-08 | 1 | When it absolutely, positively has to be there on time... Call someone else. |
| 16 | 107 | Ramp Champ | 2018-09-29 | 1 | A tenacious pig will stop at nothing to become the next ramp champ. |
| 17 | 108 | Ghost Hog | 2018-10-27 | 1 | Ghost Hog struggles to master his ride from Hell. |
| 18 | 109 | Slam Punk | 2018-11-08 | 1 | A greedy ball hog gets his comeuppance on the court. |
| 19 | 110 | Doorbell Symphony | 2018-12-29 | 1 | A playful pig turns into a doorbell disc jockey, but not everyone appreciates his talents. |
| 20 | 111 | Getaway Graffiti | 2019-02-19 | 1 | Sneaky graffiti artist proves too smart for his own art. |
| 21 | 112 | Light Riders | 2019-03-05 | 1 | Two workers have a smashing time while fixing the street lights. |
| 22 | 113 | Post No Pigs | 2019-04-09 | 1 | A worker pig gets into a sticky situation while bill-posting. |
| 23 | 114 | Snout Invasion | 2019-04-25 | 1 | The intergalactic explorer returns for revenge, this time it's war! |
| 24 | 115 | Pigs Can Fly | 2019-05-30 | 1 | It's the end of the show and a happy pig sings us off in style. |
Related News
TVMaze