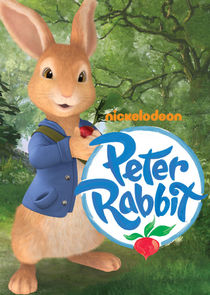 Peter Rabbit is a fictional anthropomorphic character in various children's stories by Beatrix Potter. He first appeared in The Tale of Peter Rabbit in 1902 and subsequently in five more books between 1904 and 1912. Spinoff merchandise includes dishes, wallpaper, and dolls. He appears as a character in a number of adaptations. Nick Jr. brings treasured literary icon Peter Rabbit to life with the new CG-animated preschool series, Peter Rabbit. The series is a fresh re-imagining of the popular Beatrix Potter children's books based on Peter Rabbit. Peter Rabbit features educational goals that encourage preschoolers to learn problem-solving and interpersonal skills, self-efficacy, resilience, positive re-framing and fostering an interest in and respect for nature.
Series Overview
Rating
imDb Rating: 5.6 (376 Votes)
Metascore: N/A
Plot
Join Peter and his two bosom buddies; Benjamin and Lily, on their whimsical adventures through timeless Lake District. Peter encounters real dangers, and he and his loyal friends and family...
Details
Rated: TV-Y
Released: 14 Dec 2012
Runtime: 23 min
Genre: Animation, Family
Director: N/A
Writer: N/A
Actors: Peter Harris, Michaela Dean, Mark Huckerby, JB Blanc
Language: English
Country: USA, UK, Ireland
Awards: 5 wins & 14 nominations.
Total Seasons: 3
Previous Episode
Musical Mayhem / Missing Journal
Episode 4x8; May 06, 2016
Peter must distract Mr. Tod from Jeremy Fisher's annual recital auditions; Peter has to rescue Flopsy and Mopsy from Old Brown.
Previous Episodes 4x8: Musical Mayhem / Missing Journal 4x7: The Great Tortoise Rescue / King of the Woods 4x6: The Unexpected Discovery 4x5: Tricky Tortoise / Mice on the Move 4x4: Spectacular Sled / Cotton-tail's Tooth 4x3: Spilled Milk / The First Bluebell 4x2: The Tale of Mittens' New Friend / The Tale of the Flooded Burrow 4x1: The Christmas Star / Sleepy Hedgehog 3x15: The Tale of the Journal's End

View All Episodes
Cast
Sarah Bolt as Jemima Puddleduck
L. Parker Lucas as Peter Rabbit
Peter Harris as Benjamin Bunny
Michaela Dean as Lily Bobtail
Jenna Iacono as Cottontail
Gwenfair Vaughan as Mrs. Tiggywinkle
View Full Cast
Skip to:
Season 1
| Episode No. | No. Overall | Title | Airdate | Runtime | Summary |
| --- | --- | --- | --- | --- | --- |
| 0 | 1 | Peter Rabbit's Christmas Tale | 2012-12-14 | 30 | |
| 1 | 2 | The Tale of the Radish Robber | 2013-02-19 | 30 | |
| 2 | 3 | The Tale of Two Enemies | 2013-02-19 | 30 | |
| 3 | 4 | The Tale of Benjamin's Strawberry Raid | 2013-02-20 | 30 | |
| 4 | 5 | The Tale of the Lying Fox | 2013-02-20 | 30 | |
| 5 | 6 | The Tale of the Greedy Fox | 2013-02-21 | 30 | |
| 6 | 7 | The Tale of the Secret Treehouse | 2013-02-21 | 30 | |
| 7 | 8 | The Tale of the Angry Cat | 2013-02-25 | 30 | |
| 8 | 9 | The Tale of Mr. Tod's Trap | 2013-02-25 | 30 | |
| 9 | 10 | The Tale of Nutkin on the Run | 2013-02-27 | 30 | |
| 10 | 11 | The Tale of the Wriggly Worms | 2013-02-27 | 30 | |
| 11 | 12 | The Tale of Jemima's Egg | 2013-03-04 | 30 | |
| 12 | 13 | The Tale of the Great Breakout | 2013-03-04 | 30 | |
| 13 | 14 | The Tale of the Lucky Four Leaf Clover | 2013-03-06 | 30 | |
| 14 | 15 | The Tale of the Unguarded Garden | 2013-03-06 | 30 | |
| 15 | 16 | The Tale of the Big Move | 2013-04-07 | 30 | |
| 16 | 17 | The Tale of the Lost Tunnels | 2013-04-07 | 30 | |
| 17 | 18 | The Tale of the Dash in the Dark | 2013-04-08 | 30 | |
| 18 | 19 | The Tale of the Grumpy Owl | 2013-04-08 | 30 | |
| 19 | 20 | The Tale of the Downhill Escape | 2013-05-07 | 30 | |
| 20 | 21 | The Tale of the Cat and the Rat | 2013-05-07 | 30 | |
| 21 | 22 | The Tale of the Mother's Day Pie | 2013-05-08 | 30 | |
| 22 | 23 | The Tale of the Mystery Plum Thief | 2013-05-08 | 30 | |
| 23 | 24 | The Tale of the Hazelnut Raid | 2013-05-28 | 30 | |
| 24 | 25 | The Tale of the Broken Bed | 2013-05-28 | 30 | |
| 25 | 26 | The Tale of the Hero Rabbit | 2013-05-31 | 30 | |
| 26 | 27 | The Tale of the Falling Rock | 2013-05-31 | 30 | |
| 27 | 28 | The Tale of the One Who Got Away | 2013-09-23 | 30 | |
| 28 | 29 | The Tale of Cottontail's New Friend | 2013-09-23 | 30 | |
| 29 | 30 | The Tale of the Runaway Kites | 2013-09-25 | 30 | |
| 30 | 31 | The Tale of the Surprising Sisters | 2013-09-25 | 30 | |
| 31 | 32 | The Tale of the Giant Pumpkin | 2013-10-25 | 30 | |
| 32 | 33 | The Tale of the Fierce Bad Rabbit | 2013-10-25 | 30 | |
| 33 | 34 | The Tale of Cottontail's Cake | 2013-11-18 | 30 | |
| 34 | 35 | The Tale of the Terrible Trap | 2013-11-18 | 30 | |
| 35 | 36 | The Tale of the Flying Fox | 2013-11-20 | 30 | |
| 36 | 37 | The Tale of Old Brown's Feather | 2013-11-20 | 30 | |
| 37 | 38 | The Tale of the Lost Ladybird | 2013-11-30 | 30 | |
| 38 | 39 | The Tale of Old Rusty | 2013-11-30 | 30 | |
| 39 | 40 | The Tale of the Peekaboo Rabbits | 2014-01-31 | 30 | |
| 40 | 41 | The Tale of Jeremy Fisher's Musical Adventure | 2014-01-31 | 30 | |
| 41 | 42 | The Tale of Benjamin's Map | 2014-03-31 | 30 | |
| 42 | 43 | The Tale of the Wrecked Treehouse | 2014-03-31 | 30 | |
| 43 | 44 | The Tale of the Squeaky Toy | 2014-04-03 | 30 | |
| 44 | 45 | The Tale of the Flying Rabbits | 2014-04-03 | 30 | |
| 45 | 46 | The Tale of Jeremy Fisher's Recital | 2014-04-14 | 30 | |
| 46 | 47 | The Tale of True Friends | 2014-04-14 | 30 | |
| 47 | 48 | The Tale of the Uninvited Badger | 2014-05-27 | 30 | |
| 48 | 49 | The Tale of the Brewing Storm | 2014-05-27 | 30 | |
| 49 | 50 | The Tale of the Stolen Firewood | 2014-05-29 | 30 | |
| 50 | 51 | The Tale of the Runaway Rabbit | 2014-05-29 | 30 | |
Season 2
| Episode No. | No. Overall | Title | Airdate | Runtime | Summary |
| --- | --- | --- | --- | --- | --- |
| 1 | 52 | The Tale of the Puddleduck Disaster | 2014-10-08 | 30 | |
| 2 | 53 | The Tale of the Squirrel Hotpot | 2014-10-08 | 30 | |
| 3 | 54 | The Tale of the Tunnel Rumbler | 2014-10-09 | 30 | |
| 4 | 55 | The Tale of the Frightened Fox | 2014-10-09 | 30 | |
| 5 | 56 | The Tale of the Great Owl Adventure | 2014-10-10 | 30 | |
| 6 | 57 | The Tale of the Best Bowler | 2014-12-08 | 30 | |
| 7 | 58 | The Tale of the Great Potato Plunder | 2014-12-08 | 30 | |
| 8 | 59 | The Tale of Cotton-tail's Treetop Tumble | 2014-12-10 | 30 | |
| 9 | 60 | The Tale of the Perilous Party | 2014-12-10 | 30 | |
| 10 | 61 | The Tale of the High-Flying Badger | 2014-12-12 | 30 | |
| 11 | 62 | The Tale of Benjamin's Blunder | 2014-12-12 | 30 | |
| 12 | 63 | The Tale of Cotton-tail's Party | 2015-01-01 | 30 | |
| 13 | 64 | The Tale of the Thing-A-Ma-Jig | 2015-01-01 | 30 | |
| 14 | 65 | The Tale of the Tiny Terror | 2015-03-21 | 30 | |
| 15 | 66 | The Tale of the Treehouse Rescue | 2015-03-21 | 30 | |
| 16 | 67 | The Tale of the Lost Journal | 2015-03-21 | 30 | |
| 17 | 68 | The Tale of the Heroic Hedgehog | 2015-03-21 | 30 | |
| 18 | 69 | The Tale of the Bird Trap | 2015-03-28 | 30 | |
| 19 | 70 | The Tale of the Seed Snatch | 2015-03-28 | 30 | |
| 20 | 71 | The Tale of Dr. Bobtail's Adventure | 2015-03-28 | 30 | |
| 21 | 72 | The Tale of the Locked Cage | 2015-03-28 | 30 | |
| 22 | 73 | The Tale of Fred Snail | 2015-05-09 | 30 | |
| 23 | 74 | The Tale of the Racing Rabbit | 2015-05-09 | 30 | |
| 24 | 75 | The Tale of the Saving of the Shrew | 2015-05-16 | 30 | |
| 25 | 76 | The Tale of the Fish Out of Water | 2015-05-16 | 30 | |
| 26 | 77 | The Tale of the Kitten and Pig Adventure | 2015-05-16 | 30 | |
| 27 | 78 | The Tale of the Missing Ducklings | 2015-05-02 | 30 | |
| 28 | 79 | The Tale of the Hungry Thieves | 2015-05-02 | 30 | |
| 29 | 80 | The Tale of Nutkin's Rabbity Day | 2015-05-02 | 30 | |
| 30 | 81 | The Tale of the Unexpected Hero | 2015-05-02 | 30 | |
| 31 | 82 | The Tale of the Amazing Mum | 2015-05-09 | 30 | |
| 32 | 83 | The Tale of Mum's Precious Things | 2015-05-09 | 30 | |
| 33 | 84 | The Tale of the Big Badger Blunder | 2015-05-23 | 30 | |
| 34 | 85 | The Tale of the Squabbling Squirrels | 2015-05-23 | 30 | |
| 35 | 86 | The Tale of Peter's Great Escape | 2015-05-30 | 30 | |
| 36 | 87 | The Tale of the Great Cake Chase | 2015-05-30 | 30 | |
| 37 | 88 | The Tale of the Go-Kart Getaway | 2015-05-30 | 30 | |
| 38 | 89 | The Tale of the New Hideout | 2015-05-30 | 30 | |
Season 3
| Episode No. | No. Overall | Title | Airdate | Runtime | Summary |
| --- | --- | --- | --- | --- | --- |
| 1 | 90 | The Tale of the Scare Owl | 2015-09-23 | 30 | |
| 2 | 91 | The Tale of the Old Brown's New Roost | 2015-09-24 | 30 | |
| 3 | 92 | The Tale of the Spectacular Sledge | 2015-10-27 | 30 | |
| 4 | 93 | The Tale of Cotton-Tail's Tooth | 2015-10-28 | 30 | |
| 5 | 94 | The Tale of the Tricky Tortoise | 2015-11-06 | 30 | |
| 6 | 95 | The Tale of the Mice on the Move | 2015-11-09 | 30 | |
| 7 | 96 | The Tale of the Flooded Burrow | 2015-11-10 | 30 | |
| 8 | 97 | The Tale of Mittens' New Friend | 2015-11-11 | 30 | |
| 9 | 98 | The Tale of the Spilled Milk | 2015-11-12 | 30 | |
| 10 | 99 | The Tale of the First Bluebell | 2015-11-13 | 30 | |
| 11 | 100 | The Tale of the Great Tortoise Rescue | 2015-11-16 | 30 | |
| 12 | 101 | The Tale of the King of the Woods | 2015-11-17 | 30 | |
| 13 | 102 | The Tale of the Sleepy Hedgehog | 2015-11-18 | 30 | |
| 14 | 103 | The Tale of the Musical Mayhem | 2015-11-19 | 30 | |
| 15 | 104 | The Tale of the Journal's End | 2015-11-20 | 30 | |
Series Cast
| | | | |
| --- | --- | --- | --- |
| | Sarah Bolt | as Jemima Puddleduck | |
| | L. Parker Lucas | as Peter Rabbit | |
| | Peter Harris | as Benjamin Bunny | |
| | Michaela Dean | as Lily Bobtail | |
| | Jenna Iacono | as Cottontail | |
| | Gwenfair Vaughan | as Mrs. Tiggywinkle | |
| | Stephanie Sheh | as Mrs. Rabbit | |
| | Megan Taylor Harvey | as Flopsy | |
Related News
TVMaze