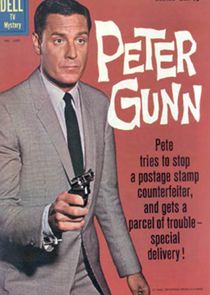 Peter Gunn is a private detective who is never ruffled and always keep his cool. Accompanied by the stylish music of Henry Mancini and the directorial style of Blake Edwards, Gunn is equally at home dealing with street criminals and shady millionaires. Aiding him is his local police contact, Lt. Jacoby, and Lola Albright, the singer at Mother's a club where Gunn can be found.
Series Overview
Rating
imDb Rating: 8.0 (926 Votes)
Metascore: N/A
Plot
The cases of a stylishly cool private detective.
Details
Rated: N/A
Released: 22 Sep 1958
Runtime: 30 min
Genre: Action, Crime, Drama, Mystery
Director: N/A
Writer: Blake Edwards
Actors: Craig Stevens, Herschel Bernardi, Lola Albright
Language: English
Country: USA
Awards: Nominated for 8 Primetime Emmys. Another 3 nominations.
Total Seasons: 3
Previous Episode
Murder on the Line
Episode 3x38; Sep 18, 1961
Previous Episodes 3x38: Murder on the Line 3x37: Down the Drain 3x36: Voodoo 3x35: Deadly Intrusion 3x34: Death Is a Four Letter Word 3x33: A Bullet for the Boy 3x32: A Matter of Policy 3x31: Last Resort 3x30: Till Death Do Us Part

View All Episodes
Cast
Craig Stevens as Peter Gunn
Herschel Bernardi as Lieutenant Jacoby
Lola Albright as Edie Hart
Hope Emerson as Mother
Minerva Urecal as Mother
View Full Cast
Skip to:
Season 1
| Episode No. | No. Overall | Title | Airdate | Runtime | Summary |
| --- | --- | --- | --- | --- | --- |
| 1 | 1 | The Kill | 1958-09-22 | 30 | |
| 2 | 2 | Streetcar Jones | 1958-09-29 | 30 | |
| 3 | 3 | The Vicious Dog | 1958-10-06 | 30 | |
| 4 | 4 | The Blind Pianist | 1958-10-13 | 30 | |
| 5 | 5 | The Frog | 1958-10-20 | 30 | |
| 6 | 6 | The Chinese Hangman | 1958-10-27 | 30 | |
| 7 | 7 | Lynn's Blues | 1958-11-03 | 30 | |
| 8 | 8 | Rough Buck | 1958-11-10 | 30 | |
| 9 | 9 | Image of Sally | 1958-11-17 | 30 | |
| 10 | 10 | The Man with the Scar | 1958-11-24 | 30 | |
| 11 | 11 | Death House Testament | 1958-12-01 | 30 | Thugs kidnap and drug Gunn to get information about stolen money from him. |
| 12 | 12 | The Torch | 1958-12-08 | 30 | |
| 13 | 13 | The Jockey | 1958-12-15 | 30 | |
| 14 | 14 | Sisters Of The Friendless | 1958-12-22 | 30 | |
| 15 | 15 | The Leaper | 1958-12-29 | 30 | |
| 16 | 16 | The Fuse | 1959-01-05 | 30 | |
| 17 | 17 | Let's Kill Timothy | 1959-01-19 | 30 | |
| 18 | 18 | The Missing Night Watchman | 1959-01-26 | 30 | |
| 19 | 19 | Murder On The Midway | 1959-02-02 | 30 | |
| 20 | 20 | Pecos Pete | 1959-02-09 | 30 | |
| 21 | 21 | Scuba | 1959-02-16 | 30 | |
| 22 | 22 | Edie Finds a Corpse | 1959-02-23 | 30 | |
| 23 | 23 | The Dirty Word | 1959-03-02 | 30 | |
| 24 | 24 | The Ugly Frame | 1959-03-09 | 30 | |
| 25 | 25 | The Lederer Story | 1959-03-16 | 30 | |
| 26 | 26 | Keep Smiling | 1959-03-23 | 30 | |
| 27 | 27 | Breakout | 1959-03-30 | 30 | |
| 28 | 28 | Pay Now, Kill Later | 1959-04-06 | 30 | |
| 29 | 29 | Skin Deep | 1959-04-13 | 30 | |
| 30 | 30 | February Girl | 1959-04-20 | 30 | |
| 31 | 31 | Love Me to Death | 1959-04-27 | 30 | |
| 32 | 32 | The Family Affair | 1959-05-04 | 30 | |
| 33 | 33 | Lady Windbell's Fan | 1959-05-11 | 30 | |
| 34 | 34 | Bullet for a Badge | 1959-05-18 | 30 | |
| 35 | 35 | Kill from Nowhere | 1959-05-25 | 30 | |
| 36 | 36 | Vendetta | 1959-06-01 | 30 | |
| 37 | 37 | The Coffin | 1959-06-08 | 30 | |
| 38 | 38 | The Portrait | 1959-06-15 | 30 | |
Season 2
| Episode No. | No. Overall | Title | Airdate | Runtime | Summary |
| --- | --- | --- | --- | --- | --- |
| 1 | 39 | Protection | 1959-09-21 | 30 | |
| 2 | 40 | Crisscross | 1959-09-28 | 30 | |
| 3 | 41 | Edge of the Knife | 1959-10-05 | 30 | |
| 4 | 42 | The Comic | 1959-10-12 | 30 | |
| 5 | 43 | Death Is a Red Rose | 1959-10-19 | 30 | |
| 6 | 44 | The Young Assassins | 1959-10-26 | 30 | |
| 7 | 45 | The Feathered Doll | 1959-11-02 | 30 | |
| 8 | 46 | Kidnap | 1959-11-16 | 30 | |
| 9 | 47 | The Rifle | 1959-11-23 | 30 | |
| 10 | 48 | The Game | 1959-11-30 | 30 | |
| 11 | 49 | The Price Is Murder | 1959-12-07 | 30 | |
| 12 | 50 | The Briefcase | 1959-12-14 | 30 | |
| 13 | 51 | Terror on the Campus | 1959-12-21 | 30 | |
| 14 | 52 | The Wolfe Case | 1959-12-28 | 30 | |
| 15 | 53 | Hot Money | 1960-01-04 | 30 | |
| 16 | 54 | Spell of Murder | 1960-01-11 | 30 | |
| 17 | 55 | The Grudge | 1960-01-18 | 30 | |
| 18 | 56 | Fill the Cup | 1960-01-25 | 30 | |
| 19 | 57 | See No Evil | 1960-02-01 | 30 | |
| 20 | 58 | Sentenced | 1960-02-08 | 30 | |
| 21 | 59 | The Hunt | 1960-02-15 | 30 | |
| 22 | 60 | Hollywood Calling | 1960-02-29 | 30 | |
| 23 | 61 | Sing a Song of Murder | 1960-03-07 | 30 | |
| 24 | 62 | The Long, Long Ride | 1960-03-14 | 30 | |
| 25 | 63 | The Deadly Proposition | 1960-03-21 | 30 | |
| 26 | 64 | The Murder Clause | 1960-03-28 | 30 | |
| 27 | 65 | The Dummy | 1960-04-04 | 30 | |
| 28 | 66 | Slight Touch of Homicide | 1960-04-11 | 30 | |
| 29 | 67 | Wings of an Angel | 1960-04-18 | 30 | |
| 30 | 68 | Death Watch | 1960-04-25 | 30 | |
| 31 | 69 | Witness in the Window | 1960-05-02 | 30 | |
| 32 | 70 | The Best Laid Plans | 1960-05-09 | 30 | |
| 33 | 71 | Send a Thief | 1960-05-16 | 30 | |
| 34 | 72 | The Semi-Private Eye | 1960-05-23 | 30 | |
| 35 | 73 | Letter of the Law | 1960-05-30 | 30 | |
| 36 | 74 | The Crossbow | 1960-06-06 | 30 | |
| 37 | 75 | The Heiress | 1960-06-13 | 30 | |
| 38 | 76 | Baby Shoes | 1960-06-27 | 30 | |
Season 3
| Episode No. | No. Overall | Title | Airdate | Runtime | Summary |
| --- | --- | --- | --- | --- | --- |
| 1 | 77 | The Passenger | 1960-10-03 | 30 | |
| 2 | 78 | Mask of Murder | 1960-10-10 | 30 | |
| 3 | 79 | The Maitre D' | 1960-10-17 | 30 | |
| 4 | 80 | The Candidate | 1960-10-24 | 30 | |
| 5 | 81 | The Judgment | 1960-10-31 | 30 | |
| 6 | 82 | The Death Frame | 1960-11-07 | 30 | |
| 7 | 83 | Death Across the Board | 1960-11-14 | 30 | |
| 8 | 84 | Tramp Steamer | 1960-11-21 | 30 | |
| 9 | 85 | The Long Green Kill | 1960-11-28 | 30 | |
| 10 | 86 | Take Five for Murder | 1960-12-05 | 30 | |
| 11 | 87 | Big Dream, Deadly Dream | 1960-12-12 | 30 | |
| 12 | 88 | Sepi | 1960-12-19 | 30 | |
| 13 | 89 | A Tender Touch | 1960-12-26 | 30 | |
| 14 | 90 | Royal Roust | 1961-01-02 | 30 | |
| 15 | 91 | Bullet in Escrow | 1961-01-09 | 30 | |
| 16 | 92 | Jacoby's Vacation | 1961-01-16 | 30 | |
| 17 | 93 | Blind Item | 1961-01-23 | 30 | |
| 18 | 94 | Death Is a Sore Loser | 1961-01-30 | 30 | |
| 19 | 95 | I Know It's Murder | 1961-02-13 | 30 | |
| 20 | 96 | A Kill and a Half | 1961-02-20 | 30 | |
| 21 | 97 | Than a Serpent's Tooth | 1961-02-27 | 30 | |
| 22 | 98 | The Deep End | 1961-03-06 | 30 | |
| 23 | 99 | Portrait in Leather | 1961-03-13 | 30 | |
| 24 | 100 | Come Dance with Me and Die | 1961-03-20 | 30 | |
| 25 | 101 | Cry Love, Cry Murder | 1961-03-27 | 30 | |
| 26 | 102 | A Penny Saved | 1961-04-03 | 30 | |
| 27 | 103 | Short Motive | 1961-04-10 | 30 | |
| 28 | 104 | The Murder Bond | 1961-04-24 | 30 | |
| 29 | 105 | The Most Deadly Angel | 1961-05-01 | 30 | |
| 30 | 106 | Till Death Do Us Part | 1961-05-08 | 30 | |
| 31 | 107 | Last Resort | 1961-05-15 | 30 | |
| 32 | 108 | A Matter of Policy | 1961-05-22 | 30 | |
| 33 | 109 | A Bullet for the Boy | 1961-05-29 | 30 | |
| 34 | 110 | Death Is a Four Letter Word | 1961-06-05 | 30 | |
| 35 | 111 | Deadly Intrusion | 1961-06-12 | 30 | |
| 36 | 112 | Voodoo | 1961-06-19 | 30 | |
| 37 | 113 | Down the Drain | 1961-06-26 | 30 | |
| 38 | 114 | Murder on the Line | 1961-09-18 | 30 | |
Series Cast
| | | | |
| --- | --- | --- | --- |
| | Craig Stevens | as Peter Gunn | |
| | Herschel Bernardi | as Lieutenant Jacoby | |
| | Lola Albright | as Edie Hart | |
| | Hope Emerson | as Mother | |
| | Minerva Urecal | as Mother | |
Series Crew
| | Position | Name |
| --- | --- | --- |
| | Creator | Blake Edwards |
Related News
TVMaze