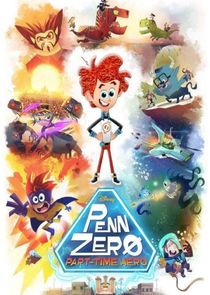 Penn Zero: Part-Time Hero follows Penn Zero and his best friends Sashi, an overqualified part-time sidekick, and Boone, an under-qualified part-time wise man, as they zap to other dimensions to fill in for heroes in need. Each mission takes the team to unpredictable epic worlds where they must battle evil part-time villain Rippen and his part-time minion, Larry. Whether superhero, fish-prince, clown cop, giant monster or tiny action-figure, Penn uses his unconventional heroic skills to save the day - his own way.
Series Overview
Rating
imDb Rating: 7.9 (1,123 Votes)
Metascore: N/A
Plot
Penn Zero is not your average kid - every day he's zapped into another dimension with his friends to save the world.
Details
Rated: N/A
Released: 05 Dec 2014
Runtime: 22 min
Genre: Animation, Adventure, Comedy, Family, Fantasy, Sci-Fi
Director: N/A
Writer: Jared Bush, Sam Levine
Actors: Thomas Middleditch, Adam Devine, Tania Gunadi, Alfred Molina
Language: English
Country: USA
Awards: 1 win & 6 nominations.
Total Seasons: 2
Previous Episode
At the End of the Worlds
Episode 2x23; Jul 28, 2017
Previous Episodes 2x24: A Tale of Two Wizards 2x23: At the End of the Worlds 2x22: Mr. Rippen 2x21: 13 Big Problems 2x20: Trading Faces 2x19: The Most Dangerous World Imaginable 2x18: Rootilda 2x17: That Purple Guy 2x16: My Mischievous Son

View All Episodes
Cast
Alfred Molina as Rippen
Thomas Middleditch as Penn
Larry Wilmore as Principal Larry
Tania Gunadi as Sashi
View Full Cast
Skip to:
Season 1
| Episode No. | No. Overall | Title | Airdate | Runtime | Summary |
| --- | --- | --- | --- | --- | --- |
| 1 | 1 | North Pole Down | 2014-12-05 | 30 | Feeling down about his first Christmas without his parents, Penn wants to avoid the holidays altogether but is zapped to the North Pole to save Christmas as Santa Claus himself. |
| 2 | 2 | Chicken or Fish? / The Old Old West | 2015-02-13 | 30 | In a world where cowboys ride giant dinosaurs, Penn tries to give a washed-up sheriff a second chance at greatness. |
| 3 | 3 | Baby-pocalypse | 2015-02-14 | 30 | Penn and Boone's friendship is put to the test when they both fall for the beautiful alien princess they are assigned to protect on an alien jungle planet. |
| 4 | 4 | I'm Super! | 2015-02-15 | 30 | Penn is convinced that nothing could be cooler than being an actual superhero, but Sashi tries to show him it's the hero within us that's most important. |
| 5 | 5 | Brainzburgerz | 2015-02-16 | 30 | In a clown universe, where silliness is a hero's most powerful weapon, the tough and serious Sashi must get in touch with her silly side or jeopardize the entire mission. |
| 6 | 6 | Chicken or Fish? | 2015-02-13 | 30 | In a world where cowboys ride giant dinosaurs, Penn tries to give a washed- up sheriff a second chance at greatness. |
| 7 | 7 | The Old Old West | 2015-02-13 | 30 | |
| 8 | 8 | That Purple Girl | 2015-02-14 | 30 | |
| 9 | 9 | The Fast and the Floor Rugs | 2015-02-15 | 30 | |
| 10 | 10 | Chuckle City | 2015-02-16 | 30 | |
| 11 | 11 | Flurgle Burgle | 2015-02-23 | 30 | The team is zapped into a new world as spaceship heroes to save a damaged starship from certain destruction, but Sashi accidentally turns Penn into a weird space animal. |
| 12 | 12 | Temple of the Porcelain God | 2015-02-23 | 30 | |
| 13 | 13 | Defending the Earth | 2015-03-16 | 30 | Boone finds himself on the most popular game show in the galaxy where he must compete against Rippen in an outrageous contest that will determine the fate of the Earth. Guest starring are Chris Parnell ("Saturday Night Live") as the Judge and Bruce Vilanch ("Hollywood Squares") as himself. |
| 14 | 14 | Number One Number Two | 2015-03-16 | 30 | |
| 15 | 15 | 3 Big Problems | 2015-03-23 | 30 | In a world where everyone is a cereal mascot and cereal is grown on farms, Penn seeks the help of an imprisoned Rippen to catch The Milk Man, a villain threatening to flood all the cereal crops with milk, turning them soggy. |
| 16 | 16 | Cereal Criminals | 2015-03-23 | 30 | |
| 17 | 17 | I'm Still Super! | 2015-04-06 | 30 | Penn returns to the world of superheroes, only to discover the heroes have been turned evil by Captain Super Captain's evil twin brother, Professor Evil Professor. |
| 18 | 18 | Balls! | 2015-04-06 | 30 | |
| 19 | 19 | The Princess Most Fair | 2015-04-27 | 30 | The team zaps into a musical fairy-tale land where they must sing whatever they say and their true feelings come out in song. |
| 20 | 20 | Hail Larry | 2015-04-27 | 30 | |
| 21 | 21 | It's a Colorful Life | 2015-06-01 | 30 | Penn, Boone, and Sashi zap into a colorful world where they must stop Rippen from robbing the world of all its color. |
| 22 | 22 | Larry Manor | 2015-06-01 | 30 | |
| 23 | 23 | Lady Starblaster | 2015-06-08 | 30 | Penn and team enlist the help of Sheriff Scaley Briggs to stop Rippen and Amber, Brigg's daughter, from rustling all the Cow-o-saurs in town. |
| 24 | 24 | Amber | 2015-06-08 | 30 | |
| 25 | 25 | Totally Into Your Body | 2015-06-22 | 30 | Penn questions the importance of their mission when the team is tasked with finding Rufus an unpopular royal fish. Peter Stormare ("The Blacklist") guest stars as Rufus. |
| 26 | 26 | Fish and Chips | 2015-06-22 | 30 | |
| 27 | 27 | The Ripple Effect, Part 1 | 2015-07-06 | 15 | When Penn discovers that Phyllis is trying to locate the Most Dangerous World Imaginable to bring his parents back to Middleburg, he takes matters into his own hands leading to catastrophic results. Guest starring are Kumail Nanjiani ("Silicon Valley") as Cute-ling Mayor and Kate Micucci ("The Big Bang Theory") as Cute-ling General. |
| 28 | 28 | The Ripple Effect, Part 2 | 2015-07-06 | 15 | |
| 29 | 29 | Amber | 2015-07-14 | 15 | |
| 30 | 30 | Where Dragons Dare | 2015-07-20 | 15 | Penn must overcome his jealousy of popular fellow cadet Blaze to complete his mission and finish at the top of his class at Dragon Flight School. Sean Astin ("The Lord of the Rings" trilogy) guest stars as Blaze. Acclaimed singer-songwriter Kenny Loggins sings five original songs for the episode (song lyrics by Jeff Poliquin and music by Ryan Shore). |
| 31 | 31 | Rip-Penn | 2015-07-20 | 15 | Penn accidentally drinks a potion that turns him into a Rippen-monster. |
| 32 | 32 | Chuckle City 500 | 2015-08-10 | 15 | Penn, Sashi and Boon return to Chuckle City to compete in a clown-style street race that determines who will be the next Mayor. *Guest starring NASCAR driver Jeff Gordon as Rodeo Clown Announcer, writer-director Garry Marshall reprises his role as Soda Jerk. |
| 33 | 33 | Rock and Roll | 2015-08-10 | 15 | |
| 34 | 34 | Plantywood: City of Flora | 2015-08-17 | 15 | In a world where everyone is a plant, Private Detective Penn tries to solve the mystery |
| 35 | 35 | Boone's Apprentice | 2015-08-17 | 15 | Boone is zapped into an animal barbarian and wizards world where he is a good wizard tasked with conjuring up a magic spell to stop Rippen. *Guest starring Blake Anderson ("Workaholics") as Boone's unfocused apprentice Hogarth. |
| 36 | 36 | The QPC | 2015-09-28 | 15 | Uncle Chuck and Aunt Rose must prove that they have a heroic side, after they break the QPC, an essential part of the machine that zaps Penn back from other worlds, before their nephew is lost forever. |
| 37 | 37 | Shirley B. Awesome | 2015-09-28 | 15 | |
| 38 | 38 | Massive Morphy Merge Mechs | 2015-09-29 | 15 | When the fate of two alien planets is tied to the outcome of a sporting event, Penn finds a loophole in the game and must convince the two opposing coaches to admit their love for each other in order to save both planets. |
| 39 | 39 | Ultrahyperball | 2015-09-29 | 15 | |
| 40 | 40 | Zap One (1) | 2015-09-30 | 15 | Penn's origin story is revealed in a flashback to his first day of high school when he learns his parents are part-time heroes instead of insurance salespeople. |
| 41 | 41 | Zap One (2) | 2015-09-30 | 15 | |
| 42 | 42 | Save the Worlds | 2015-10-01 | 30 | |
Season 2
| Episode No. | No. Overall | Title | Airdate | Runtime | Summary |
| --- | --- | --- | --- | --- | --- |
| 1 | 43 | The Pirates, the Parrot, the Puzzles and the Talking Boats | 2017-07-10 | 30 | |
| 2 | 44 | Alpha, Bravo, Unicorn | 2017-07-11 | 15 | |
| 3 | 45 | A Game of Cat and Mouse | 2017-07-11 | 15 | |
| 4 | 46 | Wings of Destiny | 2017-07-12 | 15 | |
| 5 | 47 | Sensitivity Training | 2017-07-12 | 15 | |
| 6 | 48 | The Bewildering Bout of the Astounding Automatons | 2017-07-13 | 15 | |
| 7 | 49 | Back to the Past of Future Balls | 2017-07-13 | 15 | |
| 8 | 50 | A Tale of Two Wizards | 2017-07-17 | 15 | |
| 9 | 51 | Rockullan, Papyron, Scissorian | 2017-07-17 | 15 | |
| 10 | 52 | Be My Ghost | 2017-07-18 | 15 | |
| 11 | 53 | The Chinchilla | 2017-07-18 | 15 | |
| 12 | 54 | The Kobayashis | 2017-07-19 | 15 | |
| 13 | 55 | Cereal Fugitives | 2017-07-19 | 15 | |
| 14 | 56 | The Last Mountain Beast | 2017-07-20 | 30 | |
| 15 | 57 | Ninki Ninja Fight Town | 2017-07-24 | 15 | |
| 16 | 58 | My Mischievous Son | 2017-07-24 | 15 | |
| 17 | 59 | That Purple Guy | 2017-07-25 | 15 | |
| 18 | 60 | Rootilda | 2017-07-25 | 15 | |
| 19 | 61 | The Most Dangerous World Imaginable | 2017-07-26 | 15 | |
| 20 | 62 | Trading Faces | 2017-07-26 | 15 | |
| 21 | 63 | 13 Big Problems | 2017-07-27 | 15 | |
| 22 | 64 | Mr. Rippen | 2017-07-27 | 15 | |
| 23 | 65 | At the End of the Worlds | 2017-07-28 | 30 | |
| 24 | 66 | A Tale of Two Wizards | | 30 | |
Series Cast
| | | | |
| --- | --- | --- | --- |
| | Alfred Molina | as Rippen | |
| | Thomas Middleditch | as Penn | |
| | Larry Wilmore | as Principal Larry | |
| | Tania Gunadi | as Sashi | |
Series Crew
| | Position | Name |
| --- | --- | --- |
| | Creator | Jared Bush |
| | Executive Producer | Jared Bush |
| | Creator | Sam Levine |
| | Executive Producer | Sam Levine |
Related News
TVMaze