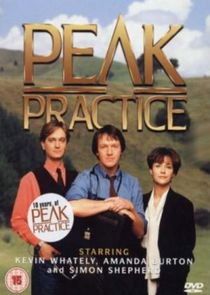 Peak Practice was first broadcast in 1993, the series was about a small country GP practice in the ficticious village of Cardale in the Derbyshire Dales. Having inherited the practice from her father Dr. Beth Glover (Amanda Burton) was the first Senior Partner. Along with Will Preston (Simon Shepherd) and Jack Kerruish (Kevin Whately) the three doctors ran the surgery for three series. Peak Practice follows the highs and lows of life in Cardale for these Doctors and others that followed them. The Series came to an end in 2002 after 12 succesful series.
Series Overview
Rating
imDb Rating: 6.1 (188 Votes)
Metascore: N/A
Plot
Beth Glover and Will Preston are doctors in partnership at a Derbyshire clinic when they hire Jack who's returned from Africa. The next several years deal with their personal and professional lives with Jack and Beth marrying.
Details
Rated: N/A
Released: 10 May 1993
Runtime: 50 min
Genre: Drama
Director: N/A
Writer: N/A
Actors: Esther Coles, Gary Mavers, Simon Shepherd, Margery Mason
Language: English
Country: UK
Awards: 1 win.
Total Seasons: 12
Previous Episode
Episode 13
Episode 12x13; Jan 31, 2002
Previous Episodes 12x13: Episode 13 12x12: Episode 12 12x11: Episode 11 12x10: Episode 10 12x9: Episode 9 12x8: Episode 8 12x7: Episode 7 12x6: Episode 6 12x5: Episode 5

View All Episodes
Cast
Esther Coles as Kim Beardsmore
Veronica Roberts as Laura Elliott
Margery Mason as Alice North
Kevin Whately as Dr. Jack Kerruish
Gary Mavers as Dr. Andrew Attwood
Maggie O'Neill as Dr. Alex Redman
View Full Cast
Skip to:
Season 1
| Episode No. | No. Overall | Title | Airdate | Runtime | Summary |
| --- | --- | --- | --- | --- | --- |
| 1 | 1 | Sharp Practice | 1993-05-10 | 60 | |
| 2 | 2 | Outsiders | 1993-05-17 | 60 | |
| 3 | 3 | Growing Pains | 1993-05-24 | 60 | |
| 4 | 4 | Roses Around the Door | 1993-05-31 | 60 | |
| 5 | 5 | Impulsive Behaviour | 1993-06-07 | 60 | |
| 6 | 6 | Hope to Die | 1993-06-14 | 60 | |
| 7 | 7 | Listening Skills | 1993-06-21 | 60 | |
| 8 | 8 | Giddy Heights | 1993-06-28 | 60 | |
Season 2
| Episode No. | No. Overall | Title | Airdate | Runtime | Summary |
| --- | --- | --- | --- | --- | --- |
| 1 | 9 | In Good Faith | 1994-03-01 | 60 | |
| 2 | 10 | Old Habits | 1994-03-08 | 60 | |
| 3 | 11 | Love Thy Neighbour | 1994-03-15 | 60 | |
| 4 | 12 | Act of Remembrance | 1994-03-22 | 60 | |
| 5 | 13 | Enemy Within | 1994-03-29 | 60 | |
| 6 | 14 | Long Weekend | 1994-04-06 | 60 | |
| 7 | 15 | Chance Encounter | 1994-04-13 | 60 | |
| 8 | 16 | Life Changes | 1994-04-19 | 60 | |
| 9 | 17 | A Brave Face | 1994-04-26 | 60 | |
| 10 | 18 | Abbey | 1994-05-03 | 60 | |
| 11 | 19 | Perfect Love | 1994-05-10 | 60 | |
| 12 | 20 | Power Games | 1994-05-17 | 60 | |
| 13 | 21 | Happy Ever After | 1994-05-24 | 60 | |
Season 3
| Episode No. | No. Overall | Title | Airdate | Runtime | Summary |
| --- | --- | --- | --- | --- | --- |
| 1 | 22 | Light at the End of the Tunnel | 1995-01-31 | 60 | |
| 2 | 23 | Tender | 1995-02-07 | 60 | |
| 3 | 24 | Coming Out | 1995-02-14 | 60 | |
| 4 | 25 | Losing Out | 1995-02-28 | 60 | |
| 5 | 26 | To Have and to Hold | 1995-03-07 | 60 | |
| 6 | 27 | Fighting Chance | 1995-03-14 | 60 | |
| 7 | 28 | Family Ties | 1995-03-21 | 60 | |
| 8 | 29 | Ill Wind | 1995-03-28 | 60 | |
| 9 | 30 | A Normal Life | 1995-04-04 | 60 | |
| 10 | 31 | Walking Away | 1995-04-11 | 60 | |
| 11 | 32 | Bedside Manners | 1995-04-18 | 60 | |
| 12 | 33 | Giving Up | 1995-04-25 | 60 | |
| 13 | 34 | Nobody's Fault | 1995-05-02 | 60 | |
| 14 | 35 | Life and Soul | 1995-05-09 | 60 | |
| 15 | 36 | Other Lives | 1995-05-16 | 60 | |
Season 4
| Episode No. | No. Overall | Title | Airdate | Runtime | Summary |
| --- | --- | --- | --- | --- | --- |
| 1 | 37 | Holding It Together | 1996-02-27 | 60 | |
| 2 | 38 | A New Life | 1996-03-05 | 60 | |
| 3 | 39 | New Horizons | 1996-03-12 | 60 | |
| 4 | 40 | Looking Back | 1996-03-19 | 60 | |
| 5 | 41 | Whipping Boy | 1996-03-26 | 60 | |
| 6 | 42 | Close Ties | 1996-04-02 | 60 | |
| 7 | 43 | In Safe Hands | 1996-04-09 | 60 | |
| 8 | 44 | Partners | 1996-04-16 | 60 | |
| 9 | 45 | Running on Empty | 1996-04-23 | 60 | |
| 10 | 46 | Heart and Soul | 1996-04-30 | 60 | |
Season 5
| Episode No. | No. Overall | Title | Airdate | Runtime | Summary |
| --- | --- | --- | --- | --- | --- |
| 1 | 47 | Eye of the Storm | 1997-01-14 | 60 | |
| 2 | 48 | The Price | 1997-01-21 | 60 | |
| 3 | 49 | Innocent Blood | 1997-01-28 | 60 | |
| 4 | 50 | Letting Go | 1997-02-04 | 60 | |
| 5 | 51 | Classics | 1997-02-11 | 60 | |
| 6 | 52 | Lost Feelings | 1997-02-18 | 60 | |
| 7 | 53 | Home Truths | 1997-03-04 | 60 | |
| 8 | 54 | Running to Hide | 1997-03-11 | 60 | |
| 9 | 55 | Borrowed Time | 1997-03-18 | 60 | |
| 10 | 56 | Tough Love | 1997-03-25 | 60 | |
| 11 | 57 | State of Mind | 1997-04-01 | 60 | |
| 12 | 58 | Priorities | 1997-04-08 | 60 | |
| 13 | 59 | A Change of Heart | 1997-04-15 | 60 | |
| 14 | 60 | Fight or Flight | 1997-04-22 | 60 | |
Season 6
| Episode No. | No. Overall | Title | Airdate | Runtime | Summary |
| --- | --- | --- | --- | --- | --- |
| 1 | 61 | All Fall Down | 1998-01-05 | 60 | |
| 2 | 62 | Through a Glass Darkly | 1998-01-12 | 60 | |
| 3 | 63 | A Matter of Principle | 1998-01-19 | 60 | |
| 4 | 64 | A Good Son | 1998-01-26 | 60 | |
| 5 | 65 | Another Day of Life | 1998-02-02 | 60 | |
| 6 | 66 | A Change of View | 1998-02-09 | 60 | |
| 7 | 67 | Body and Soul | 1998-02-16 | 60 | |
| 8 | 68 | The Spinning Wheel | 1998-02-23 | 60 | |
| 9 | 69 | Glass Houses | 1998-03-02 | 60 | |
| 10 | 70 | The Ghost in the Machine | 1998-03-16 | 60 | |
| 11 | 71 | The Falling Sky | 1998-03-23 | 60 | |
| 12 | 72 | A Child I Dreamed | 1998-03-30 | 60 | |
| 13 | 73 | Two Things Stand Like Stone | 1998-04-06 | 60 | |
| 14 | 74 | Once in a Lifetime | 1998-04-20 | 60 | |
Season 7
| Episode No. | No. Overall | Title | Airdate | Runtime | Summary |
| --- | --- | --- | --- | --- | --- |
| 1 | 75 | Race Against Time | 1999-01-05 | 60 | |
| 2 | 76 | The Ties That Bind | 1999-01-12 | 60 | |
| 3 | 77 | Turn a Blind Eye | 1999-01-19 | 60 | |
| 4 | 78 | Comrades in Arms | 1999-01-26 | 60 | |
| 5 | 79 | Passion | 1999-02-02 | 60 | |
| 6 | 80 | Map of the Heart - Part 1 | 1999-02-09 | 60 | |
| 7 | 81 | Map of the Heart - Part 2 | 1999-02-16 | 60 | |
| 8 | 82 | Before the Lights Go Out | 1999-02-23 | 60 | |
| 9 | 83 | Fighting Chance | 1999-03-02 | 60 | |
| 10 | 84 | No Bounds | 1999-03-09 | 60 | |
| 11 | 85 | Take Her Back | 1999-03-16 | 60 | |
| 12 | 86 | Single Minded | 1999-03-23 | 60 | |
| 13 | 87 | The Nature of Things | 1999-03-30 | 60 | |
Season 8
| Episode No. | No. Overall | Title | Airdate | Runtime | Summary |
| --- | --- | --- | --- | --- | --- |
| 1 | 88 | Breaking Point | 1999-09-14 | 60 | |
| 2 | 89 | Alone | 1999-09-21 | 60 | |
| 3 | 90 | Eskimo Roll | 1999-09-28 | 60 | |
| 4 | 91 | Wood for the Trees | 1999-10-05 | 60 | |
| 5 | 92 | Buying Time | 1999-10-12 | 60 | |
| 6 | 93 | Change of Life | 1999-10-19 | 60 | |
| 7 | 94 | Close to Heaven - Part 1 | 1999-11-02 | 60 | |
| 8 | 95 | Close to Heaven - Part 2 | 1999-11-09 | 60 | |
| 9 | 96 | The First Stone | 1999-11-16 | 60 | |
| 10 | 97 | Dark Side of the Moon | 1999-11-23 | 60 | |
| 11 | 98 | Not Waving But Drowning | 1999-11-30 | 60 | |
| 12 | 99 | Moving On | 1999-12-07 | 60 | |
| 13 | 100 | New Beginnings | 1999-12-14 | 60 | |
Season 9
| Episode No. | No. Overall | Title | Airdate | Runtime | Summary |
| --- | --- | --- | --- | --- | --- |
| 1 | 101 | And Then There Were Two | 2000-01-04 | 60 | |
| 2 | 102 | Close to Home | 2000-01-11 | 60 | |
| 3 | 103 | Family Values | 2000-01-18 | 60 | |
| 4 | 104 | Letting Go | 2000-01-25 | 60 | |
| 5 | 105 | Language of the Eye | 2000-02-01 | 60 | |
| 6 | 106 | Once Too Often | 2000-02-08 | 60 | |
| 7 | 107 | Truth or Dare | 2000-02-15 | 60 | |
| 8 | 108 | Ghosts | 2000-02-22 | 60 | |
| 9 | 109 | A Test of Faith | 2000-02-29 | 60 | |
| 10 | 110 | Turniong Tides | 2000-03-07 | 60 | |
| 11 | 111 | Faith, Hope and Love | 2000-03-14 | 60 | |
| 12 | 112 | Last Orders | 2000-03-21 | 60 | |
| 13 | 113 | Hopes and Dreams | 2000-03-28 | 60 | |
Season 10
| Episode No. | No. Overall | Title | Airdate | Runtime | Summary |
| --- | --- | --- | --- | --- | --- |
| 1 | 114 | For the Love of the Child | 2000-09-05 | 60 | |
| 2 | 115 | Hit and Run | 2000-09-12 | 60 | |
| 3 | 116 | Skin Deep | 2000-09-19 | 60 | |
| 4 | 117 | On a Clear Day | 2000-09-26 | 60 | |
| 5 | 118 | Absolution | 2000-10-03 | 60 | |
| 6 | 119 | Lonely Hearts - Part 1 | 2000-10-31 | 60 | |
| 7 | 120 | Lonely Hearts - Part 2 | 2000-11-07 | 60 | |
| 8 | 121 | Divided We Stand | 2000-11-14 | 60 | |
| 9 | 122 | Keeping Up the Act | 2000-11-21 | 60 | |
| 10 | 123 | Playing God | 2000-11-28 | 60 | |
| 11 | 124 | Walls of Jericho | 2000-12-05 | 60 | |
| 12 | 125 | Masquerade | 2000-12-12 | 60 | |
| 13 | 126 | Electricity | 2000-12-19 | 60 | |
Season 11
| Episode No. | No. Overall | Title | Airdate | Runtime | Summary |
| --- | --- | --- | --- | --- | --- |
| 1 | 127 | Still Waters | 2001-01-02 | 60 | |
| 2 | 128 | Flesh and Blood | 2001-01-09 | 60 | |
| 3 | 129 | Win Some, Lose Some | 2001-01-16 | 60 | |
| 4 | 130 | Trust in Me | 2001-01-23 | 60 | |
| 5 | 131 | Together We Stand | 2001-01-30 | 60 | |
| 6 | 132 | Prisoners of the Past | 2001-02-06 | 60 | |
| 7 | 133 | Private Lives, Public Eye | 2001-02-13 | 60 | |
| 8 | 134 | Suffer the Little Children | 2001-02-20 | 60 | |
| 9 | 135 | Body Beautiful | 2001-03-08 | 60 | |
| 10 | 136 | Hidden Agendas | 2001-03-15 | 60 | |
| 11 | 137 | Crossfire | 2001-03-22 | 60 | |
| 12 | 138 | Blind Spot | 2001-03-29 | 60 | |
| 13 | 139 | Bad Medicine | 2001-04-05 | 60 | |
Season 12
| Episode No. | No. Overall | Title | Airdate | Runtime | Summary |
| --- | --- | --- | --- | --- | --- |
| 1 | 140 | Episode 1 | 2001-10-25 | 60 | |
| 2 | 141 | Episode 2 | 2001-11-01 | 60 | |
| 3 | 142 | Episode 3 | 2001-11-08 | 60 | |
| 4 | 143 | Episode 4 | 2001-11-15 | 60 | |
| 5 | 144 | Episode 5 | 2001-11-22 | 60 | |
| 6 | 145 | Episode 6 | 2001-11-29 | 60 | |
| 7 | 146 | Episode 7 | 2001-12-06 | 60 | |
| 8 | 147 | Episode 8 | 2001-12-13 | 60 | |
| 9 | 148 | Episode 9 | 2002-01-03 | 60 | |
| 10 | 149 | Episode 10 | 2002-01-10 | 60 | |
| 11 | 150 | Episode 11 | 2002-01-17 | 60 | |
| 12 | 151 | Episode 12 | 2002-01-24 | 60 | |
| 13 | 152 | Episode 13 | 2002-01-31 | 60 | |
Series Cast
| | | | |
| --- | --- | --- | --- |
| | Esther Coles | as Kim Beardsmore | |
| | Veronica Roberts | as Laura Elliott | |
| | Margery Mason | as Alice North | |
| | Kevin Whately | as Dr. Jack Kerruish | |
| | Gary Mavers | as Dr. Andrew Attwood | |
| | Maggie O'Neill | as Dr. Alex Redman | |
| | Saskia Wickham | as Dr. Erica Matthews | |
| | Adrian Lukis | as Dr. David Shearer | |
| | Shelagh McLeod | as Kate Preston | |
| | Sarah Parish | as Dawn Rudge | |
| | Amanda Burton | as Dr. Beth Glover | |
| | John Bowler | as Mike Pullen | |
| | Richard Platt | as James White | |
| | Simon Shepherd | as Dr. Will Preston | |
| | Hazel Ellerby | as Chloe White | |
Related News
TVMaze