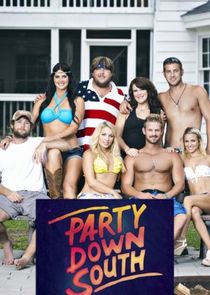 The Party Down South gang reunites in St. Petersburg, Florida, for a 10-episode season filled with adventure, partying and, of course, drama. Season four opens with one of the most heated fights in the show's history when Tiffany literally goes head-to-head with Hannah over her new boyfriend. In between the explosive fights and blooming relationships, an old flame comes into the picture resulting in a life-changing event for Lyle. Meanwhile, Walt and Murray find themselves hitting it off with the women of St. Pete, and "Martha" decides to crash her own birthday party.
Series Overview
Rating
imDb Rating: 5.8 (426 Votes)
Metascore: N/A
Plot
Strangers come to live in the South and party it up like real country folk.
Details
Rated: N/A
Released: 01 Jan 2014
Runtime: 40 min
Genre: Reality-TV
Director: N/A
Writer: N/A
Actors: Mattie Breaux
Language: N/A
Country: N/A
Awards: N/A
Total Seasons: 5
Previous Episode
The Final Funnel
Episode 5x12; Apr 07, 2016
The Party Down South crew gets together one last time to share their favorite memories and relive their wildest moments from all five vacations together.
Previous Episodes 5x12: The Final Funnel 5x11: Last Call 5x10: Foul Weather Friend 5x9: Single on a Segway 5x8: Watermelon, Meet Lartha 5x7: Wild Lyle Down 5x6: True Lies 5x5: Cowboys and Ninjas 5x4: Southern Discomfort

View All Episodes
Skip to:
Season 1
| Episode No. | No. Overall | Title | Airdate | Runtime | Summary |
| --- | --- | --- | --- | --- | --- |
| 1 | 1 | Black Out | 2014-01-16 | 60 | |
| 2 | 2 | Make Room for Daddy | 2014-01-23 | 60 | |
| 3 | 3 | Things Are Gonna Get Weird | 2014-01-30 | 60 | |
| 4 | 4 | It's My Birrrday | 2014-02-06 | 60 | |
| 5 | 5 | Did We Talk About Prison Yet? | 2014-02-13 | 60 | |
| 6 | 6 | Mattie Goes Martha on Everybody's Ass | 2014-02-20 | 60 | |
| 7 | 7 | Heartburn or Heartbreak? | 2014-02-27 | 60 | |
| 8 | 8 | Cuddling Days Are Over | 2014-03-06 | 60 | |
| 9 | 9 | Rednecks in Heat | 2014-03-13 | 60 | |
| 10 | 10 | Payback's a Fish | 2014-03-20 | 60 | |
Season 2
| Episode No. | No. Overall | Title | Airdate | Runtime | Summary |
| --- | --- | --- | --- | --- | --- |
| 1 | 11 | Hot Mess Express | 2014-06-05 | 60 | |
| 2 | 12 | We Gonna Fight or We Gonna Kiss? | 2014-06-12 | 60 | |
| 3 | 13 | Lil Bit of a Problem | 2014-06-19 | 60 | |
| 4 | 14 | Stop Stalking | 2014-06-26 | 60 | |
| 5 | 15 | Get Over Me | 2014-07-03 | 60 | |
| 6 | 16 | Love Is Blind. And Drunk. | 2014-07-10 | 60 | |
| 7 | 17 | I Banged Your Girl | 2014-07-17 | 60 | |
| 8 | 18 | Hurricane Martha | 2014-07-24 | 60 | |
| 9 | 19 | I'm a Baboso, Baby! | 2014-07-31 | 60 | |
| 10 | 20 | Livin' La Vida Martha | 2014-08-07 | 60 | |
| 11 | 21 | What Happens in Cabo... | 2014-08-14 | 60 | |
| 12 | 22 | The Truth Comes Out | 2014-08-21 | 60 | |
| 13 | 23 | Out with a Bang | 2014-08-28 | 60 | |
Season 3
| Episode No. | No. Overall | Title | Airdate | Runtime | Summary |
| --- | --- | --- | --- | --- | --- |
| 1 | 24 | Back in the Saddle | 2015-02-26 | 60 | |
| 2 | 25 | Battle of the Buns | 2015-03-05 | 60 | |
| 3 | 26 | 29 Going on Thirsty | 2015-03-12 | 60 | |
| 4 | 27 | Spilling, Spelling, and Spaghetti | 2015-03-19 | 60 | |
| 5 | 28 | Gettin' On and Goin' Off | 2015-03-26 | 60 | |
| 6 | 29 | Between a Hott Dogg and a Hard Place | 2015-04-02 | 60 | |
| 7 | 30 | Some Type O'Way | 2015-04-09 | 60 | |
| 8 | 31 | Mixed Drinks and Mixed Signals | 2015-04-16 | 60 | |
| 9 | 32 | The Big Uneasy | 2015-04-23 | 60 | |
| 10 | 33 | Down This Road Before | 2015-04-30 | 60 | |
| 11 | 34 | Bye Bye Biloxi | 2015-05-07 | 60 | |
Season 4
| Episode No. | No. Overall | Title | Airdate | Runtime | Summary |
| --- | --- | --- | --- | --- | --- |
| 1 | 35 | I'll Show You Crazy! | 2015-08-20 | 60 | |
| 2 | 36 | Blood, Sweat, and Beers | 2015-08-27 | 60 | |
| 3 | 37 | Miss Martha's Wild Ride | 2015-09-03 | 60 | |
| 4 | 38 | It's Not a Dream, It's a Vision | 2015-09-10 | 60 | |
| 5 | 39 | Sagin' Cajuns | 2015-09-17 | 60 | |
| 6 | 40 | Party Down, South Beach | 2015-09-24 | 60 | |
| 7 | 41 | Gone Girl | 2015-10-01 | 60 | The trip to Miami is off to a good start until shots get poured; Mattie goes missing and Don ``Daddy'' Johnson is on the case; Lyle makes a life-changing decision. |
| 8 | 42 | The Bou to My Dreaux | 2015-10-15 | 60 | |
| 9 | 43 | Happy Birthday, Martha! | 2015-10-22 | 60 | |
| 10 | 44 | We Got It Goatin' | 2015-10-29 | 60 | |
Season 5
| Episode No. | No. Overall | Title | Airdate | Runtime | Summary |
| --- | --- | --- | --- | --- | --- |
| 1 | 45 | Taxicab Confessions | 2016-01-28 | 60 | The crew arrives at their beautiful new vacation house in Savannah, Georgia; Lauren and Tiffany struggle to keep an explosive secret from Lyle, while Murray and Hannah must console Mattie. |
| 2 | 46 | Lyle's Achy-Breaky Heart | 2016-02-04 | 60 | Tiffany and Lauren tell Lyle devastating news about his fiancée, Santana; Walt attempts to woo a woman into bed by playing his guitar; Daddy brings the wrong girl home from the bar. |
| 3 | 47 | She Devil Went Down to Georgia | 2016-02-11 | 60 | |
| 4 | 48 | Southern Discomfort | 2016-02-18 | 60 | The house becomes devided when a secret comes out about Lyle's finacee that Tiffany and Lauren have major issues with. Lyle is then forced to make a decision thta could change his life forever. |
| 5 | 49 | Cowboys and Ninjas | 2016-02-25 | 60 | |
| 6 | 50 | True Lies | 2016-03-03 | 60 | |
| 7 | 51 | Wild Lyle Down | 2016-03-10 | 60 | |
| 8 | 52 | Watermelon, Meet Lartha | 2016-03-17 | 60 | As Lyle spends time in the hospital, Mattie gives Santana a piece of her mind; Lauren flips her lid and the whole kitchen pays for it. |
| 9 | 53 | Single on a Segway | 2016-03-24 | 60 | |
| 10 | 54 | Foul Weather Friend | 2016-03-31 | 60 | Bubba surprises Tiffany with an unexpected visit, but Tiffany isn't sure how things will go after their recent arguments; after being rejected by numerous men at the bar, Hurricane Martha threatens the shores of Savannah. |
| 11 | 55 | Last Call | 2016-04-07 | 60 | The cast says goodbye to Savannah and to each other for the last time; old wounds open up between Tiffany and Bubba; Santana attempts to win back Lyle; the crew buries a time capsule in the backyard. |
| 12 | 56 | The Final Funnel | 2016-04-07 | 60 | The Party Down South crew gets together one last time to share their favorite memories and relive their wildest moments from all five vacations together. |
Related News
TVMaze