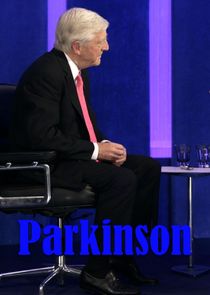 Michael Parkinson was a showbiz veteran on BBC1 hosting his talk show. After his first few series he had already interviewed many a star from the time and had built up a fan base. People liked his interviewing technique where he would take a step back and let the guests say what they wanted to say. Although Michael began to be unhappy, after his Saturday 9pm slot kept having to be changed because of the football. So ITV decided to make him an offer he couldn't refuse, he would be able to continue his famous talk show, at his normal slot yet on ITV1. He agreed. Parkinson has just finished his second ITV series, and has interviewed such stars as Lauren Bacall and Bob Geldoff. With rumours afoot that he could possibly be hosting a special interview with the latest royal couple Charles & Camilla, the show looks like it will continue to maintain the success it had done on BBC1.
Series Overview
Rating
imDb Rating: 7.6 (568 Votes)
Metascore: N/A
Plot
Journalist Michael Parkinson interviews a broad range of the most famous people in the world.
Details
Rated: N/A
Released: 04 Jan 2000
Runtime: 50 min
Genre: Comedy, Music, Talk-Show
Director: N/A
Writer: N/A
Actors: Michael Parkinson
Language: English
Country: UK
Awards: 4 wins & 8 nominations.
Total Seasons: 17
Previous Episode
The Final Conversation
Episode 7x11; Dec 16, 2007
Previous Episodes 7x11: The Final Conversation 7x10: Rod Stewart, Michael Bublé, Annie Lennox, Joe Cocker 7x9: Ewan McGregor, Kenneth Branagh, Paul Merton, KD Lang 7x8: Lewis Hamilton, Ian McKellen, Ka,es B;imt 7x7: Ray Winstone, French & Saunders, Daniel Radcliffe, Jamie Davis 7x6: Bobby Charlton, Joanna Lumley, Richard Attenborough, Peter Cincotti 7x5: Sharon Osbourne, Joan Rivers, Sophie Dahl, Diana Krall 7x4: Ricky Hatton, Paul Anka, Michael Winner 7x3: Harry Connick Jr, Colin Firth, Al Murray

View All Episodes
Skip to:
Season 1
| Episode No. | No. Overall | Title | Airdate | Runtime | Summary |
| --- | --- | --- | --- | --- | --- |
| 1 | 1 | Tom Cruise, Billy Connolly, Kelly Holmes, Razorlight | 2004-09-04 | 60 | |
| 2 | 2 | Simon Cowell, Naomi Campbell, Denzel Washington, Ronan Keating | 2004-09-11 | 60 | |
| 3 | 3 | Matthew Pinsent, Lenny Henry, Frank Skinner, R.E.M., Il Divo | 2004-09-18 | 60 | |
| 4 | 4 | Michael Palin, Ant & Dec, Tom Jones, Jools Holland | 2004-09-25 | 60 | |
| 5 | 5 | Ricky Gervais, Joanna Lumley, Kevin Kline, Beverley Knight | 2004-10-02 | 60 | |
| 6 | 6 | Joan Rivers, Jamie Oliver, Cliff Richard | 2004-10-09 | 60 | |
| 7 | 7 | Jeremy Clarkson, Eddie Izzard, Clare Teal, Donny Osmond | 2004-10-16 | 60 | |
| 8 | 8 | Lauren Bacall, Nigella Lawson, Paul O'Grady, Tina Turner | 2004-10-23 | 60 | |
| 9 | 9 | Judi Dench, Dame Edna Everage, Sharon Osbourne, Scissor Sisters | 2004-10-30 | 60 | |
| 10 | 10 | Renée Zellweger, Kevin Spacey, Mel Brooks | 2004-11-06 | 60 | |
| 11 | 11 | Joe Pasquale, Rod Stewart, Barbara Windsor, Lily Savage | 2004-12-25 | 60 | |
Season 2
| Episode No. | No. Overall | Title | Airdate | Runtime | Summary |
| --- | --- | --- | --- | --- | --- |
| 1 | 12 | Bruce Willis, Bob Geldof | 2005-02-12 | 60 | |
| 2 | 13 | Samuel L. Jackson, Dara O'Briain, Lucie Silvas, Twiggy | 2005-02-19 | 60 | |
| 3 | 14 | Will Smith, Julie Walters, Michael Buble | 2005-02-26 | 60 | |
| 4 | 15 | Ray Winstone, Patsy Kensit, Jerry Springer, Madeleine Peyroux | 2005-03-05 | 60 | |
| 5 | 16 | Peter Kay, Sandra Bullock, Nicholas Lyndhurst | 2005-03-12 | 60 | |
| 6 | 17 | Ewan McGregor, Billie Piper, Jamie Oliver | 2005-03-19 | 60 | |
| 7 | 18 | John Travolta, John Sergeant, Goldie Hawn, John Legend | 2005-03-26 | 60 | |
| 8 | 19 | Sharon Osbourne, Ozzy Osbourne, Martin Clunes, Stephen Fry, Anastacia | 2005-04-02 | 60 | |
| 9 | 20 | Lauren Bacall, Olivia Newton-John, Meera Syal | 2005-04-09 | 60 | |
Season 3
| Episode No. | No. Overall | Title | Airdate | Runtime | Summary |
| --- | --- | --- | --- | --- | --- |
| 1 | 21 | Antonio Banderas, Ricky Gervais, James Blunt, Robert Lindsay | 2005-10-08 | 60 | |
| 2 | 22 | Matt Lucas, David Walliams, Gloria Hunniford, Will Young | 2005-10-15 | 60 | |
| 3 | 23 | David Attenborough, Susan Sarandon, Chris Tarrant, Jamie Cullum | 2005-10-22 | 60 | |
| 4 | 24 | Gordon Ramsay, Ben Elton, Rod Stewart | 2005-10-29 | 60 | |
| 5 | 25 | Charlotte Church, Susannah Constantine, Trinny Woodall, Bradley Walsh, Eurythmics | 2005-11-05 | 60 | |
| 6 | 26 | Madonna | 2005-11-12 | 60 | |
| 7 | 27 | Chris Evans, Dawn French, David Gray, Ian Hislop | 2005-11-19 | 60 | |
| 8 | 28 | Thierry Henry, Matthew Kelly, Sarah Lancashire, Stevie Wonder | 2005-11-26 | 60 | |
| 9 | 29 | Michael Flatley, Peter O'Toole, Robbie Williams | 2005-12-10 | 60 | |
| 10 | 30 | Paul McCartney, Katie Melua, Dave Spikey, Rachel Weisz | 2005-12-17 | 60 | |
| 11 | 31 | The Choirboys, Cilla Black, Martine McCutcheon, Joan Rivers, Bryn Terfel, John Williams | 2005-12-24 | 60 | |
Season 4
| Episode No. | No. Overall | Title | Airdate | Runtime | Summary |
| --- | --- | --- | --- | --- | --- |
| 1 | 32 | Tony Blair, Kevin Spacey | 2006-03-04 | 60 | |
| 2 | 33 | Kathy Burke, Andrew Lloyd Webber, Dara O'Briain, Tim Rice, Elena Roger | 2006-03-11 | 60 | |
| 3 | 34 | Sharon Stone, Stephen Fry, Bette Midler | 2006-03-18 | 60 | |
| 4 | 35 | Jane Fonda, Jo Brand, Daniel Day-Lewis, Van Morrison | 2005-03-25 | 60 | |
| 5 | 36 | Noel Edmonds, Thandie Newton, Timothy Spall, Neil Diamond | 2006-04-01 | 60 | |
| 6 | 37 | David Jason, Ardal O'Hanlon, Paul Anka | 2006-04-08 | 60 | |
| 7 | 38 | Kathleen Turner, Martin Freeman, Melvyn Bragg | 2006-04-15 | 60 | |
| 8 | 39 | George Michael, Alan Alda, Jamie Foxx | 2006-04-22 | 60 | |
Season 5
| Episode No. | No. Overall | Title | Airdate | Runtime | Summary |
| --- | --- | --- | --- | --- | --- |
| 1 | 40 | Matt Lucas, David Walliams, Elton John, Bernie Taupin | 2006-09-16 | 60 | |
| 2 | 41 | Helen Mirren, Trinny & Susannah, Dame Edna Everage | 2006-09-23 | 60 | |
| 3 | 42 | Liza Minnelli, Sharon Osbourne, Lionel Richie | 2006-09-30 | 60 | |
| 4 | 43 | Shane Richie, Sheila Hancock, Corinne Bailey Rae, Jeremy Paxman | 2006-10-07 | 60 | |
| 5 | 44 | Eric Idle, Joan Bakewell, Lemar, Ray Winstone | 2006-10-21 | 60 | |
| 6 | 45 | Kate Winslet, Jude Law, Justin Timberlake | 2006-10-28 | 60 | |
| 7 | 46 | Michael Caine, Tony Bennett | 2006-11-04 | 60 | |
| 8 | 47 | Peter Kay, Take That, Ian McKellan | 2006-11-11 | 60 | |
| 9 | 48 | Patrick Kielty, Wendy Richard, Paolo Nutini, Michael Palin | 2006-11-18 | 60 | |
| 10 | 49 | Noel Gallagher, Dustin Hoffman, Rod Stewart | 2006-11-25 | 60 | |
| 11 | 50 | Daniel Craig, Ben Elton, Robin Williams | 2006-12-02 | 60 | |
| 12 | 51 | Cameron Diaz, Rory Bremner, John McEnroe, Chris Rea | 2006-12-16 | 60 | |
| 13 | 52 | Lenny Henry, Judi Dench, Katherine Jenkins & the Froncysyllte Male Voice Choir | 2006-12-23 | 60 | |
Season 6
| Episode No. | No. Overall | Title | Airdate | Runtime | Summary |
| --- | --- | --- | --- | --- | --- |
| 1 | 53 | David Tennant, David Mitchell, Amanda Holden, Michael Bublé | 2007-05-05 | 60 | |
| 2 | 54 | Gene Wilder, Patrick Stewart, Ian Hislop, Joe Cocker | 2007-05-12 | 60 | |
| 3 | 55 | Stephen Fry, George Michael, Joan Rivers | 2007-05-19 | 60 | |
| 4 | 56 | Dara O'Briain, David Dimbleby, Russell Watson | 2007-06-02 | 60 | |
| 5 | 57 | Orlando Bloom, James Nesbitt, Alfie Boe | 2007-06-09 | 60 | |
| 6 | 58 | David Attenborough, Piers Morgan, Sanjeev Bhaskar | 2007-06-16 | 60 | |
| 7 | 59 | Ken Dodd, Jonathan Miller, Joanna Lumley, Meera Syal, Travis | 2007-06-23 | 60 | |
Season 7
| Episode No. | No. Overall | Title | Airdate | Runtime | Summary |
| --- | --- | --- | --- | --- | --- |
| 1 | 60 | Michael Palin, David Frost, Diana Rigg | 2007-09-15 | 60 | |
| 2 | 61 | James McAvoy, Billie Piper, Jennifer Lopez | 2007-09-22 | 60 | |
| 3 | 62 | Harry Connick Jr, Colin Firth, Al Murray | 2007-09-29 | 60 | |
| 4 | 63 | Ricky Hatton, Paul Anka, Michael Winner | 2007-10-13 | 60 | |
| 5 | 64 | Sharon Osbourne, Joan Rivers, Sophie Dahl, Diana Krall | 2007-10-20 | 60 | |
| 6 | 65 | Bobby Charlton, Joanna Lumley, Richard Attenborough, Peter Cincotti | 2007-10-27 | 60 | |
| 7 | 66 | Ray Winstone, French & Saunders, Daniel Radcliffe, Jamie Davis | 2007-11-03 | 60 | |
| 8 | 67 | Lewis Hamilton, Ian McKellen, Ka,es B;imt | 2007-11-10 | 60 | |
| 9 | 68 | Ewan McGregor, Kenneth Branagh, Paul Merton, KD Lang | 2007-11-10 | 60 | |
| 10 | 69 | Rod Stewart, Michael Bublé, Annie Lennox, Joe Cocker | 2007-11-24 | 60 | |
| 11 | 70 | The Final Conversation | 2007-12-16 | 60 | |
Season 8
| Episode No. | No. Overall | Title | Airdate | Runtime | Summary |
| --- | --- | --- | --- | --- | --- |
Season 9
| Episode No. | No. Overall | Title | Airdate | Runtime | Summary |
| --- | --- | --- | --- | --- | --- |
Season 10
| Episode No. | No. Overall | Title | Airdate | Runtime | Summary |
| --- | --- | --- | --- | --- | --- |
Season 11
| Episode No. | No. Overall | Title | Airdate | Runtime | Summary |
| --- | --- | --- | --- | --- | --- |
Season 12
| Episode No. | No. Overall | Title | Airdate | Runtime | Summary |
| --- | --- | --- | --- | --- | --- |
Season 13
| Episode No. | No. Overall | Title | Airdate | Runtime | Summary |
| --- | --- | --- | --- | --- | --- |
Season 14
| Episode No. | No. Overall | Title | Airdate | Runtime | Summary |
| --- | --- | --- | --- | --- | --- |
Season 15
| Episode No. | No. Overall | Title | Airdate | Runtime | Summary |
| --- | --- | --- | --- | --- | --- |
Season 16
| Episode No. | No. Overall | Title | Airdate | Runtime | Summary |
| --- | --- | --- | --- | --- | --- |
Season 17
| Episode No. | No. Overall | Title | Airdate | Runtime | Summary |
| --- | --- | --- | --- | --- | --- |
Series Cast
| | | | |
| --- | --- | --- | --- |
| | Michael Parkinson | as Host | |
Related News
TVMaze