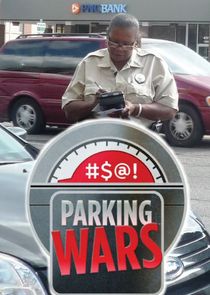 Viewers get behind-the-scenes on-the-street perspective, as employees of Philadelphia Parking Authority go on their daily rounds, frequently dealing with irate locals as the workers issue citations, boot vehicles and tow cars. The series also follows the ticket-writers and booters of Detroit's Municipal Parking Department.
Series Overview
Rating
imDb Rating: 6.5 (547 Votes)
Metascore: N/A
Plot
This TV show follows the Philadelphia Parking Authority (PPA). It is split into three segments impound lot, booting/towing, and ticketing.
Details
Rated: TV-PG
Released: 08 Jan 2008
Runtime: 30 min
Genre: Reality-TV
Director: N/A
Writer: N/A
Actors: Frannie Esposito, Keith Hevener, Bill Kurtis, Dave Sojourner
Language: English
Country: USA
Awards: N/A
Total Seasons: 6
Previous Episode
Episode 32
Episode 6x32; Dec 22, 2012
Previous Episodes 6x32: Episode 32 6x31: Episode 31 6x30: Episode 30 6x29: Episode 29 6x28: Episode 28 6x27: Episode 27 6x26: Episode 26 6x25: Episode 25 6x24: Episode 24

View All Episodes
Skip to:
Season 1
| Episode No. | No. Overall | Title | Airdate | Runtime | Summary |
| --- | --- | --- | --- | --- | --- |
| 1 | 1 | Episode 1 | 2008-01-08 | 30 | Jeff squares off with an angry citizen over a broken meter; Steve and Sherry, the booting team, meet with a woman who has an emotional attachment to her car. |
| 2 | 2 | Episode 2 | 2008-01-08 | 30 | Danielle gets into a shouting match during her rush-hour sting; Rob has a run-in with a woman over the paperwork needed to get her car back from the impound lot. |
| 3 | 3 | Episode 3 | 2008-01-15 | 30 | Sherry and Steve face threats from an angered man; Fatima looks for a boyfriend on her beat; Abdul faces a challenge at the impound lot. |
| 4 | 4 | Episode 4 | 2008-01-15 | 30 | Brian has a run-in with a double parker; Clarence tests his compassion while towing a car; Steve and Sherry try to help a man get his tickets paid. |
| 5 | 5 | Episode 5 | 2008-01-22 | 30 | Tiffany shows off her skills; Martin must tow a car that crashed into a gas pump; John rushes to find an impounded car for a woman whose taxi meter is running. |
| 6 | 6 | Episode 6 | 2008-01-22 | 30 | Paul calls in supervisor Luz when he can't help an unhappy citizen; Steve and Sherry deal with a man who claims his car was booted for someone else's tickets. |
| 7 | 7 | Episode 7 | 2008-01-29 | 30 | Yolanda faces a screaming couple at the impound lot; Lisa deals with sassy students on the college beat. |
| 8 | 8 | Episode 8 | 2008-01-29 | 30 | Supervisor Brad oversees the madness during Greek Week; Roberta's sunny disposition is put to the test. |
| 9 | 9 | Episode 9 | 2008-02-05 | 30 | Shawn schools rookie D'Andre; Rudy fends off the angry friend of a woman whose vehicle has been towed; Sherry and Steve boot in the ``badlands'' of Philadelphia. |
| 10 | 10 | Episode 10 | 2008-02-05 | 30 | Yolanda helps an owner get through red tape; John deals with a car owner who tries to lock him out; Marilyn works her new ticketing beat. |
| 11 | 11 | Episode 11 | 2008-02-12 | 30 | Yolanda tries to help a young man get back his car; Garfield and Sherry experience divine intervention; Carmen faces off with angry construction workers. |
| 12 | 12 | Episode 12 | 2008-02-12 | 30 | Danielle gives drivers tough lessons on the parking rules; an owner loses her cool as John and Rich try to find her missing keys at the impound lot. |
| 13 | 13 | Episode 13 | 2008-02-19 | 30 | A rap star has trouble getting back his promotional truck after it is towed; Brian seeks solace; Garfield gets awful news. |
| 14 | 14 | Episode 14 | 2008-02-19 | 30 | Ticket-writer Tiffany tries to find inner peace among irate citizens; an angry woman tries to get her car back after her son takes it without permission and gets it towed. |
| 15 | 15 | Episode 15 | 2008-02-26 | 30 | Two jokesters try to use comedy to get their car back; Elissa and Rob face serious mischief on Halloween. |
| 16 | 16 | Episode 16 | 2008-02-26 | 30 | Steve and Sherry search for a missing booted vehicle; Rob argues with an owner who says a car was damaged while impounded. |
Season 2
| Episode No. | No. Overall | Title | Airdate | Runtime | Summary |
| --- | --- | --- | --- | --- | --- |
| 1 | 17 | Episode 1 | 2008-10-15 | 30 | A woman loses her cool when she loses her keys; Dave has to tow the car of a father of twins; Yolanda won't release a man's car without his mother-in-law; Tiffany uses the ticket ``genie'' to find violators. |
| 2 | 18 | Episode 2 | 2008-10-22 | 30 | A couple turn to a higher power to help get their car out of impound; Marily gets help dealing with a ranting sidewalk parker; Steve and Sherry deal with someone they once treated leniently. |
| 3 | 19 | Episode 3 | 2008-10-22 | 30 | A man with a pacemaker becomes enraged at the impound lot; an angry citizen pushes Carmen to the limit; Jen is gung-ho about her job. |
| 4 | 20 | The Lost Pilot | 2008-10-29 | 30 | Tow-trucker operators and parking ticket judges put Philadelphia's ``City of Brotherly Love'' motto to the test. |
| 5 | 21 | The Lost Pilot | 2008-10-29 | 30 | Meter maids put Philadelphia's ``City of Brotherly Love'' motto to the test. |
| 6 | 22 | Episode 6 | 2008-11-05 | 30 | Tracey's style rubs a desperate owner the wrong way; Brian and Danielle take their football rivalry to the streets; Sherry and Garfield push their luck while booting cars. |
| 7 | 23 | Episode 7 | 2008-11-05 | 30 | Barb squares off against a teen at the lot; Shawn deals with a couple parked on the sidewalk; Jen and Mike face an angry mob while booting the mailman. |
| 8 | 24 | Episode 8 | 2008-11-12 | 30 | Police investigate a theft at the impound lot; ticket writer Mike takes on some drunken revelers; a man tries to escape from the new high-tech boot van. |
| 9 | 25 | Episode 9 | 2008-11-12 | 30 | Frank, the tow driver, is called to the scene of a volatile live stop; Marlene encounters a chronic parking ticket violator. |
| 10 | 26 | Episode 10 | 2008-11-19 | 30 | An Israeli tourist tries to get his car released from the lot; ticket writer Danielle must deal with an angry deliveryman; Elissa and Rob give a couple the boot. |
| 11 | 27 | Episode 11 | 2008-11-19 | 30 | A woman tries to get back her car, which was towed while she was in labor; tempers reach the boiling point for Steve and Sherry on boot patrol; Ticket Supervisor Luz deals with an angry man who was ticketed at a broken meter. |
| 12 | 28 | Episode 12 | 2008-11-26 | 30 | Three brothers try to retrieve their car from the lot; Garfield and Sherry's largest booting target ever. |
| 13 | 29 | Episode 13 | 2008-11-26 | 30 | A new resident gets his car towed on his first day in Philadelphia; Shawn can't keep up with the tickets in front of a famous hoagie shop; Neema is the only female tow driver on the squad. |
| 14 | 30 | Episode 14 | 2008-12-03 | 30 | A ticketed man flies into a rage; a couple struggle to retrieve their car from impound; nothing goes right for Steve on his beat. |
| 15 | 31 | Episode 15 | 2008-12-03 | 30 | A stalker follows a ticket writer on her beat; an angry woman has trouble dealing with impound; a man seeks compensation for an unjust impound. |
| 16 | 32 | Episode 16 | 2008-12-10 | 30 | A man tries to get his car off the auction block; Steve watches Sherry's back while she's booting; Marlene has a showdown with some angry citizens. |
| 17 | 33 | Episode 17 | 2008-12-17 | 30 | Two guys try to get the car back before they miss their flight back to Atlanta; Mike is out ticketing; a man's car is towed during a big wedding. |
Season 3
| Episode No. | No. Overall | Title | Airdate | Runtime | Summary |
| --- | --- | --- | --- | --- | --- |
| 1 | 34 | Episode 1 | 2009-10-06 | 30 | Long-haired DeAndre, nicknamed ``Ponytail,'' confronts an irate citizen over parking on city property in Detroit; Michele and Sonjia, the ``Super Boot Crew,'' boot a widow whose husband may have racked up tickets on their car. |
| 2 | 35 | Episode 2 | 2009-10-06 | 30 | Garfield and Sherry need police backup when a furious man tries to remove a boot; a man blocking a bus zone tests ticket-writer Shawn's communication skills; a creative father and son try to retrieve their impounded car. |
| 3 | 36 | Episode 3 | 2009-10-13 | 30 | Sparks fly after Mike stumbles into a parking fiasco at a gala event in Philadelphia; Rodney and Michele catch a Detroit resident trying to remove a boot; two guys try to rescue their ride from an impound lot in Philadelphia. |
| 4 | 37 | Episode 4 | 2009-10-13 | 30 | Philadelphia ticket writer Jeff gets promoted to supervisor; Jeff must go to the rescue of his new squad, which includes rookie Denise and Gina, a magnet for male attention. |
| 5 | 38 | Episode 5 | 2009-10-20 | 30 | A hit-and-run incident throws Detroit booters off their beat; a son tries to recover a car impounded after his father was caught speeding without a license in Philadelphia; Ponytail tries to enforce a special ordinance on the Fourth of July. |
| 6 | 39 | Episode 6 | 2009-10-20 | 30 | After losing 70 pounds, Detroit ticket writer Robert feels confident when challenged by an outraged man who parked commercial equipment on a street; Marlene gets insulted in Philadelphia; a man tries to retrieve his impounded car. |
| 7 | 40 | Episode 7 | 2009-10-27 | 30 | Garfield tests his luck trying to boot two cars on the same block in Philadelphia; irate citizens threaten ticket writer Robert's perfect record in Detroit; a senior citizen tries to get his car out of the impound lot in Philadelphia. |
| 8 | 41 | Episode 8 | 2009-10-27 | 30 | A man wielding a garden tool resorts to extreme measures while trying to get Jen and Mike to remove a boot from his vehicle; siblings from out of town struggle to find their impounded car, which is lost in the system. |
| 9 | 42 | Episode 9 | 2009-11-03 | 30 | Booters Sherry and Jen team up when Garfield is out sick; Sonja is on a special Detroit detail ticketing violators of handicapped parking; an old-country Italian comes to the impound lot in Philadelphia to bail out his son. |
| 10 | 43 | Episode 10 | 2009-11-03 | 30 | A frustrated man with a long list of excuses tests Yolanda's patience at the impound lot; supervisor Eula rescues Brian from an angry woman disputing her ticket on Cinco de Mayo; Mike struggles to communicate with African brothers. |
| 11 | 44 | Episode 11 | 2009-11-10 | 30 | A blizzard dumps 10 inches of snow on Philadelphia and adds to the aggravation at the impound lot; winter weather causes problems for booters Garfield and Sherry. |
| 12 | 45 | Episode 12 | 2009-11-10 | 30 | Garfield and Sherry deal with a woman who is making a scene by refusing to leave her booted car so it can be towed in Philadelphia; parking melee during a Baptist convention in Detroit; a woman learns her boyfriend's dark parking secrets. |
| 13 | 46 | Episode 13 | 2009-11-17 | 30 | A foul-mouthed man challenges his boot; ticket dodgers; a ticket is written in error. |
Season 4
| Episode No. | No. Overall | Title | Airdate | Runtime | Summary |
| --- | --- | --- | --- | --- | --- |
| 1 | 47 | Episode 1 | 2010-10-12 | 30 | |
| 2 | 48 | Episode 2 | 2010-10-12 | 30 | |
| 3 | 49 | Episode 3 | 2010-10-19 | 30 | |
| 4 | 50 | Episode 4 | 2010-10-19 | 30 | |
| 5 | 51 | Episode 5 | 2010-10-26 | 30 | |
| 6 | 52 | Episode 6 | 2010-10-26 | 30 | |
| 7 | 53 | Episode 7 | 2010-11-02 | 30 | |
| 8 | 54 | Episode 8 | 2010-11-02 | 30 | |
| 9 | 55 | Episode 9 | 2010-11-09 | 30 | |
| 10 | 56 | Episode 10 | 2010-11-09 | 30 | Pizza shop employees think they are above the law; an exotic dancer calls on ex-lovers for help. |
| 11 | 57 | Episode 11 | 2010-11-16 | 30 | |
| 12 | 58 | Episode 12 | 2010-11-16 | 30 | |
| 13 | 59 | Episode 13 | 2010-11-23 | 30 | |
| 14 | 60 | Episode 14 | 2011-04-16 | 30 | |
| 15 | 61 | Episode 15 | 2011-04-16 | 30 | |
| 16 | 62 | Episode 16 | 2011-04-23 | 30 | A citizen speeds off with a boot attached in Philadelphia; a DJ gets the runaround at the lot. |
| 17 | 63 | Episode 17 | 2011-04-23 | 30 | |
| 18 | 64 | Episode 18 | 2011-04-30 | 30 | |
| 19 | 65 | Episode 19 | 2011-04-30 | 30 | |
| 20 | 66 | Episode 20 | 2011-05-14 | 30 | |
| 21 | 67 | Episode 21 | 2011-05-21 | 30 | |
| 22 | 68 | Episode 22 | 2011-06-04 | 30 | |
| 23 | 69 | Episode 23 | 2011-06-11 | 30 | |
| 24 | 70 | Episode 24 | 2011-06-18 | 30 | |
Season 5
| Episode No. | No. Overall | Title | Airdate | Runtime | Summary |
| --- | --- | --- | --- | --- | --- |
| 1 | 71 | Episode 1 | 2012-02-11 | 30 | |
| 2 | 72 | Episode 2 | 2012-02-11 | 30 | |
| 3 | 73 | Episode 3 | 2012-02-18 | 30 | |
| 4 | 74 | Episode 4 | 2012-02-18 | 30 | |
| 5 | 75 | Episode 5 | 2012-02-25 | 30 | |
| 6 | 76 | Episode 6 | 2012-02-25 | 30 | Stalker in Detroit; two brothers try to retrieve their car from the impound lot, triggering old memories. |
| 7 | 77 | Episode 7 | 2012-03-03 | 30 | |
| 8 | 78 | Episode 8 | 2012-03-03 | 30 | |
| 9 | 79 | Episode 9 | 2012-04-07 | 30 | |
| 10 | 80 | Episode 10 | 2012-04-14 | 30 | |
| 11 | 81 | Episode 11 | 2012-04-14 | 30 | |
| 12 | 82 | Episode 12 | 2012-04-21 | 30 | |
| 13 | 83 | Episode 13 | 2012-04-21 | 30 | Clerical errors create chaos in Philadelphia; Detroit booters dampen holiday spirits. |
Season 6
| Episode No. | No. Overall | Title | Airdate | Runtime | Summary |
| --- | --- | --- | --- | --- | --- |
| 1 | 84 | Episode 1 | 2012-02-11 | 30 | |
| 2 | 85 | Episode 2 | 2012-02-11 | 30 | |
| 3 | 86 | Episode 3 | 2012-02-18 | 30 | "Johnny Tickets" lives up to his nickname; bar patrons get rowdy. |
| 4 | 87 | Episode 4 | 2012-02-18 | 30 | A football player tries to protect his mother's car; Ponytail endures a mischief-filled beat. |
| 5 | 88 | Episode 5 | 2012-02-25 | 30 | |
| 6 | 89 | Episode 6 | 2012-02-25 | 30 | |
| 7 | 90 | Episode 7 | 2012-03-03 | 30 | |
| 8 | 91 | Episode 8 | 2012-03-03 | 30 | |
| 9 | 92 | Episode 9 | 2012-04-07 | 30 | |
| 10 | 93 | Episode 10 | 2012-04-14 | 30 | Eric angers a man who is ticketed next to his home; Patty tries to get drivers to obey the rules; repeat offenders challenge Louann. |
| 11 | 94 | Episode 11 | 2012-04-14 | 30 | |
| 12 | 95 | Episode 12 | 2012-04-21 | 30 | |
| 13 | 96 | Episode 13 | 2012-04-21 | 30 | |
| 14 | 97 | Episode 14 | 2012-10-06 | 30 | |
| 15 | 98 | Episode 15 | 2012-10-06 | 30 | |
| 16 | 99 | Episode 16 | 2012-10-13 | 30 | Irritated illegal parkers call Johnny every name in the book; Uncle Jojo removes cars lacking residential permits; Sonjia tries to impart parking wisdom upon uneducated Detroit drivers. |
| 17 | 100 | Episode 17 | 2012-10-13 | 30 | |
| 18 | 101 | Episode 18 | 2012-10-20 | 30 | |
| 19 | 102 | Episode 19 | 2012-10-20 | 30 | |
| 20 | 103 | Episode 20 | 2012-10-27 | 30 | |
| 21 | 104 | Episode 21 | 2012-10-27 | 30 | |
| 22 | 105 | Episode 22 | 2012-11-10 | 30 | |
| 23 | 106 | Episode 23 | 2012-11-10 | 30 | |
| 24 | 107 | Episode 24 | 2012-11-17 | 30 | |
| 25 | 108 | Episode 25 | 2012-11-17 | 30 | |
| 26 | 109 | Episode 26 | 2012-12-08 | 30 | |
| 27 | 110 | Episode 27 | 2012-12-08 | 30 | |
| 28 | 111 | Episode 28 | 2012-12-15 | 30 | |
| 29 | 112 | Episode 29 | 2012-12-15 | 30 | |
| 30 | 113 | Episode 30 | 2012-12-22 | 30 | |
| 31 | 114 | Episode 31 | 2012-12-22 | 30 | |
| 32 | 115 | Episode 32 | 2012-12-22 | 30 | |
Related News
TVMaze