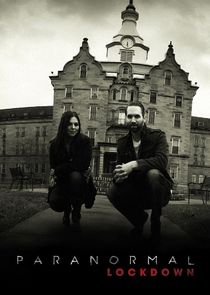 Paranormal Lockdown, hosted by paranormal all-star Nick Groff and co-hosted by seasoned ghost hunter Katrina Weidman, follows the two as they confine themselves in America's most terrifying places for an unprecedented 72 hours straight. Living at haunted locations, many of which have never before been seen on television, some being investigated for the first time ever, Groff and Weidman believe that the longer they stay, the more the spirits will communicate with them and the more information they can gather about the unknown. From the creepy Kreischer Mansion on Staten Island to the foreboding Franklin Castle in Cleveland.
Series Overview
Rating
imDb Rating: 7.1 (1,233 Votes)
Metascore: N/A
Plot
Renowned Paranormal Investigators spend 72 hours locked down in haunted locations to try to capture groundbreaking evidence.
Details
Rated: TV-14
Released: 04 Mar 2016
Runtime: 42 min
Genre: Reality-TV
Director: N/A
Writer: Nick Groff
Actors: Nick Groff, Katrina Weidman
Language: English
Country: USA
Awards: N/A
Total Seasons: 3
Previous Episode
Hinchingbrooke House
Episode 4x10; Nov 01, 2018
The historic Hinchingbrooke estate has hosted English royalty and nobles - but it also reportedly harbours a horrific haunting. Nick and Katrina investigate.
Previous Episodes 4x10: Hinchingbrooke House 4x9: The Kenton Theatre 4x8: The Mill Street Barracks 4x7: Margam Castle 4x6: Newsham Park Hospital 4x5: The Skegness Hell House 4x4: The Abandoned Park Hotel 4x3: The Royal Oak Pub 4x2: Drakelow Tunnels

View All Episodes
Cast
Nick Groff as Nick Groff
Katrina Weidman as Katrina Weidman
View Full Cast
Skip to:
Season 1
| Episode No. | No. Overall | Title | Airdate | Runtime | Summary |
| --- | --- | --- | --- | --- | --- |
| 1 | 1 | Trans-Allegheny Lunatic Asylum | 2016-03-04 | 60 | For Katrina, it's her first time inside Trans-Allegheny Lunatic Asylum, the enormous, abandoned and haunted facility in West Virginia. For Nick, it is a return to the place where he had one of his most profound paranormal experiences. |
| 2 | 2 | Anderson Hotel | 2016-03-11 | 60 | When the Anderson Hotel in Lawrenceburg, Kentucky closed its doors, not everyone checked out. Over their 72-hour confinement, Nick and Katrina watch helplessly as their cameraman is savagely bitten. |
| 3 | 3 | Franklin Castle | 2016-03-18 | 60 | Nick Groff and Katrina Weidman arrive in Cleveland, Ohio to investigate a Victorian mansion's haunted secrets. Over the course of their 72-hour investigation, Nick and Katrina capture unnerving voices pleading for help. |
| 4 | 4 | Randolph County Infirmary | 2016-03-25 | 60 | When Nick and Katrina arrive to investigate residual hauntings inside the long-shuttered Randolph County Infirmary in Winchester, Indian, they are alarmed to discover not every resident has left. |
| 5 | 5 | Hinsdale House | 2016-04-01 | 60 | A house in Hinsdale, New York draws Nick and Katrina to investigate its demonic past, and Nick is caught in a psychological war against good and evil. |
| 6 | 6 | Kreischer Mansion | 2016-04-08 | 60 | Nick and Katrina are in Staten Island, New York to seek answers on who is haunting the infamous Kreischer Mansion. Legend states that during the late 1800's several seances were conducted inside the mansion. |
Season 2
| Episode No. | No. Overall | Title | Airdate | Runtime | Summary |
| --- | --- | --- | --- | --- | --- |
| 1 | 7 | Monroe House | 2016-12-16 | 60 | Nick and Katrina pull back the curtain on their investigations, with never-before-seen footage; while untangling the mysteries of Monroe House, spirits lead Nick and Katrina to uncover the haunting's chilling sources. |
| 2 | 8 | Shrewsbury Prison | 2016-12-23 | 60 | A visit to England features the historic prison in Shrewsbury, aka the Dana, where Nick and Katrina investigate 200 years of executions, torture and suicides. |
| 3 | 9 | Oliver House | 2016-12-30 | 60 | Nick and Katrina visit a historic manor in Middleboro, Mass., to determine if it's unsafe for tourists; Katrina investigates hauntings beyond the house; the paranormal activity hits too close to home for Nick. |
| 4 | 10 | St. Ignatius Hospital | 2017-01-06 | 60 | St. Ignatius Hospital in Colfax, Washington has been abandoned since 2003, but Nick and Katrina soon realize they are not alone in the hospital. |
| 5 | 11 | Waverly Hills & Trans-Allegheny Unlocked | 2017-01-13 | 120 | Nick and Katrina set out to document the elusive shadow figures lurking within the expansive corridors of Waverly Hills Sanatorium in Louisville, Ky.; investigating the Trans-Allegheny Lunatic Asylum in Weston, W.Va. |
| 6 | 12 | Bellaire House & Hinsdale House Unlocked | 2017-01-20 | 60 | The team is called to Ohio to help a bereft mother identify the dark energy forcing her family to flee their home, gaining chilling evidence about the spirit's evil intentions. |
| 7 | 13 | Statler City Hotel & Anderson Hotel Unlocked | 2017-01-27 | 60 | Nick and Katrina discover that the ghostly remains of a hotel's sordid underground history may have no intention of staying buried; Nick and Katrina learn not everyone has checked out of the Anderson Hotel. |
| 8 | 14 | White Hill Mansion & Kreischer Mansion Unlocked | 2017-02-03 | 60 | Nick and Katrina gather visual evidence of a child in the attic, but a mansion's history as a mob hangout have them questioning whether all the spirits they encounter are that innocent. |
| 9 | 15 | Malvern Manor & Franklin Castle Unlocked | 2017-02-10 | 60 | Drawn to small town Iowa by reports of aggressive shadow figures, Nick and Katrina venture to the harrowing halls of Malvern Manor to capture evidence of the fearsome phenomenon. |
| 10 | 16 | Rampart St Murder House & Randolph County Infirmary Unlocked | 2017-02-17 | 60 | On the 10th anniversary of New Orleans' most gruesome murder, the death of Addie Hall by her boyfriend Zack Bowen, Nick and Katrina return to the scene of the crime to find what spirits still remain. |
| 11 | 17 | Scutt Mansion & Monroe House Unlocked | 2017-02-24 | 60 | After the owner's tragic death, a Victorian mansion reportedly curses all who live inside; Nick and Katrina deal with wraiths that are at odds with each other. |
| 12 | 18 | Old Chatham County Jail & Shrewsbury Prison Unlocked | 2017-03-03 | 60 | Nick and Katrina investigate a haunted jail in Savannah; haunted by phantom noises during their confinement, they realize that they are not alone. |
| 13 | 19 | Evidence Revealed | 2017-03-10 | 60 | Nick, Katrina and fellow enthusiast, Aaron Sagers, recount their 72-hour investigations with unseen footage and in-depth evidence analysis |
Season 3
| Episode No. | No. Overall | Title | Airdate | Runtime | Summary |
| --- | --- | --- | --- | --- | --- |
| 1 | 20 | Old Sweet Springs | 2018-03-01 | 60 | Nick and Katrina submerge themselves among the spirits of West Virginia's Old Sweet Springs Resort. What lurks beneath the surface at this once-idyllic retreat? |
| 2 | 21 | Wildwood Sanitorium | 2018-03-08 | 60 | Nick Groff and Katrina Weidman visit Wildwood Sanitorium, New York. After its conversion into apartments, tenants have reported an unnerving male presence and furniture being rearranged. |
| 3 | 22 | Higginsport School | 2018-03-15 | 60 | Paranormal investigators Nick Groff and Katrina Weidman visit the now former Higginsport School in Ohio. |
| 4 | 23 | Jim Beam Distillery | 2018-03-22 | 60 | Ghost hunters Nick Groff and Katrina Weidman visit Kentucky's Jim Beam Distillery, exploring employee claims that bourbon is not the only spirit locked inside its huge warehouse. |
| 5 | 24 | Cambria Jail | 2018-03-29 | 60 | Nick and Katrina Weidman explore the Cambria County Jail in Pennsylvania, which once housed the area's worst criminals, staging executions in its early days. |
| 6 | 25 | Bobby Mackey's Music World | 2018-04-05 | 60 | |
| 7 | 26 | Monroe House Revisit | 2018-04-12 | 60 | After Nick and Katrina found human bones in their first lockdown at the Monroe House, they thought the case was closed. Now they return to explore further. |
| 8 | 27 | Beattie Mansion | 2018-04-19 | 60 | A threatening presence brings the construction on the Beattie Mansion to a standstill; Nick and Katrina use cutting edge experiments to lure out the ominous spirits. |
Series Cast
| | | | |
| --- | --- | --- | --- |
| | Nick Groff | as Nick Groff | |
| | Katrina Weidman | as Katrina Weidman | |
Related News
Movies on TV this week: 'Silence of the Lambs'
Ed Stockly (Latimes.com)
Movies on TV this week: Sunday, Nov. 17: 'Silence of the Lambs'
Article preview:
Four Star Films, Box Office Hits, Indies and Imports, Movies A - Z FOUR STAR FILMS Top rated movies and made-for-TV films airing the week of the week of Nov 17 - 23, 2019 Almost Famous (2000) Sundance Fri. 2 a.m. Beauty and the Beast (1946) TCM Thur. 1… [+274755 chars]
TVMaze