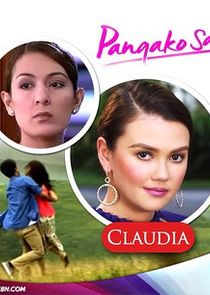 Pangako Sa 'Yo (This I Promise You) is a primetime soap opera series produced and broadcast by the Philippine media network ABS-CBN. It is dubbed the first "teleserye" on Philippine television. It starred Kristine Hermosa and Jericho Rosales. The soap, which ran from 2000 to 2002, spanned 486 episodes at 30 minutes each. The show posted an all-time high rating of 64.9% during its September 2002 series finale, posting the country's second highest rating for any episode by a TV series next to Esperanza and Labs Ko Si Babe, and the highest rated finale episode for any Filipino TV series. The story begins with the romance between Amor de Jesus (Eula Valdez) and Eduardo Buenavista (Tonton Gutierrez). Eduardo's mother, Doña Benita (Liza Lorena), opposes the relationship since Amor was a housemaid and because she wanted Eduardo to marry Claudia (Jean Garcia) for political reasons. Doña Benita asked Eduardo's brother, Diego (Jestoni Alarcon), who has a crush on Amor, to separate them. On seeing Diego trying to rape Amor, Eduardo mistook it as them having a relationship, breaking his heart and prompting him to marry Claudia. A now-pregnant Amor is banished from the Buenavista hacienda, and she returns to living with her mother at the dumpsite. She vows revenge on the Buenavista family when she finds out that Eduardo has married Claudia.
After giving birth to a girl named María Amor (who turned out to be Yna) (Kristine Hermosa), Amor and her friend Lourdes (Amy Austria) survived by working in clubs. Amor caught the eye of a rich American named James Powers, who brings her to the United States. She leaves her child and mother named Chayong (Perla Bautista) at the dumpsite and sends money to them from time to time. James Powers proves abusive towards Amor, forbidding her from returning home when a landslide hit the dumpsite. Amor think that her mother and daughter had died, and in retaliation does not get her husband medical help when he suffered a stroke. Powers dies, and Amor inherits his fortune.
Eduardo and Claudia had two children: Angelo (Jericho Rosales) and Lia (Jodi Sta. Maria). Eduardo is the governor of the province of Punta Verde while Claudia has become the ever-elusive Gambling Queen. Angelo is a rebel who dislikes his father while Lia is a sweet, devout Catholic teenager whose feelings everyone wants to protect.
Amor's daughter survives the landslide and is adopted by Isko (Cris Daluz) and Belen Macaspac (Eva Darren). They already had a son named Caloy (Jay Manalo), who hated Yna. The couple found drawings Eduardo made for Amor, signed "Ynamorata" near the abandoned child, so they decided to call the little girl they found Ynamorata. Isko and Belen soon had another child, Flerida (Hazel Ann Mendoza).
Doña Benita regretted forcing Eduardo to marry Claudia, as her daughter-in-law turned out to be cruel. She tried to explain on her deathbed that it was she who broke his relationship with Amor, but died before explaining. To atone for her sins, Doña Benita's spirit haunts the dreams of the grown Yna.
By accident, Yna and Eduardo meet, and Yna dreams of Doña Benita showing her that her past lies in the Buenavista family. Intrigued, she gets a job working as a housemaid for the family. Yna and Angelo fall in love, much to Claudia's chagrin. She looks down on maids, and actively makes Yna's life a living hell.
Amor Powers returns to the Philippines from the United States after making a name for herself in the business world. Amor had been all the while planning her revenge on the Buenavista family, whom she blamed for her past sufferings as well as the assumed death of her child. The dilemma is that, after finding out that Yna's true father is Eduardo, Angelo and Yna are therefore half-siblings. It is later revealed that Angelo's biological father is not Eduardo, and it was initially thought to have been Simon (John Arcilla), Claudia's former, impoverished lover. It is later revealed that Diego (who is adopted) sired Angelo with a poor woman named Thelma who had died.
It turns out that Claudia had a daughter with Simon; Claudia's father later switched the babies after Doña Benita demanded a male heir to the family fortune (the boy that replaced the girl was revealed to be Angelo). The daughter's name was Maria Amor (Dianne dela Fuente), and she was raised by an old woman named Puríng (Anita Linda), who had her believing she was Amor's daughter. Everyone, including Claudia, later on briefly mistook Maria Amor (whose birth name was Clarissa) to be Amor and Eduardo's daughter.
To exact revenge on Amor, Claudia kills Maria Amor, but later finds out the girl's true identity as her daughter and was deeply crushed. Her heart immediately got filled with more anger towards Amor as well as regret. She planned to kill the whole Buenavista family at Yna and Angelo's wedding but everyone made her realize how important she is and how she should bring out the goodness in her heart that was once changed by hatred, greed and revenge. She realizes everything and reconciles with everyone at Yna and Angelo's wedding. While she was kneeling infront of everyone, she sees her daughter's spirit at the altar and begs forgiveness. Claudia is forgiven by everyone but because of her past crimes, she was sentenced to lifelong imprisonment. And a little while later, Amor gave her Maria Amor's ashes (Clarissa).
Five years later, each the major characters are happy and reunited with their true loves: Yna marries Angelo, Claudia marries Simon inside prison, while Amor and Eduardo were wed at last.
Overview
Rating
imDb Rating: ( Votes)
Metascore:
Plot
Details
Rated:
Released:
Runtime:
Genre:
Director:
Writer:
Actors:
Language:
Country:
Awards:
Total Seasons:
Previous Episode
Panahon 2, Episodyo 243
Episode 2x243; Sep 20, 2002
Cast
Kristine Hermosa as Ynamorata "Yna" Macaspac-Buenavista / Maria Amor de Jesus
Jericho Rosales as Angelo Buenavista / Nathaniel dela Merced
Eula Valdez as Amor de Jesus-Powers / Amor de Jesus-Buenavista
Jean Garcia as Madam Claudia Zalameda-Buenavista / Claudia Zalameda-Barcial
Tonton Gutierrez as Governor Eduardo Buenavista
Jestoni Alarcon as Diego Buenavista / Vincent San Gabriel
View Full Cast
Series Cast
| | | | |
| --- | --- | --- | --- |
| | Kristine Hermosa | as Ynamorata "Yna" Macaspac-Buenavista / Maria Amor de Jesus | |
| | Jericho Rosales | as Angelo Buenavista / Nathaniel dela Merced | |
| | Eula Valdez | as Amor de Jesus-Powers / Amor de Jesus-Buenavista | |
| | Jean Garcia | as Madam Claudia Zalameda-Buenavista / Claudia Zalameda-Barcial | |
| | Tonton Gutierrez | as Governor Eduardo Buenavista | |
| | Jestoni Alarcon | as Diego Buenavista / Vincent San Gabriel | |
| | Amy Austria | as Lourdes Magbanua-Buenavista | |
Related News
TVMaze