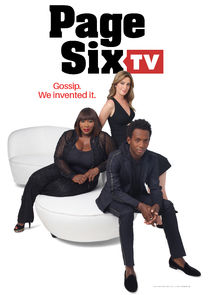 Page Six TV is modeled after the style of the Page Six newspaper column, the show will feature gossip and news from entertainment, culture, the media, finance, real estate and politics.
Series Overview
Rating
imDb Rating: 4.1 (15 Votes)
Metascore: N/A
Plot
A daily show dedicated to gossip and news from all facets of American culture, from entertainment to media, finance, real estate and politics.
Details
Rated: TV-PG
Released: 18 Sep 2017
Runtime: 30 min
Genre: News
Director: N/A
Writer: N/A
Actors: Carlos Greer, Elizabeth Wagmeister, Bevy Smith, Brian Balthazar
Language: English
Country: USA
Awards: N/A
Total Seasons: 1
Previous Episode
Episode 57
Episode 2x57; Dec 04, 2018
On Tuesday, December 4,music producer and entrepreneur Swizz Beatz will appear on "Page Six TV." He will discuss his latest hip-hop album "Poison," and collaborating with other famous musicians on the album. Beatz will also share his family holiday traditions with wife Alicia Keys and discuss the couple's epic birthday parties they throw for each other.
Previous Episodes 2x57: Episode 57 2x56: Episode 56 2x1: Episode 1 1x175: Episode 175 1x174: Episode 174 1x173: Episode 173 1x172: Episode 172 1x171: Episode 171 1x170: Episode 170

View All Episodes
Cast
John Fugelsang as Host
Elizabeth Wagmeister as Host
Bevy Smith as Host
Carlos Greer as Host
View Full Cast
Skip to:
Season 1
| Episode No. | No. Overall | Title | Airdate | Runtime | Summary |
| --- | --- | --- | --- | --- | --- |
| 1 | 1 | Episode 1 | 2017-09-18 | 60 | |
| 2 | 2 | Episode 2 | 2017-09-19 | 60 | |
| 3 | 3 | Episode 3 | 2017-09-20 | 60 | |
| 4 | 4 | Episode 4 | 2017-09-21 | 60 | |
| 5 | 5 | Episode 5 | 2017-09-22 | 60 | |
| 6 | 6 | Episode 6 | 2017-09-25 | 60 | |
| 7 | 7 | Episode 7 | 2017-09-26 | 60 | |
| 8 | 8 | Episode 8 | 2017-09-27 | 60 | |
| 9 | 9 | Episode 9 | 2017-09-28 | 60 | Plus One guest Craig Robinson (``Ghosted''). |
| 10 | 10 | Episode 10 | 2017-09-29 | 60 | Plus One guest Terry Crews (``Brooklyn Nine-Nine''). |
| 11 | 11 | Episode 11 | 2017-10-02 | 60 | |
| 12 | 12 | Episode 12 | 2017-10-03 | 60 | |
| 13 | 13 | Episode 13 | 2017-10-04 | 60 | Musician Tamar Braxton. |
| 14 | 14 | Episode 14 | 2017-10-05 | 60 | Actors Vivica A. Fox and Hassan Johnson. |
| 15 | 15 | Episode 15 | 2017-10-06 | 60 | |
| 16 | 16 | Episode 16 | 2017-10-09 | 60 | |
| 17 | 17 | Episode 17 | 2017-10-10 | 60 | |
| 18 | 18 | Episode 18 | 2017-10-11 | 60 | |
| 19 | 19 | Episode 19 | 2017-10-12 | 60 | |
| 20 | 20 | Episode 20 | 2017-10-13 | 60 | |
| 21 | 21 | Episode 21 | 2017-10-16 | 60 | |
| 22 | 22 | Episode 22 | 2017-10-17 | 60 | |
| 23 | 23 | Episode 23 | 2017-10-18 | 60 | |
| 24 | 24 | Episode 24 | 2017-10-19 | 60 | Dr. Mehmet Oz (``The Dr. Oz Show''). |
| 25 | 25 | Episode 25 | 2017-10-20 | 60 | |
| 26 | 26 | Episode 26 | 2017-10-23 | 60 | Comic Matteo Lane (``Janice and Jeffrey''). |
| 27 | 27 | Episode 27 | 2017-10-24 | 60 | |
| 28 | 28 | Episode 28 | 2017-10-25 | 60 | |
| 29 | 29 | Episode 29 | 2017-10-26 | 60 | |
| 30 | 30 | Episode 30 | 2017-10-27 | 60 | |
| 31 | 31 | Episode 31 | 2017-10-30 | 60 | |
| 32 | 32 | Episode 32 | 2017-10-31 | 60 | |
| 33 | 33 | Episode 33 | 2017-11-01 | 60 | |
| 34 | 34 | Episode 34 | 2017-11-02 | 60 | |
| 35 | 35 | Episode 35 | 2017-11-03 | 60 | |
| 36 | 36 | Episode 36 | 2017-11-06 | 60 | |
| 37 | 37 | Episode 37 | 2017-11-07 | 60 | |
| 38 | 38 | Episode 38 | 2017-11-08 | 60 | |
| 39 | 39 | Episode 39 | 2017-11-09 | 60 | |
| 40 | 40 | Episode 40 | 2017-11-10 | 60 | |
| 41 | 41 | Episode 41 | 2017-11-13 | 60 | |
| 42 | 42 | Episode 42 | 2017-11-14 | 60 | |
| 43 | 43 | Episode 43 | 2017-11-15 | 60 | |
| 44 | 44 | Episode 44 | 2017-11-16 | 60 | |
| 45 | 45 | Episode 45 | 2017-11-17 | 60 | |
| 46 | 46 | Episode 46 | 2017-11-20 | 60 | |
| 47 | 47 | Episode 47 | 2017-11-21 | 60 | |
| 48 | 48 | Episode 48 | 2017-11-22 | 60 | |
| 49 | 49 | Episode 49 | 2017-11-23 | 60 | |
| 50 | 50 | Episode 50 | 2017-11-24 | 60 | |
| 51 | 51 | Episode 51 | 2017-11-27 | 60 | |
| 52 | 52 | Episode 52 | 2017-11-28 | 60 | |
| 53 | 53 | Episode 53 | 2017-11-29 | 60 | |
| 54 | 54 | Episode 54 | 2017-11-30 | 60 | |
| 55 | 55 | Episode 55 | 2017-12-01 | 60 | |
| 56 | 56 | Episode 56 | 2017-12-04 | 60 | |
| 57 | 57 | Episode 57 | 2017-12-05 | 60 | |
| 58 | 58 | Episode 58 | 2017-12-06 | 60 | |
| 59 | 59 | Episode 59 | 2017-12-07 | 60 | |
| 60 | 60 | Episode 60 | 2017-12-08 | 60 | |
| 61 | 61 | Episode 61 | 2017-12-11 | 60 | |
| 62 | 62 | Episode 62 | 2017-12-12 | 60 | |
| 63 | 63 | Episode 63 | 2017-12-13 | 60 | |
| 64 | 64 | Episode 64 | 2017-12-14 | 60 | |
| 65 | 65 | Episode 65 | 2017-12-15 | 60 | |
| 66 | 66 | Episode 66 | 2017-12-18 | 60 | |
| 67 | 67 | Episode 67 | 2017-12-19 | 60 | |
| 68 | 68 | Episode 68 | 2017-12-20 | 60 | |
| 69 | 69 | Episode 69 | 2017-12-21 | 60 | |
| 70 | 70 | Episode 70 | 2017-12-22 | 60 | |
| 71 | 71 | Episode 71 | 2017-12-25 | 60 | |
| 72 | 72 | Episode 72 | 2017-12-26 | 60 | |
| 73 | 73 | Episode 73 | 2017-12-27 | 60 | |
| 74 | 74 | Episode 74 | 2017-12-28 | 60 | |
| 75 | 75 | Episode 75 | 2017-12-29 | 60 | |
| 136 | 76 | Episode 136 | 2018-03-26 | 60 | |
| 137 | 77 | Episode 137 | 2018-03-27 | 60 | |
| 138 | 78 | Episode 138 | 2018-03-28 | 60 | |
| 139 | 79 | Episode 139 | 2018-03-29 | 60 | |
| 140 | 80 | Episode 140 | 2018-03-30 | 60 | |
| 141 | 81 | Episode 141 | 2018-04-02 | 60 | |
| 142 | 82 | Episode 142 | 2018-04-03 | 60 | |
| 143 | 83 | Episode 143 | 2018-04-04 | 60 | |
| 144 | 84 | Episode 144 | 2018-04-05 | 60 | |
| 145 | 85 | Episode 145 | 2018-04-06 | 60 | |
| 146 | 86 | Episode 146 | 2018-04-09 | 60 | |
| 147 | 87 | Episode 147 | 2018-04-10 | 60 | |
| 148 | 88 | Episode 148 | 2018-04-11 | 60 | |
| 149 | 89 | Episode 149 | 2018-04-12 | 60 | |
| 150 | 90 | Episode 150 | 2018-04-13 | 60 | |
| 151 | 91 | Episode 151 | 2018-04-16 | 60 | |
| 152 | 92 | Episode 152 | 2018-04-17 | 60 | |
| 153 | 93 | Episode 153 | 2018-04-18 | 60 | |
| 154 | 94 | Episode 154 | 2018-04-19 | 60 | |
| 155 | 95 | Episode 155 | 2018-04-20 | 60 | |
| 156 | 96 | Episode 156 | 2018-04-23 | 60 | |
| 157 | 97 | Episode 157 | 2018-04-24 | 60 | |
| 158 | 98 | Episode 158 | 2018-04-25 | 60 | |
| 159 | 99 | Episode 159 | 2018-04-26 | 60 | |
| 160 | 100 | Episode 160 | 2018-04-27 | 60 | |
| 161 | 101 | Episode 161 | 2018-04-30 | 60 | |
| 162 | 102 | Episode 162 | 2018-05-01 | 60 | |
| 163 | 103 | Episode 163 | 2018-05-02 | 60 | |
| 164 | 104 | Episode 164 | 2018-05-03 | 60 | |
| 165 | 105 | Episode 165 | 2018-05-04 | 60 | |
| 166 | 106 | Episode 166 | 2018-05-07 | 60 | |
| 167 | 107 | Episode 167 | 2018-05-08 | 60 | |
| 168 | 108 | Episode 168 | 2018-05-09 | 60 | |
| 169 | 109 | Episode 169 | 2018-05-10 | 60 | |
| 170 | 110 | Episode 170 | 2018-05-11 | 60 | |
| 171 | 111 | Episode 171 | 2018-05-14 | 60 | On Monday, May 14, "The Real Housewives of New York City's" Sonja Morgan joins Page Six TV's insiders Bevy Smith, Carlos Greer, and Elizabeth Wagmeister. Sonja is an entrepreneur who has launched a fashion lifestyle brand, plus a prosecco and rosé wine line. |
| 172 | 112 | Episode 172 | 2018-05-15 | 60 | "The Real Housewives of Potomac's" Ashley Darby will appear on Tuesday, May 15. Ashley won the Miss District of Columbia Pageant in 2011 and is a yoga instructor and owner of "Oz Restaurant and Bar." |
| 173 | 113 | Episode 173 | 2018-05-16 | 60 | On Wednesday, May 16, "The Real Housewives of New York City's" Tinsley Mortimer joins our insiders. Tinsley was a beauty ambassador for Christian Dior and even helped to create her own lip gloss coined "Tinsley Pink." She also has her own handbag line and clothing collection. |
| 174 | 114 | Episode 174 | 2018-05-17 | 60 | "The Real Housewives of New York City's" Dorinda Medley will be a guest on Thursday, May 17. Dorinda is an entrepreneur and fundraises for numerous charitable causes. |
| 175 | 115 | Episode 175 | 2018-05-18 | 60 | On Friday, May 18, "The Real Housewives of New York City's" Luann De Lesseps joins our insiders. Luann has her own fashion line and home bedding collection. She recently appeared in her first cabaret show "Countess And Friends" at Feinstein's 54 Below and is now set to travel across the country this Spring/Summer. |
Series Cast
| | | | |
| --- | --- | --- | --- |
| | John Fugelsang | as Host | |
| | Elizabeth Wagmeister | as Host | |
| | Bevy Smith | as Host | |
| | Carlos Greer | as Host | |
Related News
TVMaze