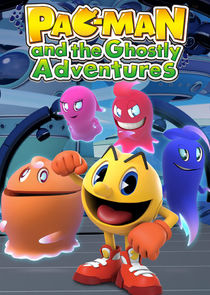 Pac-Man and the Ghostly Adventures is an animated series based on Namco's classic video game character, Pac-Man.
The series takes place on and around the planet Pac-World as well as its Nether-World. Pac-Man and his friends (Spiral and Cylindria) help to protect citizens from the threat of Ghosts after the seal that locked up the Netherworld was accidentally opened by Pac.
Series Overview
Rating
imDb Rating: 4.8 (422 Votes)
Metascore: N/A
Plot
Pacman saves pacworld from ghosts with his friends Cyli and Spiral.
Details
Rated: TV-Y7
Released: 15 Jun 2013
Runtime: 30 min
Genre: Animation, Action, Comedy, Drama, Family, Fantasy, Sci-Fi
Director: N/A
Writer: N/A
Actors: Erin Mathews, Ashleigh Ball, Brian Drummond, Sam Vincent
Language: English, Japanese, Spanish
Country: USA, Japan, Canada
Awards: 6 nominations.
Total Seasons: 3
Previous Episode
New Girl in Town
Episode 2x26; Apr 25, 2015
Previous Episodes 2x26: New Girl in Town 2x25: Santa Pac 2x24: Pac's Very Scary Halloween - Part Two 2x23: Pac's Very Scary Halloween - Part One 2x22: Honey, I Digitized the Pac-Man 2x21: Indiana Pac and the Dentures of Doom 2x20: The Wizard of Odd 2x19: The Legend of Creepy Hollow 2x18: Easter Egg Island

View All Episodes
Recent News
Best Nintendo Gifts
What are the best video games and accessories for kids and families? We've created a gift guide for Nintendo lovers including the best Nintendo consoles, games, products and more. NINTENDO CONSOLES Nintendo Switch Play your way with the Nintendo Switch gaming…
via NewsAPI
View More Related News
Skip to:
Season 1
| Episode No. | No. Overall | Title | Airdate | Runtime | Summary |
| --- | --- | --- | --- | --- | --- |
| 1 | 1 | The Adventure Begins Part I | 2013-06-15 | 30 | |
| 2 | 2 | The Adventure Begins Part II | 2013-06-15 | 30 | |
| 3 | 3 | No Pets Allowed... Especially Monsters Part I | 2013-06-19 | 30 | |
| 4 | 4 | No Pets Allowed... Especially Monsters Part II | 2013-06-20 | 30 | |
| 5 | 5 | All You Can Eat | 2013-06-21 | 30 | Lord Betrayus wants to make Pac full so he won't be able to eat anything else including ghosts. |
| 6 | 6 | President Possessed! | 2013-06-23 | 30 | President Spheros starts behaving strangely and makes Pac and his friends suspicious. |
| 7 | 7 | Is Zit You Or Is Zit Me? | 2013-06-25 | 30 | |
| 8 | 8 | Pac to the Future | 2013-06-26 | 30 | |
| 9 | 9 | Heebo-Skeebo | 2013-06-27 | 30 | |
| 10 | 10 | Mission ImPacable! | 2013-06-28 | 30 | |
| 11 | 11 | No Body Knows | 2013-07-01 | 30 | |
| 12 | 12 | Seems Like Old Times | 2013-07-02 | 30 | |
| 13 | 13 | Betrayus Turns the Heat Up | 2013-07-03 | 30 | |
| 14 | 14 | Pac-Pong Fever | 2013-07-05 | 30 | |
| 15 | 15 | Driver's Pac | 2013-07-22 | 30 | |
| 16 | 16 | Jinxed | 2013-07-23 | 30 | |
| 17 | 17 | Indiana Pac & the Temple of Slime | 2013-08-31 | 30 | |
| 18 | 18 | Planet Pac | 2013-09-14 | 30 | |
| 19 | 19 | Stand By Your Pac-Man | 2013-09-21 | 30 | |
| 20 | 20 | PacLantis | 2013-09-28 | 30 | |
| 21 | 21 | Jurassic Pac | 2013-10-05 | 30 | |
| 22 | 22 | A Berry Scary Night | 2013-10-12 | 30 | |
| 23 | 23 | The Great Chase! | 2013-10-19 | 30 | |
| 24 | 24 | Robo Woes | 2013-10-26 | 30 | |
| 25 | 25 | The Spy Who Slimed Me | 2013-11-02 | 30 | |
| 26 | 26 | Invasion of the Pointy Heads | 2013-11-09 | 30 | |
Season 2
| Episode No. | No. Overall | Title | Airdate | Runtime | Summary |
| --- | --- | --- | --- | --- | --- |
| 1 | 27 | Ride The Wild Pac-Topus | 2014-06-09 | 30 | |
| 2 | 28 | Meanie Genie | 2014-06-10 | 30 | |
| 3 | 29 | Cave PAC-MAN | 2014-06-11 | 30 | |
| 4 | 30 | Cosmic Contest | 2014-06-12 | 30 | |
| 5 | 31 | That Smarts! | 2014-06-16 | 30 | |
| 6 | 32 | Pac-Mania | 2014-06-17 | 30 | |
| 7 | 33 | Rip Van Packle | 2014-06-23 | 30 | |
| 8 | 34 | Spooka-Bazooka! | 2014-06-24 | 30 | |
| 9 | 35 | The Pac Be With You | 2014-06-30 | 30 | |
| 10 | 36 | The Shadow of the Were-Pac | 2014-10-08 | 30 | |
| 11 | 37 | A Hard Dazed Knight | 2014-10-16 | 30 | |
| 12 | 38 | Cap'n Banshee and His Interstellar Buccaneers | 2014-10-17 | 30 | |
| 13 | 39 | Happy Holidays and a Merry Berry Day | 2014-12-02 | 30 | |
| 14 | 40 | Peace Without Slime | 2015-01-31 | 30 | |
| 15 | 41 | The Ghost Behind the Throne | 2015-02-07 | 30 | |
| 16 | 42 | Nerd is the Word | 2015-02-14 | 30 | |
| 17 | 43 | The Bride of Grinder | 2015-02-21 | 30 | |
| 18 | 44 | Easter Egg Island | 2015-02-28 | 30 | |
| 19 | 45 | The Legend of Creepy Hollow | 2015-03-07 | 30 | |
| 20 | 46 | The Wizard of Odd | 2015-03-14 | 30 | |
| 21 | 47 | Indiana Pac and the Dentures of Doom | 2015-03-21 | 30 | |
| 22 | 48 | Honey, I Digitized the Pac-Man | 2015-03-28 | 30 | |
| 23 | 49 | Pac's Very Scary Halloween - Part One | 2015-04-04 | 30 | |
| 24 | 50 | Pac's Very Scary Halloween - Part Two | 2015-04-11 | 30 | |
| 25 | 51 | Santa Pac | 2015-04-18 | 30 | |
| 26 | 52 | New Girl in Town | 2015-04-25 | 30 | |
Season 3
| Episode No. | No. Overall | Title | Airdate | Runtime | Summary |
| --- | --- | --- | --- | --- | --- |
Related News
Best Nintendo Gifts
jessicalieb (Thebkeepsushonest.com)
What are the best video games and accessories for kids and families? We've created a gift guide for Nintendo lovers including the best Nintendo consoles, games, products and more. NINTENDO CONSOLES Nintendo Switch Play your way with the Nintendo Switch gaming…
Article preview:
What are the best video games and accessories for kids and families? We've created a gift guide for Nintendo lovers including the best Nintendo consoles, games, products and more. NINTENDO CONSOLES Nintendo Switch Play your way with the Nintendo Switch ga… [+7397 chars]
TVMaze