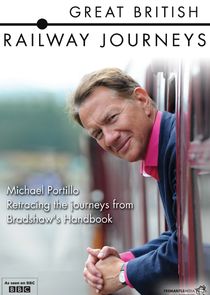 Documentary series in which Michael Portillo travels the length and breadth of the country by train.
Series Overview
Rating
imDb Rating: 8.0 (180 Votes)
Metascore: N/A
Plot
Michael Portillo makes various railway journeys across the UK, using a 150-year-old Bradshaw's Guide (a collection of railway timetables and a guidebook). He looks at the history, culture ...
Details
Rated: N/A
Released: 04 Jan 2010
Runtime: 30 min
Genre: Documentary
Director: N/A
Writer: N/A
Actors: Michael Portillo
Language: English
Country: UK
Awards: N/A
Total Seasons: 10
Previous Episode
Attleborough to Skegness
Episode 11x15; Jan 24, 2020
Previous Episodes 11x15: Attleborough to Skegness 11x14: Saxmundham to Norwich 11x13: Witham to Felixstowe 11x12: Limehouse to Rochford 11x11: Canterbury to Alexandra Palace 11x10: Taunton to Salisbury Plain 11x9: Paignton to Tiverton 11x8: Bodmin to Totnes 11x7: Truro to St Mawgan

View All Episodes
Skip to:
Season 1
| Episode No. | No. Overall | Title | Airdate | Runtime | Summary |
| --- | --- | --- | --- | --- | --- |
| 1 | 1 | Liverpool to Eccles | 2010-01-04 | 30 | |
| 2 | 2 | Manchester to Bury | 2010-01-05 | 30 | |
| 3 | 3 | Todmorden to York | 2010-01-06 | 30 | |
| 4 | 4 | Pontefract to Bridlington | 2010-01-07 | 30 | |
| 5 | 5 | Filey to Scarborough | 2010-01-08 | 30 | |
| 6 | 6 | Preston to Morecambe | 2010-01-11 | 30 | |
| 7 | 7 | Settle to Garsdale | 2010-01-12 | 30 | |
| 8 | 8 | Windermere to Kendal | 2010-01-13 | 30 | |
| 9 | 9 | Carlisle to Glasgow | 2010-01-14 | 30 | |
| 10 | 10 | Edinburgh to Kirkcaldy | 2010-01-15 | 30 | |
| 11 | 11 | Swindon to Bristol | 2010-01-18 | 30 | |
| 12 | 12 | Yatton to Weston Super Mare | 2010-01-19 | 30 | |
| 13 | 13 | Torquay to Totnes | 2010-01-20 | 30 | |
| 14 | 14 | Bugle to Mevagissey | 2010-01-21 | 30 | |
| 15 | 15 | Truro to Penzance | 2010-01-22 | 30 | |
| 16 | 16 | Buxton to Matlock | 2010-01-25 | 30 | |
| 17 | 17 | Cromford to Burton-on-Trent | 2010-01-26 | 30 | |
| 18 | 18 | Walsall to Bournville | 2010-01-27 | 30 | |
| 19 | 19 | Coventry to Watford | 2010-01-28 | 30 | |
| 20 | 20 | St Pancras to Westminster | 2010-01-29 | 30 | |
Season 2
| Episode No. | No. Overall | Title | Airdate | Runtime | Summary |
| --- | --- | --- | --- | --- | --- |
| 1 | 21 | Brighton to Crystal Palace | 2011-01-03 | 30 | |
| 2 | 22 | Waterloo to Canary Wharf | 2011-01-04 | 30 | |
| 3 | 23 | Enfield to Cambridge | 2011-01-05 | 30 | |
| 4 | 24 | Ely to King's Lynn | 2011-01-06 | 30 | |
| 5 | 25 | Dereham to Cromer | 2011-01-07 | 30 | |
| 6 | 26 | Ledbury to Shrewsbury | 2011-01-10 | 30 | |
| 7 | 27 | Telford to Wrexham | 2011-01-11 | 30 | |
| 8 | 28 | Chester to Conwy | 2011-01-12 | 30 | |
| 9 | 29 | Llanrwst to Porthmadog | 2011-01-13 | 30 | |
| 10 | 30 | Llanberis to Holyhead | 2011-01-14 | 30 | |
| 11 | 31 | Newcastle to Chester-le-Street | 2011-01-17 | 30 | |
| 12 | 32 | Durham to Grosmont | 2011-01-18 | 30 | |
| 13 | 33 | York to Saltaire | 2011-01-19 | 30 | |
| 14 | 34 | Batley to Sheffield | 2011-01-20 | 30 | |
| 15 | 35 | Langley Mill to Melton Mowbray | 2011-01-21 | 30 | |
| 16 | 36 | London Bridge to Chatham | 2011-01-24 | 30 | |
| 17 | 37 | Aylesford to Tunbridge Wells | 2011-01-25 | 30 | |
| 18 | 38 | Canterbury to Margate | 2011-01-26 | 30 | |
| 19 | 39 | Sandwich to Folkestone | 2011-01-27 | 30 | |
| 20 | 40 | Hythe to Hastings | 2011-01-28 | 30 | |
| 21 | 41 | Ayr to Paisley | 2011-01-31 | 30 | |
| 22 | 42 | Dumbarton to Tyndrum | 2011-02-01 | 30 | |
| 23 | 43 | Oban to Corrour | 2011-02-02 | 30 | |
| 24 | 44 | Roybridge to Glenfinnan | 2011-02-03 | 30 | |
| 25 | 45 | Lochailort to Skye | 2011-02-04 | 30 | |
Season 3
| Episode No. | No. Overall | Title | Airdate | Runtime | Summary |
| --- | --- | --- | --- | --- | --- |
| 1 | 46 | Great Yarmouth to Beccles | 2012-01-02 | 30 | |
| 2 | 47 | Darsham to Felixstowe | 2012-01-03 | 30 | |
| 3 | 48 | Sudbury to Southend | 2012-01-04 | 30 | |
| 4 | 49 | Epping to Hackney | 2012-01-05 | 30 | |
| 5 | 50 | Fenchurch to Embankment | 2012-01-06 | 30 | |
| 6 | 51 | Windsor to Didcot | 2012-01-09 | 30 | |
| 7 | 52 | Reading to Alton | 2012-01-10 | 30 | |
| 8 | 53 | Winchester to Isle of Wight | 2012-01-11 | 30 | |
| 9 | 54 | Brockenhurst to Poole | 2012-01-12 | 30 | |
| 10 | 55 | Wareham to Portland | 2012-01-13 | 30 | |
| 11 | 56 | Oxford to Pershore | 2012-01-16 | 30 | |
| 12 | 57 | Hartlebury to Great Malvern | 2012-01-17 | 30 | |
| 13 | 58 | Lydney to Newport | 2012-01-18 | 30 | |
| 14 | 59 | Cardiff to Brecon | 2012-01-19 | 30 | |
| 15 | 60 | Port Talbot to Milford Haven | 2012-01-20 | 30 | |
| 16 | 61 | Berwick-Upon-Tweed to Morpeth | 2012-01-23 | 30 | |
| 17 | 62 | Bardon Mill to Wigton | 2012-01-24 | 30 | |
| 18 | 63 | Cockermouth to Eskdale | 2012-01-25 | 30 | |
| 19 | 64 | Kirkby-in-Furness to Lancaster | 2012-01-26 | 30 | |
| 20 | 65 | Heysham to Snaefell | 2012-01-27 | 30 | |
| 21 | 66 | Bray to Dublin | 2012-01-30 | 30 | |
| 22 | 67 | Enfield to Drogheda | 2012-01-31 | 30 | |
| 23 | 68 | Dundalk to Portadown | 2012-02-01 | 30 | |
| 24 | 69 | Belfast to Whitehead | 2012-02-02 | 30 | |
| 25 | 70 | Ballymoney to Londonderry | 2012-02-03 | 30 | |
Season 4
| Episode No. | No. Overall | Title | Airdate | Runtime | Summary |
| --- | --- | --- | --- | --- | --- |
| 1 | 71 | High Wycombe to Stratford-upon-Avon | 2013-01-07 | 30 | |
| 2 | 72 | Birmingham to Stafford | 2013-01-08 | 30 | |
| 3 | 73 | Stoke-on-Trent to Winsford | 2013-01-09 | 30 | |
| 4 | 74 | Dudley to Bridgnorth | 2013-01-10 | 30 | |
| 5 | 75 | Welshpool to Aberystwyth | 2013-01-11 | 30 | |
| 6 | 76 | Portsmouth to Gomshall | 2013-01-14 | 30 | |
| 7 | 77 | Woking to Clapham Junction | 2013-01-15 | 30 | |
| 8 | 78 | London Victoria to Abbey Wood | 2013-01-16 | 30 | |
| 9 | 79 | London King's Cross to Peterborough | 2013-01-17 | 30 | |
| 10 | 80 | Spalding to Grimsby | 2013-01-18 | 30 | |
| 11 | 81 | Stirling to Invergowrie | 2013-01-21 | 30 | |
| 12 | 82 | Dundee to Aberdeen | 2013-01-22 | 30 | |
| 13 | 83 | Dufftown to Aviemore | 2013-01-23 | 30 | |
| 14 | 84 | Inverness to Plockton | 2013-01-24 | 30 | |
| 15 | 85 | Invergordon to John O'Groats | 2013-01-25 | 30 | |
| 16 | 86 | London Paddington to Warminster | 2013-01-28 | 30 | |
| 17 | 87 | Salisbury to Castle Cary | 2013-01-29 | 30 | |
| 18 | 88 | Taunton to Minehead | 2013-01-30 | 30 | |
| 19 | 89 | Lynton and Lynmouth to Exeter | 2013-01-31 | 30 | |
| 20 | 90 | Exmouth to Newton Abbot | 2013-02-01 | 30 | |
| 21 | 91 | Killarney to Cobh | 2013-02-04 | 30 | |
| 22 | 92 | Charleville to Waterford | 2013-02-05 | 30 | |
| 23 | 93 | Kilkenny to Athy | 2013-02-06 | 30 | |
| 24 | 94 | Newbridge to Roscrea | 2013-02-07 | 30 | |
| 25 | 95 | Athlone to Galway | 2013-02-08 | 30 | |
Season 5
| Episode No. | No. Overall | Title | Airdate | Runtime | Summary |
| --- | --- | --- | --- | --- | --- |
| 1 | 96 | Manchester to Birkenhead | 2014-01-06 | 30 | |
| 2 | 97 | Southport to Leyland | 2014-01-07 | 30 | |
| 3 | 98 | Preston to Rochdale | 2014-01-08 | 30 | |
| 4 | 99 | Haworth to Huddersfield | 2014-01-09 | 30 | |
| 5 | 100 | Honley to Chesterfield | 2014-01-10 | 30 | |
| 6 | 101 | London Euston to Cheddington | 2014-01-13 | 30 | |
| 7 | 102 | Bletchley to Newport Pagnell | 2014-01-14 | 30 | |
| 8 | 103 | Northampton to Nuneaton | 2014-01-15 | 30 | |
| 9 | 104 | Leicester to Loughborough | 2014-01-16 | 30 | |
| 10 | 105 | Nottingham to Leeds | 2014-01-17 | 30 | |
| 11 | 106 | Southampton to Basingstoke | 2014-01-20 | 30 | |
| 12 | 107 | Winchfield to Crowthorne | 2014-01-21 | 30 | |
| 13 | 108 | Wokingham to Bradford-on-Avon | 2014-01-22 | 30 | |
| 14 | 109 | Chippenham to Gloucester | 2014-01-23 | 30 | |
| 15 | 110 | Cheltenham to Wolverhampton | 2014-01-24 | 30 | |
| 16 | 111 | Norwich to Brandon | 2014-01-27 | 30 | |
| 17 | 112 | Ipswich to Chelmsford | 2014-01-28 | 30 | |
| 18 | 113 | Ilford to Rochester | 2014-01-29 | 30 | |
| 19 | 114 | Faversham to Dorking | 2014-01-30 | 30 | |
| 20 | 115 | Brighton to Chichester | 2014-01-31 | 30 | |
Season 6
| Episode No. | No. Overall | Title | Airdate | Runtime | Summary |
| --- | --- | --- | --- | --- | --- |
| 1 | 116 | Ayr to Stewarton | 2015-01-05 | 30 | |
| 2 | 117 | Greenock to Larkhall | 2015-01-06 | 30 | |
| 3 | 118 | Motherwell to Linlithgow | 2015-01-07 | 30 | |
| 4 | 119 | Stirling to Pitlochry | 2015-01-08 | 30 | |
| 5 | 120 | St Andrew's to Edinburgh | 2015-01-09 | 30 | |
| 6 | 121 | Amersham to Regent's Park | 2015-01-12 | 30 | |
| 7 | 122 | Deptford to West Silverton | 2015-01-13 | 30 | |
| 8 | 123 | Stratford to London Victoria | 2015-01-14 | 30 | |
| 9 | 124 | Covent Garden to Soho | 2015-01-15 | 30 | |
| 10 | 125 | High Street Kensington to London Bridge | 2015-01-16 | 30 | |
| 11 | 126 | Derby to Grantham | 2015-01-19 | 30 | |
| 12 | 127 | Boston to Hensall | 2015-01-20 | 30 | |
| 13 | 128 | Hessle to York | 2015-01-21 | 30 | |
| 14 | 129 | Middlesbrough to Hexham | 2015-01-22 | 30 | |
| 15 | 130 | Newcastle to Lindisfarne | 2015-01-23 | 30 | |
| 16 | 131 | Pembroke Dock to Swansea | 2015-01-26 | 30 | |
| 17 | 132 | Swansea to Hereford | 2015-01-27 | 30 | |
| 18 | 133 | Abergavenny to Hanborough | 2015-01-28 | 30 | |
| 19 | 134 | Oxford to Luton | 2015-01-29 | 30 | |
| 20 | 135 | Oakham to Cambridge | 2015-01-30 | 30 | |
Season 7
| Episode No. | No. Overall | Title | Airdate | Runtime | Summary |
| --- | --- | --- | --- | --- | --- |
| 1 | 136 | Carlisle to Penrith | 2016-01-04 | 30 | Michael begins his journey at a biscuit factory in Carlisle. He heads to a miniature railway display before heading out on Britain's only Via Ferrata, a tightrope challenge 300 feet above the Borrowdale Valley. |
| 2 | 137 | Windermere to Carnforth | 2016-01-05 | 30 | Michael continues his journey through the Lake District, were he learns more about the work of Beatrix Potter. He then heads to Brantwood, home to a famous Victorian art critic, before heading to Carnforth. |
| 3 | 138 | Preston to Swinton | 2016-01-06 | 30 | Michael heads to Preston where he discovers four millers were shot dead by soldiers. In Darwen he traces developments in interior design. Before heading to Kersal Moor were he learns more about the Lancashire dialect. |
| 4 | 139 | St Helens to Knutsford | 2016-01-07 | 30 | Michael begins this part of his journey in Merseyside, here he looks at the art of modern glassmaking and explores how buildings like Crystal Palace were constructed. |
| 5 | 140 | Ashley to Alton | 2016-01-08 | 30 | Michael heads to Ashley to explore villas with multiple chimneys. He then goes to Macclesfield, were he finds the end of the Silk Route. He then heads to Alton Towers to explore the modern theme park. |
| 6 | 141 | Dover to Lewes | 2016-01-11 | 30 | Michael heads from Dover to Lewes and attends an opera festival in the South Downs. |
| 7 | 142 | Newhaven to Worthing | 2016-01-12 | 30 | Michael heads from Newhaven to Worthing and picks some tomatoes. |
| 8 | 143 | Littlehampton to Beaulieu | 2016-01-13 | 30 | Michael journeys from Littlehampton to Beaulieu, where he gets the chance to drive the first motor car. |
| 9 | 144 | Lymington Town to Exmouth | 2016-01-14 | 30 | Michael journeys from Lymington Town to Exmouth, where he discovers a forgotten local artist. |
| 10 | 145 | Plymouth to Porthcurno | 2016-01-15 | 30 | Michael journeys from Plymouth to Porthcurno and learns how to make the perfect pasty. |
| 11 | 146 | Birmingham to Worcester | 2016-01-18 | 30 | Michael makes the journey from Birmingham to Worcester. |
| 12 | 147 | Redditch to Gloucester | 2016-01-19 | 30 | Michael makes the journey from Redditch to Gloucester. |
| 13 | 148 | Stroud to Bath | 2016-01-20 | 30 | Michael makes the journey from Stroud to Bath. |
| 14 | 149 | Bristol to Glastonbury | 2016-01-21 | 30 | Michael makes the journey from Bristol to Glastonbury. |
| 15 | 150 | Bridgwater to Dartmoor | 2016-01-22 | 30 | Michael makes the journey from Bridgwater to Dartmoor. |
| 16 | 151 | Ashford to Sevenoaks | 2016-01-25 | 30 | Michael heads from Ashford to Sevenoaks. |
| 17 | 152 | East Grinstead to Guildford | 2016-01-26 | 30 | Michael travels from East Grinstead to Guildford. |
| 18 | 153 | Woking to Walton-on-Thames | 2016-01-27 | 30 | Michael travels from Woking to Walton-on-Thames. |
| 19 | 154 | Hampton Court to Teddington | 2016-01-28 | 30 | Michael travels from Hampton Court to Teddington. |
| 20 | 155 | Egham to Henley-on-Thames | 2016-01-29 | 30 | Michael travels from Egham to Henly-on-Thames. |
Season 8
| Episode No. | No. Overall | Title | Airdate | Runtime | Summary |
| --- | --- | --- | --- | --- | --- |
| 1 | 156 | The Flying Scotsman | 2017-01-02 | 30 | Michael Portillo embarks on a journey from London to Edinburgh with the help of his 19th-century guidebook. A once-in-a-lifetime journey aboard the most famous train in history, the Flying Scotsman, begins for Michael before dawn at London's King's Cross. Excitement builds on the platform as the world's media, fans and 300 passengers await the arrival of railway royalty. Boarding a vintage carriage, Michael recaptures the glamour of the 1930s, when the Flying Scotsman's passengers dined, sipped cocktails and had their hair done en route to Scotland. Among his fellow passengers are a former Flying Scotsman driver and a previous owner of the locomotive. But all does not go to plan, and the historic non-stop service is forced to halt for trespassers on the track. Arriving at York, Michael meets the restoration team and gets his hands on the hallowed controls. |
| 2 | 157 | Welwyn Garden City to Peterborough | 2017-01-03 | 30 | Michael Portillo continues his journey from London to Edinburgh with the help of his 19th-century guidebook. After the excitement of his ride on the Flying Scotsman, Michael begins a new journey with his Bradshaw's guide book north from London, following the historic service's path at a more leisurely pace. Along the way he is forced to expend more effort than usual on the rails as he pumps a track inspection trolley. A Swiss garden in Bedfordshire delivers an unexpected spectacle of early 20th-century engineering marvels and the chance to drive a 'locomobile'. Michael then goes back to school at Haileybury, once a training college for the East India Company, where the master is unimpressed by Portillo's exam performance. At Rothampsted, Michael discovers the Victorian origins of the fertiliser industry and a treasure trove of plant and soil samples. |
| 3 | 158 | Newark-on-Trent to Stockton | 2017-01-04 | 30 | Michael Portillo continues his journey from London to Edinburgh with the help of his 19th-century guide book. Following his trip from London to York on board the Flying Scotsman, Michael uses his Bradshaw's to trace the path of the famous service, beginning in the 'Key of the North' Newark-on-Trent and finishing in the cradle of the railways, Stockton-on-Tees. Michael rallies the choristers of a Tudor song school and admires the art of the railways before travelling to Retford, where he discovers a high-tech application for a Victorian rubber technology. A scandalous novel written in Thirsk leads Michael to a wildlife centre, where he is enlisted to feed a hungry young hedgehog named Charles. |
| 4 | 159 | Darlington to Dunbar | 2017-01-05 | 30 | Michael Portillo continues his journey from London to Edinburgh at a leisurely pace up the East Coast Main Line. In Newton Aycliffe, he tests a state-of-the-art passenger train on tracks which follow the route taken by George Stephenson's steam engine on its historic journey in 1825. Through the looking glass at Croft-on-Tees he discovers a curious potion at the childhood home of Victorian writer Charles Dodgson, better known as Lewis Carroll, and finds the author was also a fan of Bradshaw. In the coastal village of Craster, Michael discovers the Victorian smokehouses of a family firm still active today and learns how to smoke a kipper. Crossing the Scottish border he reaches Dunbar, birthplace of a visionary Scot who made his mark on the landscape of America. Michael ends this leg rocking the boat on the River Tyne in a coracle. |
| 5 | 160 | Longniddry to Edinburgh | 2017-01-06 | 30 | Michael Portillo concludes his journey from London to Edinburgh. Steered by his Bradshaw's Handbook, Michael helps himself to a ukulele lesson in Haddington, birthplace of Victorian self-improvement guru Samuel Smiles. In Musselburgh, he gets a taste of life as a fishwife before exploring the Scottish capital Edinburgh, where a popular 19th-century mode of transport is making a comeback. The city's proud medical heritage, highlighted in his guide book, takes Michael to the Royal College of Surgeons, where he discovers the macabre history of body snatchers and murderers who contributed to the science of anatomy. At the University of Edinburgh Medical School, Michael learns from the Queen's surgeon in Scotland how students use sophisticated technology to study anatomy today. |
| 6 | 161 | Blackpool to Manchester Victoria | 2017-01-09 | 30 | There is terror on the tracks in Blackpool as Michael Portillo embarks on a new journey across Bradshaw's Britain with his Victorian guidebook. He makes potent new friends in Fleetwood then heads to Manchester, where George Stephenson built the world's first modern railway line. This epoch-defining achievement is being incorporated into a new multi-million pound rail link between Manchester's Victoria and Piccadilly stations and Michael lends a hand with the welding. At a moving ceremony in Manchester Piccadilly station, Michael unveils a new monument to 87 railwaymen of the London and North Western Railway, who lost their lives in the Great War. |
| 7 | 162 | Manchester Piccadilly to Silkstone Common | 2017-01-10 | 30 | Michael Portillo's journey from the Irish Sea to the North Sea continues by tram from Manchester. At the imposing town hall of the world's first industrial city, Michael comes face to face with the Victorian scientist who invented modern atomic theory. He then heads to the city's National Graphene Institute, where he learns to make the groundbreaking material invented there by two Nobel prize-winning scientists. His Bradshaw's leads him to an 18th-century settlement built by refugees from Europe. Next, deep underground at Standedge, Michael discovers an ambitious Victorian engineering marvel. At Silkstone Common, he tracks down the forge where a Victorian metallurgist created wrought iron axles strong enough for railway rolling stock and is delighted to discover the works operates its own miniature train. |
| 8 | 163 | Chapeltown to Doncaster | 2017-01-11 | 30 | From Chapeltown, Michael heads to Wharncliffe Crags, where he plucks up courage to follow in the terrifying footholds of the Victorian daredevil who made rock climbing a sport. The relative calm of academia beckons at Sheffield University but, face to face with a hagfish, Michael's visit to the Alfred Denny Collection proves an eye-opener. At Conisbrough, Michael learns how Victorians flocked to visit the castle which inspired Sir Walter Scott's immensely popular novel, Ivanhoe. This leg of his journey, following what was once known as the North Country Continental service, finishes in the engineering centre of Doncaster, where Bradshaw's leads him to investigate an enlightened Victorian's school for deaf children. |
| 9 | 164 | Gainsborough to Ely | 2017-01-12 | 30 | Steered by his Bradshaw's railway handbook to Gainsborough, Michael Portillo wraps his head around an ingenious Victorian machine which changed shopping forever. In Lincoln, he discovers the verse and popularity of 19th-century Poet Laureate Alfred, Lord Tennyson, and finds poetry thrives today in a city pub. In the Cambridgeshire Fens, Michael recycles rails and ballast at what was once the largest freight marshalling yard in Europe. At Ely, Michael discovers that the city's magnificent cathedral was restored by the Victorian architect George Gilbert Scott. |
| 10 | 165 | Stowmarket to Harwich | 2017-01-13 | 30 | Michael Portillo is on the final leg of his journey following the route of the North Country Continental service to Harwich. Along the way, he meets volunteers on the Mid-Suffolk Light railway and is allowed to drive The Middy. In Leiston, Michael uncovers an intriguing industrial pioneer - the world's first purpose-built assembly line. The work of a young Victorian engineering prodigy impresses Michael in Ipswich. In Harwich, he discovers how the port became a gateway to the continent and was then superseded by a new deep-water port further inland. Michael lends a hand below decks to ensure all is shipshape before one of the vast ferries leaves for the Hook of Holland. |
| 11 | 166 | Wexford to Wicklow | 2017-01-16 | 30 | Armed with his Bradshaw's Handbook, Michael Portillo begins a journey across Ireland. In the port of Wexford, he takes to the seas in a 100-year-old lifeboat and discovers a hero of the American navy. He tunes in to the Meeting of the Waters at the Vale of Avoca, then heads for Wicklow, where he learns of a Victorian project to combat sickness and disease in the capital, Dublin. Embracing the gentler pace of life of a traditional Irish traveller in Victorian times, he ends this leg in a beautiful horse-drawn, barrel-top caravan. |
| 12 | 167 | Greystones to Dublin | 2017-01-17 | 30 | At Trinity College, Dublin, Michael Portillo discovers one of Ireland's greatest treasures and learns how it became the symbol of the nation. There is a chance to sample the black stuff in a Dublin pub before Michael learns how Victorian royals were deployed to calm rocky relations between Britain and Ireland. He explores the magnificent house and gardens of Powerscourt in County Wicklow. Finding an angle on triangulation helps Michael to understand how Ireland was put on the map - and why. |
| 13 | 168 | Navan to Mullingar | 2017-01-18 | 30 | Michael Portillo gets up to speed with modern archaeology in County Meath and uncovers a controversial Victorian dig at the sacred Hill of Tara. He investigates leaping salmon in Leixslip and discovers an electrifying breakthrough at an historic seminary. At Mullingar, Michael bangs the drum for the town's marching band. |
| 14 | 169 | Dromod to Sligo | 2017-01-19 | 30 | With his Victorian Bradshaw's guidebook in hand, Michael Portillo crosses the Emerald Isle uncovering Irish identity, forged at a time of political strife. Travelling through the beautiful landscape, Michael learns how it inspired one of the 20th century's greatest poets, WB Yeats. In Dromod, Michael learns how to make an Irish staple - a potato pancake, known as boxty. At the home of the father of Irish fiddling, Michael attempts to master a traditional Irish dance. |
| 15 | 170 | Ballina to Westport | 2017-01-20 | 30 | On the last leg of Michael Portillo's long journey from Wexford to Westport, a fashionable Victorian seaweed bath is followed by a steamy scene in Ballina. On tenterhooks in Foxford, Michael discovers the visionary charity of an entrepreneurial nun. He learns of a double tragedy at Clew Bay and begins a pilgrimage to the summit of Ireland's holy mountain, Croagh Patrick. |
Season 9
Episode No.
No. Overall
Title
Airdate
Runtime
Summary
1
171
Cromer to Cambridge
2018-01-01
30

Michael Portillo fast tracks to the early 20th century to embark on a new series of railway journeys through Edwardian Britain. His "new" guide book, published over a hundred years ago, unlocks Britain's railways at their zenith, when some 20,000 miles of track reached into every corner of the country. Michael navigates a vibrant and optimistic Britain, at the height of its power and influence in the world, but a nation wrestling with political, social and industrial unrest at home.

His first journey follows in the footsteps of the new monarch for the new century, King Edward VII, from the grand estates of Norfolk to a bivouac on Brownsea Island. In this first episode, Michael takes a pot shot at the sport of kings at a country estate, where the king dallied with his mistress. He learns the ropes aboard an Edwardian wherry on the Norfolk Broads and joins variety performers to tap dance on Cromer Pier. In Cambridge, he investigates the student days of the young Prince of Wales and the novelist EM Forster, author of Howard's End.

2
172
Letchworth Garden City to Herne Hill
2018-01-02
30

Armed with his early 20th-century Bradshaw's guide, Michael Portillo explores an Edwardian utopia with a radical plan at its heart. Michael joins a garden party where a fourth-generation citizen of Letchworthintroduces him to the city's community spirit. Heading into the capital, Michael discovers a favoured haunt of King Edward VII and samples the monarch's favourite tipple, the King's Ginger, invented to keep him warm in his horseless carriage.

Improvements to the London Underground in the early 20th century gave us a network of electric railways, which shaped our modern capital. Inside London's newest rail tunnel, Michael meets engineer Jonathan Cooper to discover more about current improvements to London's oldest deep-level tube line, the Northern line, which is being extended.

3
173
Croydon to Shoreham-By-Sea
2018-01-03
30

Steered by his Edwardian Bradshaw's guide, Michael Portillo arrives in west Croydon, where he uncovers a once-celebrated, now forgotten, mixed-race composer with an uncannily familiar name. With the modernBritish rail network now half the size of the Edwardian one, Michael is delighted to discover a railway renaissance in Three Bridges. After inspecting a new depot and its fleet of new Class 700 trains, Michael is accorded the great honour of washing one down. Next stop Lewes, where Michael makes a beeline for Charleston, the beautiful home of the artists Vanessa Bell and Duncan Grant, where he finds every surface exquisitely decorated by the inhabitants. At Shoreham-by-Sea, Michael discovers that magnificent Edwardians in flying machines took off from the oldest licensed airport in the country. Michael takes to the skies.

4
174
Chichester to Cowes
2018-01-04
30

His early 20th-century Bradshaw's guide in hand, Michael Portillo is in Chichester, West Sussex, where he encounters an Edwardian motoring duo patronised by King Edward VII. After a grand tour of their factory, he is treated to some R&R in one of their finest vehicles. Arriving in the seaside resort of Southsea, Hampshire, Michael heads for the majestic King's Theatre, built by a renowned theatre designer of the day. He treads the boards with a group of true thespians, in a community production of Lads in the Village. Crossing the Solent with a ticket to Ryde, Michael boards the Island Line to travel along the pier in a 1930s London Underground carriage, then hops on to the Isle of Wight heritage line bound for Wootton. His destination is Osborne House, where the future King Edward VII spent much of his childhood.

5
175
Swanwick to Brownsea Island
2018-01-05
30

Steered by his Edwardian Bradshaw's guide, Michael Portillo promises to do his best on the island where Robert Baden Powell began the Scout movement in the early 20th century. Joining a group of modern Scouts, he learns to build a bivouac and finds out what it is about Scouting that still appeals to boys - and girls - today. In the New Forest, Michael searches out some unsung heroes of the First World War, the ponies who became war horses, and hears their story from a commoner who runs a stable and riding school. Plus, in Bournemouth, he investigates a very British institution: the beach hut.

6
176
Whitland to Swansea
2018-01-08
30

Michael Portillo embarks on an adventure from the coalfields of south Wales to the southernmost tip of Cornwall. His first stop is Whitland in Carmarthenshire, where in the early 20th century, thrill-seekers gathered on Pendine Sands to indulge their need for speed. In Llanelli, Michael retraces the fateful events of a national rail strike in 1911 and is stirred by the sound of a male voice choir as they sing the town's unofficial anthem. At Loughor, he discovers a passionate preacher, who led a religious revival which gripped Edwardian Wales and had profound implications for the nation's established Church. In a suburban semi-detached house in the 'sprawling, crawling town of Swansea', Michael discovers the restored home of the poet Dylan Thomas, and the tiny bedroom in which he wrote two-thirds of his published work.

7
177
Pontyclun to Ebbw Vale Town
2018-01-09
30

Armed with his Edwardian Bradshaw's guide, Michael strikes gold at the Royal Mint in Llantrisant, where after much frisking, he gains access to the inner vaults. At Cardiff Arms Park, Michael revisits the scene of a triumphant Welsh victory over the fearsome All Blacks and hears from Welsh international Gerald Davies. In Cardiff Bay, Michael discovers the departure point for one of the Edwardian era's most famous expeditions - Scott's ill-fated voyage to the Antarctic. Aboard the racing yacht Challenge Wales, Michael meets young sailors training for a Tall Ships Race.

8
178
Newport to Clevedon/Yatton/Bristol Channel
2018-01-10
30

Michael Portillo discovers the birthplace of British aviation in Bristol and prepares an Airbus 380 for a smooth landing at Filton. In Newport, he uncovers the heroism of a young boy who rescued a workman from a dock disaster, in which many died. Michael discovers the home of a forward-thinking Edwardian family at Eagle House in Batheaston. Frieda Roberts remembers the suffragettes who campaigned for votes for women in the early 20th century and found refuge at the house after their release from prison. And in Clevedon, Michael goes to the movies in a perfectly preserved cinema dating from 1912 and hears about the first film to be shown there.

9
179
Taunton to Newton Abbot
2018-01-11
30

With purple, green and yellow ribbons flying, and sporting ankle bells, Michael Portillo is led a merry dance in Stogumber - all in the name of fertility. He visits a celebrated Edwardian garden at Hestercombe to discover the fruits of an unusual partnership and learns how to deadhead the roses. There is a trip aboard the longest heritage line in England and the chance to ring in the new era at Exeter Cathedral before dining out in style on King Edward VII's coronation gala dinner at Bovey Castle.

10
180
Plymouth to the Lizard
2018-01-12
30

Steered by his early 20th-century Bradshaw's railway guide, Michael Portillo boldly goes to the moon by way of the Cornish Riviera Express. On the trail of an historic achievement made at the dawn of the Edwardian era, he investigates the first radio signal to be sent across the Atlantic. In Plymouth, Michael uncovers what happened to surviving crew members of the most famous ocean liner in history, the Titanic. And at Fowey, he rediscovers a lost literary figure known as Q, who immortalised the town in his novels.

11
181
Hull to Malton
2018-01-15
30

Michael Portillo embarks on a journey through Britain steered by his Edwardian railway handbook. He begins in the East Yorkshire port of Hull, where he heads for the docks through which millions of migrantspassed at the turn of the 20th century and which are today getting a second wind.

At Cottingham, Michael picks up the trail of the future King Edward VII, when he was Prince of Wales. Bertie, as he was known in the family, became embroiled in scandal after a high-stakes game of cards in the grand house of Tranby Croft.

Next stop is the beautiful seaside town of Scarborough, which Michael discovers was reeling in 1914 from bombardment by German warships and still carries the scars. Rose gardens, follies and Baroque architecture belonging to a radical countess entice Michael to the market town of Malton, where he finds Howards still inhabit their castle.

12
182
York to Frizinghall
2018-01-16
30
13
183
Sheffield to Nantwich
2018-01-17
30
14
184
Liverpool to Dolgarrog
2018-01-18
30
15
185
Criccieth to Caernarfon
2018-01-19
30
Season 10
| Episode No. | No. Overall | Title | Airdate | Runtime | Summary |
| --- | --- | --- | --- | --- | --- |
| 1 | 186 | Warrington to Preston | 2019-02-04 | 30 | Armed with his early 20th century Bradshaw's Guide, Michael Portillo embarks on a new journey through Britain's industrial heartland in the footsteps of King George V. Starting at what was then the gateway to Lancashire - Warrington - Michael discovers this was no ordinary royal tour. He learns how it began with huge excitement among townsfolk, whose mayor, Dr George Joseph, received the royal party in the parlour of Warrington's magnificent town hall. |
| 2 | 187 | Blackburn to Manchester | 2019-02-05 | 30 | Michael Portillo continues his rail tour of Britain's industrial northwest, steered by his early nineteenth century Bradshaw's guide. In Blackburn, he catches a rare glimpse of Edwardian life on celluloid and marvels at how factory workers and schoolchildren alike were drawn to seek fame on film. Continuing east to Nelson, Michael braves the enemy camp to have a pint of tea with the socialist working classes in Britain's last Clarion House. Way out of his comfort zone, he is heartened by their warm welcome. Taking his rail campaign south, Michael reaches a magnificently renovated mid-19th century Manchester Victoria station, from where he heads to the Manchester Art Gallery to investigate reports of an outrage in 1913. Michael discovers the former home, now a museum and women's centre, of the radical family that advocated such outrages, the Pankhursts. He hears from the curator what motivated Emmeline and her daughters, Christabel and Sylvia and learns how they made themselves heard. |
| 3 | 188 | Manchester to Elsecar | 2019-02-06 | 30 | Armed with his early 20th century Bradshaw's Guide, Michael Portillo continues his journey from Warrington to the Potteries in Stoke on Trent. In Manchester at the magnificent Heaton Park, Michael discovers one of the first open-air concerts was held here in 1909 by an opera fan, William Grimshaw, who entertained 40,000 people to the music of opera superstar Enrico Caruso on a gramophone. |
| 4 | 189 | Maltby to Hinckley | 2019-02-07 | 30 | Michael Portillo continues his tour of Britain's industrial heartlands guided by his early 20th-century Bradshaw's. Michael heads for Maltby, where he is caught up with the thrill of the chase as he investigates the high-octane sport of whippet racing. He learns how this 'poor man's sport' grew during the 19th century in the mining towns of the north and retains its appeal today. |
| 5 | 190 | Birmingham to the Potteries | 2019-02-08 | 30 | Michael Portillo reaches Birmingham and discovers how a radical reformer would make his mark on the city of a thousand trades. At Highbury Hall, he finds Joseph Chamberlain's splendid mansion home and hears how he established a political dynasty including a prime minister and a foreign secretary. Next stop is Cradley Heath, at the time of his Bradshaw's one of five chain-making towns in the West Midlands. Michael learns how 90 percent of the chain workshops in England and Wales were located here and that female workers earned a pittance to produce goods in their homes. |
| 6 | 191 | Newry to Portadown | 2019-02-11 | 30 | Beginning in Newry, Michael Portillo finds a specially chartered train that would deliver demonstrators campaigning for Irish Home Rule to a rally in the town. |
| 7 | 192 | Belfast to Portrush | 2019-02-12 | 30 | Michael Portillo continues his rail journey through Northern Ireland. In Belfast's grand Edwardian City Hall, Michael investigates the scene of a watershed moment in Irish history. |
| 8 | 193 | Larne to Dumfries | 2019-02-13 | 30 | Leaving from the seaport of Larne, Michael Portillo reaches Stranraer and the Mull of Galloway, where in a lighthouse built by Robert Stevenson, he discovers a magnificent machine. |
| 9 | 194 | Glasgow to Cumbrae | 2019-02-14 | 30 | Michael Portillo explores the industrial heartland of Glasgow and its mighty River Clyde before taking the ferry to the island of Cumbrae. |
| 10 | 195 | Glasgow to Connel Ferry | 2019-02-15 | 30 | Michael Portillo falls into line with the University of Glasgow's Officer Training Corps. |
| 11 | 196 | Warwick to Radley | 2019-02-18 | 30 | In Warwick's medieval castle, Michael Portillo uncovers the scene of an extravagant and scandalous ball, which changed the life of its hostess, Daisy Greville, Countess of Warwick. |
| 12 | 197 | Reading to Taplow | 2019-02-19 | 30 | Messing about in boats is the name of the game in Henley on Thames, where Michael Portillo slips into a launch to hear about the world-famous regatta. |
| 13 | 198 | Ealing Broadway to South Kensington | 2019-02-20 | 30 | In the Queen of the Suburbs, Ealing, Michael Portillo finds comedy at the home of British cinema and is transformed for the silver screen by expert hair and make-up. |
| 14 | 199 | Piccadilly Circus to Gravesend | 2019-02-21 | 30 | At Covent Garden's Royal Ballet School, Michael Portillo hears how in 1909 a Russian ballet company took London by storm. |
| 15 | 200 | East Malling to Rye | 2019-02-22 | 30 | In Folkestone, Michael Portillo hears how the town coped with an influx of more than 100,000 refugees from Belgium fleeing the German invasion in 1914. |
Series Cast
| | | | |
| --- | --- | --- | --- |
| | Michael Portillo | as Presenter | |
Related News
TVMaze