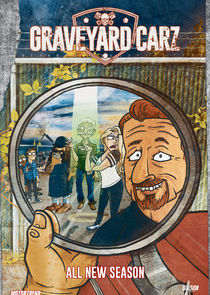 The Graveyard Carz crew - Mark, Daren, Josh and Royal - take wrecked muscle cars and restore them to assembly-line condition. Led by Mark "The Warmachine" Worman, the crew works some serious magic to get these Mopar racing classics across the finish line every week. As a leading Chrysler muscle car specialist and body shop owner, Worman doesn't settle for anything less than perfect restorations. Neither does his team as there is too much beauty in a quality Detroit automobile to let them go to rust. Even if it is a Herculean effort, these cars will rise again.
Series Overview
Rating
imDb Rating: 6.0 (395 Votes)
Metascore: N/A
Plot
The world is littered with the decaying uni-body's of former muscle cars, but at Graveyard Carz, no classic Mopar is too rusted for it to not get restored. These blue-collar technicians live by the motto: it's Mopar or it's No Car.
Details
Rated: N/A
Released: 18 Sep 2011
Runtime: 60 min
Genre: Reality-TV
Director: N/A
Writer: N/A
Actors: Mark Worman, Royal Yoakum, Daren Kirkpatrick, Josh Rose
Language: English
Country: USA
Awards: N/A
Total Seasons: 6
Next Episode
There Will be 'Cudas
Episode 11x14; May 29, 2020
Previous Episode
We Belong Together
Episode 11x13; Mar 06, 2020
Episodes 11x14: There Will be 'Cudas 11x13: We Belong Together 11x12: Beast of Burden 11x11: Bad To The Bone 11x10: Just The Way You Are 11x9: A Long And Winding Road 11x8: Only The Strong Survive 11x7: You're The One I Want 11x6: You Can't Always Get What You Want

View All Episodes
Cast
Mark Worman as Mark Worman
Daren Kirkpatrick as Daren Kirkpatrick
Josh Rose as Josh Rose
View Full Cast
Skip to:
Season 1
| Episode No. | No. Overall | Title | Airdate | Runtime | Summary |
| --- | --- | --- | --- | --- | --- |
| 1 | 1 | Emma's Car | 2012-06-14 | 60 | |
| 2 | 2 | It's the Great Pumpkin, Mark Worman! | 2012-06-21 | 60 | |
| 3 | 3 | Daren Goes Plum Crazy | 2012-06-28 | 60 | |
| 4 | 4 | Runnin' Down a Dream | 2012-07-05 | 60 | |
| 5 | 5 | More Than a Wrench | 2012-07-12 | 60 | |
| 6 | 6 | The Big Dipper | 2012-07-19 | 60 | |
Season 2
| Episode No. | No. Overall | Title | Airdate | Runtime | Summary |
| --- | --- | --- | --- | --- | --- |
| 1 | 7 | It's Alive | 2013-01-08 | 60 | |
| 2 | 8 | Six-Pack to Go | 2013-01-15 | 60 | |
| 3 | 9 | Hey, Charger! | 2013-01-22 | 60 | |
| 4 | 10 | Wet Paint | 2013-01-29 | 60 | |
| 5 | 11 | Factory Correct | 2013-02-05 | 60 | |
| 6 | 12 | Holley Equipped | 2013-02-12 | 60 | |
| 7 | 13 | Every Rose Has Its Thorn | 2013-02-19 | 60 | |
| 8 | 14 | You Win Some... | 2013-02-26 | 60 | |
| 9 | 15 | Cuda Madness | 2013-03-05 | 60 | |
| 10 | 16 | Flippin' the Bird | 2013-03-12 | 60 | |
| 11 | 17 | Fish 'n' Chips | 2013-03-19 | 60 | |
| 12 | 18 | Game Day | 2013-03-26 | 60 | |
| 13 | 19 | Phantasm 'Cuda | 2013-04-02 | 60 | |
Season 3
| Episode No. | No. Overall | Title | Airdate | Runtime | Summary |
| --- | --- | --- | --- | --- | --- |
| 1 | 20 | Back In Triple Black | 2014-01-07 | 60 | |
| 2 | 21 | AAR You Ready For This | 2014-01-14 | 60 | |
| 3 | 22 | Go For It! | 2014-01-21 | 60 | |
| 4 | 23 | Get Your Hands Dirty | 2014-01-28 | 60 | |
| 5 | 24 | W-O-M-A-N, Mark Woman | 2014-02-04 | 60 | |
| 6 | 25 | Pop Secrets | 2014-02-11 | 60 | |
| 7 | 26 | Showtime! | 2014-02-18 | 60 | |
| 8 | 27 | The Royal Treatment | 2014-02-25 | 60 | |
| 9 | 28 | The Grand Torino | 2014-03-04 | 60 | |
| 10 | 29 | The Waltons | 2014-03-11 | 60 | |
| 11 | 30 | It's the Great Pumpkin, Goldberg! | 2014-03-18 | 60 | |
| 12 | 31 | Daytona Reborn Pt. 1 | 2014-03-25 | 60 | |
| 13 | 32 | Daytona Reborn Pt. 2 | 2014-04-01 | 60 | |
Season 4
| Episode No. | No. Overall | Title | Airdate | Runtime | Summary |
| --- | --- | --- | --- | --- | --- |
| 1 | 33 | Daren and Royal Go Topless | 2014-11-18 | 60 | |
| 2 | 34 | General Disassemble Lee | 2014-11-25 | 60 | |
| 3 | 35 | Mo Money Mo Challengers | 2014-12-02 | 60 | |
| 4 | 36 | Drive a Mile in My Shoes | 2014-12-09 | 60 | |
| 5 | 37 | Top Banana Change | 2014-12-23 | 60 | |
| 6 | 38 | Gone Bananas | 2014-12-23 | 60 | |
| 7 | 39 | Manifold Destiny | 2014-12-23 | 60 | |
| 8 | 40 | Spoiler Alert | 2014-12-30 | 60 | |
| 9 | 41 | MoSparring | 2015-01-06 | 60 | |
| 10 | 42 | The Hills Have Eyes on a Superbird | 2015-01-20 | 60 | |
| 11 | 43 | Clipped Wings | 2015-01-27 | 60 | |
| 12 | 44 | Put Me In, Coach | 2015-02-03 | 60 | |
| 13 | 45 | How to Cook a Barracuda | 2015-08-06 | 60 | |
Season 5
| Episode No. | No. Overall | Title | Airdate | Runtime | Summary |
| --- | --- | --- | --- | --- | --- |
| 1 | 46 | Commando Cuda vs. Magnum Force | 2015-10-07 | 60 | |
| 2 | 47 | Rallye Red Restored | 2015-10-14 | 60 | |
| 3 | 48 | Hell Hath No '58 Fury | 2015-10-21 | 60 | The ghouls are wrapping up the 340 Cuda and installing panels on the Hemi Charger. Mark trains Allysa on O.E.M. assembly line markings and the team gets a visit from the legendary Christine. |
| 4 | 49 | 400 Magnum Misfire | 2015-10-28 | 60 | The team struggles with after-market parts on their 400 Magnum engine. Allyssa gets out of the office and into the shop...sort of. The ghouls disassemble two incredibly rare Mopars, including a convertible worth over 7 figures. |
| 5 | 50 | Return of the 70 Sunroof Challenger | 2015-11-25 | 60 | |
| 6 | 51 | '70 Cuda Grace | 2015-12-02 | 60 | The entire restoration of the 1970 'Cuda 340 is revealed. Watch Mark and the Ghouls battle with the 340 engine, as every possible problem is encountered, and find out if someone sabotaged the engine. |
| 7 | 52 | Hemi Orange is the New Corporate Blue | 2015-12-09 | 60 | The ghouls begin work on Bill Goldberg's '68 GTX, Mark repairs some bad body work on a Challenger decklid, and Will paints Brett Torino's '67 Hemi GTX. When Mark sets out to paint the 400 Magnum and Hemi engines, Will challenges him to a paint off. |
| 8 | 53 | Grand Theft Hemi | 2015-12-16 | 60 | |
| 9 | 54 | Investigation O.E. | 2015-12-23 | 60 | |
| 10 | 55 | Chally vs Chally | 2015-12-30 | 60 | |
| 11 | 56 | Hemi FK5 Alive | 2016-01-06 | 60 | The Ghouls restore the Burnt Orange 1970 Hemi Charger R/T. Starting from the ground up we reveal the tear-down, body work, paint, assembly line markings, drive train installation and the first firing of the Hemi inside this car in over 33 years. |
| 12 | 57 | Pitch and Rides | 2016-01-13 | 60 | In the season 5 finale, witness the completion of the Burnt Orange 1970 Hemi Charger R/T. While Dave Rea races to finish its assembly, Mark prepares for his biggest and most public reveal yet. |
Season 6
| Episode No. | No. Overall | Title | Airdate | Runtime | Summary |
| --- | --- | --- | --- | --- | --- |
| 1 | 58 | Elephant In A '69 | 2016-11-02 | 60 | |
| 2 | 59 | From Road Runner To Superbird | 2016-11-09 | 60 | |
| 3 | 60 | Roaming the Restorations | 2016-11-16 | 60 | Mark begins installing decals on World Heavyweight Champion, Bill Goldberg's 1968 GTX Convertible. Allysa works her way around the shop helping Will block and prep the Phantom Cuda for final paint and assisting Dave with the Road Runner and bumper instal. |
| 4 | 61 | Taming a 1971 Challenger R/T | 2016-11-23 | 60 | After a performing poorly, the Graveyard Ghouls are tasked with disassembling and assessing the damage to a 383 engine for a customer's 1971 Challenger currently in the shop. |
| 5 | 62 | Privilege to Drive a '68 GTX Concertible | 2016-11-30 | 60 | |
| 6 | 63 | Mark Unwrapped | 2016-12-07 | 60 | |
| 7 | 64 | Dude, Where's Alyssa's Car | 2016-12-14 | 60 | With actor, retired pro football player, and multi title World Wrestling Champion Bill "The Spear" Goldberg on his way to the shop, the ghouls have very little time to complete the last minute details on his 1968 Plymouth GTX convertible. |
| 8 | 65 | A Fly In The Ointment | 2016-12-21 | 60 | Will begins cutting and buffing the fabled Phantom Cuda, but numerous interruptions from the eagerly helpful Allysa, make him decide a bit of friendly hazing is in order. Dave begins working on his own restoration, a 1970 Dodge swinger three-forty engine. |
| 9 | 66 | Will Gets Grumpy | 2016-12-28 | 60 | |
| 10 | 67 | Phantom's 440 Six Barrel | 2017-01-04 | 60 | |
| 11 | 68 | Cap'ing-off The Challenger | 2017-01-11 | 60 | |
| 12 | 69 | 67 Hemi GTX Convertible Resurrected | 2017-01-25 | 60 | |
| 13 | 70 | '72 Charger Se Resurrected | 2017-02-01 | 60 | |
Series Cast
| | | | |
| --- | --- | --- | --- |
| | Mark Worman | as Mark Worman | |
| | Daren Kirkpatrick | as Daren Kirkpatrick | |
| | Josh Rose | as Josh Rose | |
Related News
TVMaze