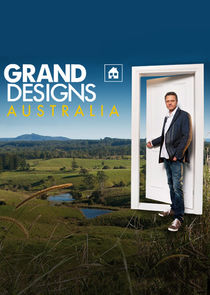 Hosted by leading Australian architect, Peter Maddison, each episode in the three-part series will feature a different approach to building a home in regional Australia. From the artistic brothers bonding over a spectacular one bedroom creation at Yackandandah, to a pair who are swapping out their life running a grand old Bendigo bed and breakfast for a bold new and dramatically modern enterprise, and the couple building a fire proof, sustainable, non-toxic house at Kinglake.
Series Overview
Rating
imDb Rating: 7.2 (219 Votes)
Metascore: N/A
Plot
Each episode is about the host visiting people who have a dream to build a house and how they bring the build to fruition. We see their trials and tribulations along the way. Each episode is a separate stand-alone story.
Details
Rated: N/A
Released: 21 Oct 2010
Runtime: N/A
Genre: Documentary, Reality-TV
Director: N/A
Writer: N/A
Actors: Peter Maddison
Language: English
Country: Australia
Awards: 1 win & 5 nominations.
Total Seasons: 6
Previous Episode
Dee Why, NSW
Episode 8x10; Sep 18, 2019
Previous Episodes 8x10: Dee Why, NSW 8x9: Mt Tamborine, QLD 8x8: Suffolk Park Modern, NSW 8x7: Rivett, ACT 8x6: Toolangi, VIC 8x5: Lewisham Pod, TAS 8x4: Lockleys, SA 8x3: Curl Curl, NSW 8x2: Elsternwick, Vic

View All Episodes
Skip to:
Season 1
| Episode No. | No. Overall | Title | Airdate | Runtime | Summary |
| --- | --- | --- | --- | --- | --- |
| 1 | 1 | Bushfire House | 2010-10-21 | 60 | After spending 2 years building his dream home in Callignee, Victoria, the worst bushfires in Victoria's history (Black Sunday) burnt the home of Chris Clarke to the ground. After recovering from the shock, Chris decides to rebuild his home on the same site, and the idea of Callignee 2 is born. Follow Chris on his journey to build his spectacular new home in the Australian bush. |
| 2 | 2 | Very Small House | 2010-10-28 | 60 | Architect Domenic Alvaro and his partner Sue Bassett purchase a tiny corner car park (7m x 6m) and turn it into 220 square metres of fantastic living space. Despite a rapid pace of construction using prefabricated concrete components, their vertical build faces many interesting challenges. The design won a 2011 World Architecture Festival award. |
| 3 | 3 | Southport Heritage House | 2010-11-04 | 60 | Jan and Ed Gillman painstakingly restore a tumbled-down weatherboard (one of the oldest homes in the region) in Southport, to its former glory. |
| 4 | 4 | Clovelly House | 2010-11-11 | 60 | Julie and Patrick Eltridge purchase an asbestos-riddled house in Sydney's beachside Clovelly and in its place build a modern architecturally designed home using a Melbourne firm of 'pre-fab' builders, who custom build them a modular home that is trucked to Sydney and assembled on site. |
| 5 | 5 | Lake Bennett House | 2010-11-18 | 60 | Trevor and Francoise Sullivan (and their friends) build a cyclone proof tropical tree house that is windowless and based on the shape of a 50 cent piece. |
| 6 | 6 | Hamptons House | 2010-11-25 | 60 | On their 4,000 square metre block, Steve and Lisa Morley live the American dream and build a Hampton's style home in the Gold Coast hinterlands. |
| 7 | 7 | Fish Creek Church House | 2010-12-02 | 60 | Engineer Peter Riedel and his wife Mary purchase an 1870's church for $20,000 and re-build it into a beautiful home. |
| 8 | 8 | Cottage Point House | 2010-12-09 | 60 | Drew Muirhead builds a spectacular Balinese resort style mansion in leafy Cottage Point. The end result has a private beach with boatshed and speedboat, but the journey to the finish line isn't easy with the slope of the block and access to it posing a number of building challenges |
| 9 | 9 | Indented Head House | 2010-12-16 | 60 | Ian McDonald and Rob Wilhelm build a spectacular $1.8 million dollar home overlooking Port Phillip Bay on the Bellarine Peninsula. |
Season 2
| Episode No. | No. Overall | Title | Airdate | Runtime | Summary |
| --- | --- | --- | --- | --- | --- |
| 1 | 10 | Brighton Sixties | 2012-04-05 | 60 | Over the years, Nick and Anna McKimm have almost made a hobby of renovating, selling and moving on. But with three young children, they're ready to lay down permanent roots and build their dream home. A sleek, modernist, 60's inspired family residence on a large, half acre block in Melbourne's bayside suburb, Brighton. |
| 2 | 11 | Paynesville Industrial | 2012-04-12 | 60 | Peter Maddison meets retired engineer Bernie Ryan, who plans to use an eccentric, industrial design, a minimal budget and a cowboy attitude to build a new home in Paynesville, Victoria |
| 3 | 12 | Five Dock | 2012-04-19 | 60 | Peter Maddison meets Anne and Michael Potter, who plan to build a modern version of a retro home, featuring curved steel and walls of glass, overlooking the harbour in Sydney's Five Dock. |
| 4 | 13 | Kyneton Flat Pack | 2012-04-26 | 60 | Peter Maddison meets Rod Moore and Di Foggo, who plan to build an ultra-modern, fixed-price, flat-pack house high on a rocky outcrop overlooking the town of Kyneton in Victoria. |
| 5 | 14 | Trinity Beach Pole House | 2012-05-03 | 60 | Peter Maddison meets Daniel Leipnik and Andrew Preston, who plan to build a slick, pavilion-style home, huddled around a pool and propped up by poles on a coastal hillside outside Cairns. |
| 6 | 15 | Gladysdale Dry Stone House | 2012-05-10 | 60 | |
| 7 | 16 | Stonyfell Watertank | 2012-05-17 | 60 | |
| 8 | 17 | Yellingbo Artist's House | 2012-05-24 | 60 | |
| 9 | 18 | Battery Point Glass House | 2012-05-31 | 60 | |
| 10 | 19 | Steels Creek Earth House | 2012-06-07 | 60 | |
Season 3
| Episode No. | No. Overall | Title | Airdate | Runtime | Summary |
| --- | --- | --- | --- | --- | --- |
| 1 | 20 | Mansfield Indoor/Outdoor | 2012-10-18 | 60 | |
| 2 | 21 | Hampton Timber | 2012-10-25 | 60 | |
| 3 | 22 | Balnarring Rammed Earth | 2012-11-01 | 60 | |
| 4 | 23 | Warburton Arch House | 2012-11-08 | 60 | |
| 5 | 24 | Byron Bay Beach House | 2012-11-15 | 60 | |
| 6 | 25 | Annandale Urban House | 2012-11-22 | 60 | |
| 7 | 26 | Barossa Valley Glass House | 2012-11-29 | 60 | |
| 8 | 27 | Ocean View House | 2012-12-06 | 60 | |
| 9 | 28 | Very Small House Revisited | 2013-04-15 | 60 | |
| 10 | 29 | Clovelly House Revisited | 2013-04-22 | 60 | |
Season 4
| Episode No. | No. Overall | Title | Airdate | Runtime | Summary |
| --- | --- | --- | --- | --- | --- |
| 1 | 30 | Inverloch Sand Dune House | 2013-10-10 | 60 | |
| 2 | 31 | South Melbourne Brick | 2013-10-17 | 60 | |
| 3 | 32 | Torrens Park Modern Mansion | 2013-10-24 | 60 | |
| 4 | 33 | Hornsby Heights Adobe | 2013-10-31 | 60 | |
| 5 | 34 | Richmond Inner City | 2013-11-07 | 60 | |
| 6 | 35 | Forest Lodge Eco House | 2013-11-14 | 60 | |
| 7 | 36 | Ilford Sheep Station | 2013-11-21 | 60 | |
| 8 | 37 | Hunters Hill Textural | 2013-11-28 | 60 | |
| 9 | 38 | King Island Whale Tail | 2013-12-05 | 60 | |
| 10 | 39 | Dynyrnne Curved | 2013-12-12 | 60 | |
Season 5
| Episode No. | No. Overall | Title | Airdate | Runtime | Summary |
| --- | --- | --- | --- | --- | --- |
| 1 | 40 | The Graceville Container House | 2014-10-12 | 60 | |
| 2 | 41 | Mt Eliza Modern House | 2014-10-16 | 60 | |
| 3 | 42 | Claremont Origami House | 2014-10-23 | 60 | |
| 4 | 43 | The Foxground Pavilion | 2014-10-30 | 60 | |
| 5 | 44 | Port Melbourne Urban Green | 2014-11-06 | 60 | |
| 6 | 45 | Toowoomba English Farmhouse | 2014-11-13 | 60 | |
| 7 | 46 | Williamstown Bluestone Cottage | 2014-11-20 | 60 | |
| 8 | 47 | Brookfield Spotted Gum House | 2014-11-27 | 60 | |
| 9 | 48 | Pipers Creek Strawbale House | 2014-12-04 | 60 | |
| 10 | 49 | Faraday Aussie Bush House | 2014-12-11 | 60 | Before Matt McLelland's wife Anne died six years ago, they'd been looking for a rural property to build on - a place to call home for them and for their four adult children to come to visit. So when Matt stumbled across 40 acres in central Victoria with spectacular views to Mt Alexander's granite hill side, he knew he'd found the spot. |
Season 6
| Episode No. | No. Overall | Title | Airdate | Runtime | Summary |
| --- | --- | --- | --- | --- | --- |
| 1 | 50 | Brothers Yackandandah House | 2015-11-05 | 60 | Sculptor Ben Gilbert and his brother Chris, an architect, build one-bedroom living quarters at an abandoned sawmill in Yackandandah, Victoria, using an off-the-wall design crammed full of innovation |
| 2 | 51 | Harcourt House | 2015-11-12 | 60 | B&B owners Art van Dyke and Troy West build a three-level, one-bedroom, contemporary home bookended by an 1850s stone cottage, near Harcourt in Victoria, on land that comes with its own granite quarry. |
| 3 | 52 | Kinglake Fire Proof House | 2015-11-19 | 60 | Chef Dan Zeidan and his partner Vicky Kordatou want a truly sustainable rural escape, building a zero-waste home from recycled and recyclable non-toxic materials at Kinglake, one hour from Melbourne |
| 4 | 53 | East Melbourne 5x4 Mini-Skyscraper | 2015-11-05 | 60 | While in the inner city suburb of East Melbourne in Victoria, a very small block is set to make way for a three story totally green home with geo-thermal heating and cooling and a rooftop garden and spa. Photographer Ralph Alfonso has a very strong sense of how precious our environment is and how little space we really need to live in. His downsized style of living focuses on being as frugal as possible, using a ground-breaking and innovative environmental design. The thing is… the house footprint measures just 5 x 4 metres, making it grand in design, although miniature in size. |
| 5 | 54 | 1920's Electricity Substation | 2015-11-12 | 60 | Mark and Karen Bartkevicius restore an old hydro-electricity substation at Launceston in Tasmania and convert it into a two-bed home, salvaging original antique bricks and using old-school lime render. |
| 6 | 55 | Kuipto House | 2015-11-19 | 60 | |
| 7 | 56 | North Balgowlah Pop Art House | 2015-11-26 | 60 | |
| 8 | 57 | Turners Beach Eucalyptus House | 2015-12-03 | 60 | Draftsman Nigel Eberhardt is a conservationist at heart – a passion he shares with partner Nina, a school teacher. Their love for the natural environment saw them purchase one of the last remaining native bush blocks in Turners Beach, a beachside suburb brimming with neat houses and manicured lawns, on Tasmania's north coast, where they build a house around the already established trees. |
| 9 | 58 | Deakin Retro '70s House | 2015-12-10 | 60 | Canberra couple Barbara and Bill Coyle have been lucky enough to live in houses designed by Australia's best known architects. They love modernist architecture so they engaged the right architect to design them something 70's. Bill an orthopaedic surgeon, has been diagnosed with Parkinson's disease. Their new house with its curved roofline and glass entrance is designed for the future when he'll be in a wheelchair. |
| 10 | 59 | Northcote Vinegar Factory | 2015-12-17 | 60 | In the Melbourne suburb of Northcote, the Skipping Girl Vinegar Factory was a siren call for sustainable architect, Adrian Light. But old buildings have a way of resisting change and this one is no exception. Adrian has big plans to turn what is essentially a four storey red brick warehouse with 20 huge concrete vinegar vats into a four bedroom sustainable home for his family. At every stage he is confronted with the realities of reworking a stubborn old, wet factory. As the months turn into years this really is a question of who will win? |
Series Cast
| | | | |
| --- | --- | --- | --- |
| | Peter Maddison | as Host | |
Related News
TVMaze