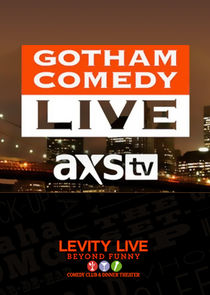 AXS TV dives deep into the world of comedy with Gotham Comedy Live. Another round of great live standup comes your way starting May 16! Tune in each Thursday as some of the funniest comics in America perform live from the Legendary Gotham Comedy Club in New York.
Series Overview
Rating
imDb Rating: 6.3 (37 Votes)
Metascore: N/A
Plot
Standup comedians at the Gotham Comedy Club in New York City
Details
Rated: TV-14
Released: 15 Nov 2012
Runtime: 60 min
Genre: Documentary, Comedy
Director: N/A
Writer: N/A
Actors: Jim Breuer, Heather McDonald, Bret Ernst, Jimmy Failla
Language: English
Country: USA
Awards: N/A
Total Seasons: 6
Previous Episode
DC Young Fly
Episode 6x24; Apr 13, 2017
MTV's Wild 'n Out star DC Young Fly hosts an outrageous hour of uncensored standup from New York's Gotham Comedy Club.
Previous Episodes 6x24: DC Young Fly 6x23: Paula Poundstone 6x22: Judy Tenuta 6x21: John Fugelsang 6x20: Sherri Shepherd 6x19: Pete Davidson 6x18: Fran Drescher 6x17: William Shatner 6x16: Cedric the Entertainer

View All Episodes
Recent News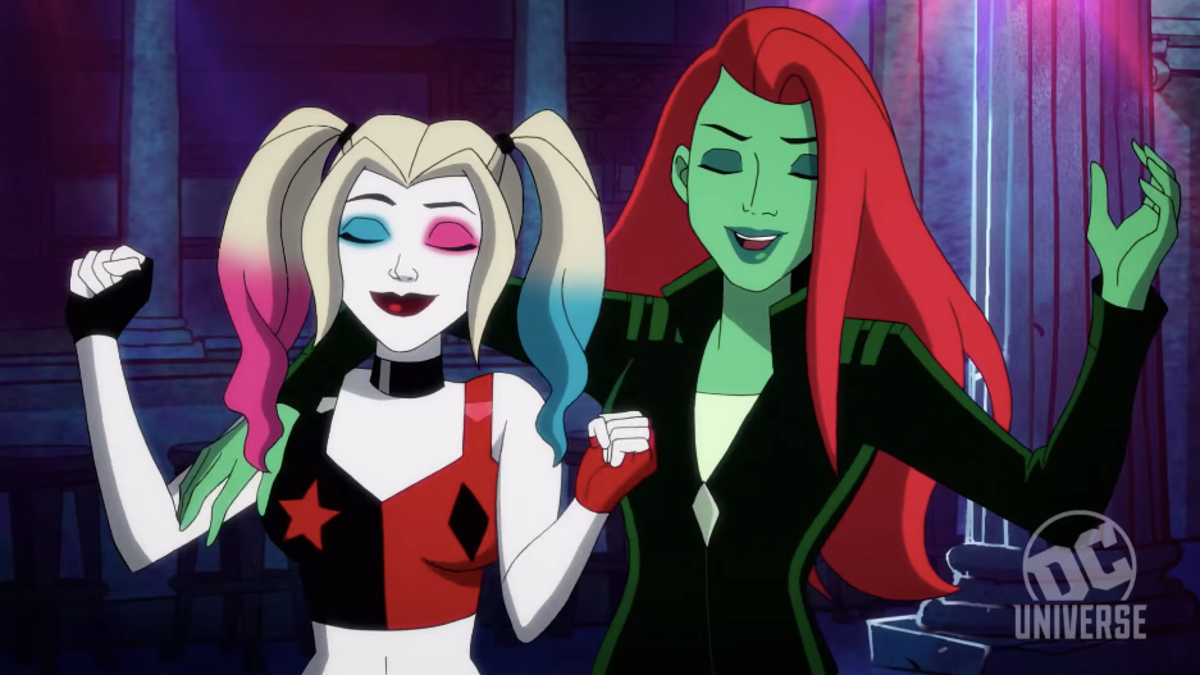 Harley Quinn Finally Did the Thing, and Did It Right
As bloody, curse-laden, and generally bawdy as DC Universe's Harley Quinn show is, it's always displayed a surprising level of emotional intelligence in the way that it's handled the complicated, interpersonal relationships that have shaped the lives of its c…
[Übersicht] Streams zum Wochenende KW 19
Hallo zusammen, weiter geht es mit der Streaming-Übersicht zur Indoor-Beschäftigung am Wochenende. Ich habe mal die lange Zeit und dauerhaft verfügbaren Streams "wegsortiert" um der Übersicht etwas von der Länge zu nehmen. Ihr findet diese jetzt hier:
via NewsAPI
View More Related News
Skip to:
Season 1
| Episode No. | No. Overall | Title | Airdate | Runtime | Summary |
| --- | --- | --- | --- | --- | --- |
| 1 | 1 | Host: Orlando Jones | 2013-01-17 | 60 | |
| 2 | 2 | Host: Mario Cantone | 2013-01-24 | 60 | |
| 3 | 3 | Host: Robert Kelly | 2013-01-31 | 60 | |
| 4 | 4 | Host: TJ Miller | 2013-02-07 | 60 | |
| 5 | 5 | Hosts: Rich Vos and Bonnie McFarlane | 2013-02-14 | 60 | |
| 6 | 6 | Host: Susie Essman | 2013-02-21 | 60 | |
| 7 | 7 | Host: Nick DiPaolo | 2013-02-28 | 60 | |
| 8 | 8 | Host: Carlos Mencia | 2013-03-07 | 60 | |
| 9 | 9 | Host: Ted Alexandro | 2013-03-14 | 60 | |
| 10 | 10 | Host: Steve Rannazzisi | 2013-03-21 | 60 | |
| 11 | 11 | Host: Sebastian Maniscalco | 2013-03-28 | 60 | |
| 12 | 12 | Host: Jim Norton | 2013-04-04 | 60 | |
| 13 | 13 | The Cast of Sullivan & Son | 2013-05-18 | 60 | |
| 14 | 14 | Host: Maz Jobrani | 2013-05-23 | 60 | |
| 15 | 15 | Host: Artie Lange | 2013-05-30 | 60 | |
| 16 | 16 | Host: David Alan Grier | 2013-06-06 | 60 | |
| 17 | 17 | Host: J. B. Smoove | 2013-06-13 | 60 | |
| 18 | 18 | Host: Loni Love | 2013-06-20 | 60 | |
| 19 | 19 | Host: Tom Green | 2013-06-27 | 60 | |
| 20 | 20 | Host: Jim Breuer | 2013-07-11 | 60 | |
| 21 | 21 | Host: Judah Friedlander | 2013-07-18 | 60 | |
| 22 | 22 | Host: Charlie Murphy | 2013-07-25 | 60 | |
| 23 | 23 | Host: Tom Papa | 2013-08-01 | 60 | |
| 24 | 24 | Host: Tony Rock | 2013-08-08 | 60 | |
| 25 | 25 | Host: Kevin Pollack | 2013-08-15 | 60 | |
| 26 | 26 | Host: Jo Koy | 2013-09-05 | 60 | |
| 27 | 27 | Host: Sarah Colonna | 2013-09-12 | 60 | |
| 28 | 28 | Host: Michael Ian Black | 2013-09-19 | 60 | |
| 29 | 29 | Host: Gilbert Gottfried | 2013-09-26 | 60 | |
| 30 | 30 | Host: D. L. Hughley | 2013-10-03 | 60 | |
| 31 | 31 | Host: Frank Caliendo | 2013-10-10 | 60 | |
| 32 | 32 | Host: Steve-O | 2013-10-17 | 60 | |
| 33 | 33 | Host: Heather McDonald | 2013-11-07 | 60 | |
| 34 | 34 | Host: Anjelah Johnson | 2013-11-14 | 60 | |
| 35 | 35 | Host: Bobby Lee | 2013-11-21 | 60 | |
| 36 | 36 | Best of Season One | 2013-12-05 | 60 | |
| 37 | 37 | Best of Season One: The Wrath of Com | 2013-12-19 | 60 | |
Season 2
| Episode No. | No. Overall | Title | Airdate | Runtime | Summary |
| --- | --- | --- | --- | --- | --- |
| 1 | 38 | Host: Jim Breuer | 2014-01-09 | 60 | |
| 2 | 39 | Host: Jackie Martling | 2014-01-16 | 60 | |
| 3 | 40 | Host: Pauly Shore | 2014-01-23 | 60 | |
| 4 | 41 | Host: Jay Mohr | 2014-01-30 | 60 | |
| 5 | 42 | Host: Mick Foley | 2014-02-06 | 60 | |
| 6 | 43 | Host: Tom Cotter | 2014-02-13 | 60 | |
| 7 | 44 | Host: Janeane Garofalo | 2014-02-20 | 60 | |
| 8 | 45 | Host: Jamie Kennedy | 2014-02-27 | 60 | |
| 9 | 46 | Host: Mark Curry | 2014-03-06 | 60 | |
| 10 | 47 | Host: Steve Schirripa | 2014-03-13 | 60 | |
| 11 | 48 | Host: Tommy Davidson | 2014-03-20 | 60 | |
| 12 | 49 | Host: Louie Anderson | 2014-03-27 | 60 | |
| 13 | 50 | Host: Tim Meadows | 2014-04-03 | 60 | |
| 14 | 51 | Best of Season Two: New York's Finest | 2014-05-22 | 60 | |
| 15 | 52 | Best of Season Two: Return of the Zings | 2014-05-29 | 60 | |
| 16 | 53 | Best of Season Two: Ladies of the Night | 2014-06-05 | 60 | |
Season 3
| Episode No. | No. Overall | Title | Airdate | Runtime | Summary |
| --- | --- | --- | --- | --- | --- |
| 1 | 54 | Host: Bobcat Goldthwait | 2014-06-12 | 60 | |
| 2 | 55 | Host: Jimmie Walker | 2014-06-19 | 60 | |
| 3 | 56 | Host: Joe Piscopo | 2014-06-26 | 60 | |
| 4 | 57 | Host: Jim Breuer | 2014-07-03 | 60 | |
| 5 | 58 | Host: Gabe Kaplan | 2014-07-10 | 60 | |
| 6 | 59 | Host: Craig Carton | 2014-07-17 | 60 | |
| 7 | 60 | Host: Anthony Anderson | 2014-07-24 | 60 | |
| 8 | 61 | Host: Paul Provenza | 2014-07-31 | 60 | |
| 9 | 62 | Host: Darrell Hammond | 2014-08-07 | 60 | |
| 10 | 63 | Host: John Caparulo | 2014-08-14 | 60 | |
| 11 | 64 | Host: Michael Winslow | 2014-08-21 | 60 | |
| 12 | 65 | Host: Greg Proops | 2014-08-28 | 60 | |
| 13 | 66 | Host: Larry Miller | 2014-09-04 | 60 | |
| 14 | 67 | Host: Carlos Mencia | 2014-09-11 | 60 | |
| 15 | 68 | Host: Adam Ferrara | 2014-09-18 | 60 | |
| 16 | 69 | Host: Vinnie Guadagnino | 2014-09-25 | 60 | |
| 17 | 70 | Host: Paul Rodriguez | 2014-10-02 | 60 | |
| 18 | 71 | Host: Gallagher | 2014-10-09 | 60 | |
| 19 | 72 | Host: Harry Anderson | 2014-10-16 | 60 | |
| 20 | 73 | Host: Dave Coulier | 2014-10-23 | 60 | |
| 21 | 74 | Host: Kim Coles | 2014-10-30 | 60 | |
| 22 | 75 | Host: Mary Lynn Rajskub | 2014-11-06 | 60 | |
| 23 | 76 | Host: Margaret Cho | 2014-11-13 | 60 | |
| 24 | 77 | Host: Tommy Chong | 2014-11-20 | 60 | |
| 25 | 78 | Best of Season 3: Topic Thunder | 2014-12-04 | 60 | |
| 26 | 79 | New York: The City that Never Bleeps | 2014-12-11 | 60 | |
| 27 | 80 | The Best of the Best | 2014-12-25 | 60 | |
Season 4
| Episode No. | No. Overall | Title | Airdate | Runtime | Summary |
| --- | --- | --- | --- | --- | --- |
| 1 | 81 | Host: Sinbad | 2015-01-15 | 60 | |
| 2 | 82 | Host: Christopher Titus | 2015-01-22 | 60 | |
| 3 | 83 | Host: Dom Irrera | 2015-01-29 | 60 | |
| 4 | 84 | Host: Aries Spears | 2015-02-05 | 60 | |
| 5 | 85 | Host: Tom Arnold | 2015-02-12 | 60 | |
| 6 | 86 | Host: John Witherspoon | 2015-02-19 | 60 | |
| 7 | 87 | Host: Jim Florentine | 2015-02-26 | 60 | |
| 8 | 88 | Host: Vic DiBitetto | 2015-03-05 | 60 | |
| 9 | 89 | Host: Ralphie May | 2015-03-12 | 60 | |
| 10 | 90 | Host: Bill Bellamy | 2015-03-19 | 60 | |
| 11 | 91 | Host: Joy Behar | 2015-03-26 | 60 | |
| 12 | 92 | Host: Harland Williams | 2015-04-02 | 60 | |
| 13 | 93 | Host: Chris Kattan | 2015-04-09 | 60 | |
Season 5
| Episode No. | No. Overall | Title | Airdate | Runtime | Summary |
| --- | --- | --- | --- | --- | --- |
| 1 | 94 | George Wallace | 2015-08-27 | 60 | |
| 2 | 95 | Ed Lover | 2015-09-03 | 60 | |
| 3 | 96 | Billy Gardell | 2015-09-10 | 60 | |
| 4 | 97 | Elayne Boosler | 2015-09-17 | 60 | |
| 5 | 98 | Michelle Collins | 2015-09-24 | 60 | |
| 6 | 99 | Ellen Cleghorne | 2015-10-01 | 60 | Saturday Night Live star Ellen Cleghorne hosts an all new LIVE and UNCENSORED hour of standup from New York's Gotham Comedy Club. |
| 7 | 100 | Flex Alexander | 2015-10-08 | 60 | Get ready for a night of outrageous, off-the-wall comedy with One On One and Snakes on a Plane star Flex Alexander and four of America's funniest up and coming comics. Join Flex, Mike Young Taylor Tomlinson, Tanael Joachim and Matt McClowry as they perform LIVE and UNCENSORED from New York's legendary Gotham Comedy Club. |
| 8 | 101 | Kathleen Madigan | 2015-10-15 | 60 | Don't miss Kathleen Madigan as she hosts an all-new hour of LIVE and UNCENSORED standup from New York's Gotham Comedy Club. Join Kathleen, Taylor Ketchum and Royale Watkins for a night of laugh-out-loud jokes that will have you rolling off the couch. |
| 9 | 102 | Michael Che | 2015-10-22 | 60 | Saturday Night Live's Michael Che will have you gasping for air as he hosts an outrageous hour of LIVE and UNCENSORED comedy from New York's Gotham Comedy Club. Don't miss the Weekend Update anchor along with America's funniest up and coming comics Ed Hill, Kelly MacFarland and Mark Poolos. |
| 10 | 103 | Sandra Bernhard | 2015-10-29 | 60 | 2 Broke Girls and Roseanne's Sandra Bernhard will knock you off the couch laughing with an outrageous hour of LIVE and UNCENSORED comedy from New York's Gotham Comedy Club. Don't miss the woman Comedy Central calls one of the "Greatest Standup Comedians of All Time" along with Theo Von, Julie Goldman and Juston McKinney. |
| 11 | 104 | Reno Collier | 2015-11-05 | 60 | |
| 12 | 105 | Bill Engvall | 2015-11-12 | 60 | It's Hee Haw on steroids when Blue Collar Comedy Tour's Bill Engvall takes the stage for an outrageous hour of LIVE standup comedy from New York's legendary Gotham Comedy Club. Don't miss the Sharknado 3 star along with four of America's funniest comics: Jason Lawhead, Brad Zimmerman, Jen Murphy and Beth Stelling. |
| 13 | 106 | Lewis Black | 2015-11-19 | 90 | Cover your ears for the loudest night of comedy on TV when the "king of the rant', Lewis Black, hosts an outrageous hour of LIVE and UNCENSORED standup from New York's Gotham Comedy Club. Don't miss this comic legend as he goes off on all the hypocrisy he sees around him along with Jim Colliton, Erin Foley and more. |
| 14 | 107 | 100th Episode | 2015-12-03 | 60 | Gotham Comedy Live celebrates its 100th episode with LIVE and UNCENSORED performances by Artie Lange, Gilbert Gottfried, Jackie "The Joke Man" Martling, Mario Cantone and Orlando Jones. |
| 15 | 108 | Best of Season 5: Straight Outta Comicton | 2015-12-31 | 60 | Funnyman Jim Florentine hosts this latest edition of the Best of Gotham Comedy Live. This hilarious show includes comics like Christopher Titus, Aries Spears, Sinbad, Harland Williams, Margaret Cho and many more joking about current topics. |
Season 6
| Episode No. | No. Overall | Title | Airdate | Runtime | Summary |
| --- | --- | --- | --- | --- | --- |
| 1 | 109 | David Hasselhoff | 2016-03-31 | 60 | |
| 2 | 110 | Lisa Lampanelli | 2016-04-07 | 60 | |
| 3 | 111 | Pamela Anderson | 2016-04-14 | 60 | |
| 4 | 112 | Ahmed Ahmed | 2016-04-21 | 60 | Sullivan and Son's Ahmed Ahmed hosts an outrageous hour of LIVE and UNCENSORED standup from New York's legendary Gotham Comedy Club. |
| 5 | 113 | Ari Shaffir | 2016-04-28 | 60 | Comedian Ari Shaffir ("This Is Not Happening") hosts and performs on AXS TV's original stand-up series GOTHAM COMEDY LIVE. The series airs live from the Gotham Comedy Club in New York City. |
| 6 | 114 | Brad Garrett | 2016-05-05 | 60 | Comedian Brad Garrett ("Everybody Loves Raymond") hosts and performs on AXS TV's original stand-up series GOTHAM COMEDY LIVE for the first time. The series airs live from the Gotham Comedy Club in New York City. |
| 7 | 115 | Norm Macdonald | 2016-05-12 | 60 | Saturday Night Live legend Norm Macdonald hosts and performs on AXS TV's original stand-up series GOTHAM COMEDY LIVE. The series airs live from the Gotham Comedy Club in New York City. |
| 8 | 116 | Cheech Marin | 2016-05-19 | 60 | Stoner comedy legend Cheech Marin hosts and performs on AXS TV's original stand-up series GOTHAM COMEDY LIVE. The series airs live from the Gotham Comedy Club in New York City. |
| 9 | 117 | Cheri Oteri | 2016-05-26 | 60 | Saturday Night Live alum Cheri Oteri hosts and performs on AXS TV's original stand-up series GOTHAM COMEDY LIVE. The series airs live from the Gotham Comedy Club in New York City. |
| 10 | 118 | Jay Pharoah | 2016-06-02 | 60 | Saturday Night Live master impressionist Jay Pharoah hosts an all new LIVE and UNCENSORED hour of standup from New York's Gotham Comedy Club. |
| 11 | 119 | Jon Lovitz | 2016-06-09 | 60 | |
| 12 | 120 | Yakov Smirnoff | 2016-06-16 | 60 | |
| 13 | 121 | Chris D'Elia | 2016-06-23 | 60 | Undateable and Whitney star Chris D'Elia hosts an outrageous hour of LIVE and UNCENSORED standup from New York's Gotham Comedy Club. |
| 14 | 122 | Cheech & Chong | 2017-01-19 | 60 | Legendary duo Cheech & Chong light up the stage - literally - in this once in a lifetime performance from New York's Gotham Comedy Club. |
| 15 | 123 | Gary Dell'Abate | 2017-01-26 | 60 | |
| 16 | 124 | Cedric the Entertainer | 2017-02-09 | 60 | |
| 17 | 125 | William Shatner | 2017-02-16 | 60 | Gotham Comedy Live goes where no man has gone before when "Star Trek" legend William Shatner takes the stage with his first ever standup comedy performance. Don't miss this one and only chance to see the "T.J. Hooker" star's brilliant comedic mind along with Ryan Schutt, Jocelyn Chia, Fen G. and Daniel Tirado. |
| 18 | 126 | Fran Drescher | 2017-03-02 | 60 | The one, the only, the original Nanny, Fran Drescher hosts an all new live and uncensored hour of standup from New York's Gotham Comedy Club. Don't miss the Happily Divorced star's hilarious set about her own crazy life as she's joined by Mike Cannon, Dan Harumi, Larry Beyah and Rich Aronovitch. |
| 19 | 127 | Pete Davidson | 2017-03-09 | 60 | "Saturday Night Live" standout Pete Davidson hosts this week's episode of GOTHAM COMEDY LIVE. The weekly stand-up comedy series highlights some of the nation's top stand-up comedians, as emerging talent and established favorites take the stage at the world-famous Gotham Comedy Club in New York City. |
| 20 | 128 | Sherri Shepherd | 2017-03-16 | 60 | Actress and comedian Sherri Shepherd hosts this week's episode of GOTHAM COMEDY LIVE. The weekly stand-up comedy series highlights some of the nation's top stand-up comedians, as emerging talent and established favorites take the stage at the world-famous Gotham Comedy Club in New York City. |
| 21 | 129 | John Fugelsang | 2017-03-23 | 60 | VH1's John Fugelsang hosts a hilarious hour of standup from New York's legendary Gotham Comedy Club. Don't miss the Politically Incorrect regular along with Cameran Hebb, Mike Yard, Brendan Eyre and Tom McTiernan, live, uncensored and unrestrained! |
| 22 | 130 | Judy Tenuta | 2017-03-30 | 60 | Self-proclaimed "Love Goddess" Judy Tenuta hosts an all new hour of standup from New York's Gotham Comedy Club. Join in on the insanity with Judy and four of America's funniest comics, Dan Crohn, Sal Calanni, Del Harrison and Anthony Devito for a night of non-stop, uncensored comedy. |
| 23 | 131 | Paula Poundstone | 2017-04-06 | 60 | Legendary comedian Paula Poundstone takes on the media in a brilliant hour of standup from New York's Gotham Comedy Club. Come see why Comedy Central named her one of the 100 Greatest Standups of All Time as she's joined by Daniel Crow, Joe Pontillo, Jermaine Warren and Greg Stone. |
| 24 | 132 | DC Young Fly | 2017-04-13 | 60 | MTV's Wild 'n Out star DC Young Fly hosts an outrageous hour of uncensored standup from New York's Gotham Comedy Club. |
Related News
TVMaze